Austin has so many great coffee shops serving up a variety of roasts in a variety of settings all across town! Whether you call Austin, Texas home or are just visiting for the weekend, keep reading for the all of the best coffee shops in Austin near you and organized by neighborhood...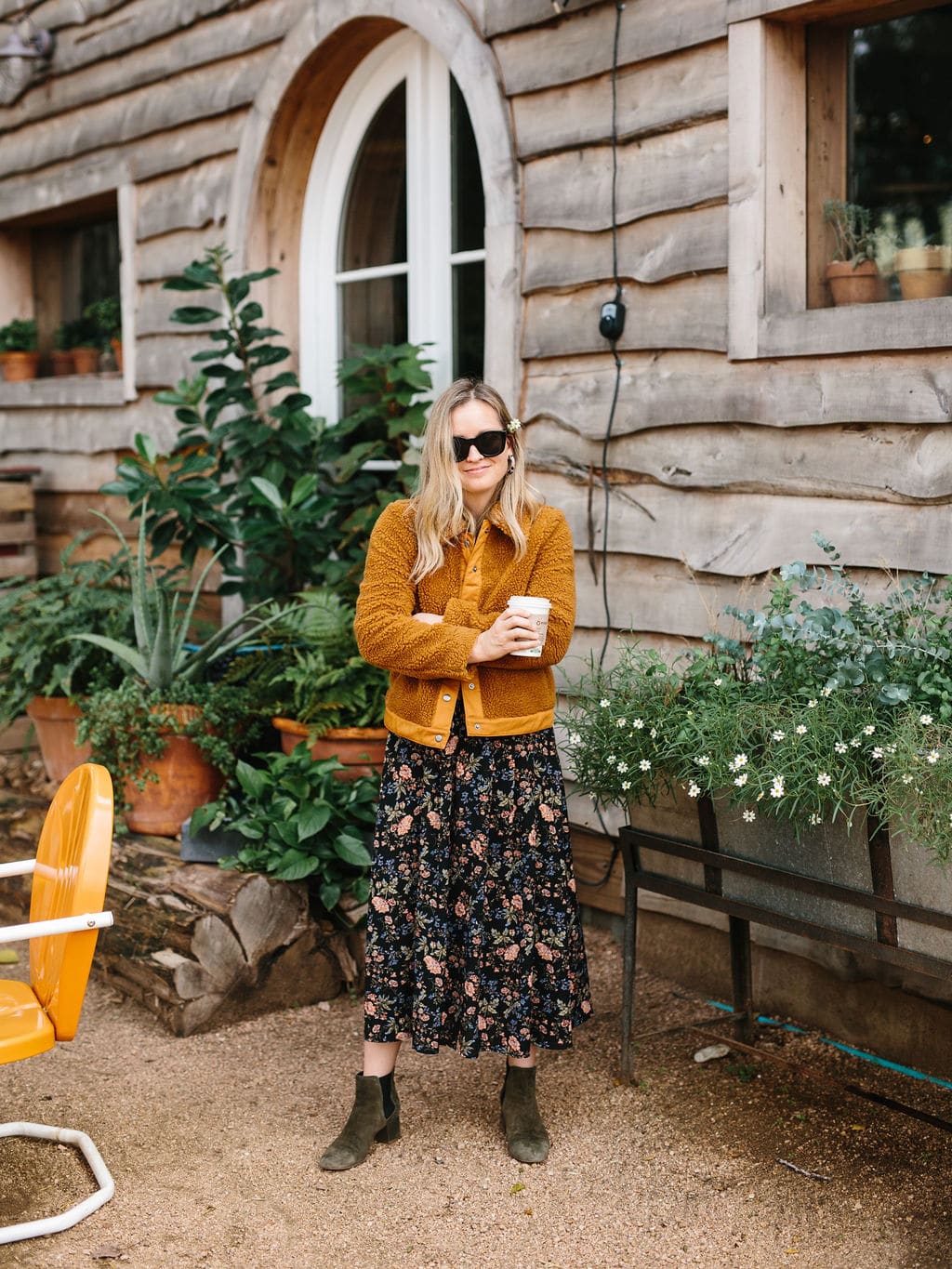 I will be the first to admit that I am a coffee snob. I've been known to book hotels based on their proximity to great coffee and start every single day with an almond milk latte in hand when at home. While I love a warm cup of coffee from the comfort of my own kitchen, visiting one of Austin's many locally-owned coffee shops is among my favorite things to do in this city. We are so lucky to live in a place where there are so many great baristas and locally roasted beans to choose from. On the weekends we regularly make plans while thinking, "And where are we going to get coffee later?"
Keep reading for all of the best coffee shops in Austin broken down by neighborhood. (There's always a great cup of coffee near you!) Have a personal favorite that we missed? Be sure to leave it in the comments below!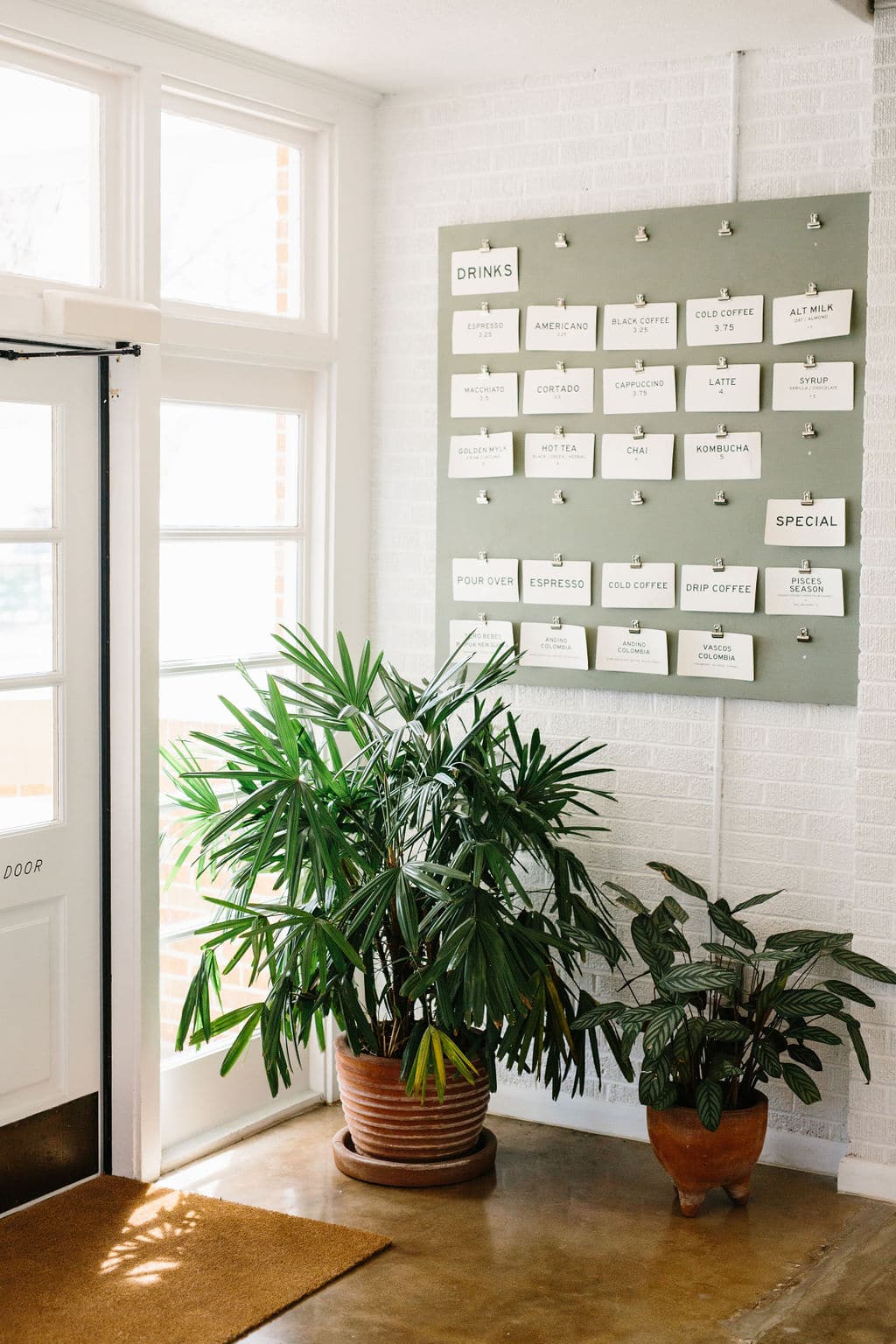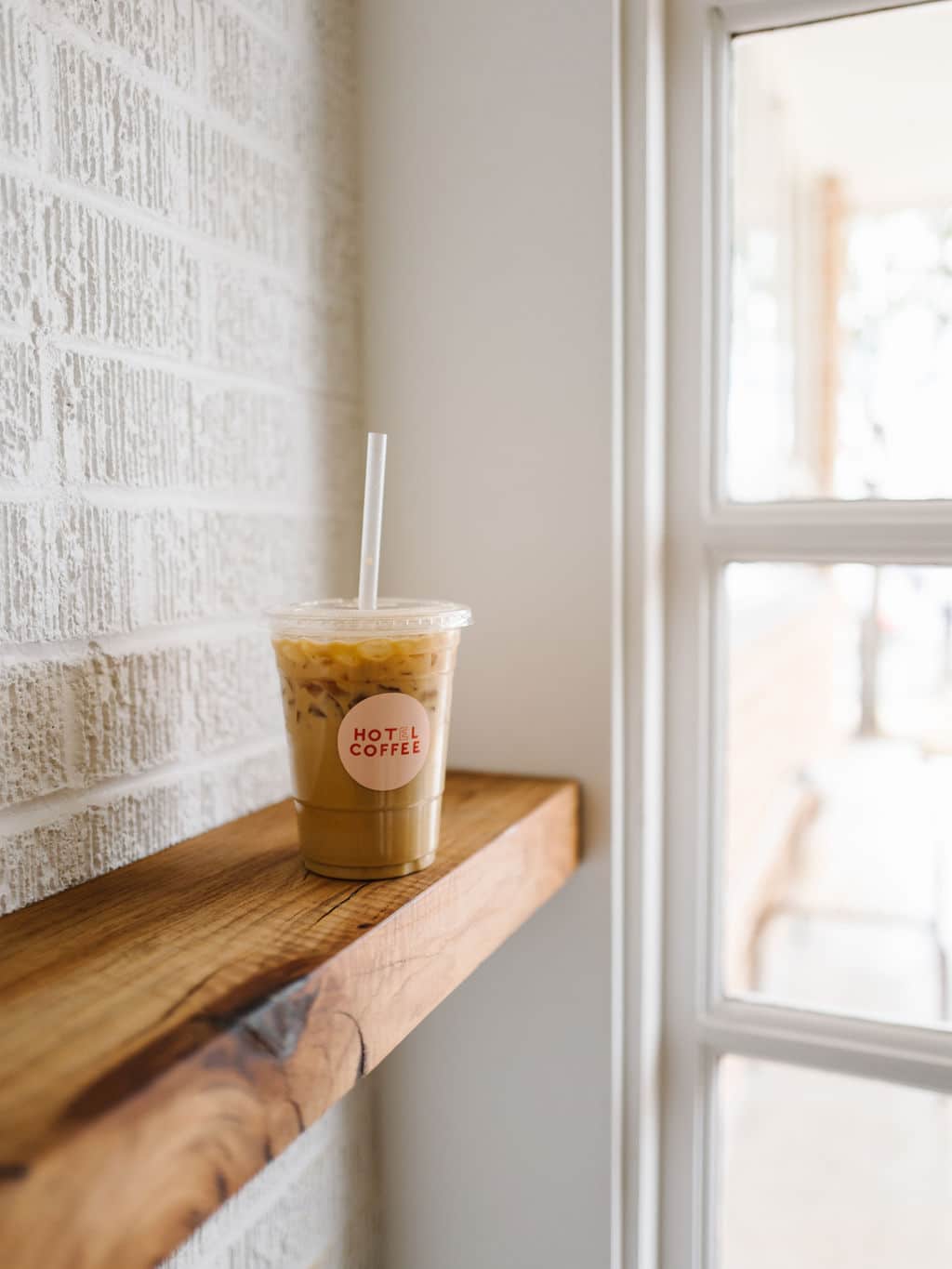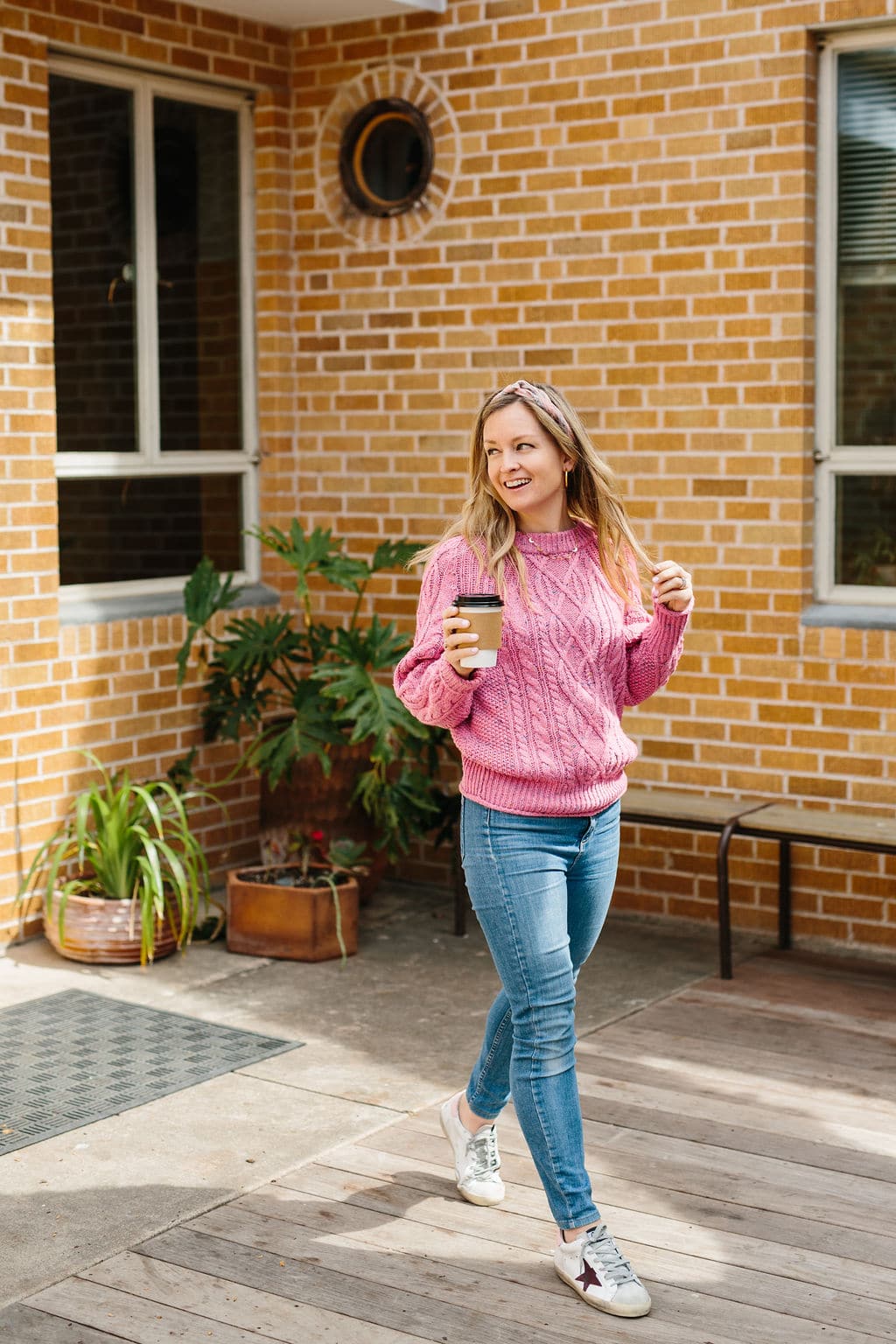 (photos via Katie Jameson for The Effortless Chic of Hot L Coffee at Carpenter Hotel)
The Best Coffee Shops in South Austin:
Hot(e)l Coffee is a great spot to grab a latte and settle into their lounge area or even to go for a walk if the weather is nice. It's not a huge space, but feels quiet, cozy and intimate. Plus it's centrally located in South Austin off of Barton Springs Road and 1st Street.
Located in a quaint home just off of South 1st street, Seventh Flag Coffee has plenty of outdoor space making it ideal for spring and fall in Central Texas.
The South Congress location will always hold a special place in my heart. I lived just up the street from it in college. The coffee is great. The people watching is even better. (Note: This location is outdoor only.) This is a must stop if you're visiting SoCo for a bachelorette or quick weekend getaway.
Arguably the most Instagrammable coffee shop south of the river, Mañana offers not just delicious caffeinated beverages, but lush plants and vibrant photo-worthy tile work. There's outdoor and indoor seating to enjoy your coffee as well as the option to take your beverage of choice next door to the South Congress Hotel Lobby.
Speaking of places I have lived, we came so close to buying a house just on the other side of Lamar from Patika and this coffee shop was a huge draw! Come on the weekends for the delicious breakfast like the chilaquiles or biscuits and gravy.
The biggest perk to this coffee shop is its proximity to the best breakfast tacos in Austin, Veracruz. The coffee is also great and there's an ample amount of outdoor and indoor seating.
I love coming here with the kids on the weekends. There's both indoor and outdoor seating, but the outdoor area is particularly magical with plants, rocks, and a chicken coop that serve as endless entertainment. There's also food trucks parked on the property so you can make a meal of it.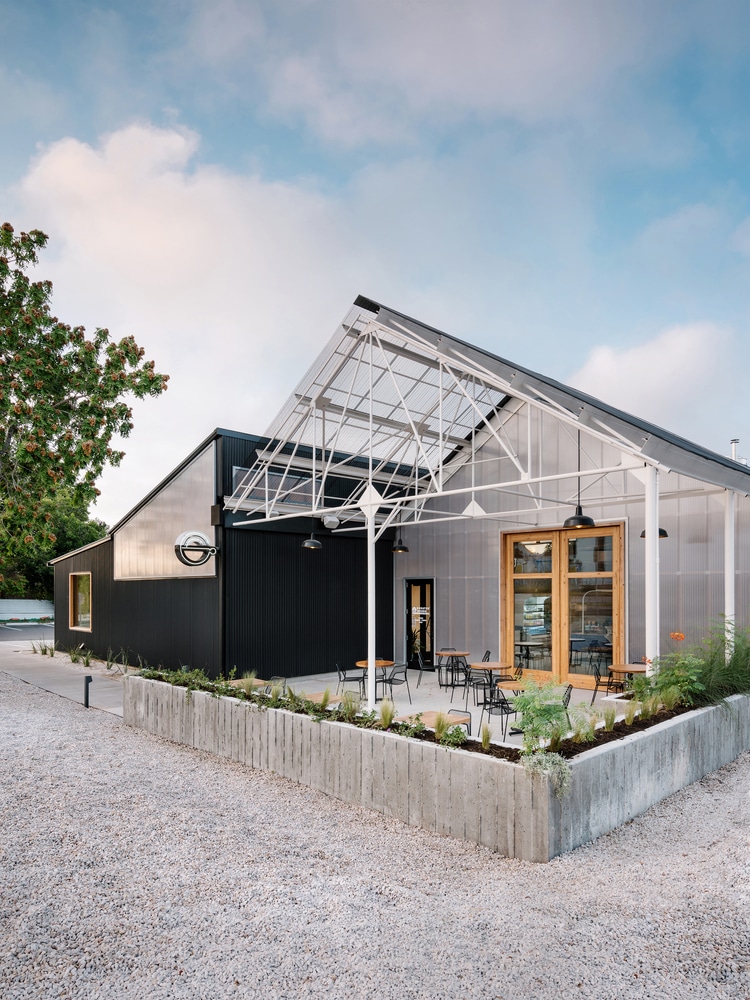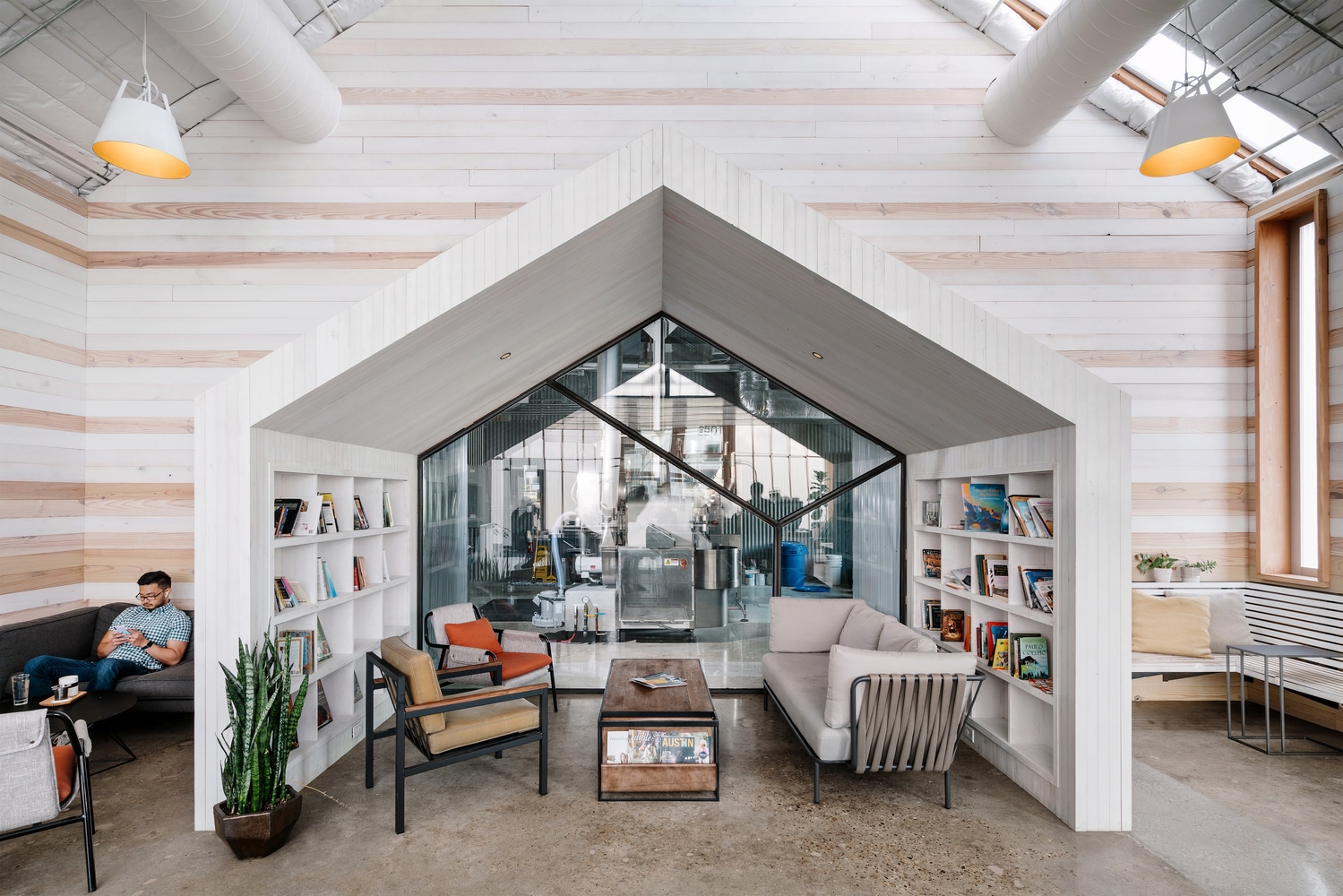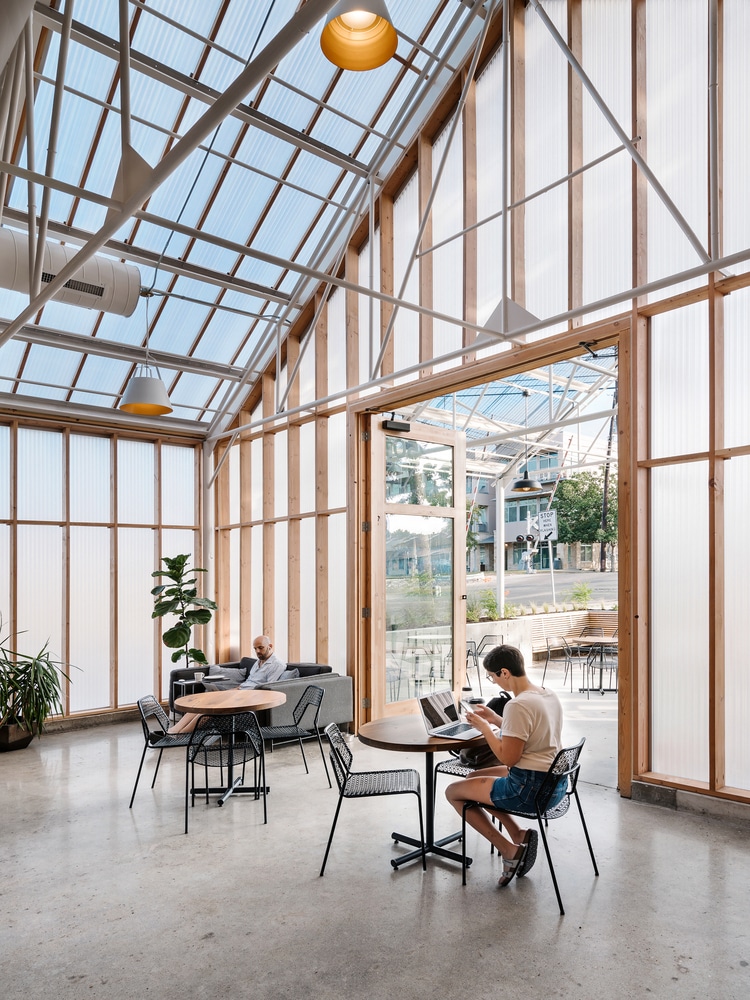 (photos by Chase Daniel of Greater Goods Coffee for Arch Daily)
The Best Coffee Shops in East Austin:
Part-time yoga house, part-time kids theatre, full-time coffee house and eatery. I used to consult for a brand nearby and loved the excuse to drop in for lunch!
I've always said that Cartel Coffee is the best part of having to connect through the Phoenix airport and now that it has landed in Austin, I couldn't be happier!
Coffee and beer in one spot, located on the east side with plenty of seating and an overflow space next door.
I love the coffee here! It's definitely a small space with limited tables, but worth the visit if you're in the area!
This is Aaron's favorite coffee shop in Austin. It's part bike shop and has a more rugged, masculine vibe than your average coffee shop. Their mini vegan chocolate donuts are so delicious!
The flagship location on the east side is beautiful and spacious with ample parking making it an ideal space for working while grabbing a cup of coffee.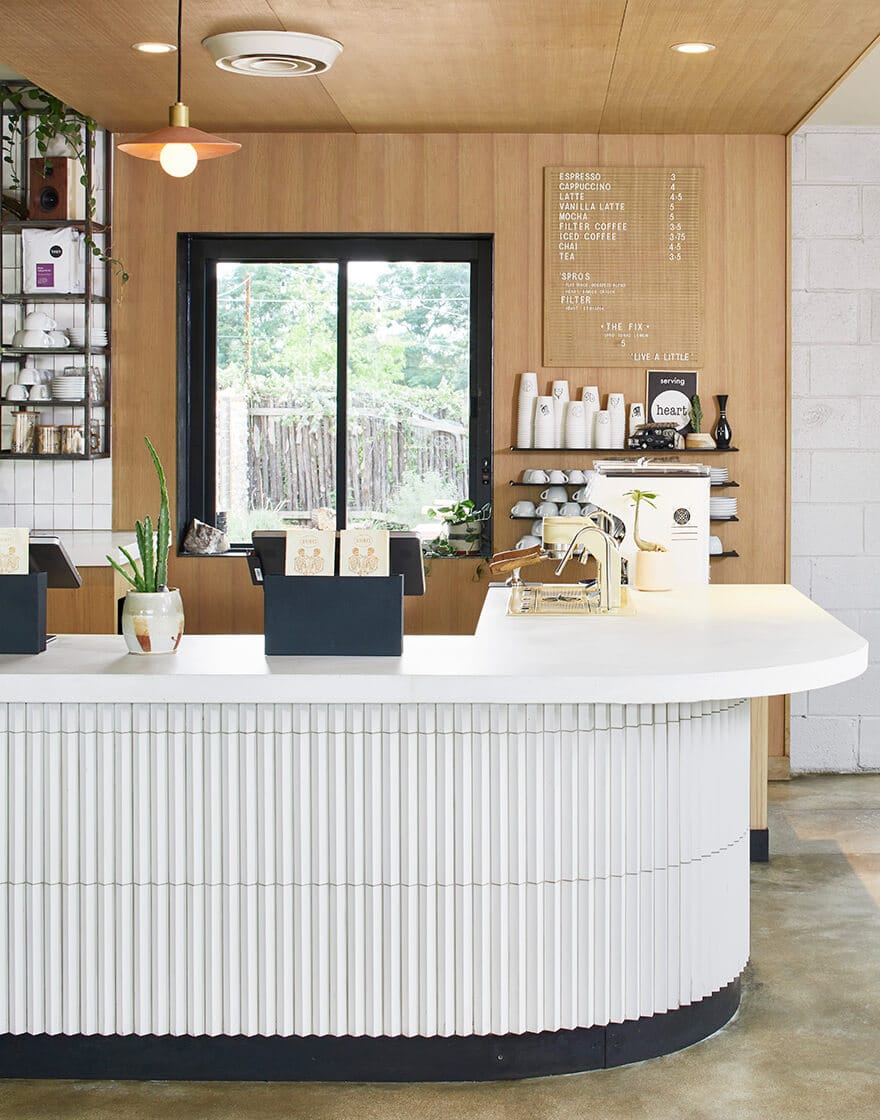 (Photos of Better Half via Mutina)
The Best Coffee Shops in Downtown Austin:
Lucky Lab Coffee definitely qualifies as a "cool coffee shop". Not only is the coffee and ambiance great here, but the pastries are some of the best I have ever had!
As far as downtown coffee shops go, this one is among my favorites. Its diner vibes combined with its menu offerings give it a leg up on your average coffee shop. I love this location for a meeting!
I feel like Intelligentisa is one of the original small craft coffee shops-- it dates back to 1995! We loved their downtown LA location when we lived there. Lucky for us, the Chicago based company just opened their first location in the heart of downtown Austin. Go for your favorite cortado and leave with a bag of beans.
The downtown location of Merit is located conveniently by a Trader Joe's, True Food Kitchen and the Austin Central Public Library making it such a fun spot to tack onto your weekend outings. Indoor and outdoor seating are available.
This is another one of our LA favorites that has come to join us in Austin and we couldn't be happier! Located inside The Line Hotel, there's ample work space and plenty of delicious caffeinated beverages and treats to keep you going!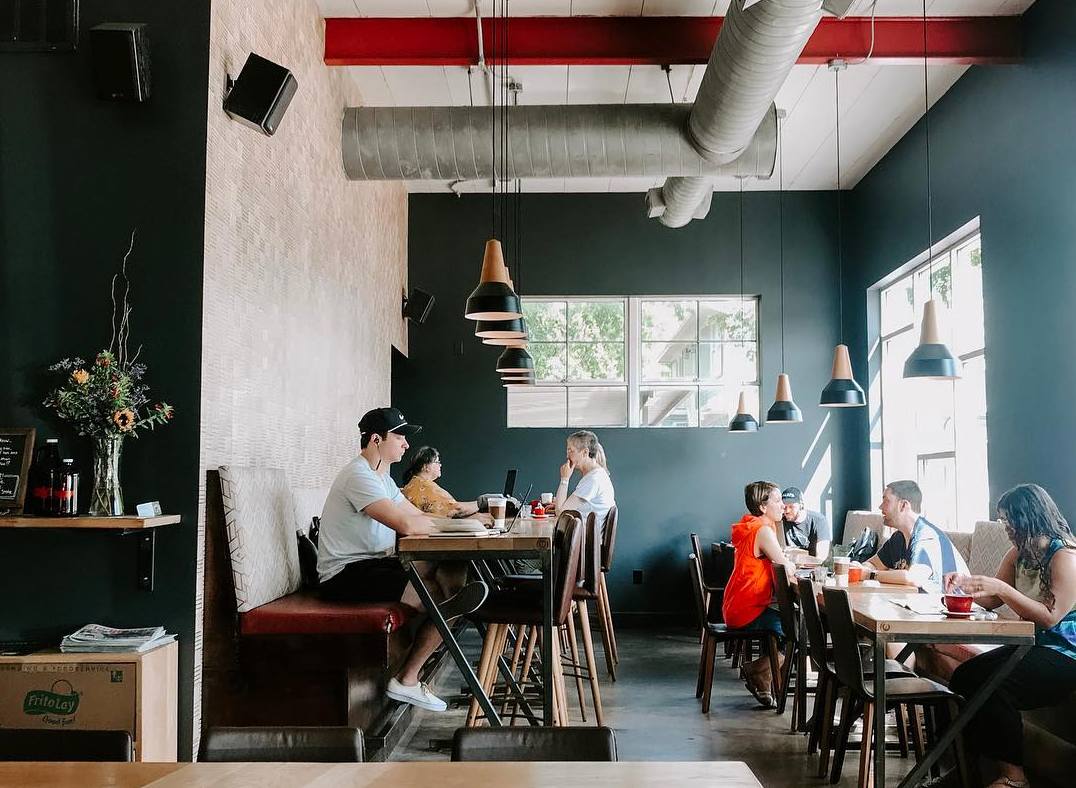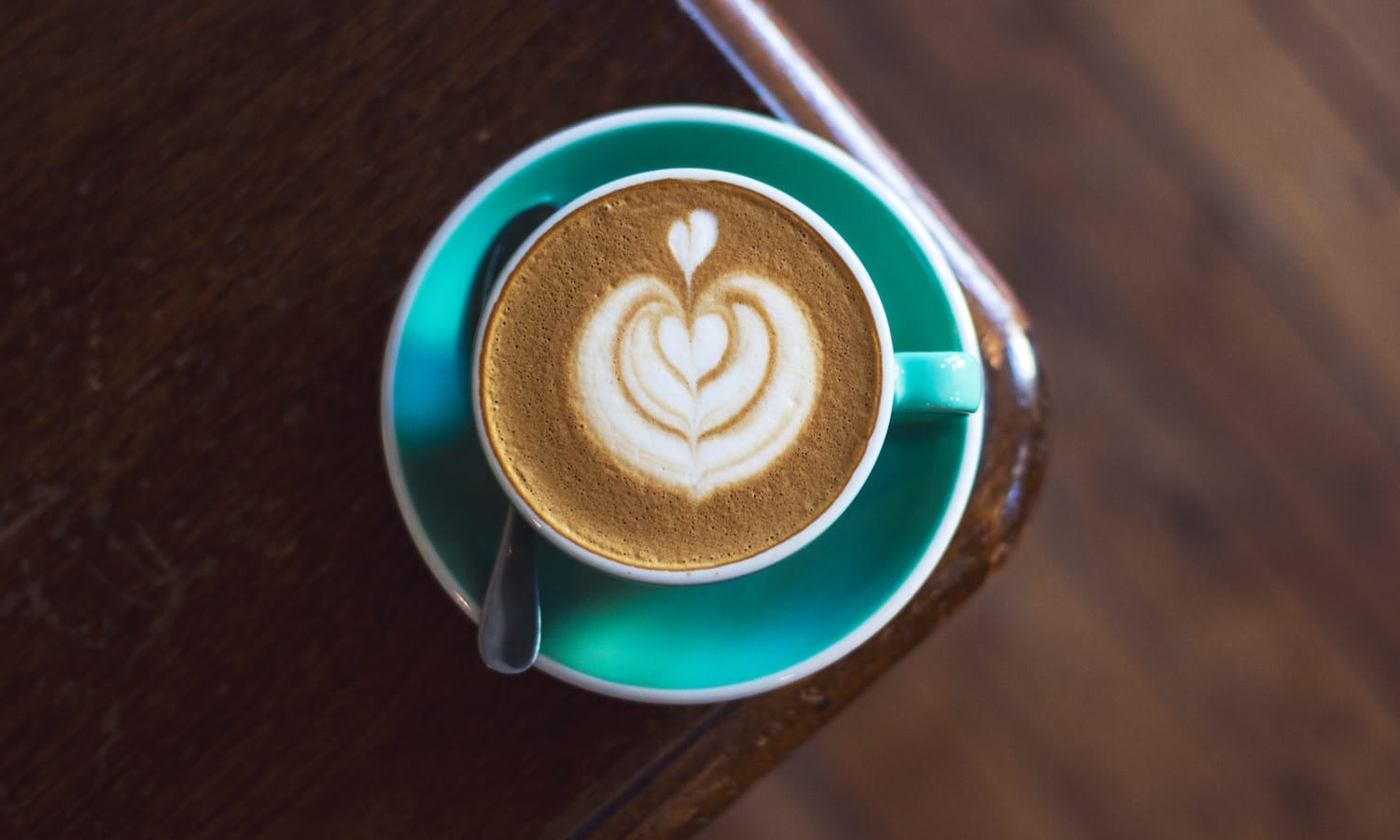 (images of Thunderbird Coffee via Fitt)
The Best Coffee Shops in North and Central Austin:
This spot feels like a campus coffee shop-- no frills and not at all interested in what Instagram thinks. The coffee is great and the people are friendly. Best of all it's located in such a fun corridor of North Loop next to some of my favorite stores-- Flourish Plant Shop and Room Service Vintage.
This place can be hit or miss for working. The wifi and location are both great, but the coffee is so good that it attracts a crowd making it hard to grab a seat during busy hours. If you're flexible, though, you don't want to miss this Houndstooth's espresso. Parker loves their m&m cookie! (Their is now a location at the Domain Northside as well.)
This was my favorite coffee spot when Ever was still at home during the day and I needed to sneak out while our nanny was here to get work done. It's really close to our house and has great dependable wifi and lots of seating. There's an outdoor area that is both dog-friendly and kid-friendly.
This one is another neighborhood spot for us. It's super small and the seating is limited to just a table or two so I wouldn't recommend it for working. They serve Stumptown coffee and their pastries are the best in the city!
The north location of Merit is located in the Triangle shopping center next to Natural Grocers and near a small playscape making it ideal for a kid-friendly outing. Their homemade poptarts are amazing!
I regularly mention Texas French Bread in our best of Austin round ups. It's a personal favorite that is located near campus and serves up the best homemade breads and pastries, as well as espresso drinks. There is a quaint outdoor seating area nestled under majestic oaks just off the parking lot.
A coffee shop for every occasion!
It's so hard to pick a favorite coffee shop in Austin. They all serve great coffee and they are great places to sit, unwind and take 10 minutes for yourself. Or maybe, you are quickly moving through the area and need that caffeine fix! Almost all have wifi making them a great place to work and most have outdoor seating.
Heading to Austin for a visit? You might also enjoy:
I love hearing from you, do you have a favorite coffee shop you've visited in Austin? Be sure to let me know in the comments below!
(This post was originally published in 2019 and updated in 2021!)