I was on a call a few weeks ago with a college student who asked me what a typical day for me looks like. The call was going great. You could tell she was a go getter and a millennial ready to kick her generation's lackluster labels to the curb and do whatever it takes to achieve her goals. This last question had me stumped, though! Where to begin? I can't recall the last time two days looked identical. I started describing what some of my days looked like and realized that the unifying theme of all of them was that I was constantly on the go from one task to another and from one destination to the next. A few things that keep me organized and help me stay on my toes include a small purse with my personal items paired with a larger tote that can hold me laptop and charger. For quick meetings and prop shopping errands, I can grab my smaller bag and dash, but for an hour long editing or writing session I'll locate some wifi and set up shop! Typically in these winter months, my daily shoe routine is a rotation of flat boots, but I always keep a heel in the car in case the occasion arises, as well as a few beauty essentials, including these new Vaseline lip tins. I decided to experimentally document one particular day for this post, so keep reading for the play by play peak into what one of a dozen different days looks like...
8:30am: Our nanny shows up as I am still doing the dishes from breakfast. Parker races to the door, so excited! We all chat and hang out for a few minutes before I leave the two of them to their day.
8:45am: I shut the door of my office and spend 15 minutes catching up on the most urgent emails. #neverendinginbox
9:00am: I go over the mood board for an upcoming shoot and put together the shot list. I haven't always used a shot list, but I have found that it makes our blog shoots run so much more efficiently. I know what images we need to capture to tell the story and it allows me to work backwards and figure out the best order for our shoot day. I glance around my office and realize there is a pile of craft supplies on the floor that I never sorted through after the previous day's shoot. I'm tempted to tackle it, but I know it will make me late. (I am the craziest human when it comes to being on time. I can't handle being tardy, even 5 minutes!)
9:30am: I am out the door and head to downtown Burbank to meet up with Amanda, one of the photographers that I work with to shoot this post. In tow, I have both of my bags, my laptop, a couple of things that I need to return to Nordstrom later, a shopping list for a few props for a shoot, and the original scent Vaseline lip tin-- one of the most moisturizing lip products I have used in a long time! My whole body is craving moisture this time of year with the temperatures constantly in flux. The lip tins are new to the US and available at Target and Target.com.
10:45am: We wrap our shoot and I call my mom, putting her on speaker phone while I head to the Americana to do some prop shopping at Anthropologie and Sur la Table and also take care of that pesky Nordstrom return that has been sitting in my office for almost two weeks! We mostly talk about Parker, naturally.
12pm: I wrap things up at the Americana as quickly as possible and I head to Coffee Commissary to work on a couple of upcoming posts. I go through phases where I love writing in my office and others where I feel like I need to get out of the house to do my best work. Especially if Parker and her nanny are at home, it's often times easier to work elsewhere. Plus, the almond milk lattes at CC are AMAZING!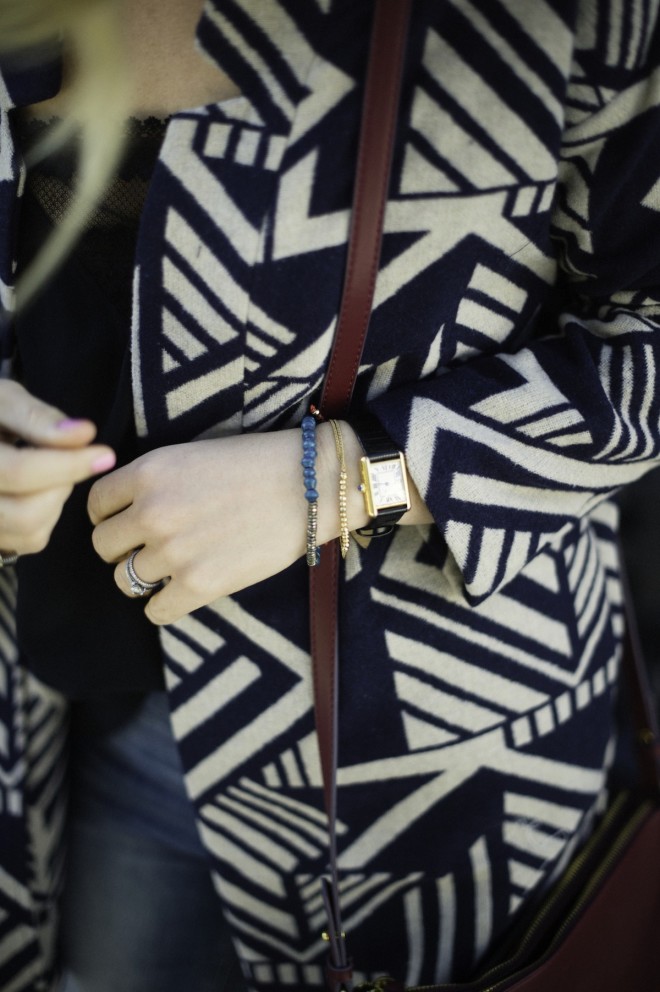 3:30pm: After 3 + hours of writing posts, I decisively shut my laptop. Unless I need to go over a creative brief or download images, I try to avoid my inbox during these bulk hours of writing. I find that it takes my brain longer to switch gears back and forth and it's so much easier for me to get side tracked on something else. Aaron's out of town tonight, so I will spend another hour or two going through emails in the evening after Parker is asleep. Speaking of Parker... I throw my hair into a low ponytail (it's slowly growing out of it's short bob!) and reapply the Vaseline lip moisturizer I've become so addicted to and then it's off to see my girl!
4:00pm: We have had our regular schedule with her nanny for over a year now and she still runs into my arms when I get home like it's the very first time I have ever left her. Melts my heart and reminds me why I go put my phone on the charger in my bedroom for the next two hours while I focus on her and getting dinner on the table. I know I will be up late tonight checking more things off the to-do list, but nothing beats these afternoons with her!
Photography by Amanda Gallant
Coat, Old Navy / Boots, Coach / Jeans, Madewell / Camisole, vintage (similar) / Bag, Old Navy
This post was sponsored by Vaseline. I love their lip tins and now have them in my car, in both of my bags, and in my nightstand. They're kind of my new obsession! Thanks for supporting the brands that make new content possible!