As many of us have spent more time at home in recent months than ever before, there seems to be a more universal understanding for how our space effects our moods, our mindset and how we function each day. Do you have house projects you've added to your list during this time that maybe weren't there before? Lauren and Chase decided to update their humdrum master bedroom and we are so glad they did! Keep reading below for all of the before and after details.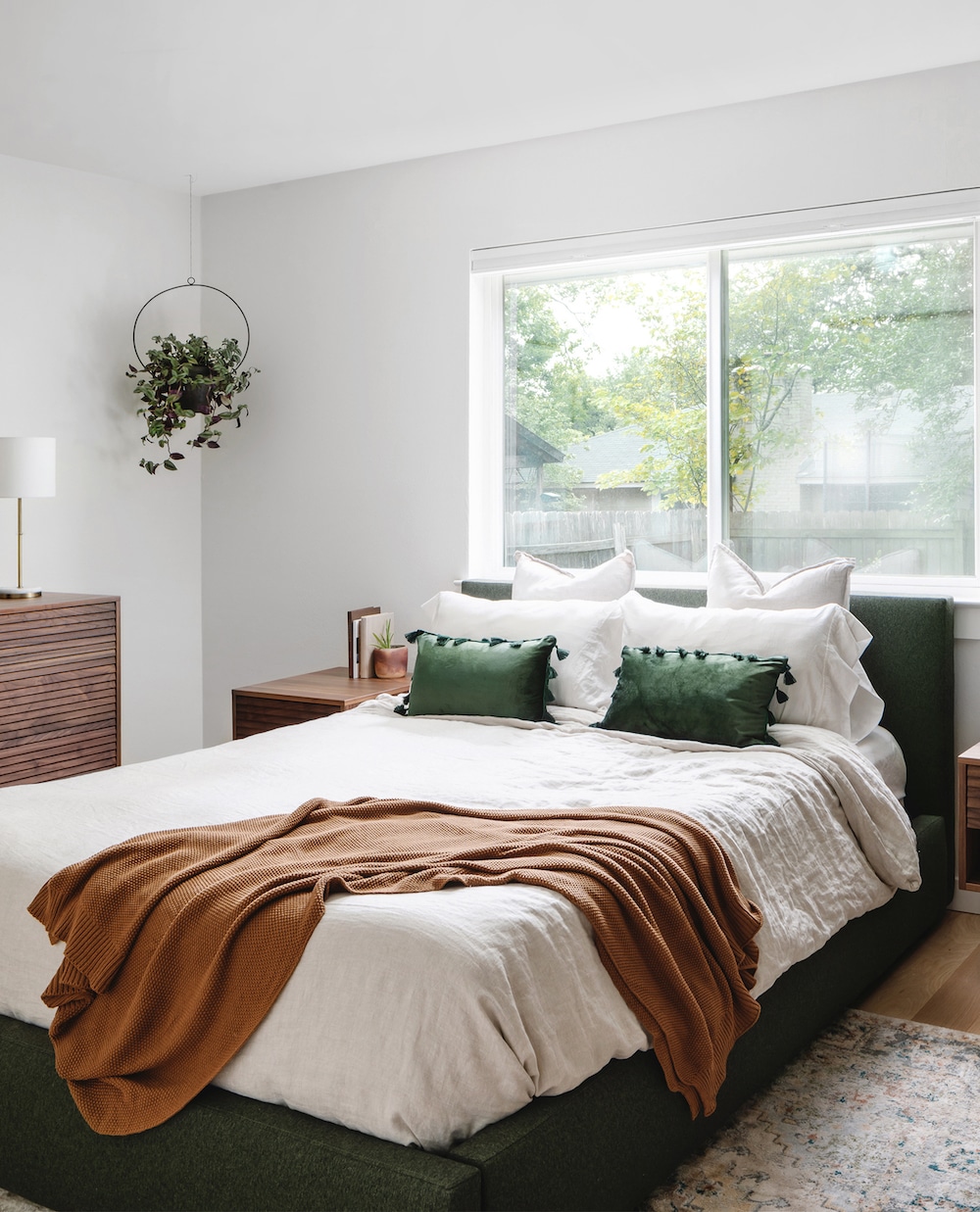 Lauren, here! Is anyone else desperate for some room refreshes after spending all these days in your  house? Thankfully just before all of this quarantine mess became serious we finished upgrading our master bedroom. Which I'm grateful for because now that I am spending so much time at home, it really feels like the getaway I always wanted it to be. If you're not familiar, my husband Chase and I have been renovating our 1970's house for a year and a half now. Check out our living room makeover, bathroom upgrade and kitchen transformation to get the full picture of this renovation.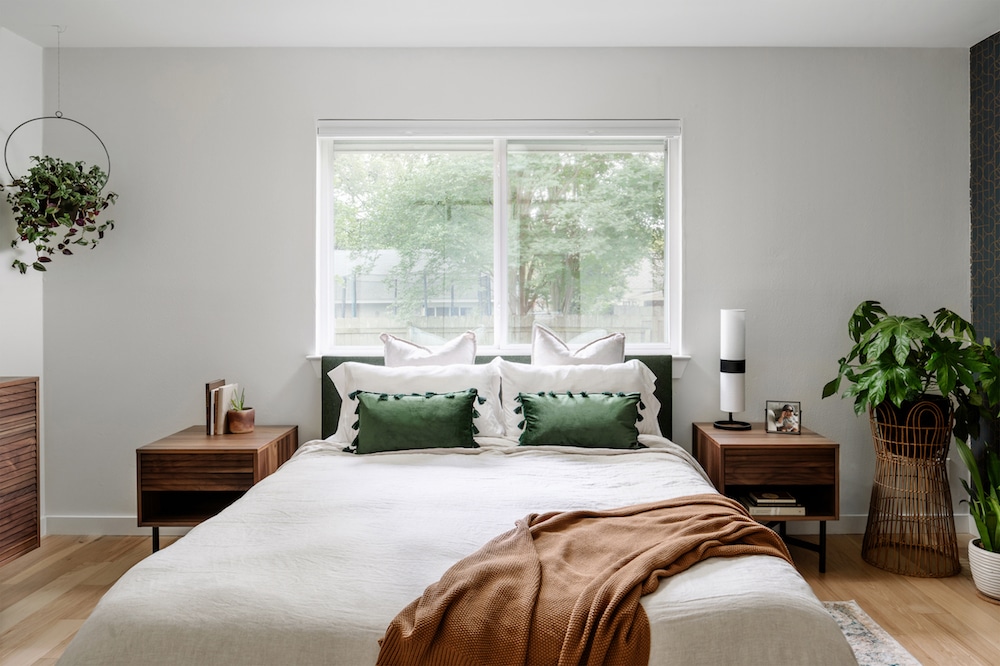 Unlike our first house, this one has been a bit less labor intensive but much more personal and unique. In the master bedroom, we initially removed the popcorn ceilings and carpet (that was 40 years old! YUCK!), rearranged the master bathroom and removed the closet door so it didn't open into the only walkway in the room. I feel like our bedroom both in our previous home and in this one was very sad and neglected. Cheap furniture, leftover light fixtures and a mattress on the floor were the main highlights of this space. So once the literal dust settled (A YEAR LATER. Yes, we slept on the floor for a year!) we finally decided it was time to focus on a space just for us. Here are a couple of photos from before we moved in: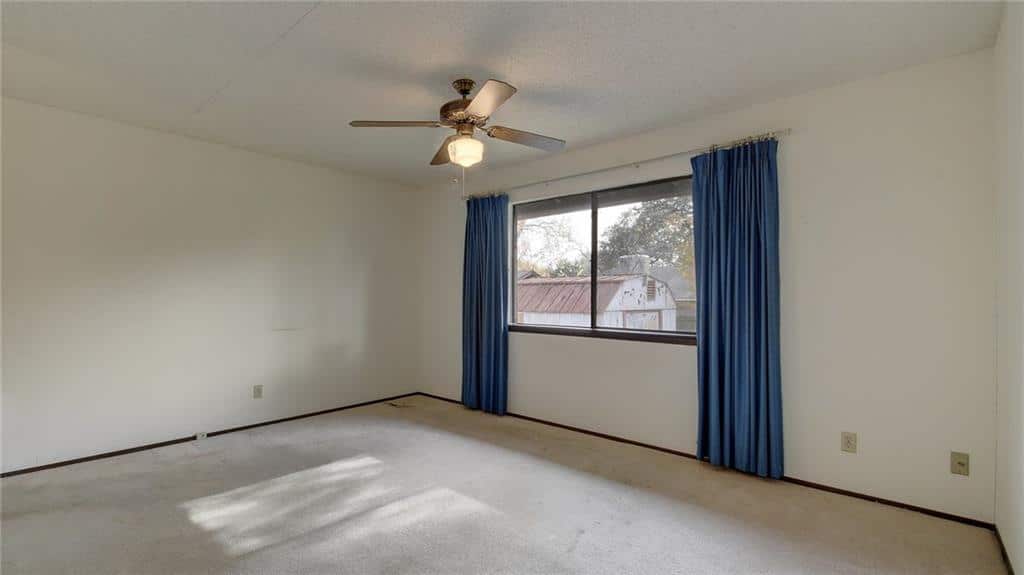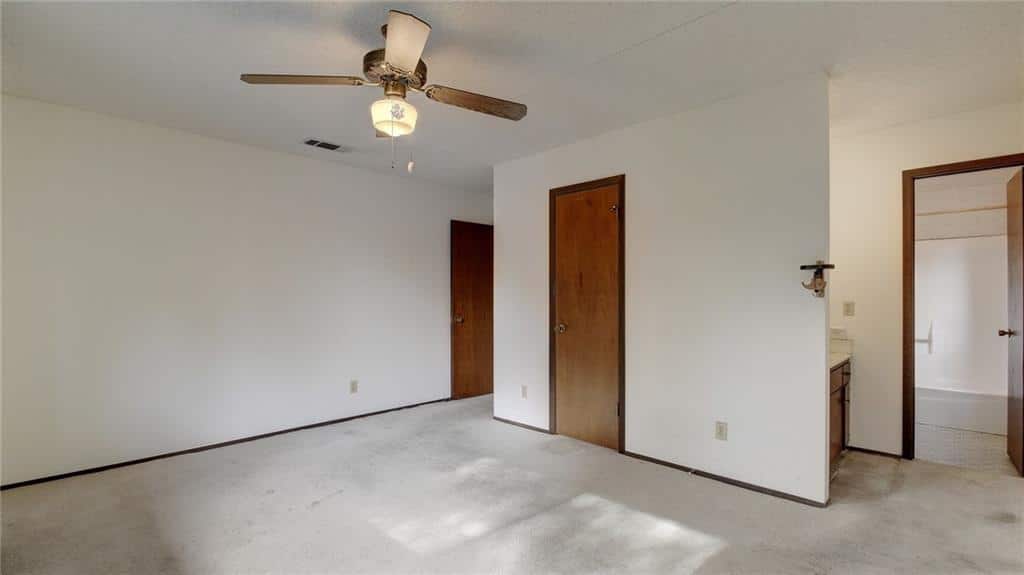 And this is after we moved in: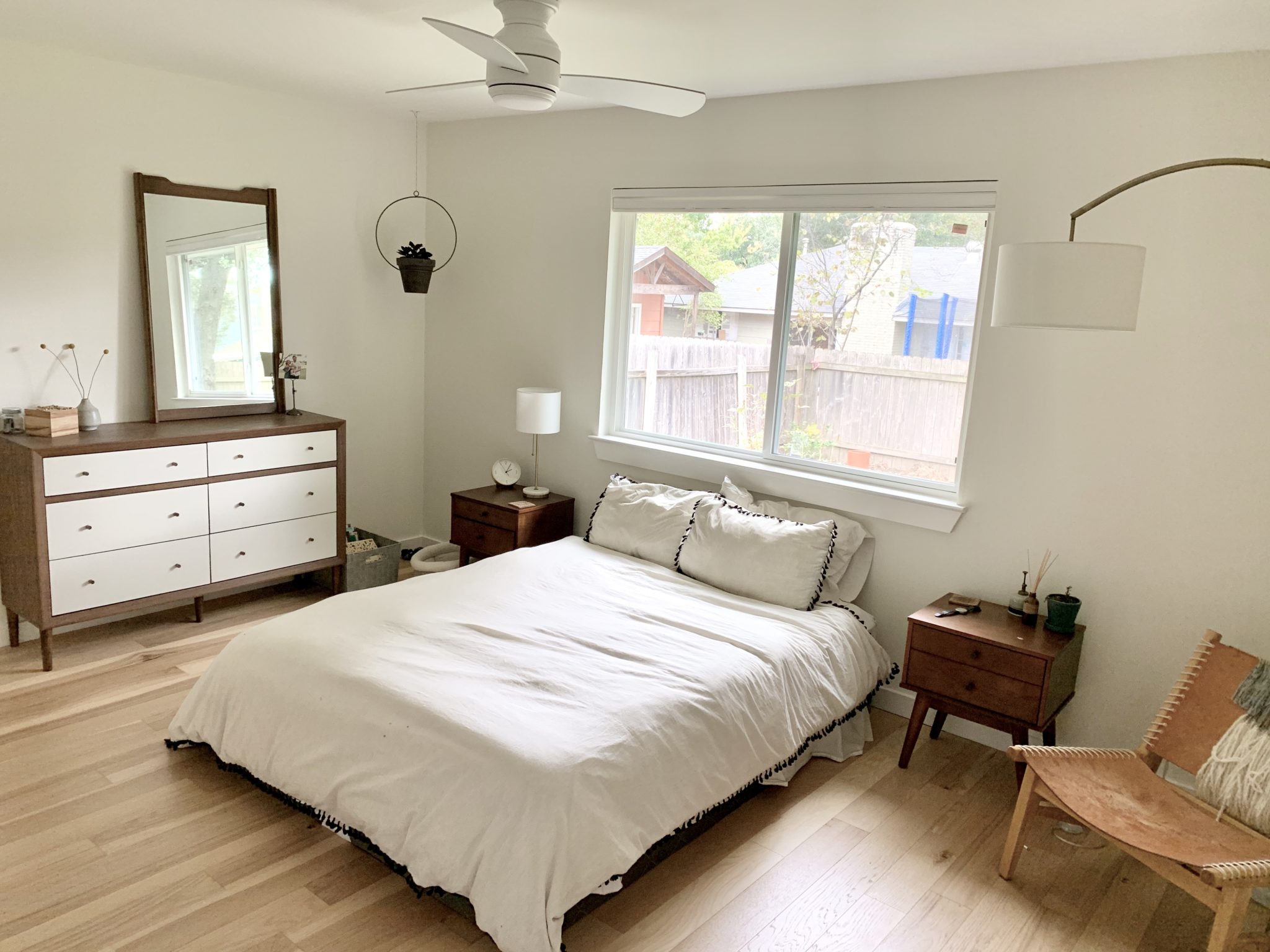 When we finally got serious about our bedroom, we decided to partner with Room & Board. We worked with them on our living room and were SO impressed with the quality and gorgeous style of this furniture, we knew for sure we wanted their incredible pieces again. We still can't get over how beautiful our living room is simply because of quality furniture. There is a theme of moodier tones throughout this house which really was something I was so afraid of when I was younger, but as I've aged and really began to embrace my own interior design style, I have pushed away from grays and tans and leaned into darker rich tones.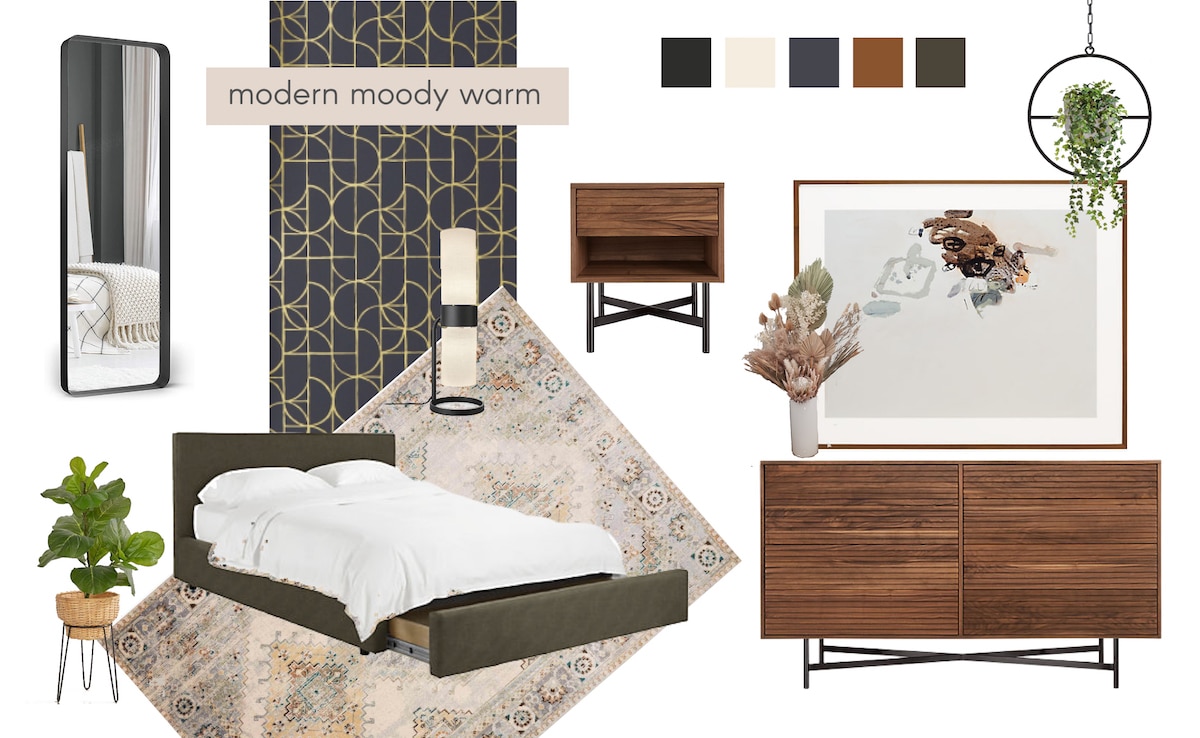 I've already used some keywords for this space which gives you an idea of the vibe we're going for.  MODERN - MOODY - WARM
Other goals for this space include:
extra storage since it's not a huge room or closet
moody accent wall
a comfortable bed that's not on the floor
adding a modern sliding door to the closet
good lighting
rich warm woods to contrast the white walls
cozy feel with a modern look
As we dreamed about what this space could be like, I knew I wanted a dramatic accent wall. This isn't a huge bedroom; the layout leaves a large wall as you walk in that doesn't really lend enough room for much of anything, so I knew it would be perfect for a wallpaper feature. To start the process we found a rich charcoal art deco patterned wallpaper by Hygge & West and sort of built the room around that.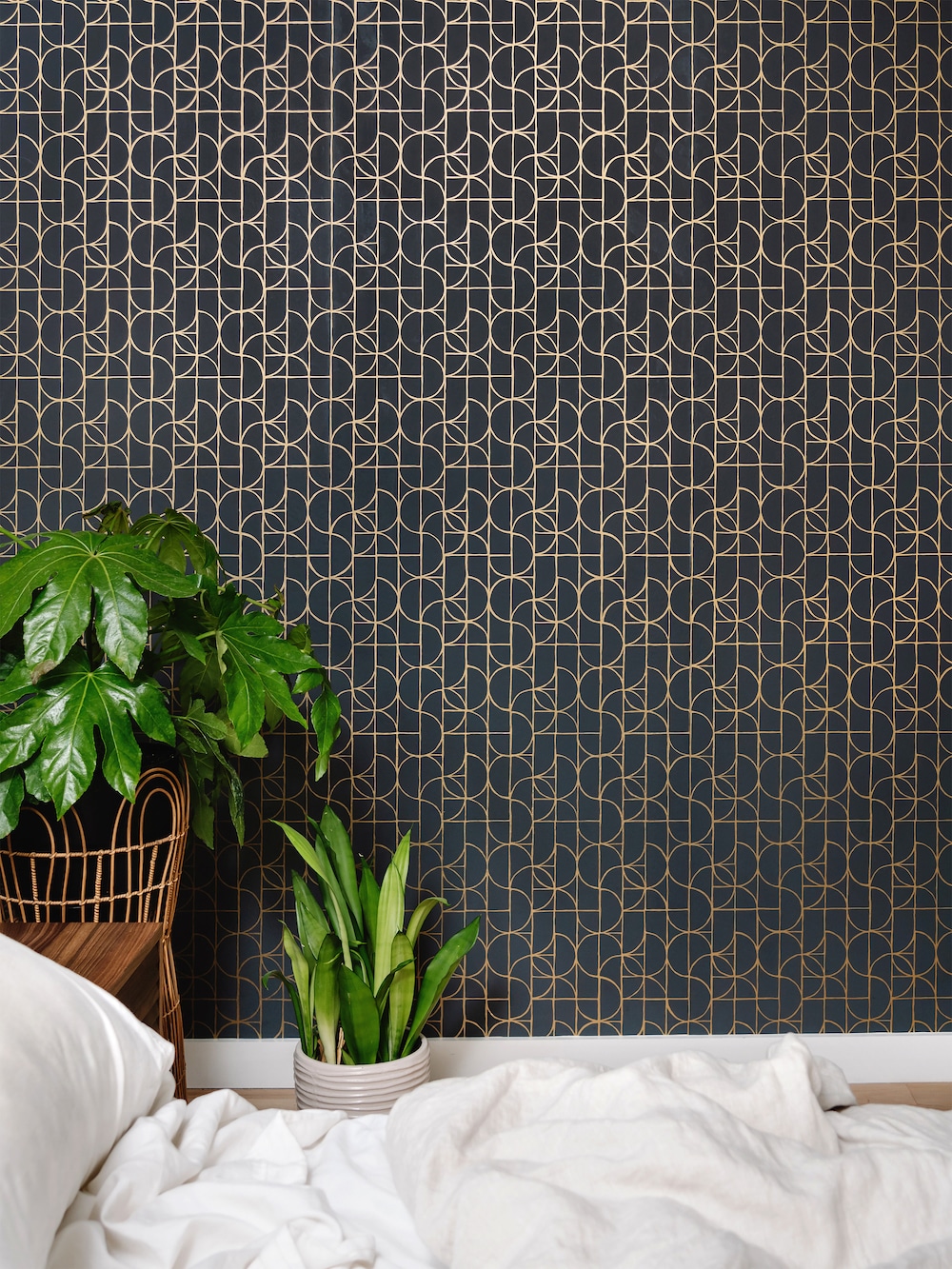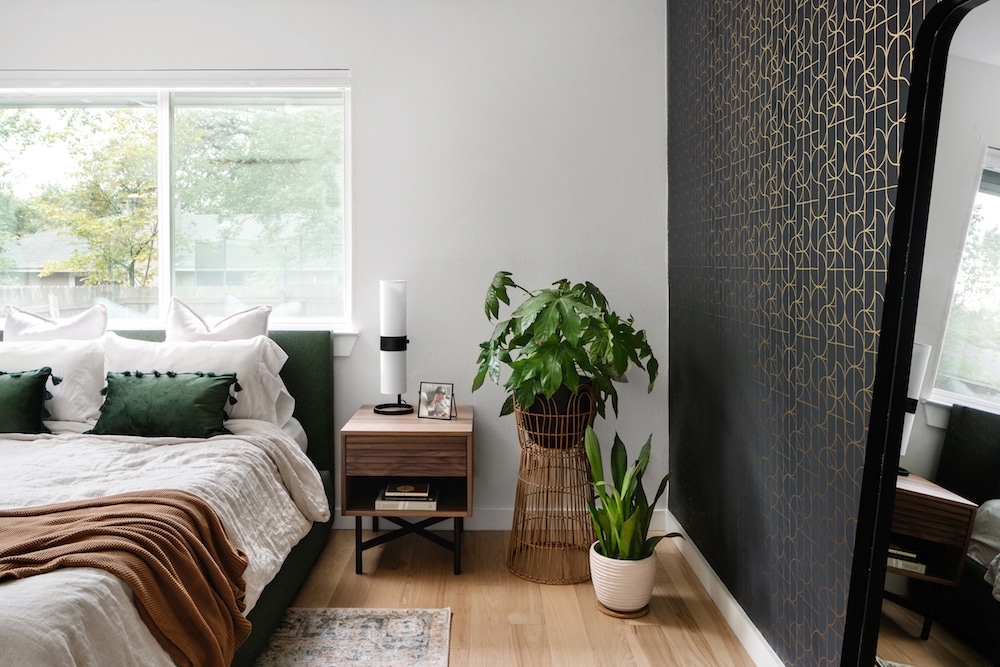 The only place to put the bed in this room is below the window. So we definitely didn't want to block the window with the bed, which narrowed down the type, it needed to be a low profile headboard. Chase fought me on it a little but I really wanted an upholstered headboard because I think it brings a lot of coziness into a space, especially since we have wood floors and knew our furniture would be wood. We went with the Wyatt Bed with a storage drawer in the flint olive, which is this gorgeous woven heathered fabric. The drawer is HUGE. It's awesome for all the extras. It even acts as a little library for my book obsessed girl.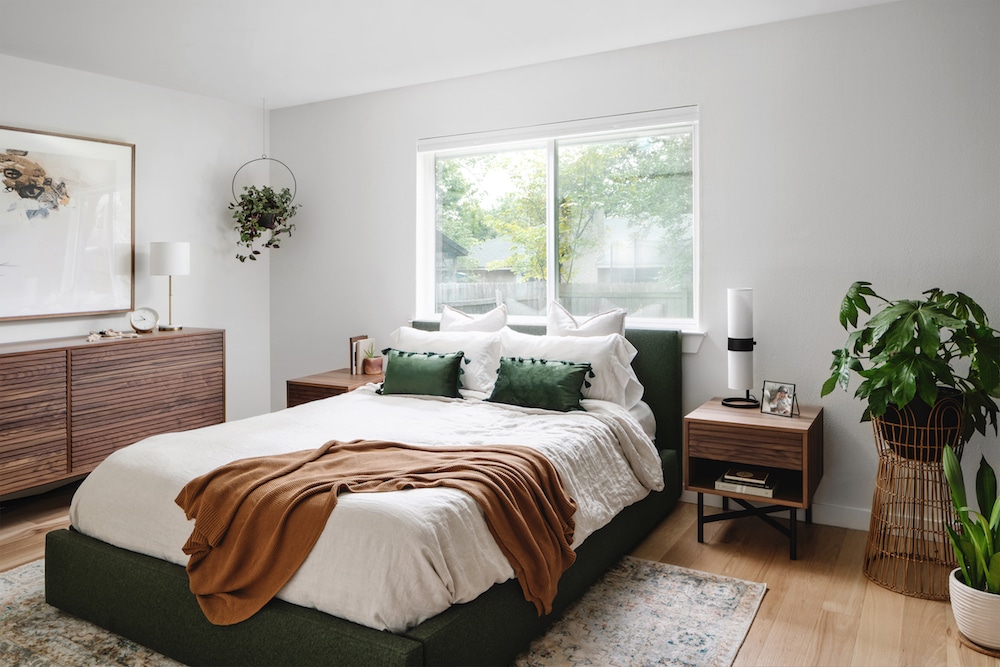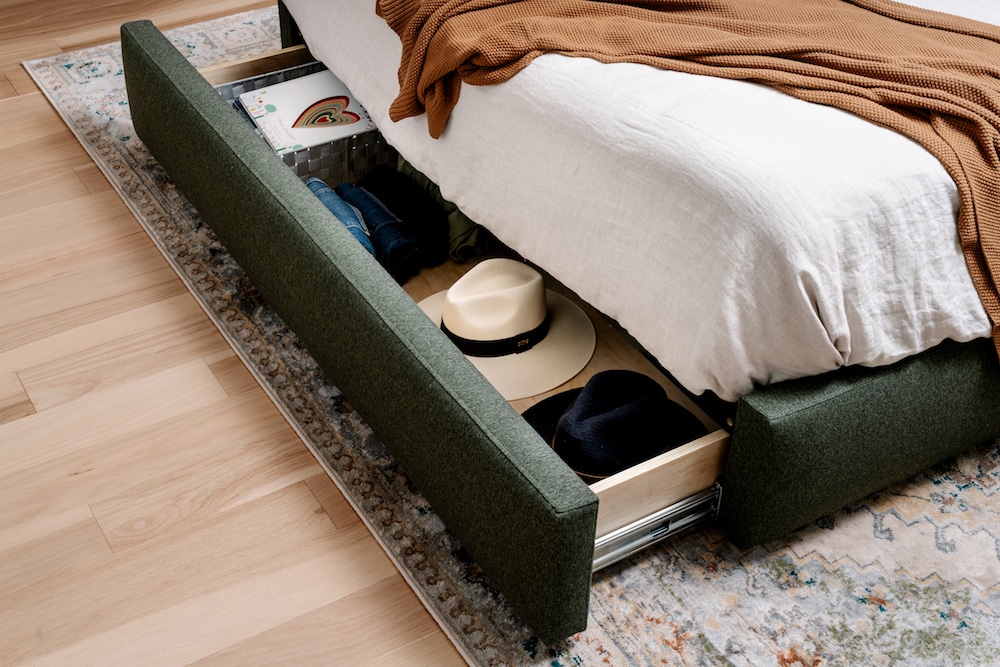 We didn't just need a bed, we needed a mattress. We both were sinking deep into the craters of our former mattress and were skeptical of ordering a mattress that came rolled up in a box. We decided on the Luxury Mattress with serene foam which is like sleeping in heaven. I was so nervous ordering a mattress without laying on it, but this is the perfect combo of soft and firm. I need a little of both for sure. We've been sleeping on this mattress for 3 months now and I can tell you it's a winner, no sagging and no craters.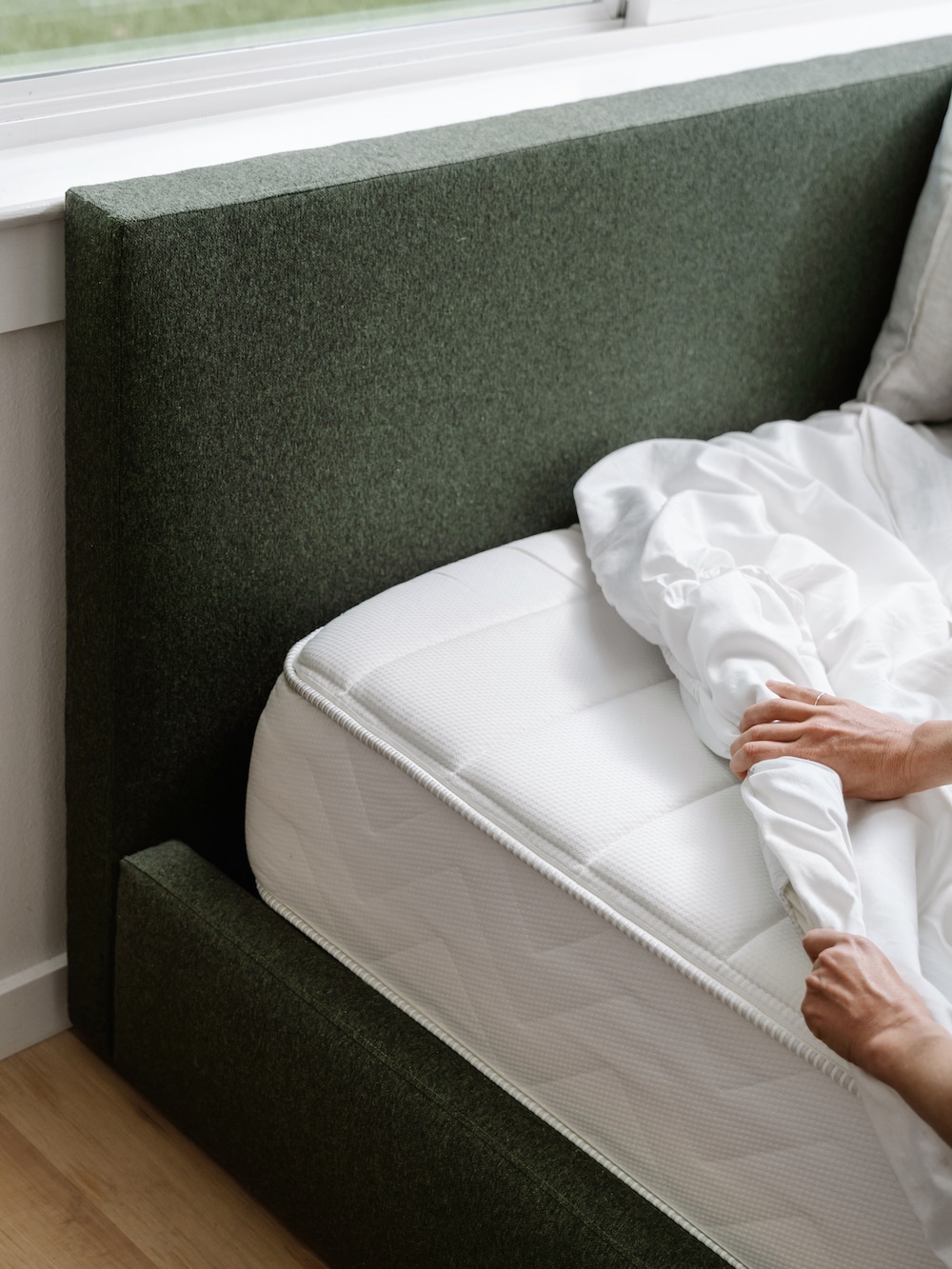 It was definitely a task narrowing down our choice for furniture but ultimately landed on the 6-drawer Adrian Dresser in Walnut with graphite legs and chose to match the night stands with it. I love the minimal yet strong statement these pieces make. And I'm not gonna lie, the fact that there's no hardware does confuse my toddler and keep her out of nightstand drawers, bonus! I love that Room & Board pieces are so customizable, you can pick from wood materials, metal colors and more. It's pretty amazing how custom a piece can become from a large retailer.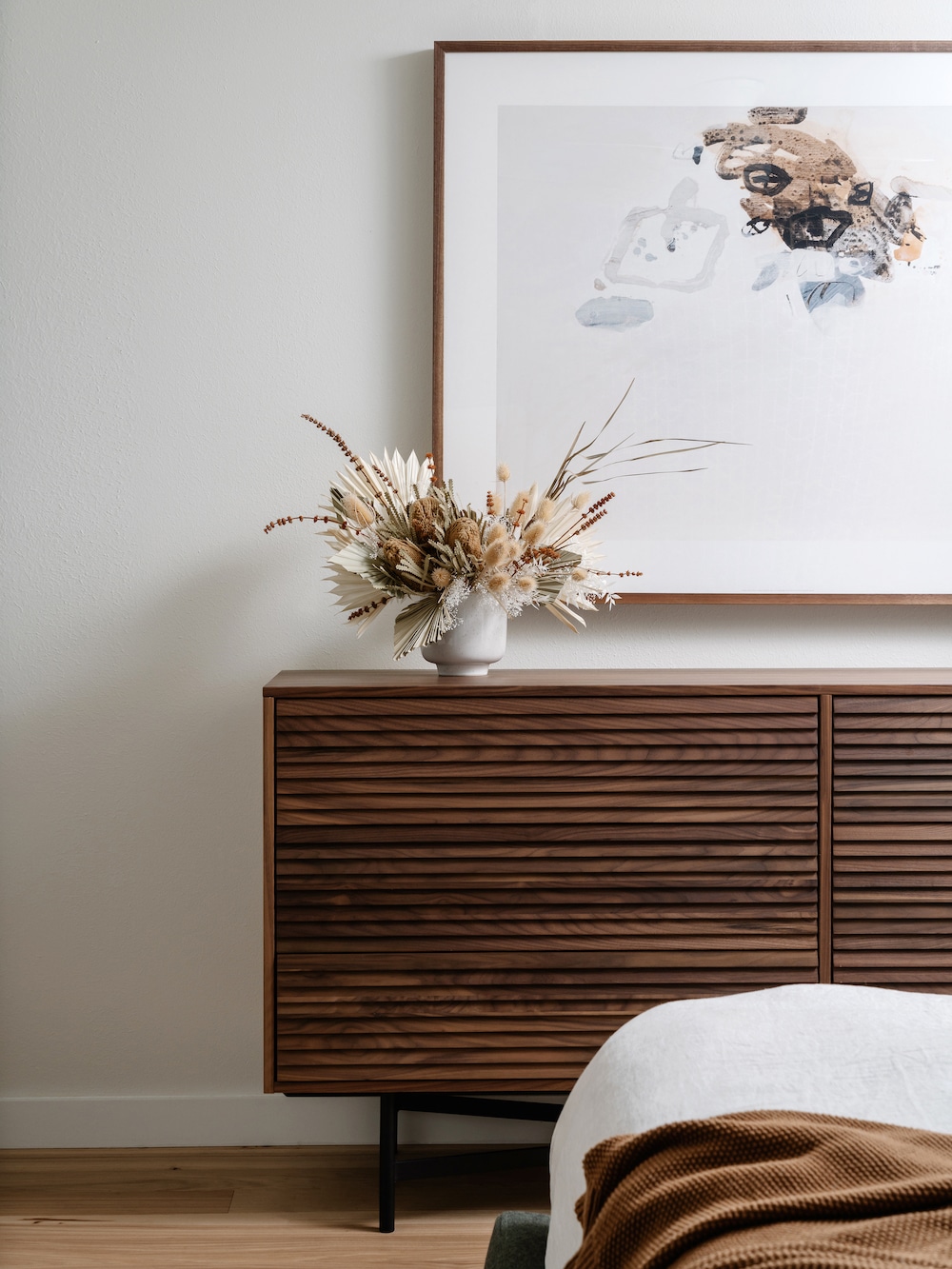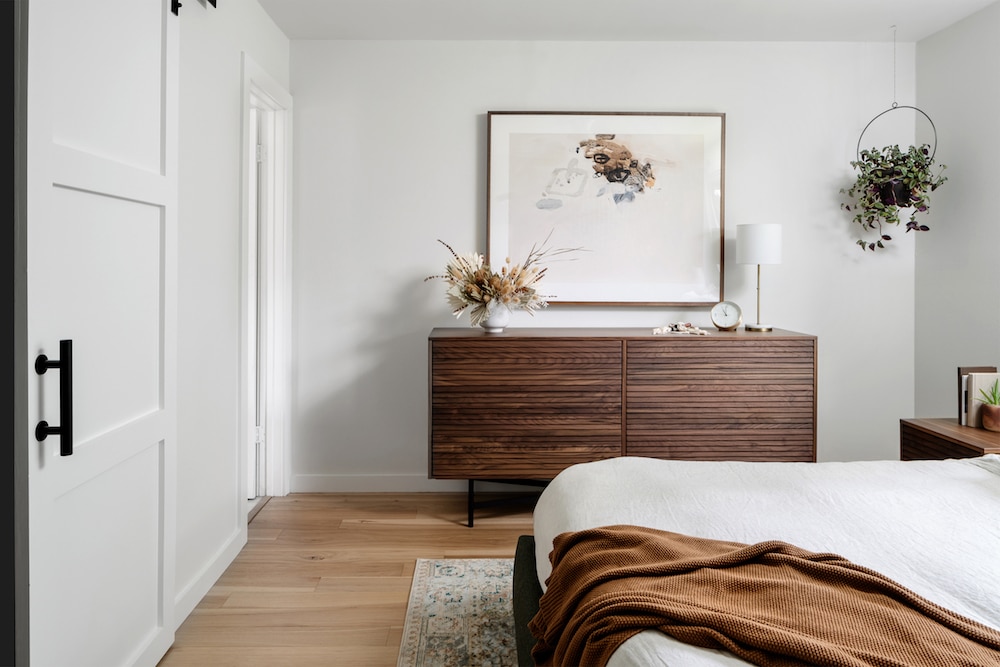 We also needed a good lighting and some art. We wanted something that gave off a lot of light but also dimmed, we went with the bold Cedric Table Lamp. For art, it needed to be subtle but strong to compete with the wallpaper. I really wanted a large piece because I love the idea of oversized art in a bedroom. We went with an abstract piece by Gabriel Belgeonne. It's stunning to say the least. I love the impact it makes.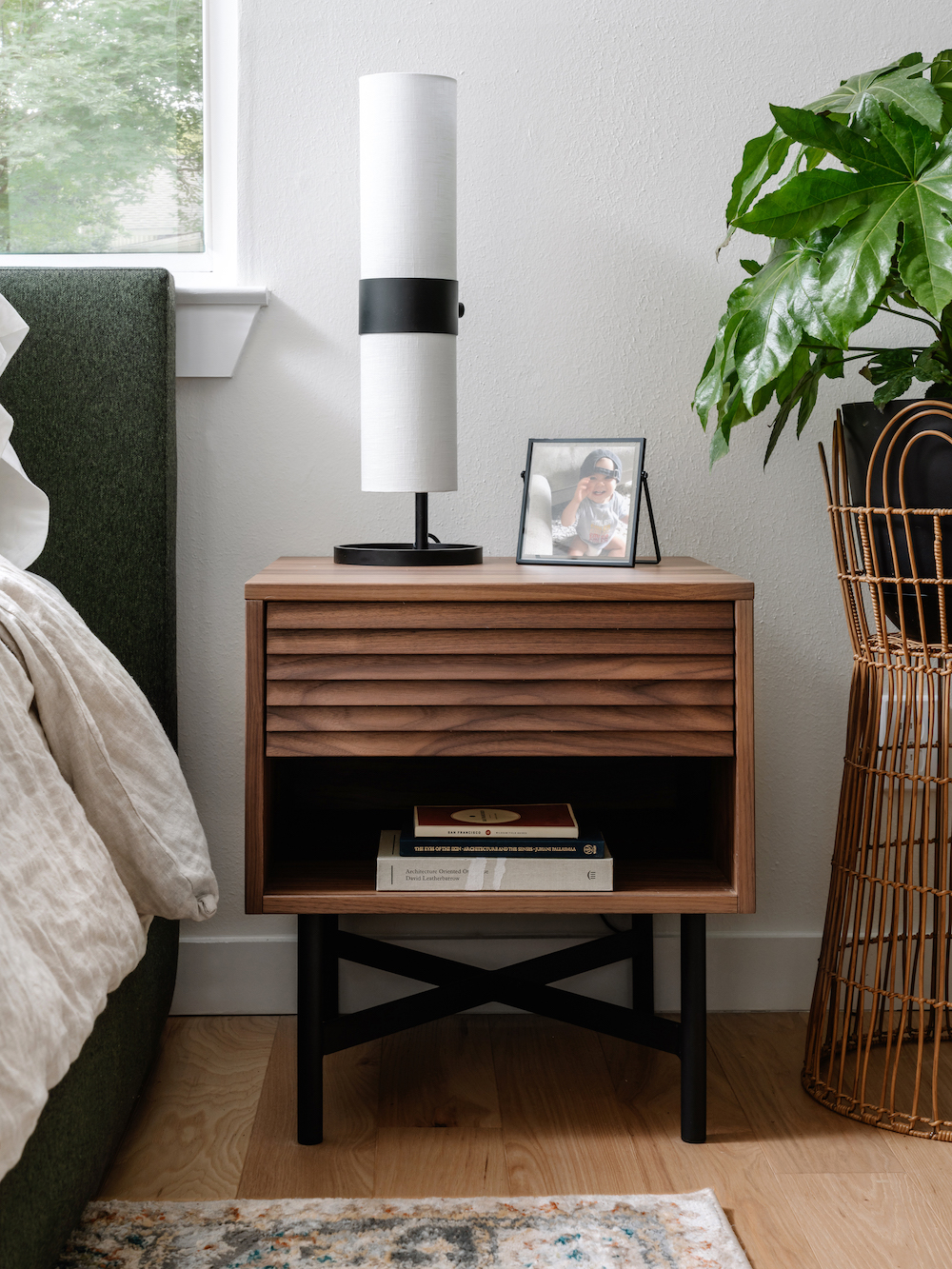 As for the details, we picked a Loloi Rug, we have several of these in our home and the quality is fantastic. I love the highlights of rust in it. The sheets and linens are from West Elm, we chose a simple natural flax linen duvet because I wanted the other elements in the room to shine, plus nothing is cozier than linen in my opinion. The accent pillows and throw were Amazon finds because I'm a firm believer in not spending a ton on those types of things so you can easily change them out without guilt. The leaning mirror is also an Amazon find and the quality for the price is unmatched. So good. It's attached to the wall even though it appears to lean, don't worry, it's not falling on my toddler. The modern sliding closet door was a DIY by Chase and his dad, it's a very impactful upgrade.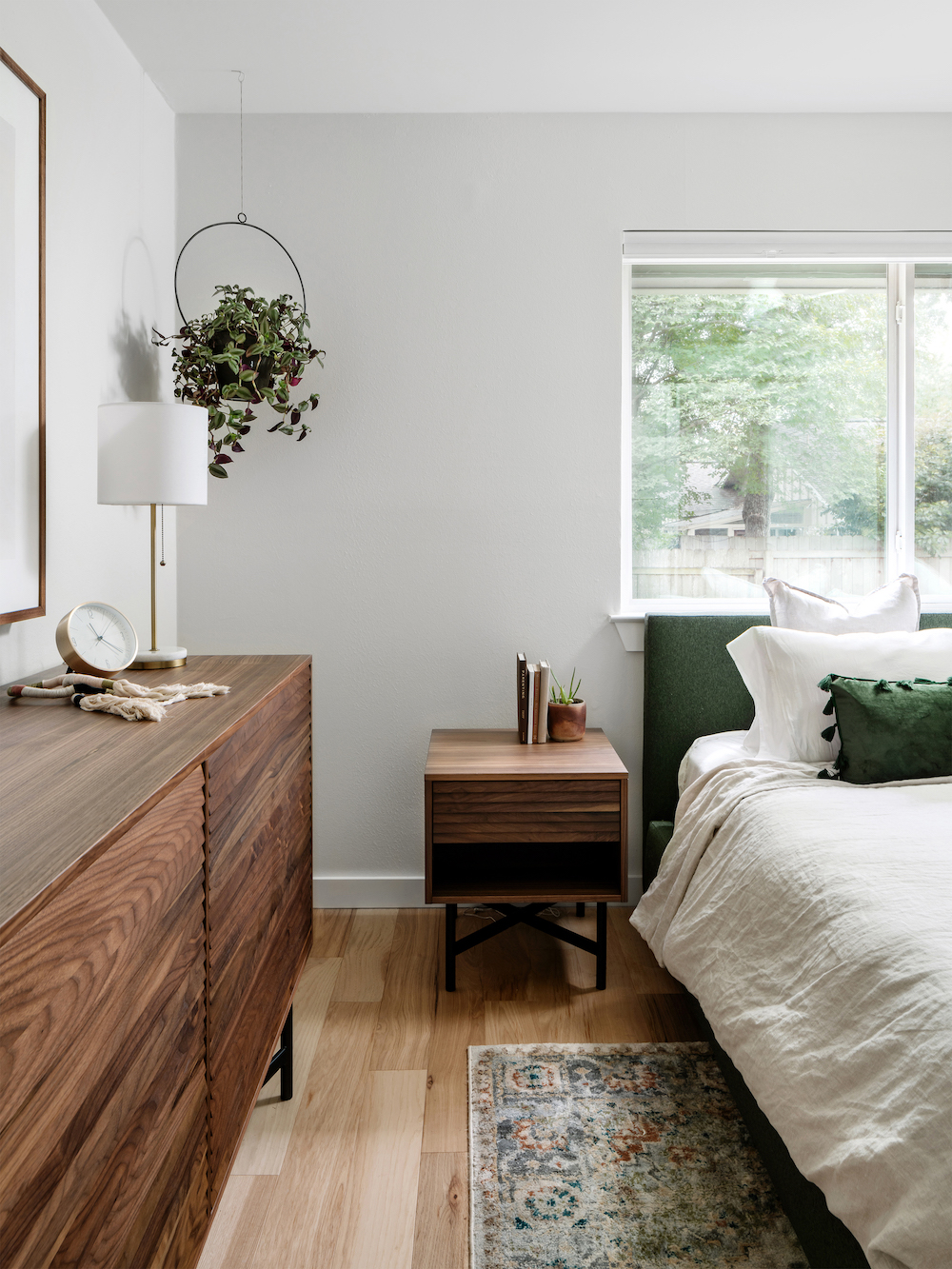 Last but definitely not least is the incredible custom dried arrangement my best friend made for our space. Rowen is an incredibly talented florist and made all my dry arrangement dreams come true. This piece for sure steals the show in the room and I cannot get enough of it. We of course also incorporated plants because I am a crazy plant lady.
It's honestly amazing what a few really quality pieces can do to transform a space. Wallpaper aside the room for sure holds itself even with white walls, which tells you furniture, linens and additional textures can really do a lot to refresh a space.
Photography by Chase Daniel