I'm writing this—looking at these photos of sweet Ever's nursery—knowing that by the time you see them our baby girl will likely be home with us already, already enjoying her cozy little space that we created for her for at least some of the day.  Meanwhile, though, as I write this and chip away at my to do list, glancing at my calendar and scheduling posts, I can't help but wonder at nearly 39 weeks pregnant, is today the day? Tomorrow? Will she be here by the time we shoot Thursday's post?  Will she come on her own or have to be lured out by modern medicine? Oh, the waiting!  In the meantime, I'm really excited to share the full reveal of this space with you here.  So much thought went into each decision.  I contemplated how we wanted the room to feel, the function of each piece, and how we would ultimately be using the room day to day.
We partnered with Hayneedle on all of the key furniture pieces for the room.  (We also partnered with them on this space and this space.)  I love that they offer a really wide variety of styles, pieces, and price points and we have always been super happy with the quality.  I knew I wanted to the room to feel light and airy and serene and this Babyletto crib totally fit the bill. It was also super easy to assemble and converts into a toddler and full-size bed.  (We went with this organic crib mattress.)  The dresser was something that took me a lot longer to settle on.  We love the look of Parker's dresser and she does still use it to this day, but it's not as practical as I thought it would be. The side nooks for books are super cute, but it would actually be more practical to have more drawer space and put the books in baskets or on shelves.  (We hang a lot of her clothes now to supplement for the smaller drawers.)  This is the one we settled on and so far I'm super pleased with it.  We have diapers and wipes and other essentials in the tops drawer, followed by pajamas and onesies in the second drawer.  The bottom two drawers are super deep. One is home to the rest of her clothes and the bottom drawers has all of her swaddles, blankets, burp clothes, and bibs.
I didn't do maternity photos when I was pregnant with Parker.  Having a hobbyist photographer for a husband means that we get lots of wonderful candid shots documenting the every day, but rarely (never?!) do I actually hire a photographer and schedule a photo shoot that isn't work related. Knowing that this is likely my last pregnancy and our last babe, though, made me want to document not just this belly, but these last days with my first baby love.  Shot by Heather Gallagher here in Austin, I love that these photos are so telling of Parker right now and her obsessions with dancing, dresses that twirl, tea parties, and more than anything, her baby sister.  She offers a 'Year in the Life' package that includes monthly photo shoots of your babe in addition to other photo documentation.
I think I already mentioned how in love with this glider I am and how much Aaron was against it at first-ha!  So much of Parker's nursery was all about the aesthetic and now that it's not my first rodeo, I knew that this glider needed to not only fit the style of the nursery but be super practical.  It feels like the perfect blend of a glider and a big cozy chair.  (It actually reclines, too!)  I love that it's wide enough for Parker to come snuggle up with me and bébé and cozy enough to snooze in should I find myself with a sick or sleepy baby who just wants to cuddle or not wanting to go downstairs in between those middle of the night feedings in the early months.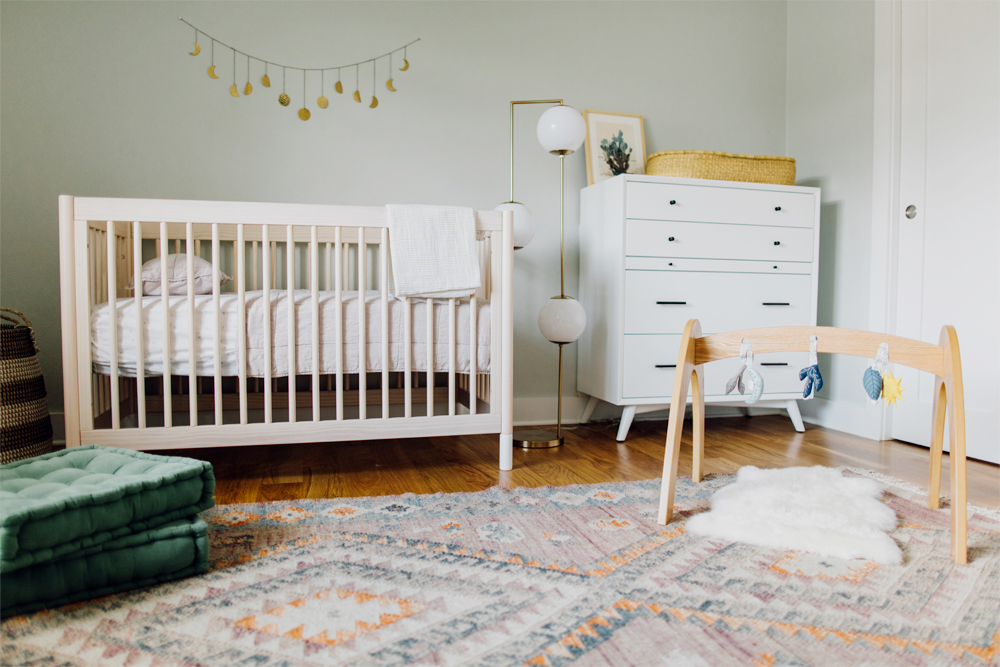 After choosing the essentials-- the crib, dresser, and glider-- I filled in with the decor.  This Rejuvenation rug was the perfect dose of muted color that room needed and I love that it's a flat weave that won't shed since I know we will be spending a lot of time on the floor.  As for extra seating, we added this pouf and these floor cushions for extra seating and this heavy duty wood stool for Parker to stand on and see into the crib.  Since we are still in our rental, we didn't hang anything substantial on the walls, but will definitely add art once we are in our home this fall.  Instead I hung this simple moon banner above the crib, this macrame wall hanging behind the glider and added this Minted cactus print to the dresser top.   The gold floor lamp from Land of Nod plays off of the metal moon banner and adds just a little bit of glam to the bohemian space.  The simple wood gym is Land of Nod as well.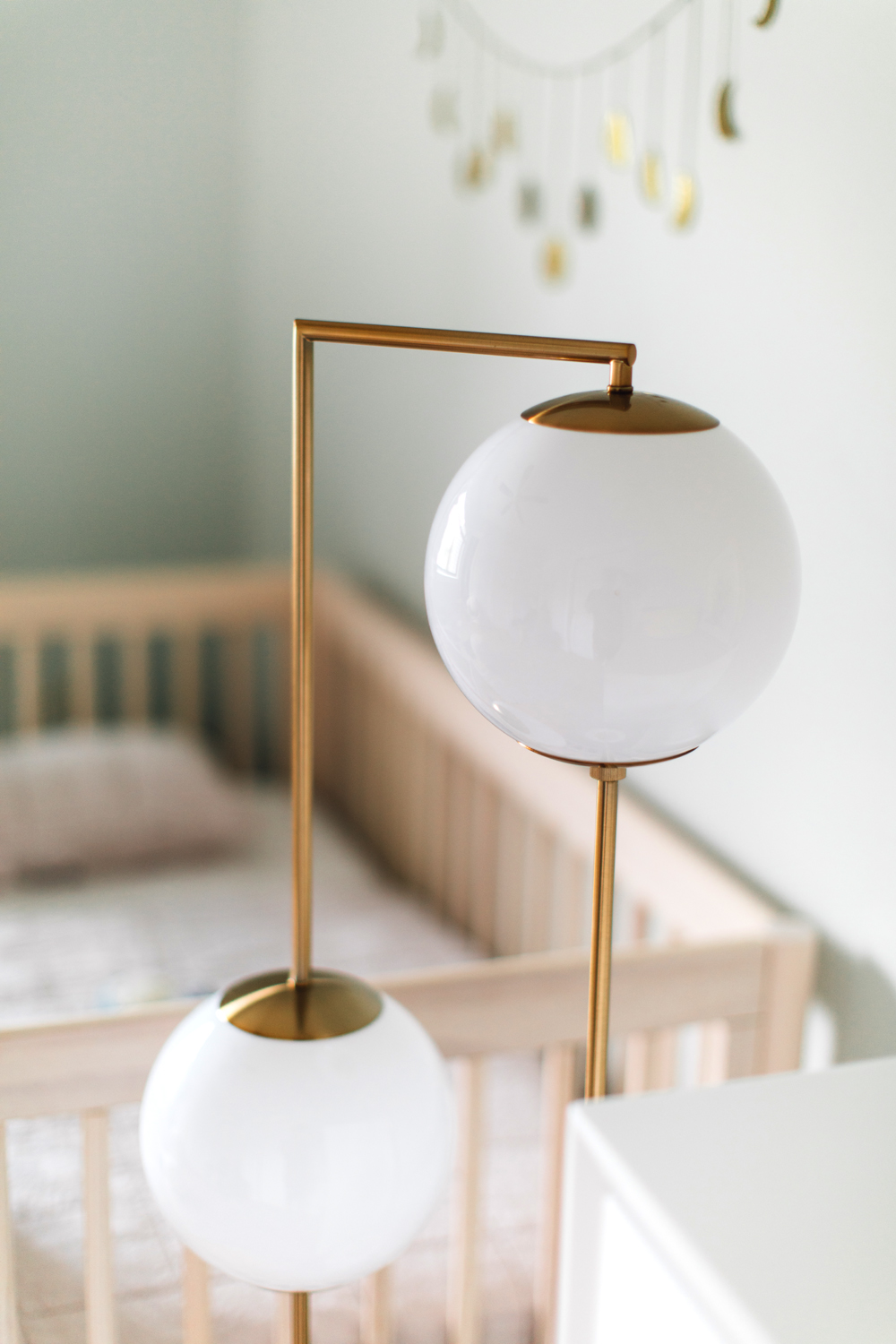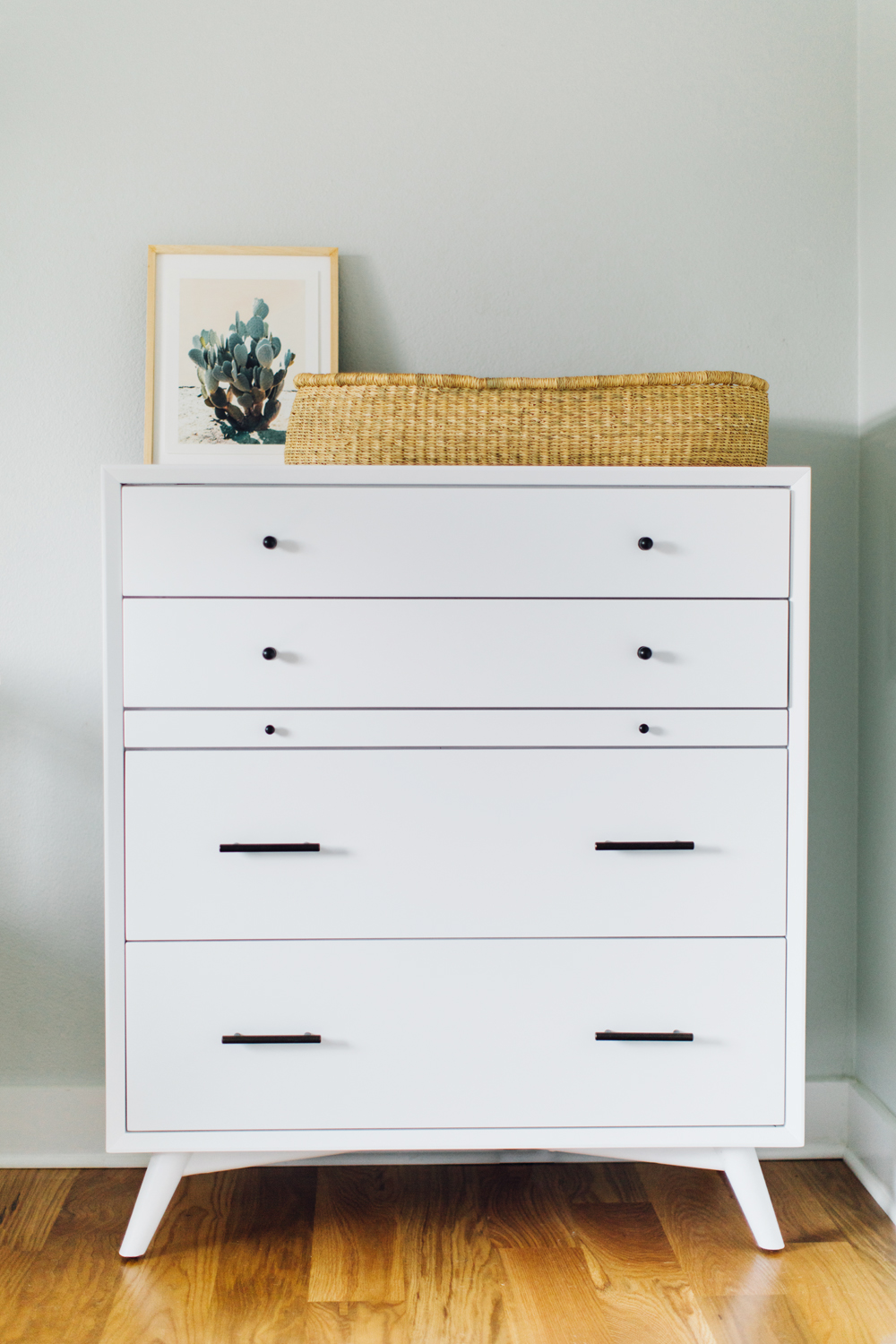 Room Photography by Aaron Pinkston
Photos of Parker and Me by Heather Gallagher