05/16/2017
We are heading to California a week from today for a couple days of work in Los Angeles followed by the long weekend in Palm Springs with our besties and it has me dreaming of the land of sunshine and palm trees constantly.  The list of restaurants I want to visit and people I want to see is so much longer than the days we actually have there, but I'm still counting down the days until my toes are in the sand and there's the mark of salty, Pacific air in my hair.  (The things dreams are made of, I tell you!)  Sunny LA was the inspiration behind last week's brunch and likely the reason that I've been making fish tacos and this citrus salad on repeat.  I used to think that the only salads that tasted good are the ones you order at a restaurant, but I've officially debunked that myth.  Now I'm convinced that all it takes is a really good cheese, a homemade dressing, and a little protein for a salad that's totally worth staying home for.  I've been making this one at home for lunch at least twice a week and even Aaron is a total fan.  Keep reading for the recipe for this most delicious Avocado Citrus Salad.  Do you guys have Memorial Day plans?  Where is your happy place that continues to inspire you?
Avocado Citrus Salad with Blackberry Vinaigrette Recipe
Ingredients for Salad:
1/2 lb. of mixed greens (I like a mix of spinach and arugula or baby kale)
1/2 c. feta cheese
3 small avocados
2 medium cara cara oranges (or other citrus)
1/4 c. wild rice
1/4 c. crushed walnuts or pecans (optional)
1 grilled chicken breast, sliced into strips
2 Tbsp. pomegranate seeds
salt and pepper to taste
Ingredients for Blackberry Vinaigrette:
1 cup blackberries
1 Tbsp. honey
2 Tbsp. balsamic vinegar
2 Tbsp. olive oil
¼ tsp. salt
½ tsp. dijon mustard
Directions for Avocado Citrus Salad with Blackberry Vinaigrette:
Assemble ingredients for salad on a platter
Combine all ingredients for the vinaigrette to a food processor or blender and mix well.
Sprinkle salad with salt and pepper to taste.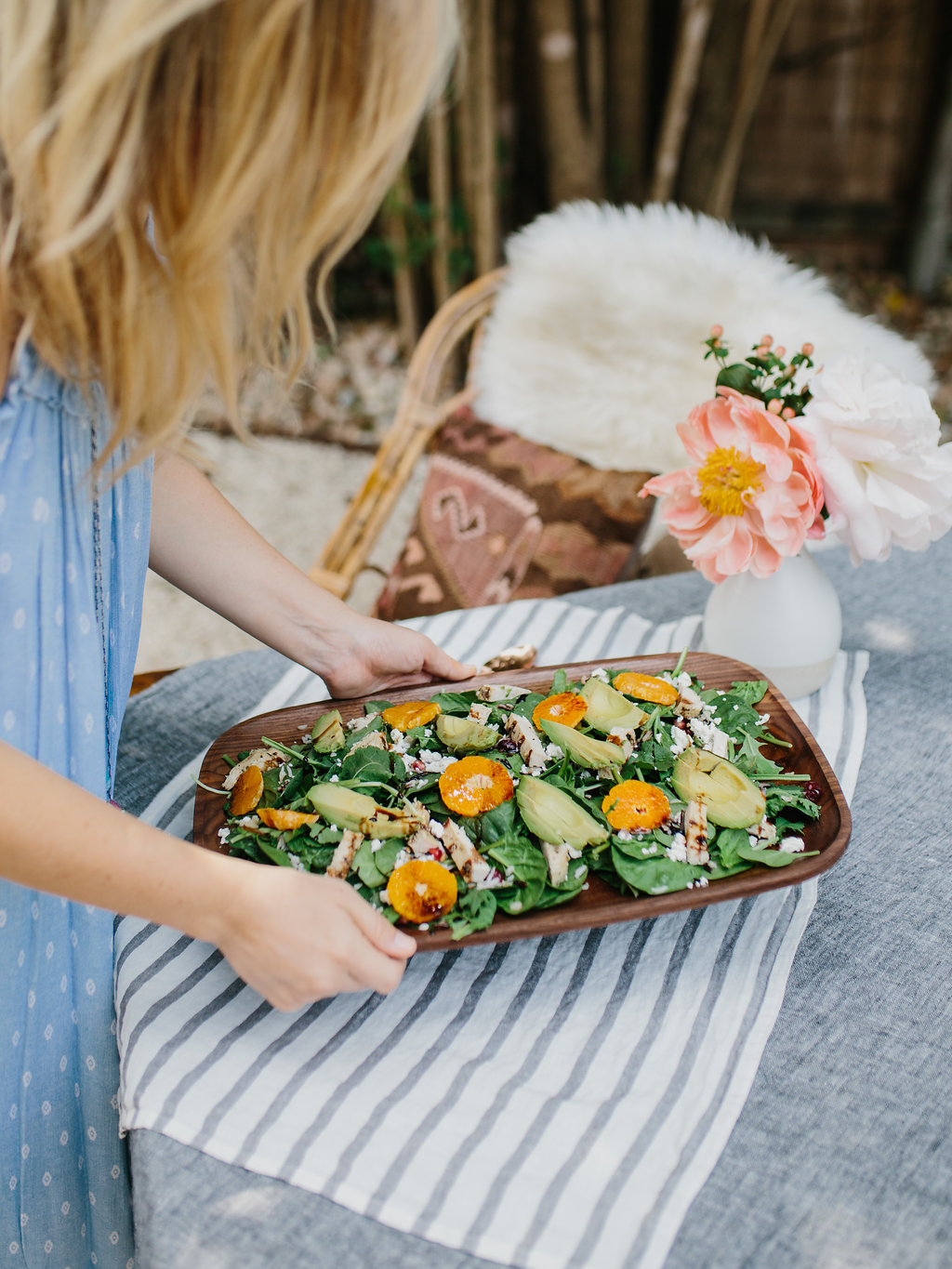 Chair, Bud Vase, and Copper Flatware from Loot Vintage || Linens from Parachute || Salad Platter from Williams Sonoma || Dress, MISA
Photography by Katie Jameson