After months of eating at the bar, picnicking on the floor in an empty dining room, and gathering around a coffee table, at long last, we have a dining table, friends, and I couldn't be happier!  I pondered, shopped, fell down the rabbit hole of interior blogs, and picked all of your brains both here and on social media before finally choosing one. There was so much to consider as I have seriously high hopes for this dining room space.  I imagine dinner parties with friends that go hours later than expected in the best possible way, platters full to the brim being passed around by family and friends on Thanksgiving, and simple weeknight meals with our family of four where we discuss the highs and lows of our day and, of course, the deliciousness of my cooking.  Needless to say, the expectations for this room were high and hundreds of dining tables later, this Corbett Table in Walnut from Room & Board is THE ONE!  I realized as I was putting this post together that this is the only room in our rental house right now that we will be able to just pick up and move directly into our new space come October.   It's done.  It's perfect. And I love it!  Now here are all of the details:
The table:
For starters, I wanted the largest possible table that would fit in our dining room at our new space.  This meant staying somewhere in the 80-87" realm which is pretty specific and ruled out many a table.  After months of thinking that I might want a round or oval table (both of which I love), I ended up choosing rectangular because it gives us the ability to swap in bench seating on one side and squeeze more people around it.  I knew I wanted something simple and modern, not ornate, and that would fit with the mid-century vibe of our new place.  The Corbett table checked all of those boxes and it was seriously love at first site.  As for the wood tone, it comes in 7 different shades and Aaron and I went back and forth on a couple before settling on the walnut.  He tends to like much darker woods and I am in a serious light wood phase, so the walnut was a compromise that we both liked.  (Also we have been having this debate on every wooden feature in our new house build right now—think cabinets, flooring, and beyond.) After seeing the table in person, though, I would choose it now over the light.  It has such pretty color variation and feels really timeless.  Seriously this is one of those purchases that I really liked online when I ordered it, but has exceeded every single expectation now that we have it here with us in person.  I just can't say enough about the quality or the beauty of the wood.
The chairs:
These chairs tie into so many other finish details in our place.  When we put together the style board for our house (which you can see here), I imagined really supple camel and brown leathers as a runner throughout the house, so I loved the idea of these Lira leather dining chairs.  You get the comfort of something upholstered instead of wood, plastic, or metal, but they also clean up so much easier than their fabric counterparts.  We chose the Portofino Cashew leather (there are tons of choices) because of the way it went with our leather barstools. I wanted them to look like intentionally different shades so that it didn't look super matchy-matchy. (They also won't be as close to each other in our new space as they are in our rental.)  Lastly, I love the black metal frame.  Most of our finishes in our new place are matte black, so these will tie in perfectly.  These Lira chairs somehow feel both modern and timeless which I love.
The rug:
To rug or not to rug under the dining table seems to be quite the hotly debated topic.  I can see both sides.  It certainly doesn't feel like the most practical choice—especially with kids.  On the other hand, with concrete floors in both our rental space and our new build it really feels like the room needs a rug to add warmth and also pattern.  (The pattern will hopefully also strategically hide small spills, fingers crossed.)  We chose to rug and couldn't be happier with this Tulum rug.  The colors are neutral but add the perfect dose of pattern.
The lamp:
Since there isn't a statement light fixture in our current space, this Rayne floor lamp helps to bring it all together and make the room feel complete.  I am obsessed.  The arm swings and height adjusts and I can literally picture it in any room.  Since the dining room in our new space will have a light fixture, we've talked about relocating it to the living room, play room or office once we move.  Like I said, it could literally go in any room and make me so happy!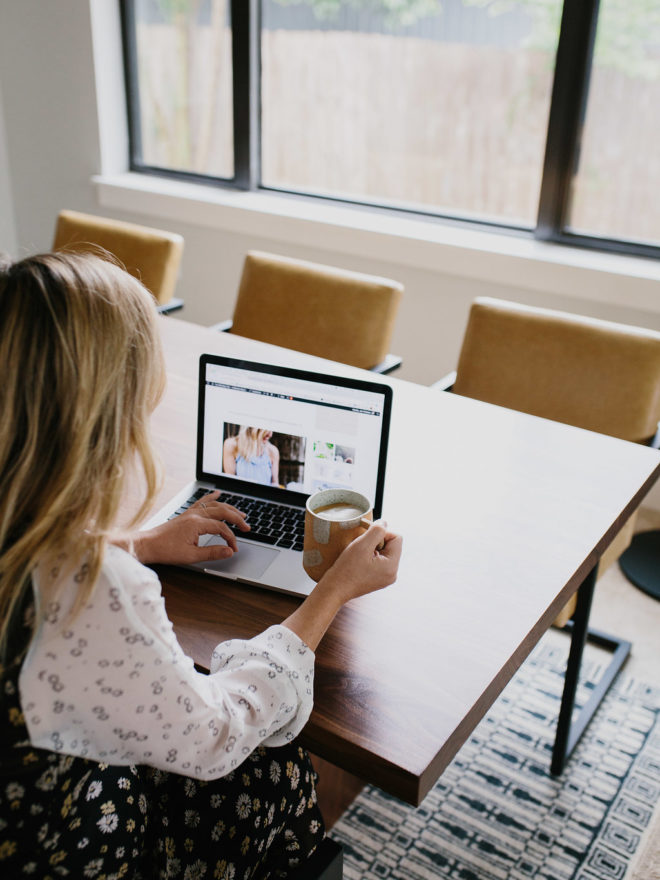 We partnered with Room & Board on this post and had such a great experience.  When we lived in LA, we were always paying a visit to their Culver City store and ogling piece after countless piece for our place, so it was no surprise that out of the hundreds of tables that I looked at, the one I loved most belonged to Room & Board.  We placed our order for the dining room pieces and received a delivery date.  It was on time (a little earlier than expected actually) and we got a phone call to schedule the delivery a couple of weeks in advance.  Then two days in advance the Room & Board delivery team called back with a two hour window of when we could expect them.  The guys arrived right in the middle of the delivery window and effortlessly came in, put everything together, placed it where we wanted, and then removed any cardboard or trash that was left behind.  It was such a great experience!
The next room to complete?  This baby girl's room! She's due in less than 12 weeks, so the countdown is on!
Photography by Katie Jameson
The Room & Board product in this post was generously gifted.  All opinions and copy are my own.