Never has a post shot solely on my iPhone made me so happy!  It's not fancy, but things are moving along on our new place and I thought it was definitely time for an update. About two months ago exactly, our house looked like this.  Since then, the framing has gone up which makes it feel dramatically different and gives you a really good feeling for the kind of light each room will get and the scale of things.  We did an electrical walk through and got to choose the location of every single light fixture and outlet in the whole house.  Kind of overwhelming, but also so fun!  (Meanwhile, I'm staring at the above photo and wondering why we didn't plan for a can in the soffit or a sconce on the wall in the very front of the house... oops.)  The plumbers have also been working away and prepping everything for the fixtures to go in.  Below is the current entry of the house.  That giant open space is like ⅔s door and ⅓ sheet of glass.  I love how you can see straight through the house from the entry way into the covered patio and back yard.  When you walk up to the door there are also sheets of glass to the left and the right so you can see through from one side of the house, outside, and to the other.  (Sam Burch is our architect and has designed so many great things that we didn't fully appreciate on paper but are really great to see in 3D now.)
We are currently trying to choose the color for the soffit (which is the overhand all around the house-- a word I definitely didn't know until this process).  In a perfect world our budget would allow for a gorgeous tropical wood like ipe that wouldn't need a stain, but in real life we will probably do a stained pine and have just been trying to find this incredibly elusive color that is not too red, not too orange, not too yellow, not too light, not too dark, and will offer some variation.  Haha! The goldilocks of colors over here!
If you can believe it, we are still working on our kitchen cabinet plans, but hopefully those will be done soon.  We chatted about the kitchen design here and you guys gave really great feedback on each of the options.  Well, somewhere along the way (probably during permitting) the wall that the refrigerator is on became dramatically shorter than what was in the original kitchen designs.  That means the floating shelves are probably going to be placed like they are in option 1 but I also don't think it will look as off balance since that refrigerator wall is going to be so much smaller. Below is the view of the kitchen if you're standing in the living room.  The entire house gets such great light with the exception of that one dark corner in the kitchen. Not sure what we could have done about that except not have upper cabinets and have just done windows there, but I would have never gone for that and there is already so much glass in this house!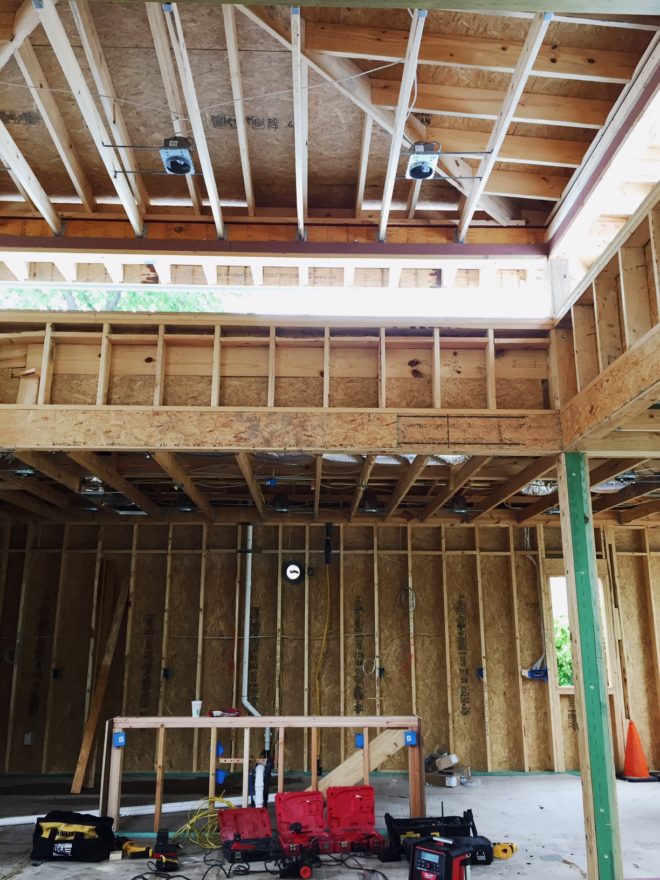 And this is the view of the living room if you're standing in the kitchen: (There's all the light!)
That orange ladder is why there are no pictures of the upstairs  yet.  I think I make everyone incredibly nervous every time I climb up it with a six month bump.
Yep, there's that ladder. The staircase is in the works right now and being made by Brian Chilton, a local artisan and designer here in town that works on a lot of really cool commercial and residential projects... some of which you can see here.  We went back and forth on the final design for weeks, mostly over budget. (If you feel like budget keeps coming up in this post, it's because it keeps coming up in real life! I'm determined to not go a penny over our original budget and would actually love to come in under.)  Some of the tiny little nuances we debated were stair tread thickness, in other words how thick the wood of each step would be. The difference of ¾" thicker on each tread is equivalent to $1900! I won't get into the other details now, but promise to hash it out once there is an actual staircase to speak of.  Where that guy is standing in the photo is the master bathroom, so what you're looking at from this vantage point is the master closet, then bathroom, then bedroom.
And this is the view of the bedroom from the master bathroom and then one more of those two adorable windows. Our nightstands are most definitely not going to fit under those two adorably long windows so we are already plotting what our furniture plan might be... and will likely be selling lots of Restoration Hardware bedroom furniture come September!  (We will be selling all of our furniture through this Instagram account if you want to follow along.)
Currently we are finishing up our lighting selection for the whole house.  It's almost totally complete, I just have to nail down the fixture for the playroom and our exterior sconces.  We just finished choosing our brick for the fireplace and am so excited to share that!  We still have a few tile selections to make and we have to choose the two stucco colors for the exterior.(That post here-- we ended up going with the design of #7!) We will also need to choose paint colors for the whole house, including the kitchen cabinets.  You also might have seen on my Instagram that we are collaborating with Claire Zinnecker on one of our bathroom designs.  It's been so fun!  It all started over lunch with a conversation that went:
Me: "How do you feel about terrazzo tile floors in a bathroom?"
Claire: "I love terrazzo!"
The rest is history and that bathroom is going to be so gorge!
Which brings us to the portion of this post called "Things I'm already thinking about that I Shouldn't Be": What will we do with that great little courtyard like space as you walk up the front door?! What will we do with all of the landscaping? How can I make the backyard as private feeling as humanly possible (no really, anyone have any great tips on what to plant?) What should we put back there for the kids?!  Are we going to do roller shades on all of that glass or drapes? On all of the windows or just some?  Will I ever find the right wood stain for the soffit?!  I'm just going to leave you with that cliff hanger, friends, until the next update. I'm planning on doing an entire house walk through on my stories when we are back from LA so more details to come.  Also, for those that have asked, our builder is Waller Build!