04/16/2018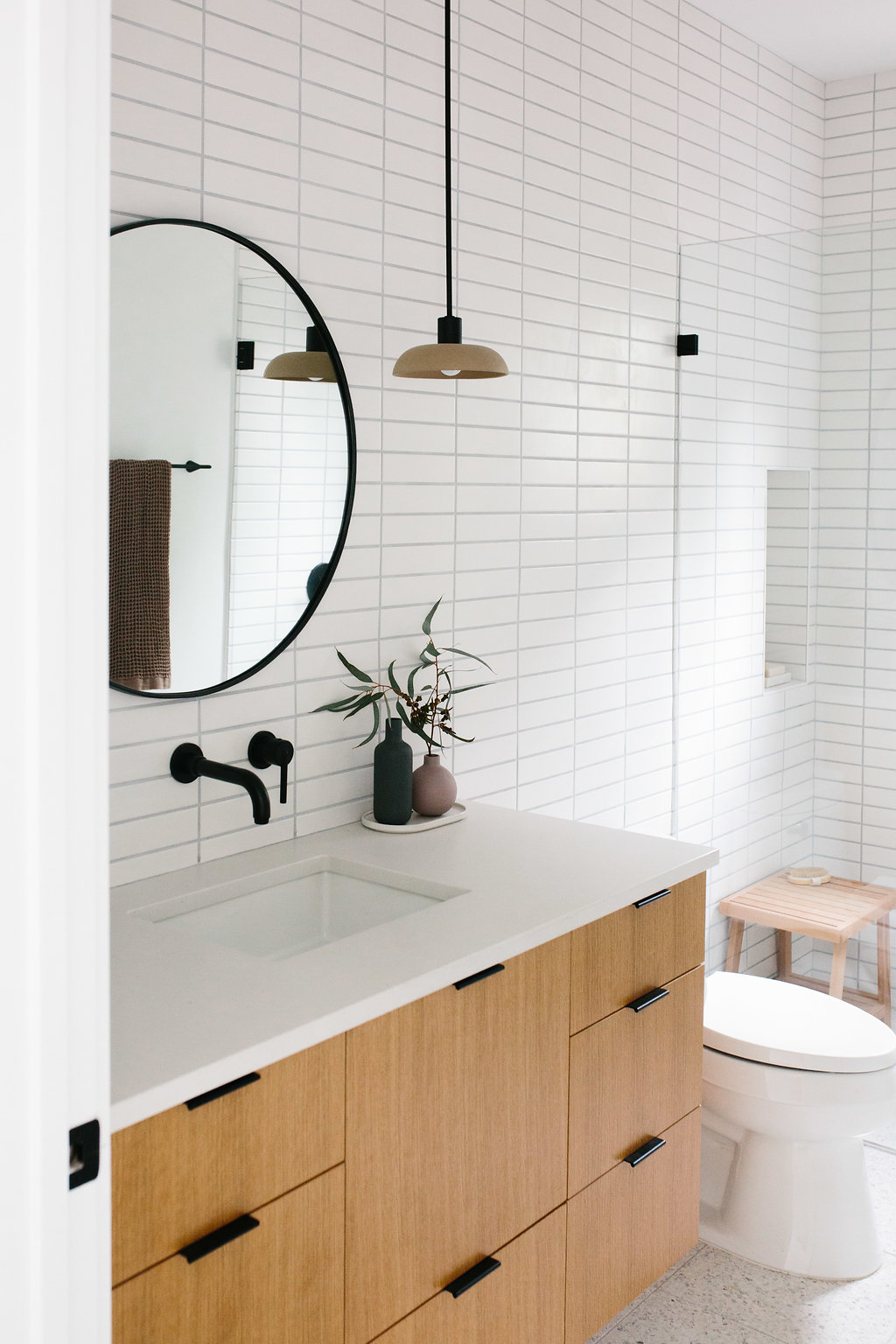 I asked and you answered loud and clear that you would like rooms revealed as we shoot them– in other words, as soon as possible, please and thank you!  We were actually in touch with two publications earlier in the year that were interested in shooting and publishing our home, but as I scrambled to find the right furnishings and finishes, I realized I was rushing the process.  As we reveal the rooms here on the blog, they feel complete to me and I love them so much, but in a lot of ways they're still the first draft. They're not filled with the eclectic types of pieces yet that we've stumbled upon and collected, made and refurbished. I really don't want to rush that process just to check some boxes, so I'm excited to get everything shot and published for you now and will revisit the editorial process in a couple of years when it feels more lived in.  Anyhow!  The guest bathroom…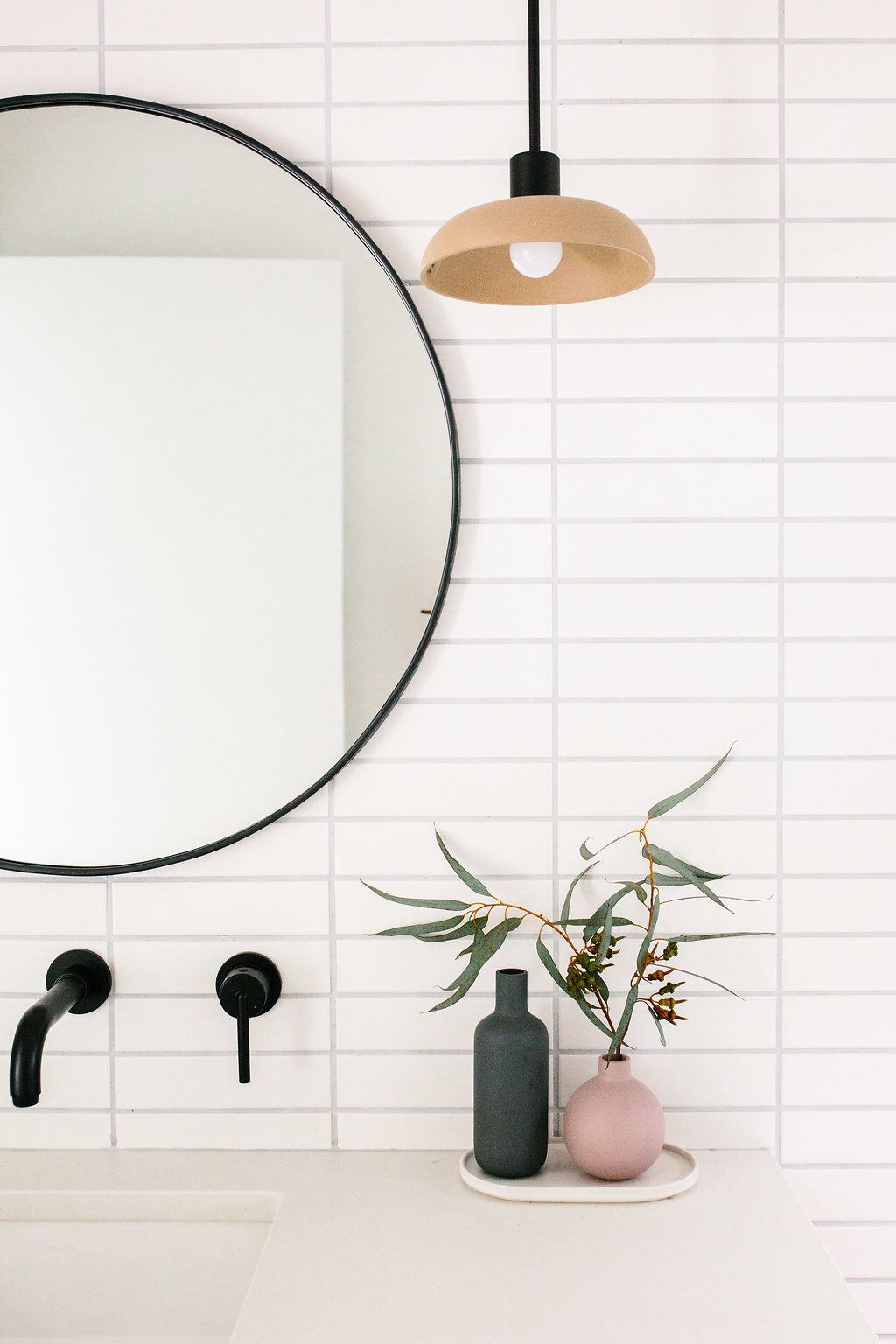 Aaron says this is his favorite bathroom in the house and I can't blame him, although the master still has my heart! I designed this bathroom with my friend, Claire Zinnecker. I really had my mind set on terrazzo floors in here, but didn't know where to begin.  She sourced these beautiful tiles and helped me make decisions on a lot of the finishes, too.  If you're not following her on Instagram, do! She's a wealth of interior design ideas and just a beautiful, bright light, too.  (You can see the design post for this space here! All of the sources are linked at the bottom of the post, too.)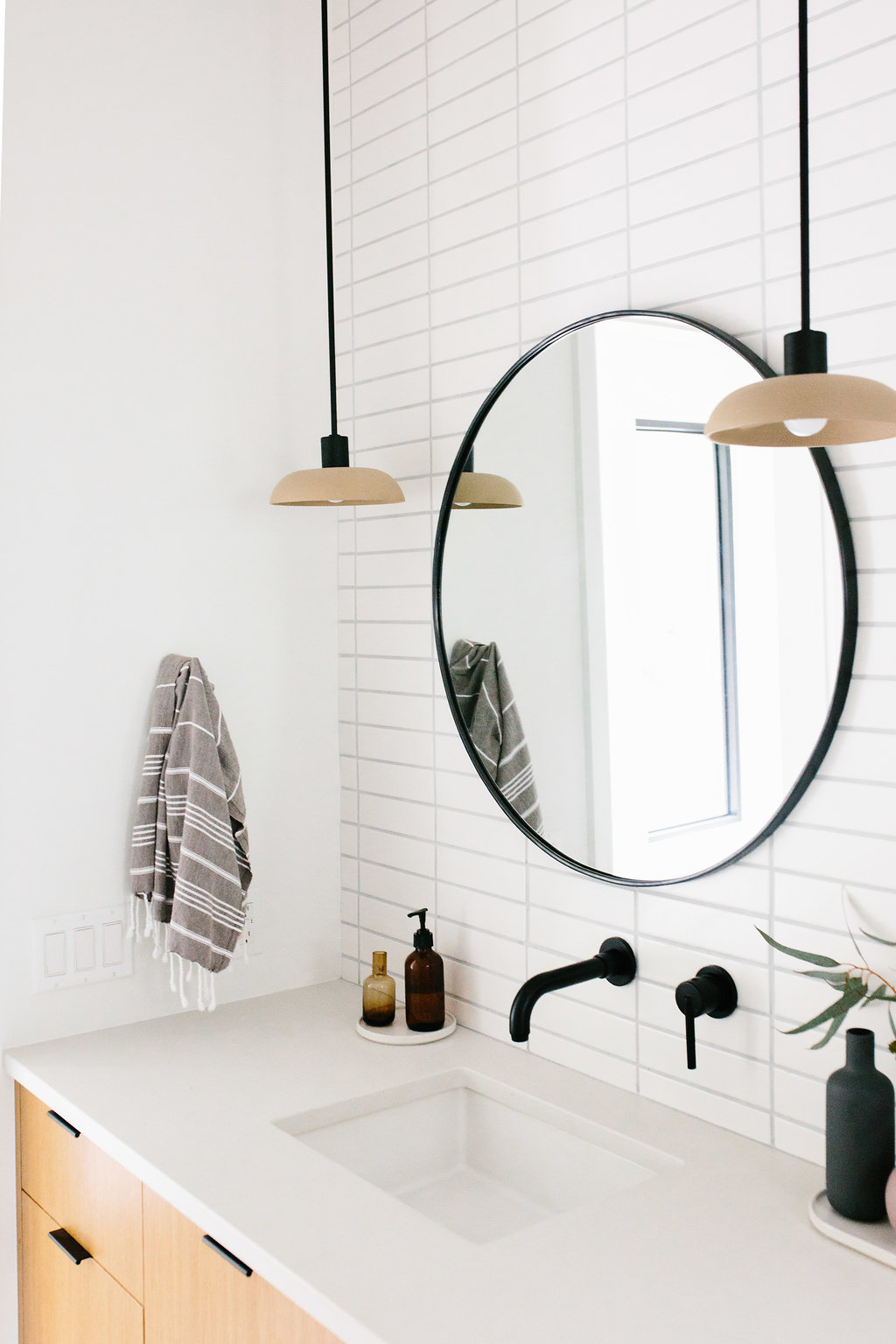 We went with a really modern and simple design in here– stack bond 2×8 white tiles for the walls in and matte black Delta faucets in addition to the terrazzo tile floor made for a perfect starting point for the rest of the space.  Next, I really wanted to warm it up with a warm wood vanity and these tan terra pendants from Cedar & Moss. Honestly, if I could only choose one lighting source to use for the rest of my life, it would be Cedar & Moss. I love, love, love all of their lighting selections, especially these clay pieces which are a bit newer.  We have sconces in the other two bathrooms, so I liked the idea of doing something different here with the pendants.  The mirror is from Rejuvenation, another shop that I could likely source my whole house from.  Just such great pieces and quality.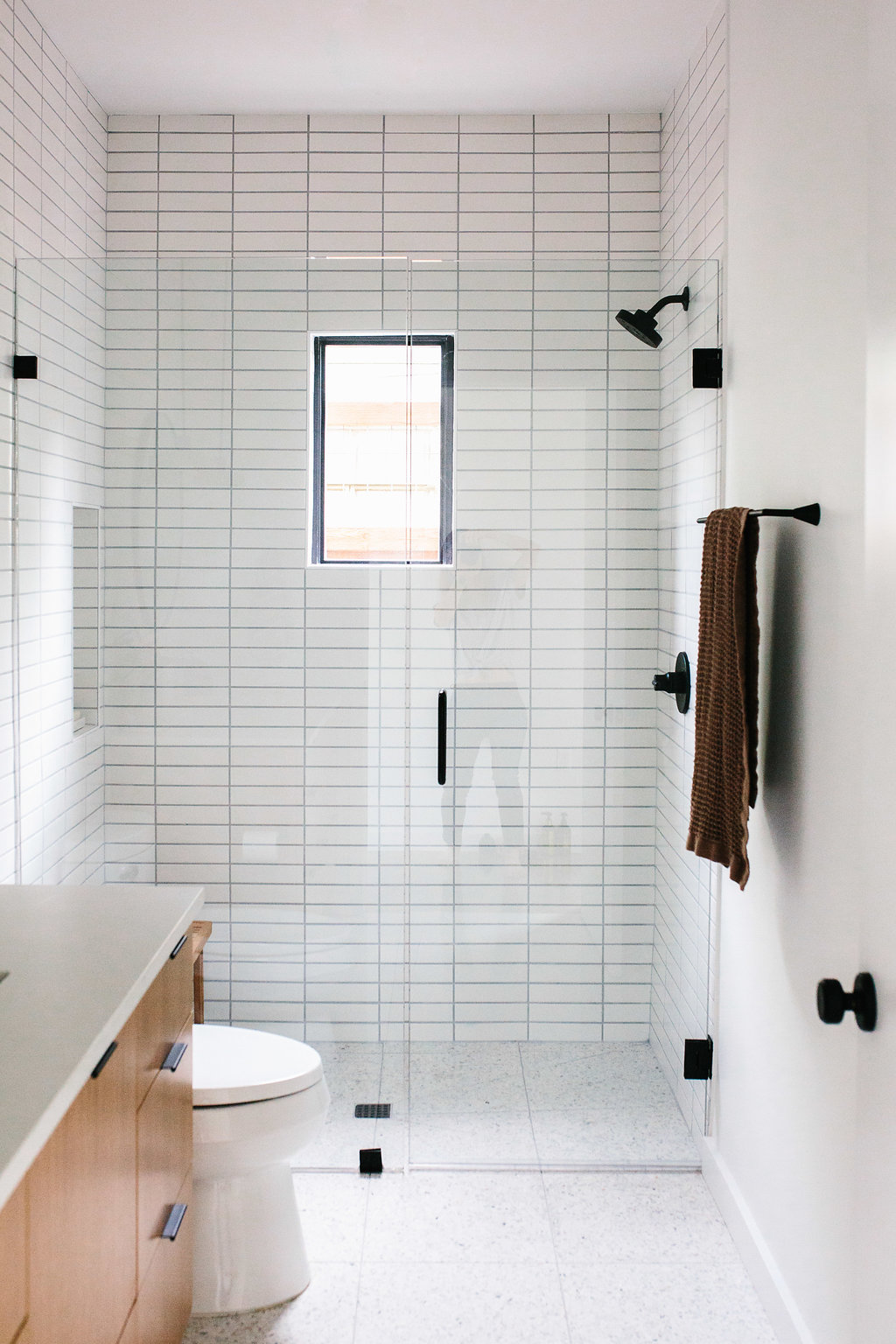 The door hardware is from the Schlage Bowery Collection in Matte Black and we love them!  We used the collection throughout our whole house.  The cabinet hardware I found on Amazon from a company called Top Knobs… obviously!  They're the 4″ pulls in black. (All links below!)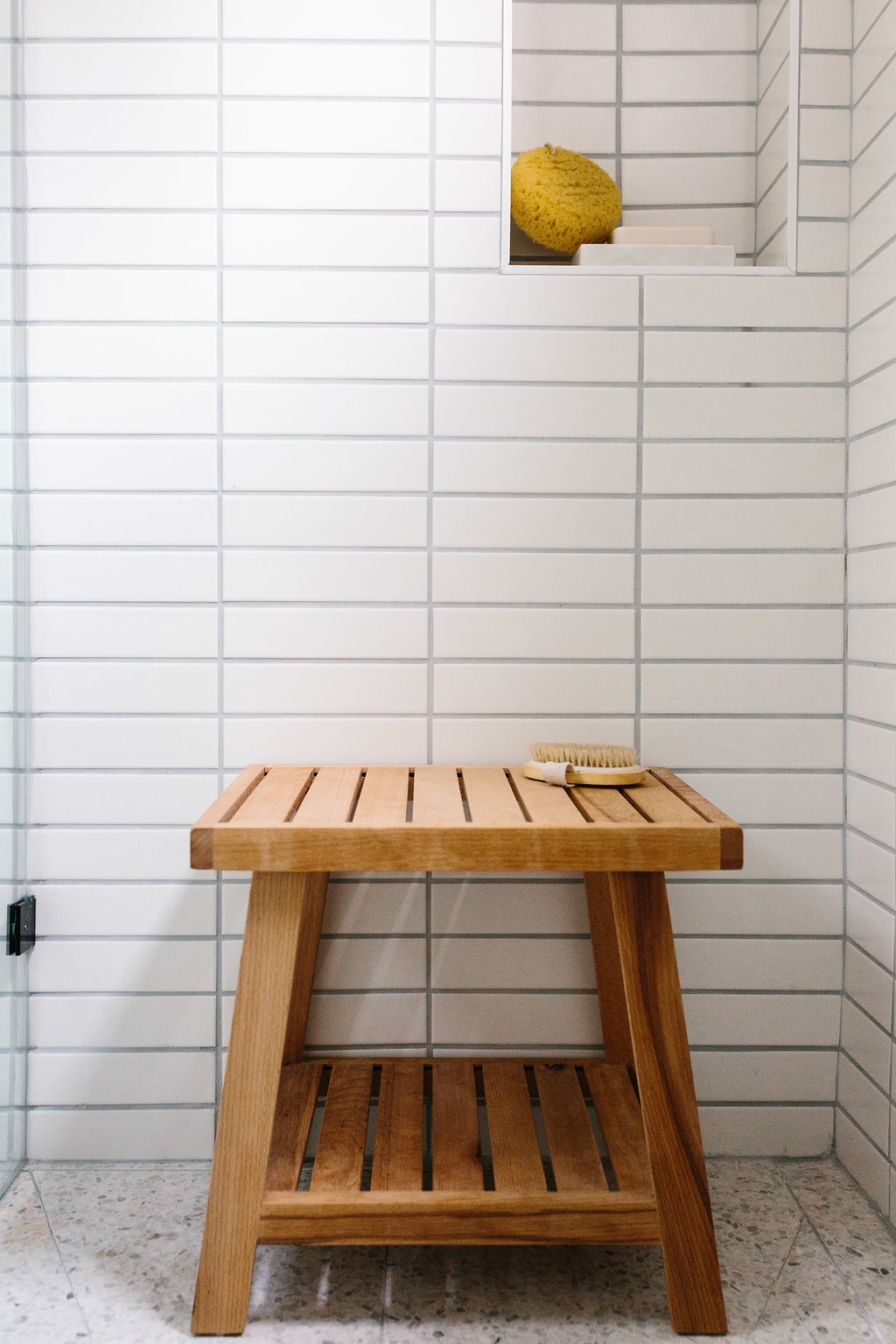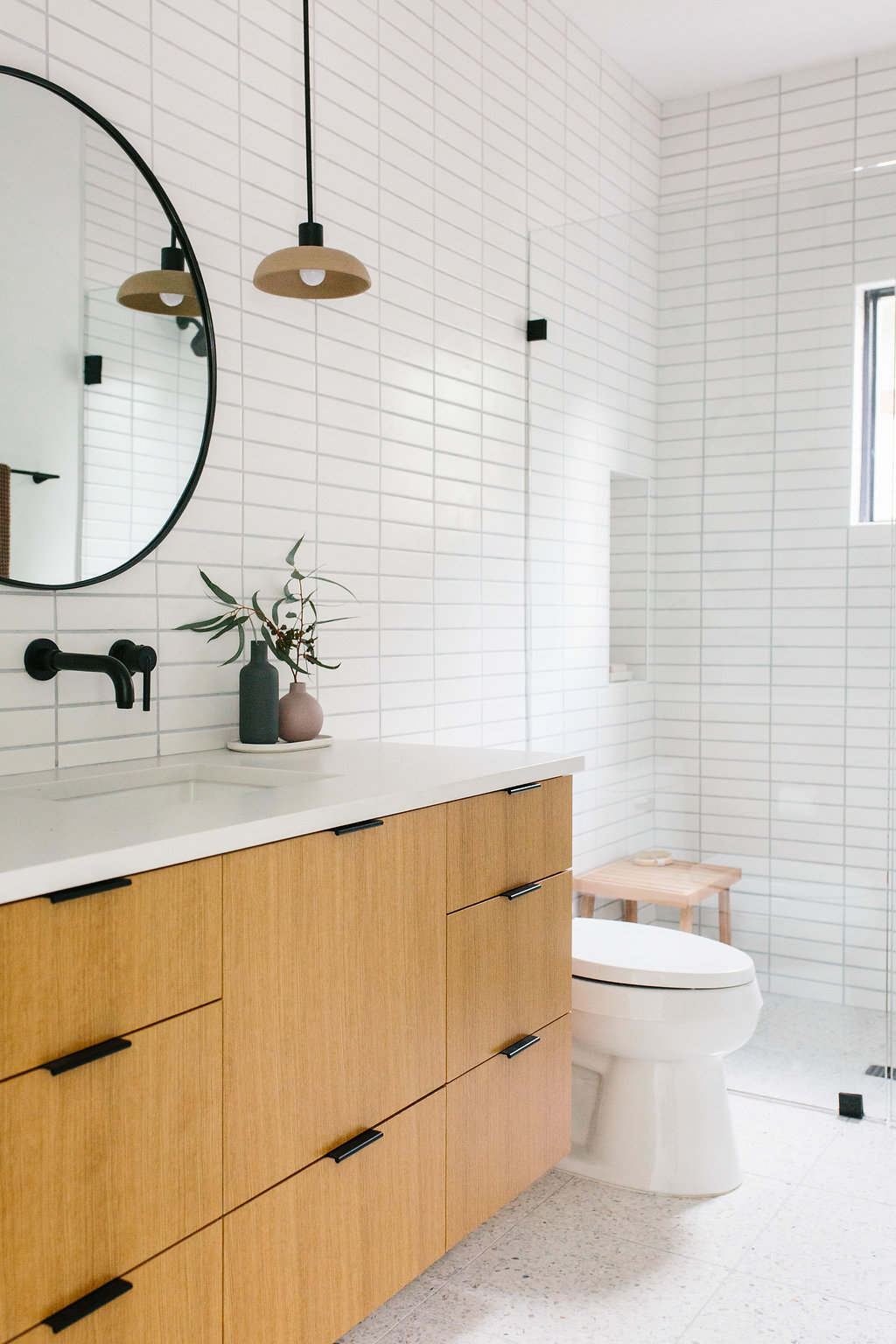 Let the record show, that I believe that stylish pre-made bathroom vanities are really hard to come by for some reason.  I love our Kohler one in our master, but otherwise I haven't had much luck sourcing others, so this one and Parker's were both custom made by our cabinetry guy who did our kitchen cabinets as well. They're rip sawn white oak and we love them so much!  I also love that they're drawers and not cabinets. They stay so much more organized!  (PS. I heard that Room & Board is about to launch bathroom vanities for all of you lucky ducks who haven't already made your selections yet. I love everything they do, so I'm sure they're going to be great!)
So now I have to know, which bathroom is your favorite?! This design or the master?! Do tell!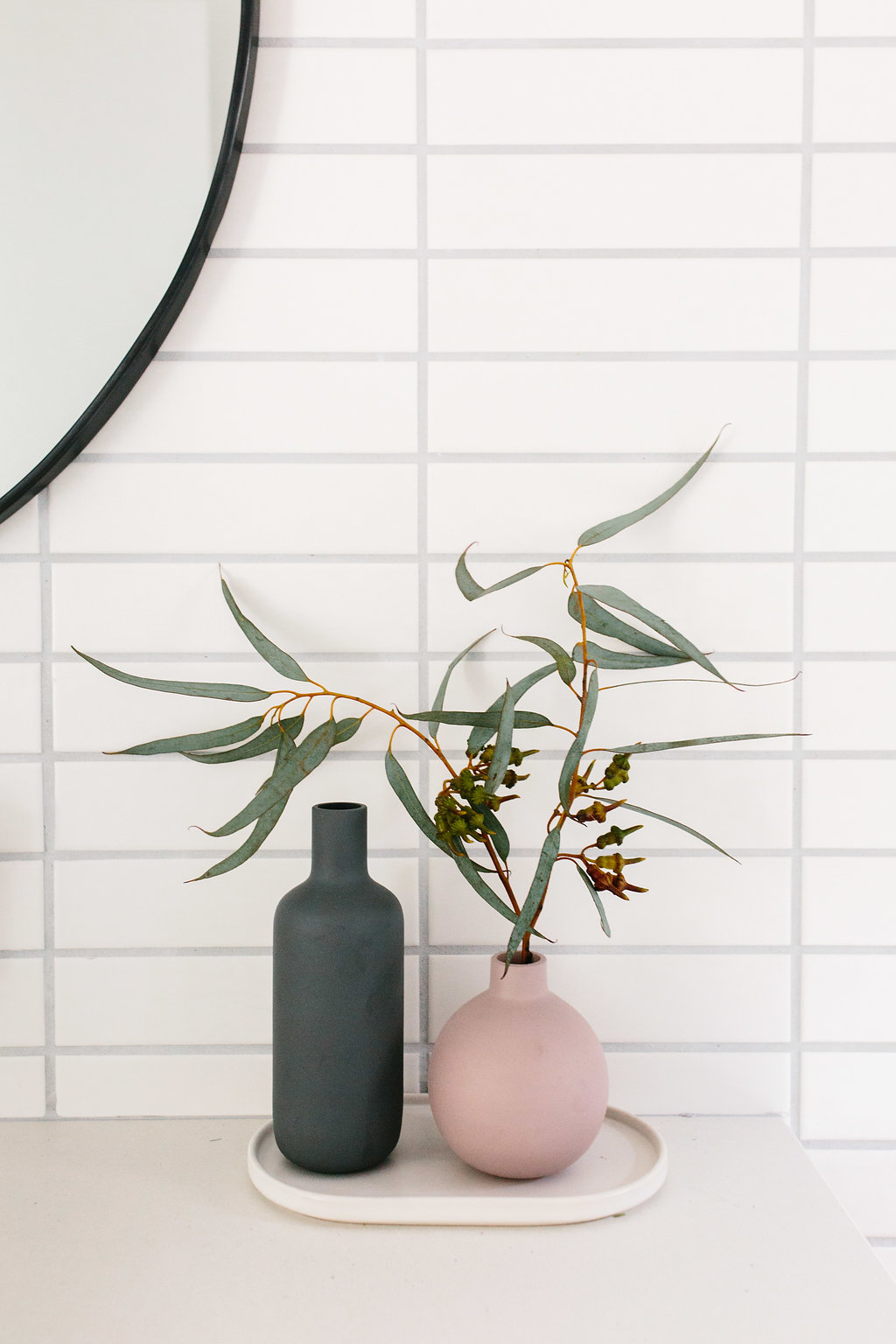 Cabinet, Custom (Rip Sawn White Oak) || Terra Pendants, Cedar & Moss || Metal Framed Mirror in Oil Rubbed Bronze, Rejuvenation || Single Wall Mount Trinsic Faucet, Delta || Trinsic Shower Faucet, Delta || Towel Bar (24″), CB2 || Hand Towel Hook, CB2 || Toilet Paper Holder, CB2 || Vanity Hardware 4″ Pulls, Top Knobs || Hand Towel, Cacala || 16″ Square Terrazzo Floor Tiles, Artistic Tile || 2 x 8 Wall Tile, Interceramic || Bath Towel, K-25 || Teak Shower Stool, TJ Maxx || Vases, H&M || Paint Color is Behr Marquee Paint in Gallery White in Matte Finish || Door Hardware, Schlage
Photography by Katie Jameson