A little back story on this room: Parker transitioned out of her crib on the early side, right as she turned two. She wasn't climbing out of her crib yet, but she was screaming to get out of that wooden fortress and begging to sleep on the floor. When I would make her palette beds out of blankets and pillows on the floor, she would sleep great. When I would insist she sleep in her crib, not so much.  Which is how we ended up spontaneously buying an inexpensive toddler bed (which you can see here) just two months before we moved from LA.  We moved three times in the next 18 months before finally landing in our current Austin casa, and her room was always a mishmash of that toddler bed that was hanging on by a thread after being put together and taken apart so many times and what used to be her nursery furniture.  When I dreamt of her room in this house, I dreamt of a space that felt like her aesthetic-- the colors she gravitated towards, meaningful themes, and a space that would bring her comfort and joy for many years to come.  Another dreamy notion was that it would a be a space she could share with Ever when the time was right, without having to redesign the space. A bright, cheery room for two.  (You can see more of the inspiration in this post.)  We partnered with Room & Board on almost every piece you see here and could not be more over-the-moon with the final result!  It is seriously the happiest space made out of the best quality pieces that she can use for years and years and years to come!  Keep reading for all of the details...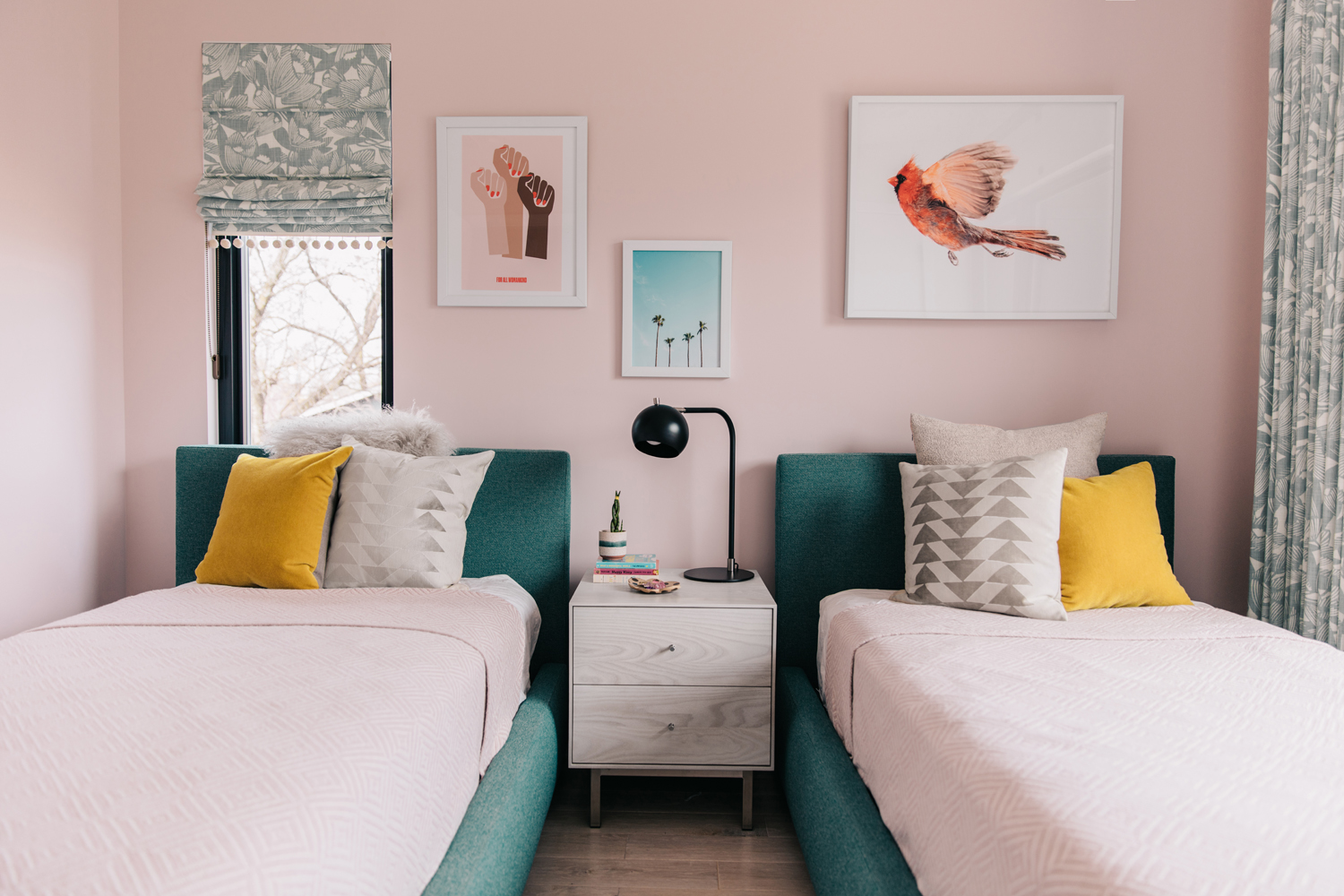 When I imagined this room for both girls, I always imagined twin upholstered beds. Once Parker chose a pink room, I knew I wanted to juxtapose the pink with green upholstery.  These Wyatt beds are everything that bedroom dreams are made of, especially for a kids room.  You can't find furniture that is better quality than Room & Board. I mean that completely.  We are always blown away with how solid and sturdy each piece arrives and the attention to detail that each piece is given and these beds were no exception.  They come in a wide array of upholstery options and perhaps the BEST part about them is the hidden storage drawer! Dream, right?!  Did I mention that their delivery team is the bees knees? They are super friendly and expertly install each piece exactly where you want it to go and take with them any leftover packing supplies, so that you aren't left with a pile of cardboard when the room is done.  It's seriously the best.
Originally I really wanted to do wallpaper in this space, but I worried that it would date the room really quickly and paint felt like something we could update easier and more painlessly. She also requested a pink room, so we moved confidently forward with this hue which is Behr Vienna Lace.  The white oak floors that you see were actually sourced at Lumber Liquidators here in Austin. I love the light tones and chose them for their wide planks, something I was really looking for in our hardwood flooring. (These exact ones aren't available, but you can see similar here.  I really like the Stonewashed Linen Oak and Natural Hickory.)
Our windows were a huge priority when designing and building our place!  They're not at all standard sizes and every room has at least one that's pretty expansive.  I will share more about the before (store bought pre-packaged curtains) vs. these custom Calico curtains in another post, but there's no comparison.  They're seriously so incredible!  You can customize everything about the curtain from the hardware, fabric (these are DwellStudio!), trims (how cute are these pom poms?!) and more.  (PSA: the entire store is 30% off right now until March 24th!)  If you're local here in Austin, ask for Greg!
You can see those dreamy wood floors up close here.  This Avilia rug is actually the same one we have in our dining room too! It's really neutral and doesn't compete with everything else going on in the room, but adds a really nice layer of texture to the space.  We used the Slim Modern Cubby Bench in the 39"length for some of her favorite books (more are in her storage drawers!) and cozied it up for reading with this custom Calico cushion made from Justina Blakeny's new fabric collection there.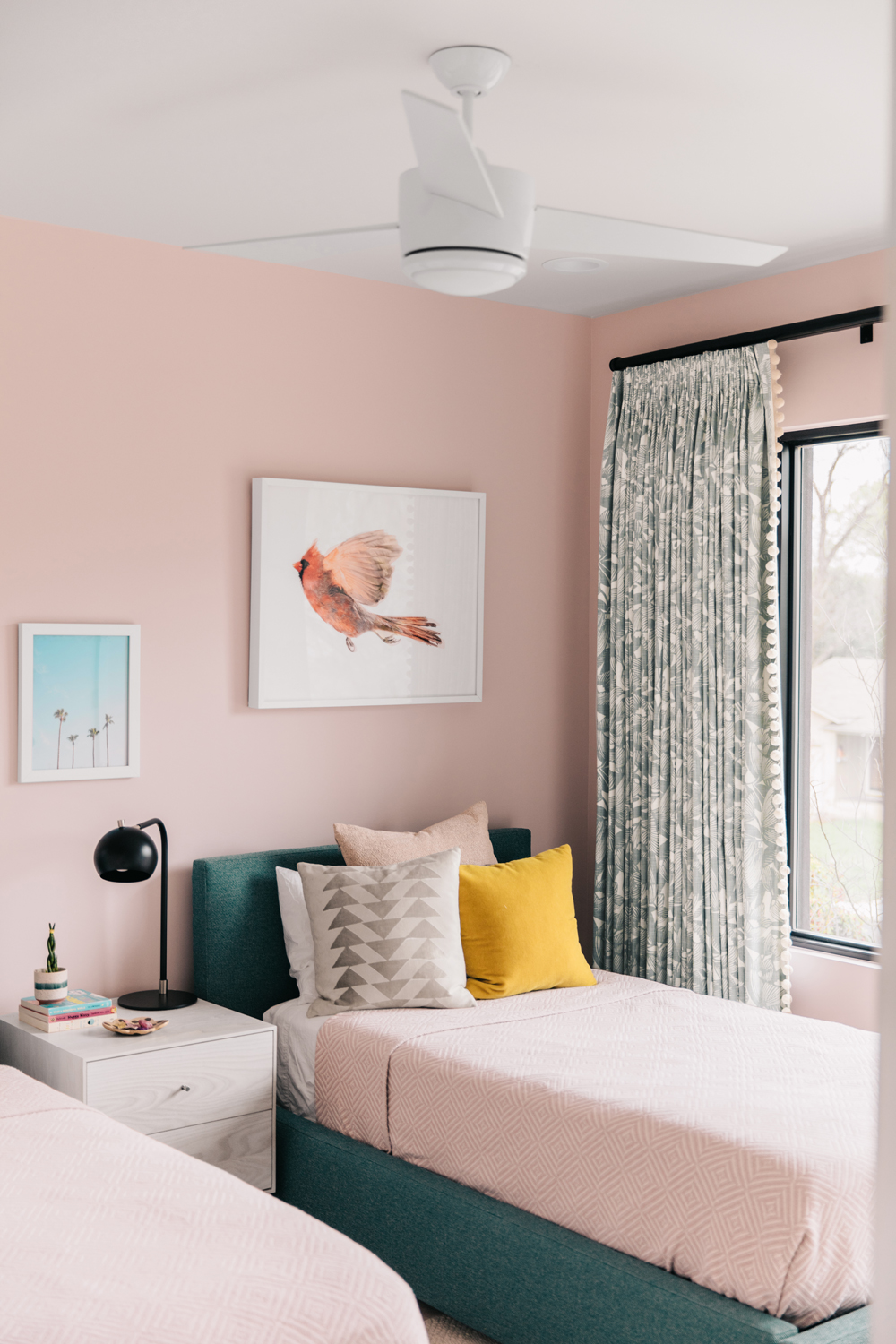 We used these 54" White Epilogue ceiling fans from Lamps Plus in every bedroom and in our office.  I love the minimal, modern styling and the price point is really great.  Her nightstand is the Hudson nightstand and we use that Camber Table Lamp every night while reading books during bedtime.  The potted snake plant came from Jeff, the manager of our favorite Taco Deli and one of Parker's BFFs.  His wife owns Flourish here in town which is a great spot for gorgeous plants and pots.  We also put a little ceramic dish on her nightstand where she can put her hair clips and odds and ends at the end of the night.  All of her bedding and pillows are Room & Board-- links at the end of this post!  I love the combination of red and pink together.  The framed cardinal photo by Paul Nelson spoke to me the moment I saw it!  I'm pretty sure it was the next thing I selected after the beds and really rounded out the color palette. I love the sentiment that it evokes, too. This free as a bird notion.  As for her 'For All Womankind' poster, I hope it serves as a constant reminder that she can set big goals and work in collaboration with other strong, smart women to achieve them.  The Palm Tree print is from my friend Denise Crew's printshop.  After our Memorial Day trip to Palm Springs last year, Parker became obsessed with spotting Palm Trees around town here.  She also refers to her LA friends as her Palm Springs friends which is likely why a Palm Tree sighting provokes such happiness for her!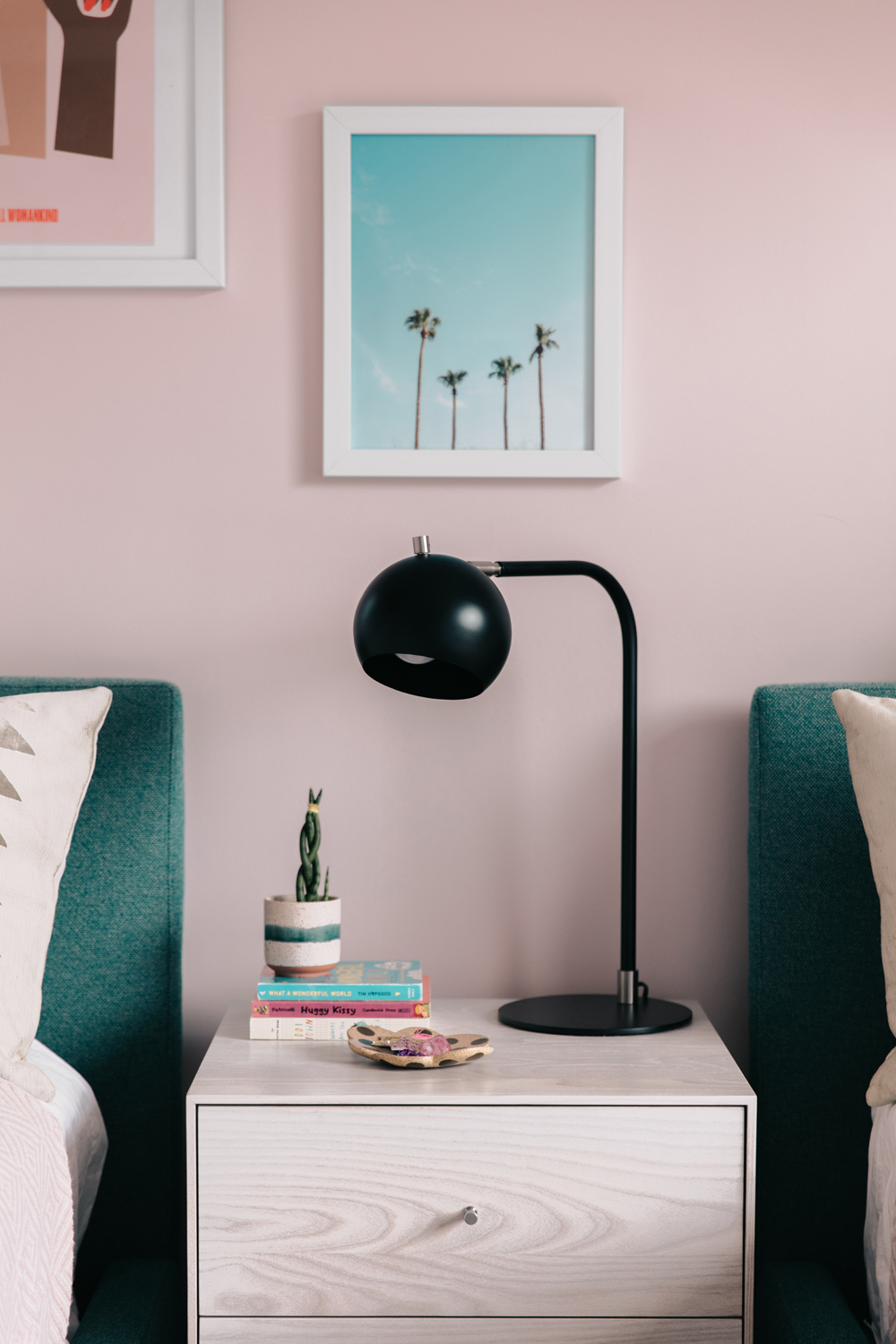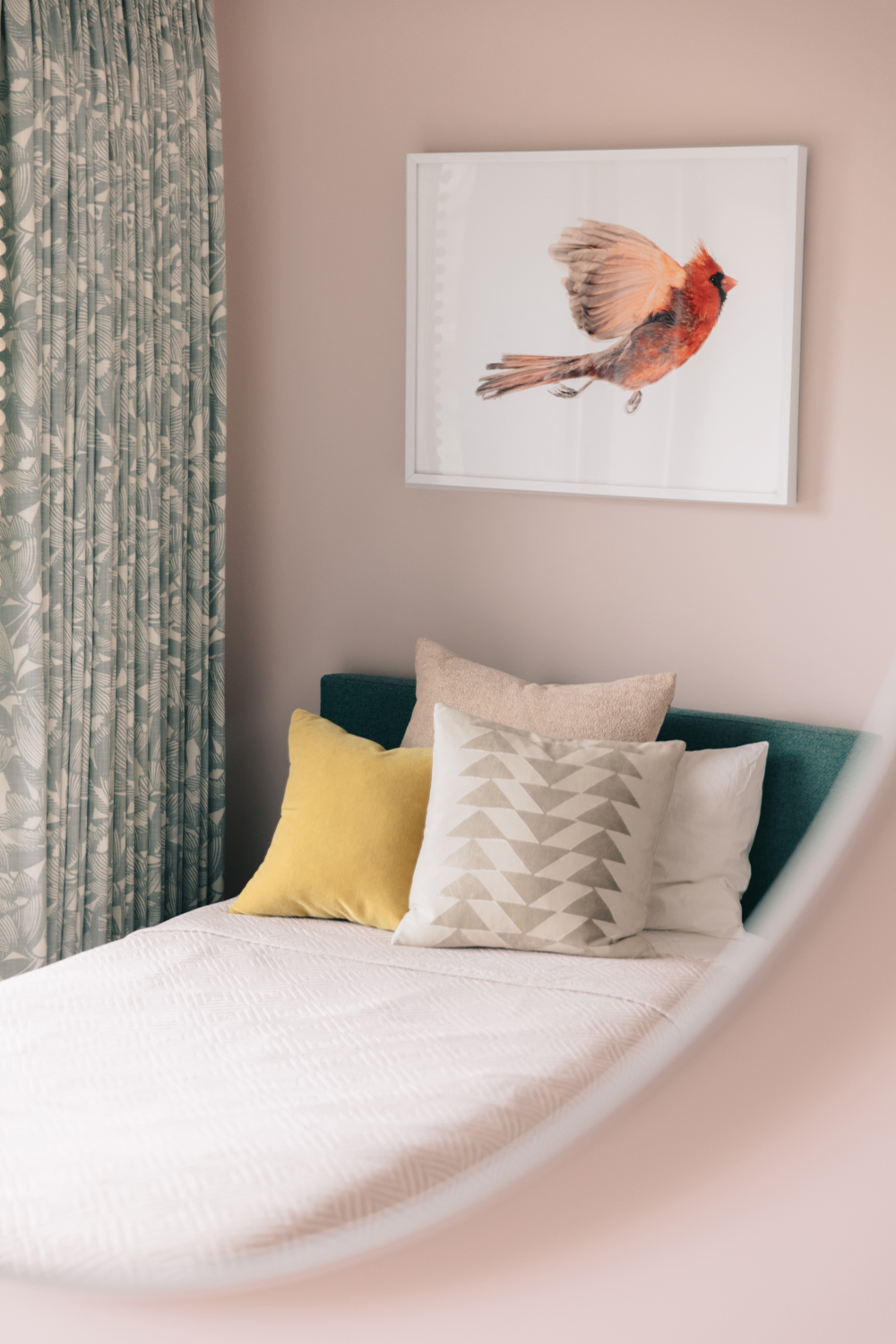 Parker's Dress, Hanna Andersson || Beds, Room & Board || Mattresses, Room & Board || Percale Sheets, Room & Board || Blankets, Room & Board || Triangle Pillows, Room & Board || Marigold Mohair Pillows, Room & Board || Tibetan Sheepskin Pillow, Room & Board || Pink Blythe Pillow, Room & Board || Lamp, Room & Board || Nightstand, Room & Board || For All Womankind Poster || Palm Print, Denise Crew || Bird Print, Room & Board || Custom Draperies and Cushion, Calico || Bench, Room & Board || Mirror, Room & Board || Paint Color, Behr Vienna Lace || Ceiling Fan, Lamps Plus || Rug, Room & Board || Hardwood Floors, Lumber Liquidators
Photography by Aaron Pinkston