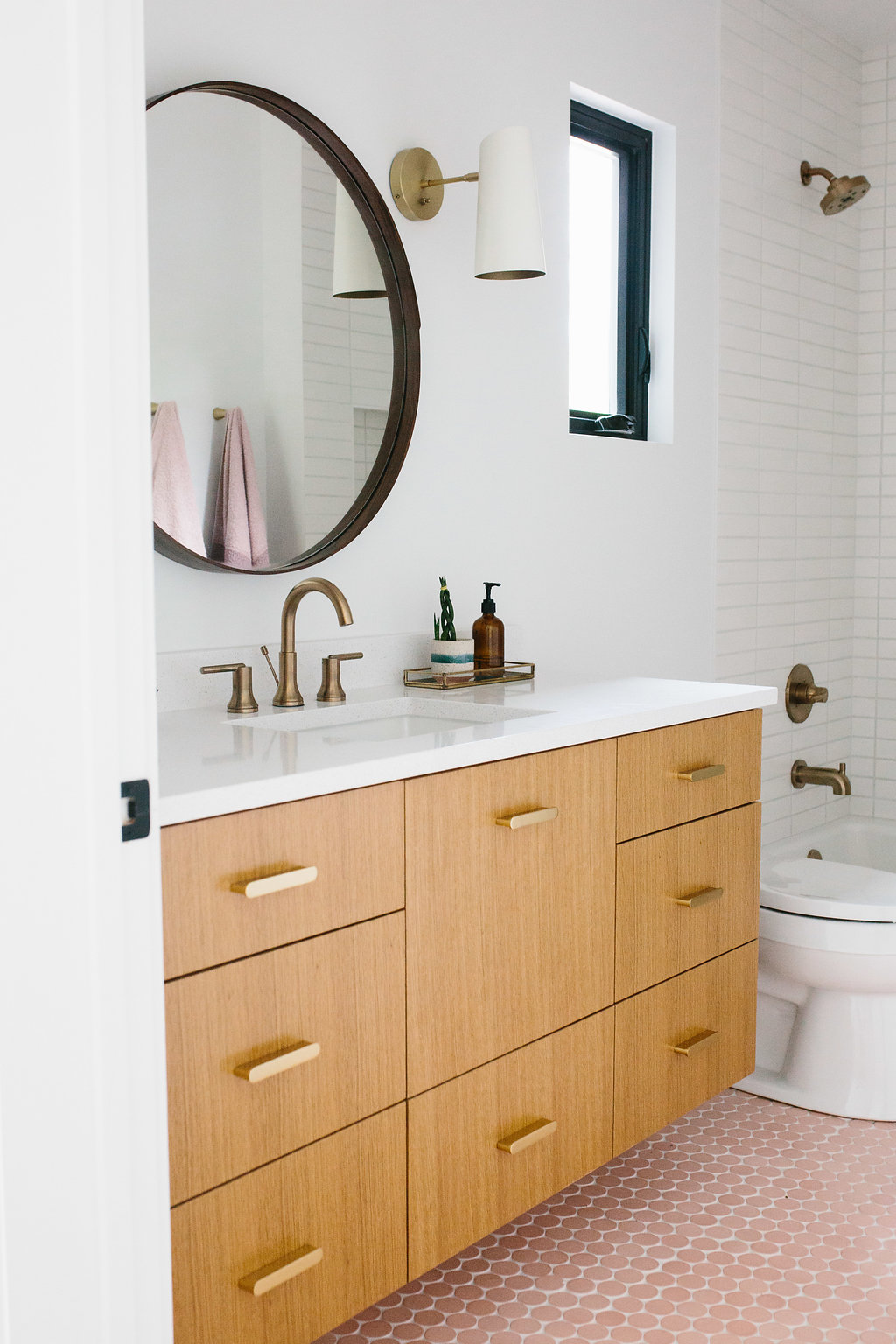 As soon as the question left his lips, I stiffened and unconsciously held my breath for the answer.  I was already troubleshooting how I would take her answer and wield it into what I imagined for this space. "I want my bedroom to be pink... and my bathroom, too!", she responded. Instantly visions of the pink and maroon ceramic tiles that had neatly decorated our guest bathroom of our first home in Southern California since the fifties danced in my head.  Yikes. I exhaled, finally, but still wasn't sure what I would do with her answer.  I waited for a few days to see if her vision for her new space was a fleeting thought or if it was seared in her mind like the exact number of "crystals" that she safely tucks into the pocket of her jean shorts at school.  It was the latter and so I went to work on this project for my four year old client and her (as of then) unborn sister...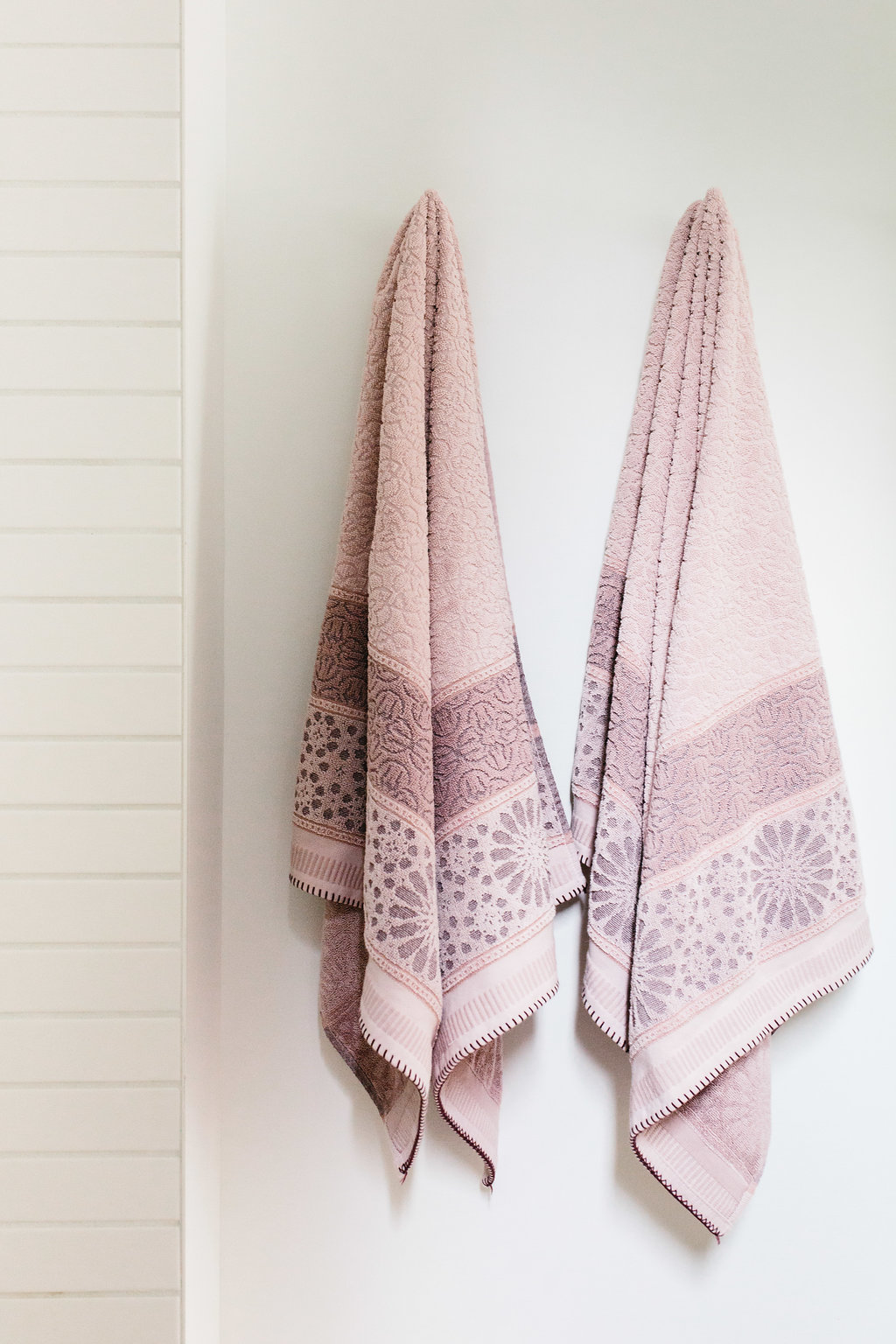 When I look at the photos of this pink bathroom now, nearly a year later, I teeter between gazing into my looking glass and imagining them fixing their own hair, no longer needing the step stool to see into the mirror, and forcing myself to stop and only imagine them as the preschooler and baby that they are because that vision of the future will be reality all too soon.  I'm so happy with this space, though, and that I can imagine both versions of them in this space without needing an overhaul or even an update.  It has a distinct style, but still feels classic to me.  Let's get started on the tour then, shall we?!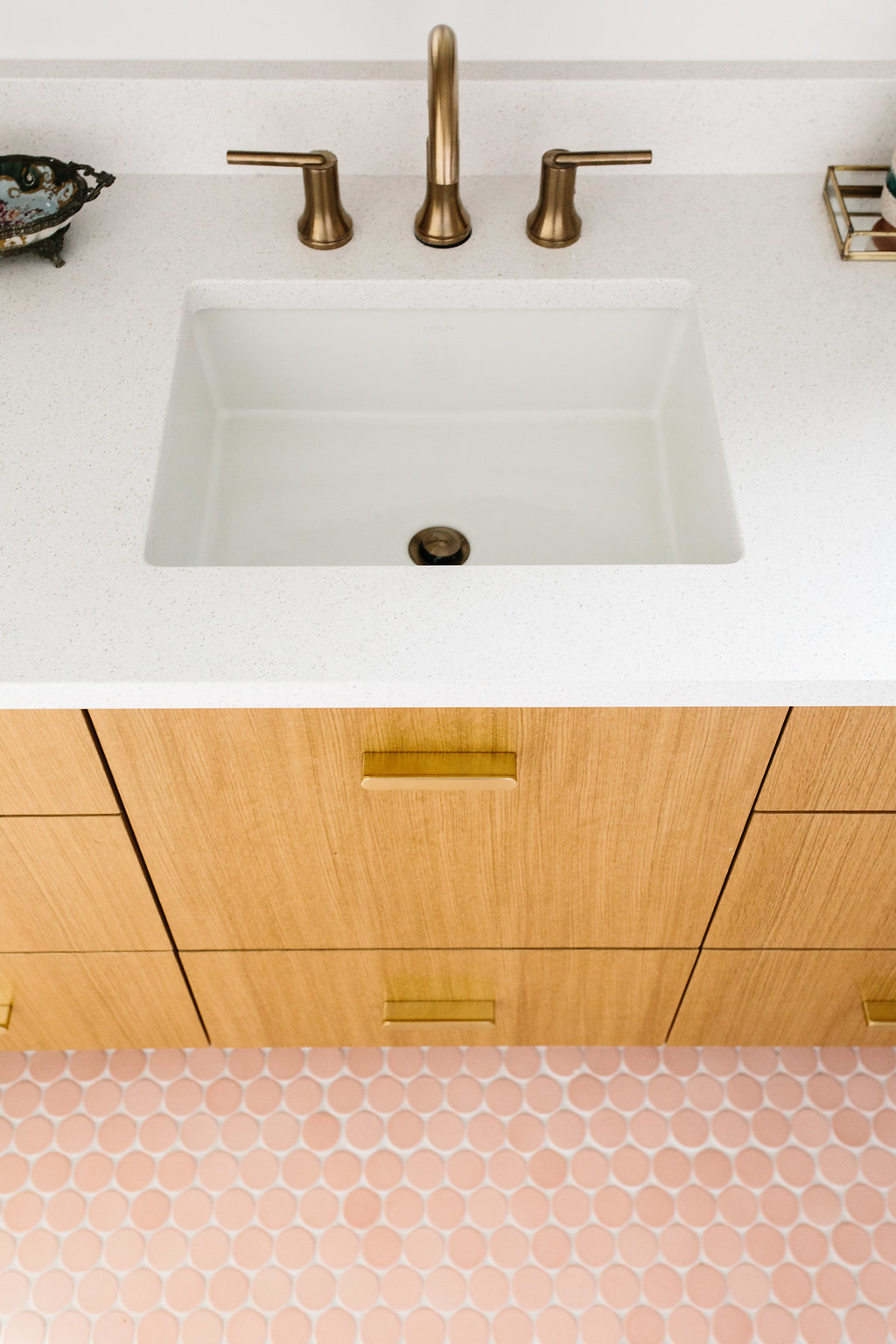 I was scouring for pink tile to deliver on this commitment of a pink bathroom for my mini client, but kept coming up short. Originally I thought I wanted penny tiles, but when I saw these 2" circle tiles from Pratt & Larson I fell in love!  I love the variation in the color, too.  This was the first decision made in this bathroom.
Next, I had to choose a hardware finish for this pink bathroom.  The entire house, with the exception of the master and this space is all done in matte black, which would have totally worked here, but I love the combination of the ballerina pink with the brushed brass and am not afraid of mixing metals, so here we are!  The faucet is from the Delta Trinsic line and we love it!  (This is the coordinating tub and shower trim.)  The mirror is the Bentwood Round Walnut Mirror from Rejuvenation that I'm obsessed with! Honestly it would be so good anywhere-- an entryway, dining room, or bedroom even.  The light fixtures are Cedar & Moss Cypress sconces from Rejuvenation.
All of the door knobs in our home are from the Schlage Bowery collection in matte black.  I love the modern style and the heavy duty feel of them.
This cabinet is a happy accident that was supposed to be paint grade for cost saving purposes, but was accidentally made in the rift sawn white oak that we did for our guest bathroom.  Originally it was going to just be a white cabinet, but the wood adds so much warmth.  The hardware is from Rejuvenation.
Floor Tile (Color is P157), Pratt & Larson || Small Cypress Sconces, Rejuvenation || Trinsic Sink Faucet, Delta || Trinsic Tub Filler + Shower Faucet, Delta || Bellwether Bathtub, Kohler || Vanity Cabinet, Custom || Vanity Hardware, Rejuvenation || Walnut Mirror, Rejuvenation || Stool, Serena and Lily || Towels, H&M || Towel Hooks, CB2 || Mirrored Tray, H&M (Similar)|| Door Hardware, Schlage || Potted Plant, Flourish ||  Wall Tile, Interceramic || Amber Hand Soap Bottle, Amazon ||Paint Color is Behr Marquee Paint in Gallery White in Matte Finish || Toilet Paper Holder, CB2
See here for more room reveals from Our Austin Casa!
Photography by Katie Jameson