01/16/2018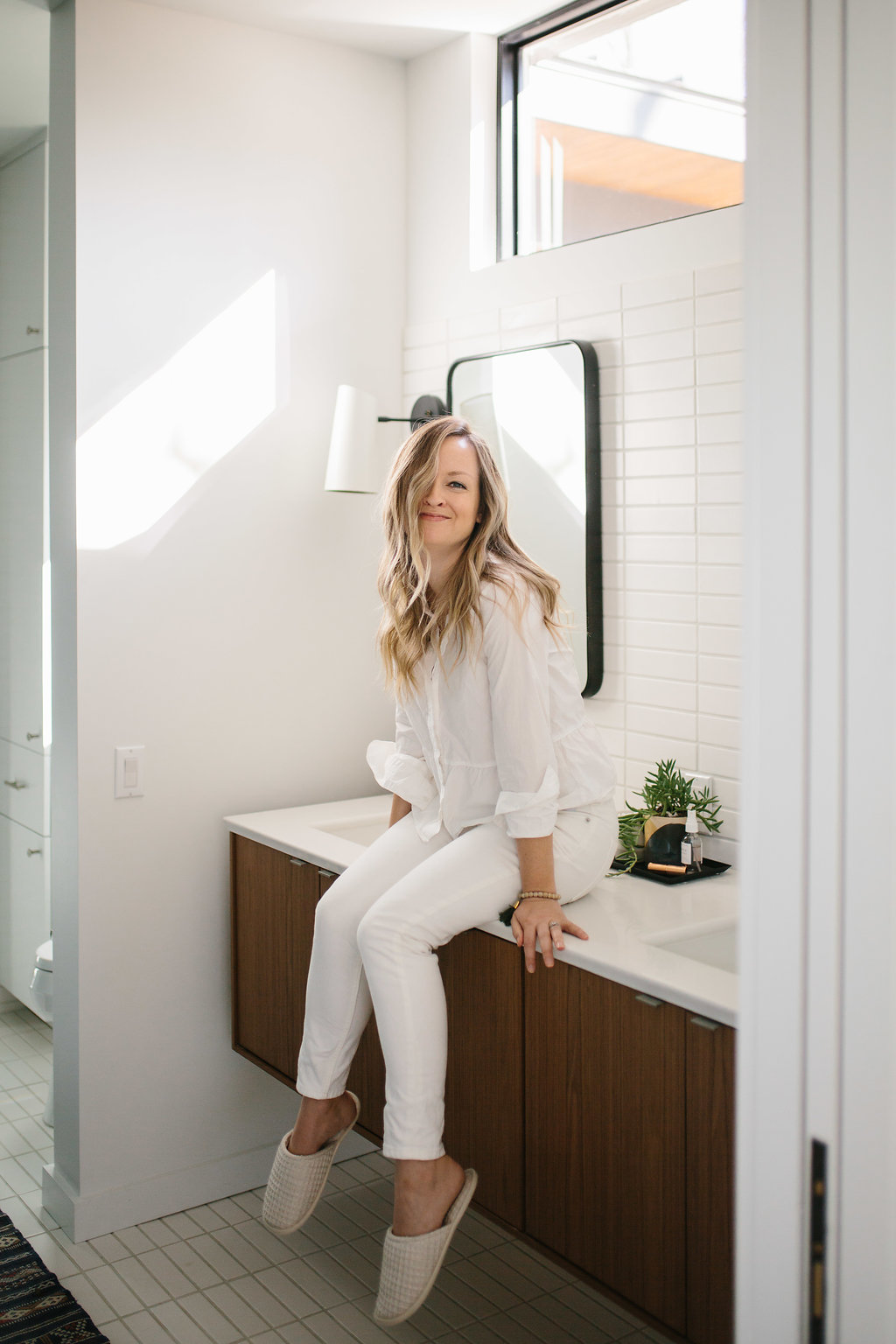 Based on the emotions that writing this post conjures, no one would blame you for thinking that I was embarking on a thousand word essay on motherhood or the birth of one of our children.  Alas, this post does not contain cute, chubby faced babes, though.  Still, it's got me feeling all the feels to be getting ready to publish the first room reveal of Our Austin Casa.  Two and a half years ago we had a wild idea about moving back to my hometown and raising our kids around cousins and second cousins, grandparents and aunts and uncles.  We dreamt about what it would be like to be able to walk to elementary school and bump into familiar faces at the park, the grocery store and the neighborhood pizza place on Friday night.  From 1500 miles away on the west coat, we started looking at houses.  We started a Pinterest board.  We committed to the move and began telling friends and family.  Ten and a half months later, though, we still hadn't found anything.  I was leaning towards finding a house we could renovate that would get us through the next 3-5 years and Aaron was pretty motivated to find our dream house.  (More on that here.) When I was in Austin for a job that spring, I took a builder by a 100 year old craftsman near the lake to find out what it would take to renovate and add on square footage.  Yikes. We were back to square one.  A couple months later, we sat in a living room of a Palm Springs rental house surrounded by our nearest and dearest, three weeks before we were scheduled to move to Austin, and a new property popped up on my real estate app.  It was a teeny, tiny tear-down, but the lot seemed great.  We google earth-ed it. We sent my mom and my sister to drive by.  Aaron had never even driven through the neighborhood, but I assured him he would love it. We put in an offer that day, no contingencies, and 24 hours later we were under contract on what would become our biggest project / undertaking / labor of love to date.  Without further ado, let the reveals begin…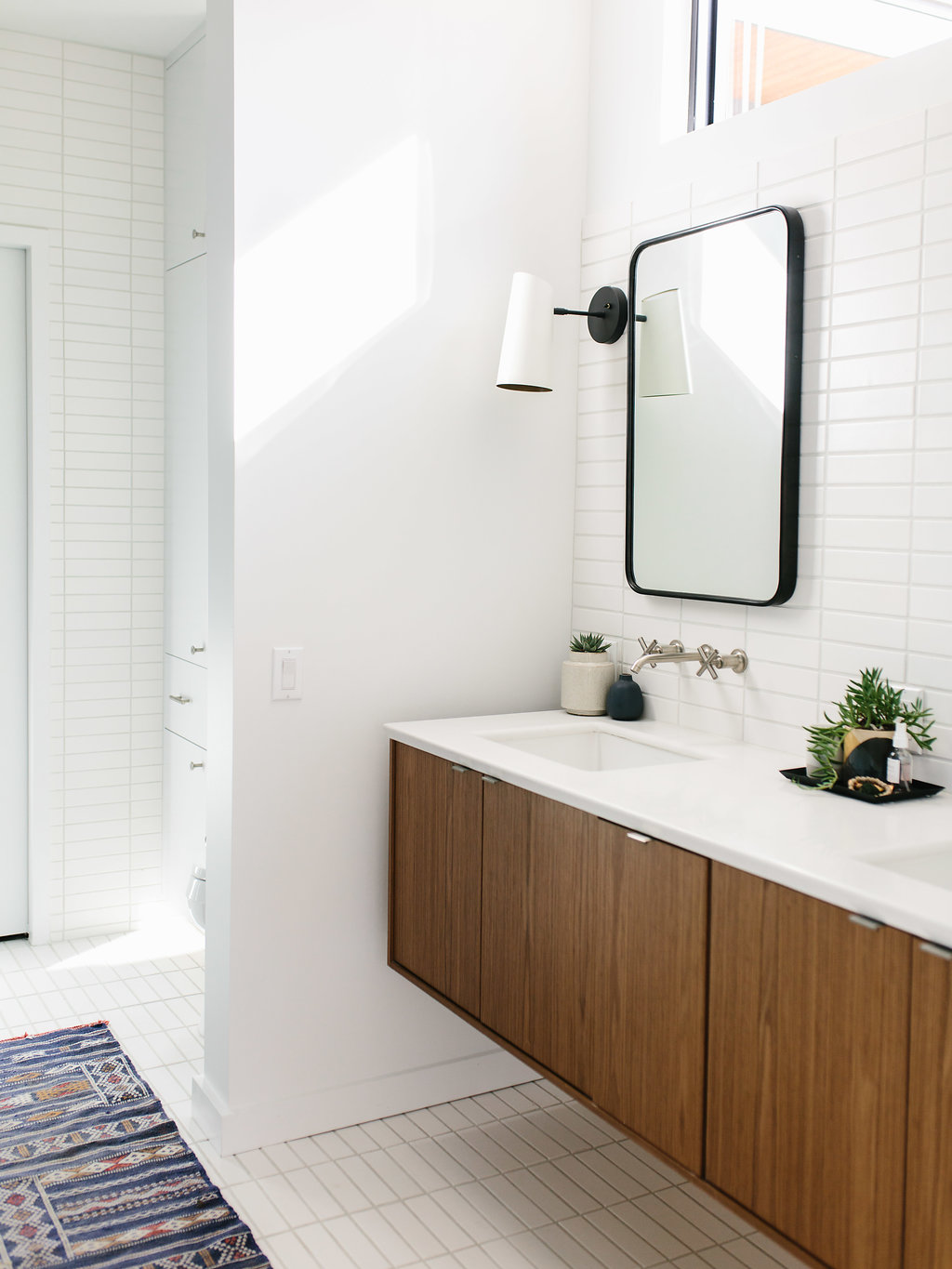 Is it strange to love a bathroom this much?  I've wondered. This loo was the very first room in the house to be designed with fixtures and tile (you can see the design here, from nearly nine months ago!) and I had a clear vision of what I wanted it to feel like: a restful retreat, spa-like; mid-century modern in a timeless way.  When we renovated our master bathroom in LA, our biggest splurge was on the Fireclay hex tile, and I never regretted it.  Once you get the tile samples in the mail, there's kind of no going back. They're like pieces of art, paint on clay, and they're totally addicting.  Here's the thing that I will likely say like a broken record with every room reveal:  Since we went the route of building new, and not renovating, I think that it is extra important that we find ways to add warmth and character and one of the easiest ways to do that is in selecting handmade finishes like handmade tile.  There is so much tile in this space!  We went with 2 x 8 tile throughout the bathroom and all stack bond for a more modern look. The green shade is flagstone and the white is sugar.  The grout color is snow white.  (PS. The day I get tired of stack bond tile we will be in big trouble because it's all over the house!)  The paint color that we used in here is the same paint color that we used throughout most of the downstairs and it's Behr Gallery White in the matte finish for the walls and satin finish for the doors and trim.  We tried out so many different whites and love the one we landed on.  This is from the Behr Marquee line and we actually got feedback from one of the painters who came back after the job was done about how much he liked painting with it and how well it covered.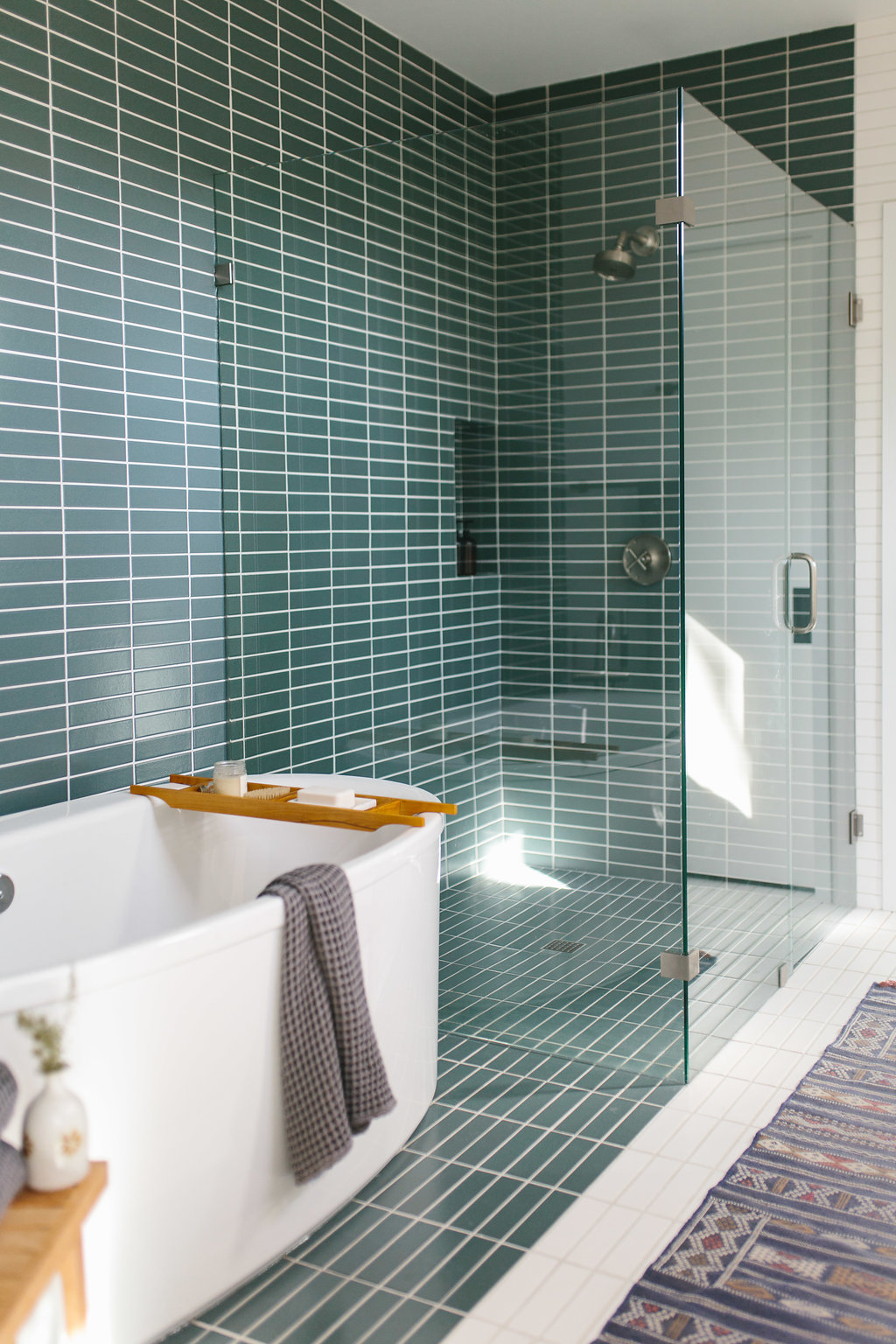 Rather than transitioning the tile where the wall meets the floor, the wall color comes in to the floor about four feet, enough to envelope the very spa-like, Kohler Sunstruck freestanding bath.  Both girls asleep, glass of wine and this bath tub is my favorite way to relax at the end of a crazy day.  (Or bubbly water, because, you know, #dryjanuary.)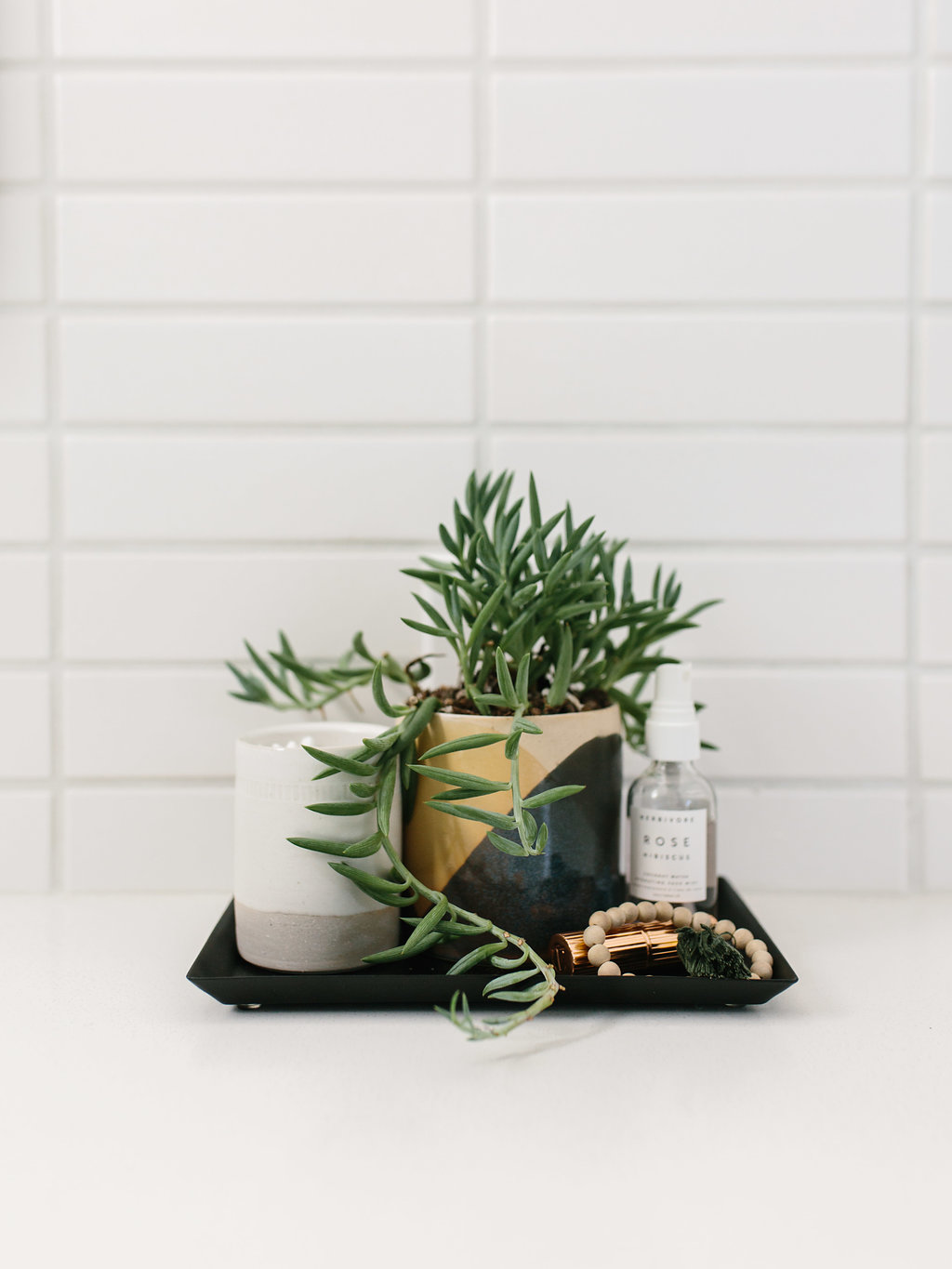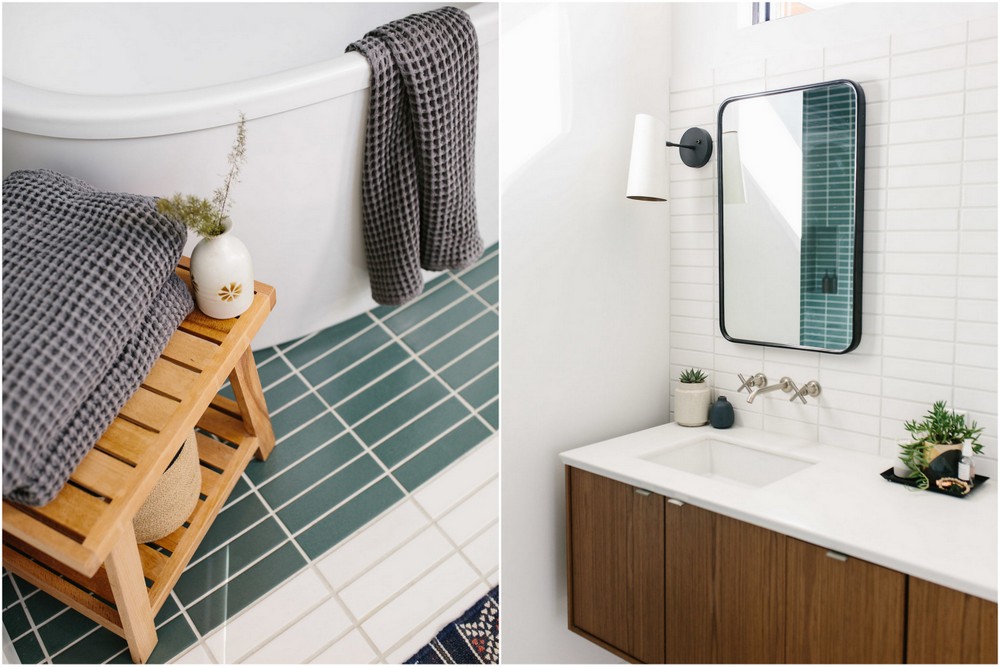 With the color palette picked out, it was time to choose fixtures. I really feel like the Purist Collection from Kohler perfectly epitomizes this idea of mid-century modern in a timeless way.  The pieces are simple and architectural feeling, not at all busy and they're really heavy and well-made.  We went with two wall mounted faucets for the sink and a floor mount for the tub filler.  The shower faucet is Purist, too, and the finish throughout is brushed nickel.  Honestly, if it had been up to me a year ago, I would have chosen the brushed gold.  Aaron wasn't into it, though, so we both agreed on brushed nickel.  I had dreams about that brushed gold.  Was it a missed opportunity?!  Could I ever love another finish as much as I would that brushed gold?  Fast forward a year later and I WOULD NOT CHANGE A THING. I love the way the brushed nickel complements the cool color palette and it feels like it will be more enduring than the brushed gold.  Brushed gold was a teenage romance.  Brushed nickel is the marrying type.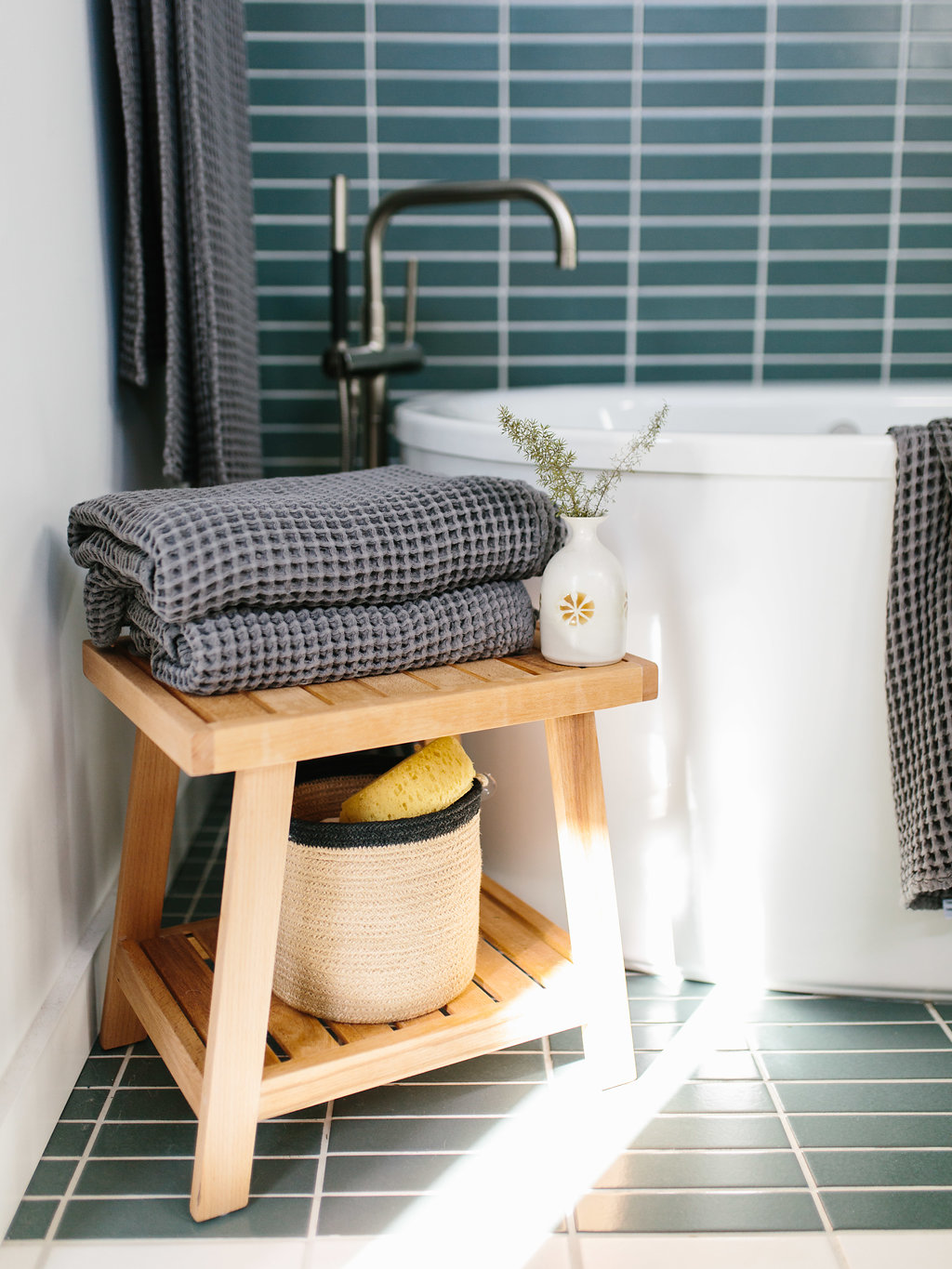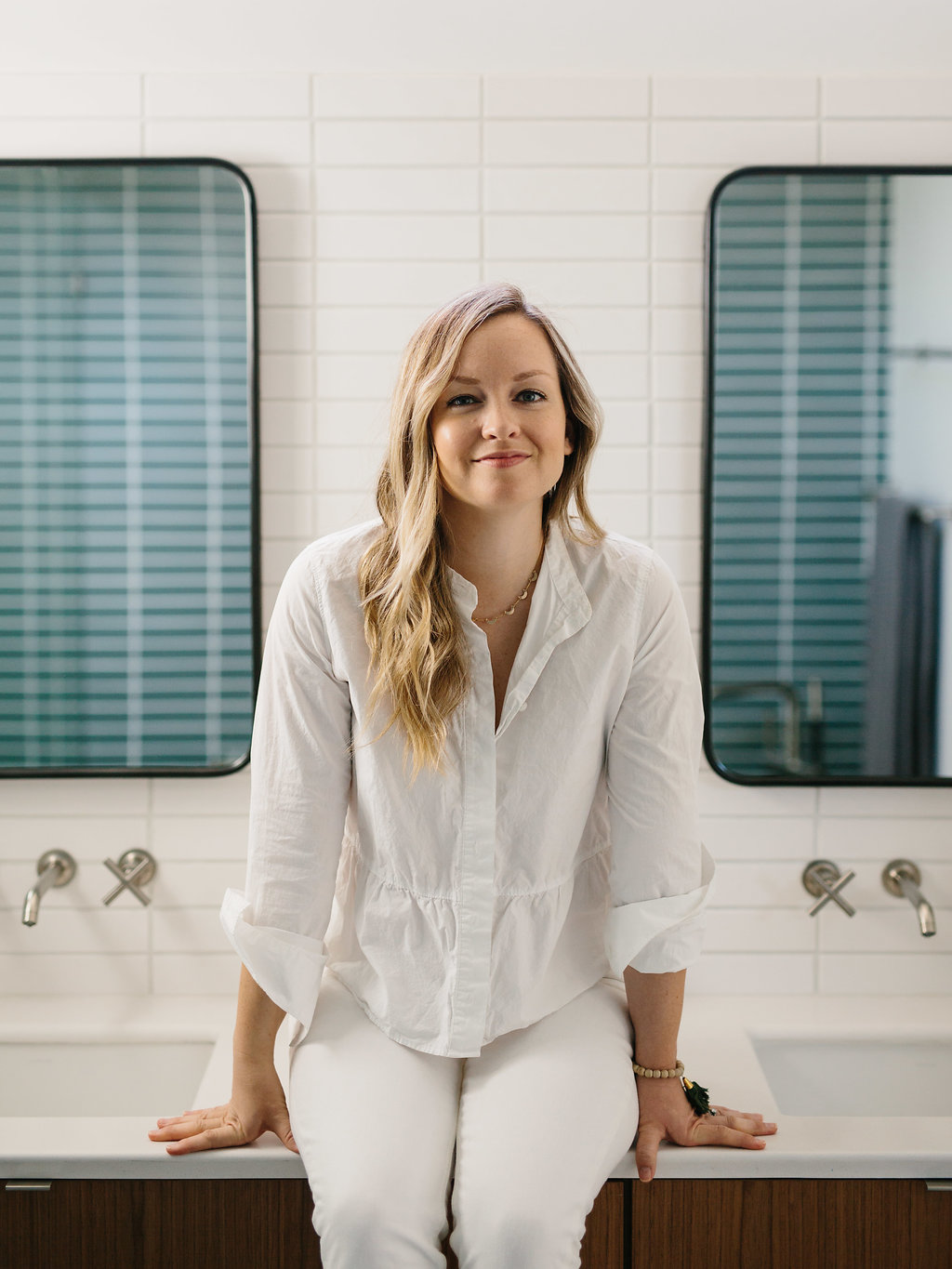 The floating vanity is the Kohler Jute vanity in the 72″ size.  It's perfect.  This is absolutely the next best thing to custom.  I can say with absolute certainty that there is nothing else ready-made that I like even a fraction as much as I love this vanity.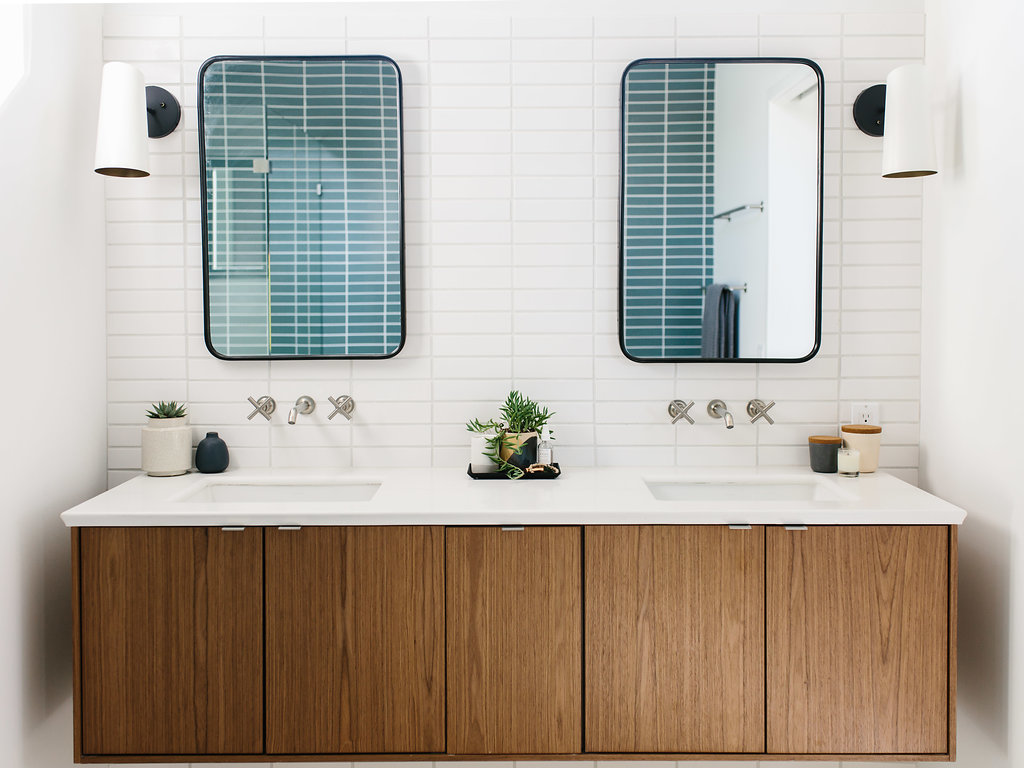 Once the color palette was set, tile ordered, and fixtures chosen, one of the last big decisions to make was lighting and mirrors.  If ever there was a shop that encompassed all of my favorite things in mirrors and lighting in one place, it's Rejuvenation.  I feel like they also do timeless modern really, really well.  (Our lighting and mirrors in our master bathroom in LA were from them as well.)  I liked these sconces a lot when I chose them. I love them now that they're installed and we're moved in. There are can lights in the ceiling that we almost never use because the lighting that the sconces give off is so nice.  It's the perfect glow, especially at night.  You might have also noticed that we mixed metals here, opting for matte black mirrors and light fixtures.  Again, I'm so happy with the way it turned out.  Is this a major faux pas?  Probably.  But I wouldn't change a thing.  To me it makes the room feel less matchy-matchy, and more unique and definitely more modern than if we had done brushed nickel lighting and mirrors.  This space makes me so crazy happy and that's the whole point, right?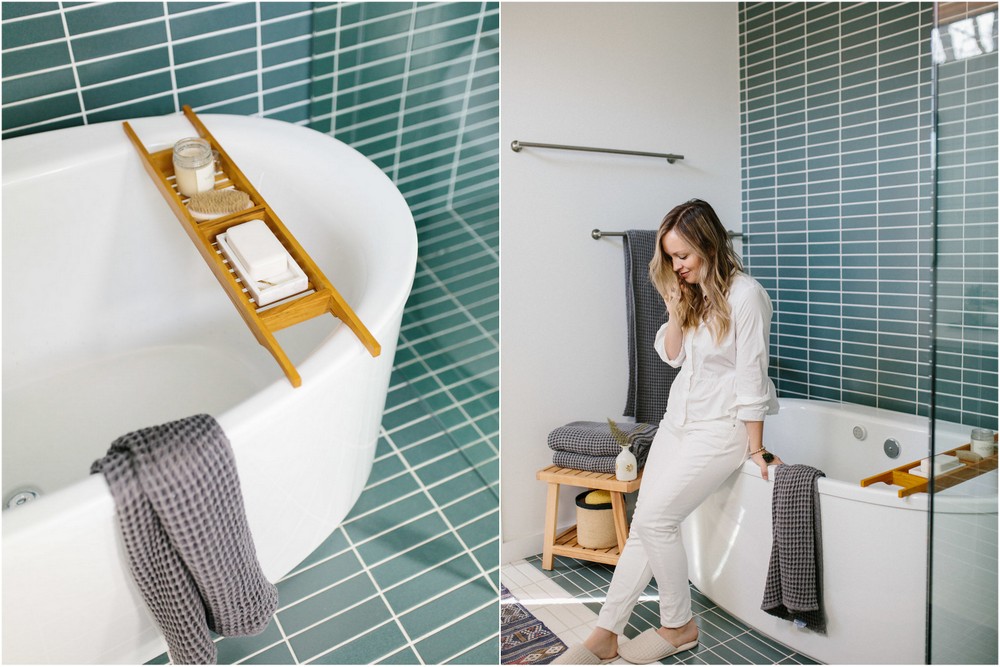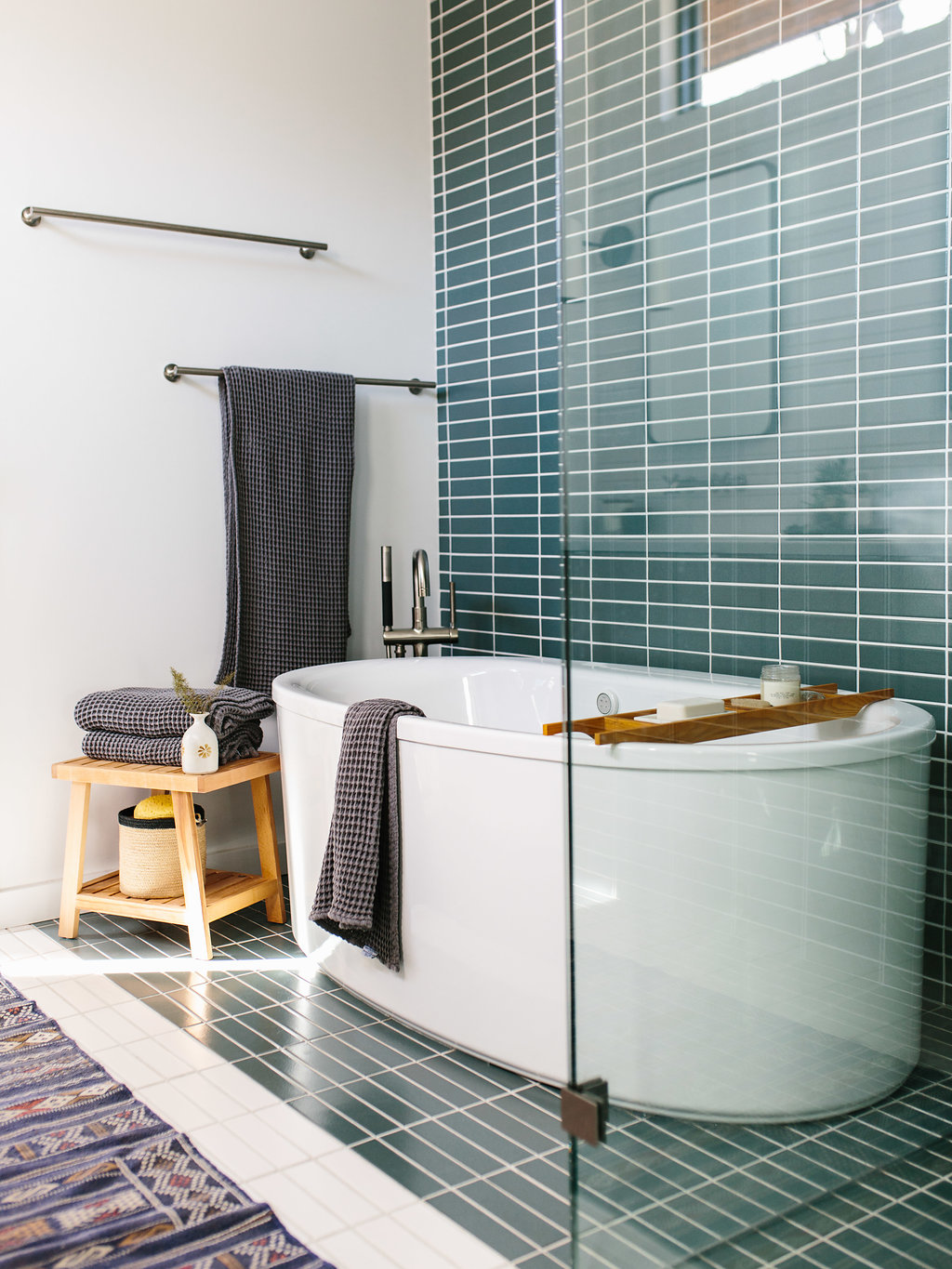 We opted for two staggered towel bars, because I feel like one is just never enough to properly spread out and dry two towels.  The towels here are from Parachute and feel like big, cozy, thin, absorbent blankets.  I like that the gray of the towels and the blue of the vintage runner that we borrowed from my friend Shannon add a little more dimension to the color palette in here.  As for all of the other finishing touches like the teak bath caddy and stool, they're actually really great deals and great quality and tagged below. (I bet you're surprised to find out where they're from!)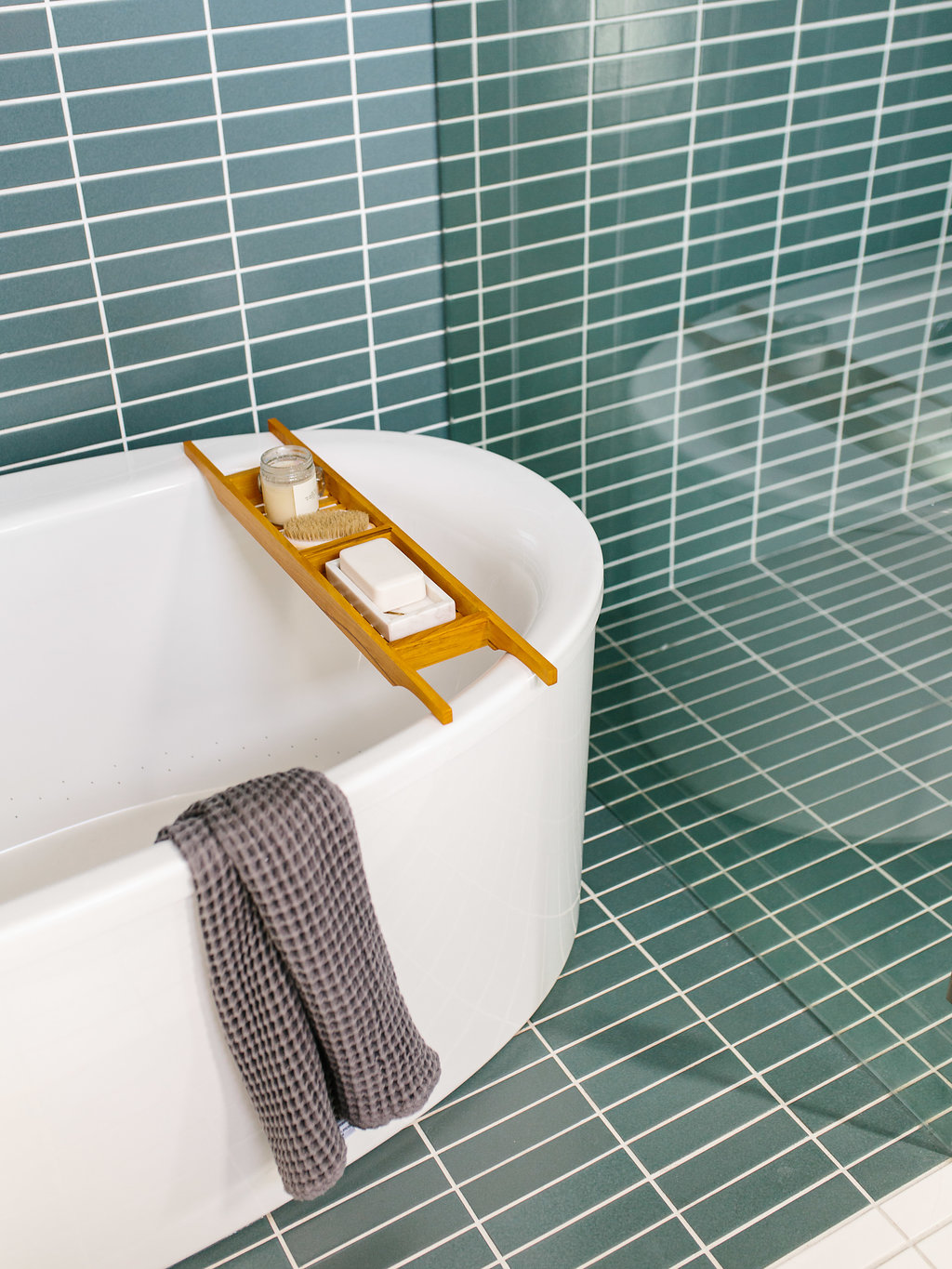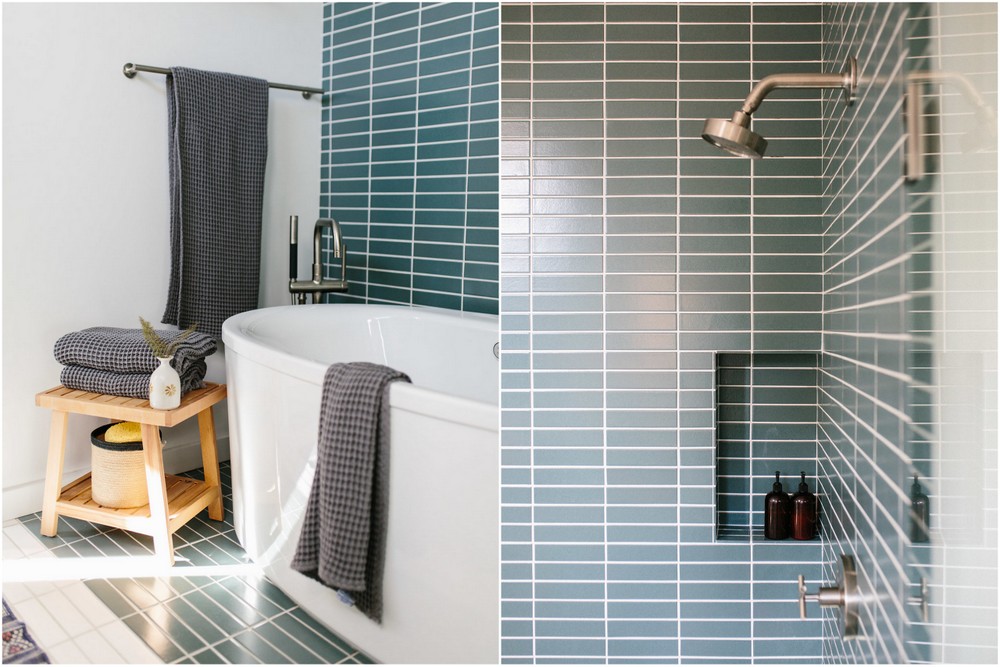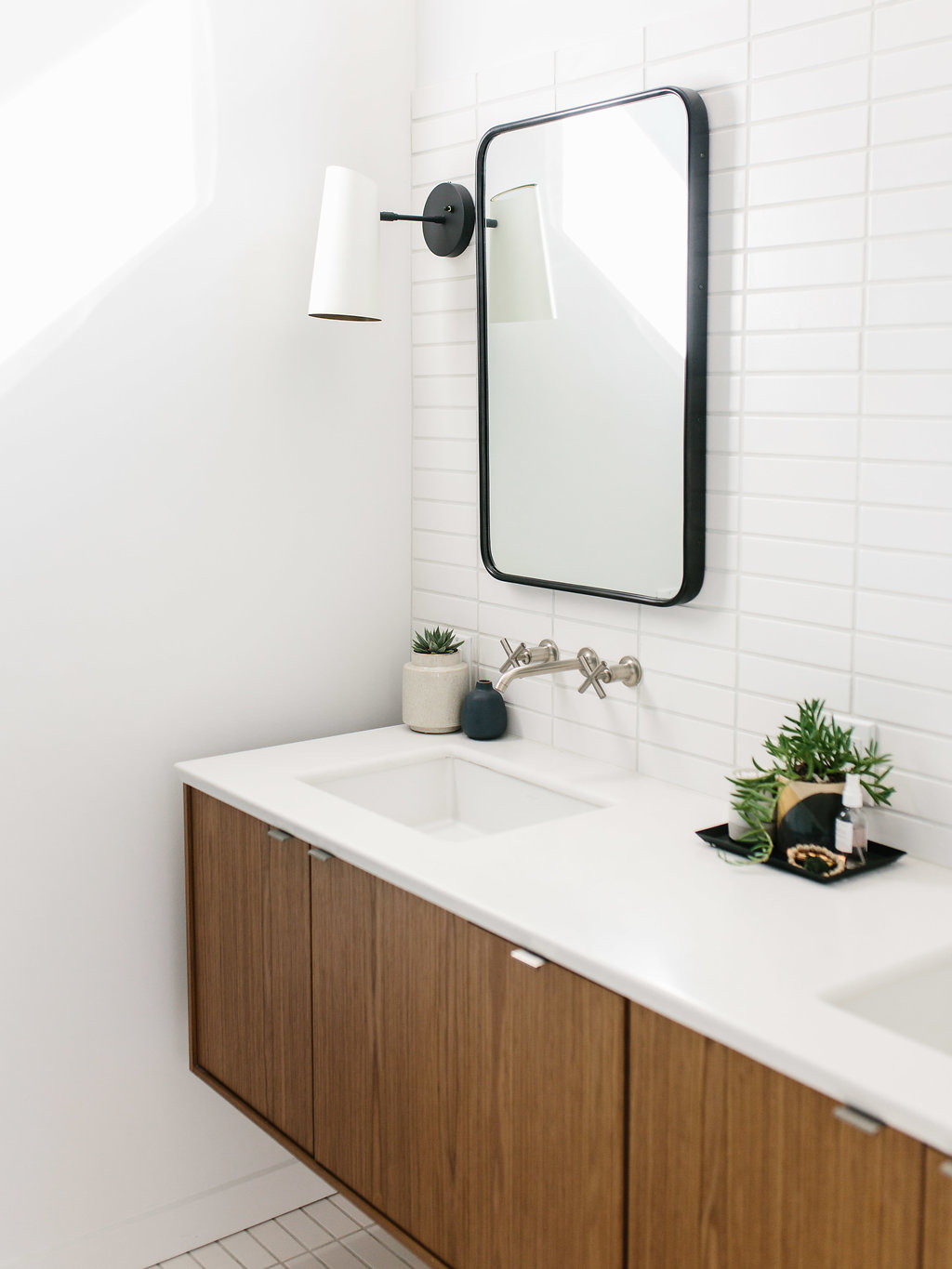 Shop 'A Mid Century Modern Master Bathroom': Jute 72″ Vanity in Walnut Flax, Kohler || Verticyl Undermount Sink in White, Kohler || Vanity top, Kohler || Sunstruck Bubblemassage Bath, Kohler || Purist Floor Mount Bath Filler, Kohler || 2 x 8 Tile in Flagstone, Fireclay || 2 x 8 Tile in Sugar, Fireclay || Vintage Runner, Shannon Eddings Personal Collection || Cimarron Toilet, Kohler || Purist Shower Faucet in Brushed Nickel, Kohler || Purist Wall Mount Faucet in Brushed Nickel, Kohler || Cypress Small Sconces, Rejuvenation || 20″ x 30″ Metal Framed Mirror, Rejuvenation || Black Tray, H&M || Containers, The Container Store || Assorted Ceramics, Vintage + Frond Plant Shop || Bath Stool, TJ Maxx || Towels, Parachute || Plastic Amber Bottles for Shower, Amazon || Bath Caddy, TJ Maxx || Purist 30″ Towel Bars, Kohler || Purist Hardware, Kohler || Paint Color, Behr Gallery White in Matte (Trim is Satin) || Shirt, Madewell (Similar) || Jeans, Everlane || Slippers, Parachute
Photography by Katie Jameson