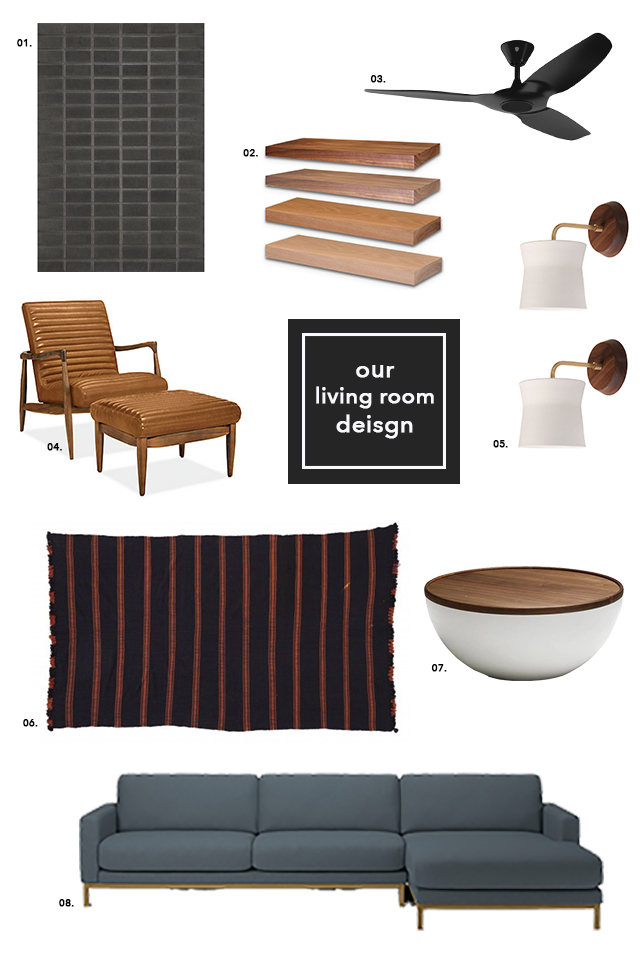 These house update / room design posts are quickly becoming my favorite.  We are in a weird stage where we are fast and furiously making decisions and trying to finalize every last detail of what will be, while not very much is actually happening at the house as we wait for the windows to get installed. Every time I pull one of these together, though, it starts to feel more real!  Okay, so here's the story on the living room.  It's the room from which the rest of the house flows.  As you can see in the floor plans, you walk right into it from the entry and you can walk straight out of it through the three paneled glass door on the opposite end.  It's our only family living space-- we don't have a family room and a living room and that was intentional.  While it's nice to design one space more casually and one more stylishly, it always seems that one gets used and the other becomes a bit of a waste of square footage.  The house is modern, so the plan is to use pieces and select finishes that keep in line with that aesthetic, but also lend themselves to family game night, cozy conversations with friends after the kids go to sleep, and the general living of life.  That means nothing too delicate, nothing too precious, and nothing white!  Here's how things are shaping up and an interior rendering of the living room.  (If you want to see about how it looks right now, see this post.)
01.  The focal point of this room is definitely the fireplace. It took weeks to decide on what kind of stone, tile or brick we wanted to use here because of that, but we finally landed on Ann Sacks graphite field tile that's a monochromatic gray limestone.  Because it's a natural stone, there's natural color variation which I love and because it's Ann Sacks the quality and finish are both super luxe. (They actually opened a store here in Austin.  Their tile selection is amazing and totally unique!)
02. These will actually be built-in shelves.  Because the living space is an open floor plan, it doesn't lend itself to a lot of furniture, so this will be our one opportunity in the space to style books, vintage treasures, and emmys!
03. We are doing a ceiling fan overhead in the living room instead of a light fixture because it's Texas and sometimes you have to compromise with your husband who let's you make 85% of the house decisions.  I'm actually quite excited about the Haiku Home fan that we found, though!  The fan pairs with both Alexa and Nest so you can control it along with your other smart home devices and, in addition to it being incredibly energy efficient to run, it's also a very stylish looking fan.
4. This Room & Board chair ! Do you love it as much as I do? I've used it in a couple of office designs that I've done so I've sat in it and can attest to it's incredible comfort.  I mentioned in a previous that we want little pops of leather throughout the house and this might be the perfect addition for this room.
05.  As I mentioned before, we are doing a ceiling fan overhead in the living room instead of a light fixture, but I still wanted to add lights somewhere in the space in the way of sconces.  This wall that leads back towards our bedroom was the perfect opportunity to add some lighting detail, though. It's visible from the entry, living room, back patio, staircase and the hallway that leads back to the guest bathroom, playroom, and office so it needed some serious eye candy.  I love the scale and simplicity of these Cedar & Moss sconces.  They feel like the perfect mix of midcentury and modern which is the balance we are going for in the rest of the house, too.  I also love that the stoneware shades warm up a space that's primarily concrete and glass.   The plan is for them to be on either side of a really great piece of art on that wall... which is still to be determined and probably won't be until we are all moved in.
06.  This is not our final rug selection, but I do really like it.  It's vintage from Jayson Home.  I feel like a lot of the oushak rugs can look formal for this space and some of the kilims look a little too tribal for the space, but I thought this one was interesting.  I need to really measure the space again, figure out exactly what will work, and being looking more seriously as it will probably take months to find.
07. Can we talk about coffee table problems? This is the one we have now and it's the epitome of not kid friendly. Not only because of the sharp, solid steel edges, but because of the mirrored top which collects fingerprints like it's its job.  (Don't have kids? We will be selling it come late summer!) We discovered Bolia when we were in Stockholm and I love just about everything they make, this coffee table being no exception. Don't know that this is the one we will actually use but it will definitely be round!
08.  The thought of having to replace our current sectional is kind of depressing. We had it made for our last house and it fit the space perfectly, which sadly isn't true of our new space.  It's THE most comfortable piece of furniture you've ever sat on.  We would still love a sectional in the space, but the chaise needs to be on the shorter side and the couch itself can't be too long because of the open floor plan and the need to create walkways on either side and behind it.  Open floor plans, I tell ya! They have their perks, but they don't make furnishing super easy!  This is another Bolia piece that I love. I feel like the color is enough contrast from all of the gray in the floors, but not too dark.  Comfort is also a key priority here!
Thoughts?! Any favorite sources for sectionals, sofas, or vintage rugs?!  As soon as I make my way through these last tile selections, it's on to the furnishings!
(Enjoy this post? Check out the other posts in Our Austin Casa Series...)