When Aaron and I began the process of designing our home, or rather deciding what was important to us and then letting our architect (Sam Burch of Shiflet Group) design our home, we decided that we each could have three non-negotiables.  If you want to read all of them, they're here, but my very first and most important design feature was a large open kitchen that was connected to our living space.  When you look at older houses, that hasn't always been the case.  I'm not sure if it's that the kitchen used to be seen as a workspace, an eyesore almost and hidden out of site or if it's because homes were generally built much smaller 50 plus years ago and to give them three walls meant you could maximize counter and cabinet space, something that you lose with an open kitchen.  Anyone out there know?  For me?  It's where friends gather and graze, where our family reconvenes every morning for breakfast, where school lunches are packed and tiny babies fed.  It's the heart of our home.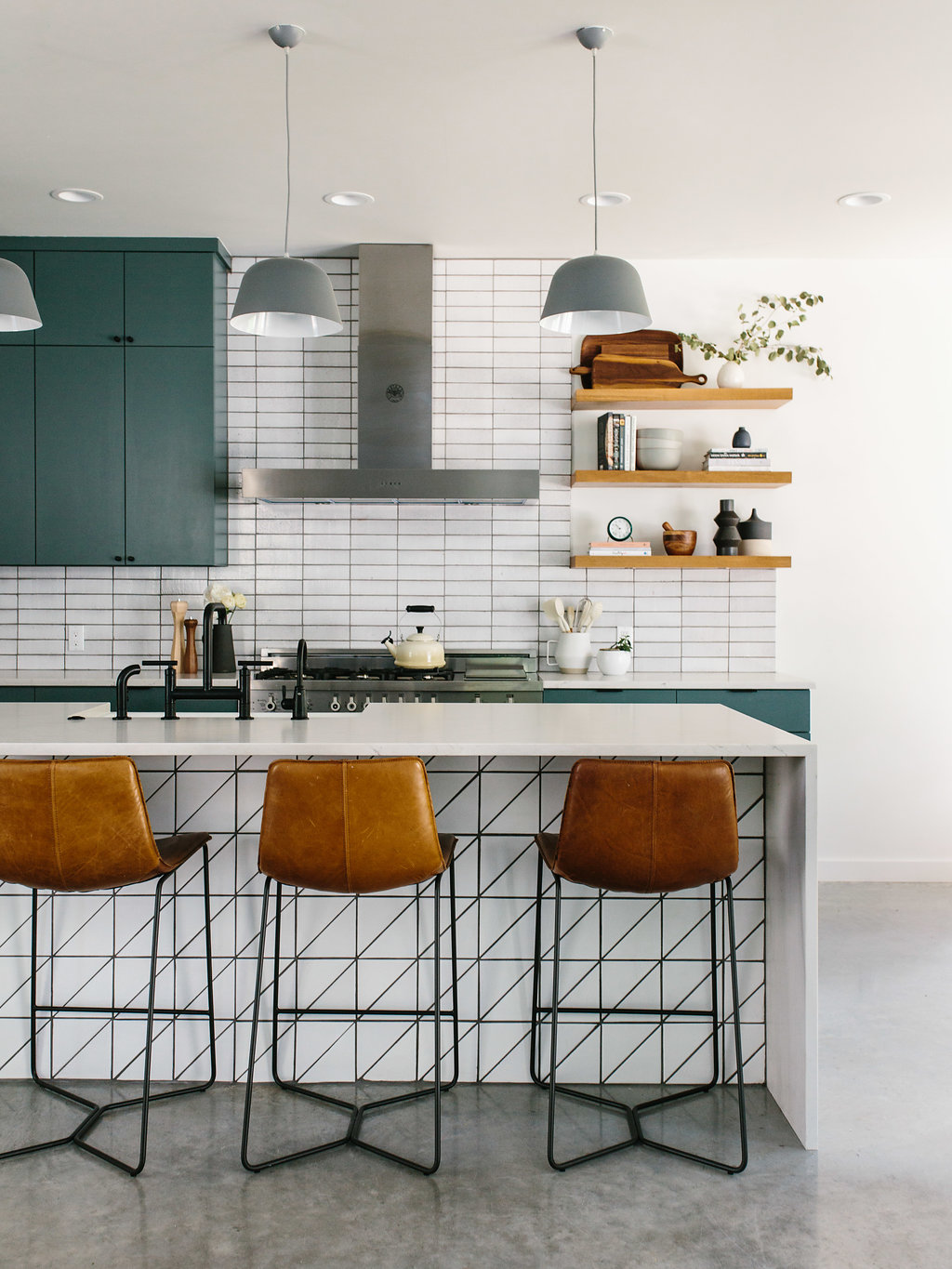 As for the design, it's very much open to the rest of the downstairs, so it needed to fit in with the aesthetic of the rest of the house which for us meant mid-century modern with scandi vibes and a cool color palette.  (These West Elm Barstools are the same ones we had when we were in our rental which you can see here.)  It's hard for me to remember exactly which decisions came first, but all the details are below-- including the one thing that I sometimes think about changing. (But also not really, because I'm so glad to be DONE!)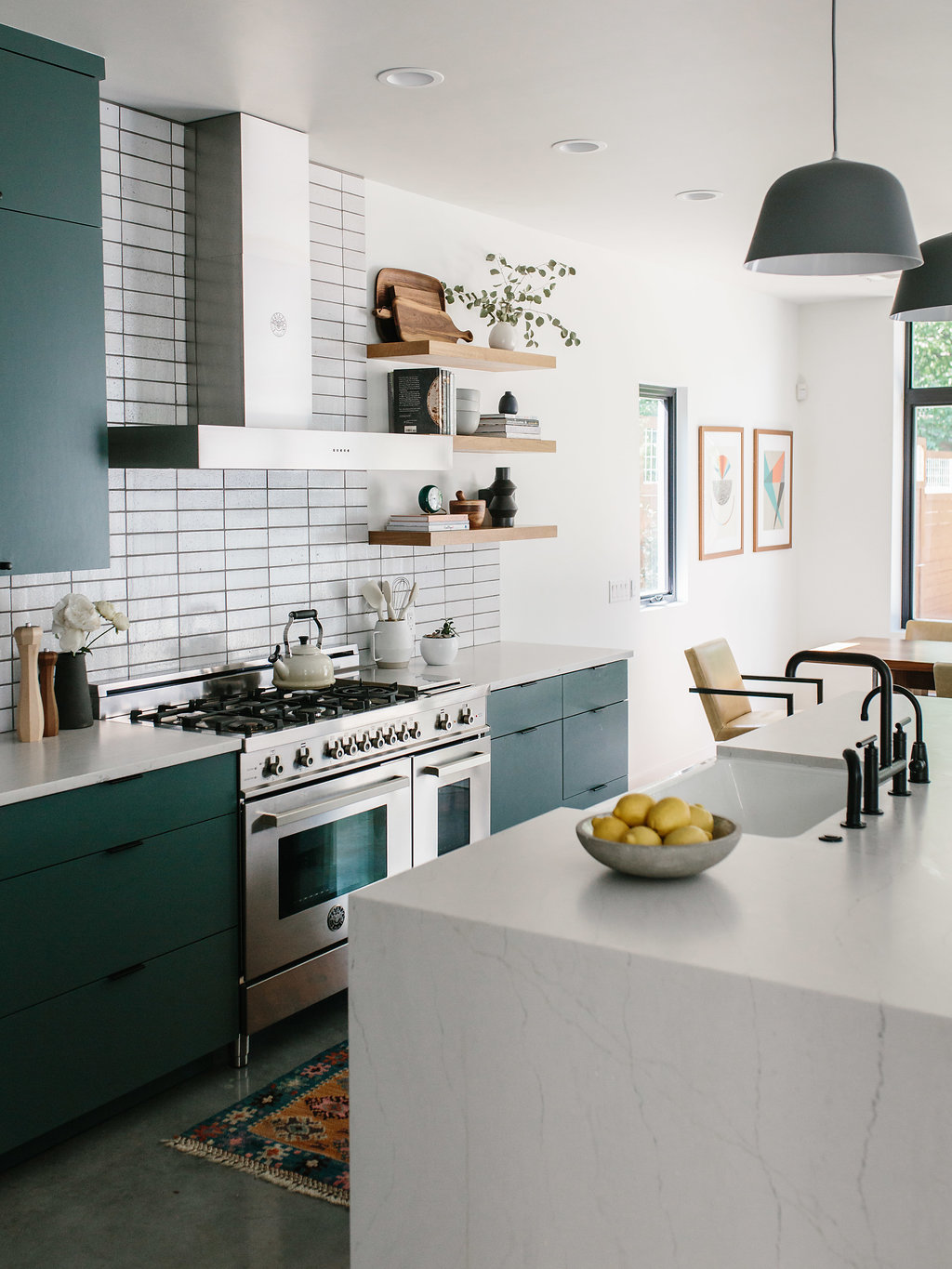 The Countertops are Cambria Quartz in Ella Matte. I actually traveled to Minneapolis in the fall of 2016 and took a deep dive into their company, the way they manufacture, and their end product.  It's all very impressive!  Quartz in general is great because it doesn't ever need to be sealed or polished. It's incredibly durable-- stronger than granite or marble-- making it a great choice for families with kids. We went with Ella because I really love the look of Carrera Marble, but knew that it wasn't practical for our family with two kids and being the messy cook that I am. Cambria is responsibly obtained by conscientious partners. In addition, 100% of the water they use to polish their surfaces is recycled, saving an estimated 1.6 billion gallons of water per year.  Also, they manufacture everything in the United States, employing hundreds of people in the Minneapolis area and throughout the United States.  It's a family owned company and there's a lot of transparency and a lot of pride in the product they create.  I would 100% use them again if given the opportunity.  When they came out with the Matte finish, I was totally overjoyed!  We waterfalled the edges of the island for a more dramatic look but used a 2" thickness throughout which felt less contemporary and more mid-century.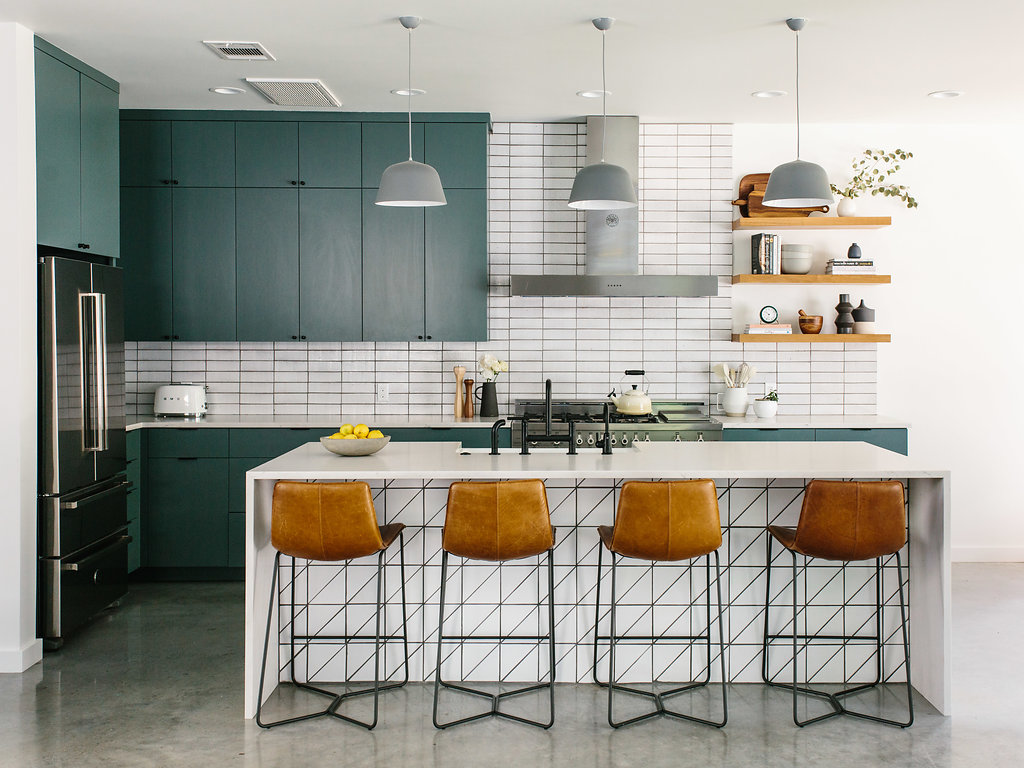 The Fireclay thin brick backsplash here is probably my favorite use of tile in the whole house!  I'm obsessed with the stacked brick layout, the texture and variation of the product, and basically everything about it.  The color way is White Mountain and the grout color is Winter Grey.  We used the Fireclay 6" triangles on the island with the same grout color for an added pop of pattern.  The triangles are a mix of calcite and daisy, so there's a really slight variation in the color which is what we were going for.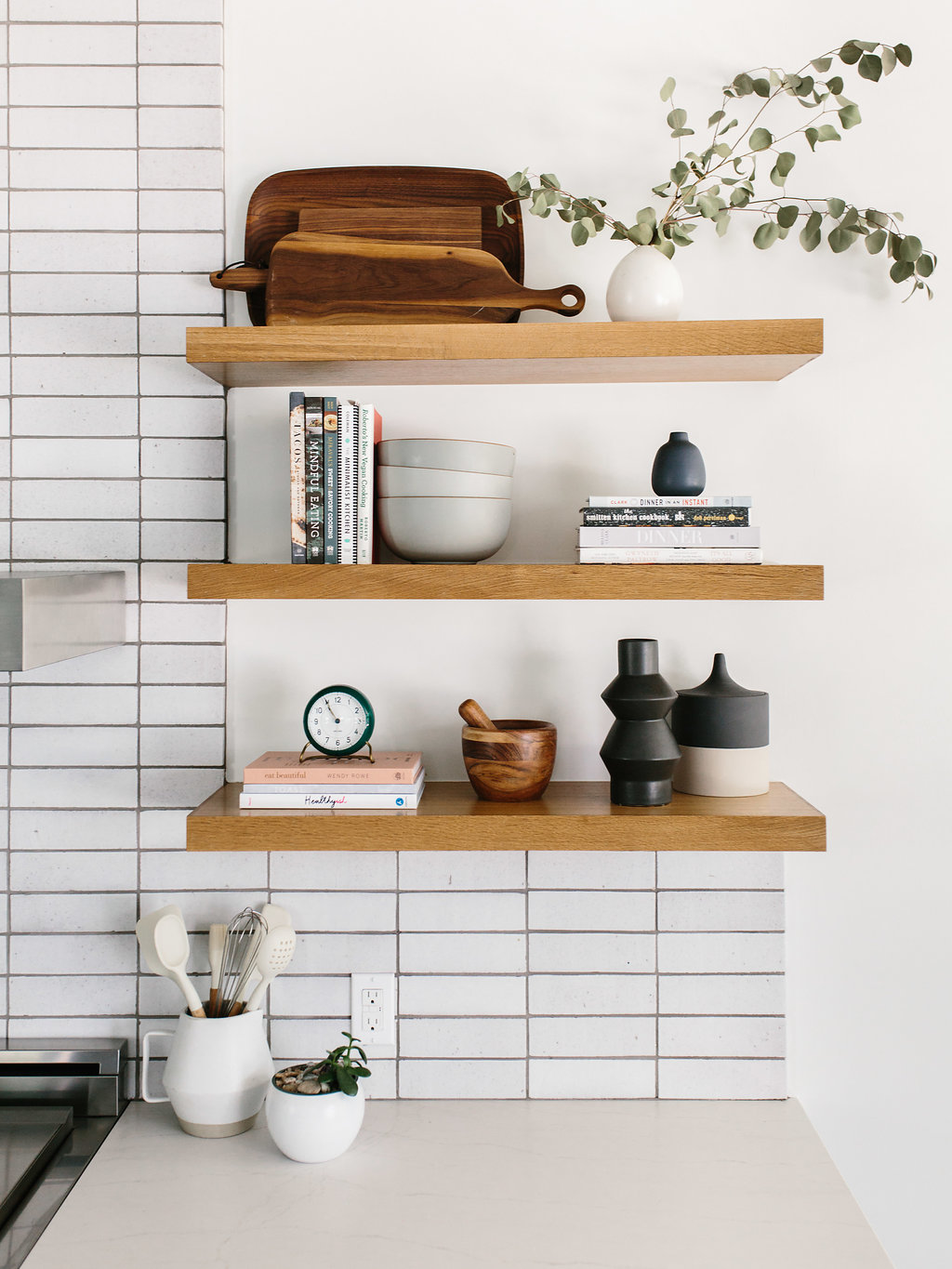 The floating shelves were made by our cabinet maker and I have officially styled them a gazillion different ways, but I think this way will stick for awhile. (You can see how my interior design friend and pro styled them here!)  I love the look of open shelving running all the way across the top of the kitchen and getting rid of the uppers, but from a practical standpoint it would not have worked for our family.  Speaking of cabinets, you guys gave me such great feedback on the design on this post!  You worried about splattering grease if we put the shelves next to the range and I agreed with you, so we were originally going to have the open shelves next to the refrigerator like options 2, 3, and 4 below: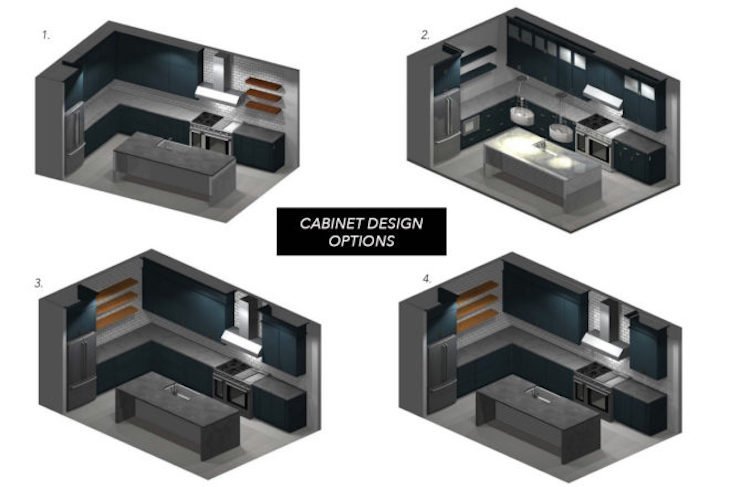 But, the floor plans got tweaked in the permitting process and so that space next the refrigerator shrunk immensely which you can see below.  One thing we really love about that little nook is that it's so hidden.  I cleaned things up for this shoot, but normally you'll find a bottle of olive oil, my vitamins, and Parker's school water bottle if she's home from school.  It's nice because everything is tucked away so from the rest of the house the kitchen looks really clean with very little on the countertops.  I've actually been really happy with the shelf locale, too, so far.  It's a really fun spot to be able to play with colors and styling since it's such a focal point from a lot of different places downstairs, plus it breaks up all of the cabinetry. Speaking of the cabinetry...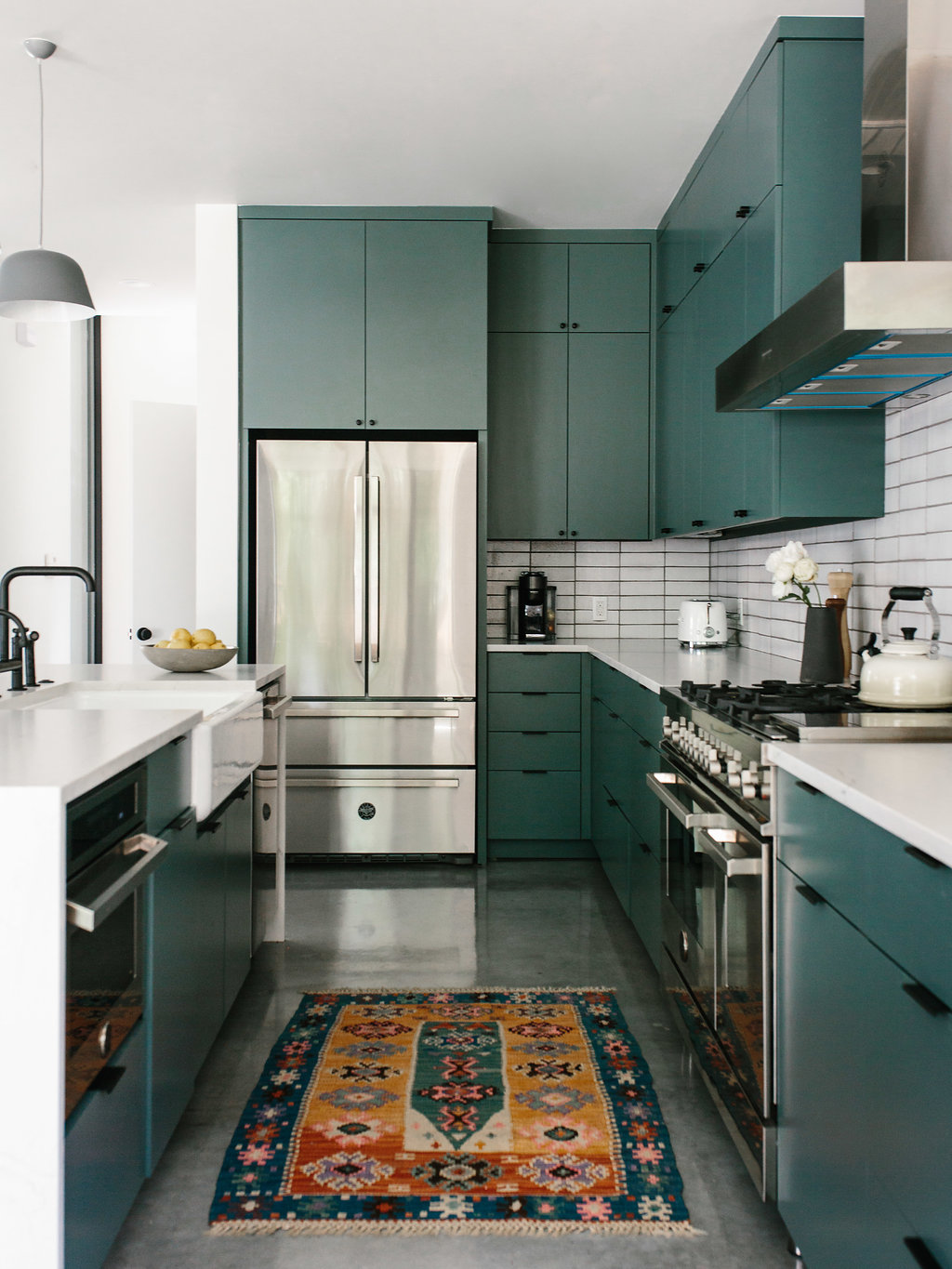 Ta-da!  I'm very, very happy with the way these cabinets turned out. It was a journey and I lost a little sleep wondering about the paint-- not just the color we chose, but if we should paint them at all. They are custom cabinets made by a small cabinet maker here in town which ended up being much more cost effective than going with a big national company.  We really liked the idea of painted cabinets and stain grade would have been an extra $8,000-$10,000, so it made the decision easy.  The color we went with is Behr Marquee in Mountain Pine in the Satin Finish and we are 100% in love with it.  It's like part green and part gray, a color and a neutral all in one.  Our painted cabinets at our place in LA were always needing to be wiped down. They just seemed to attract grease for some reason in a way that these haven't at all.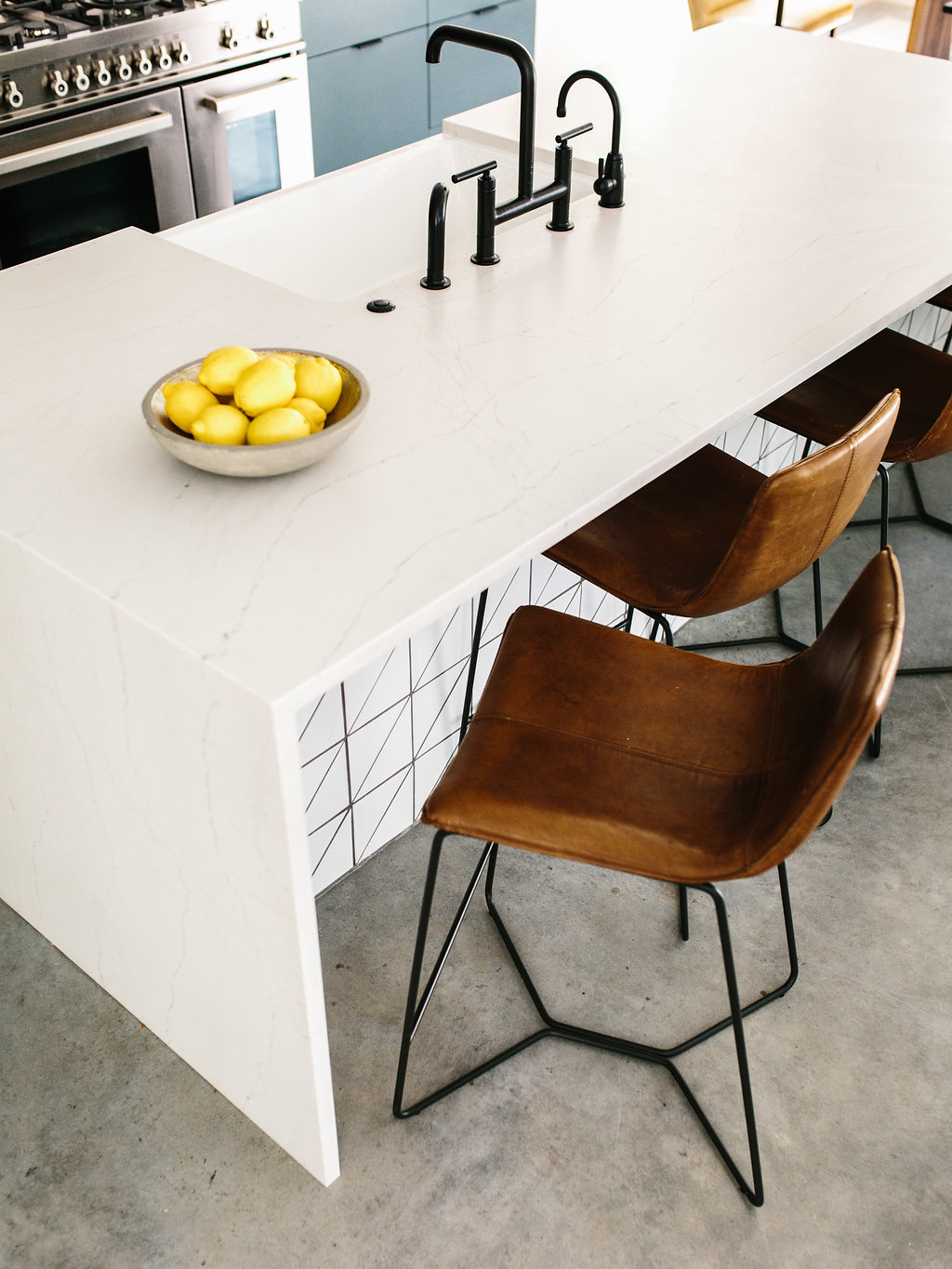 The faucet and sink are both Kohler.  I really love the quality of the Kohler products.  They're heavy and feel so durable, plus their product designs offer a nice blend of modern and timeless.  The sink is the Whitehaven sink in the 36" width. I sort of panicked at one point that I went too big with the sink and now I know that there's no such!  It's perfect. The faucet is the Purist Deck Mount in Matte Black.  I feel like you see the Purist collection everywhere, but for very good reason. The design is so good!  I swore I wouldn't use it when we were choosing fixtures, that I wanted to do something different, but I had a hard time finding anything that I liked more than the Purist pieces.   Love them.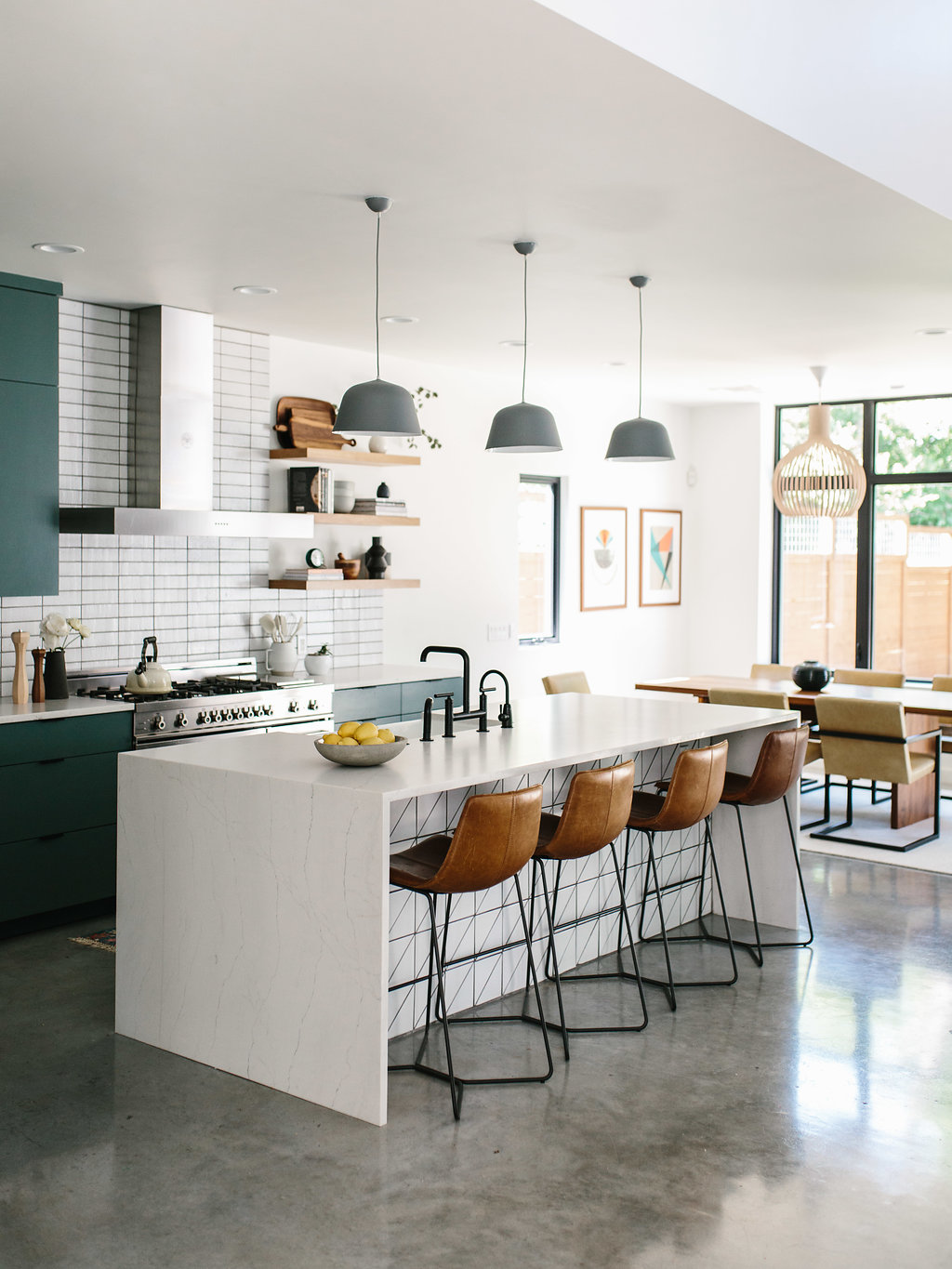 The pendant lights are Muuto Ambit and the only choice that I sometimes wish I could change.  (If I did change them, I would want these Cedar & Moss pendants.)  Besides the stainless appliances and the concrete floors, we just don't have gray anywhere else in our house (probably because we have so much gray in the floors) and I think a warmer tone and material would be really nice here.  Do you agree?! Or do you love these as much as I did when I first saw them at ABC Home?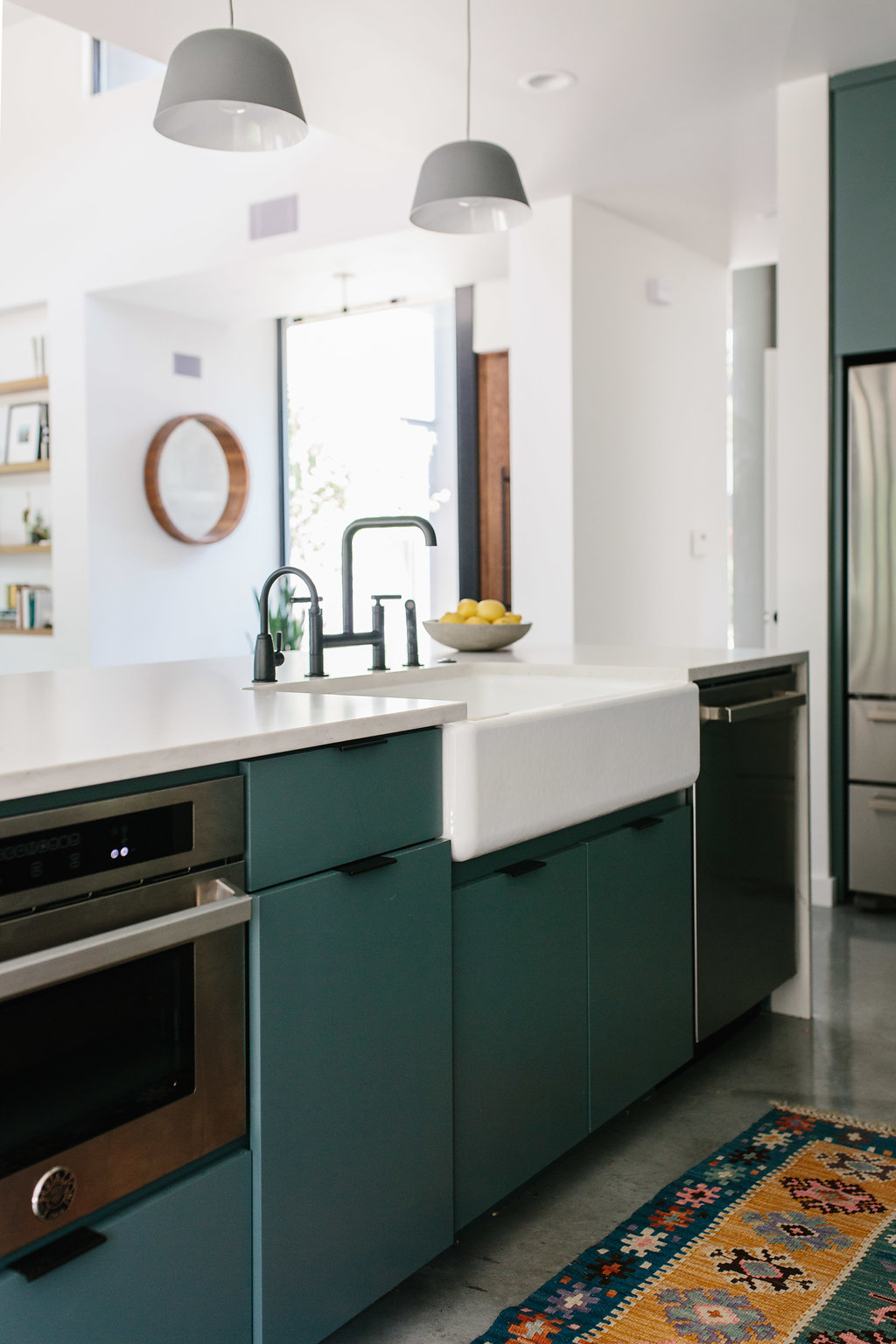 All of the appliances are Bertazzoni.  It's by far my favorite range and I did a lot of range research.  The one we went with is the 48" Professional Series. It has a double oven which was a big selling point, but my favorite feature is the griddle! It's made many a burger, quesadilla, pancake, and grilled cheese already.  This is the speed oven that we went with instead of a traditional microwave, but it also functions great as a microwave.  It has way more capabilities than I am even using it for.  If we are being totally honest, I'm not crazy about the dishwasher or refrigerator.  When we ordered our appliances they had just one refrigerator and two dishwashers to choose from, so I kind of suspected this wasn't there specialty.  They have actually come out with a lot of other options now and you can do integrated fronts on both so that's a cool new feature. The dishwasher is just kind of awkward to load.  Things don't fit in it as well as dishwashers we have had in the past.  We set it to extra dry each time and things come out pretty dry, but I do still have to spot dry most anything that's on the top rack with a dish towel.  The handle on the freezer also keep falling off-- something that is on my to do list to get fixed.  I give the range a huge thumbs up-- we couldn't be happier and I would totally choose it again if given the chance.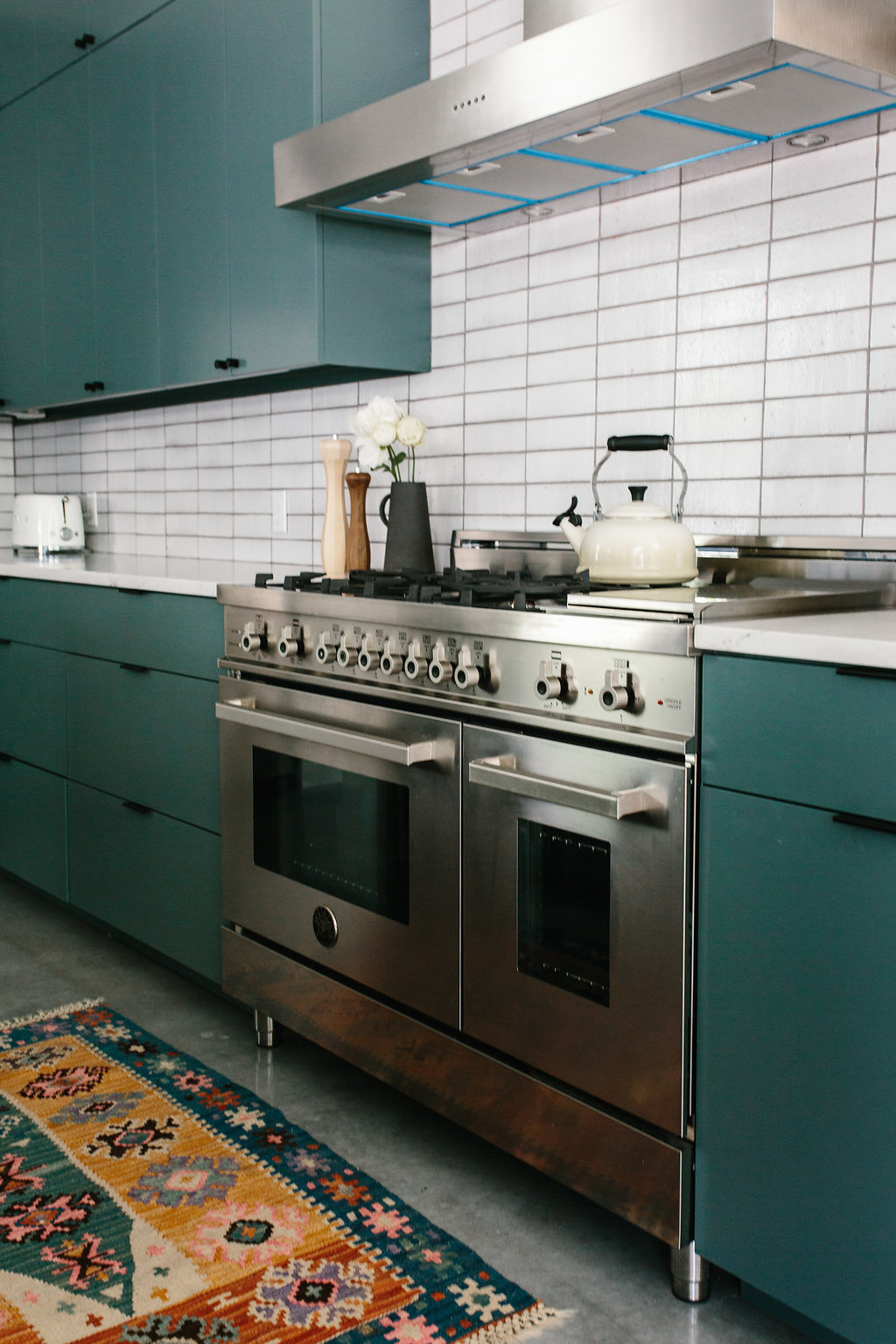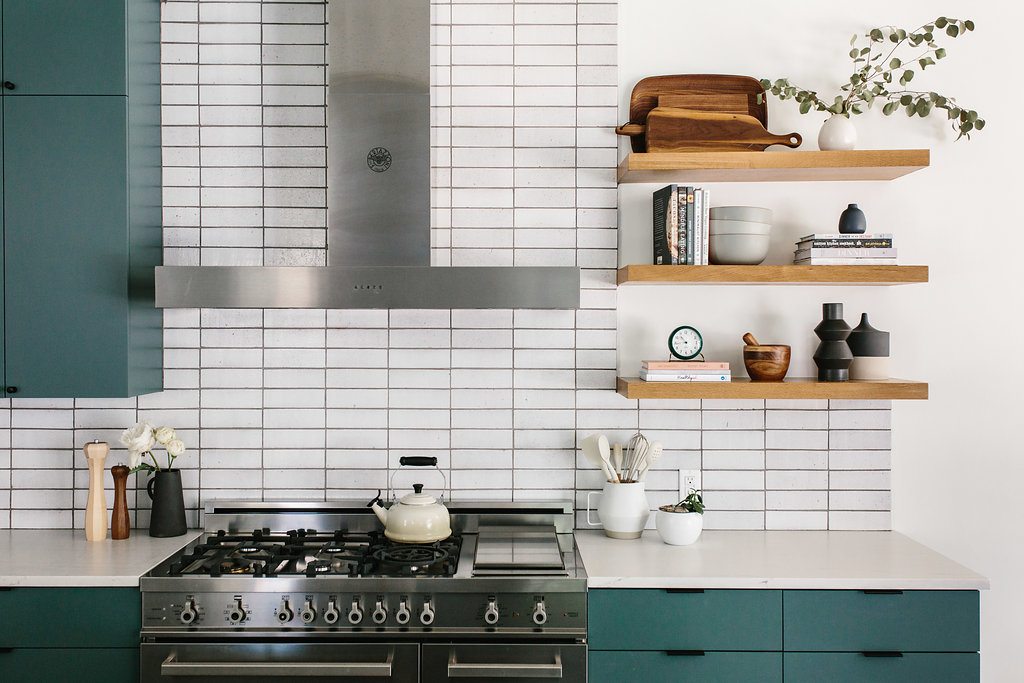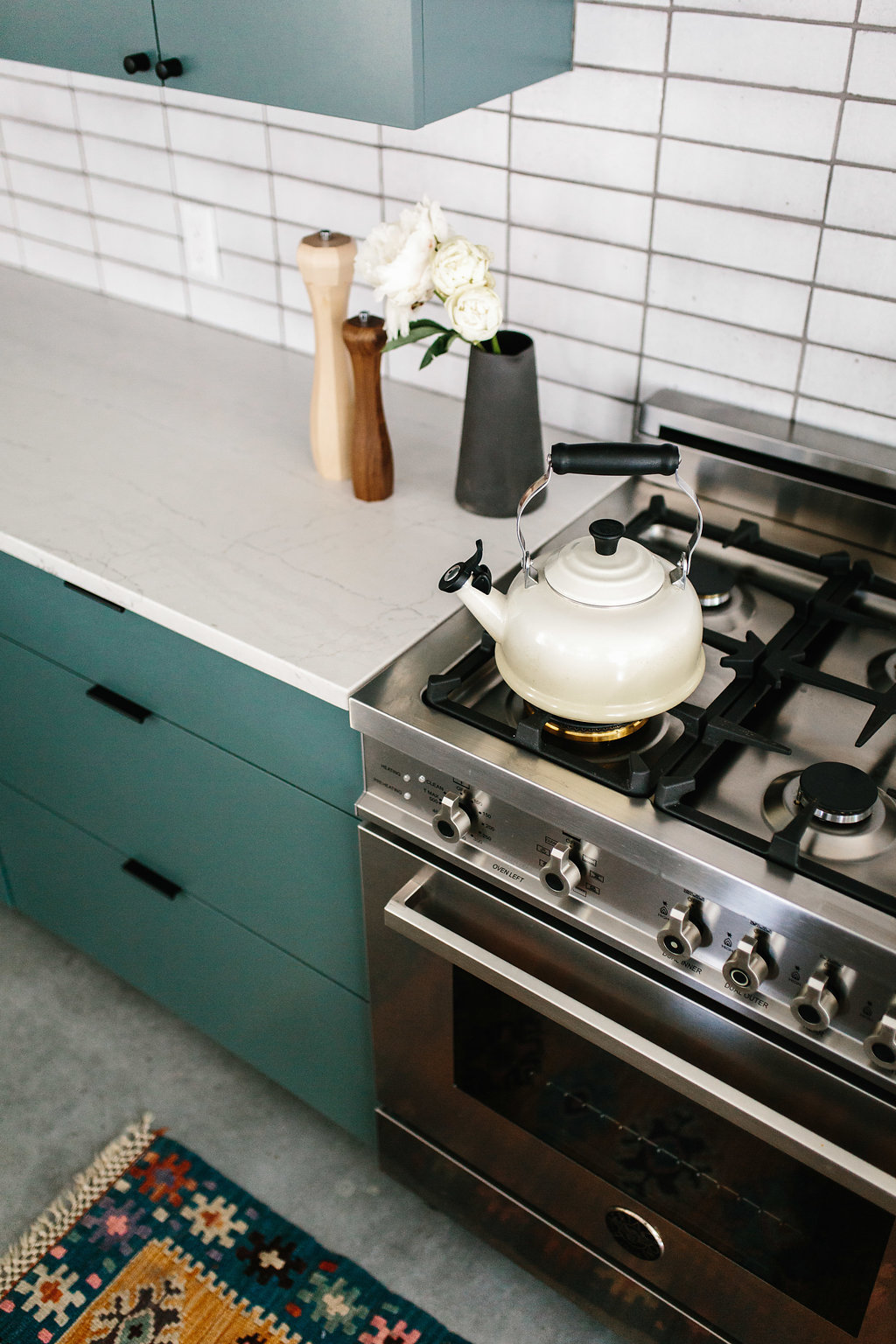 My friend Elise and her husband Ethan gave us the Le Creuset Tea Kettle as a wedding gift and it has sat atop our range in every house we've lived in since-- four to be exact!  I used it more this winter in Texas than I any of the previous eight years.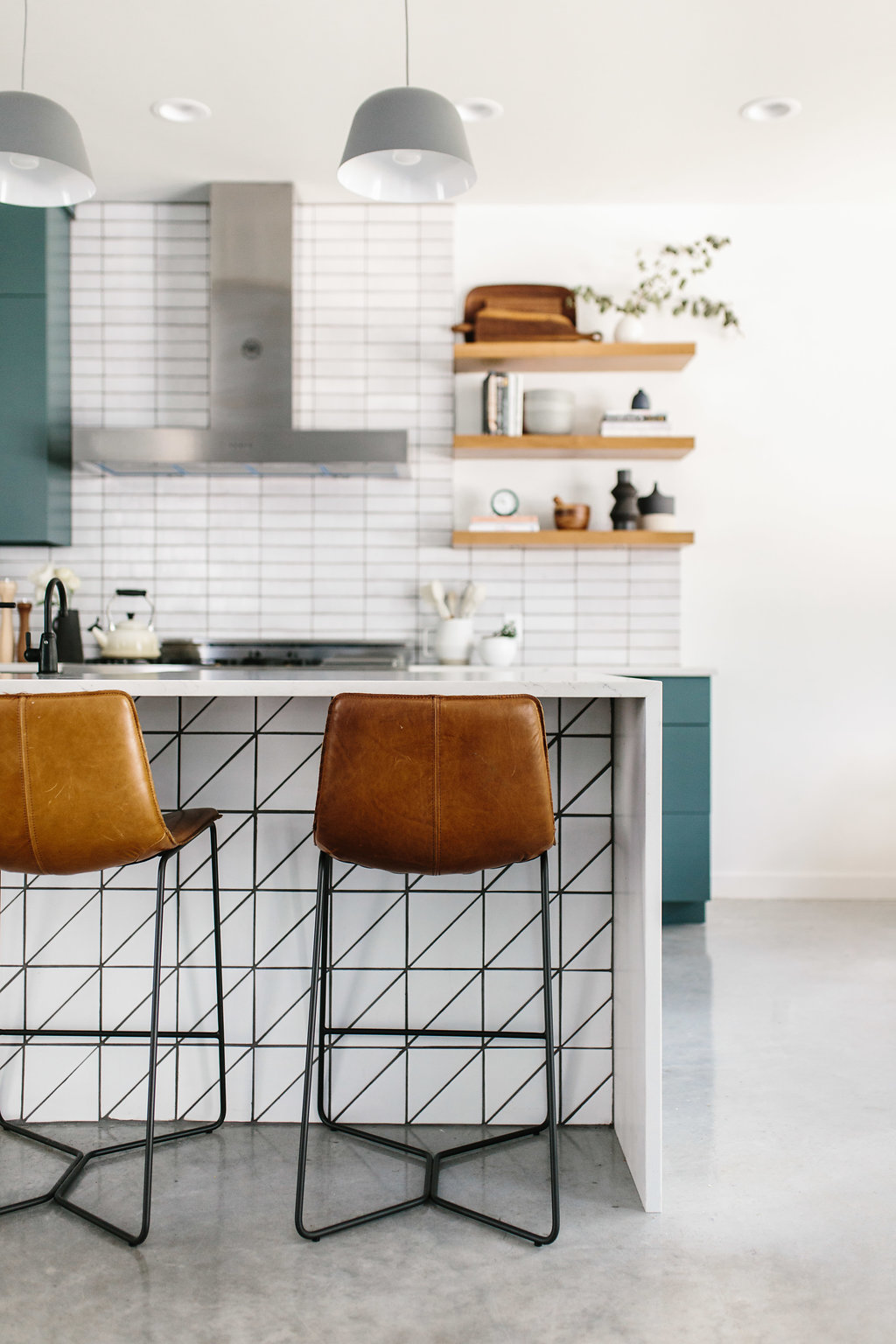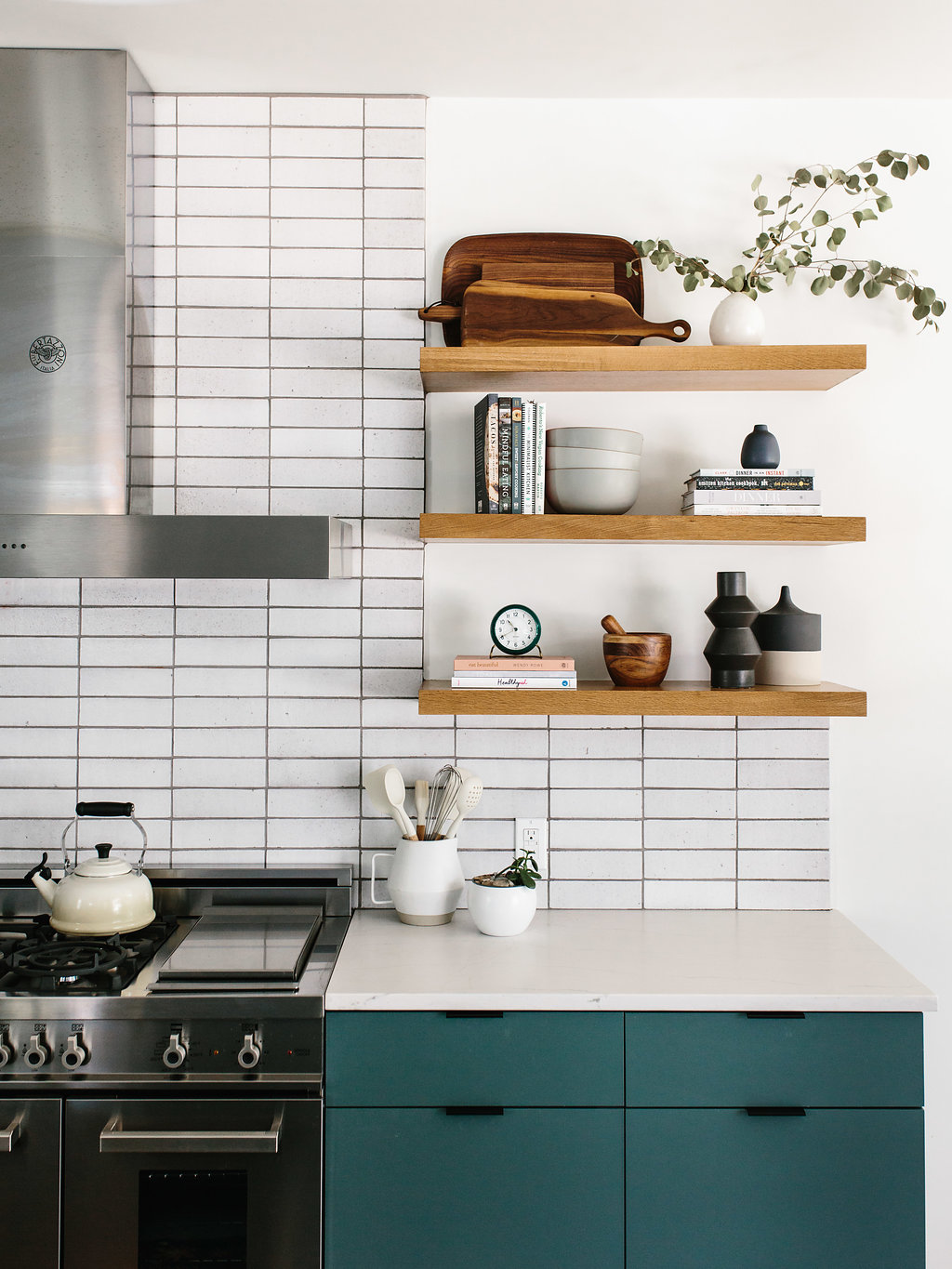 Purist Faucet, Kohler || Thin Brick Backsplash, Fireclay || 6" Triangles on Island, Fireclay || Quartz Countertops, Cambria || Apron Front Sink, Kohler || Appliances, Bertazzoni || Paint, Behr Mountain Pine || Countertops, Cambria || Cabinet Hardware, Top Knobs || Drawer Hardware, Top Knobs || Wood Serving Boards, Williams Sonoma || Tea Kettle, Le Creuset || Rug, Etsy || Pendants, Muuto via Ebay || Barstools, West Elm || Toaster Oven, Smeg ||
Our house was build by Waller Build
Photography by Katie Jameson