02/12/2018
Just when I thought it wasn't possible to love a room more, we went and refreshed it! Remember when we first put together our dining room in our rental last spring?  (You can see the full post here.)  I loved it!  We were fortunate because the room was about the same size as our current dining room that we moved into in December, so we knew whatever we did there we could just move into our new space.  Once we moved, we made a few tweaks—we loved the light fixture in our place, so we moved the lamp to the office and swapped out the rug for something more neutral that didn't compete with the nearby kitchen.  It was very good and I was very satisfied with the update, but it still felt incomplete.  The room was in need of a small punch of color and some art, but putting that first nail hole into brand new drywall and paint felt so daunting!  When Art.com came to us and asked if we would be interested in trying out their new gallery wall tool in the Art.com app I was game!  It was the push I needed to finish this room and I'm over-the-moon with how this one wall really transformed the space!  (PS. You can download the app here.)
First, here's what it looked like in our rental: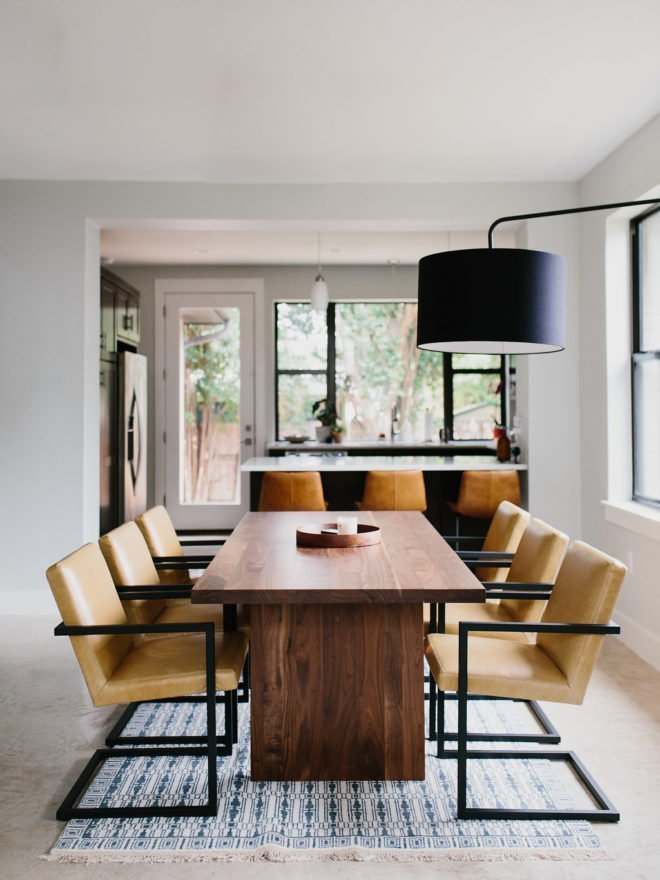 And here is what it looked like before we added the new gallery wall from Art.com: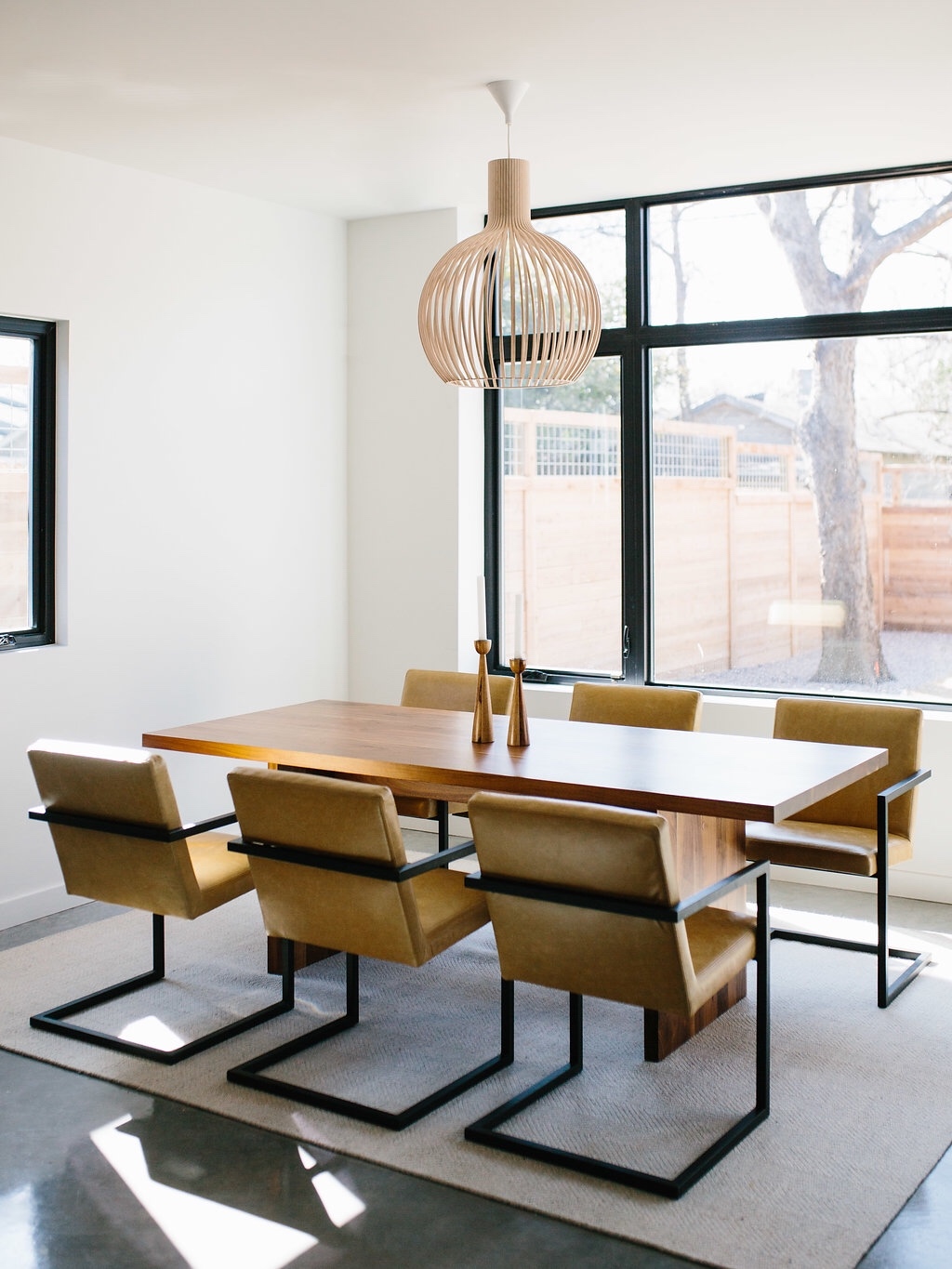 We found the Seco Octo pendant when we were on vacation in Stockholm last spring and ended up purchasing it from Finnish Design Shop when we returned.  Possibly my favorite light in the entire house!  Just like our dining room table and chairs, the new rug is also from Room & Board—it's the Avilia Rug .
And here is what it looks like now: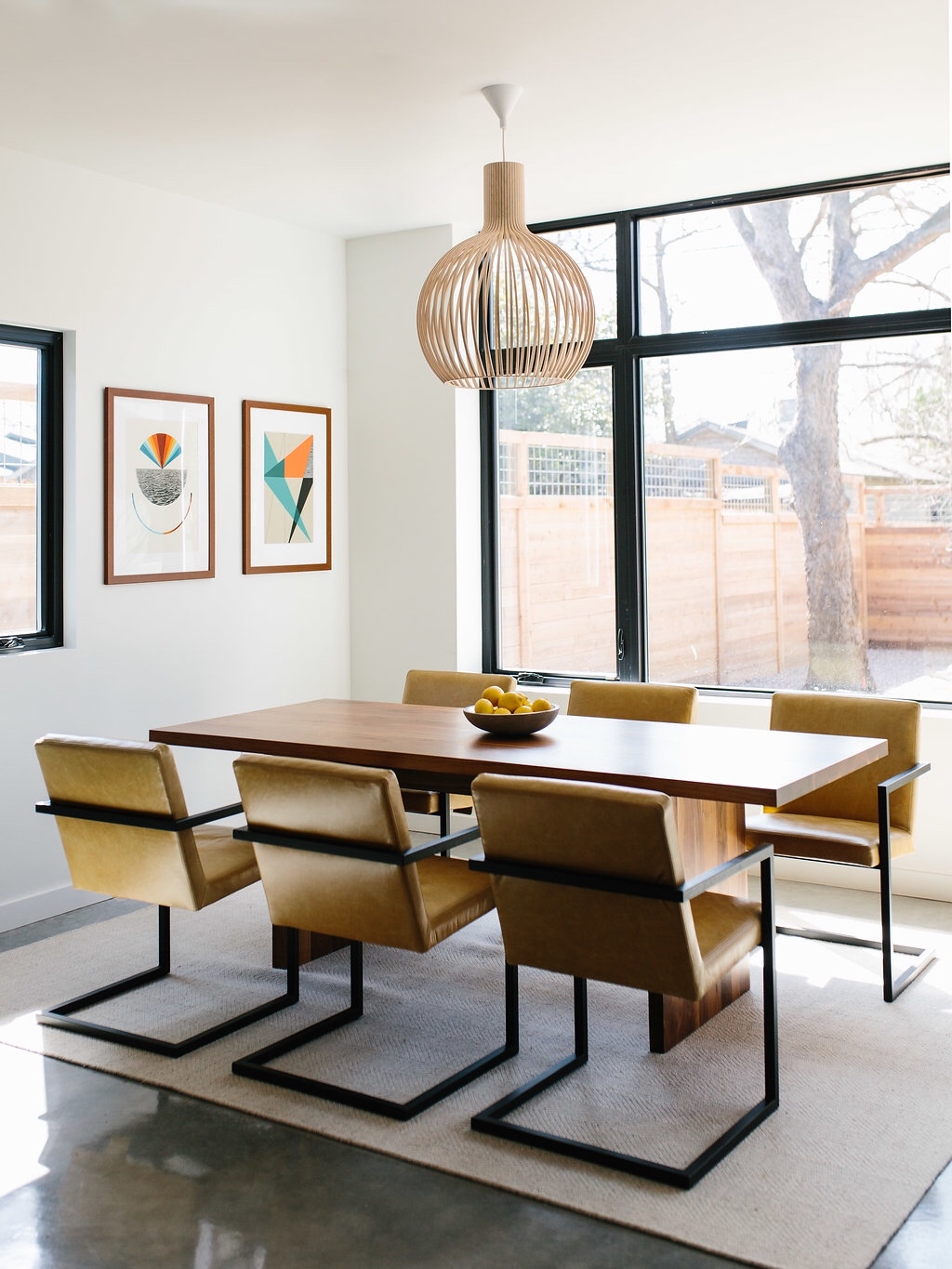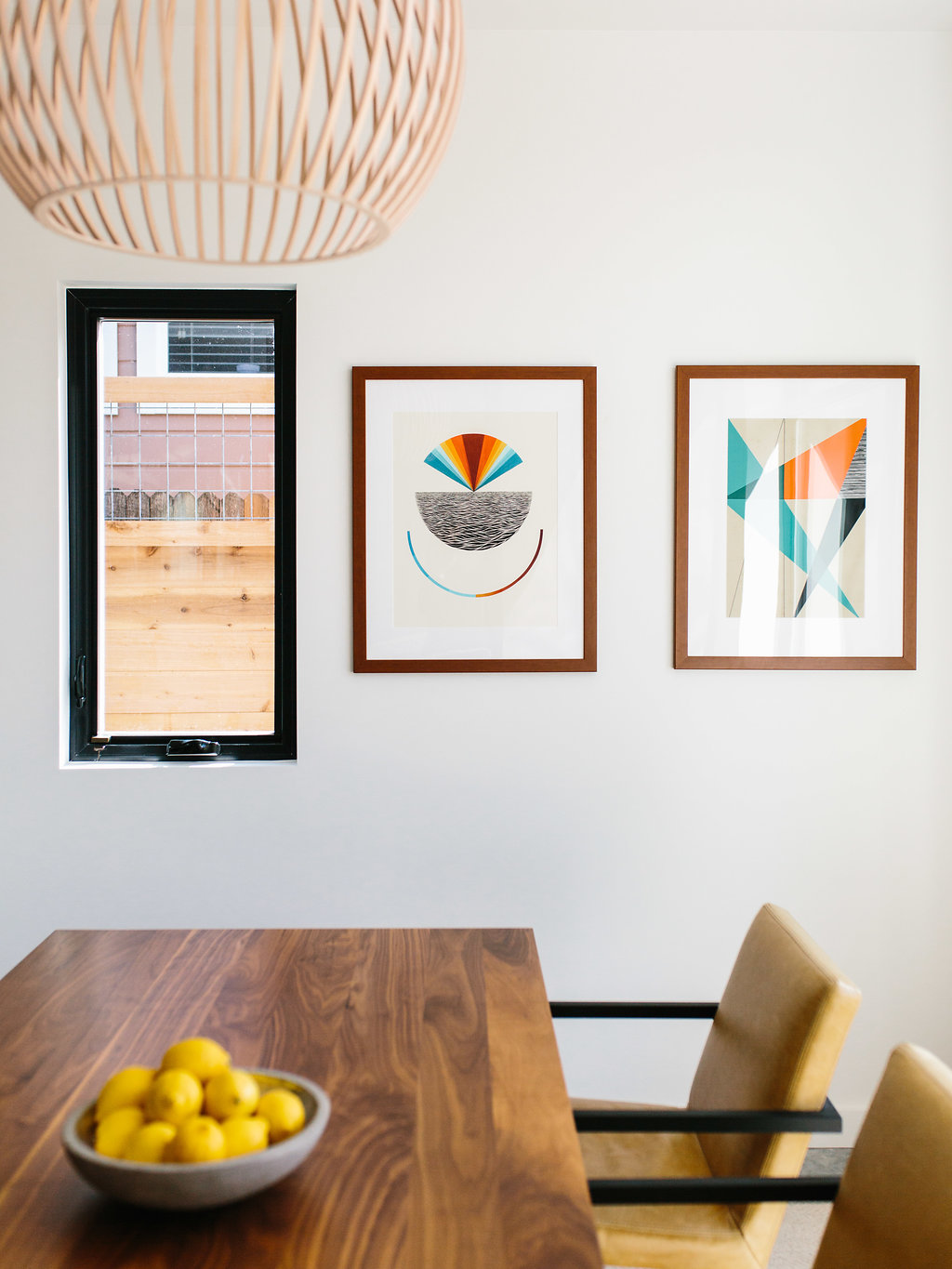 I'm obsessed!  It's super easy to go into the app and use ArtView, the patented augmented reality feature to see your favorite pieces in your actual space.  It helps you to determine if it will fit in the space and also puts together the size and shapes of the gallery wall for you to see in the room.  I've been playing around with it in our playroom now, too.  Plus, the art on Art.com is generally pretty affordable and they're the largest provider of online art in the world so the choices are seemingly endless. (To find these prints, I just searched 'mid-century modern' and then saved these to my favorites so that they were easy to preview in the gallery wall tool.)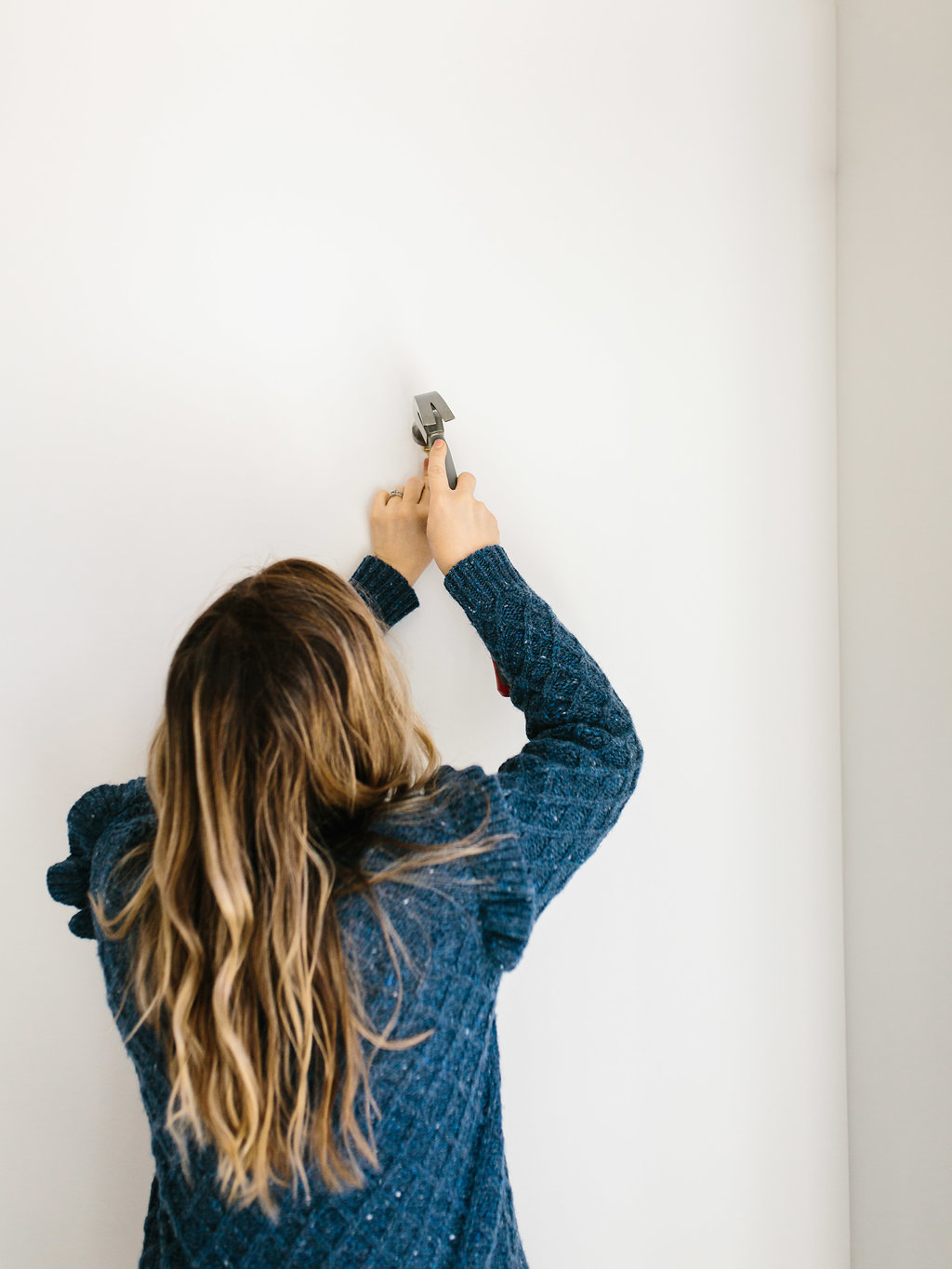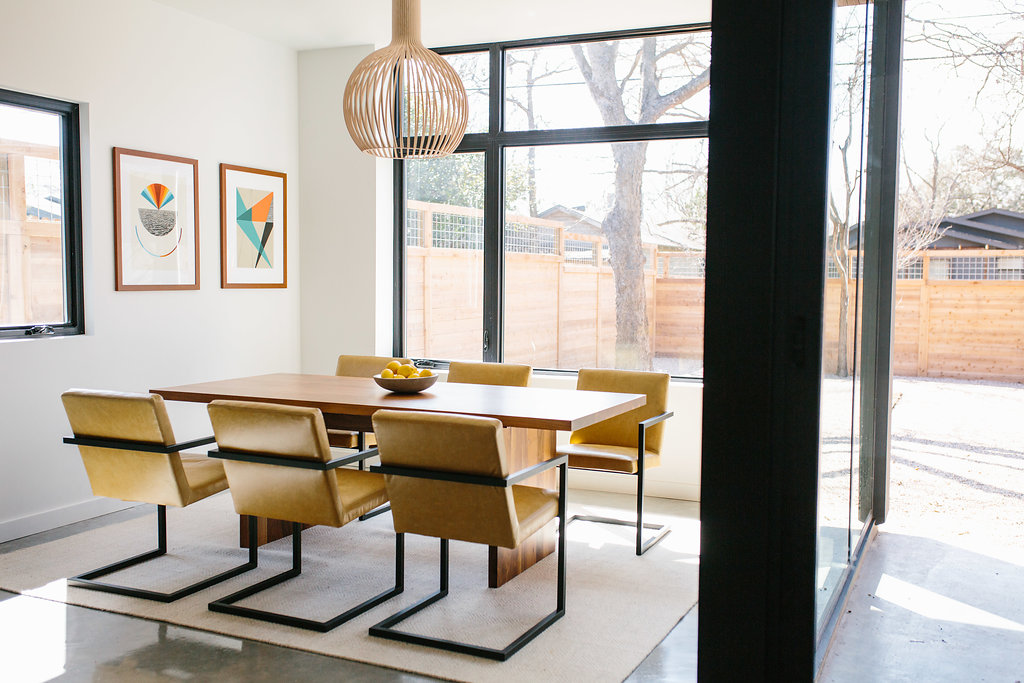 In the market for new art?  Art.com is giving away five $500 shopping sprees to celebrate the release of Gallery Wall Designer and ArtView. To enter, follow Art.com on Instagram or Twitter and post/tweet with the theme of loving your wall using #LoveYourWall.  That's it! The giveaway ends Wednesday, February 21 and Art.com will announce the five winners, drawn at random, the next morning!
What wall would you like to makeover?
Photography by Katie Jameson
Art (L) Smile by Mark Warren Jacques || Art (R) Diagonal Unity by Rocket 68|| Corbett Dining Room Table, Room & Board || Lira Leather Dining Chairs, Room & Board || Avilia Rug, Room & Board  || Seco Octo Pendant in Birch, Finnish Design Shop ||
This post was sponsored by Art.com.  All opinions expressed are my own and I seriously can't recommend this app enough! It made shopping for art for our space a total breeze!