It's very possible that this will be the last update of #ouraustincasa before move-in day.  How is that possible?!  We have been plotting and planning the possibility of this house since the summer of 2015, purchased the lot in May of 2016, broke ground in December of 2016 and are now about to move in one year later.  It's been really surreal to see thoughts and ideas that we had over coffee or while driving down the 101 become a 3 dimensional reality that we will soon be calling home.  Every last detail was thought about, discussed, google imaged, pinterest searched, and run past friends, family, and contractors before finally settling on what felt right.  Ready for the tour?!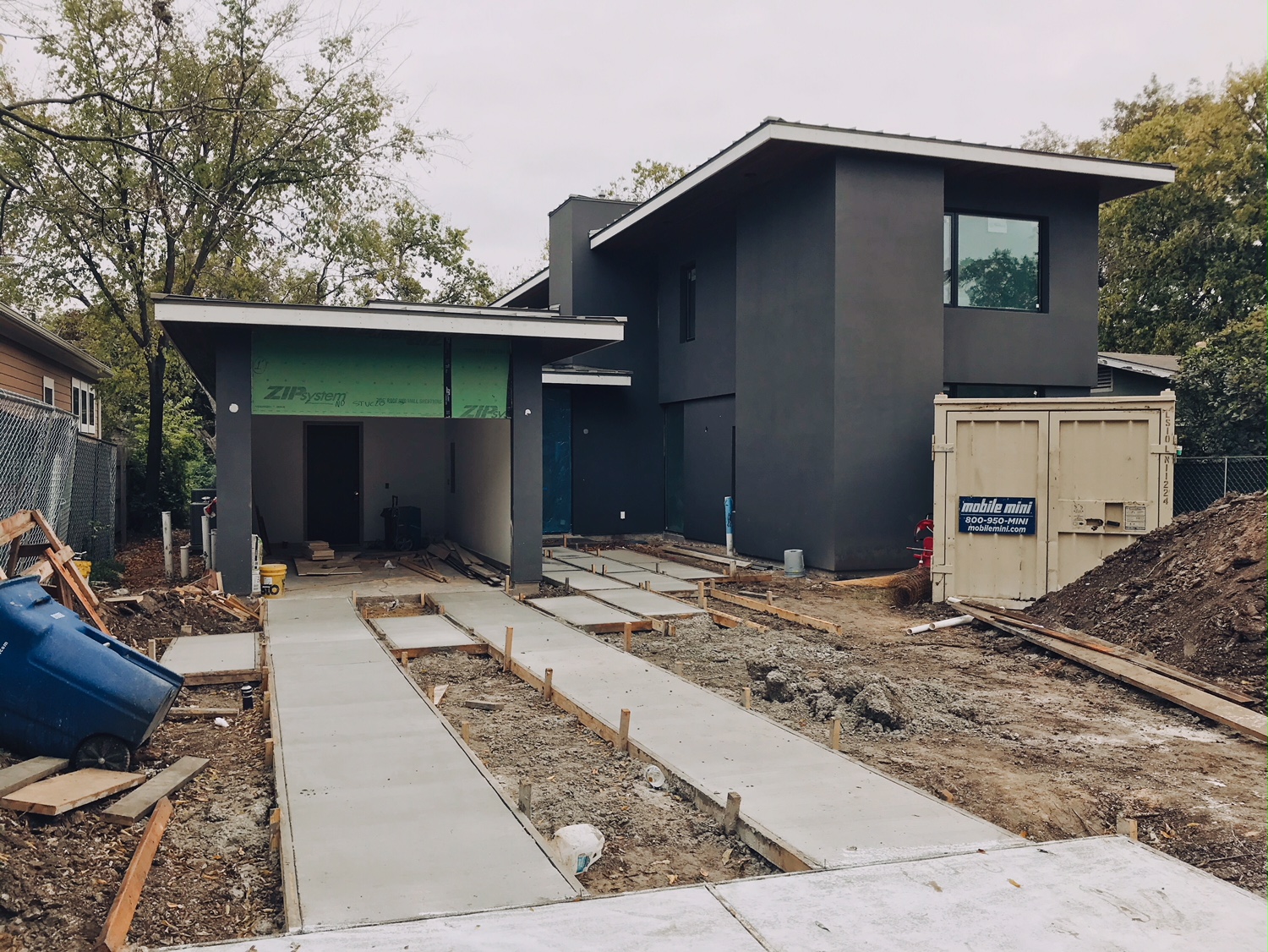 First up, here's the exterior.  We considered so many options from dual-colored stucco to brake metal sections and wood paneled areas. (You guys voted on all of the options and gave lots of great feedback on this post!) So what did we finally choose? Something that wasn't even an option or a consideration!  We got the stucco color samples back-- light and dark since we were planning on using two different colors on different sections of the house.  We loved the dark shades so much that we ended up using it on the whole house.  Deciding to go with all stucco was also a budgetary choice.  I think some of the brake metal or tropical wood options were really cool, but they just get really expensive, so this is one of the places where we saved on the house.  (The color is Sherwin Williams Peppercorn and the wood soffit color is Behr Chestnut.)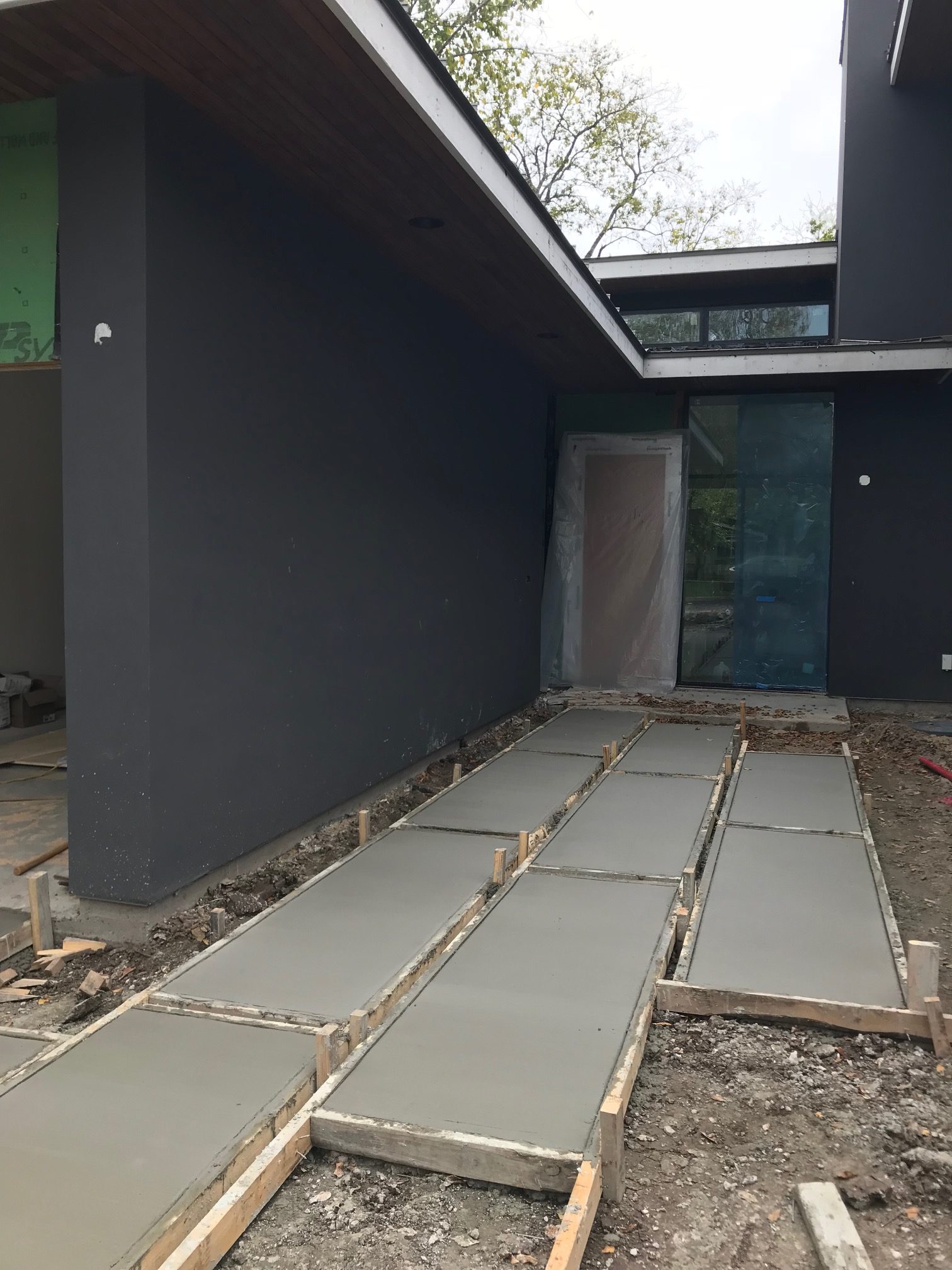 I talked about our plans for the outdoor space in this post.  You wouldn't think that settling on a paver design would take much thought, but we were re-working the forms up until the morning of the pour when the concrete truck was already there.  We hired a landscape architect, Cameron Campbell, here in Austin who created an amazing plan for our outdoor space.  More on that later-- it deserves a whole post-- but he is the one who had the idea of turning the pavers vertically instead of horizontally and I love it!
Now, onto the inside...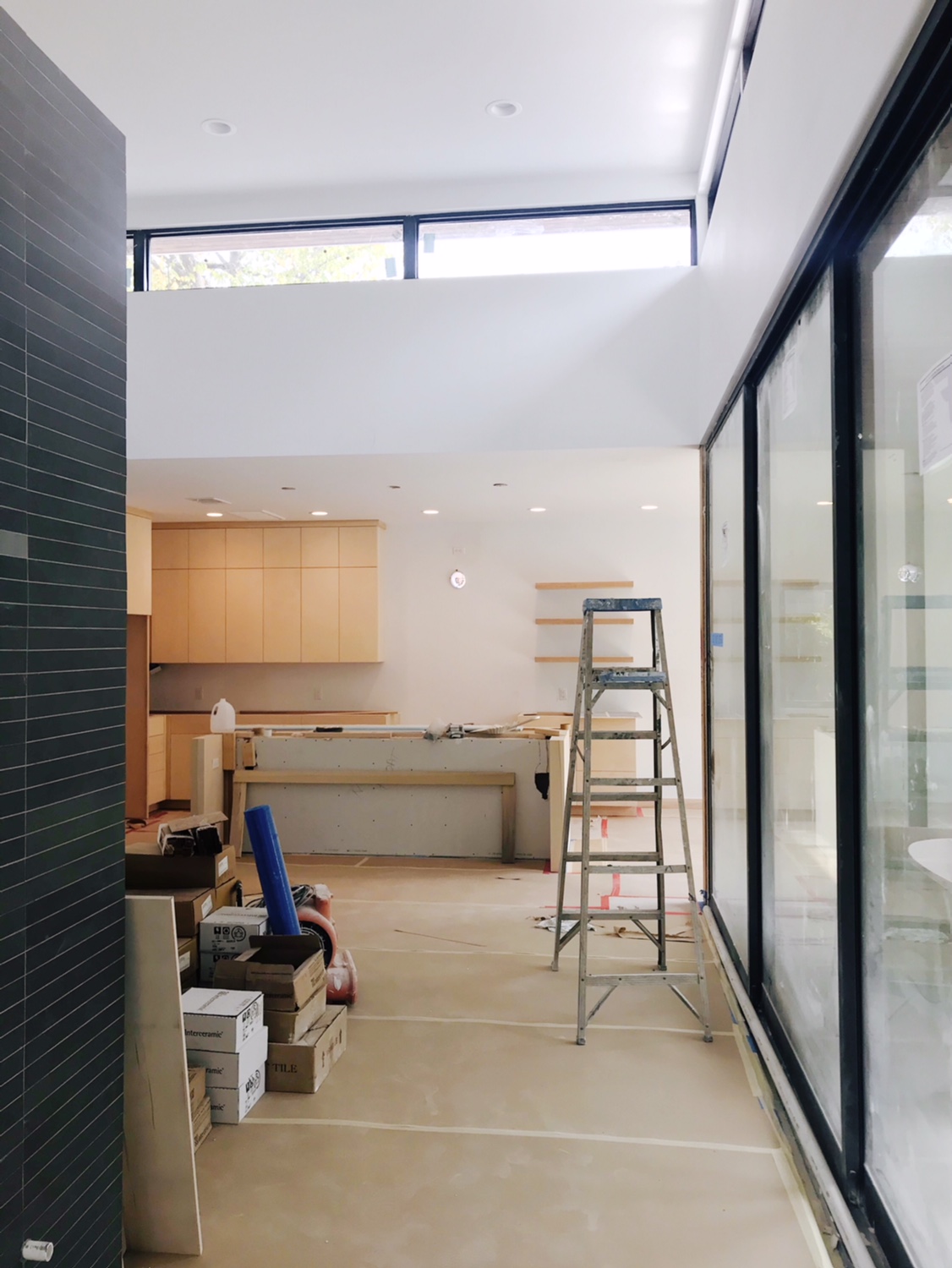 The fireplace that you see peeking in is Ann Sacks Graphite tile.  It's the centerpiece of the whole house and I'm so happy with how it turned out!  Again, what seems like such an easy decision was actually hours spent searching for the right stone for the fireplace.  Originally we saw it as brick, but more of a thin, mid-century style brick than the traditional ones that are more common.  We couldn't find anything we loved, though. Then, while on the Ann Sacks site, I saw this graphite field tile and started to imagine what that might look like and voilá!  I'm really happy with the way it turned out.  We went super dark with the fireplace for two reasons: one, I like how it plays off of all of the black trim on the doors and windows and two, there will be a tv mounted on that fireplace so it blends in more. (Maybe we will do a post on compromises and get into that decision-ha!)
The kitchen!  After we designed the kitchen it actually got reconfigured in the permit process. I'll talk more about that when we reveal the final space, but you can get a sense for the layout of it here:
This staircase is one of my favorite parts of the house.  I love how it stretches from end to end along those back windows.  Again, you wouldn't believe how many decisions there were to make in this one piece.  How thick should the wood stair treads be?  (The answer to that question can add thousands of dollars to the bottom line, by the way!)  Do the steel railings go into the steel or into the wood? Round or flat railings?  The staircase is steel, but we actually had a baby gate designed that will mimic the design of the staircase and be made out of aluminum that we can use while the kids are young. (Staircase designed by Brian Chilton.)
The house is currently being painted (in head to toe Behr Marquee paint!) as we speak and I can hardly wait to see.  Don't mind us while we visit this place at least half a dozen times over the next 48 hours. Happy weekend friends!