It's hard to pinpoint my favorite part of styling, but scouring the globe for unique and fabulous pieces would have to be somewhere up at the top of the list.  I've found amazing Japanese suiting in a shop in Seattle, beautiful handmade shoes in Canada, and the lightest weight cotton tees you could ever hope to have touch your skin in Paris.  In this big globalized world, there is something so special about stumbling upon a hidden gem of a boutique that curates such a perfect assortment of goods that you want to walk in and stay awhile.  We will be highlighting some of my favorite shops from different cities around the world over the next few months, but today I thought we would start right here in sunny California with Beckley Boutique.  It's a perfect combination of established brands as well as emerging talent from around the globe.  Their owner and buyer, Melissa, was kind enough to give us a tour of the shop as well as share some of her own fashion insights.
Our service and selection makes us unique. We offer personal shoppers who can build your entire outfit based on your wants and needs. We have everything to complete your look from head to toe. 
What trend are you most into right now?
Right now I am into leather leggings and sneakers.
I'm looking forward to wearing some interesting graphic tees, lots of printed dresses (especially from my line Beckley by Melissa), as well as slip on espadrilles (I love Prism of London!).  
I love building relationships with my customers. I like to learn about who they are, what they like to do and what kinds of clothes makes them feel confident!
If someone could only afford to invest in one great piece for Spring, what should it be?
I would say invest in something wearable and classic - a great bag that can go from day to evening in a fun color or a piece of jewelry from Eddie Borgo that will be timeless and can be worn season after season.
If you weren't working here, what else would you be doing?
I would constantly travel with my son and husband, learn French and take a flower arranging course!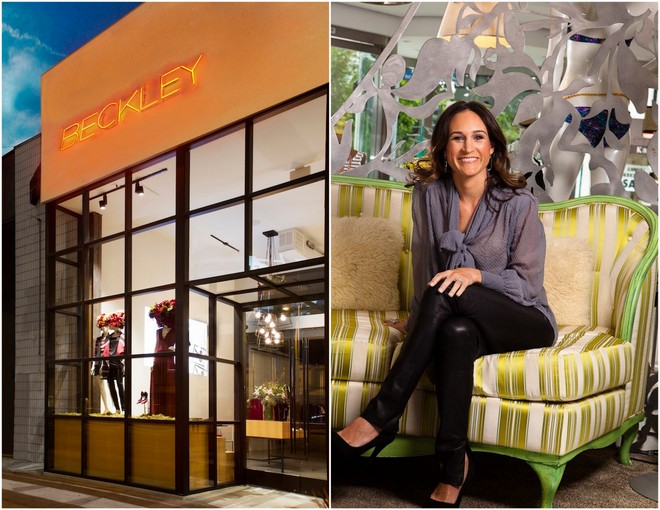 If you could give someone one piece of style advice, what would it be?
When buying something for yourself make sure you feel comfortable and confident in the piece.  It will show!
Beckley Boutique stocks a variety of contemporary brands from women's ready to wear, accessories, shoes, jewelry and lingerie plus gifts and is located in Los Angeles at 8128 West 3rd Street and Las Vegas inside the Cosmopolitan of Las Vegas Hotel.
Photography by Nicole Leone, http://www.nicoleleone.com/