In an age of mass production and globalization, it's easy to think that the brick and mortar store might just be a thing of the past.  Before you jump to that conclusion, though, consider LN-CC.  The East London based store originally caught my eye when I read about their new expansion and renovation that just opened.  While they were already a fixture in the London high-fashion retail landscape, they went back to the drawing board and have truly re-imagined what it means to be a retail store.
Where most stores offer you champagne, LN-CC offers a private in-store bar, Chameleon.  In many urban retail spaces, square footage is used  to it's fullest; rolling racks filled to the brim with garments and shelving units merchandised in such a way to maximize units on the floor.  In LN-CC, though, fashionistas couldn't be blamed for thinking they had mistakenly stumbled into a new gallery space that the east side is so well known for.  Structured Lanvin bags hold court one per shelf in room displaying what is next in high fashion.  I was dying to hear more about this store-meets-bar-meets-gallery space, so I dialed up Jack Cassidy, assistant buyer for the store to find out more about this new space and what he is buying for spring!
First of all, Jack, what makes LN-CC unique from other retailers?
I think that for so many stores an e-commerce presence comes secondary following a focus on their 'bricks and mortar' stor. Whereas for us the two were created, launched and developed together meaning that they are interlinked and provide the customer with a well-rounded online and in-store experience.  From a product perspective we believe that the way we curate clothing (mixing mainline, niche and emerging brands) with a music and books offering, alongside a newly-launched LN-CC Recordings record label gives a focused perspective that few other retail or online stores commit to.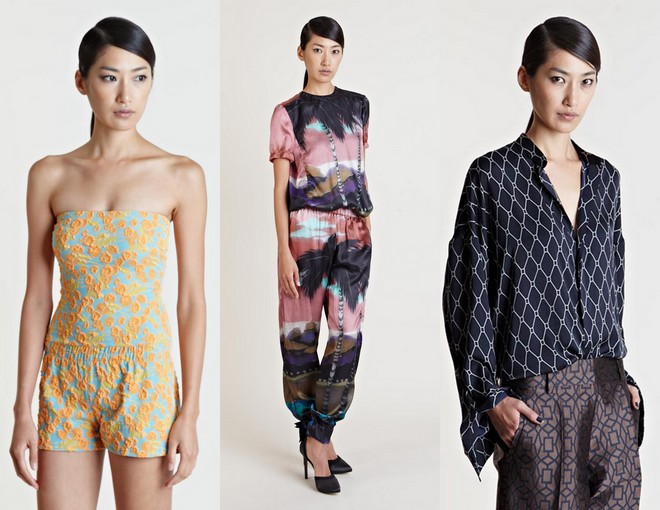 Everyone is talking spring fashion and trends right now.  As a buyer, what direction are you taking this spring?
Since inception, LN-CC have always pushed its own unique take on luxury women's wear, focusing on a masculine, tailored look and reinterpreted with a feminine edge. This aesthetic now dominates many of the big fashion houses that are more than ever dominated by males with predominantly men's wear backgrounds. The brands that I have bought this season that typify this aesthetic are Lanvin, Haider Ackermann, Givenchy, Kolor and Yang Li. Lanvin is the latest addition to our women's wear stable and exemplifies a focus on masculine-influences that remain strongly feminine. They (Lanvin) have abandoned elaborate frills and drapery in favor of a selection built around a bold, tailored direction. Haider Ackermann for the past few seasons has paired a unique choice of colours with uncompromising use of luxury fabrics that are strongly tailored. The wildly varied patterns and tuxedo silhouettes for S13 are the brands strongest yet. 
Are there any new or upcoming designers that stand out this season?
For me last season Lucas Nascimento really stood out within London and across the season as a whole. SS13 was his second show in London after showing at Rio Fashion Week for several seasons but it was beautifully executed and the collection was fantastic. Coming from a knitwear background the fabrications are very modern and tactile and unlike anything else I saw this season. Such as for AW12 the 'beehive' with triple-twisted yarns, like a sports take on a honeycomb/waffle knit, a chenille knit that has a suede effect and 'astro' which is a high-tech nylon yarn and looks like tinsel. Combined with the graphic tailored shapes it makes for a very interesting and strong collection. I think Lucas is well on his way to establishing a successful high-end brand and his SS13 collection will continue to sit well alongside our other key mainline brands for the season.
Thanks, Jack!  If you happen to find yourself in London this spring or summer, be sure to check out LN-CC!