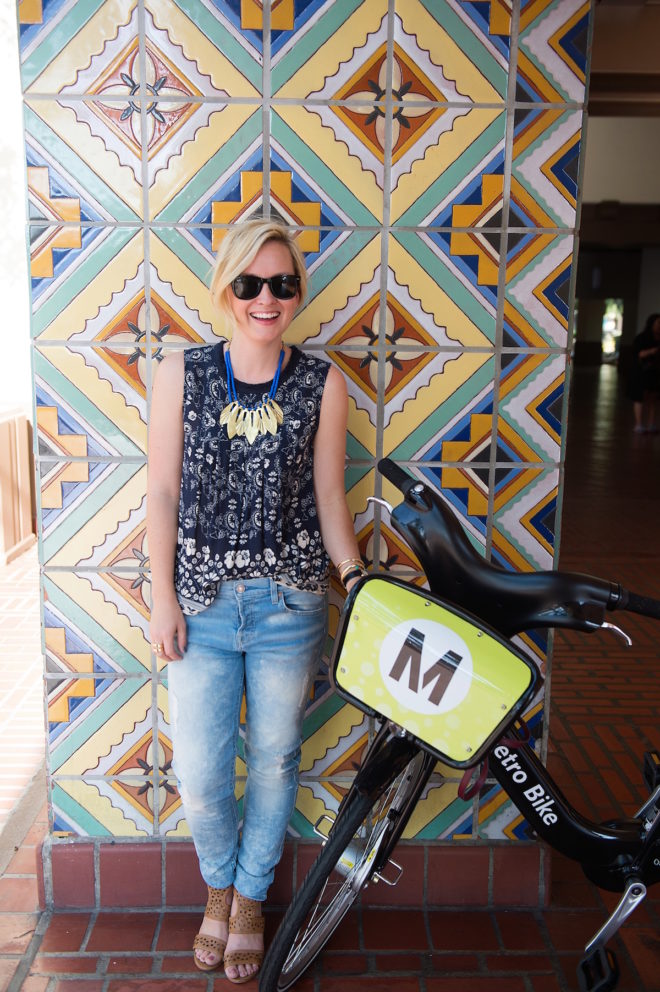 One of my favorite ways to see any city is by bike.  When Aaron and I were in Australia a couple of years ago, I could hop on a bike, run to the grocery store, swing by a shop on my must-visit list, and be back without breaking a sweat.  It was the perfect way to get around because you felt like you could accomplish so much in a short amount of time.  You weren't on foot and sitting in traffic, and you still got to see so much along the way.  We couldn't stop talking about how great it would be if LA had city bikes. It's actually the perfect city for bikes, since it's not very conducive for walking from place to place since things are pretty spread out and the weather is almost always perfect.  As luck would have it, Metro Bike is actually launching THIS summer here in Los Angeles!  (Almost enough reason to make us stay!) Just imagine: The wind at your back and no traffic!  It's my absolute ideal way to get around town whether for work or pleasure, and you just might burn a few calories in the process.  We went down to Union Station last week for their annual bike night and to get the skinny on these new sets of wheels!
As if there weren't already enough reasons to venture downtown, Union Station and Metro Bike are making an even more compelling case.  Cedd Moses who has opened some of the best bars in the neighborhood, is turning the Fred Harvey room at Union Station into the city's most awaited gastropub just in time for the launch of the new Metro Bike.  As I biked in and out of the jaw-dropping corridors of the station, I could feel the stress leaving my body.  Studies have actually proven that people who bike to work have 40% less stress and take less sick days than their car driving counterparts. Metro Bike will be launching with up to 65 stations and 1,000 bicycles. Metro also plans to expand the system in the next few years to communities such as Pasadena, Huntington Park, Glendale, Burbank, North Hollywood, East Los Angeles, Exposition Park and others.
Do you bike?  Aaron and I used to bike a lot before Parker, but have been out of the habit the last two years.  I'm excited to get to Austin and get back in the saddle!
Photography by Amanda Gallant
This post was sponsored by Metro Los Angeles.  Thanks for supporting the brands that allow us to keep this corner of the internet open!