The Effortless Chic team got together early for Thanksgiving so we could share our best tips with you! From decor to recipes, you'll find so much holiday inspiration here!
Would you like to know what happens when you let a pregnant woman with a sweet tooth plan a Thanksgiving celebration among friends?  A dessert course only "friendsgiving", that's what!  In reality, though, this soiree is rooted in the idea of gathering back around the table, hours after the big meal for a more casual dessert course of delicious pie, cookies galore, and bottomless glasses of champagne and hot chocolate.  If your Thanksgiving meal tends to be midday, then this is your cheeky, once-a-year-only, dessert for dinner celebration!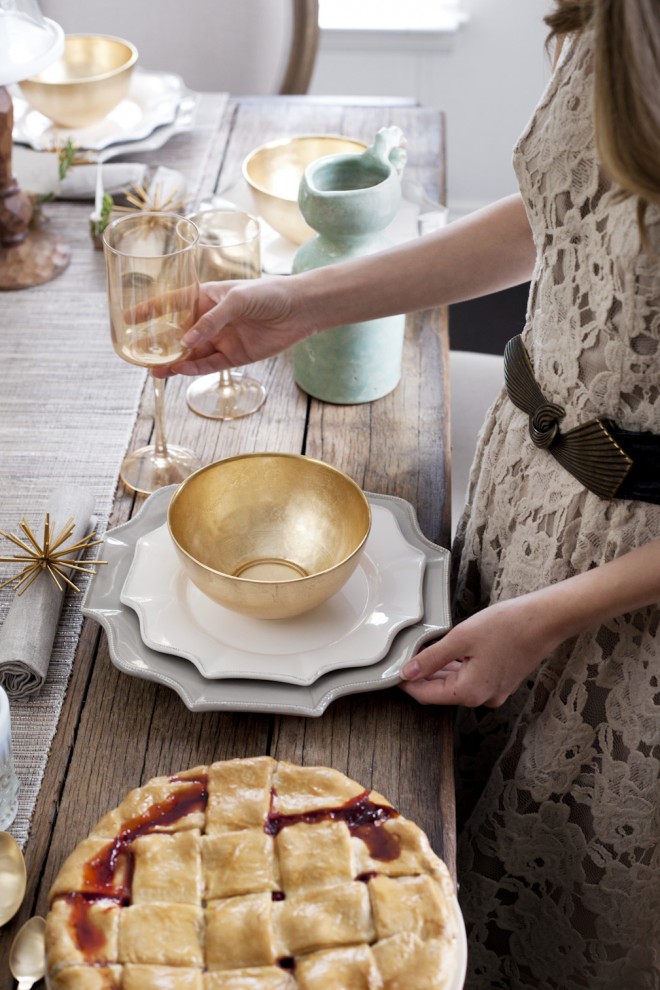 Thanksgiving tips - A rustic fall table setting
Caitlin + Caitlin designed this incredible gilded-meets-rustic fall table for the gathering using their favorite pieces from Anthropologie, Z Gallerie, and Target.  They killed it!  All of us gathered around the table before the shoot picking out the things we wanted to purchase afterwards.  (This set of gold-dipped flatware was my early Christmas present to myself!)
Thanksgiving tips - make personalized place cards!
After seeing C + C's inspiration board for their table, Molly designed these easy DIY placecard holders for us.  For each holder, all you need is a wine cork, some gold spray paint, rosemary, a little glue and some rustic cord or ribbon. Ali is responsible for the gorgeous calligraphy.
Cookies that are perfect for fall!
Emily's gluten-free ginger molasses cookie sandwiches with salted caramel cream cheese frosting were the hit of the party, though.  Grab that recipe here!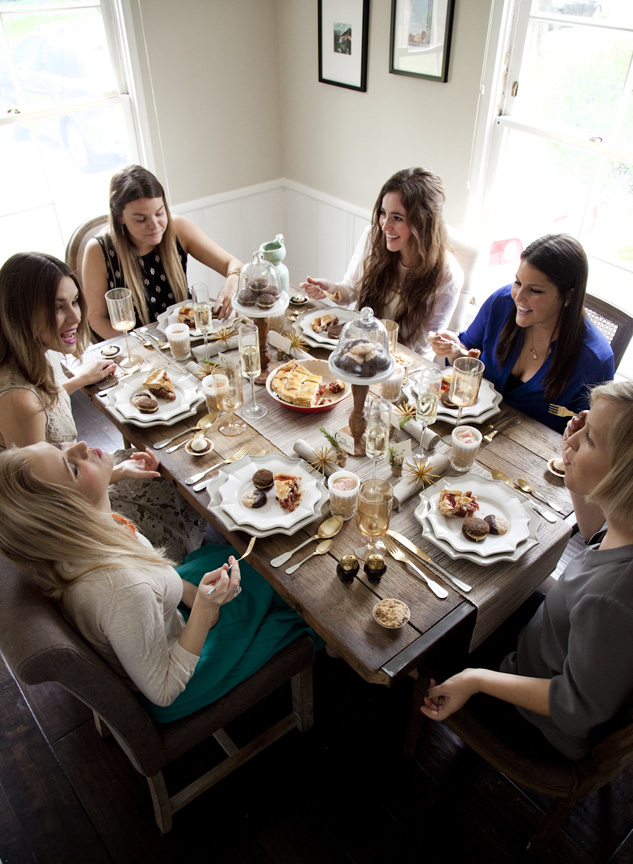 Besides the beautiful tabletop and the delicious desserts (baby girl was doing somersaults after that strawberry rhubarb pie!), this little Thanksgiving celebration was far more than just a photo shoot. After every person left, every dish had been washed, and all of our gorgeous table top decor packed back up in it's rightful place, I sat down at my computer to catch up on emails and was totally overwhelmed with gratitude.
What I'm thankful for...
I am so grateful that this site has given me the opportunity to connect and create with so many other talented and creative people that I may have never crossed paths with otherwise.  It is so gratifying to get to be a part of their story as I see them accomplishing their goals and making leaps and strides in their own careers and I am so grateful that they are a part of my story.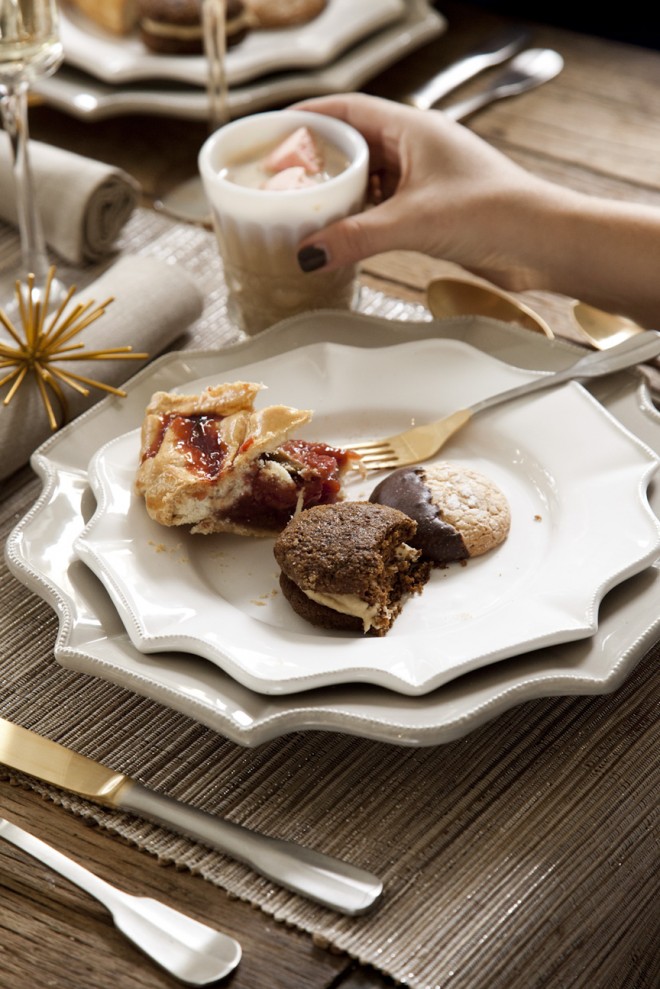 Make time for a Friendsgiving!
I am really looking forward to heading back east for our actual Thanksgiving celebration next week, but I have to say, this little get together was one for the books.  If you have the opportunity to celebrate with your nearest and dearest friends before everyone flees town, do it!  It doesn't have to be a big fancy meal either.  A simple after hours, dessert-only potluck will do just fine!
Photography by
Jordana Sheara
Tabletop Design by
Caitlin + Caitlin
Placecard Holders by
Molly Fleet
Calligraphy by
Ali Rifkin
Shopping The Table //
runner / dinner plate / plate / bowl / flatware / salt and pepper shakers / marble cake stand / napkins / small glasses / champagne glasses / water glasses / napkin rings
Be sure to check out these other posts for more Thanksgiving tips and inspiration!
I'd love to hear all about your plans for Thanksgiving - be sure to drop me a comment below!