12/23/2013

How were your weekends, friends?  Aaron and I flew to Austin yesterday morning where we will be spending the next week and have been soaking up the holiday cheer ever since.  Last night was our family's annual Christmas party– complete with a house full of extended family, way too much decadent food, and the same santa whose lap I have been sitting on since I was 7!   This year has been a really exciting one for The Effortless Chic.  There was a major site redesign, some really exciting collaborations and projects, and we were able to connect with so many new contributors who have been helping us bring you beautiful and fun content for the last 12 months.  Naturally, there had to be a party to celebrate!  Here are some of the photos from last week's soirée… (courtesy of the wonderful, Melissa Valladares!)


On Friday, I shared my cranberry margarita cocktail recipe that I made that evening for everyone.  Anytime I serve a specialty cocktail, I always premix it just before party time in a large, chilled pitcher.  It keeps anyone from having to play bartender and I know that the ratio of ingredients is just right.  This time around, Blair and Melissa had to be my trusty cocktail taste testers.  Are you familiar with Simon Pearce?  They provided all of the beautiful glassware and dishes.  All of their products are made here in the United States.  They are an incredible heritage glass company and every piece is an absolute work of art!


To complement our cocktail du jour, we stuck with a Mexicali Christmas theme– chicken tacos, guacamole with pomegranate seeds, and a myriad of salsas with my favorite tortilla chips from a nearby restaurant.  We picked up sweet treats from my favorite neighborhood bakery, Big Sugar Bakeshop and there was nothing left of them but a few crumbs by the end of the night!


And then, of course, I had to start my own santa tradition…


Our youngest member of The Effortless Chic team!  Matt, our music supervisor and playlist contributor extraordinaire, just had his first son, Nash, in October.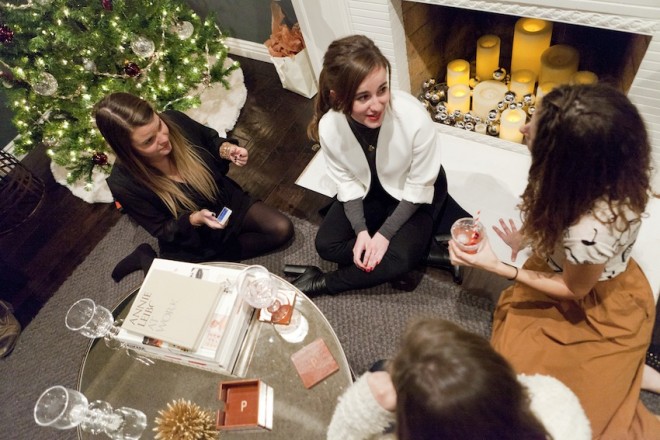 The winner of our Nespresso "A Tasteful Holiday" giveaway is Kim Hendrichs!  Congratulations, Kim!  Look out for an email from us with instructions on how to claim your prize!
Photography by Melissa Valladares
All glassware and dishes by Simon Pearce, Table Runner by Mark and Graham