(This post is sponsored by Trunk Club, a brand I have known about for a long time, but just finally tried out for myself and am now totally obsessed with. All thoughts and opinions are my own!)
Have you ever looked in your closet and realized you own a dozen versions of the same thing? I actually had a roommate in college who would legitimately buy every color way of a piece that she liked. It didn't matter how many hues it was made in, they all managed to find their way into her closet. As someone who spent years styling, has given considerable thought to her style and wardrobe and feels like I can fairly accurately articulate my own personal style, I still have days where I look into my closet and feel a little uninspired by what is looking back at me. Anybody else out there relate? We tell ourselves what is "us", what "works for our body", and get really comfortable in this little style box that we build and it takes a trained opinion to come in and shake us out of our style rut.
To be honest, before this partnership I had never considered trying Trunk Club for myself. I was really familiar with the idea, loved the concept and have actually recommended it to at least a dozen other people, but still thought of it as something I didn't need. After all, wasn't I a trained wardrobe stylist? I had a major aha moment, though, as I was trying on all of the pieces that Amanda, my Trunk Club stylist put together for me. Amanda didn't know my predispositions. She didn't know the things that I told myself I should or shouldn't wear in my head, so she sent me what she loved that worked within the lifestyle parameters I had described to her and you know what? I loved almost every single thing and almost every single thing was something I would have never reached for myself. That black bodysuit? I wore it to a girls dinner last week. Those silver sandals? I'm not sure a day has gone by since they arrived that they been worn.
The process is really super easy and you have almost nothing to lose by trying it! You can sign up here. (Also, you can get a Trunk as frequently or infrequently as you like. It's not a set monthly subscription or anything.) You'll fill out a survey to give your stylist an idea of what you like and other details like how much you're comfortable with spending on different types of items. Then your stylist will go to work and put together your "Trunk". You'll get a preview of everything she chose via email before the box goes out so you can remove pieces or ask her to add certain things. For example, "Do you think you could find a cute sneaker for that dress?" or "I'm in major need of cute yoga pants that I can still wear to school drop off!" There were definitely things I considered editing when I saw my preview, but am so glad that I didn't because they ended up being some of my favorite things! Once you receive your Trunk and try everything on you just pay for what you keep (no mark up, the same price you would have paid in stores). The $25 stylist fee is applied to whatever you keep (and waived if you're a Nordstrom member!). There is really so little risk! Lastly, Trunk Club carries everything from work wear, casual clothing, sleepwear, shoes, and even bras and undies and more! I can kill hours trying to shop online and it was really fun to have a professional curate pieces and put looks together for me without spending hours at night on my laptop scrolling through page after digital page.
Okay, here's what came in my Trunk and what I thought about it:
Black Bodysuit with Snakeskin Skirt
The last bodysuit I wore was in the 90s and accompanied by a floppy, velvet blossom hat and I hadn't even considered another one until this one showed up at my door. Why do I not own more bodysuits?! They're kind of wonderful and I totally kept this one and the silver sandals. I came close to keeping this skirt, too, but was on the fence about the snakeskin. I love that it's a neutral print and love the fit of the skirt and still haven't ruled out buying it in the future.
2. Tiered Ruffle Skirt and White Tee
This is so fun and so feminine and flirty. I recently bought a white tee, otherwise I would have considered this one. The skirt felt a little too much for me at the end of the day, but I love the look. It would be perfect for running the kids to school and even a play date at the park. (Have you noticed this is the scenario that I need 90% of my wardrobe to work for? I'm always like, "Could I wear this to the park?!")
3. Linen Jumpsuit
This is another piece that I wouldn't have tried on if not for Amanda! I love it! It's a perfect weekend look that's easy to throw on for running errands, birthday parties and the like!
4. Black Bodysuit and Denim Shorts
These are the perfect mom denim shorts for summer! They're long and you can roll them essentially to exactly the length you want—this was two rolls. Also, the black bodysuit strikes again here to balance out all the momness with a little spice!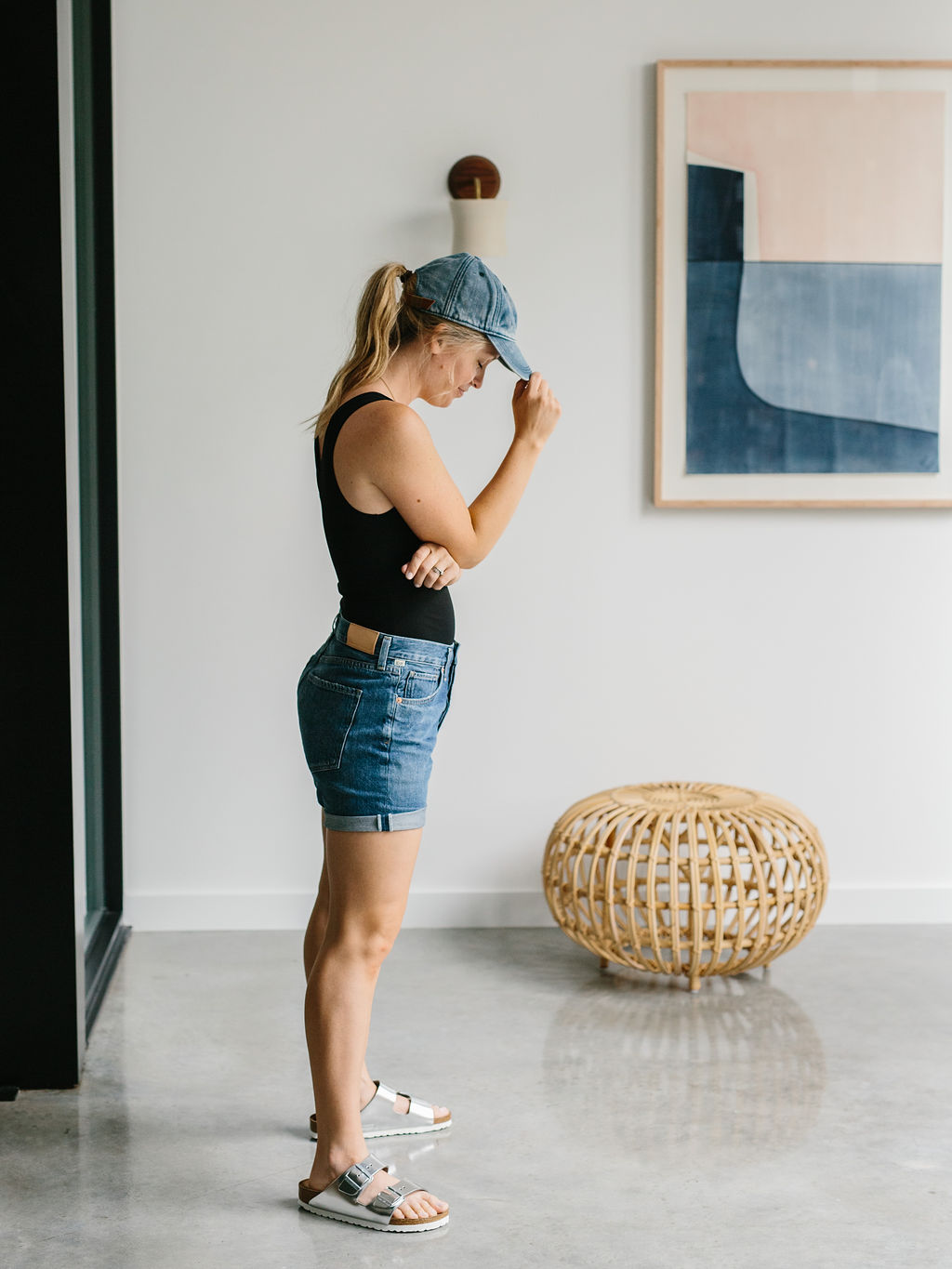 5. Linen Midi Skirt and White Tee
Okay, in hindsight I don't think I should have worn the cap with this look. It's a little witness protection program looking. (I just told Aaron that, though, and he told me he didn't think so and that he really likes it. Just being nice?! Hmm…! Also, he's mad I didn't keep the denim hat. Might have to get it after all!) I loved this skirt so much that I kept it and have worn it with a more fitted black ribbed tee that I already own and loved it and also with my new white v-neck tee. I love long skirts for spring and summer with the kids. It feels true to my pre-kid style but also practical for running around with them.
6. Rust-colored Cotton Dress
File this under things I would have never picked out myself but loved! How easy is this dress to wear all hot summer long?! It's such a good color, too, and so comfortable.
Are you as sold as I am? Are you going to try it?! Have you used Trunk Club in the past? Tell me everything! I'm going to do it again this summer before our 4th of July trip to help me pack and will probably share that experience here, too. You can sign up here!
Photography by Katie Jameson