11/12/2018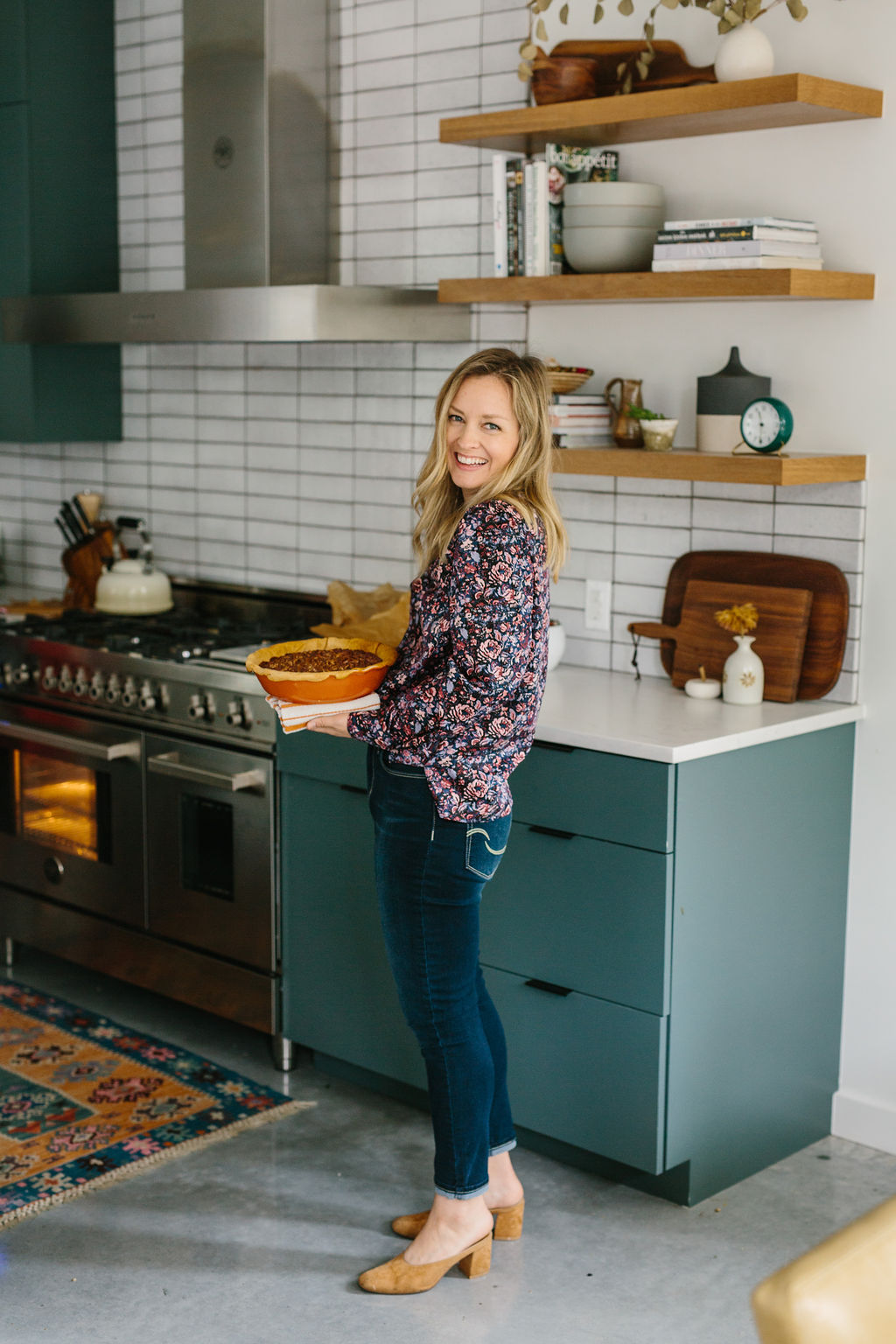 (Thanks to Signature by Levi Strauss and Co. for sponsoring this post.)
My mom, sisters, and I have an ongoing group text. At any given time, you'll find us chatting about everything from politics and the local news to the latest décor item that my mom spotted in a model home and wants our opinion on. Last week we were lining up our December calendars—cookie exchange on the 12th, holiday bazaar on the 15th, Santa party for the kids on the 19th, and Christmas Eve tamales that we host at our house, of course on the 24th. Traditions, all of them. Some date back so far into my own childhood that I can barely remember their inception. Some are just a few years old. Each of them part of our family narrative.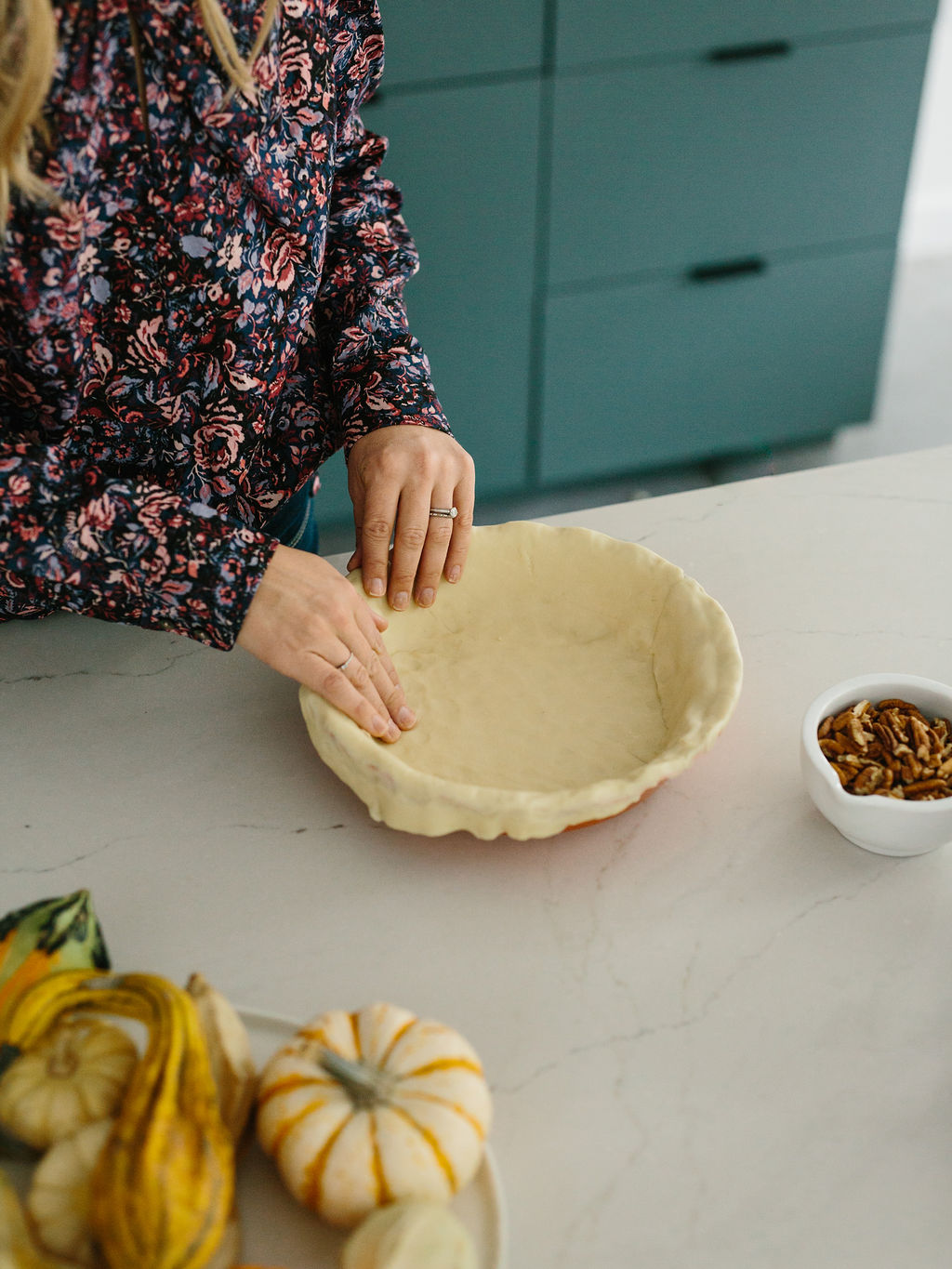 As we prepare for Thanksgiving, plotting and planning who will bring the green bean casserole and who the potatoes au gratin, I already know it is I who will make the pies. One year in college I splurged on a Bon Appetit mag while in line to check out for groceries and became enamored with the carefully woven tops of the fruit-filled pies that filled the cover. Could it be that hard? After all, there was a recipe inside. The Thanksgivings that followed always included by adventures in pie baking. It's kind of my thing now. And my favorite pie of all? This Bourbon Chocolate Pecan Pie. It's not that I don't love the strawberry rhubarb or the maple pumpkin, but the pecan has a special place in my heart. It reminds me of my grandmother. At some point during my childhood, she got it in her head that pecan pie was my favorite and was thus never without one. Thanksgiving? Pecan Pie. Birthday? Pecan Pie. College graduation? Pecan Pie and an extra for the freezer. Somewhere along the way it actually did become my favorite. It reminded me of her. A self-fulfilling prophecy, one might argue.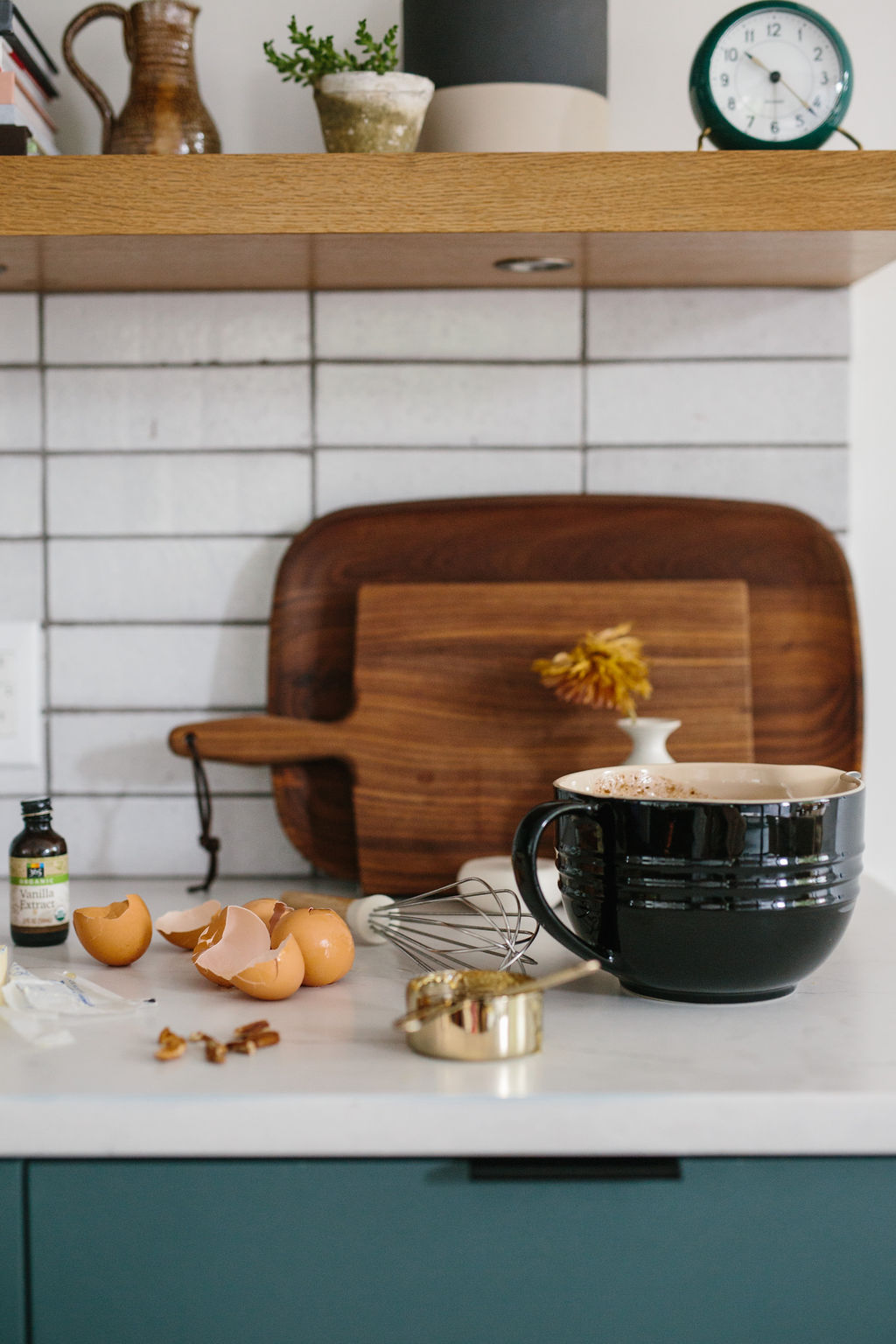 This is not her recipe. This one is all mine. It's the past and tradition of what she shared with me, with my own twist—the bourbon and the chocolate. (Leave it to me to make something boozy and extra decadent!) That's the thing about traditions, though. We get to take what we love from our past and marry them with pieces from our present day. The same is true for style.  When you're getting dressed, you can take your favorite tried and true jeans, like these Signature by Levi Strauss and Co.High Rise Ankle jeans and combine them with an elegant floral top for a look that's rooted in your personal style but a little extra elevated for a special holiday. Sure I may have worn these jeans to our neighbor's house for the football game last weekend, but I feel great wearing them for special events, too. You can top this look with your favorite silk duster for a look that's a little boho, a leather jacket for something edgier, and a tweed blazer gives it that perfect dose of prep. Mix and match the top combinations at your leisure, just be sure to stick with your favorite denim on the bottom.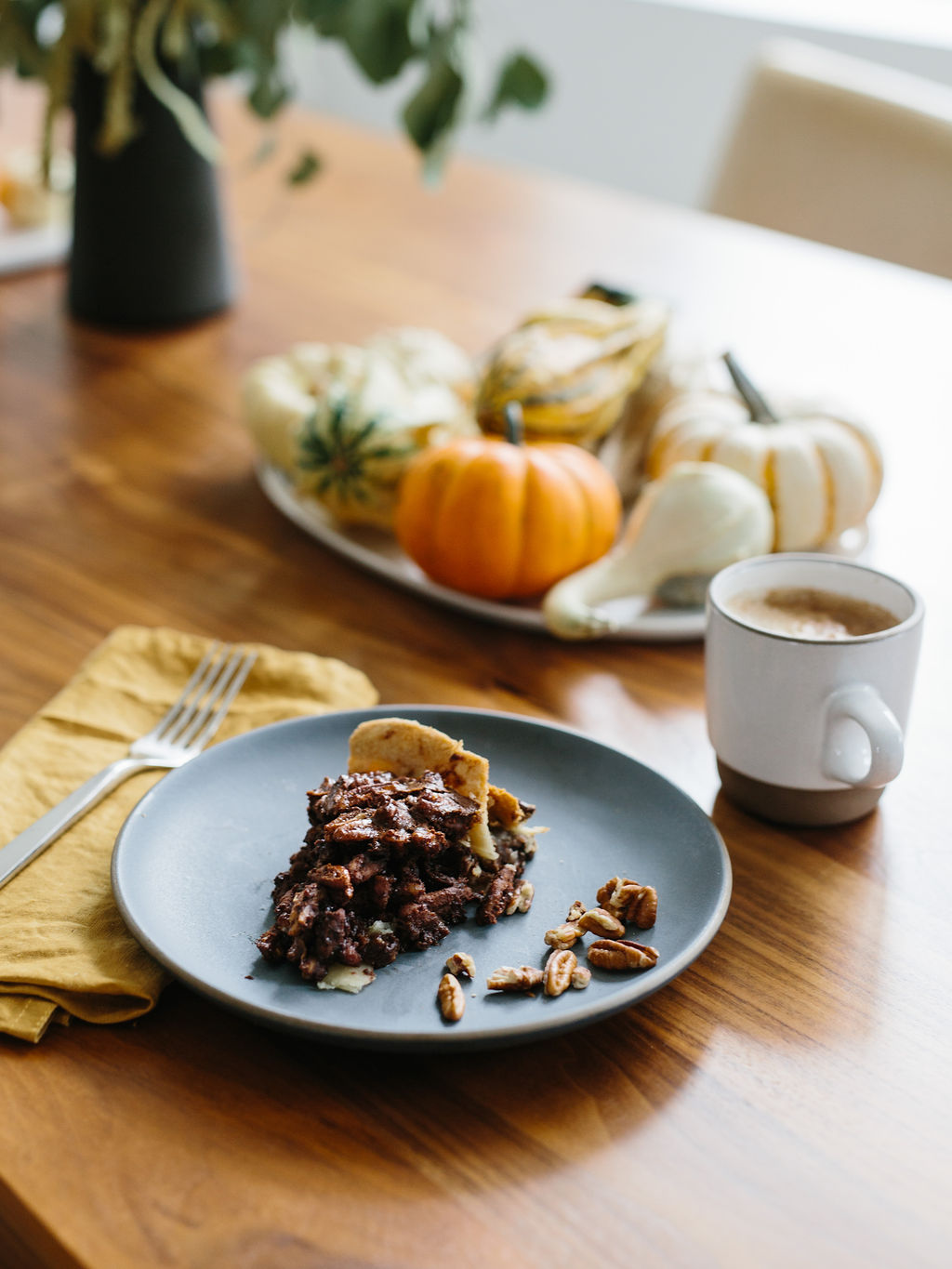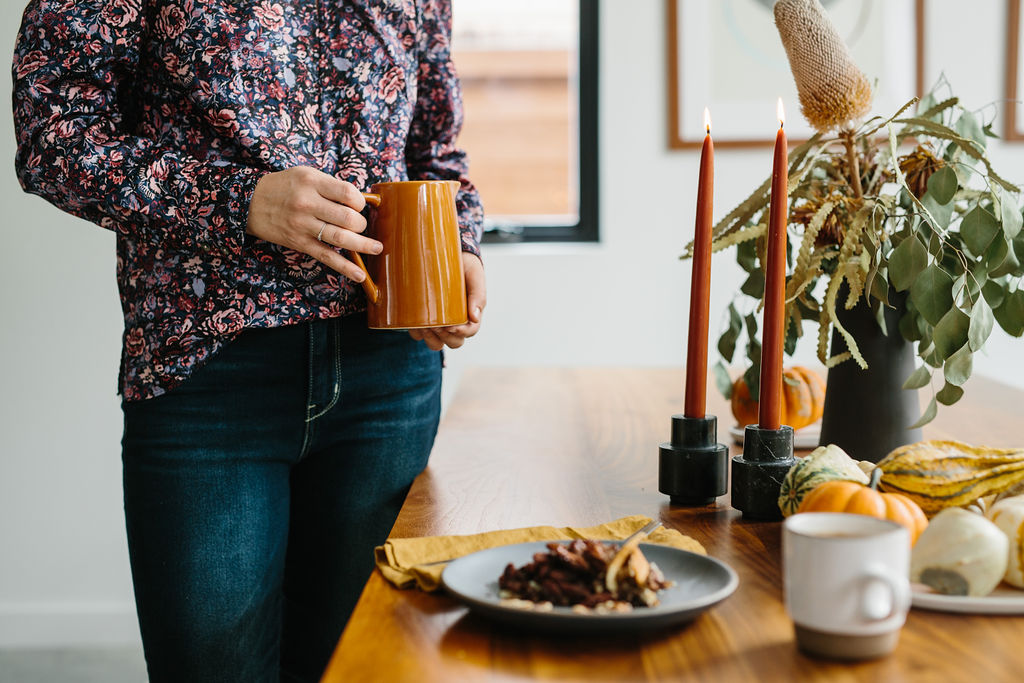 Print
Bourbon and Chocolate Pecan Pie with Buttery Crust
---
Scale
Ingredients
1

Pie Crust (this is my favorite recipe!)

2 cup

s pecans, chopped

4 tablespoon

s unsalted butter

2 ounce

s unsweetened baking chocolate, chopped

3/4 cup

brown sugar

2/3 cup

honey

1 teaspoon

pure vanilla extract

1/4 cup

bourbon

1/4 teaspoon

salt

4

large eggs
---
Instructions
Preheat the oven to 375°F.
Roll the pie dough into a large disk, crimp the edges and refrigerate while the oven preheats.
Line the crust with foil and fill the foil with dried beans or pie weights. Bake the crust until the dough is almost set, about 20 minutes. Remove the foil and beans and continue baking until the dough is set and just beginning to brown, about 5 minutes. Remove the pan from the oven. Reduce the heat to 325°F.
While the crust is baking, toast your pecans over medium high heat until fragrant and just beginning to brown. Coarsely chop the nuts and pour them into the baked crust when it comes out of the oven.
Combine the butter and chocolate in a large bowl. Microwave in 30 second increments, stirring in between, until the chocolate is completely melted.
Add the brown sugar, honey, vanilla, bourbon and salt. Mix until blended. Whisk in the eggs.
Pour the filling over the pecans and bake until the filling is set, about 20 minutes. The filling will still wiggle a bit when it's ready.
Allow to rest for 20 minutes before serving.
---
Photography by Katie Jameson