December's hustle and bustle has managed to creep it's way into early January.  I was in San Francisco last week for a really fun project that I should be able to share next month. This week is chock full of shoots for The Hollywood Reporter, a fun winter wardrobe collab with Kelly, and style shooting with Mary.  (Any trends you're super into right now?) In the midst of all of this craziness, it seems like it might be time for a little update.  Speaking of updates, as you might know, we've been making small updates to our kitchen.  What you didn't see in that post was this little nook-- and for good reason: I can't seem to complete it!  We replaced our old bar stools from our apartment with these from West Elm that I am obsessed with!  I mean, it's a million times better already!  We need to have a calligrapher work their magic on this chalkboard, but the space also need some serious life!  Color?  Pattern?  Wallpaper? Paint?  I can't put my finger on it.  The black and white tile is such a loud statement already that it has made it a bit challenging.  Please let me know if you have ideas!  Now a little update on this adorable babe...
Being her mom is better than I ever could have expected.  She is growing (9 months old!) and changing so much every day now that I really have to focus or I feel like I will miss something.  She pulls herself up on everything and can walk around pieces of furniture if she's holding on.  She will stand and let go for a few seconds which she must find hilarious because she makes this really high-pitched silly laugh when she does it.  Her hair continues to get lighter.  Her eyes are still blue.  Dressing her is becoming more and more fun.  Her sleep has been unpredictable lately.  I guess you can't win them all!  After 9 months of nursing, she started refusing to nurse and only taking the bottle.  I had thought I would go to a year, so there was definitely some initial mom guilt, but me and my pump have had a good run and I refused to spend the holidays hooked up to it.  I've pumped in two airplane lavatories, while driving down three different highways, in countless parking lots and retail centers, in strangers homes while shooting on location and in a bathroom stall next to an a-list celebrity who will remain unnamed.  (If you know anything about pumping then you know it's a noisy business so try to imagine the awkwardness.)  Anyhow, Parker is still happy and healthy, but now she is also formula fed and seems to love it.  Oh and she eats solid foods like a champ!  Pass the salmon, please!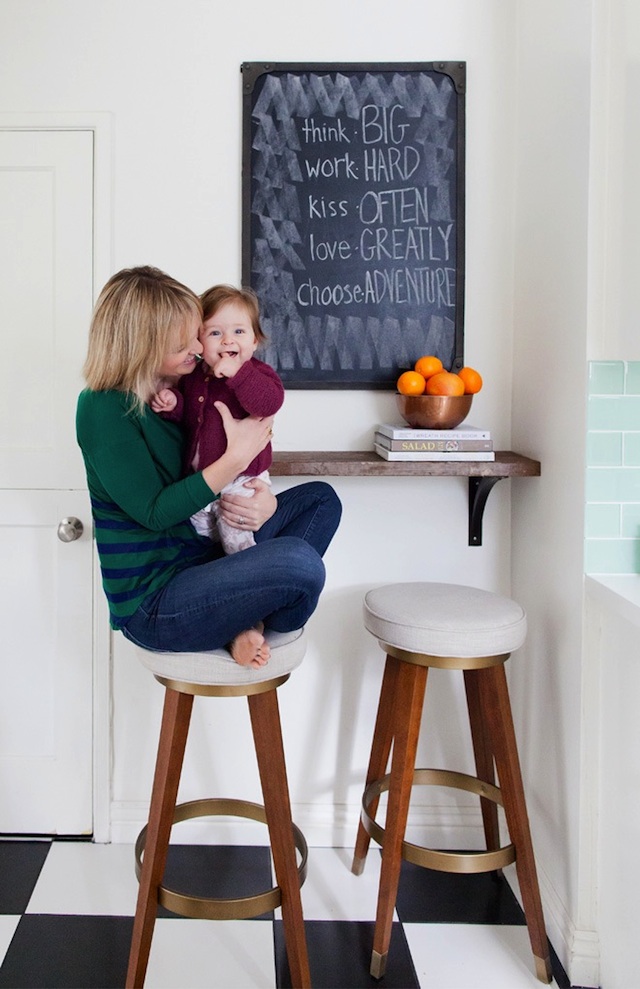 Styling and the blog have both been keeping me on my toes with super fun projects.  I was particularly excited to see the way this Hollywood Reporter shoot with Susan Sarandon came out.  I know that I need to hire more help around here, but I can't quite put my finger on what I need the most help with or what would be the most beneficial.  Are you a styling assistant with social media experience and knack for Photoshop and WordPress?!  Then email me, sista!
Hmm, what else?  We are going to be shooting a ton of style content and some really fun Valentine ideas these next 9 days and then I'm going to Alt.  Email me if you'll be there!  I think that about covers it.  For more daily updates you can follow along here!  Let's do this Monday!
Photos by Melissa Valladares
Bar Stools by West Elm
Chalkboard by Restoration Hardware