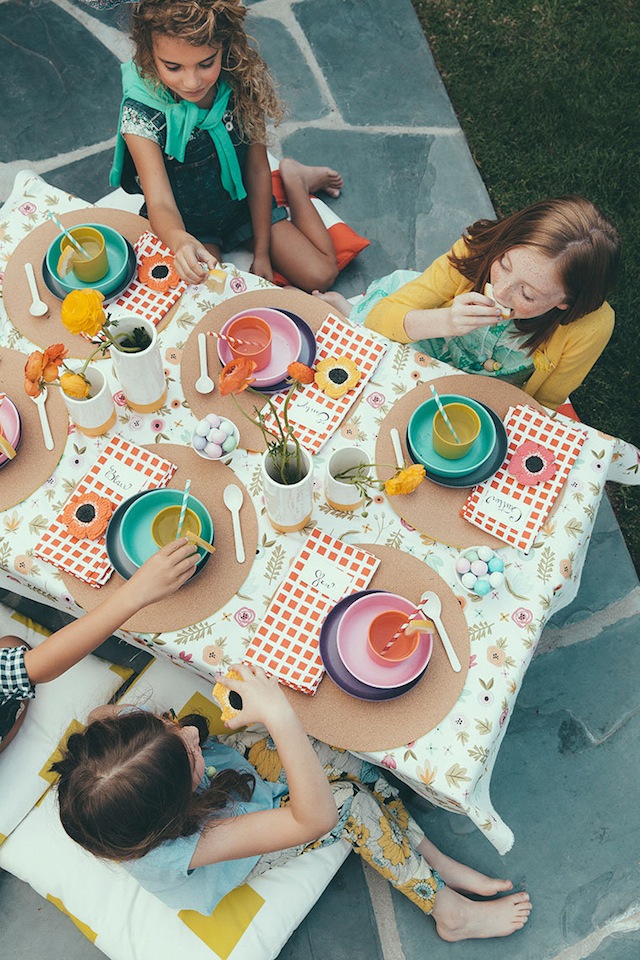 Today is the start of one very eventful week.  This time last year I looked a little something like this. (Cue gasps at the size of that enormous belly.)  And now our days look a little more like this.  This weekend will be filled with birthday festivities, but also with a big Easter bash with all of my family and Aaron's family here in LA.  Around February I started dreaming of doing another kids's entertaining post-- we had so much fun with this one we hosted for Halloween!-- but I was having trouble getting inspired.  I just wasn't feeling the typical pastel-and-bunnies easter motif.  Luckily, I discovered Unison Home a couple of weeks later and fell head over heels for their bright, punchy colors and mod patterns.  I mean, how cute are these kid's dinnerware sets?!
I love a low table that allows kids to relax and enjoy the meal.  They seem to stay more occupied when they aren't counting down the minutes until they can squirm out of their chair.  We used a simple piece of fabric from Minted to set the tone for our spring fling.  The kids played together, nibbled on these adorable homemade cookies from Clearly Cookies (we are sharing the recipe next week!), and sipped on fresh lemonade that we made from our overly fruitful lemon trees in the backyard.  Oh and naturally the chocolate speckled eggs were a hit, too!
All of the kids clothing is from Gap Kids. (It's available now, see credits for details.  Oh and you can take 40% off your order using the code BUNNY!)  I have shopped there for Parker so much this past year.  I love that they're constantly rolling out new styles and patterns and the sizing is really consistent.  Plus, I like that it's a reasonable price point since she is constantly growing out of things.
These adorable necklaces were custom made for this shoot by Ecru Collection and now available to shop on their site. (Perfect for an Easter basket treat!)
What are your Easter plans?  Would love to hear them!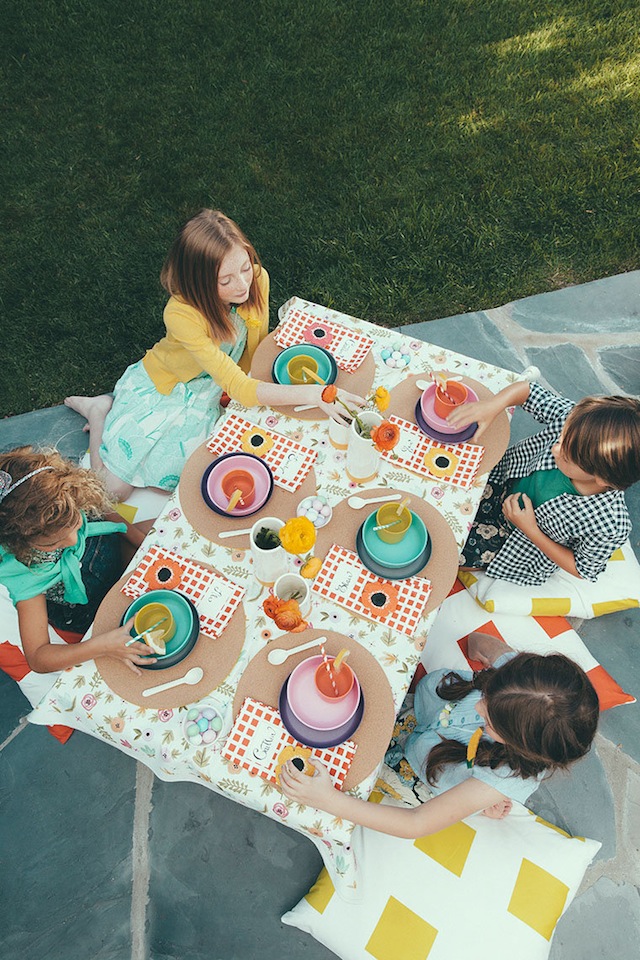 Shop all tabletop items at Unison Home // Big Tiles Throw Pillows, Napkins, Biobu Kids Dinnerware Sets, Rubber Dipped Yellow Vases, Cork Placemats
Shop all kid's clothing at Gap Kids // Floral Overalls, Floral Tee, Cardigan / Floral Pants, Sleeveless Top / Floral Dress, Pointelle Cardigan / Floral Bermuda Shorts, Tee, Gingham Button Down Shirt
Shop the girl's adorable necklaces at Ecru Collection
Tabletop fabric from Minted.
Photography: Jess Koehler
Wardrobe + Prop Styling: Jen Pinkston
Hairstyling: Mariah Hottell
Makeup: Christina Garvin
Styling Assistant: Kat Garner
Cookies provided by Clearly Cookies