Six months ago,  who could have predicted we would all be homeschool moms? Nobody. And yet, here we are. I won't lie. There was a certain excitement to the idea of getting to have the kids home with me every day and getting to participate in teaching Parker in a way that I have often wanted to, but never made the time to do. I was quick to make a schedule and eager to get started with our new routine. That schedule lasted a day! Now that we are a week into version 3, I feel like we're all starting to find our new rhythm and it is making a world of difference. Here are a few things that have helped me that might also be helpful for you:
(For additional resources during this extended time at home, check out our store front!)
How to Create a schedule that works for you:
Go into this with flexibility.
Your first schedule won't be your final schedule, so approach it knowing that. Don't spend tons of time scheduling every last detail knowing that it's going to take some iterations to get it right.
Make a list.
What needs to fit into this day? Start scheduling in the finite things like wake time, breakfast, lunch, naps, dinner and bedtime. Then you can slot in other things like free play, art, academic time, story time, etc where it makes sense.
Start observing.
You know when the wheels fall off the bus and you're having to tell yourself "don't yell" on repeat? I shut myself into the pantry at one point for a time out so that I didn't lose it. While I was in there I started to take stock of how said wheels fell off the bus. Trying to do too much at once. Not overseeing the activity in the beginning. Getting distracted by texts popping up on my phone.
When things start to fall apart, be mindful of how you got there so that you can make adjustments. For example, Parker is more focused in the am so we try to get all academics done before noon. I noticed that if she got any kind of screen time in the morning, it was much harder to get her to put pencil to paper later on. Also be mindful of how long a task actually takes. Can you get math done in 20 minutes instead of 45 minutes? Is it helpful to have more time for reading?
There's no "normal" here.
Can you imagine if you had said to someone six months ago, "I think we are going to just take March, April and probably May completely off. We might go to the grocery store, but otherwise we are going to start homeschooling, working from home and not see any other humans outside of our immediate family." Yet there are so many things that have been so refreshing about the past two weeks that I've wondered on multiple occasions if we might want to re-create a mini version of this experience-- a family re-set-- long after we are done with mandatory social distancing.
All of that to say, anything goes. Just because something sounds atypical doesn't mean it won't be just the thing that will work for your family. Maybe you start work at 3:30a and finish at 10:30 so you can tag out your partner on childcare duties which means you sleep when the kids do. Maybe you decide that homeschool happens just three days a week. Maybe homeschool doesn't work for you family right now. Our scheduled part of our day starts at 9am. Yours might start at 7am or 12pm. It's your schedule. Ignore all of the candy-colored schedules you've seen on Instagram and chart your own course here. Forget what you think anyone else would say about your schedule and do what's right for you and your family right now.
Schedules are a suggestion.
You are not the space center. There is no spaceship that needs to blast off at just the right time. The command center of your home will be a happier place if you continue to have flexibility with yourself and your schedule. One morning the girls were playing so well together that we skipped our normally scheduled programming to allow them more time for sisterly bonding. There are unique opportunities that this very unique scenario brings and this is one of them. If your kid is plowing through math and living their best life, then by all means who are you to stop them? On the other hand if your kid is begrudgingly completing their exercises and has already asked ten times if they can have a snack it might be time to call it for the day... or at least for now.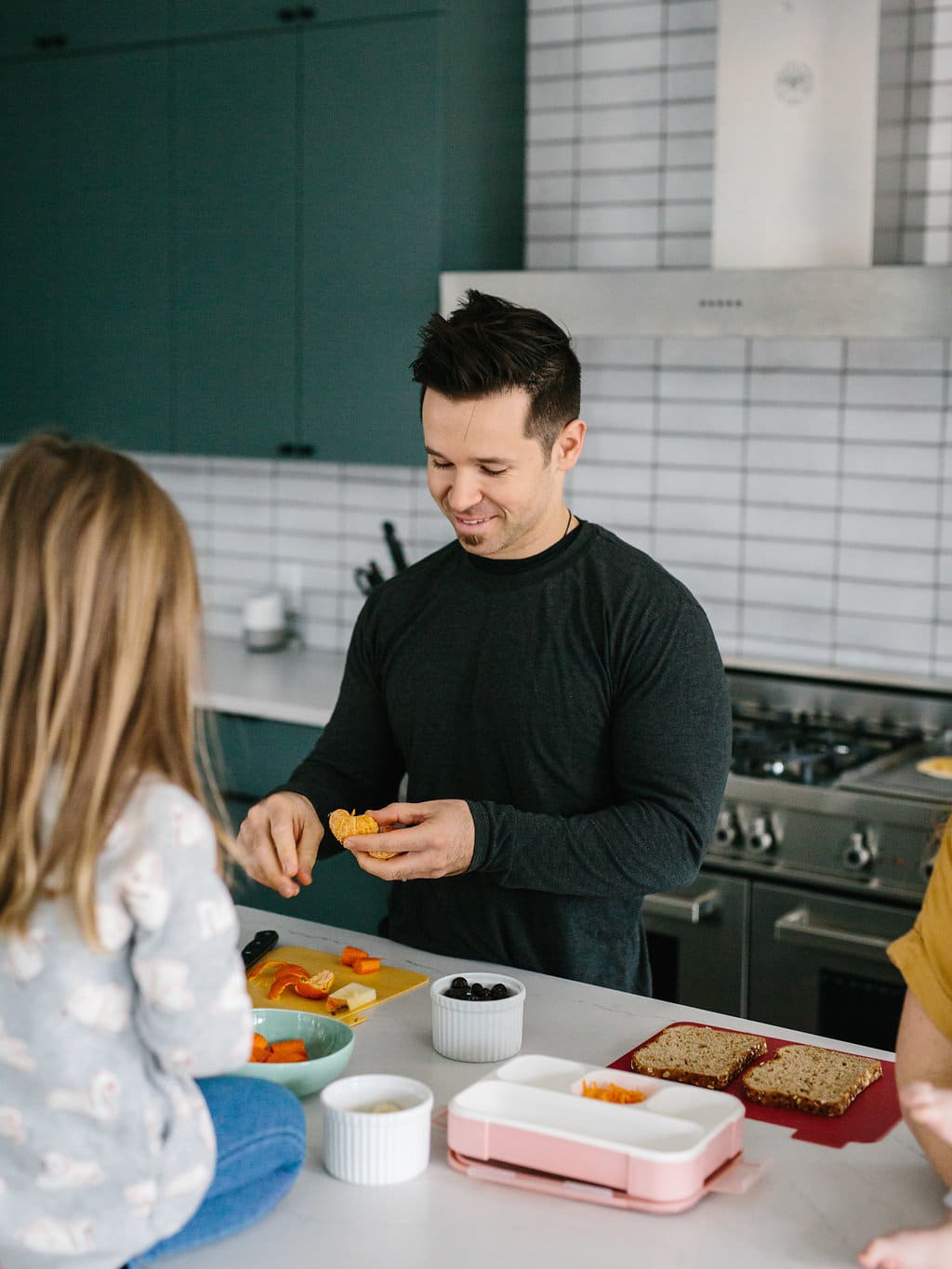 Keep a journal nearby.
I have to admit that I haven't journaled regularly in years, but there's something about this moment in time that has me constantly putting pen to paper. On a particularly bad day, after the kids were in bed I took a second to be like, "Dear God, what in the world happened today?!" It prompted me to start a no screens before Ever's nap rule. I was using the twenty minutes to get ready in the morning but turning it off was becoming a problem. It also prompted me to be more intentional about helping the kids to pick up after themselves. I noticed that all day long I was constantly going back behind them and putting away their messes. I realized that the morning is the best time for more structure but our afternoons are more conducive to looser plans and free play.
Make time for mindfulness.
This is a personal opinion and may not sit well with the tiger mom set, but I'd rather the girls grow in mindfulness, be able to articulate and regulate their feelings and have a sense of peace and calm about this whole situation than to come back to school having mastered consonant blends. Consider creating a mindful routine in the morning that explores feelings, includes affirmations and sets the tone for the day.
Give yourself a hard out.
Bedtime in the age of quarantine is more important than ever. It's the only time you have to yourself or to be one-on-one with your spouse, so don't let it fall to wayside. Taking care of yourself whether through journaling, going on a solo walk, taking a long bath or getting your house in order after a long day is of the utmost importance during these times. We have an early to bed routine where we bathe and put on our favorite La Paloma Girl's Nightgowns and have the girls in bed by 7 most nights.
What's been working for your family? I would love to hear more about your routines and new rhythm.
Photography by Katie Jameson