I am heading back to Austin tomorrow for my sister's graduation, which just so happens to coincide with Mother's Day weekend!  Sunday both of my sisters and I are planning on spending the day by the pool with mom and enjoying shrimp and scallops on the grill-- sounds like a dream Sunday to me!  If you're still looking for a mother's day gift, below are my favorite pieces from some of my favorite online shops!
First, though, here are 8 things I learned from my mom...
1. Never bring a store-bought dessert to a party.  If people are going to indulge, it should be worth every calorie.
2. Give people the benefit of the doubt.  You never know what they're going through.
3.  The importance of Wine Wednesdays with your girlfriends.
4. Gardening is the cheapest form of therapy.
5. Pray every day.
6. There is an optimistic way of looking at everything.
7. Make your bed in the morning the minute you get out of it.
8. There will always be people who have more than you and have less than you.  Be content with what you have.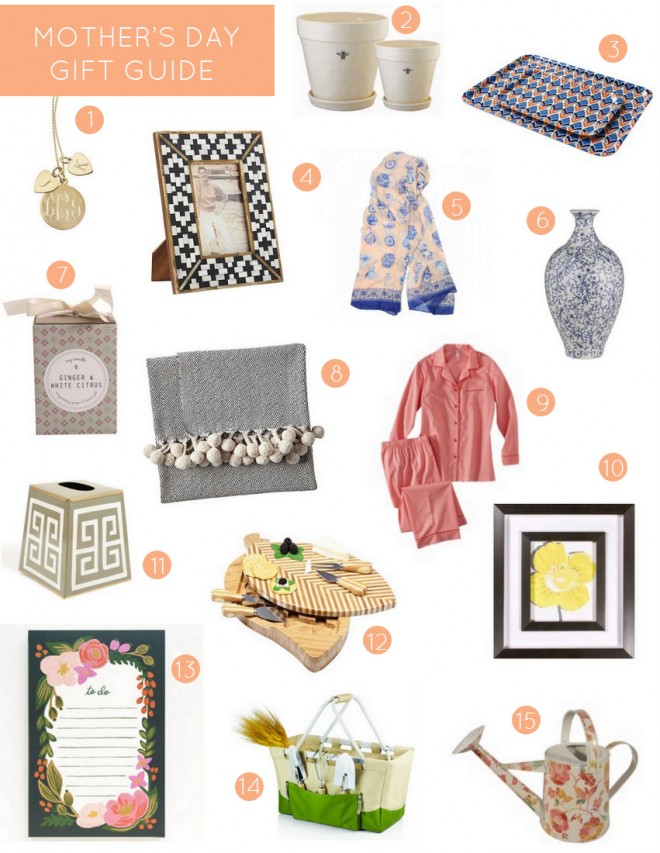 ONE. Mark And Graham / TWO. Overstock / THREE. Serena & Lily / FOUR. Serena & Lily / FIVE. Furbish Studio / SIX. Lamps Plus / SEVEN. Target / EIGHT. Serena & Lily / NINE. Target / TEN. Lamps Plus / ELEVEN. Furbish Studio / TWELVE. Lamps Plus / THIRTEEN. Furbish Studio / FOURTEEN. Overstock / FIFTEEN. Target
Isn't it interesting how you don't realize the values that are being instilled in you as a child, until you are an adult and find the things you heard over and over in your childhood are informing your decisions?  What lessons did you learn from your mom?  Are you a mom?  Do you consciously think about the lessons you want to instill in your child?  Just curious... I'd love to know!
Initial Photo via
The Glow