(This post is sponsored by Crate & Barrel. All opinions are my own. All products featured are linked below!)
I hosted my first Thanksgiving at the age of 27. We had just moved into our first home and I was eager to get down to the nitty gritty of home ownership—hosting included. That morning I lovingly kicked Aaron out of the house and sat down with my handwritten grid that I had constructed a couple of days prior. It laid out exactly what time I should start prepping and cooking each dish to ensure that everything had time in the oven and could be served piping hot right at the same time. (An impossible feat.)
My most vivid memory of Thanksgiving that year was realizing how much time and intention goes into the making of the meal, and how quickly the actual meal comes and goes! I've come back to this thought so many times this year when thinking about hosting and entertaining. I've thought a lot about how we can replace the hustle and bustle and stress with a slower pace, allowing ourselves to really savor these moments around a table with people we love and delicious, well thought-out meals. Even if it's just your immediate family this year, here are 5 tips to savor the holiday:
1. Consider serving your meal in courses.
Start with appetizers that guests can mingle over. When everyone comes to the table, consider serving soup. Pumpkin or butternut squash would be delicious and not so filling that it takes away from the main course. There's something about eating a soup, spoonful but spoonful that really slows you down and gets you to savor the flavors. (Also, it looks really beautiful when served in this Staub Coquette.) I love the idea of a long, lingered over meal.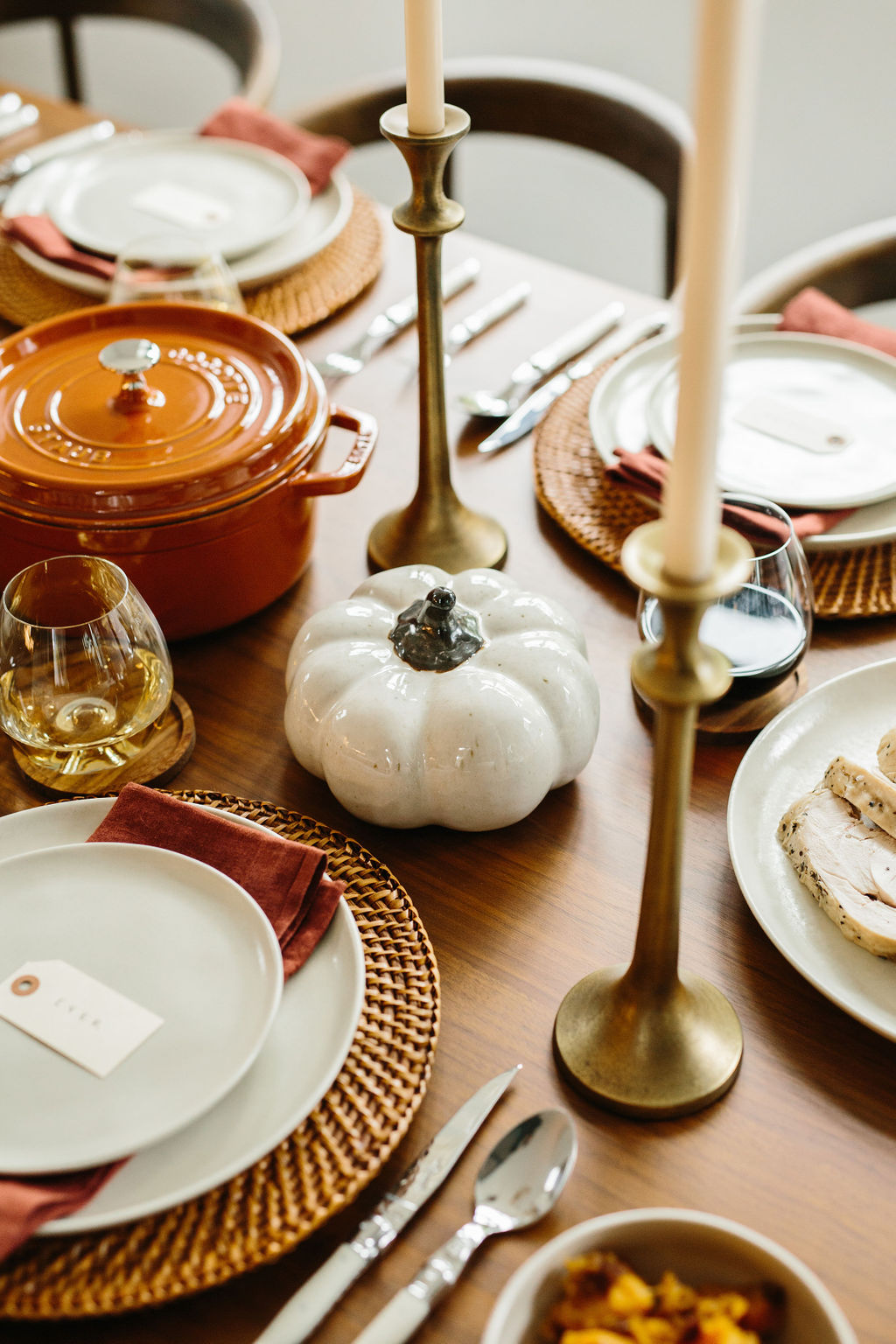 2. Focus on the conversation.
It's so easy to keep holiday conversation surface level. The thing about holidays, though, is that you get to see people that might not see that often. Is there something interesting that you've never asked them about? Some insight they may have into a subject that might be compelling? Use time around the table to deepen relationships in a meaningful way. (PS. These barrel-shaped Scandinavian-style chairs are the perfect place to spend a long conversation.)
3. Put thought into the tablescape.
Let people know that there was thoughtfulness and effort put into this gathering beyond the food. Consider using place cards to seat guests strategically. Now's the time to pull out your favorite dishes and table linens and really go to work. These simple ceramic pumpkins are an easy way to make your table feel festive and these Visto Cream Stoneware dishes, while suitable for everyday use, are festive when layered with these linen napkins. This Tate Walnut Table is incredible. It actually has two separate leaves so it can span from 76"—perfect for everyday use!—all the way to 117".
4. Involve your guests in the menu.
Allow guests to contribute dishes that are memorable for them. It's so easy to get stuck in the rut of making the exact same thing each year, but when your Mother-in-Law from Maryland brings crab cakes it's not only a conversation start, but allows everyone to feel more included in the meal.
5. Less is More.
No one actually needs 8 different side dishes. Instead make less things and allow yourself to focus on what you do best. Use the highest quality and tastiest ingredients that will leave your guests exclaiming, "I have to get this recipe!" Speaking of…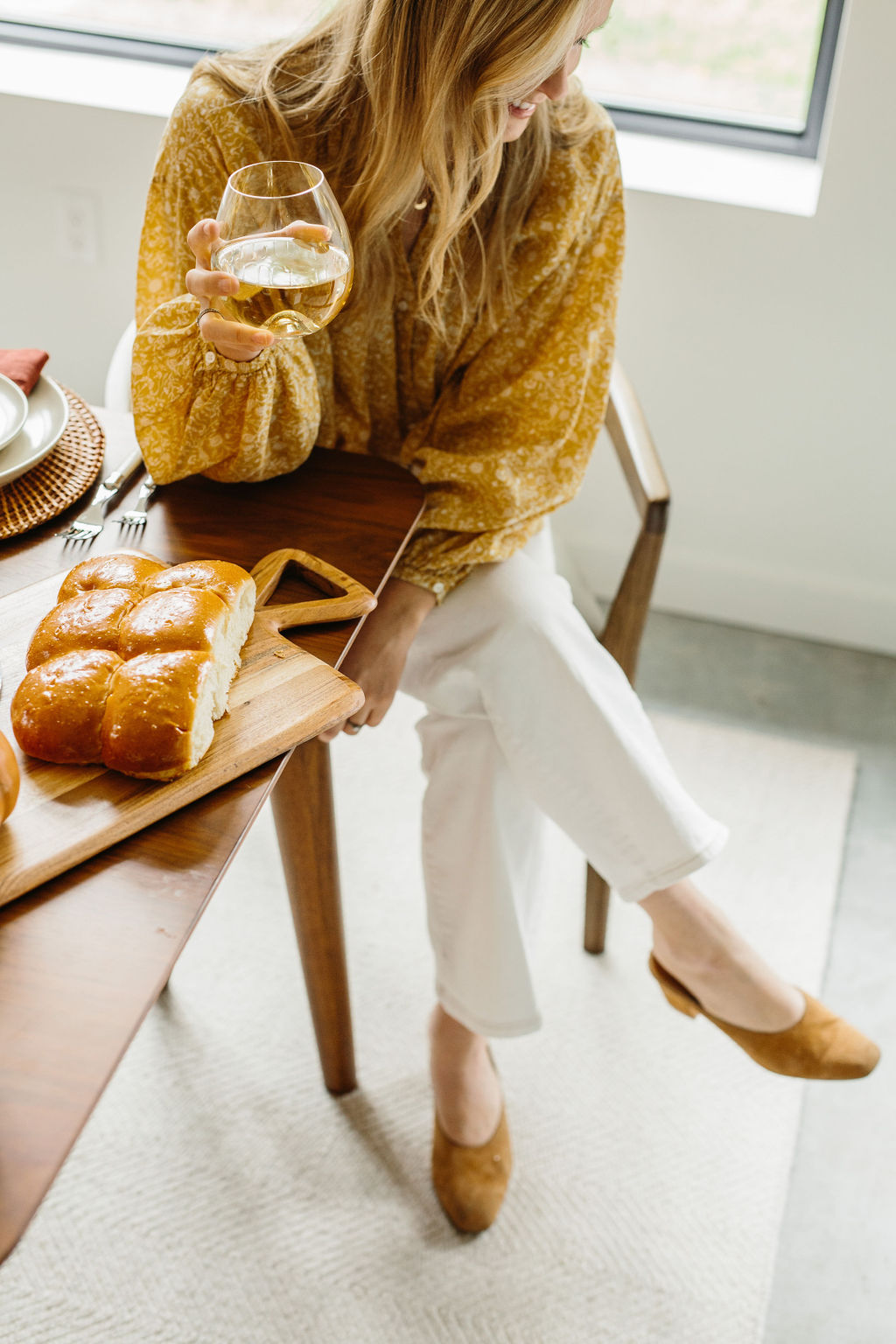 Recipe for Our Shaved Brussels Sprouts and Kale Salad:
Ingredients
For the dressing:
2 teaspoons minced shallot

2 teaspoons

smooth Dijon mustard

1 tablespoon fresh lemon juice

3 tablespoons avocado oil

salt and freshly ground black pepper to taste
For the salad:
25 brussels sprouts, thinly chopped

1 small bunch Lacinato kale

2 cups sweet potatoes, in ½" cubes

¼ cup shredded pecorino cheese

¼ cup toasted, pecans coarsely chopped

2 tablespoons dried cranberries
Instructions
Preheat oven to 400. Toss sweet potatoes with avocado oil, salt and pepper and roast for 18 minutes. Set aside and allow to cool.
Combine all dressing ingredients in a small bowl. Whisk together until well combined.
In a salad bowl, combine brussels sprouts, kale and dressing. Ensure that the dressing coats the veggies well. Top with remaining salad ingredients. Ready to serve immediately.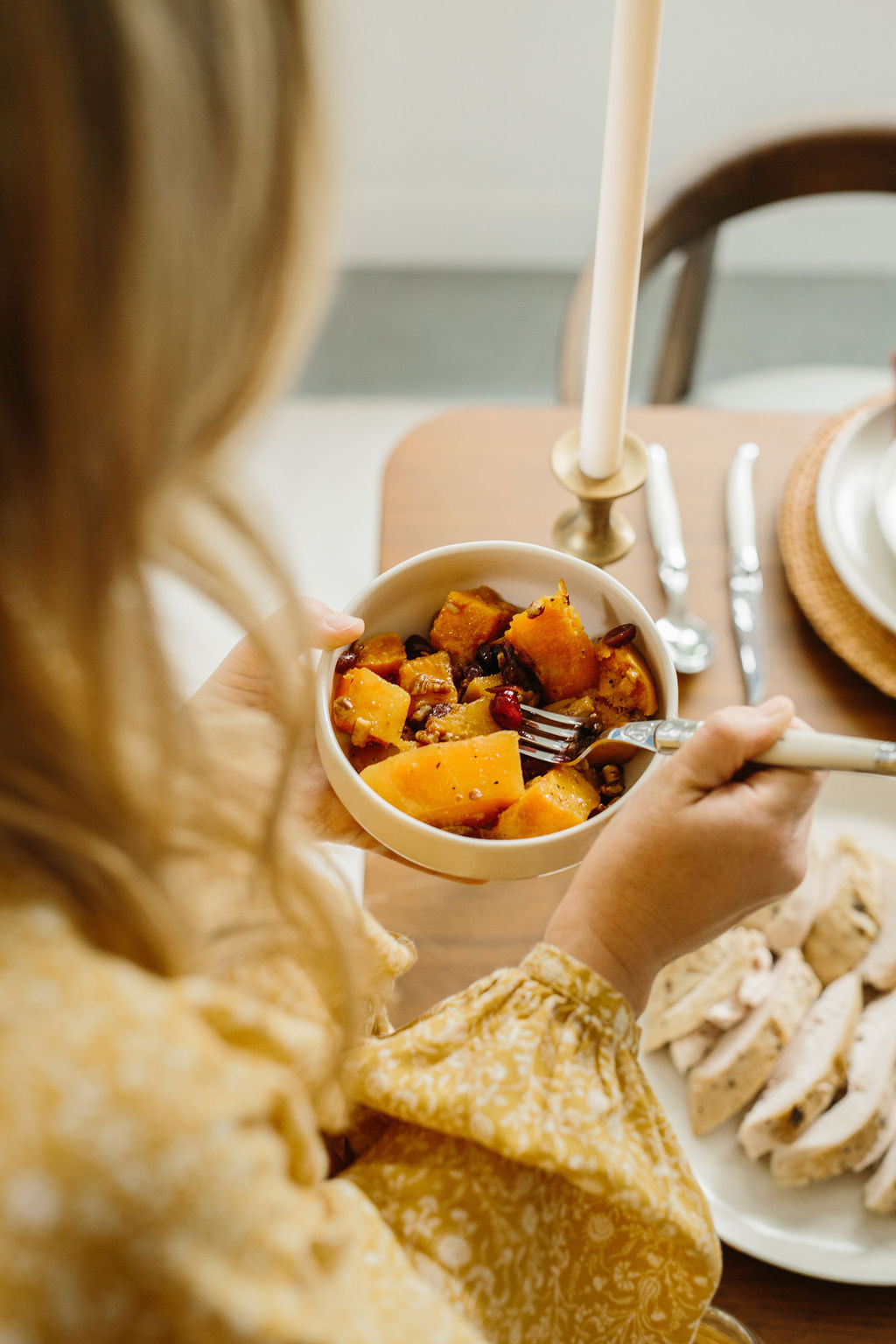 Tate Walnut Extendable Mid Century Table || Cullen Shiitake Stone Round Back Chairs || Taj Leather Strap Bench || Visto Cream Stoneware Dinnerware || Lulie Stemless Wine Glasses || Laguiole Flatware || Laguiole Cheese Knives || Visto Stoneware Platter || Visto Cream Stoneware Salad Bowl || Acacia Coasters || Wood and Marble Salad Servers || Holden Vase || Brass Candle Holders || 12" Taper Candles || French Kitchen Marble Salt Cellar || Artesia Honey Round Chargers
CHECK OUT THESE OTHER GREAT IDEAS!