In the same way that the final days of December will undoubtedly produce a plethora of resolutions, the dawning of spring sparks a need to freshen things up.  Winter coats are taken upstairs to Ever's closet because she can't yet talk and tell me not to do such things.  Rugs are shaken outdoors and their hidden treasure trove of dust and crumbs beneath them swept out for the first time in far too long.  Potted plants that didn't survive the winter (or my unwillingness to use a ladder and retrieve them from the top shelf in the living room for watering) are replaced and rooms are refreshed.  A new vase here, a throw pillow there.  Small things that go a long way to freshening things up at the beginning of a new season.  We partnered with Charmin and their new family mega rolls that are sold on Amazon to share 5 easy and inexpensive ways to freshen up your bathroom.  (PS. Right now you can Save $3 Charmin's new Ultra Strong Clean Touch toilet paper 24 Ct Family Mega Rolls using promo code: 3MEGACHARMIN, plus an extra $2 at checkout!)
Replace your hand towels. A simple switch from a heavy terry cloth towel to something lighter like this traditional Turkish peshtemal feels much more ring-a-ding-spring!
Go through all of your products and toss ones that are expired or no longer being used. Less is more.  (PS. Find a neighborhood shelter that is accepting product donations for unused ones.)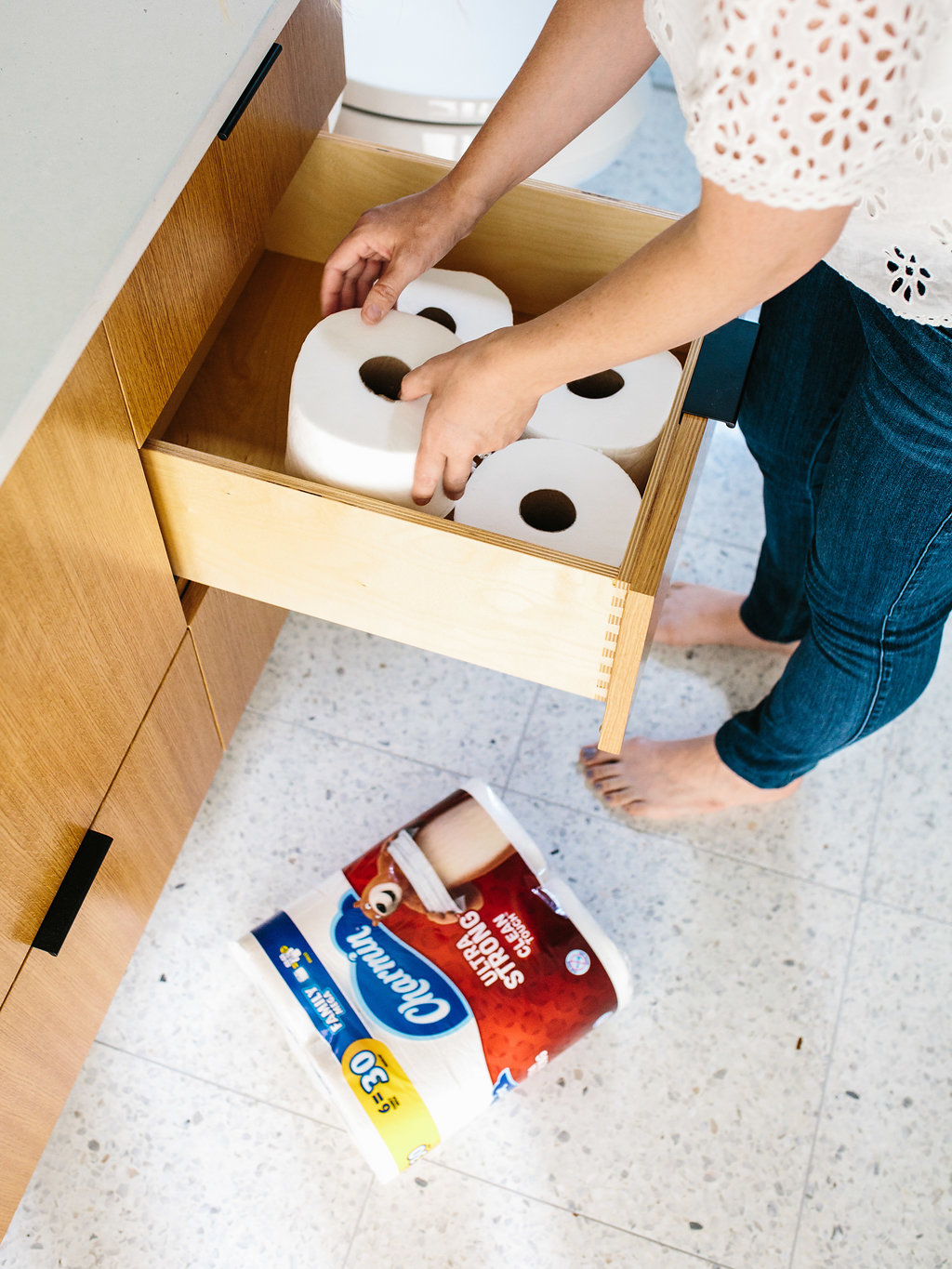 Stock up on the essentials like Charmin's new Ultra Strong Clean Touch toilet paper.  One mega roll is the equivalent of five regular rolls, meaning you can spend more time enjoying the good weather and less time grocery shopping for toilet paper.  (I actually like being stocked on household essentials at all times. The top of our pantry is beginning to resemble a grocery store aisle.)
Instead of a candle, try incorporating an essential oil diffuser. Especially in small spaces like bathrooms, I find the scent lasts so much longer. Plus, there are tons of health benefits to using essential oils. (This one is the perfect size for a bathroom!)
Speaking of sweet scents, fresh flowers go a long way—especially if you're expecting company! Forgo the fancy arrangement and stick with a couple of knock out stems for an effortlessly chic look.
How do you freshen up your house for spring?
Photography by Katie Jameson
This is a sponsored conversation written by me on behalf of Charmin. The opinions and text are all mine.