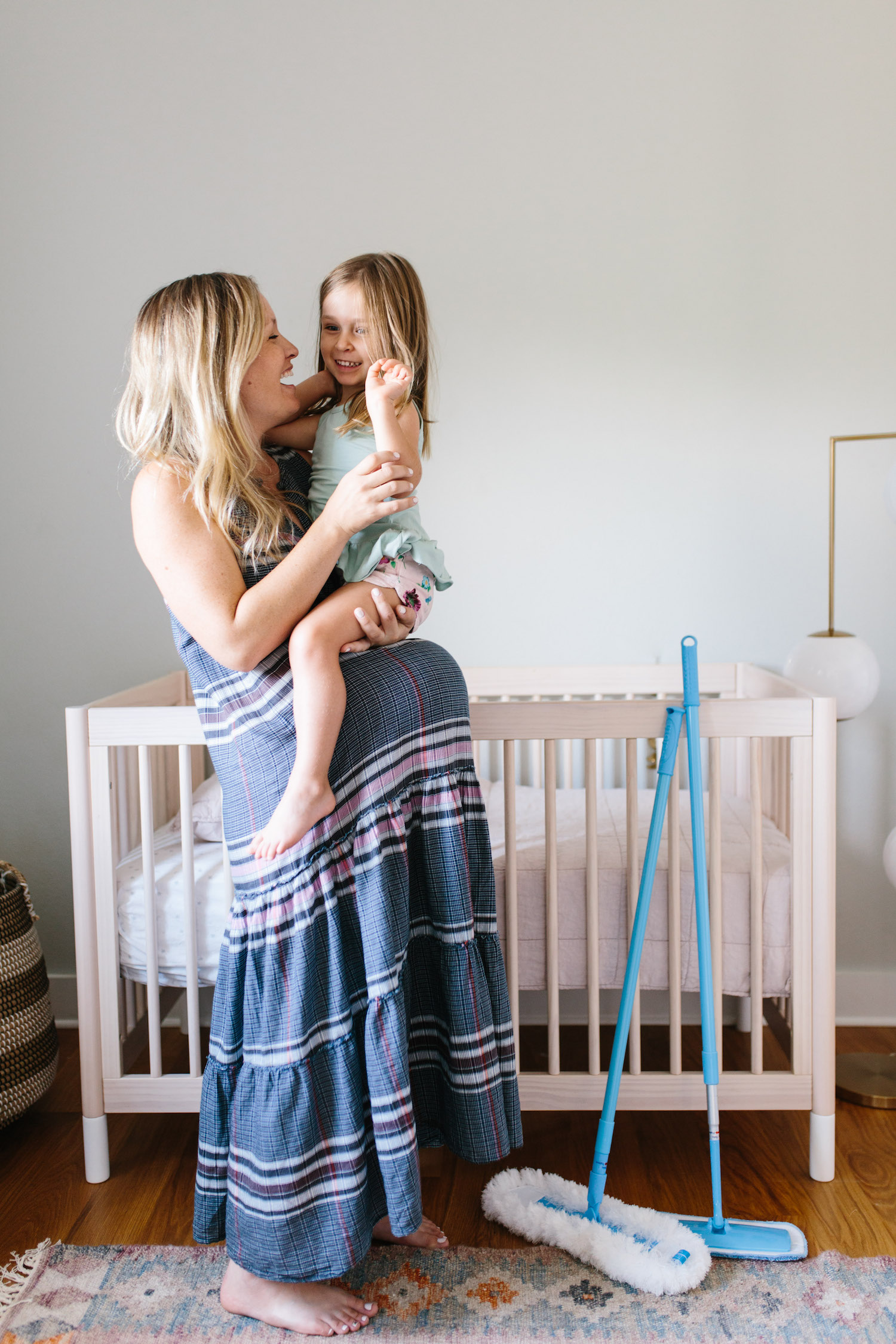 "Mommy, I am the sweeper and you are the duster," she says as she hands me my wall and floor duster and grabs her deep clean mop.
This is currently Parker's favorite game to play.  We played it this morning before she went to school and then after we had done our adequate sweeping and dusting she wanted us to play cleaning school and teach all of our imaginary students how to clean and dust.
"Mommy, why do we do the cleaning again?"
"Because when we bring baby sister home, we don't want her to get sick from any of our outside germs.  Plus, the dust can make us sneeze and cough."
I'm not sure how long this cleaning obsession of hers will last, but I'm going to enjoy it while it does! I've been trying to find the best cleaning supplies to ensure that not only are we getting a deep clean but that she – and soon to be baby sister – are not ingesting or spreading any harmful chemicals around our home, which is why I'm excited to share our new favorite e-cloth cleaning tools with you! The interesting thing is that even at just three years old, when she runs her damp e-cloth Deep Clean Mop over our concrete floors, the millions of microfibers on the head of the mop are picking up 99% of all bacteria, without the use of harmful chemicals. To clean, I just rinse the fibers with water in the sink, making all of those cleaning products under the sink and rolls of paper towels seem nearly obsolete. (You can read more about how the technology works here!)  Did you you know that a 15 year long Columbia University study found that women who work at home have a 54% higher death rate from cancer than women working away from the home? The study concluded that it is directly linked to the toxic household chemicals in the home – which is unbelievable! We partnered with Ace Hardware to share a few different ways to create a cleaner, greener home for both of our babes and ourselves without breaking the budget.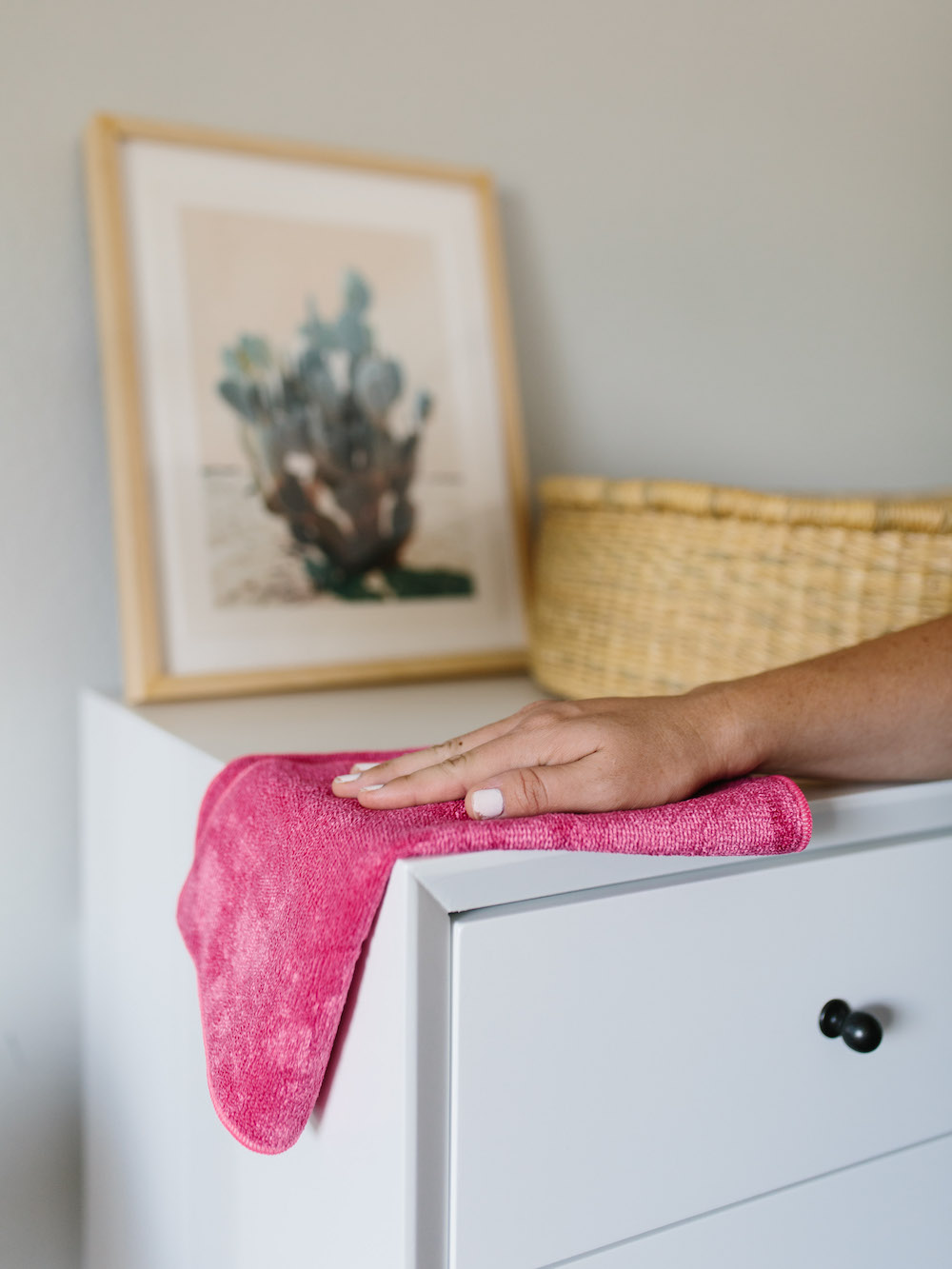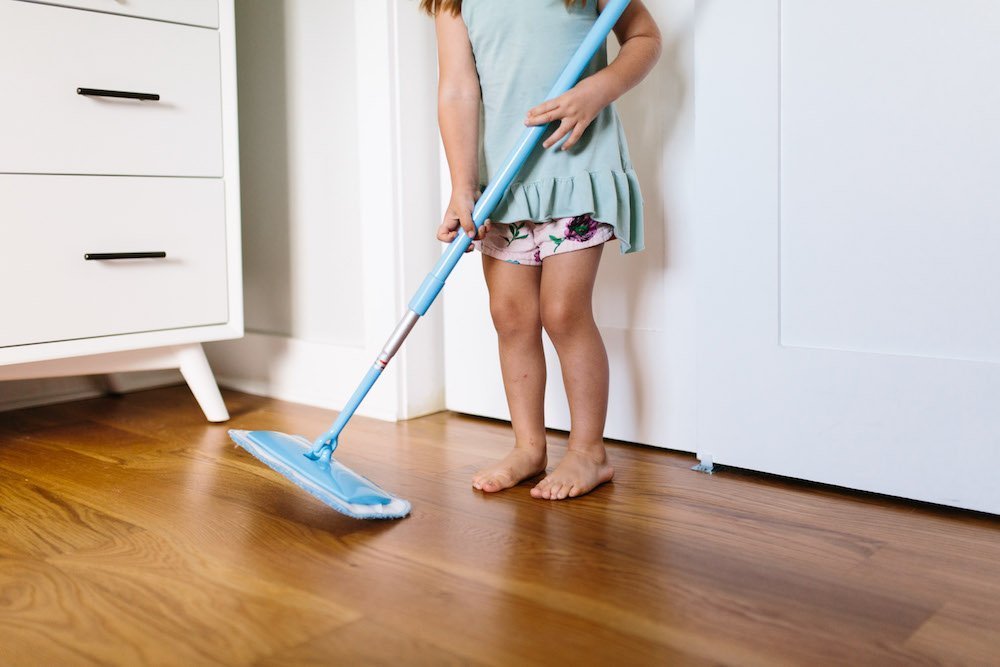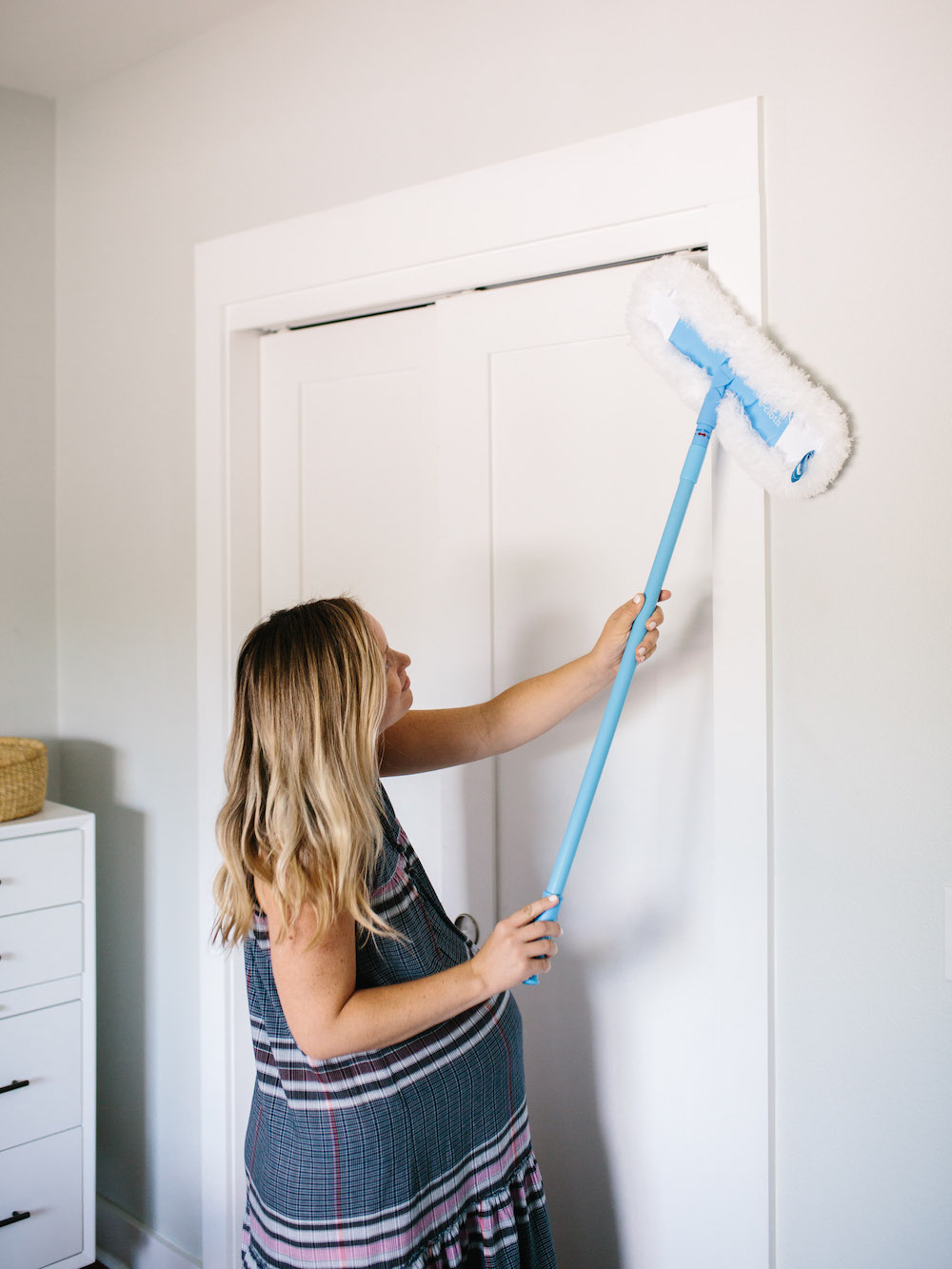 Essential Oil Diffusers: Many essential oils are powerfully anti-microbial and when introduced into the air in vapor form, the organic compounds within the oils come into direct contact with airborne pathogens before they can invade your body. Essential oils can also be used to boost the immune system. Last but not least, some diffusers also double as humidifiers which will help to keep your airways moist and healthy so you are less susceptible to any microbes that do make it into your body. (via Natural Living Ideas)
e-cloth Cleaning System: I've been using the e-cloth flat mop general microfiber cloths and cleaning pads that were on the shelves at our local Ace all around our house - for everything from floors and counter tops to cleaning our phones and electronics and toys – making cleaning easy and safe. Each e-cloth is fabricated to have as many as 3.1 million fiber strands per square inch of cloth, which means that nearly 500 million fiber strands are in each cloth! e-cloth's filaments are so small and so strong; using just water, they break up, lift, lock in, and clean deep down into the tiniest grooves and crevices. Dust, grease, oils, grime, dirt and bacteria are quickly and easily removed and locked away deep inside the fibers until the cloths are rinsed or washed. Since it only takes water to clean these babies, they're safe for Parker to use on every surface (and easy to clean, since she loves to play so much!)
Paraben and Sulfate-free products: You can use this site to discover how your current products rate and find safer alternatives.  Brace yourself! Even products touted as "natural" might surprise you with their ingredient list.  Also, be sure to read all ingredient lists carefully.
Buy organic whenever possible: my grocery bill may seem exorbitant at times, but buying organic is so important for so many reasons!  The more we buy organic, the more grocers will stock organic and the more farmers will be able to grow organically leading to less chemicals and pesticides in our soil and waterways. (Not to mention less chemicals in our bodies when we eat organic.)
Choosing safe pots and pans for cooking-- cast iron, enamel coated cast iron, and stainless steel only.  Others, especially in the non-stick variety, can leak harmful chemicals into our food.
For more great ideas and home hacks, be sure to check out your local Ace Hardware!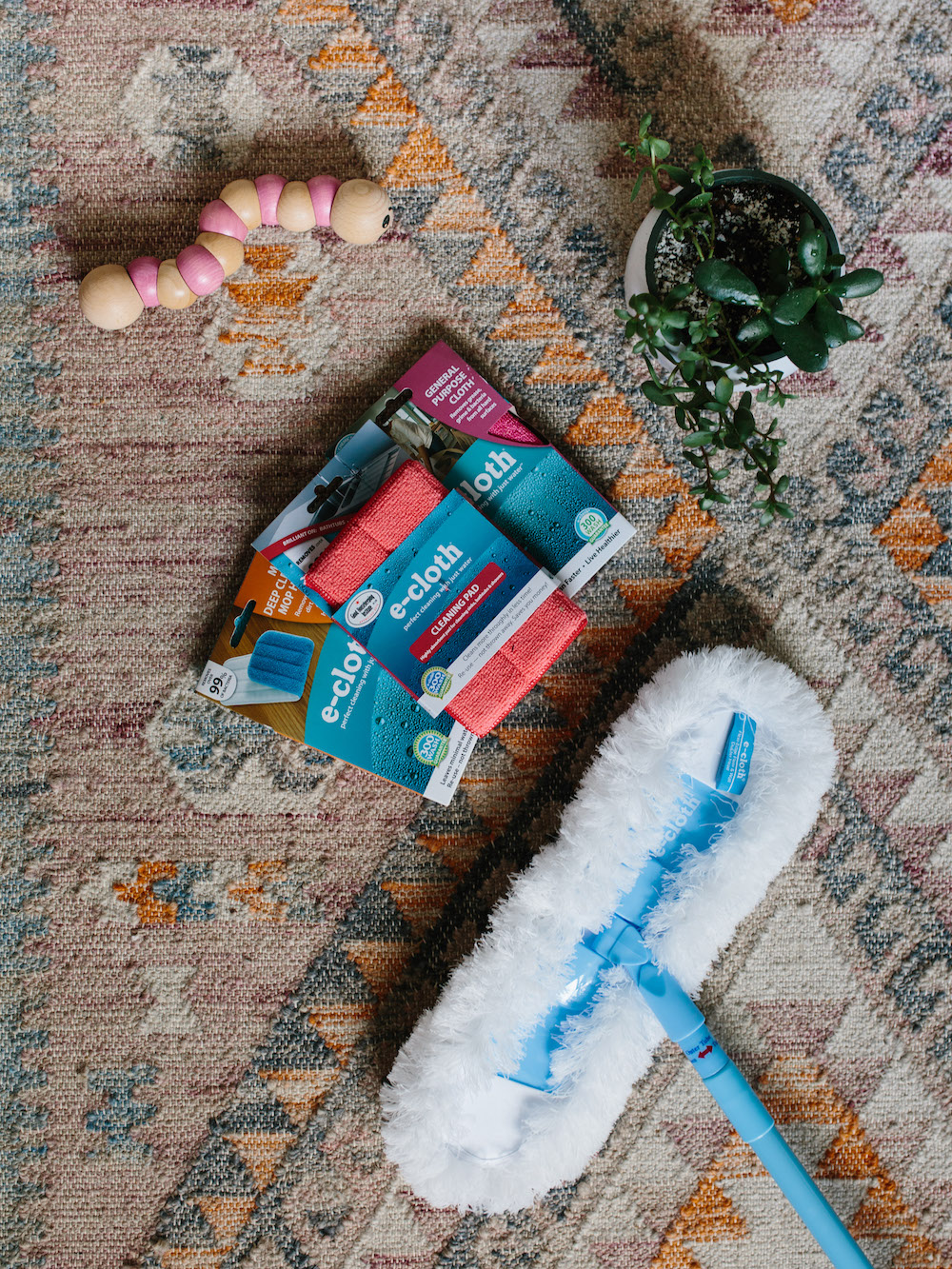 This post is sponsored by Ace Hardware.  Not only am I currently obsessed with using their e-cloth products around our home, but I love that their products reduce the amount of chemicals and paper towel waste in the world.