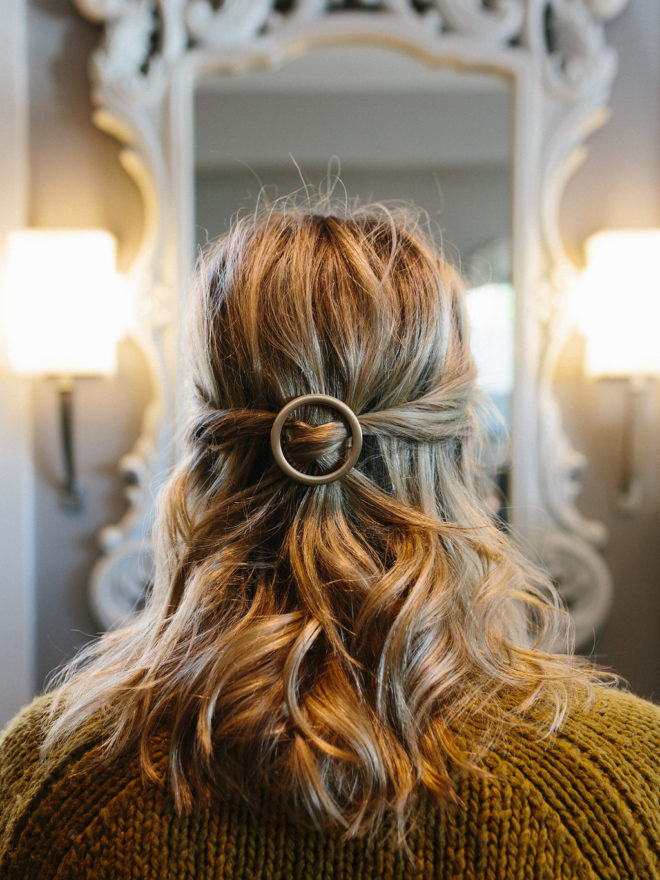 After nearly 5 years of rocking a short bob hairstyle (proof here!), we made a huge life transition this summer with our move to Austin and I suddenly became so preoccupied with a million other things, that I unintentionally grew out my hair.  Oops!  Except not oops, because I actually love it.  I love being able to pull it up so easily, I love being able to add waves to it with out the fear of burning myself, and I love being able to wear it in a bunch of different ways.  Ever since Martha Lynn (of Mirror, Mirror salon) showed me this easy half up 'do, it's been my morning go-to!  Plus, in keeping with our effortless chic mantra, it takes just 5 minutes or less! Keep reading for the full tutorial...
Martha Lynn, here! This half up 'do is one of my favorite tricks and you HAVE to do it quick without too much thought or you'll totally mess it up. Let's get started!
1. Start with whatever texture hair you like, we used a 1 inch curling iron to add some waves in Jen's hair but this would work on straight hair as well.
2. Take the hair from the ear forward on both sides using both hands.  Just use your index finger and slide it up through your hair behind your ears.  Once you have those sections, twirl them a couple of times and gather behind your head just below the crown.
3. Secure with bobby pins or this cute barrette!
Pretty easy, right?! You can check out our last 5 Minute Hair Tutorial here and this oldie but a goody as well!
What's your go-to morning hair move when you're short on time?
Photography by Katie Jameson
Half Up 'Do Tutorial by Martha Lynn Kale