New York City is such a fun and vibrant place and is perfect for a weekend getaway, but can you do it with kids? Check out what we got up to on our 48 hours in New York with our children.  It was such a fun time and I couldn't recommend it enough!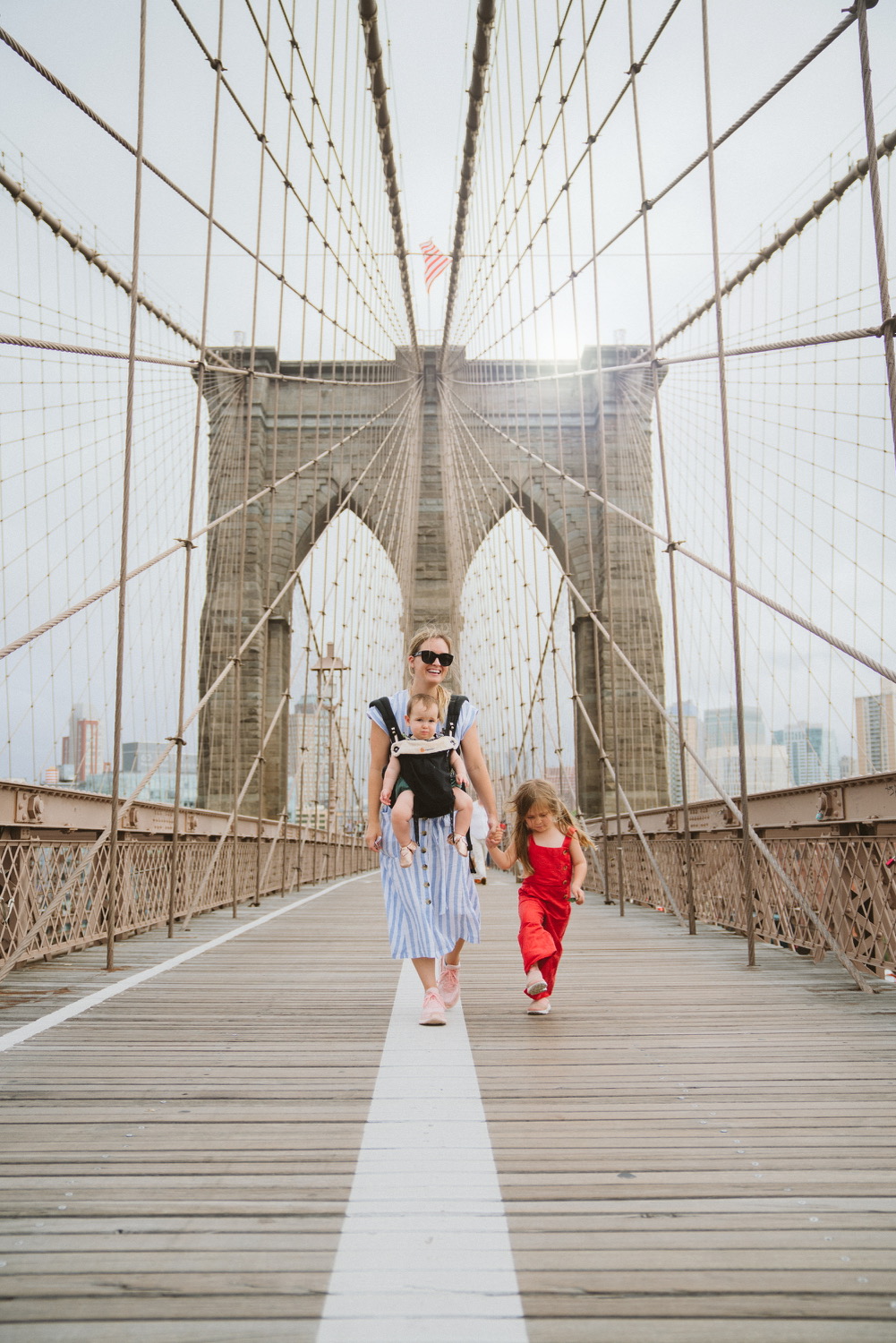 For as long as I have had children, I have dreamed of taking my kids to New York City.  I was 18 the first time I stepped foot in the city-- the week of Thanksgiving, 2002-- and I have spent the last decade and a half making up for lost time, traveling there as often as possible for work and pleasure, shopping trips for clients, styling for productions, taking the train to the city whenever I'm in the vicinity.  I'm so enamored with the old cobblestone downtown streets, mind blowing cuisine tucked into unassuming nooks and crannies, the seemingly endless art collections in modern galleries and museums. (I could go on for hours!)  That's the backstory of how we booked a work trip to Martha's Vineyard and turned a 3 hour layover in JFK into a 3 day trip to NYC.  If you've been on the fence about taking your kids to New York City, do it!  I can't recommend it enough.  There are so many things to see and do with kids and I think they rise to the occasion of being outside of their comfort zones and in a big city.  Keep reading for all of the details...!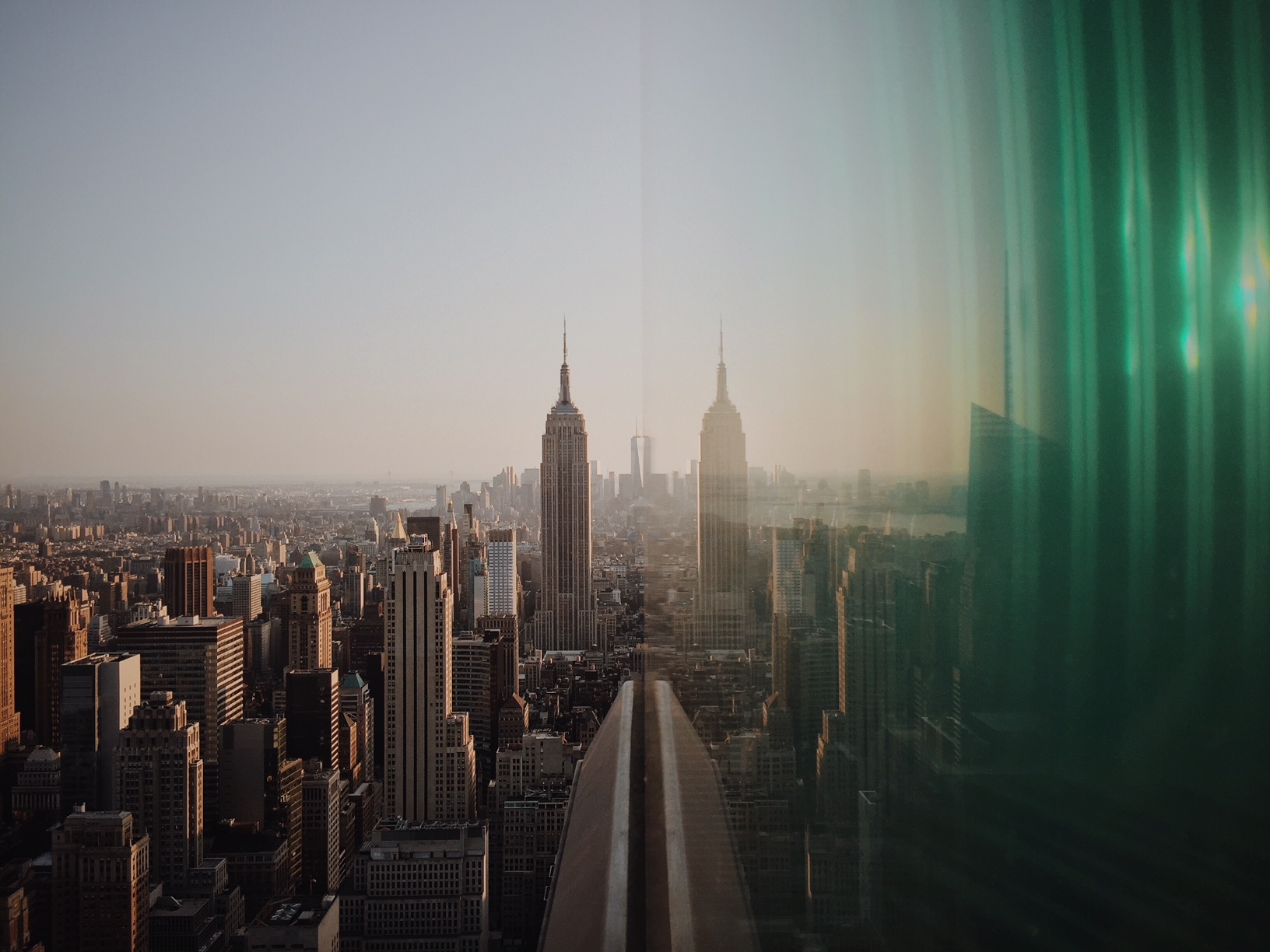 Top tips for travelling with kids to New York City
I always pack Parker a loaded snack pack of fresh foods for the plane. It's often times filled with her favorite things and also some new snacks that I think she will be into.  Now that she's older (She was 4 years and 3 months on this trip) the snacks aren't as big of a deal as they were when she was, say, 2, but nobody wants a hangry seat mate on a four hour flight.  I halved some of the blueberries for Ever and prepped things in the same box that she could eat, too.  We bought a seat for Ever instead of letting her be a lap child since it was a long flight and I would recommend doing that if you can.  I spread a blanket out on her seat and put her down there once she fell asleep, all the while keeping my leg on the edge so she didn't roll off.  I think she slept longer that way than she would have on me.
(Airport selfie before taking off for two weeks!)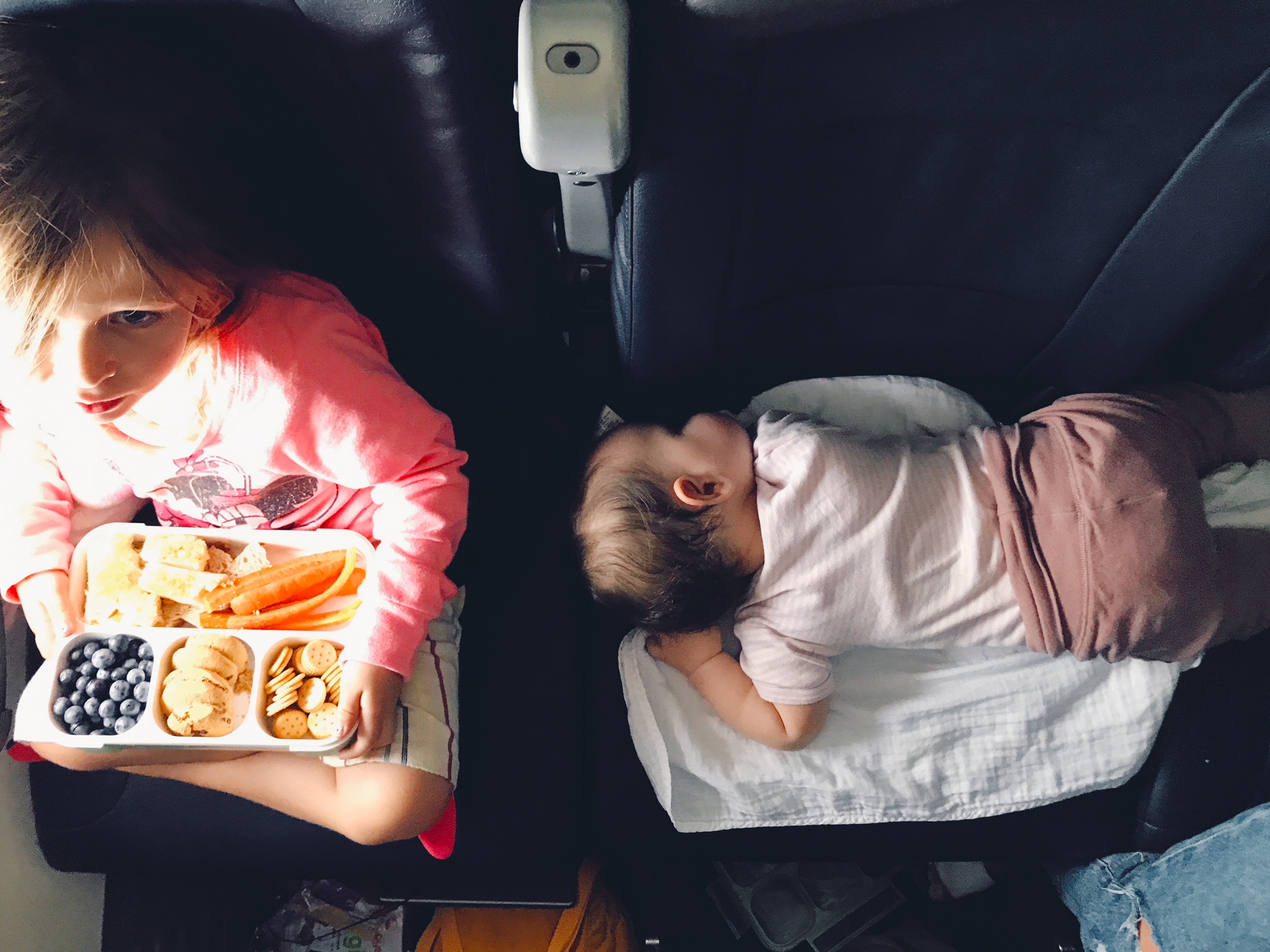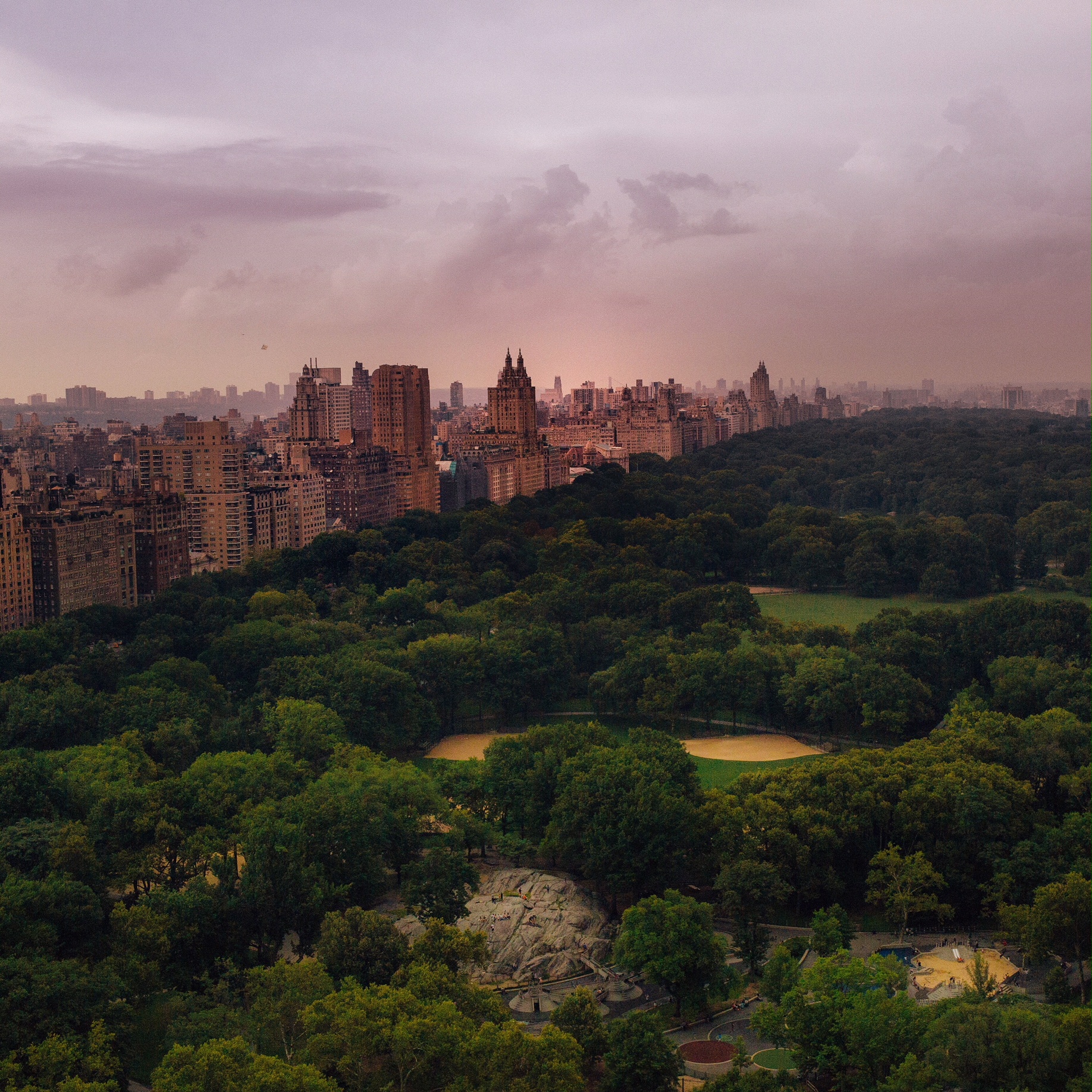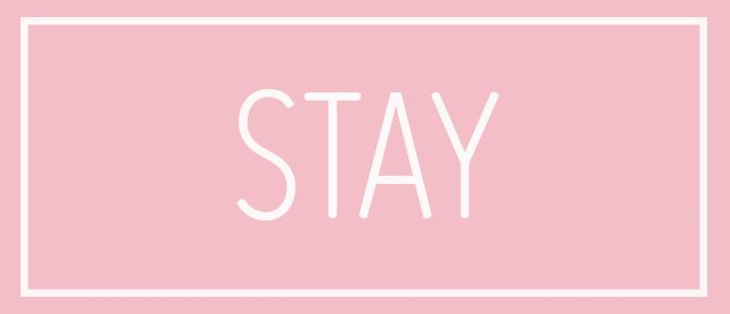 The Best Places to Stay In New York City With Kids
We stayed at the Essex House on Central Park South.  (Above is the view from our room!) We have stayed here a lot for work and have always loved it.  They have a great breakfast buffet in the morning that was included with our room.  We debated between staying downtown vs. uptown.  Downtown has better restaurants for sure, but uptown has the park and museums and easier transportation.  Plus, we do love this hotel!  (Some of our fave downtown hotels are notoriously a little cramped which is fine when it's one or two of us, but wouldn't have worked for our whole family.)  I have also heard that the Conrad Hotel downtown has larger rooms and is good for families-- worth looking into if you're planning a trip!  Our room had a separate living room and bedroom, so Parker and Ever slept together in the living room (Parker on a pull out sofa bed and Ever in a crib provided by the hotel).  They have separate rooms here but had no problem bunking up together on the trip.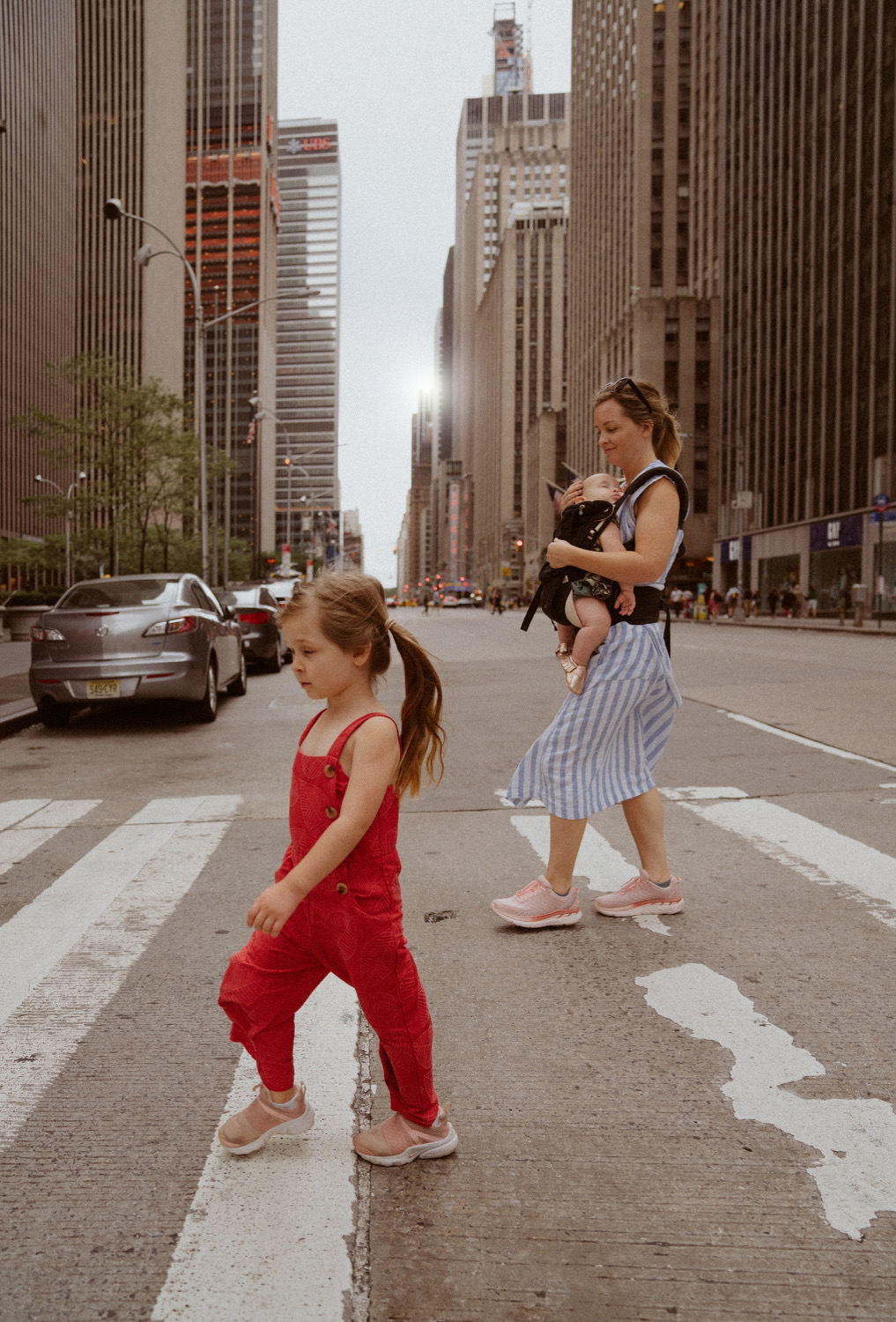 Getting Around New York City with Kids
An alternate title for this trip could aptly be, 'Ever sleeps through Manhattan'.  It didn't make sense to go back to the hotel for naps, so when she would get tired I would just turn her around in the Ergo and she would sleep there. She never slept for more than 45 mins - hour which is short for her, but she did okay with the lesser amount of sleep for a couple days.  We actually didn't even take a stroller to New York.  I didn't feel like dealing with it in the city and going up and down into the subway and having to take elevators instead of stairs.  I wondered if I would regret the carrier only choice, but I didn't at all. I would do it again this way in a heartbeat. One other thing some of you asked about on Instagram was about car seats and taking taxis.  While it's totally legal there to have kids in taxis without carseats, it's not something that I felt super comfortable with given how young Ever is.  We booked a car service to and from the airport that would pick us up with carseats.  It wasn't cheap.  To save money you could totally just travel with your car seats and put them in the taxis, but it was nice to have to schlep them or store them in the hotel room.  Once in the city, we walked or took the subway.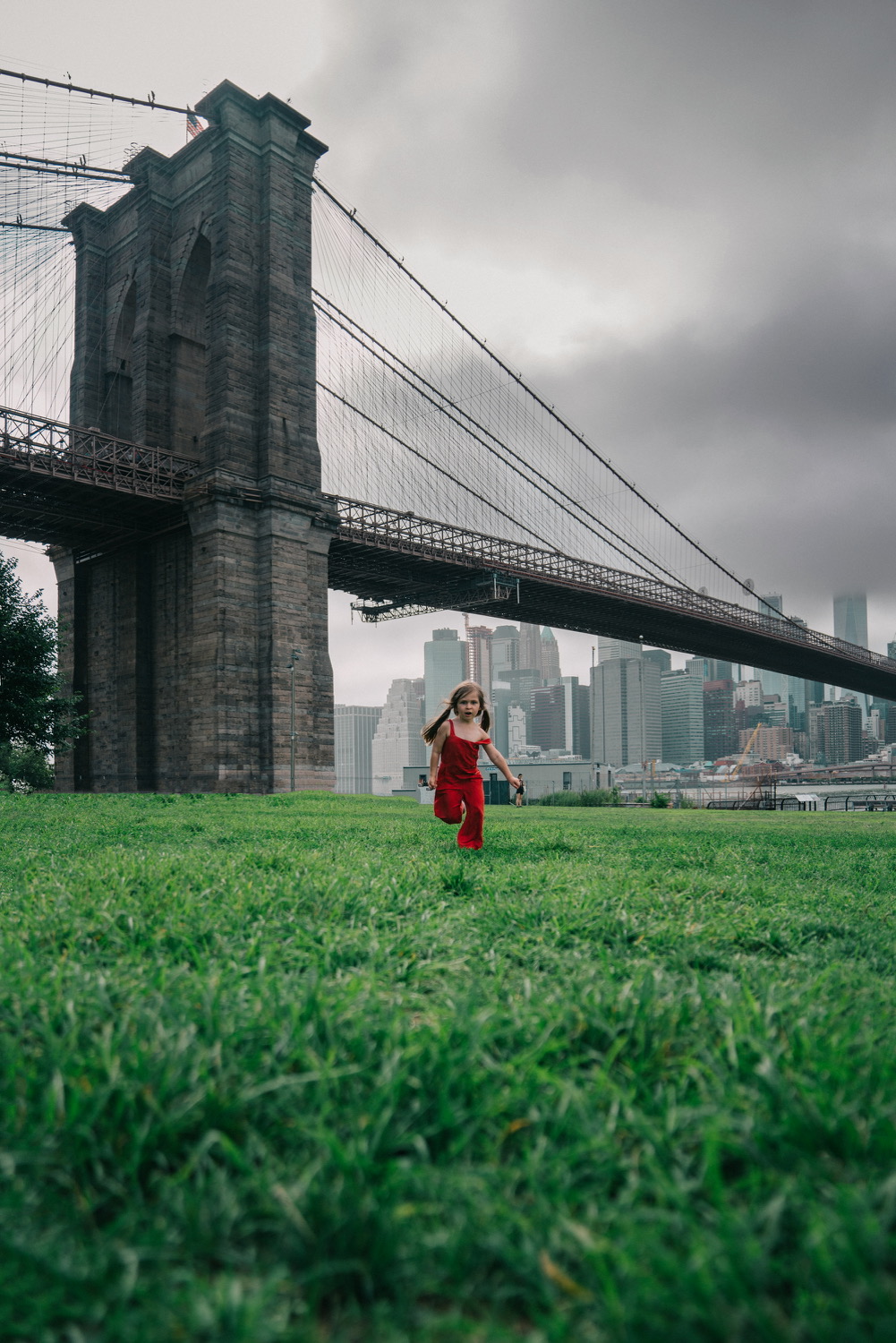 What we did on our 2 days in NYC
Day One:
 
Walk to Time Square from the hotel. I have a healthy loathing of artificial dyes so the M&M shop was basically my nightmare, but one of Parker's favorite parts of the trip!  We sat on the stadium seats in the center of the square and she took it all in and then we hopped on the subway downtown.
We took the train to 23rd street and walked to the High Line once we got off.
We got off of the High Line at Chelsea Market and popped in for a quick peek and a snack (i.e. more coffee for me).
From there we walked to Children's Museum of the Arts which I would highly recommend!  (So many of you recommended it to me and I'm so glad you did!)
We didn't stay too long and took the train to One World Trade Center and went to the top. (The elevator ride is really cool. It shows the city and skyline transforming over the past hundreds of years.)  Afterwards we were starving (momfail) but found our way to Hudson Eats which is such a great place to eat with kids. There are tons of options so you can eat Blue Ribbon sushi while the kids have burgers or chicken tenders.
Feeling renewed from lunch, we walked to Battery Park.  Parker saw the Statue of Liberty and got to ride the Seaglass Carousel which is really neat.  Ever napped through it.
From here we walked to the Ferry at Pier One that takes you across to Dumbo-- the cute spot in Brooklyn that stands for Down Under the Manhattan Bridge Overpass.  It's a super short ride and drops you off close to Jane's Carousel and lots of grassy areas for playing and picnicking.  If you're hungry, be sure to grab a bite at Grimaldi's Pizza! (Cash only and usually a long line, but so worth it!)
We walked back across the Brooklyn Bridge to Manhattan. Parker was such a trooper!  Aaron's parents were with us this day and his mom's fitbit said we had walked nine miles!  Aaron finally put Parker on his shoulders for part of the bridge, but otherwise she was such a trooper clocking those miles around the city.
When we were back at the hotel we grabbed food just a couple doors down at the food hall below The Plaza hotel.  Again, lots of options!
Suffice it to say, everyone slept really good that night!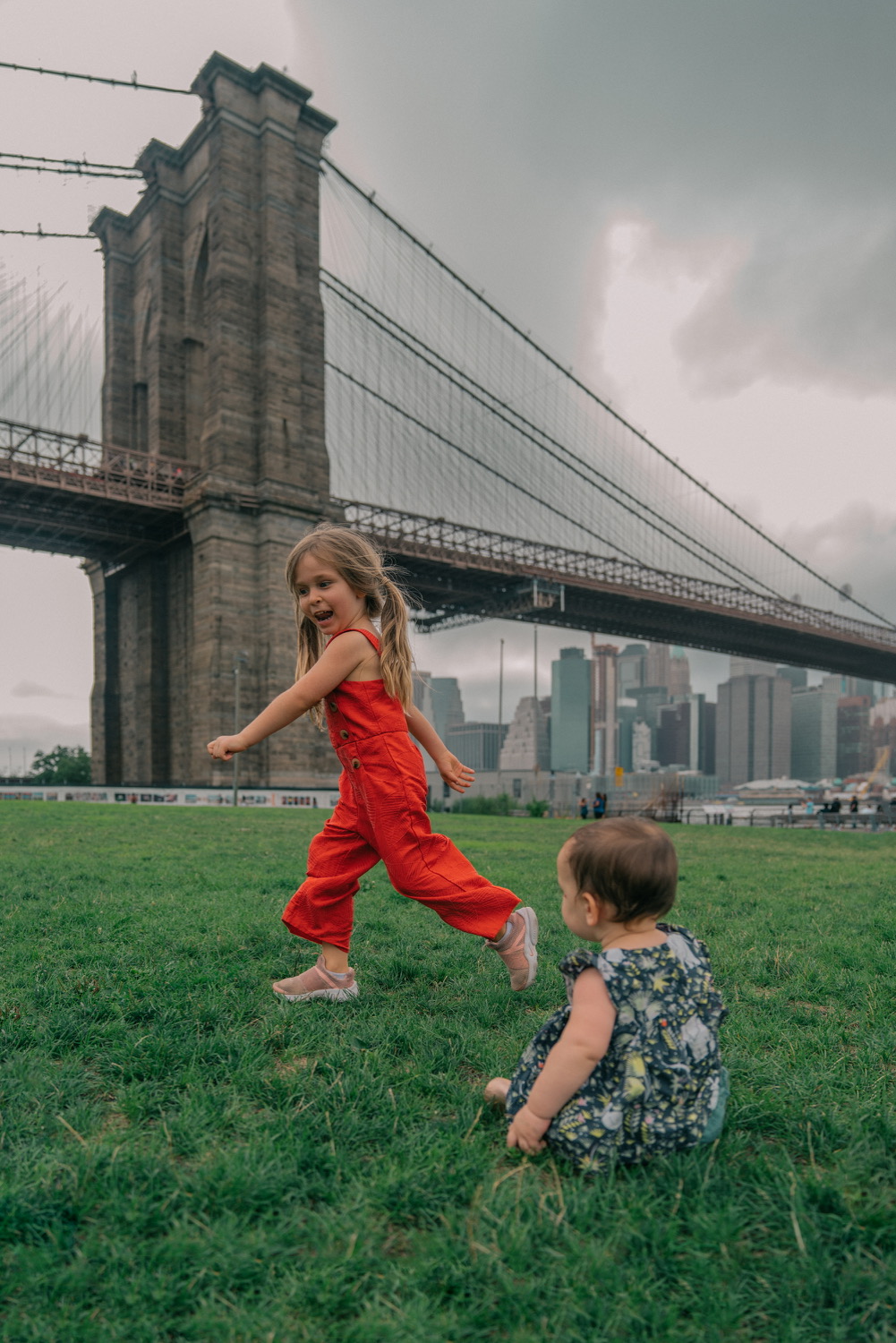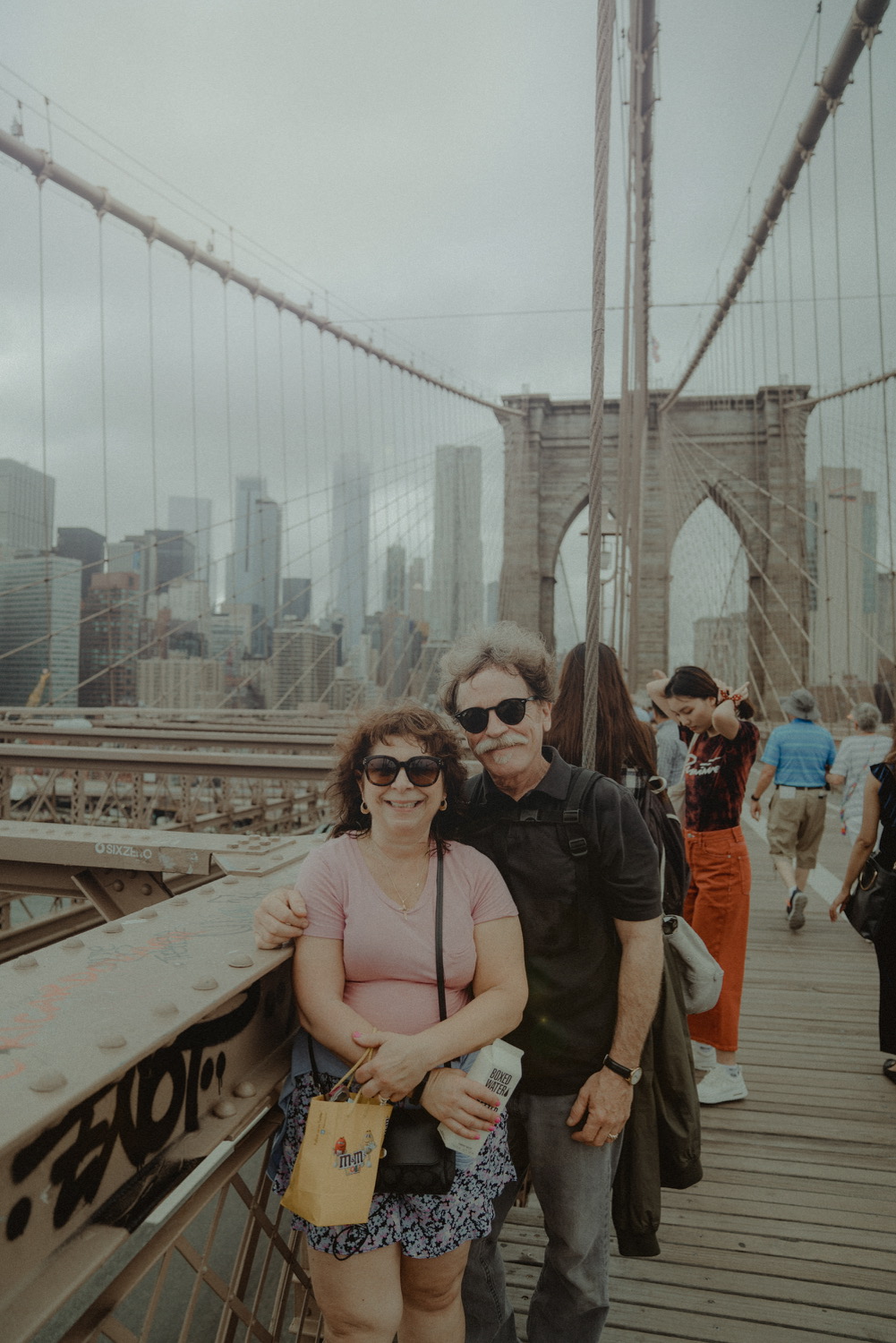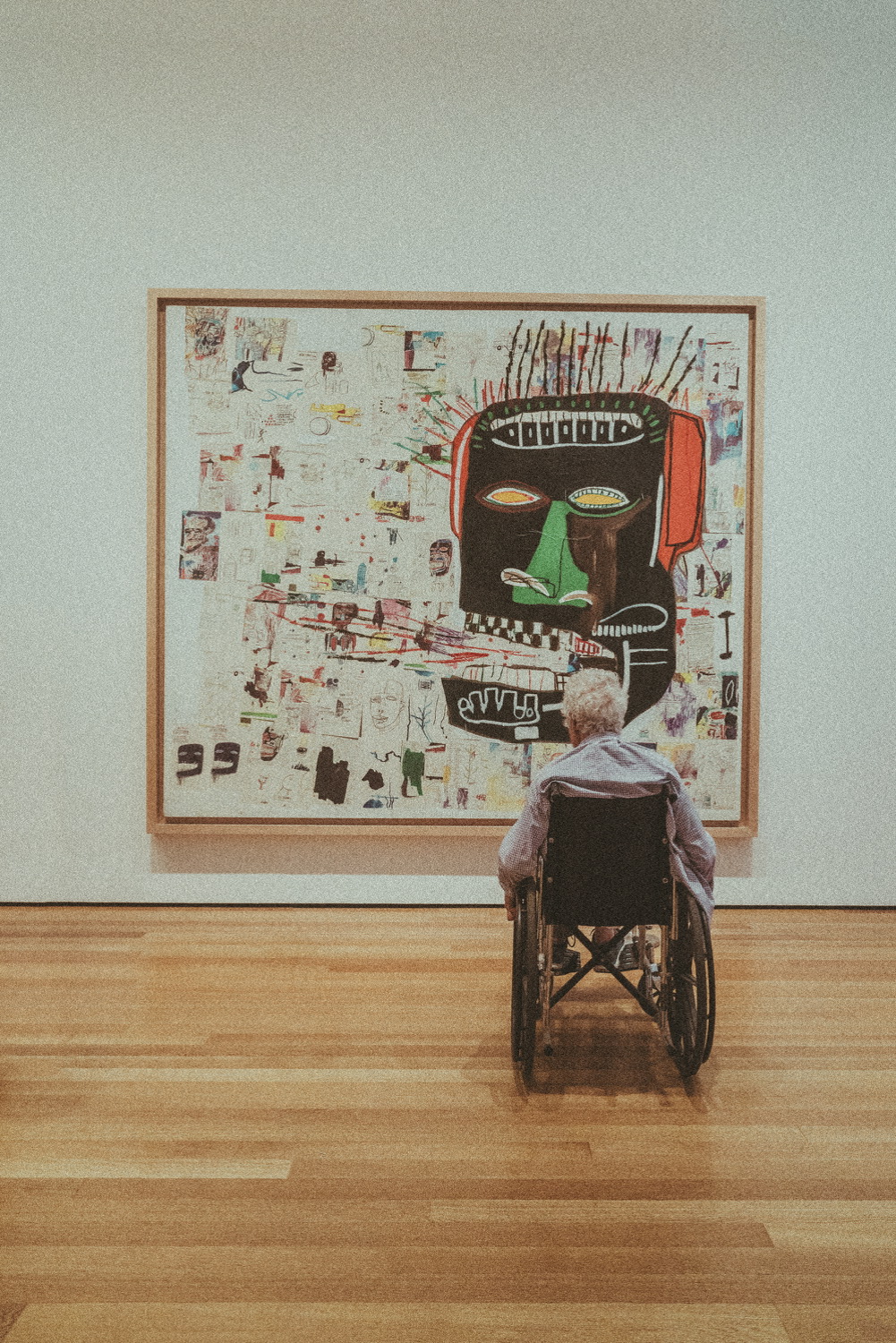 Day Two:
We started at the Natural History Museum right when they opened.  It was amazing, but pretty crowded in the summer. I definitely recommend getting there right when they open, buy your tickets at the kiosk rather than waiting for the full service line and know exactly where you want to head first. Parker could have probably spent all day here!
We were weary of waiting too long for lunch, so we hopped on the train and went to Jack's Wife Freda in the Village for lunch. It's one of my favorites.  It's not super kid-friendly in the sense that it's small and noisy, but they did have a high chair and actually a really great kids menu, too.  (A lot of you also recommended By Chloe! I've still never been, so now it's on my list for next time!)
Afterwards we made our way to Stumptown for Coffee.  It's a pretty large location and had a nice outdoor area for the kiddos. Parker made friends with a dog and we sat and chilled for a bit. In general, day two was a much more chill day for us!
Next we walked to the Washington Square Park (super short walk) and let the kids play. Ever spent so much time in the carrier that I tried to look for opportunities and pockets of time for her to crawl around. There's a splash pad there, too, but we didn't part take.
We took the train back uptown to MoMA-- probably my favorite museum in the city.  The girls love the art museums here in Austin, but this was pretty crowded.  I peeked at some of my favorite pieces and we stopped in on the new photography exhibit and then decided to walk back to our hotel.
Ever took a late afternoon snooze at the hotel and Parker and Aaron went to explore Central Park.  I was half tempted to sneak in a trip to Barneys when she woke up, but thought better of it.  We met Aaron and Parker at Heckscher Playground instead (such a great playground!) and then walked to Momofuku Milk Bar on 56th for some pre-dinner ice cream and cake truffles afterwards.  We grabbed a late dinner back at The Plaza food hall.  Not super adventurous or something that I would put on your must do list, but if you're staying in the area it really is convenient, easy with kids, and lots of yummy food options.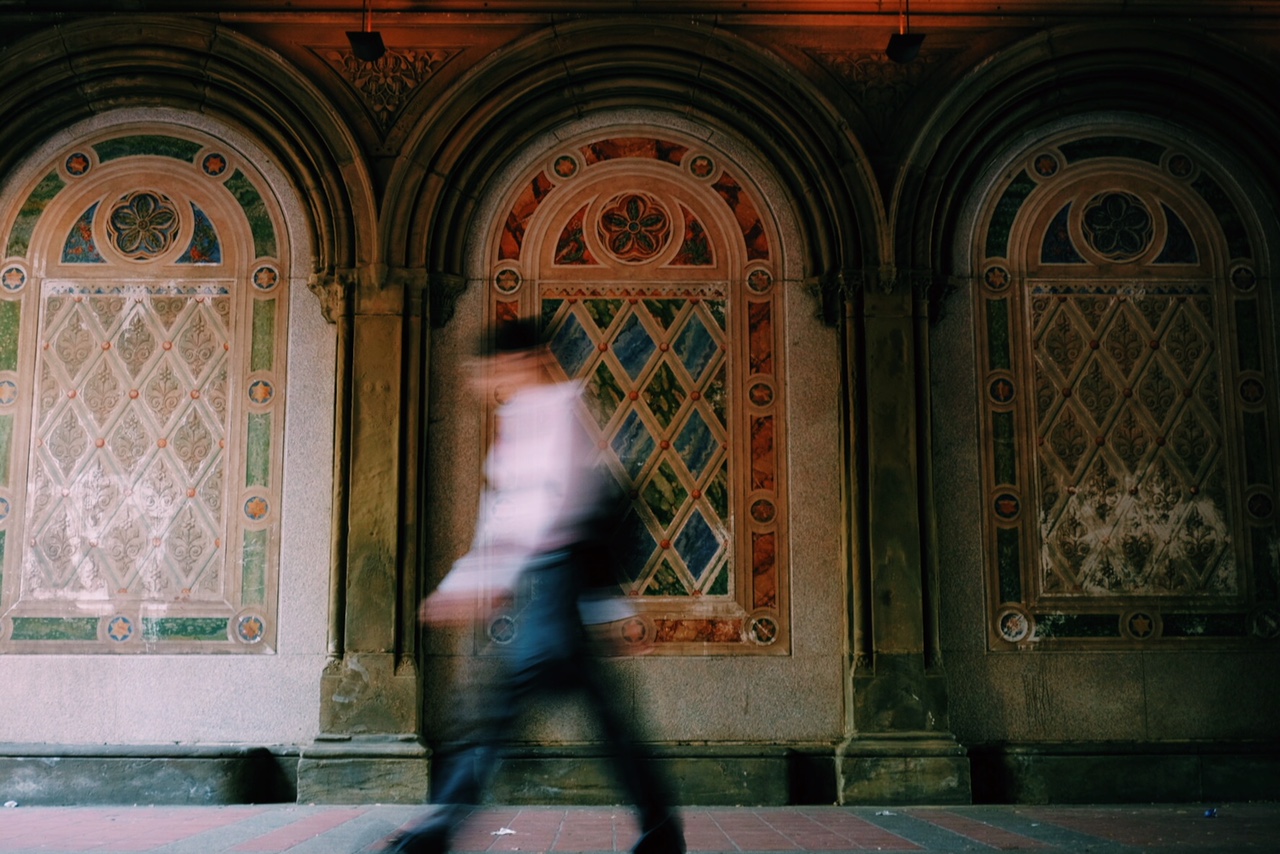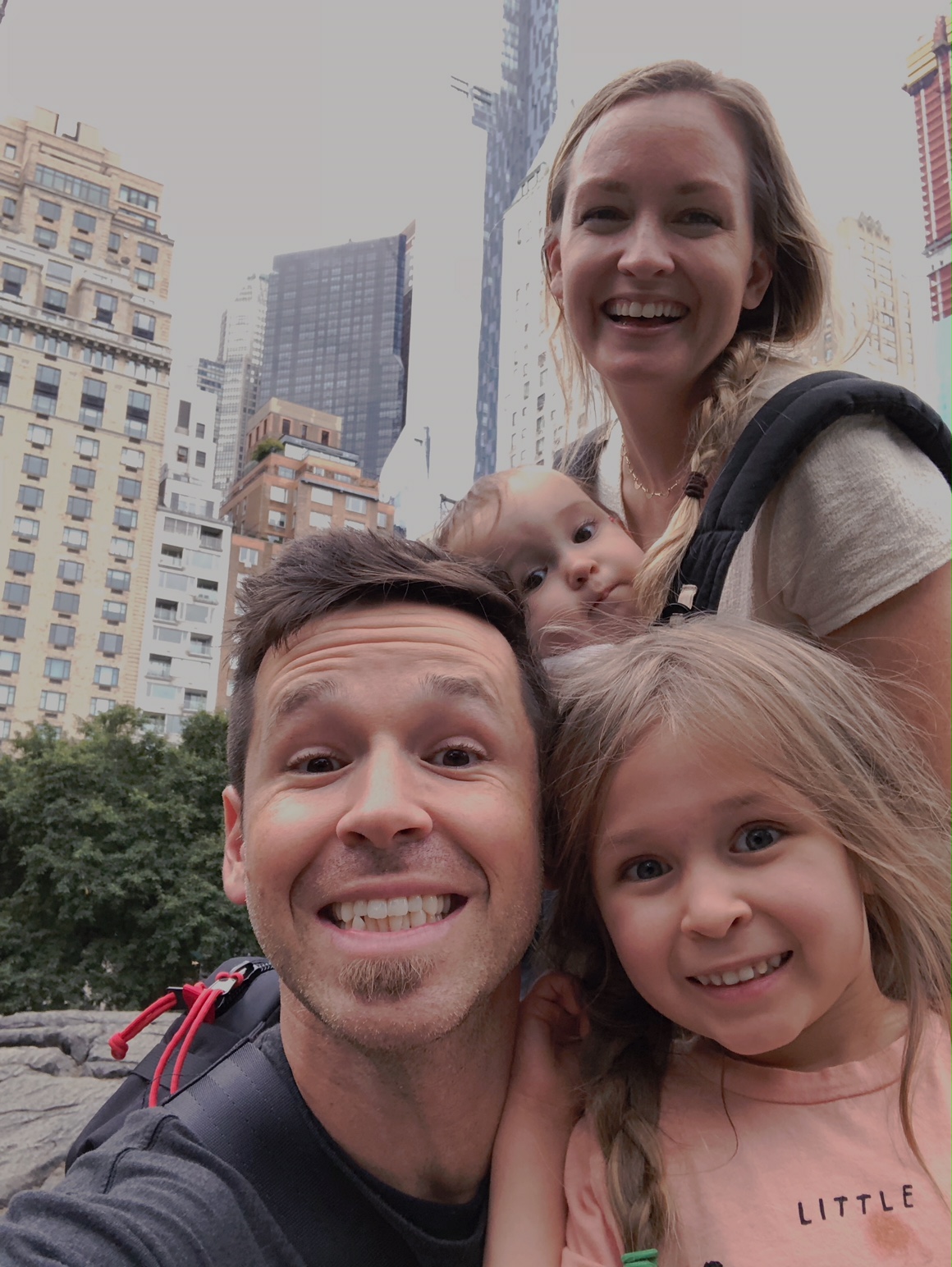 We caught a plane to Martha's Vineyard the next morning.  Our legs were sore, but our hearts were full and I would totally recommend this city with kids!
Most photos by Aaron Pinkston, a few from my iPhone
Be sure to check out my other city guides when you are travelling with little ones!
What To Do in Santa Monica with Kids
My 10 Favorite Things to do in Austin with Kids
How to do Washington D.C. with Little Kids
On The Road // Palm Springs (with kids!)
What's your favorite city to visit with your kids?  I would love to hear your experiences, recommendations and tips!  Just drop me a comment below!