Are you feeling stuck in a rut with your weeknight meals? You're not the only one! This crowdsourced list of weeknight meal ideas will give you some great inspiration to add flavor and variety into your weekly routine. From succulent stir fry to hearty baked pasta... it's all delicious, all easy to make and all nutritious!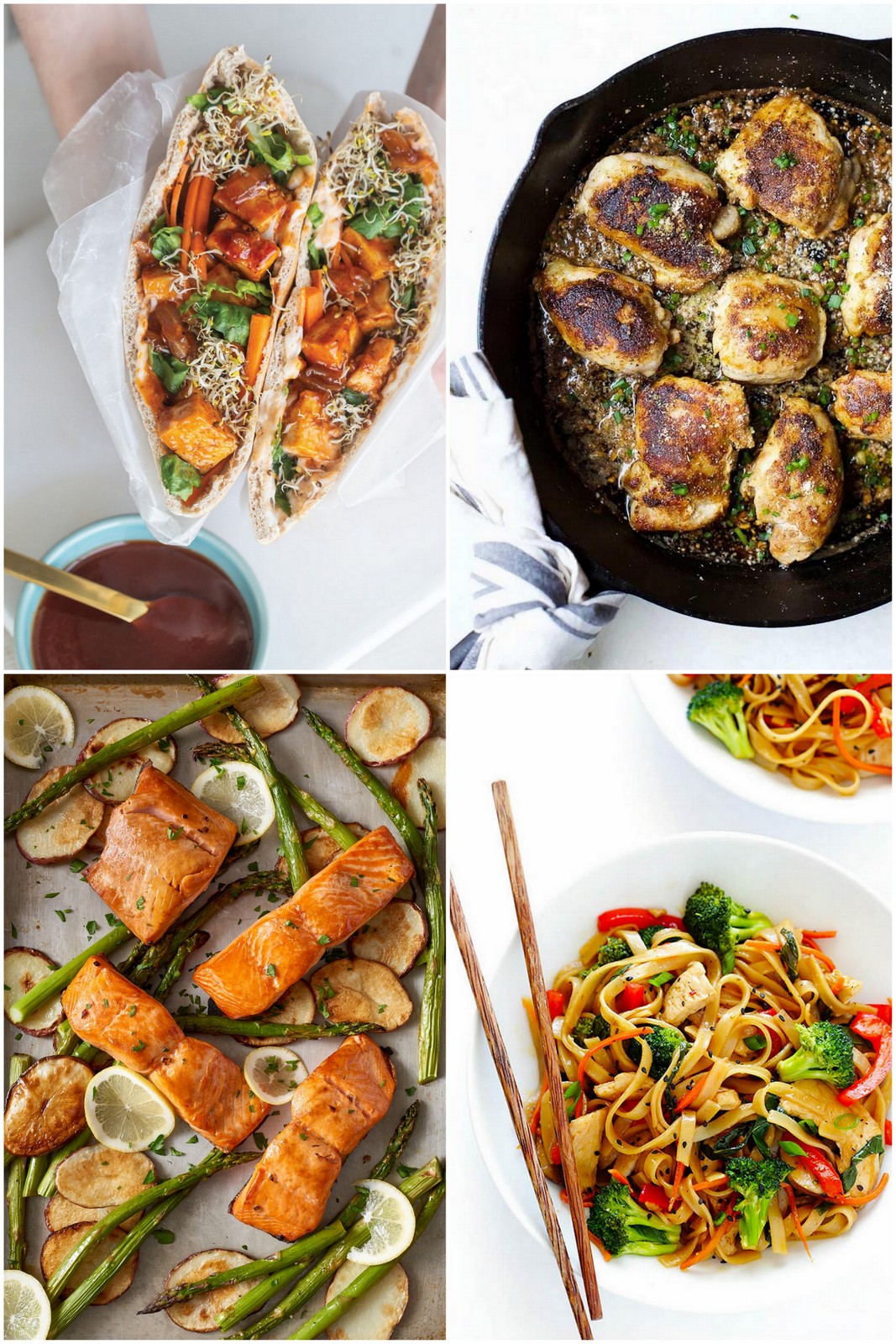 I'm no stranger to a meal plan. Every Saturday afternoon like clockwork Aaron takes Ever upstairs to put her down for her nap and I settle in with my laptop and a homemade oat milk latte, ready to tackle the plan for the week. With no shortage of food blogs and digital recipe publications, though, why does it feel like I always reach for the same weeknight meal ideas?! I posted something to this effect on Instagram stories and two types of responses came flooding in.
Your Favorite Weeknight Meal Ideas
The first were your own weeknight recipes ideas, the staples that find their way to your table week in and week out. The second, often times from the same person, was the same cry for help that I was experiencing. A few dozen "please share!s" later and I was editing this post. Almost all of these weeknight recipe ideas came from you guys on Instagram, with a few of my own are peppered in. Did we miss a favorite of yours?! Leave it in the comments!
Sheet Pan Crispy Salmon and Potatoes
This sheet pan supper will show you just how quick and simple it can be to get a salmon dinner on the table any night of the week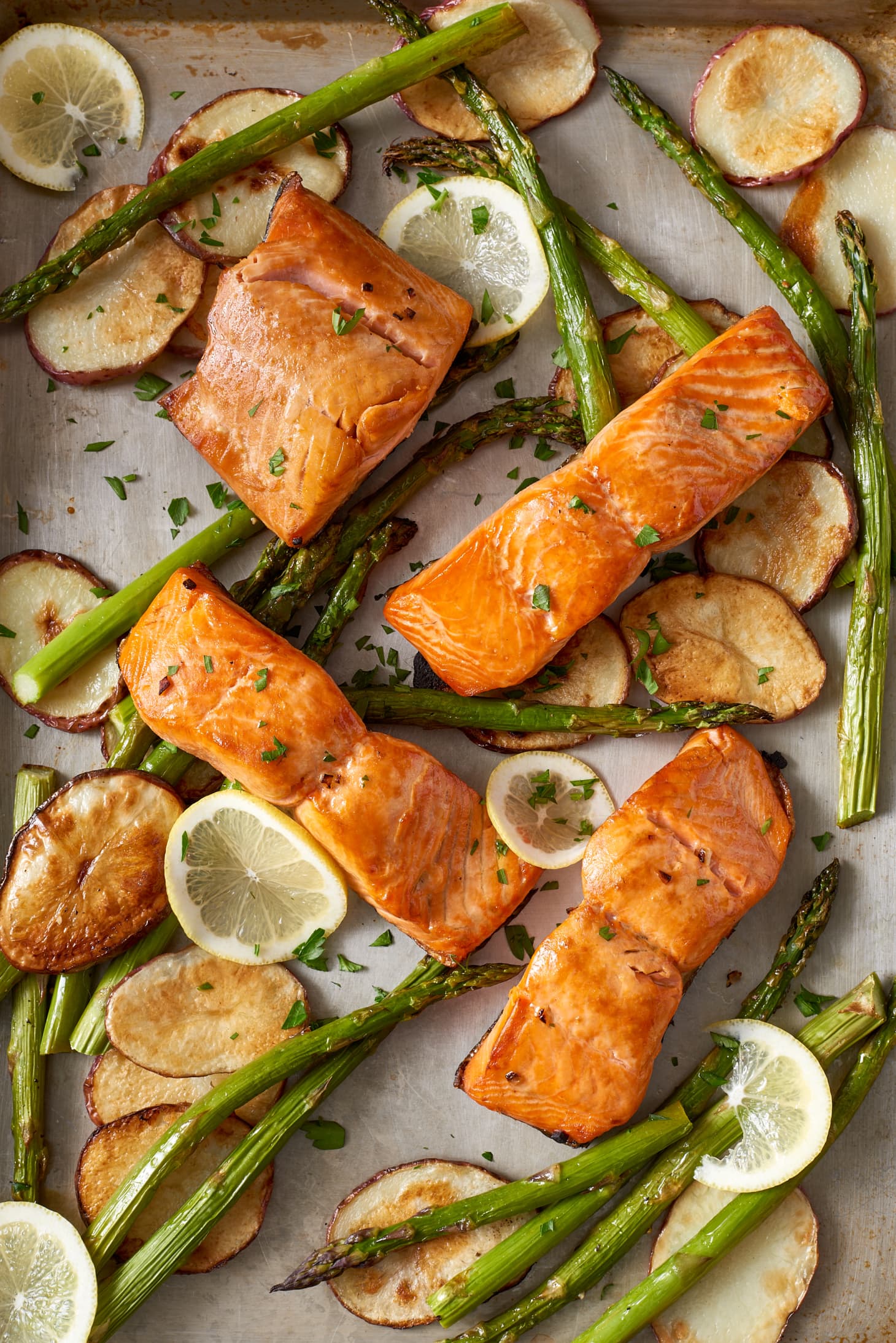 via The Kitchn
Sesame Chicken Noodle Stir Fry
It's quick and easy to make, as you might have guessed from the title. It's made with a zillion veggies from my CSA, like broccoli, carrots, and bright bell peppers. It's made extra-flavorful with a simple sesame-soy-ginger sauce.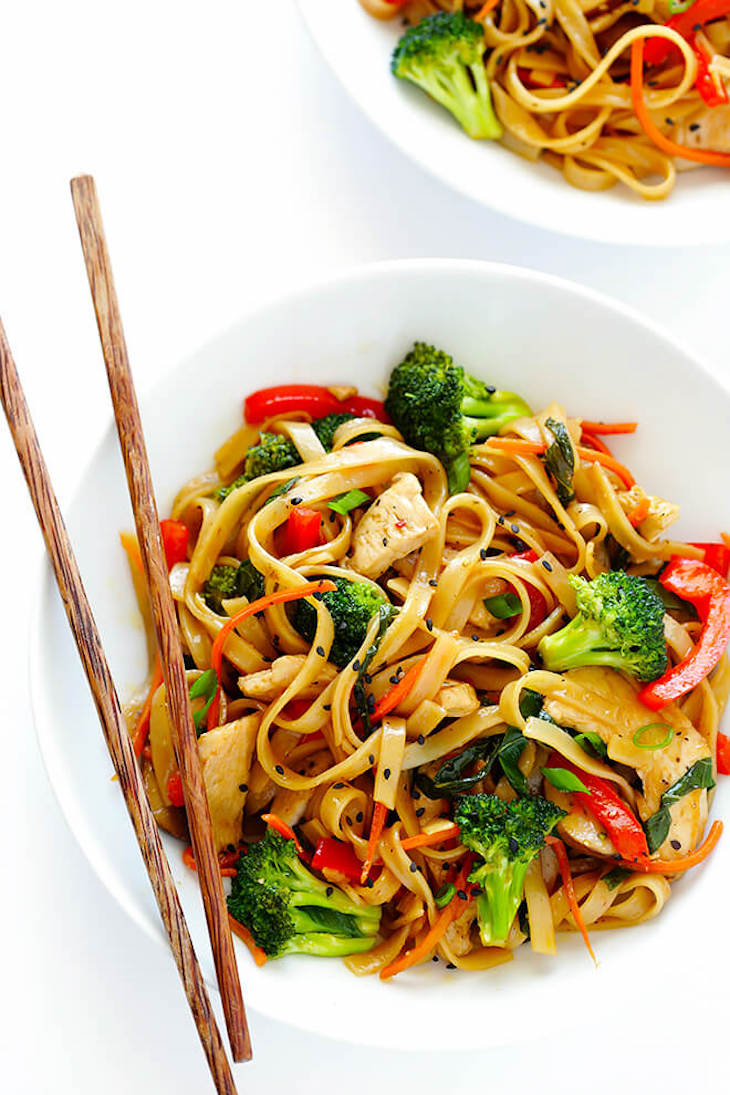 via Gimme Some Oven
Artichoke Ricotta Flat Bread
Cheesy, artichoke filled flatbread that's so easy to make!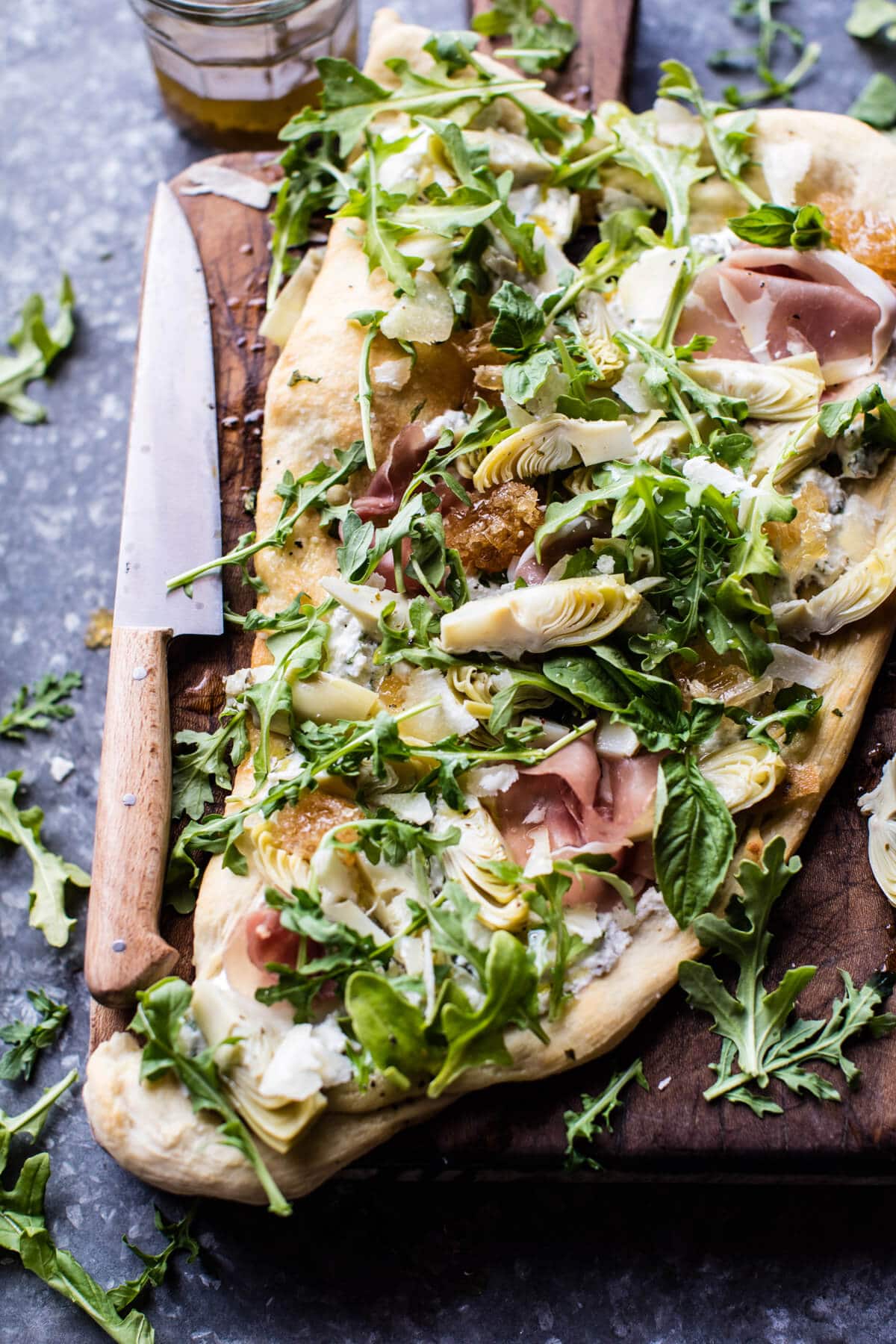 Skillet Garlic Parmesan Chicken Thighs
These Skillet Garlic Parmesan Chicken Thighs are an amazing one-pan skillet meal. A mouth-watering recipe done in 30 minutes with only 262 calories per serving!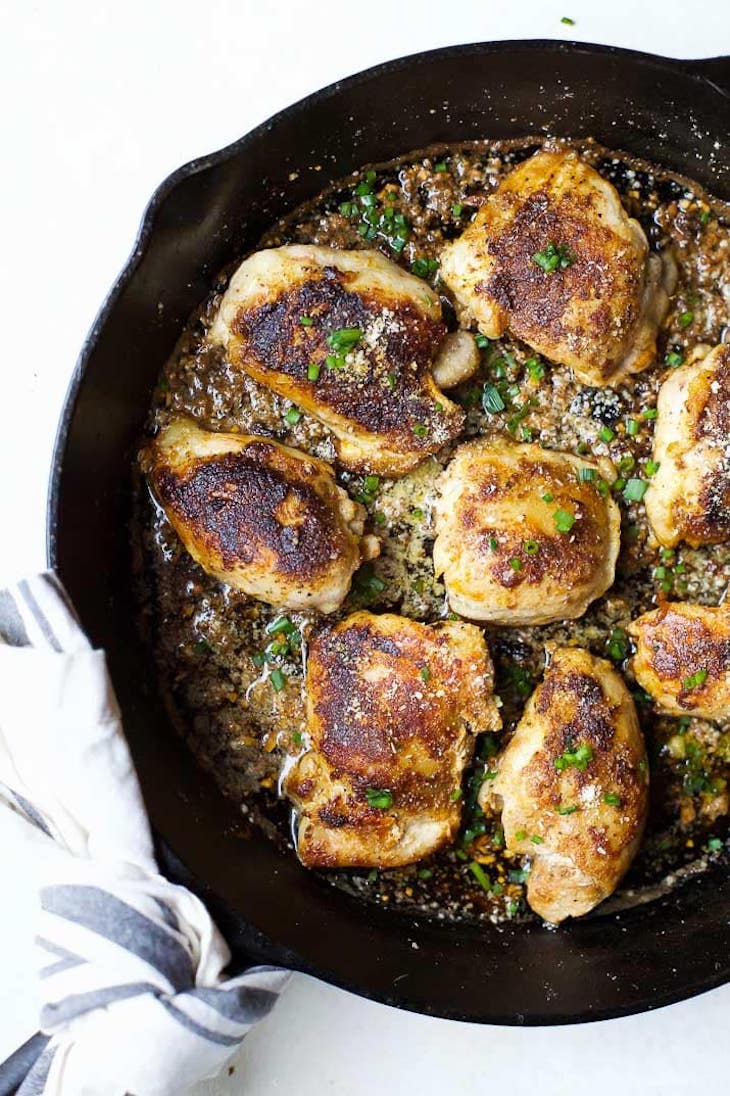 BBQ Tofu-Stuffed Pita Pockets
These delicious BBQ tofu-stuffed pita pockets let you keep vegan on a budget. Even if you're not vegan, these little pockets of yumminesswill be a hit!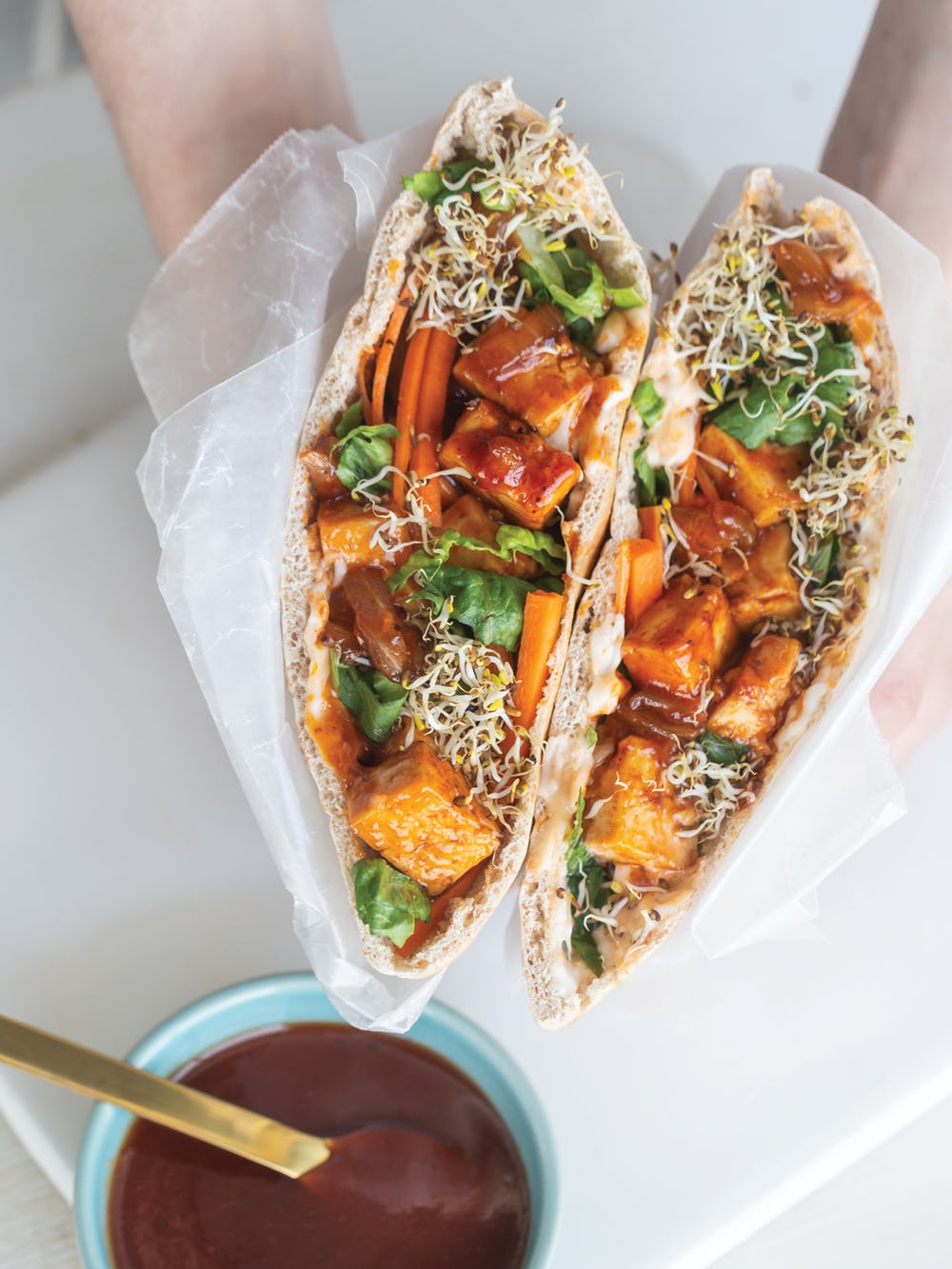 via Brit + Co
Veggie Curry
This curry is quick and easy to make and packed full of veggies. Made with summer squash, swiss chard, tomatoes, carrots, chickpeas, and coconut milk served over farro.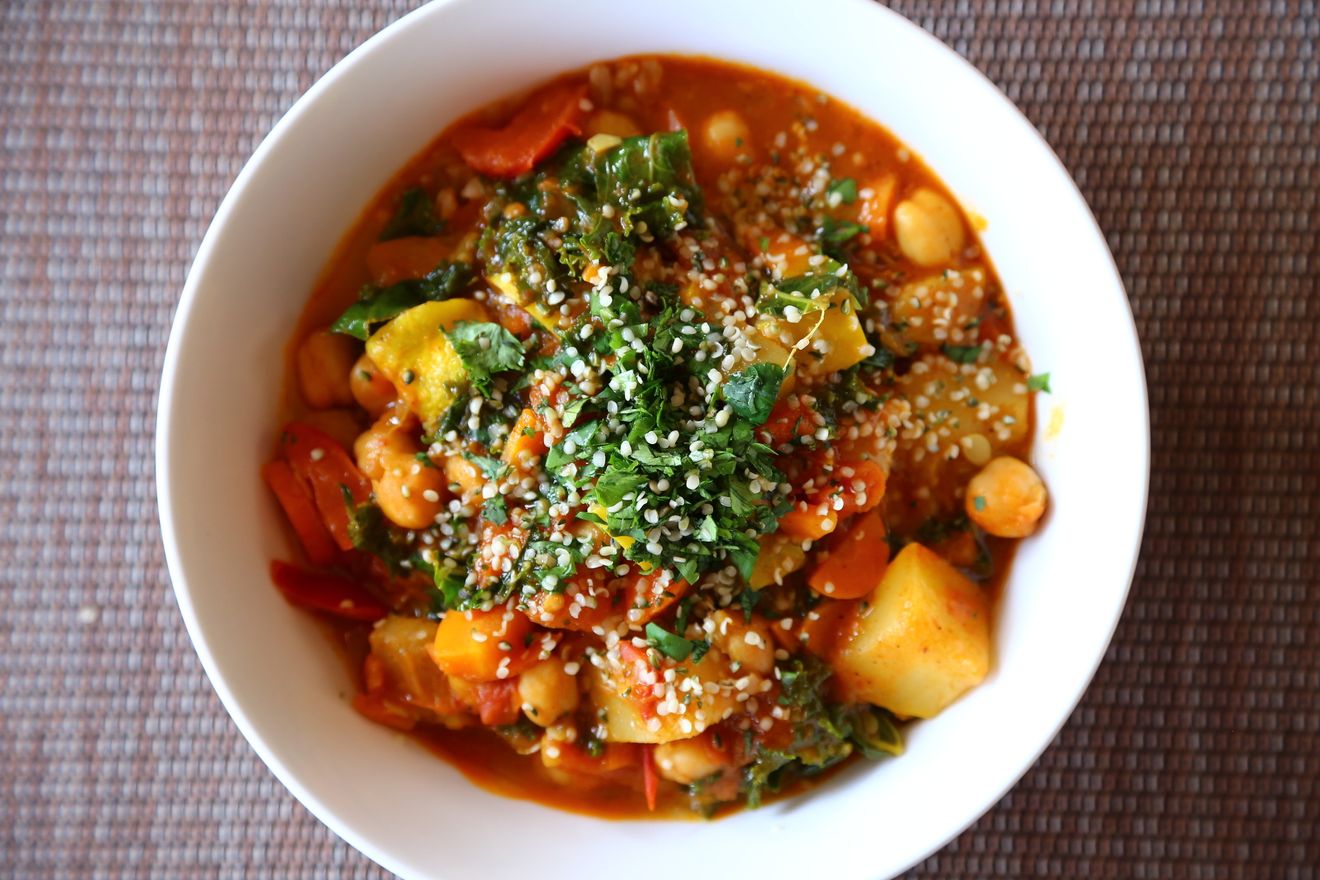 via Food 52
Baked Potato Bar
Create a Baked Potato Bar for your next party, potluck or tailgating event. It's a fun and festive way to feed a crowd, and the topping possibilities are endless.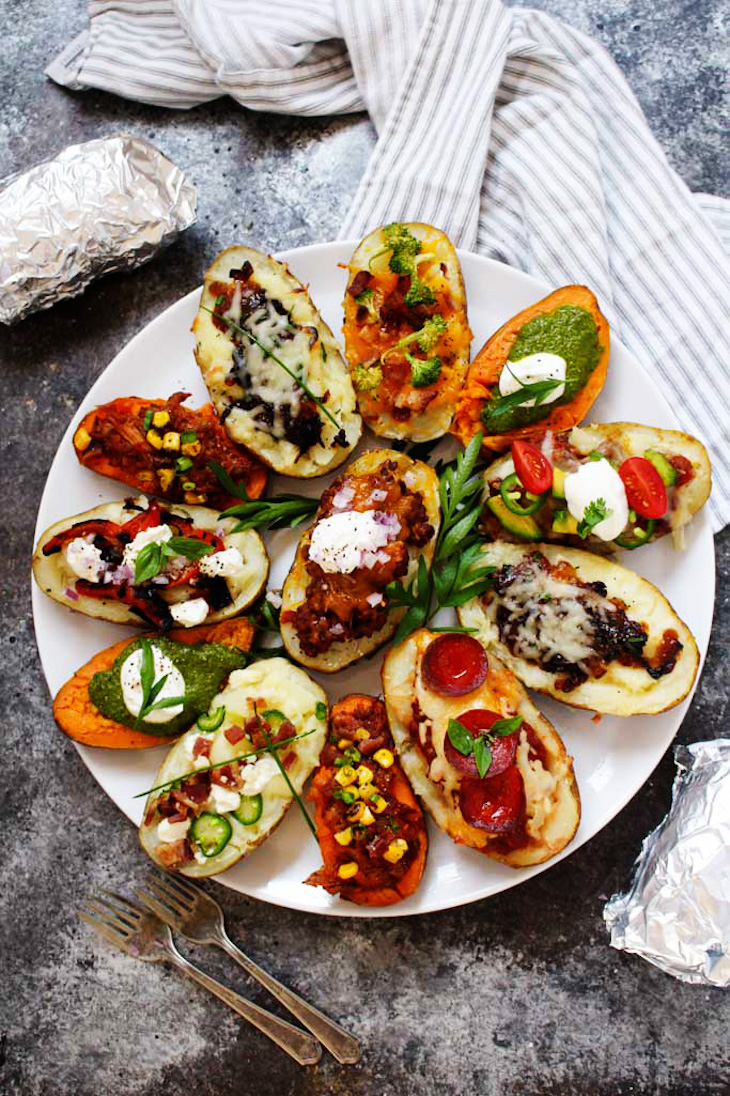 Crack Slaw
This is hot, fast, easy and loaded with everything good for you protein and veggie-wise. What a way to get in your vegetables!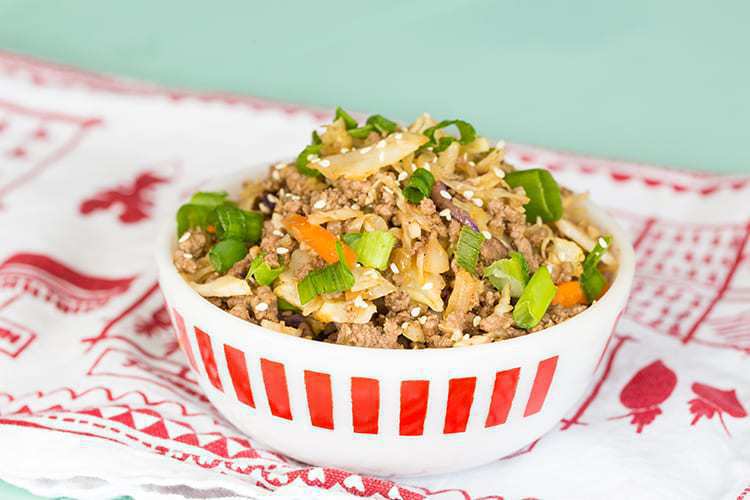 Sausage and Bell Pepper Skillet
This is pretty much the easiest of easiest 5-Ingredient weeknight meals. Aside from the minimal ingredient list, the actual process of putting this together and getting it on the table is pretty much the easiest thing ever.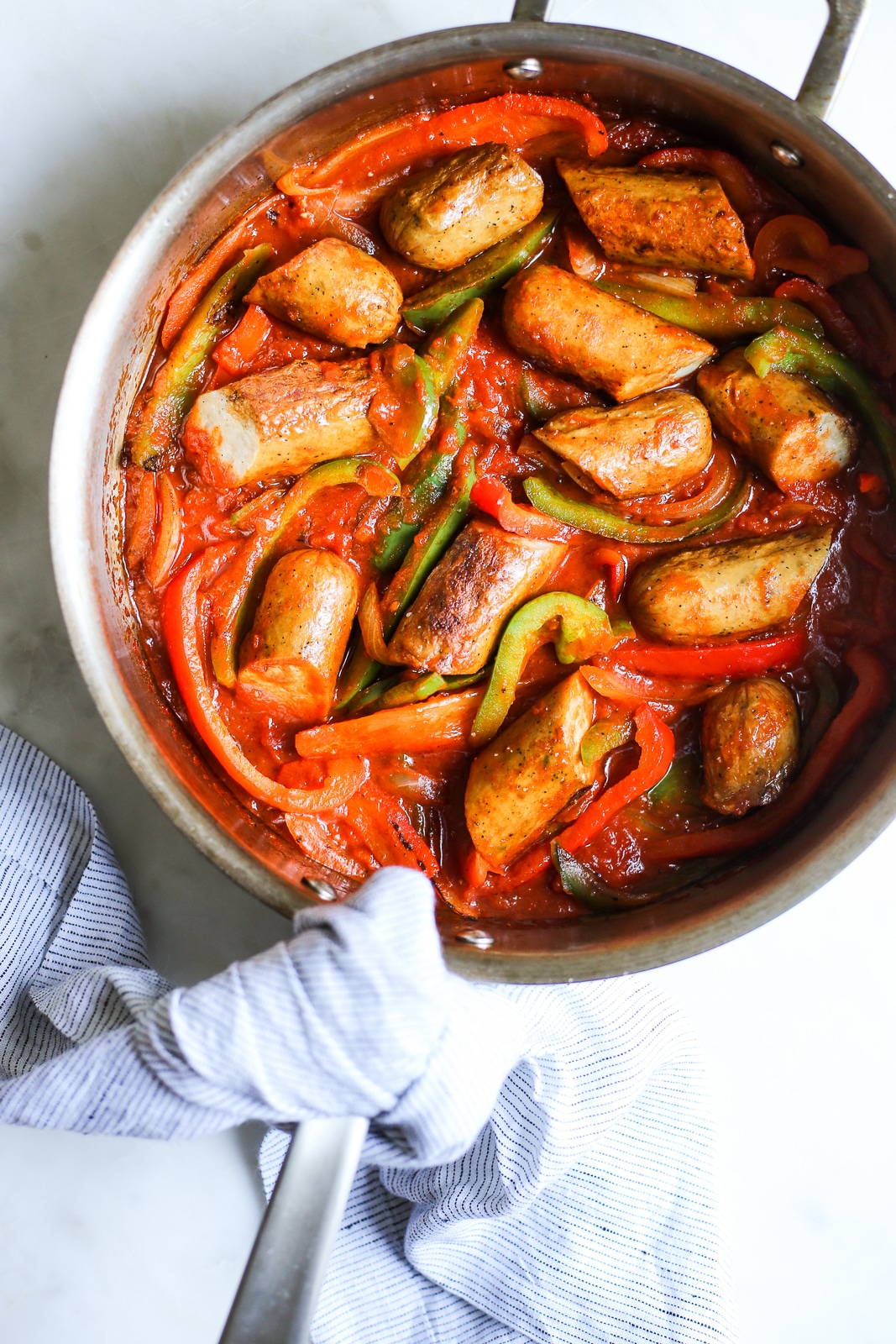 via The Defined Dish
Baked Pasta with Broccoli Rabe and Sausage
This is a dream of a baked pasta dish — not too heavy, not to rich or gooey, tons of crunchy edges.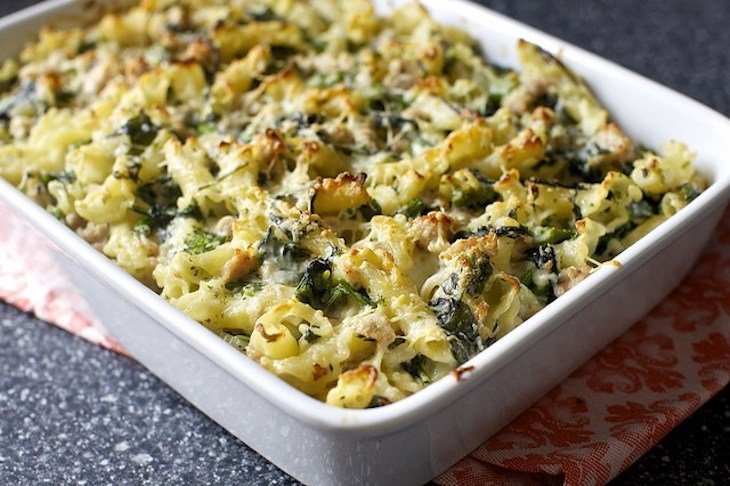 via Smitten Kitchen
Turkey Meatballs with Garlic and Pesto
Turkey meatballs with pesto and garlic are seared and simmered in a rich and delicious tomato sauce. serve over a bed of spaghetti, it's the perfect dinner
via Cafe Delites
Korean Pulled Pork Tacos
This korean spiced pulled pork + kimchi is the best combo ever! A real crowd pleaser!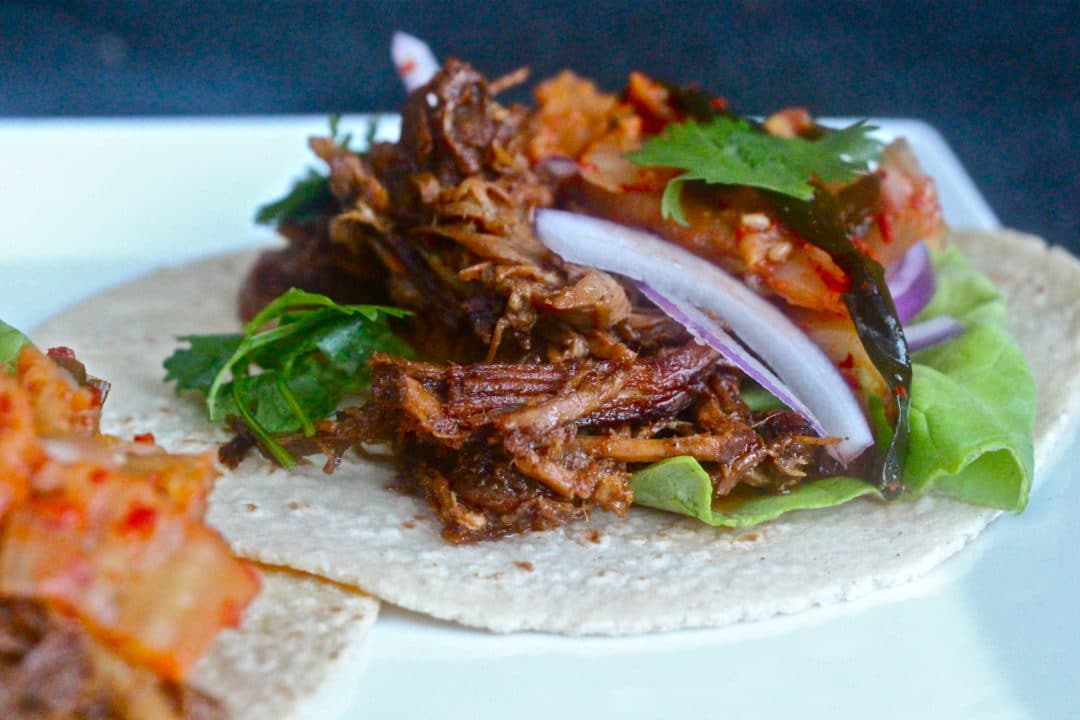 via The Defined Dish
Asian Quinoa Meatballs
Healthy, nutritious and packed with so much flavor. Perfect as an appetizer or a light dinner!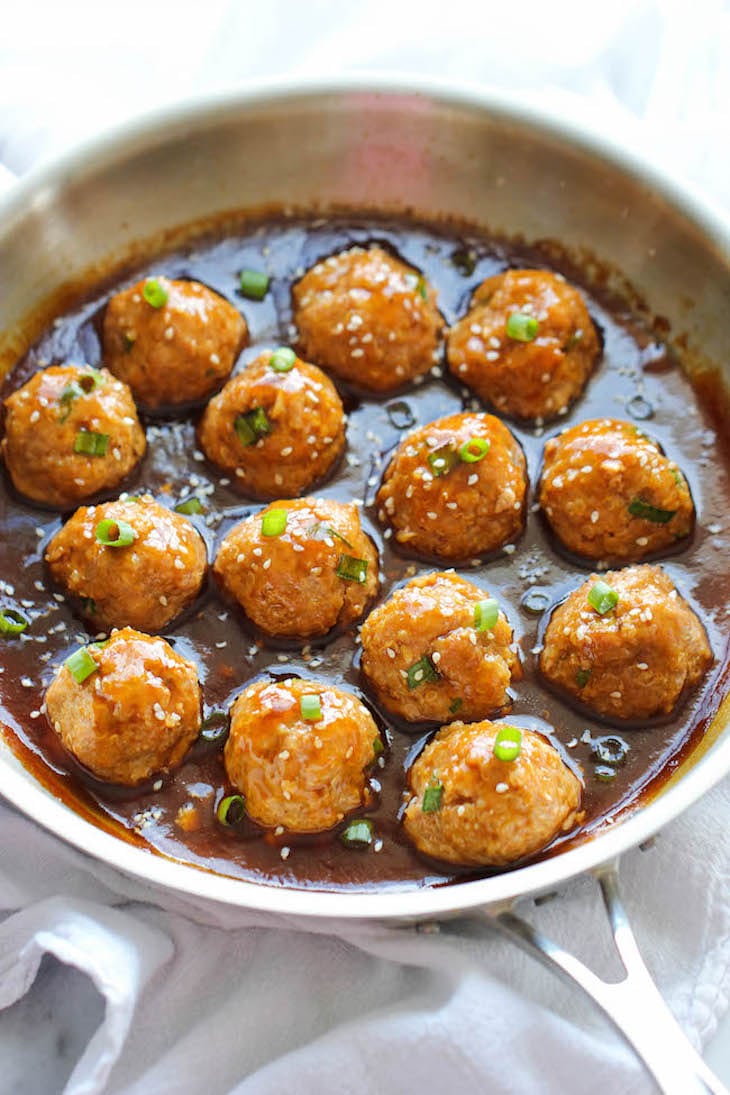 via Damn Delicious
Five-Ingredient Trader Joe's Tacos
Easy, delicious and perfect for weeknights meals!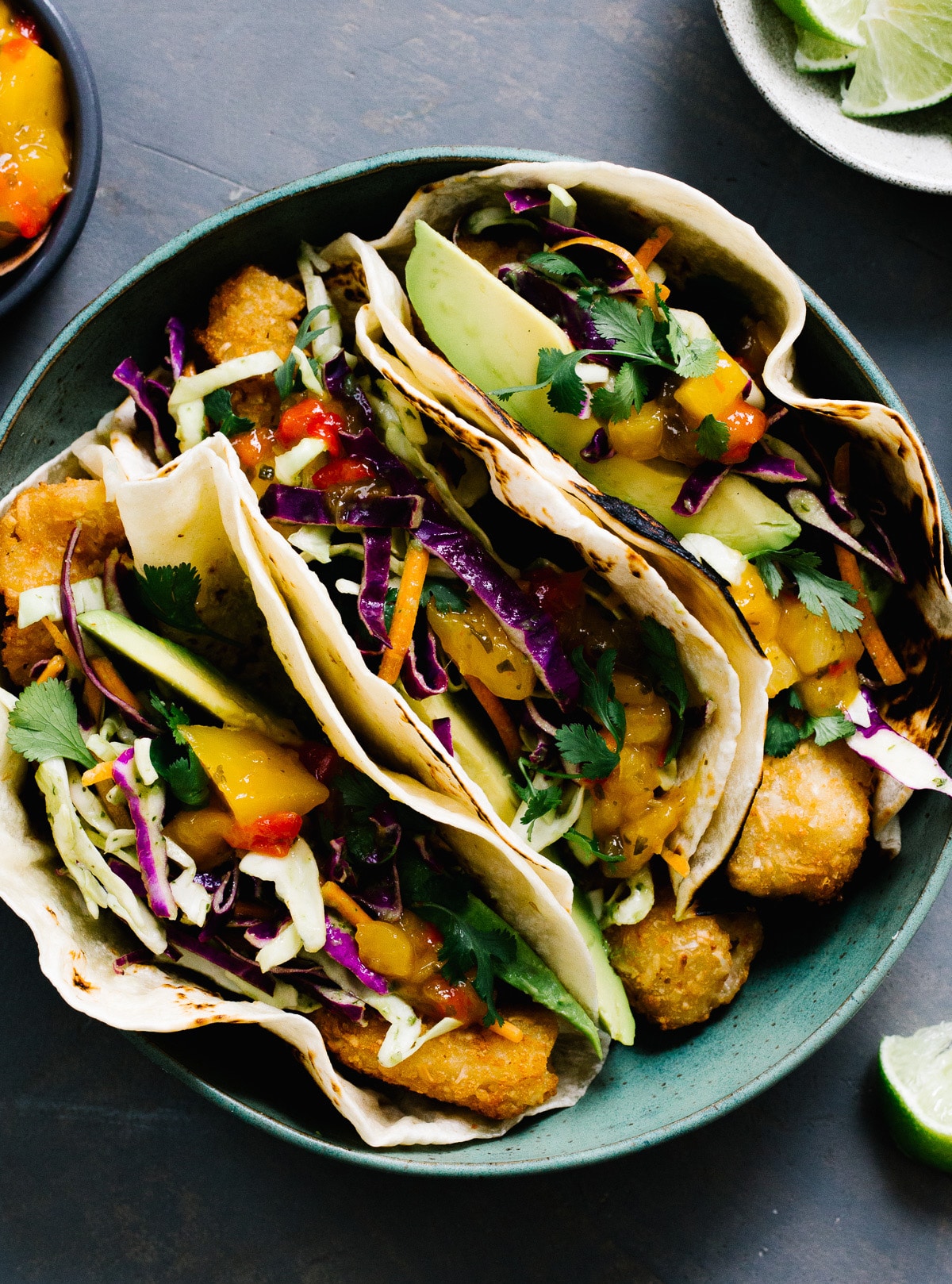 via Cup Of Jo
Turkey, Green Bean and Basil Stir Fry
Another satisfying Whole30 dinner made with 5 ingredients!
via The Defined Dish
Spaghetti Margherita
If it's summer and you're thinking of every way to avoid turning on the oven, but not eat a sandwich or salad! Making Spaghetti Margherita involves the stove top, but only for a few minutes.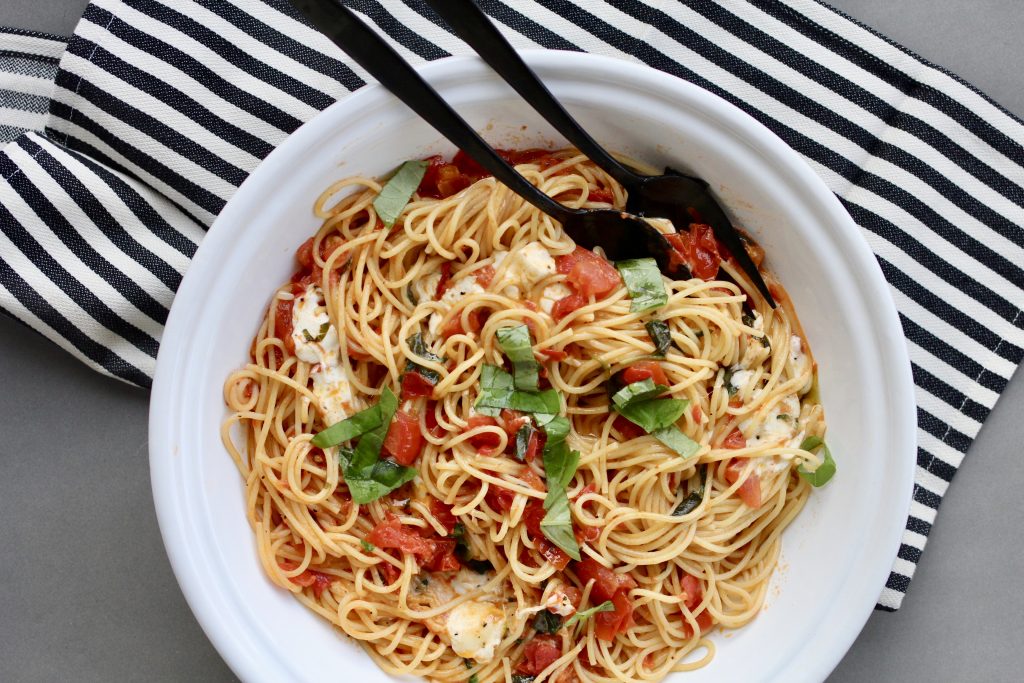 Sheet Pan Chicken Chili Lime Fajitas
An easy sheet pan dinner filled with restaurant style chicken fajitas, peppers, and a zesty chili lime seasoning. Be sure to serve with guacamole, sour cream, and salsa.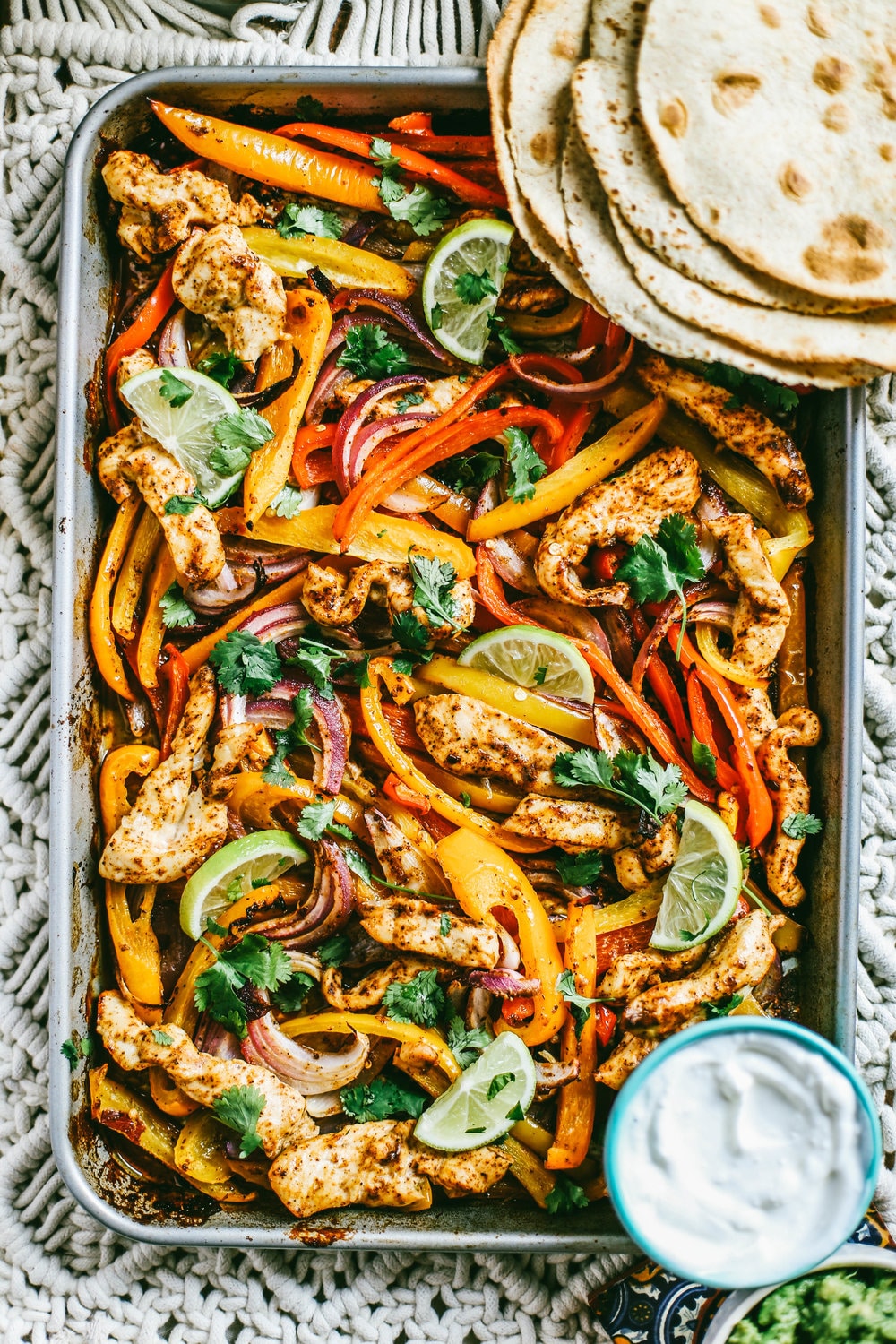 Shrimp Scampi
You won't believe how easy this comes together in just 15 minutes – perfect for those busy weeknights!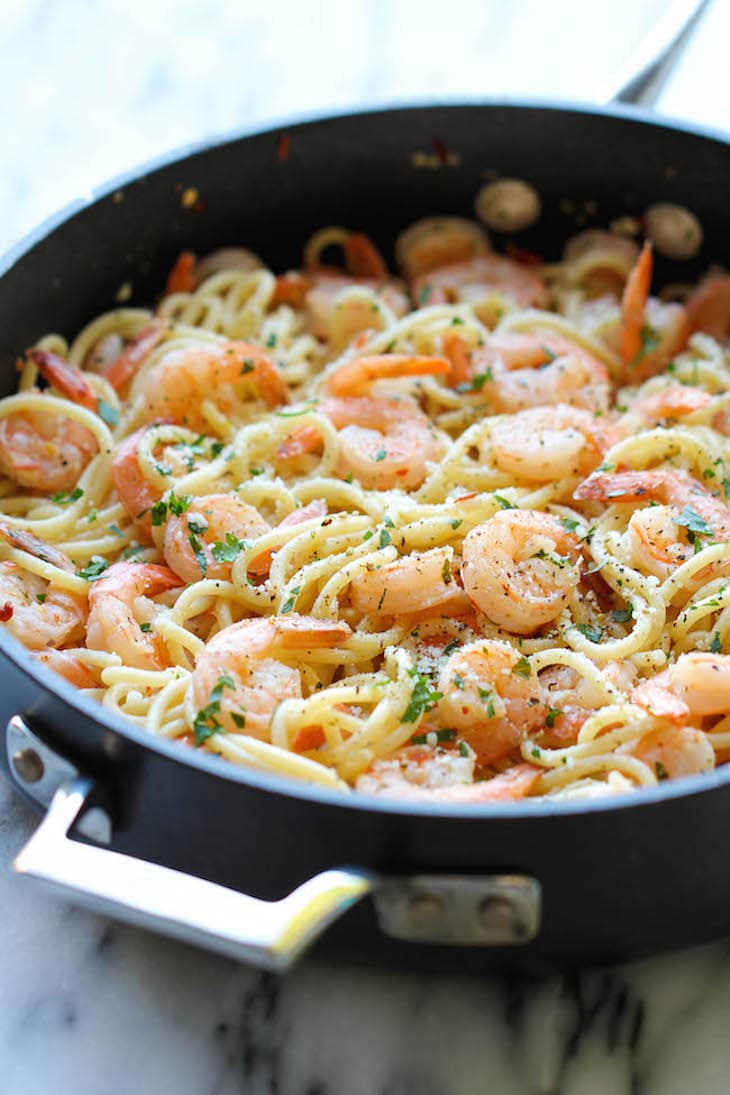 via Damn Delicious
Pea, Zucchini and Pesto Orzo
There's lots of hidden greens in this Pea, Zucchini and Pesto Orzo. It's a complete meal and only takes 15 minutes to make. A leisurely 15 minutes – no rushing, no pulling out every appliance in your kitchen. This is a really simple but really tasty dinner that only requires a handful of ingredients.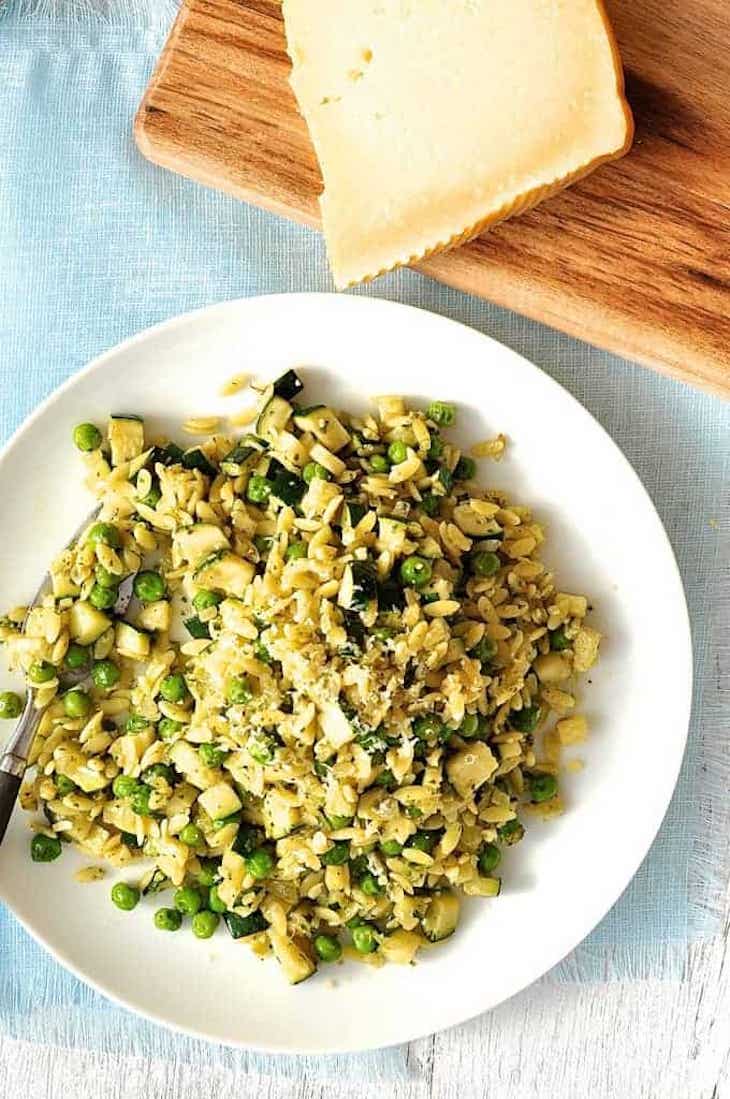 via Recipe Tin Eats
Italian Sausage Soup
Italian Sausage Soup with collard greens, white beans and diced tomatoes. Your entire family is going to love this easy to make hearty soup, and even better it's only 180 calories a serving! This creamy soup is dairy free, keto and low carb.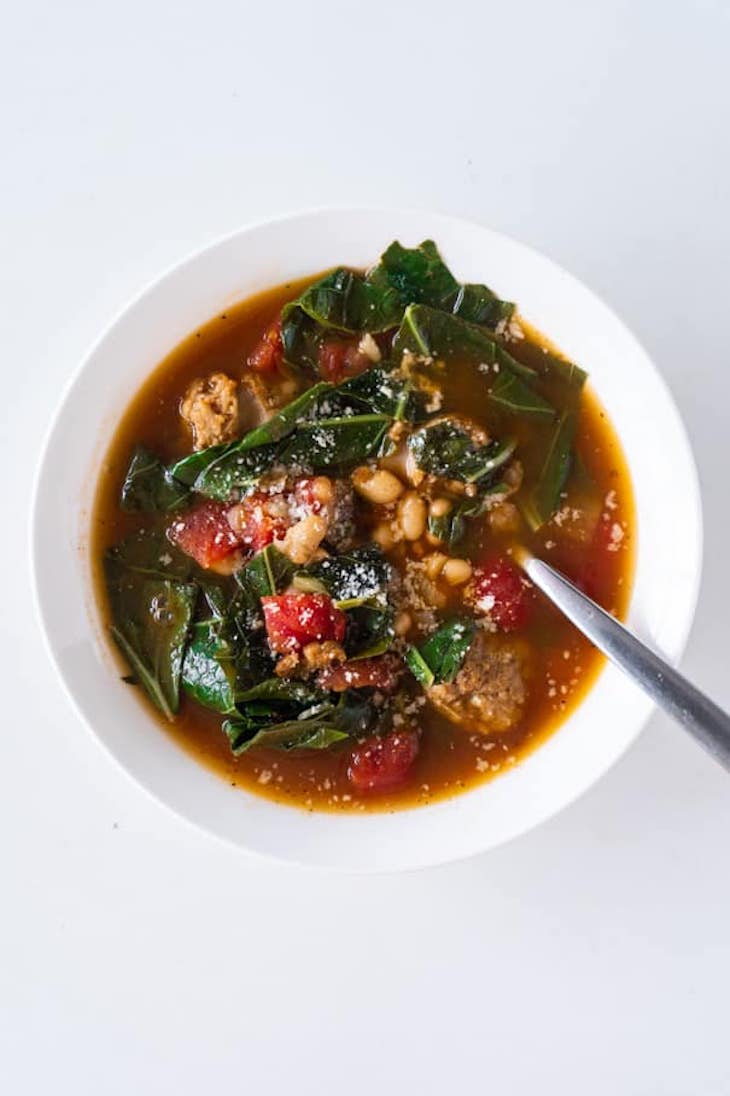 Greek Lemon Chicken Bowls with Sizzled Mint Goddess Sauce
Bringing you all some springtime vibes with these Greek Lemon Chicken Bowls with Sizzled Mint Goddess Sauce. Grilled Greek chicken (or roasted), served bowl style with orzo, roasted peppers, avocado, feta cheese, cucumbers, and the most deliciously addicting sizzled mint goddess sauce. It doesn't get easier or more delicious than this grilled chicken…simple, quick, extra colorful, super flavorful, and so delicious. The perfect dinner to serve any night of the week!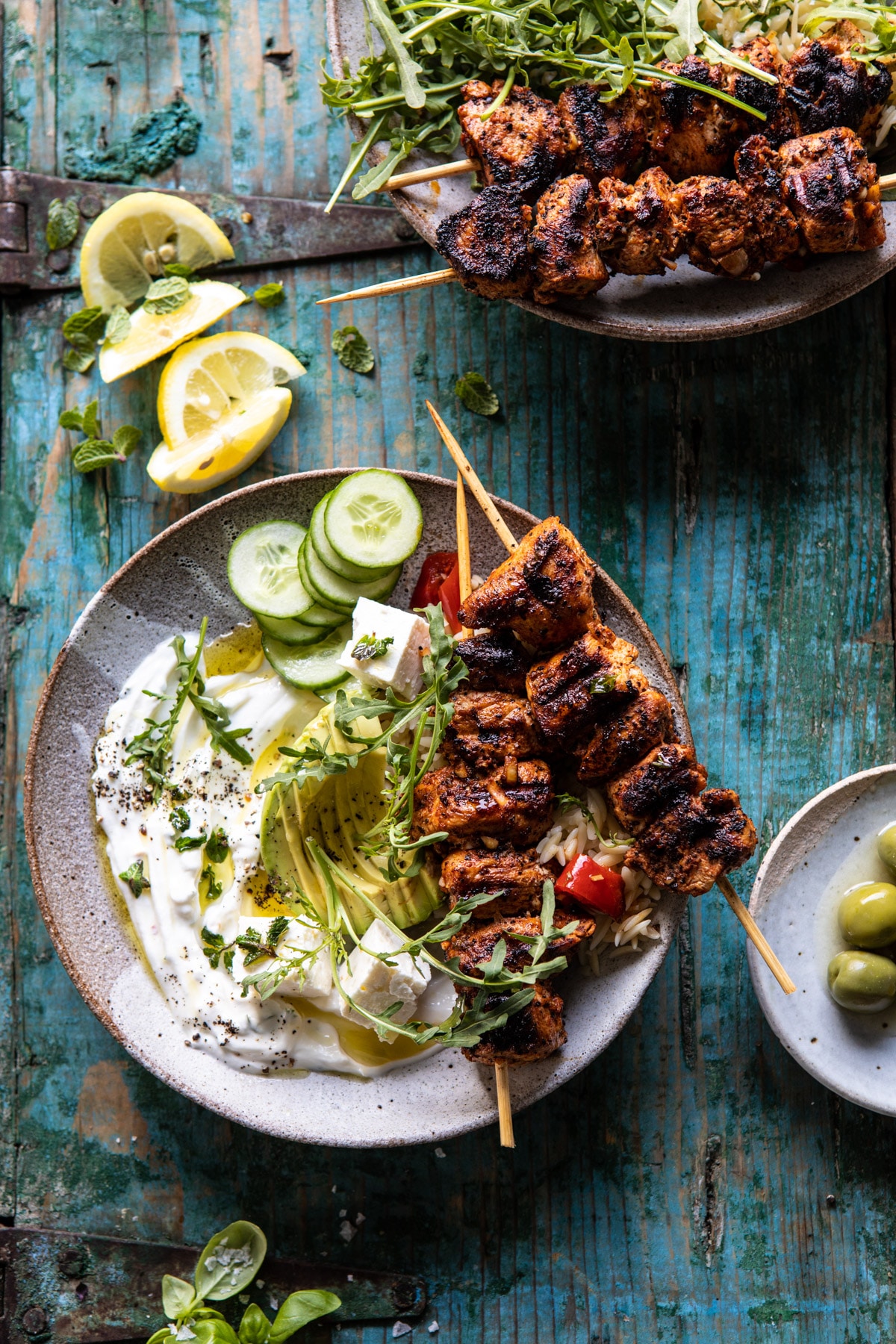 Grilled Chicken with Peanut Sauce
Chicken with Peanut Sauce is like chicken satay without all the work of skewering. Delicious grilled chicken is drizzled with a spicy Thai peanut sauce.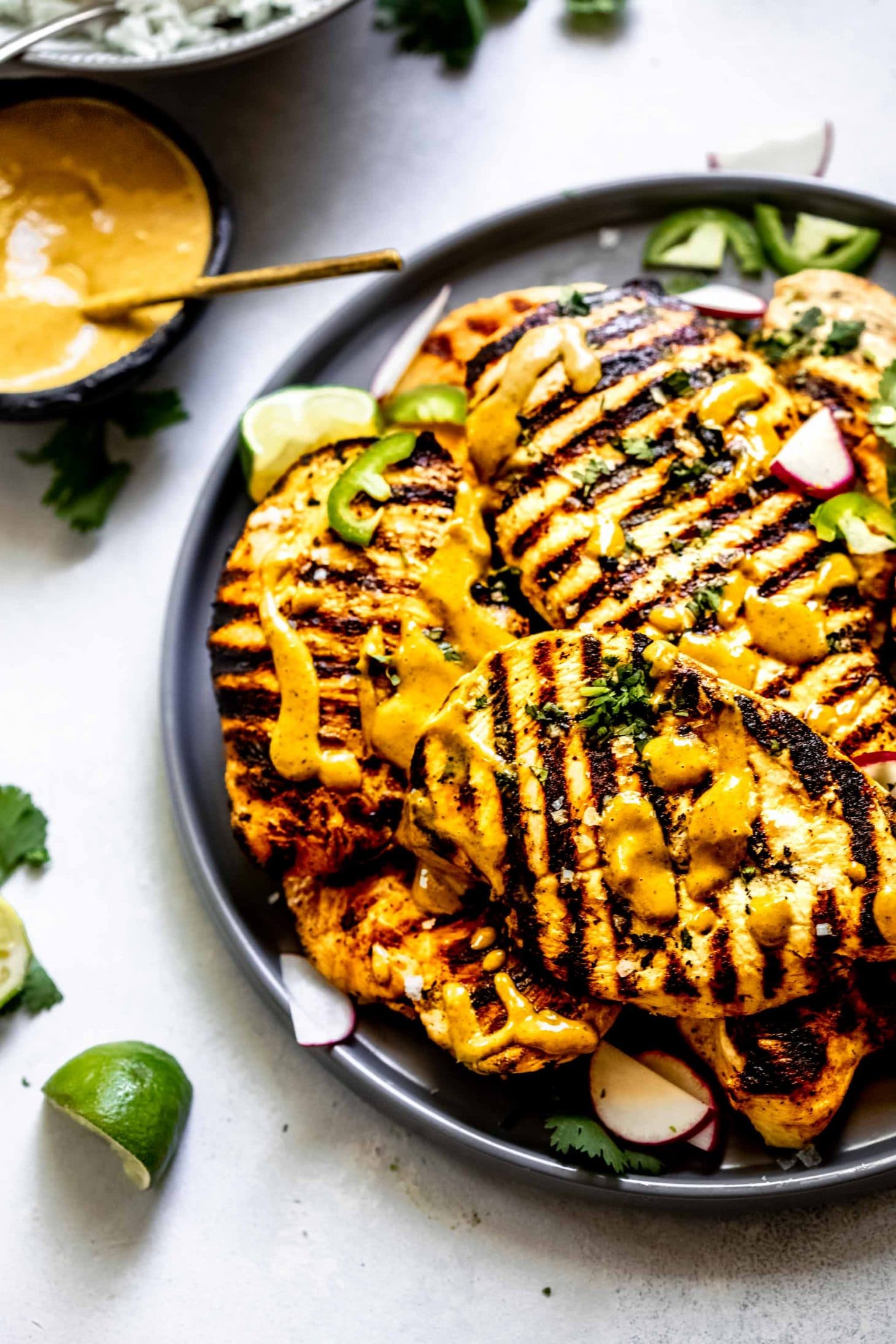 Veggie Spring Rolls
These veggie spring rolls are fresh, flavorful and fully loaded! They'll take just 20 minute to throw together and will stay fresh in the fridge all week. Don't even get me started on this creamy, dreamy tangy peanut sauce – you'll want to put it on everything!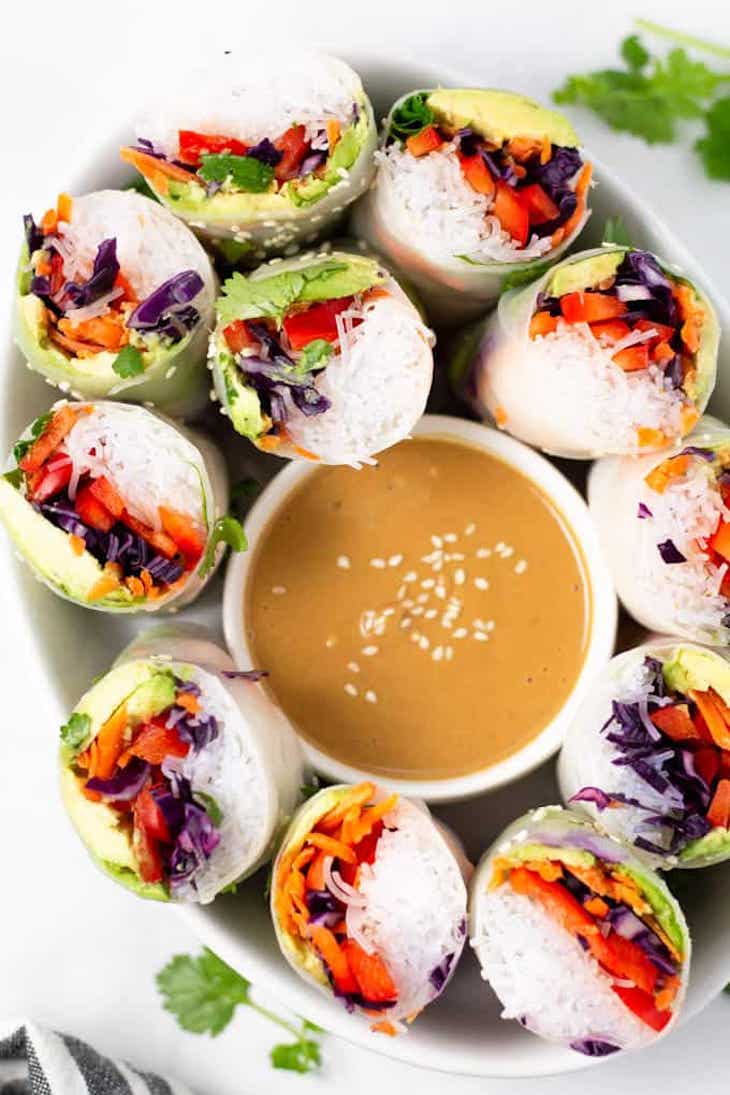 via Midwest Foodie
Pan Seared Salmon with Balsamic Glaze
Fresh salmon, pan-seared, then oven-roasted to finish – topped with a delicious balsamic glaze, This Glazed Salmon Recipe is SO GOOD!!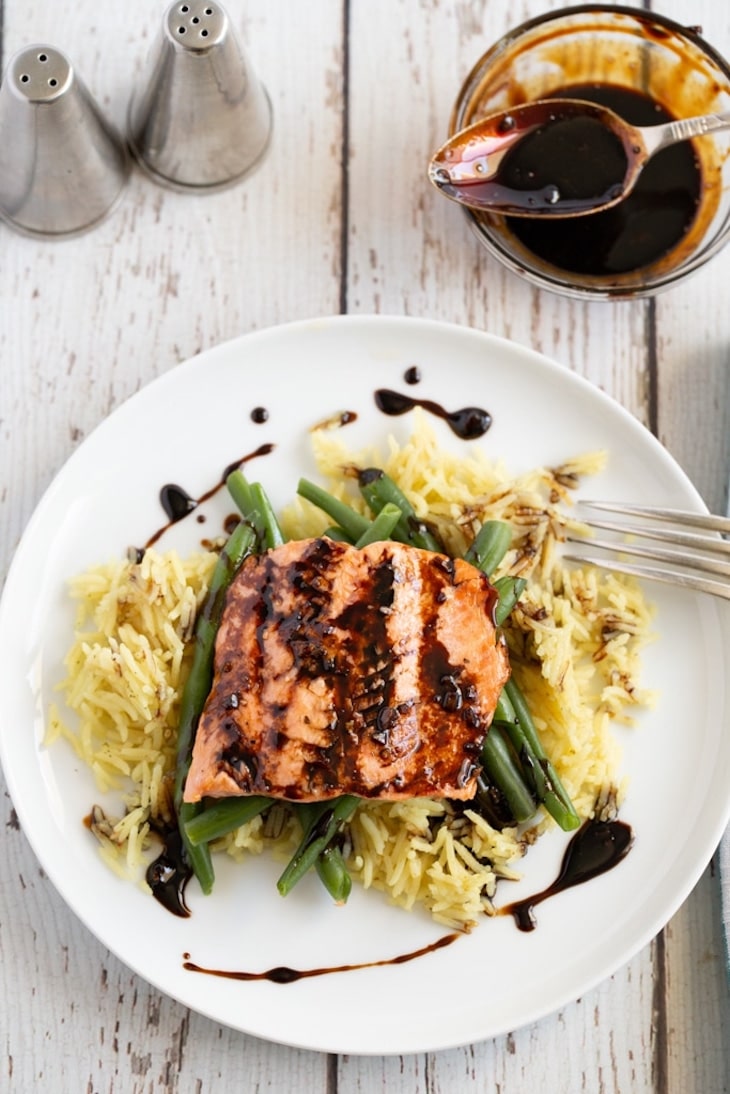 via Kylee Cooks
Chicken Biryani
A luxurious delight known worldwide and loved by all. Beautiful melange of chicken layered with long grain basmati rice and then slow cooked (dum) to perfection. Presenting to you today, the most easiest and the best Chicken Biryani recipe you will firmly adore.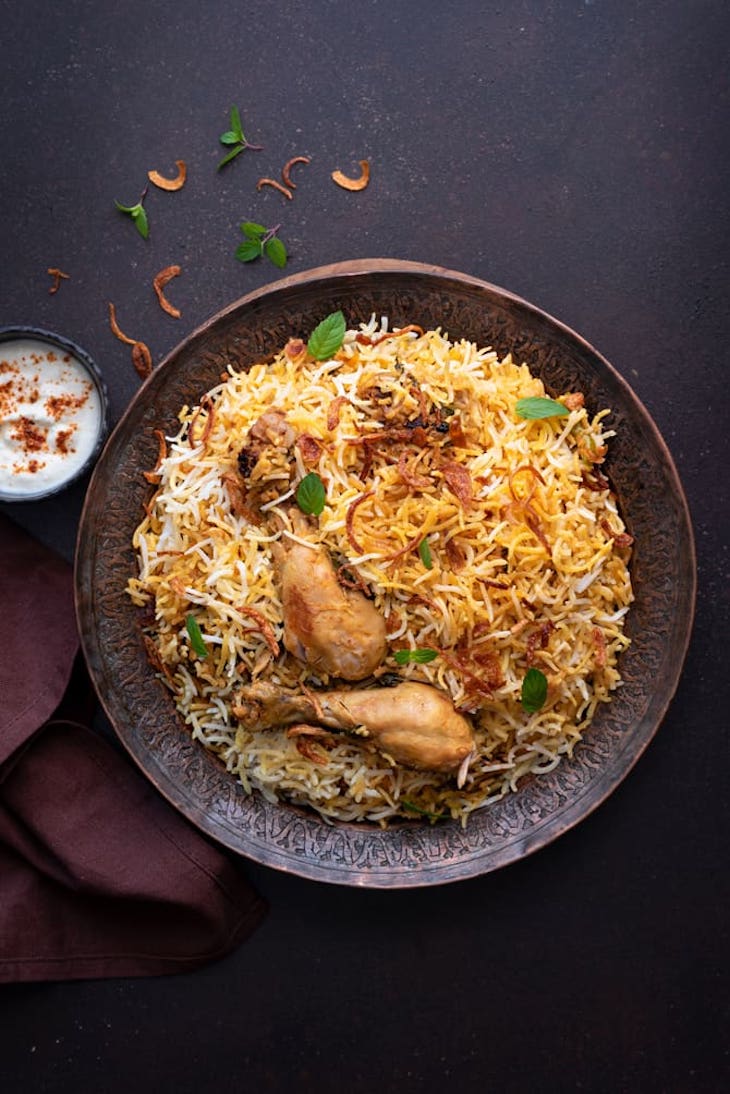 Sheet Pan Chicken Shawarma with Sesame Sweet Potatoes and Hummus
Middle eastern seasoned chicken, roasted with sesame sweet potatoes, and served up bowl style with hummus, fresh naan, arugula, and even some feta too. This quick cooking, easy sheet pan dinner comes together in just about an hour. It's colorful, healthy, and beyond good.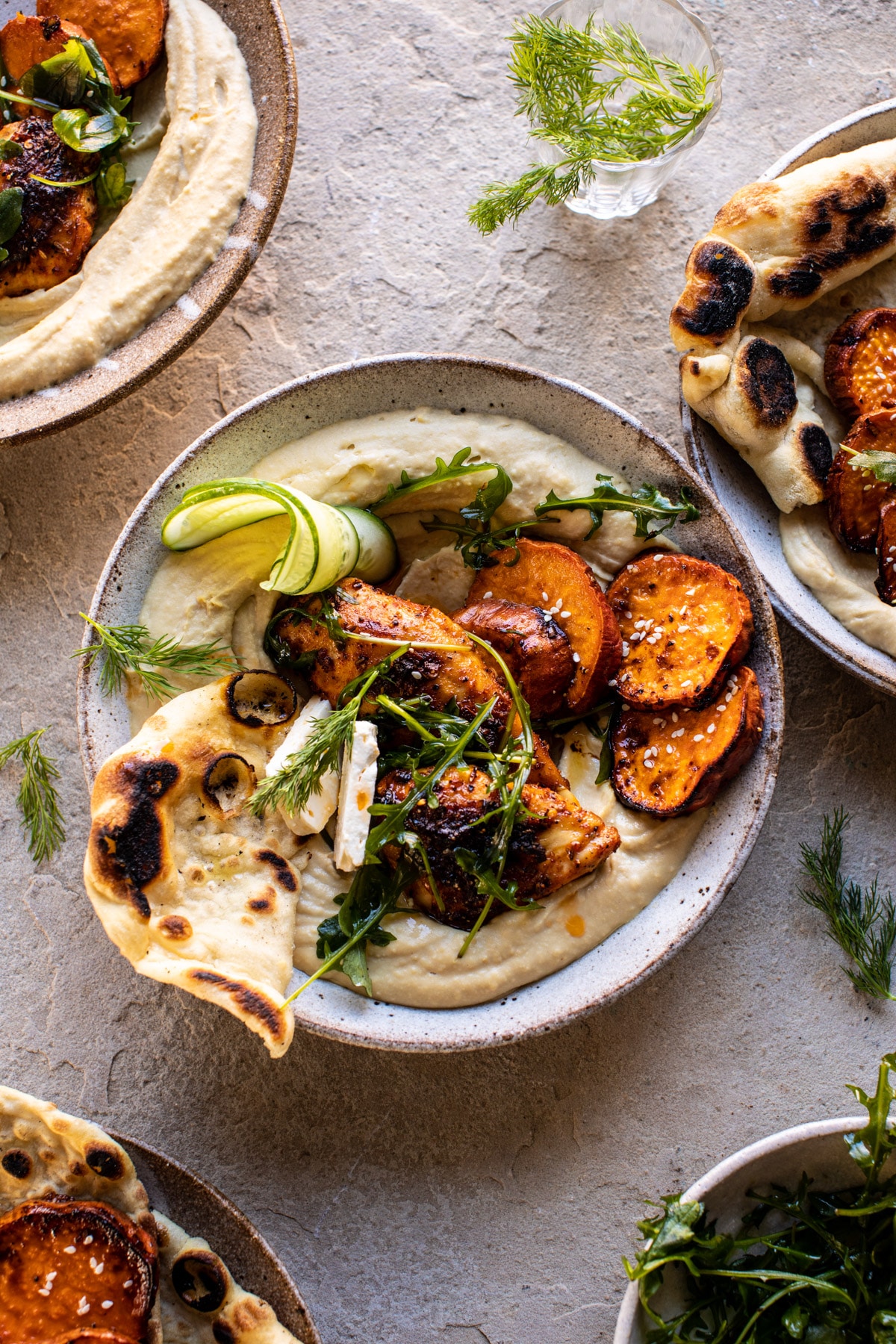 Easy Weeknight Meals To Add To Your Weekly Meal Rotation
It's so easy to get stuck in a rut when it comes to evening meals, but these recipes are really straight forward to make and and it's a great way to try new things and add variety to your week. Be sure to bookmark this page so when you are looking to try something new, you have a whole heap of recipes to chose from!
Weeknight Meals You Are Cooking!
What I love most about this list, is that they were all suggested by my Instagram followers! People, just like you are making these meals every night and they are so good they are happy to recommend them! Thank you so much to everyone for sharing your favorites with me!
Top Tips For Weeknight Meal Prep
Prep in the morning. For easy weeknights, dinner plans should begin in the morning. Jean said that the best way to save money at the grocery story is to only go once a week. This means that some of your week's protein — raw chicken or beef — will be in the freezer. Start off your day by taking frozen meat from the freezer to the fridge for defrosting.
Practice 'double dipping'. Once the family finishes off a healthy dinner, wrap up dinner leftovers and put them in the fridge for tomorrow's lunch. In one easy step you've cleaned up dinner and packed tomorrow's mid-day meal.
If you really want to get more bang for your buck, double the recipe so you'll have plenty to bring for leftovers — and also freeze to eat at a much later date.
Get creative! Plan delicious variations using the same recipe base. For example, when making a giant batch of meatballs. You can use them throughout the week in different recipes, like meatballs with spaghetti, meatballs on tortilla pizzas or meatball kebabs with roasted veggies.
Check Out These Other Meal Plan Ideas
I always love hearing from you, so if you have a favorite I haven't covered here, be sure to leave me a note in the comments! I loved compiling this list and discovering more great recipes!