09/20/2019
Are you stuck in a rut with your weeknight dinners? I have just the thing for you! This crowdsourced list of weeknight meal ideas will give you some great inspiration to add flavor and variety into your weekly routine. All delicious, all easy to make and all nutritious.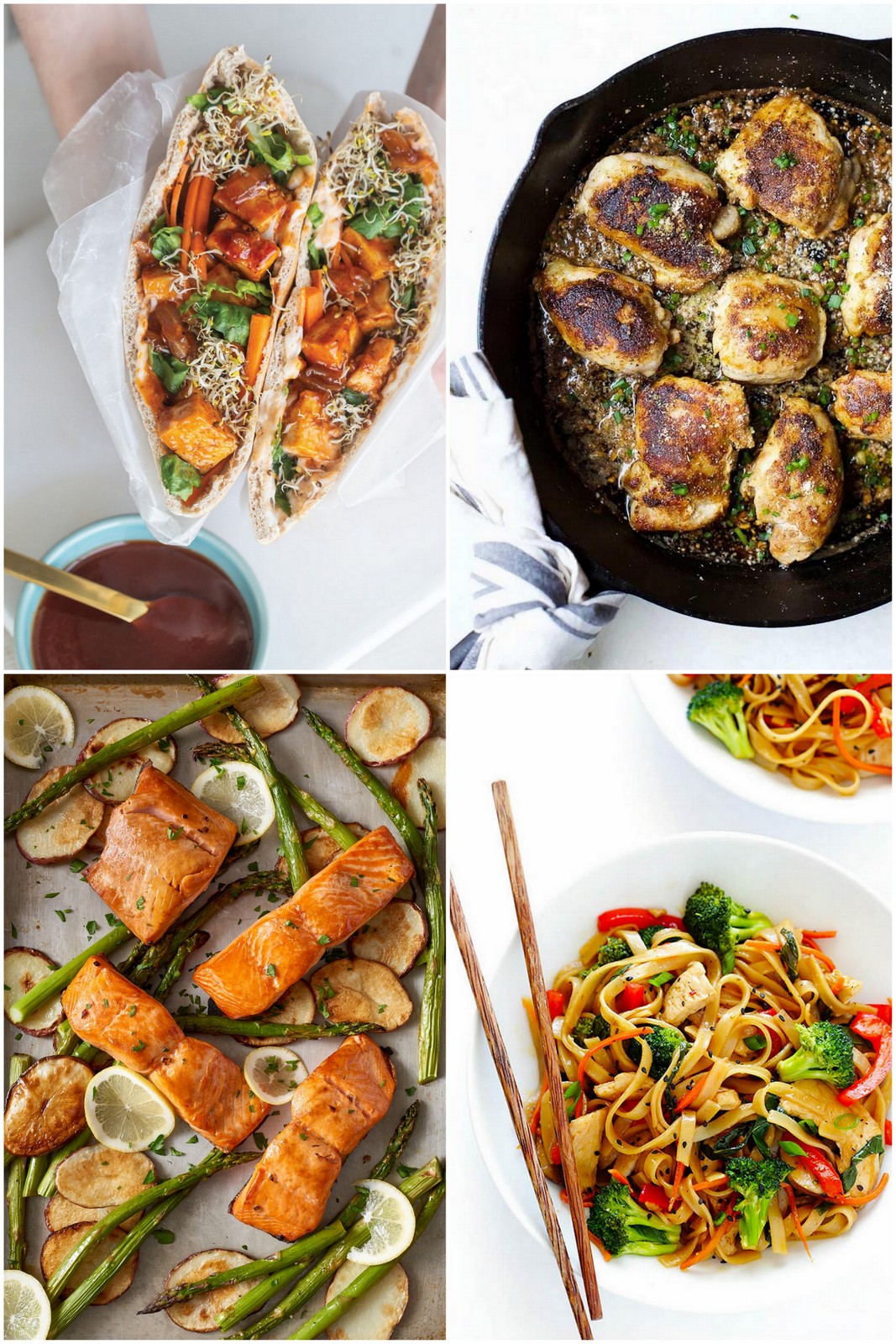 I'm no stranger to a meal plan. Every Saturday afternoon like clockwork Aaron takes Ever upstairs to put her down for her nap and I settle in with my laptop and a homemade oat milk latte, ready to tackle the plan for the week. With no shortage of food blogs and digital recipe publications, though, why does it feel like I always reach for the same weeknight recipe ideas?! I posted something to this effect on Instagram stories and two types of responses came flooding in.
Your Favorite Weeknight Meal Ideas
The first were your own weeknight recipes ideas, the staples that find their way to your table week in and week out. The second, often times from the same person, was the same cry for help that I was experiencing. A few dozen "please share!s" later and I was editing this post. Almost all of these weeknight recipe ideas came from you guys on Instagram, with a few of my own are peppered in. Did we miss a favorite of yours?! Leave it in the comments!
1. Sheet Pan Crispy Salmon and Potatoes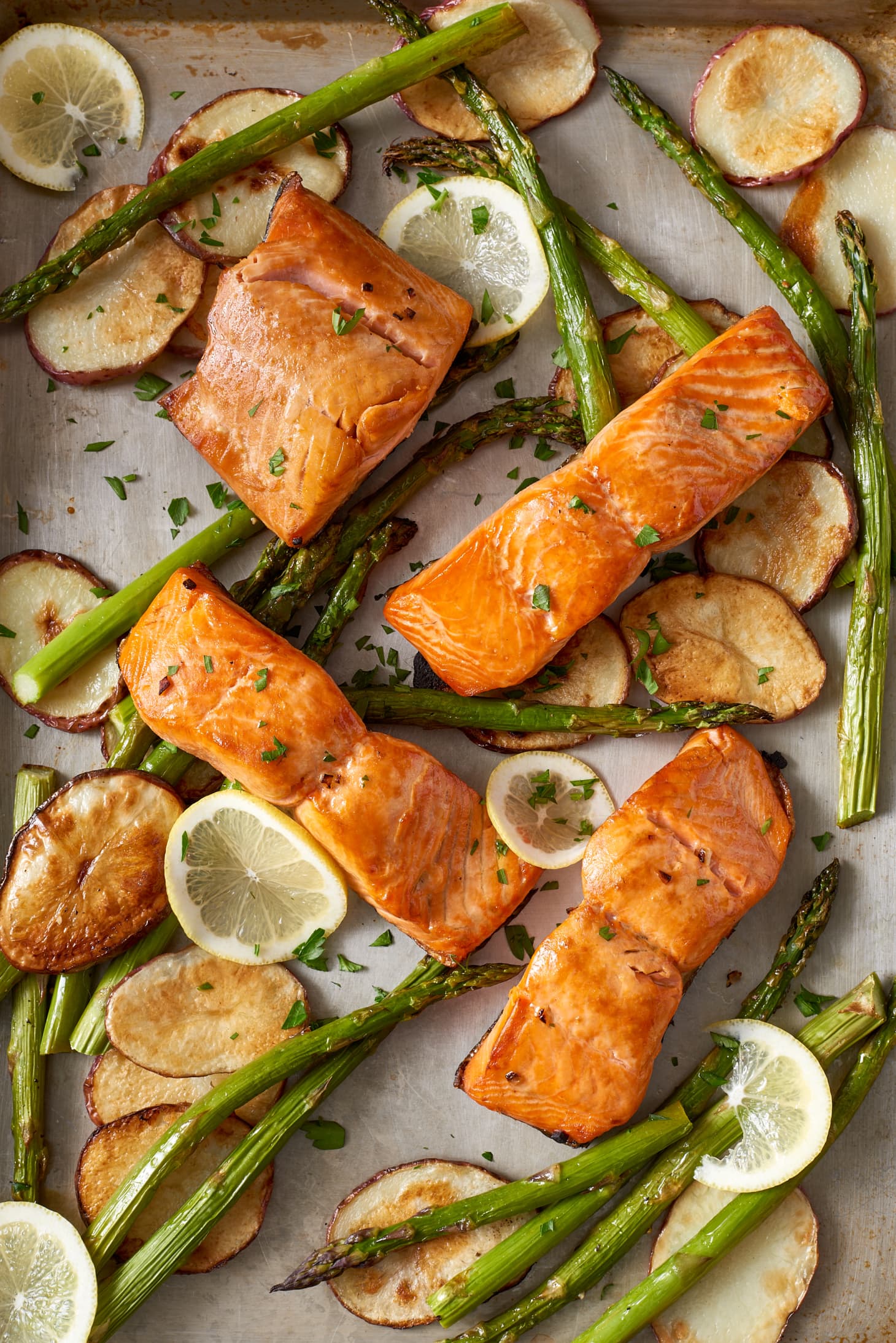 via The Kitchn
2. Sesame Chicken Noodle Stir Fry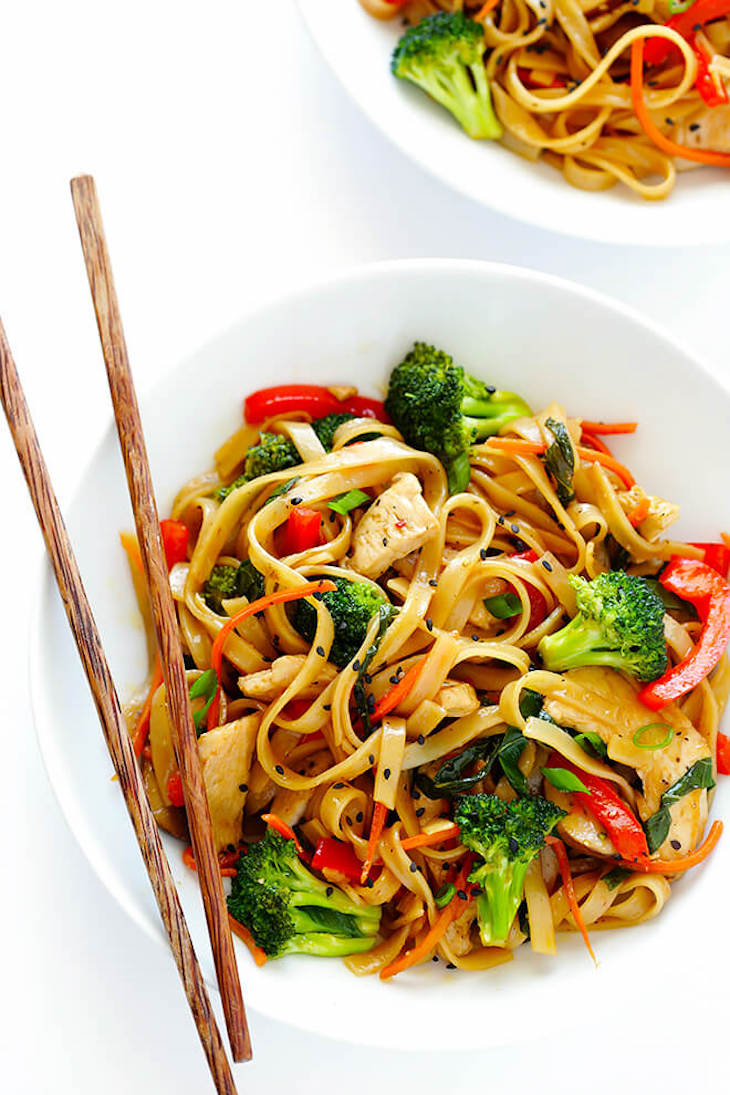 via Gimme Some Oven
3. Artichoke Ricotta Flat Bread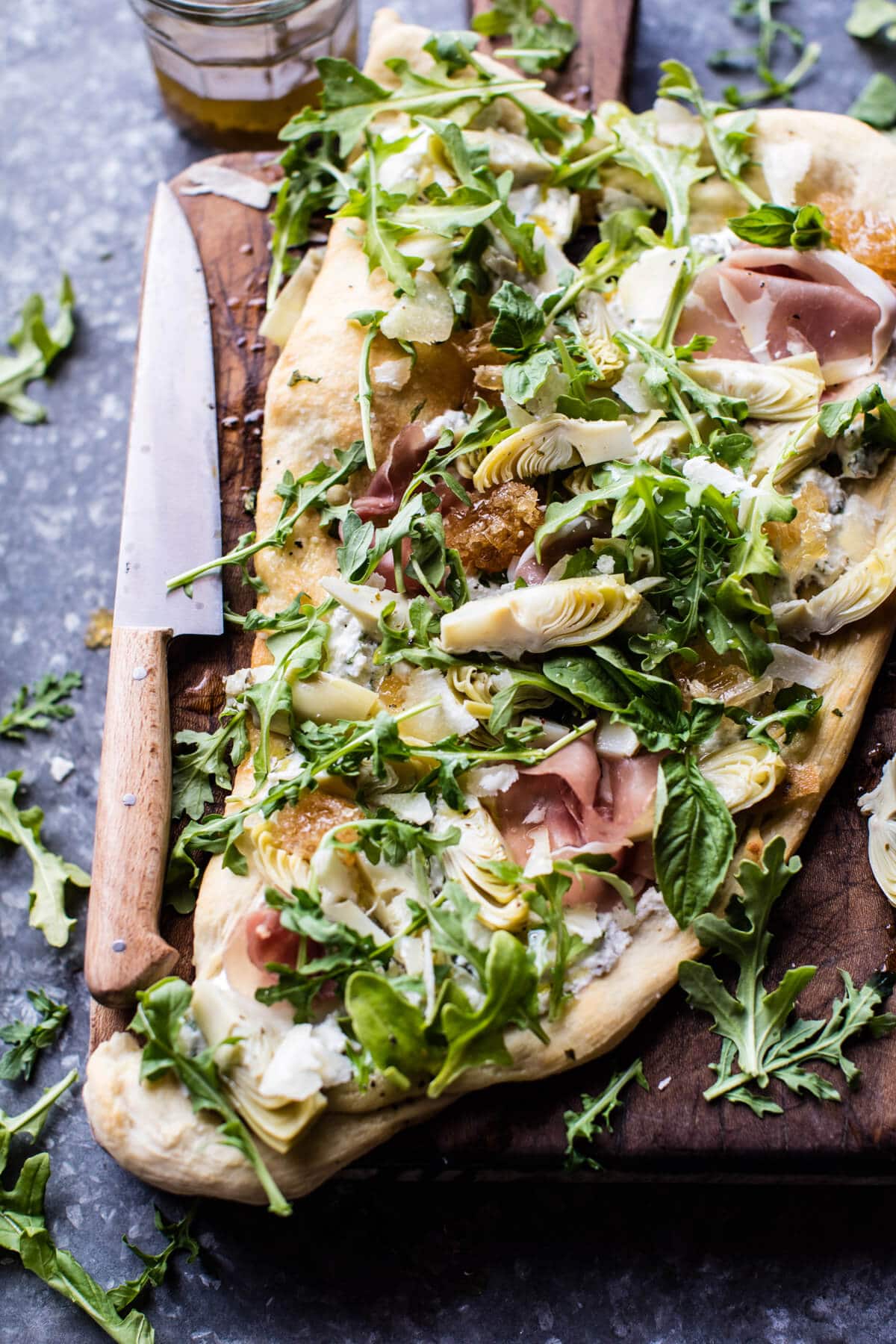 4. Tortellini in Brodo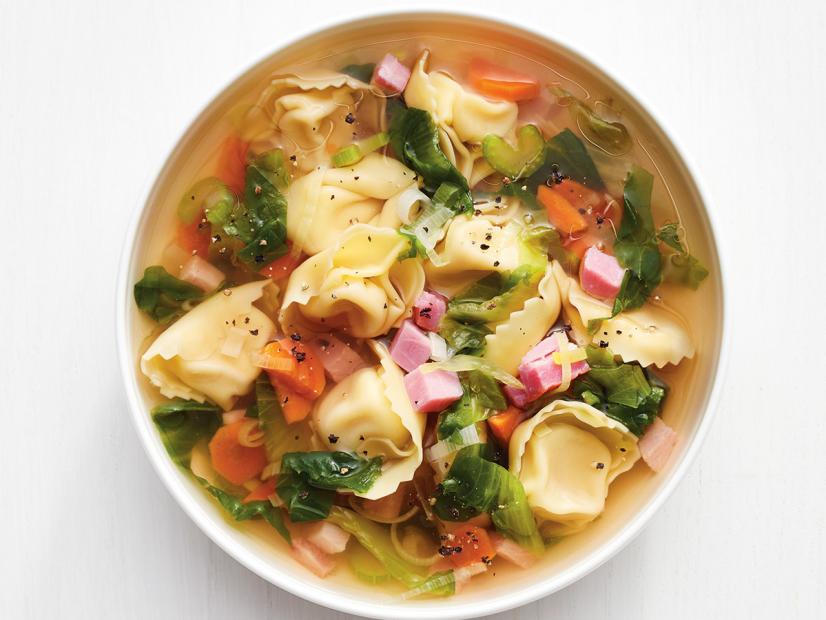 via Food Network
5. Chicken Fajita Salad with Lime-Cilantro Vinaigrette
via Woman's Day
6. Shrimp Stir Fry
via Bon Appetit
7. Skillet Garlic Parmesan Chicken Thighs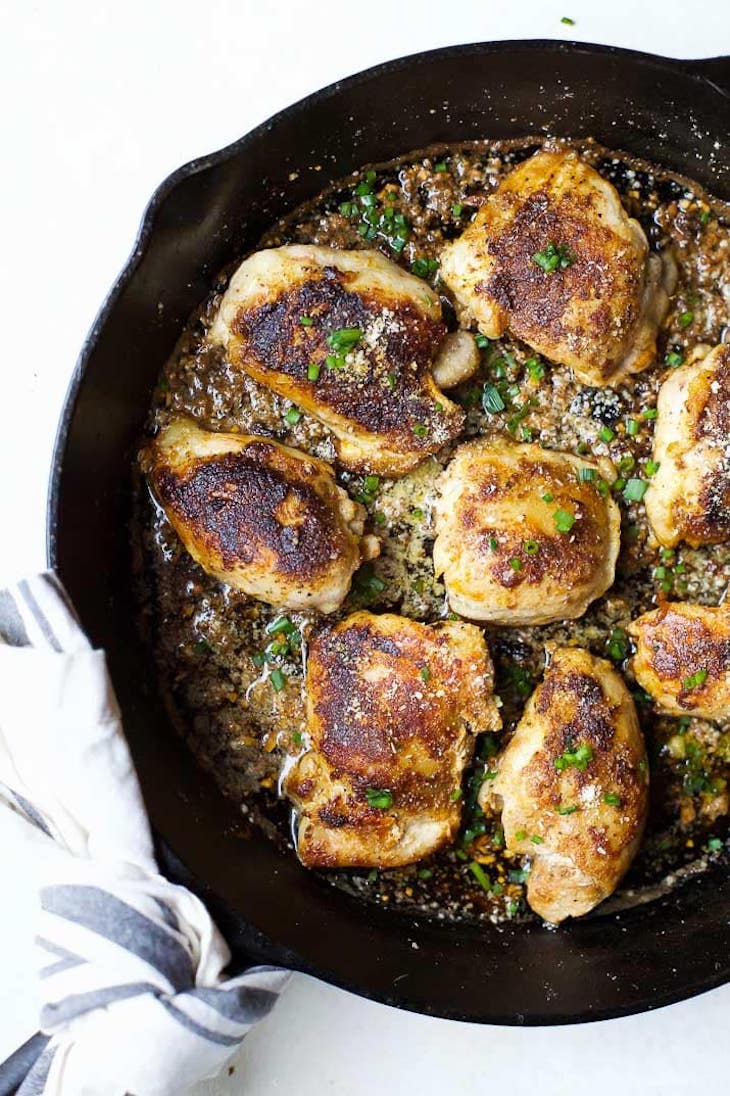 8. Seared Scallops with Cauliflower, Capers and Raisins
via Food and Wine
9. BBQ Tofu-Stuffed Pita Pockets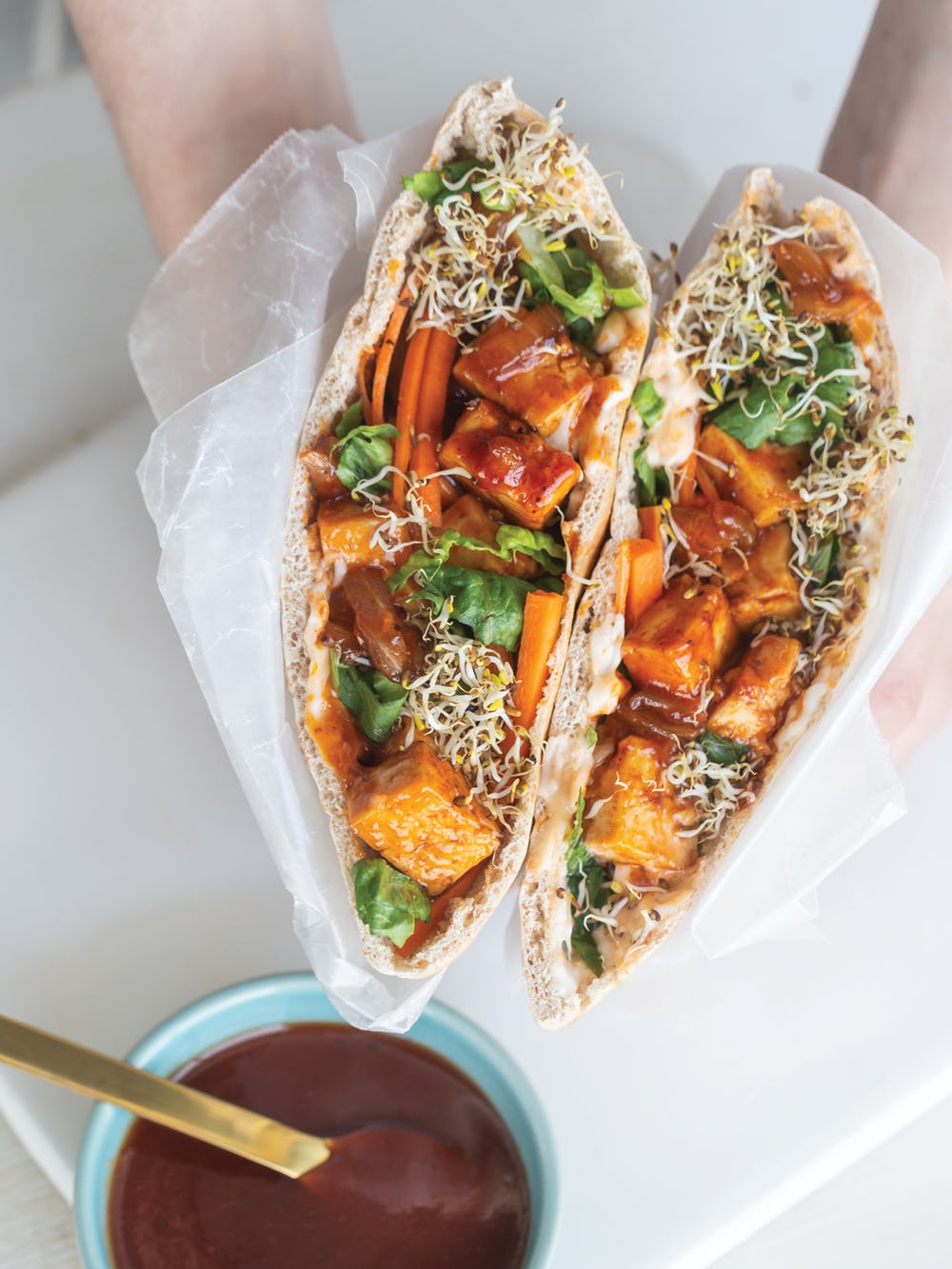 via Brit + Co
10. Veggie Curry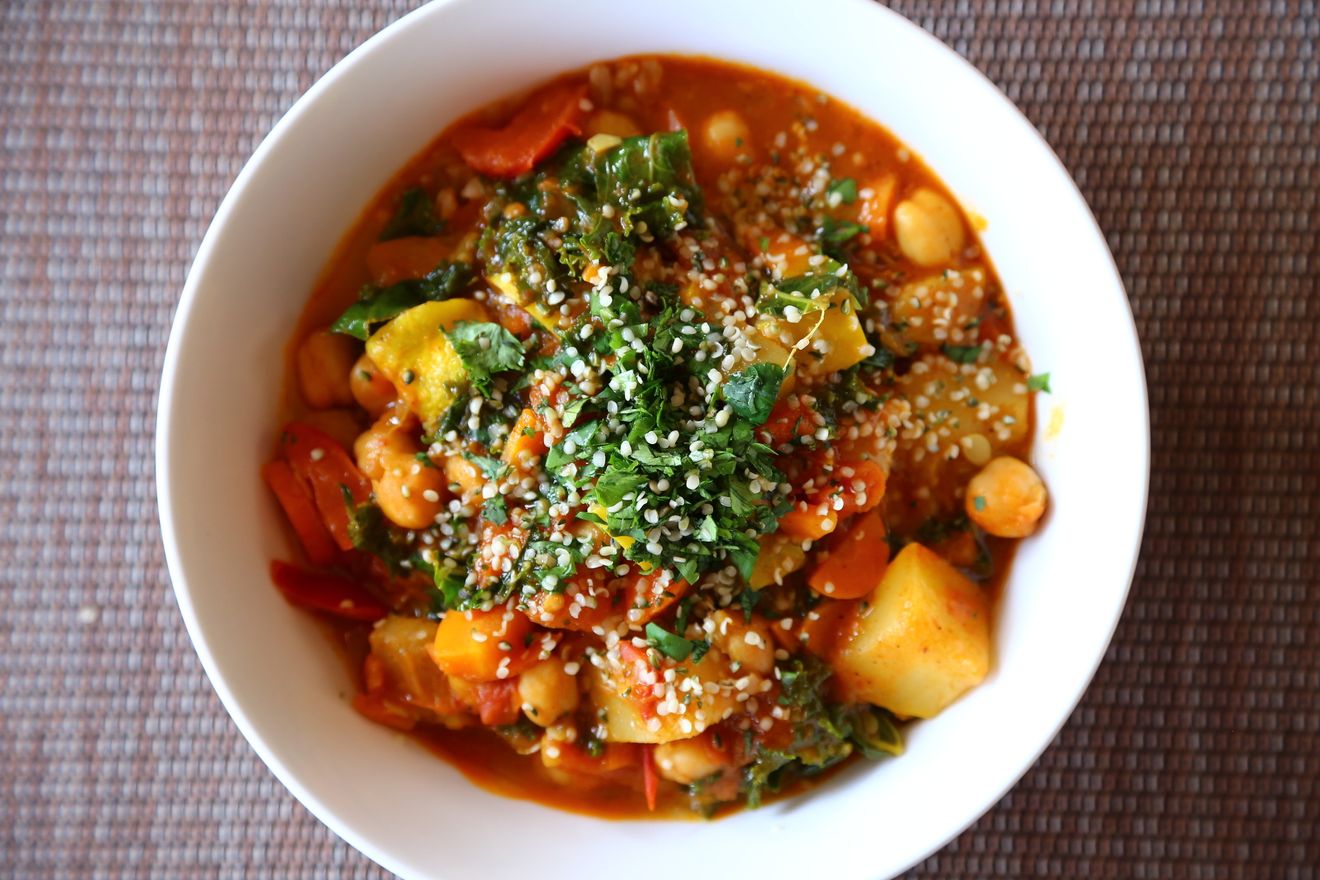 via Food 52
11. Baked Potato Bar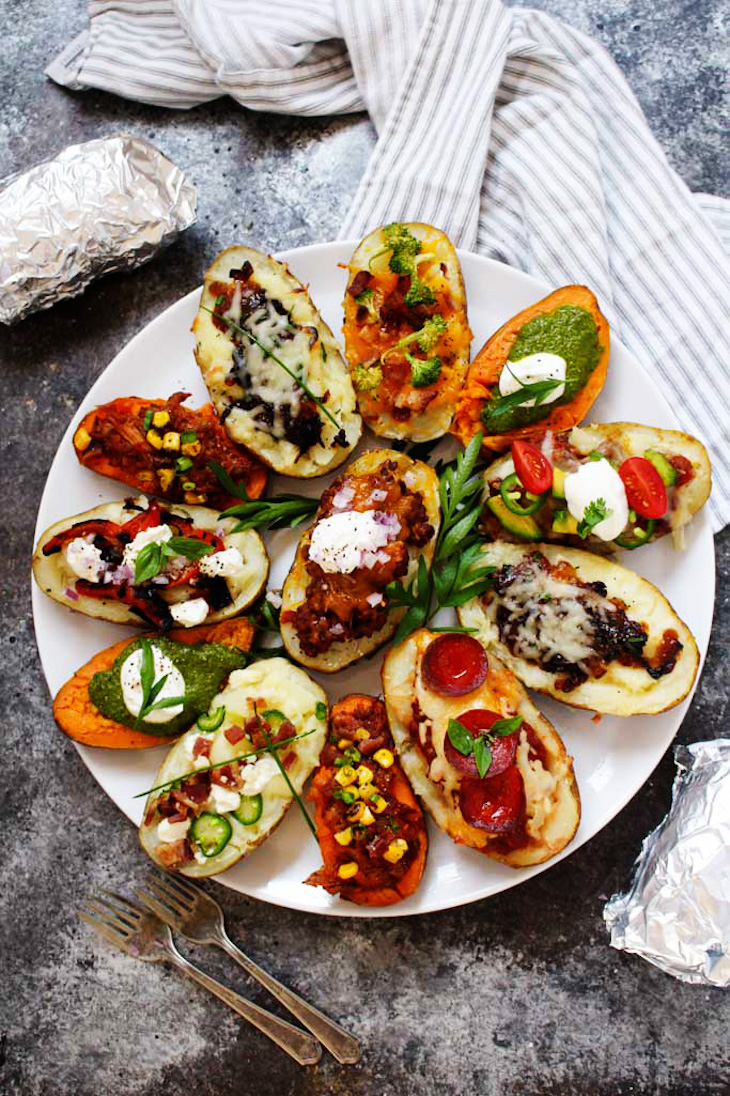 12. Crack Slaw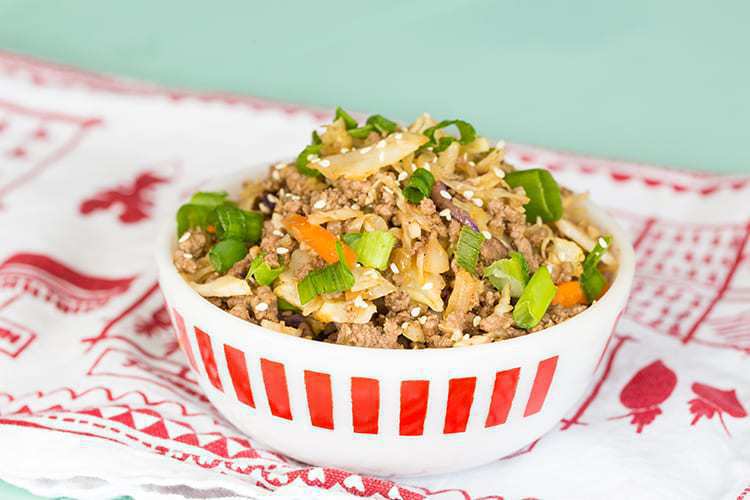 13. Sausage and Bell Pepper Skillet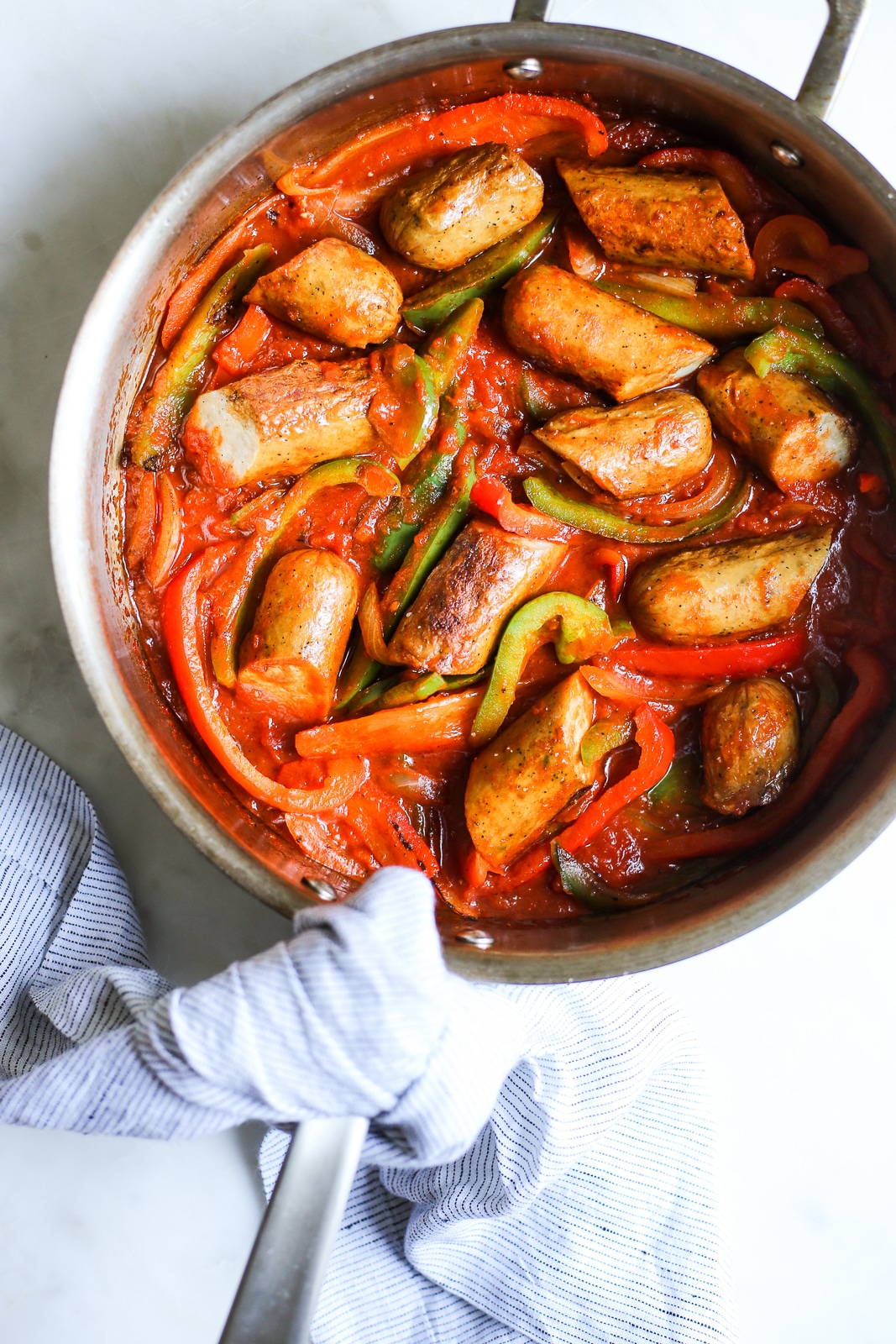 via The Defined Dish
14. Baked Pasta with Broccoli Rabe and Sausage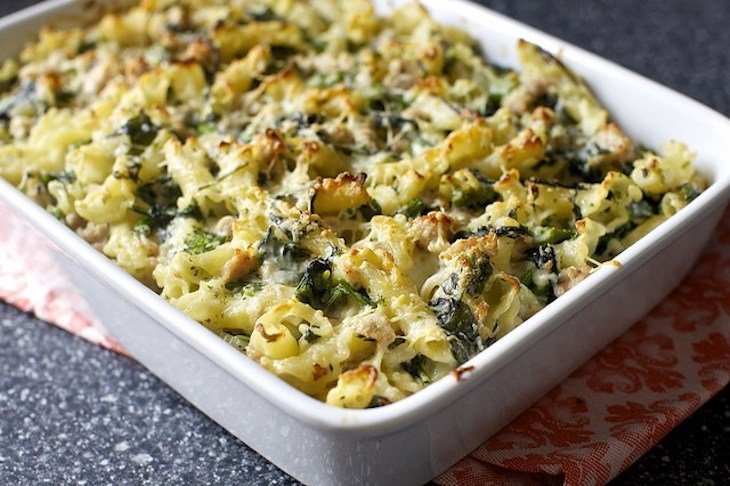 via Smitten Kitchen
15. Turkey Meatballs with Garlic and Pesto
via Cafe Delites
16. Korean Pulled Pork Tacos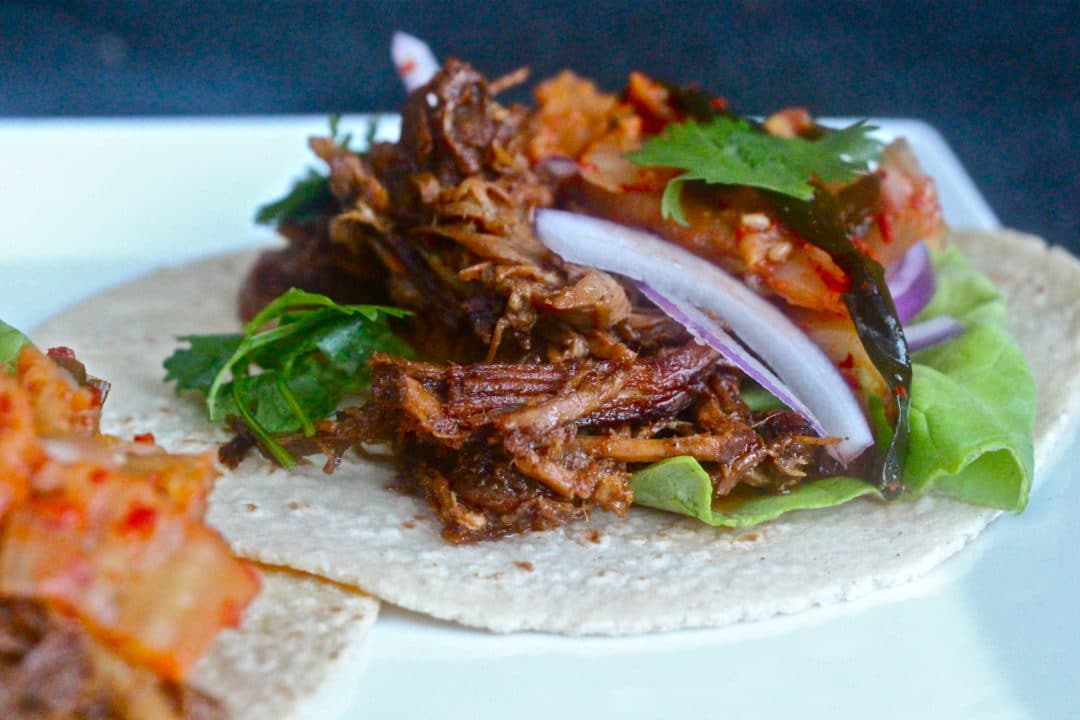 via The Defined Dish
17. Asian Quinoa Meatballs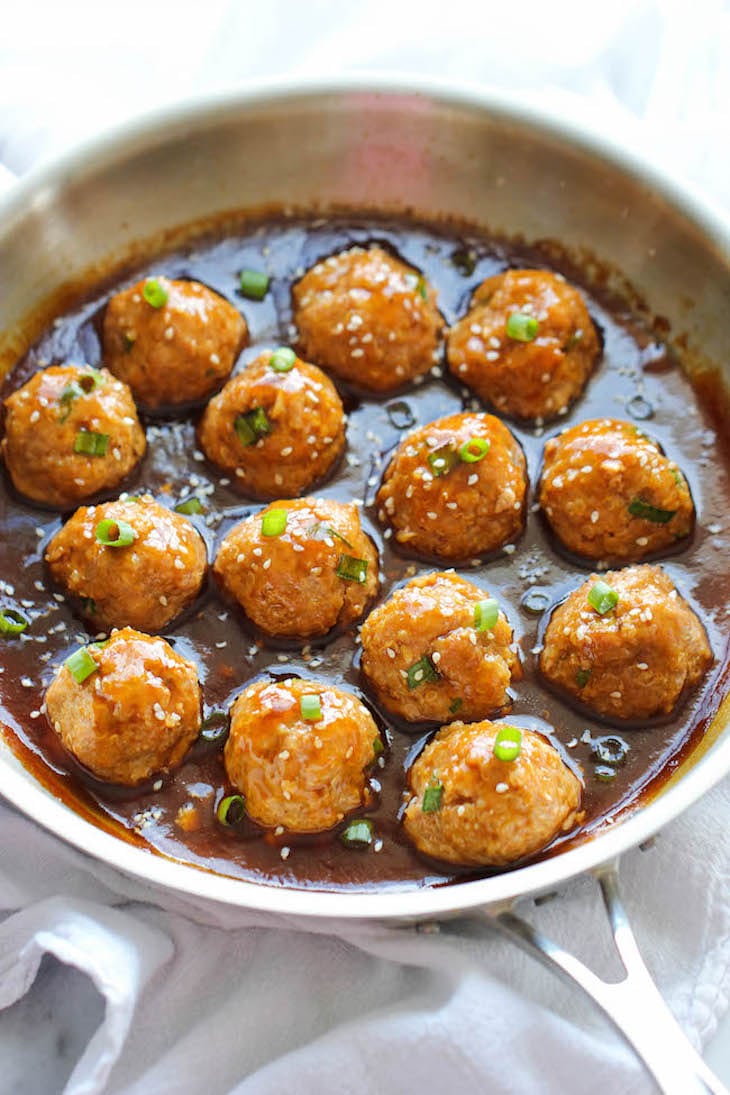 via Damn Delicious
18. Five-Ingredient Trader Joe's Tacos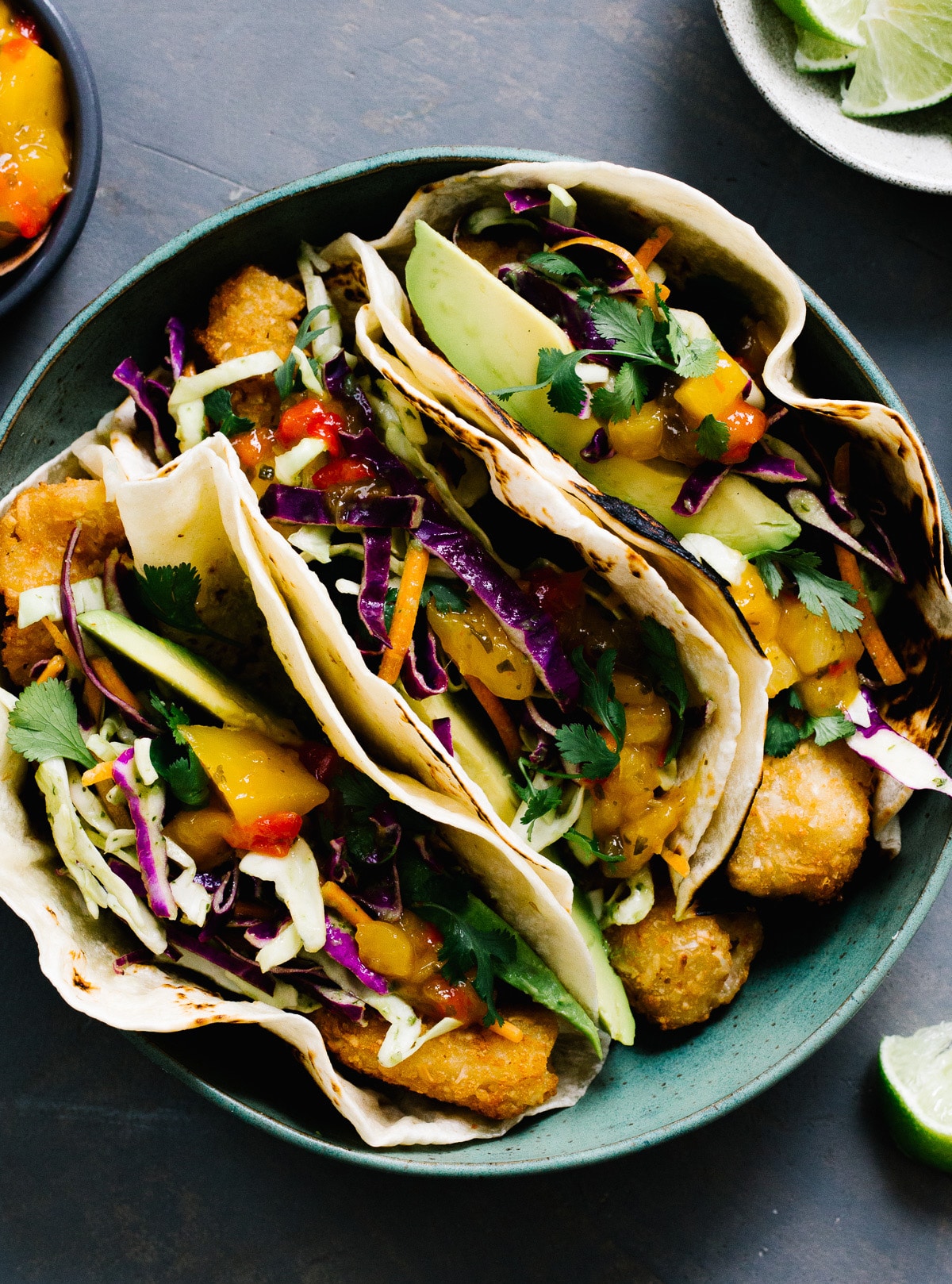 via Cup Of Jo
19. Turkey, Green Bean and Basil Stir Fry
via The Defined Dish
20. Spaghetti Margherita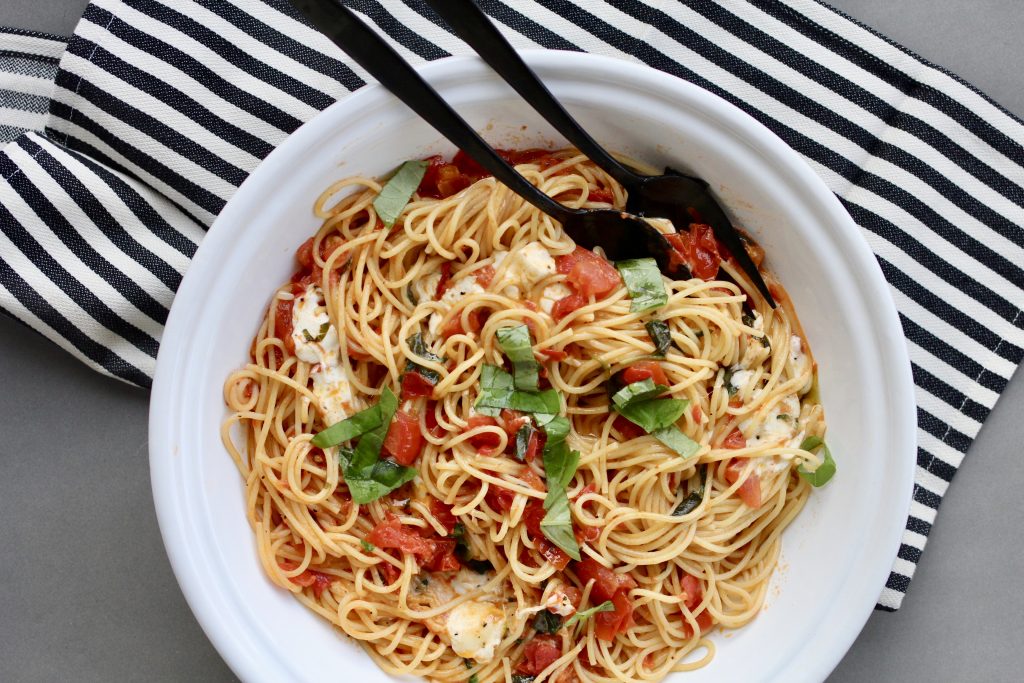 21. Sheet Pan Chicken Chili Lime Fajitas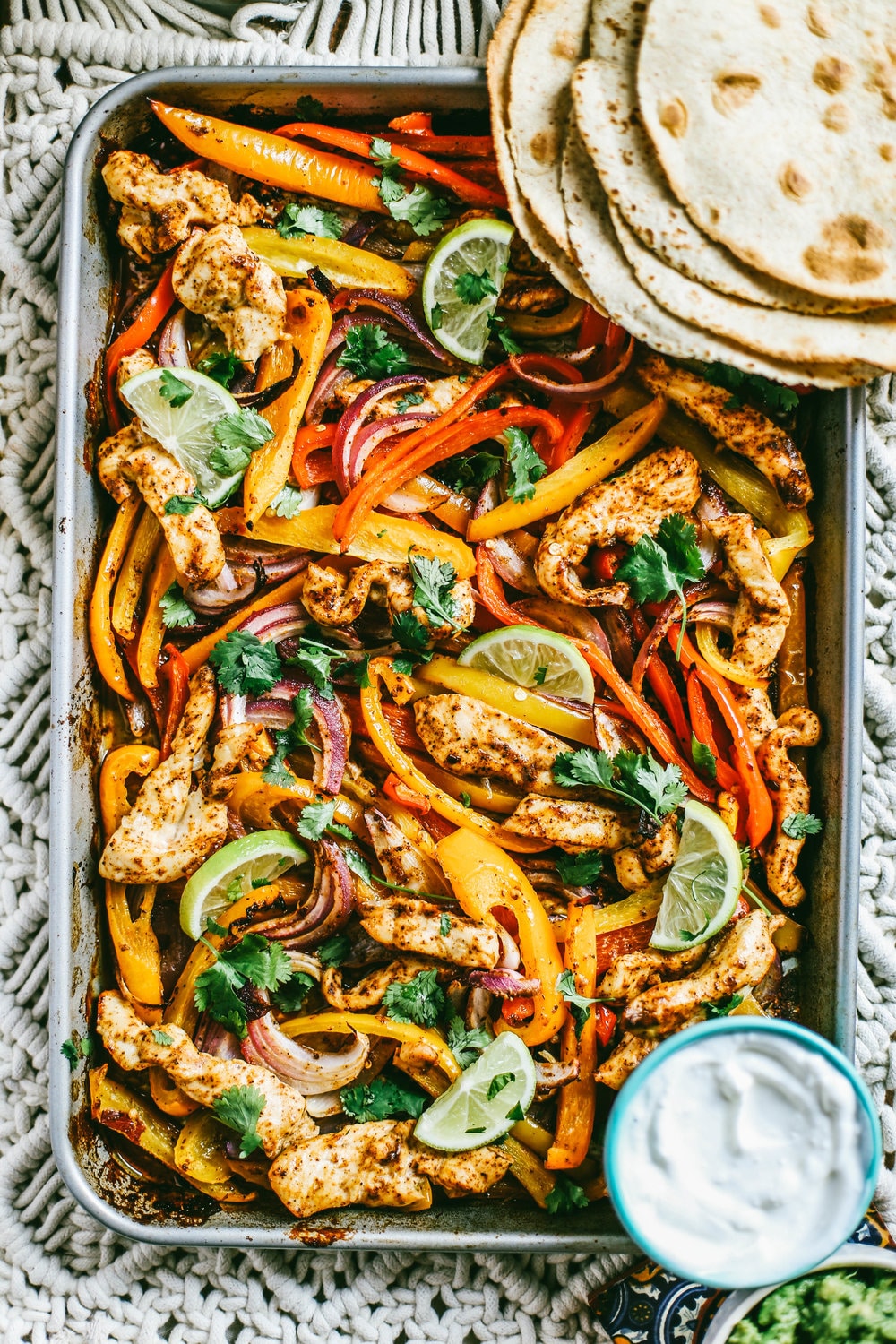 22. Shrimp Scampi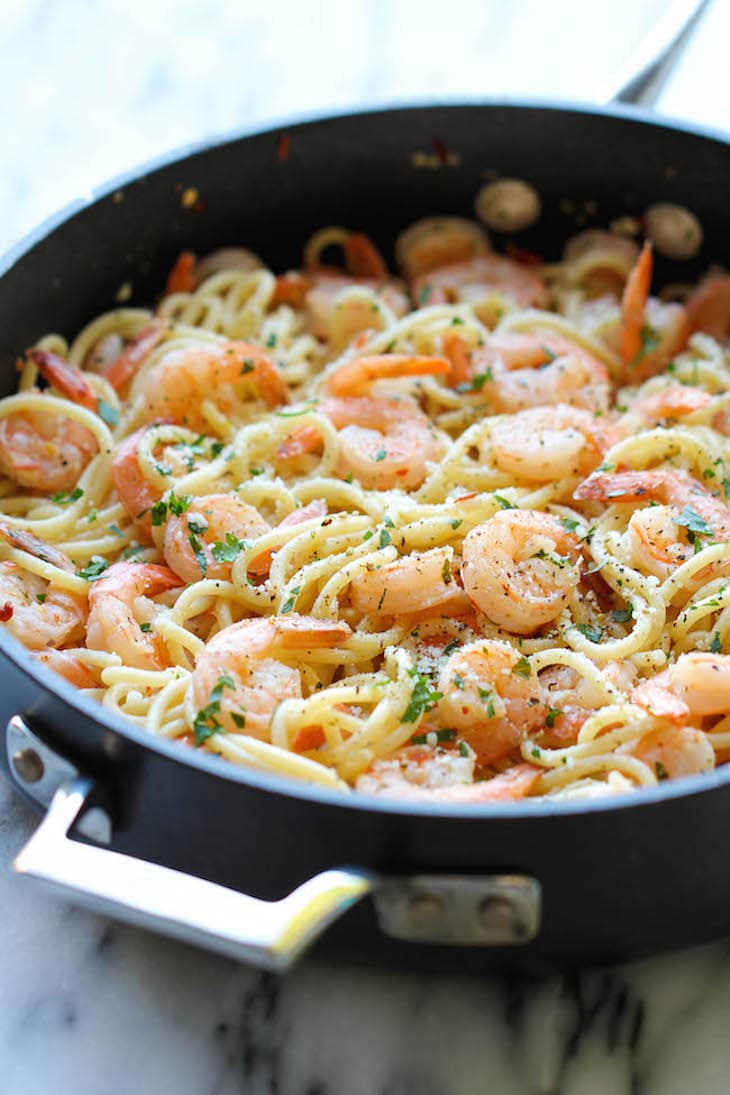 via Damn Delicious
23. Pea, Zucchini and Pesto Orzo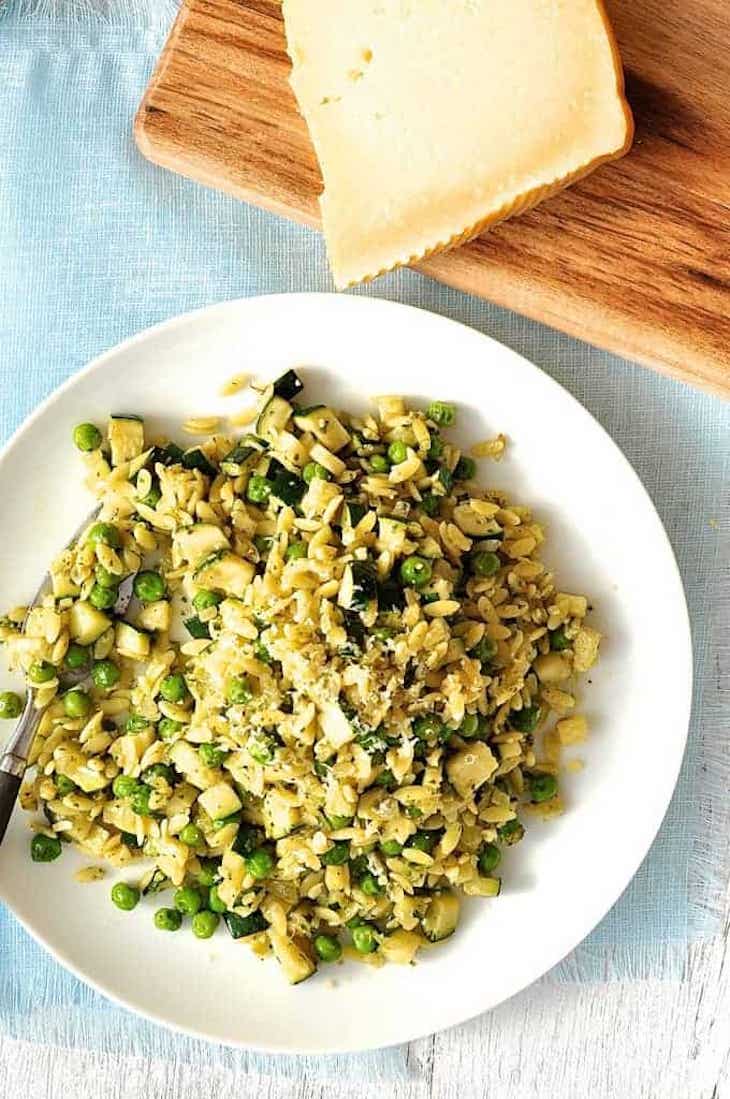 via Recipe Tin Eats
24. Italian Sausage Soup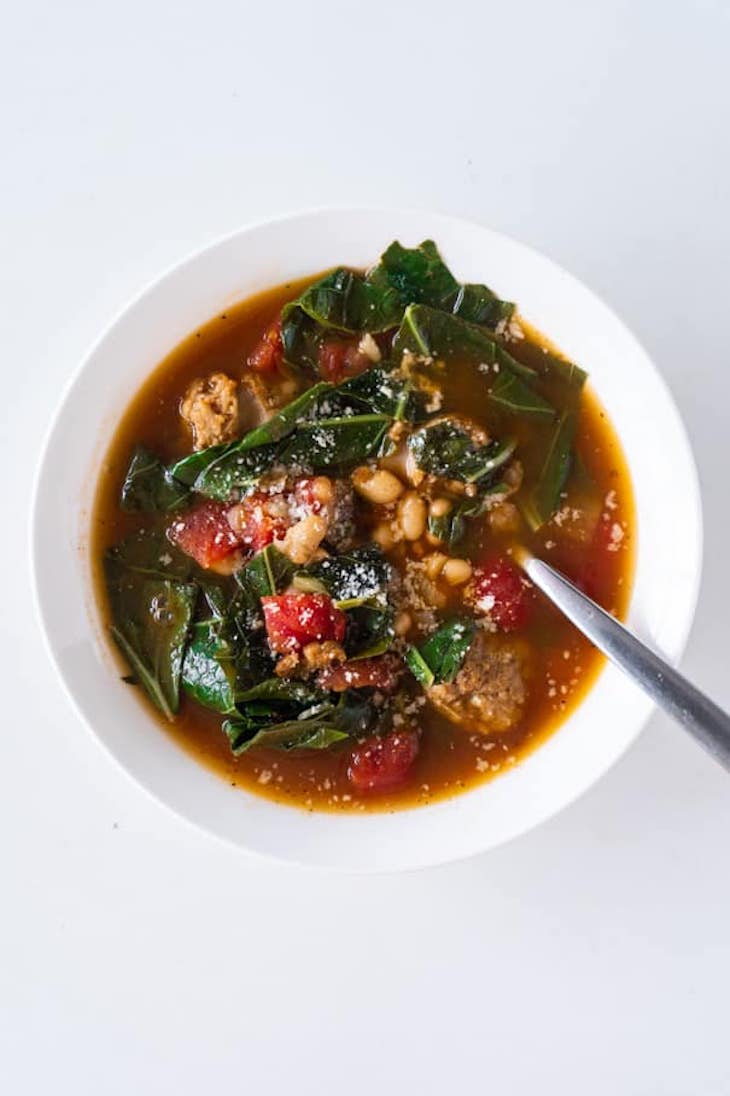 25. Greek Lemon Chicken Bowls with Sizzled Mint Goddess Sauce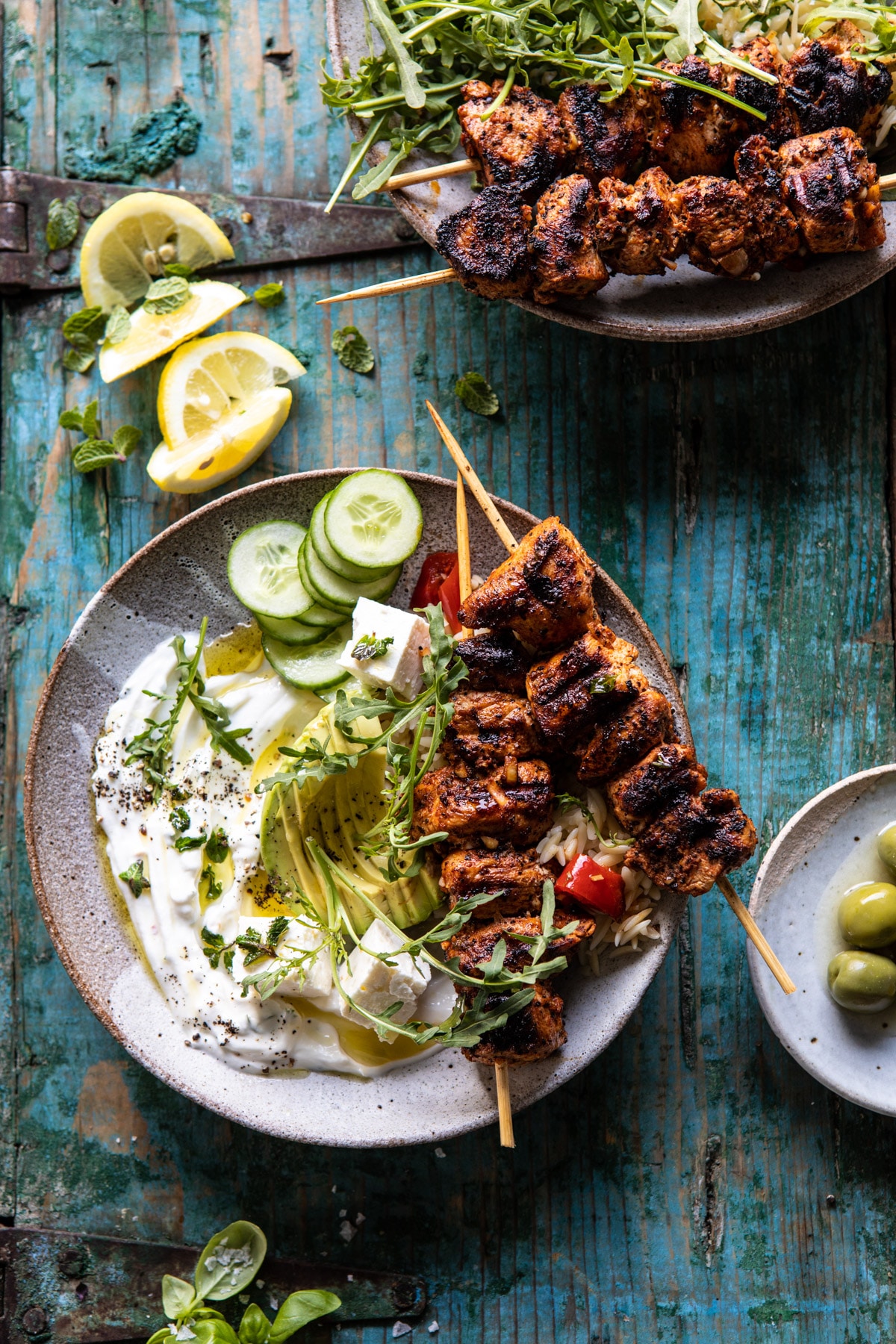 26. Grilled Chicken with Peanut Sauce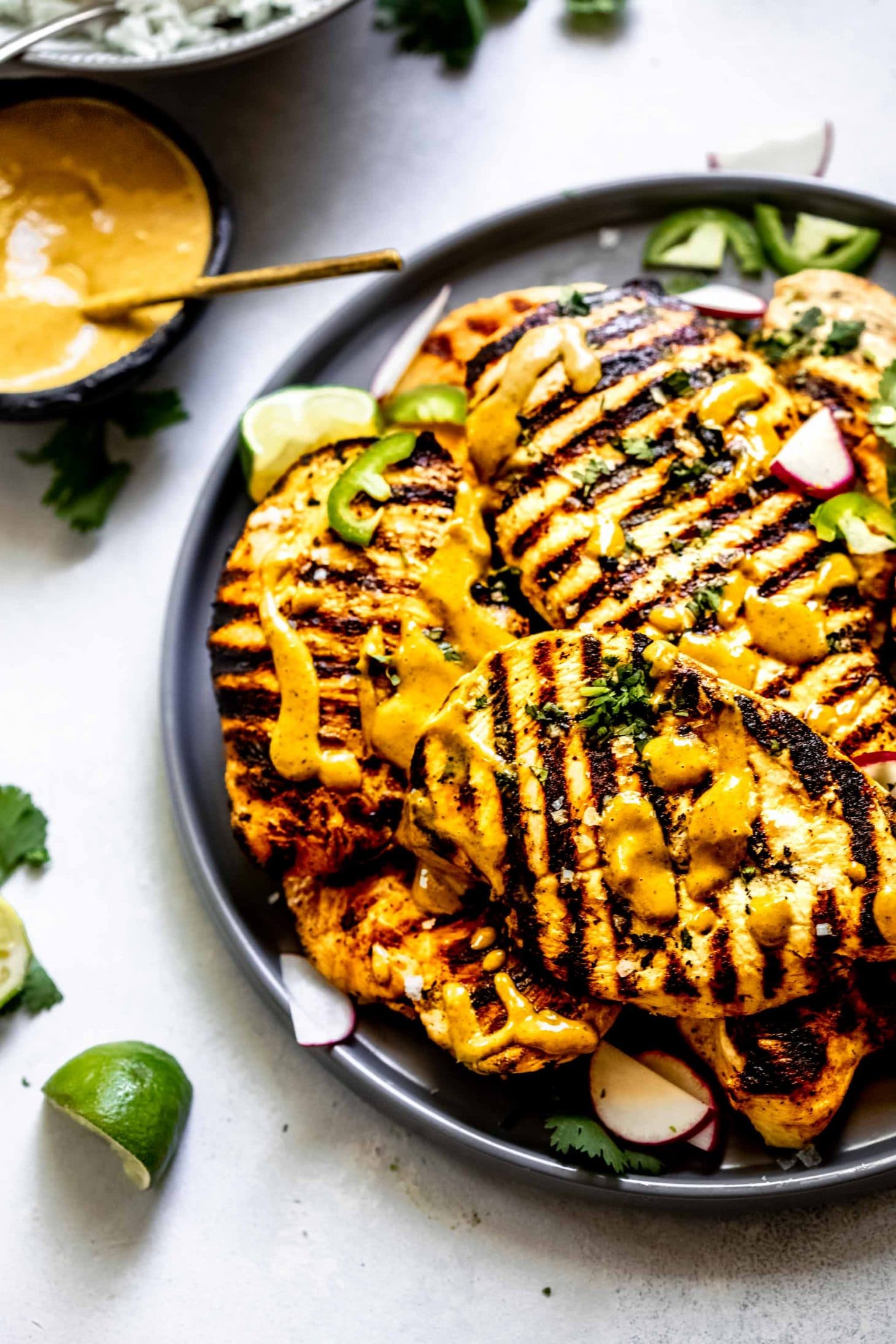 27. Veggie Spring Rolls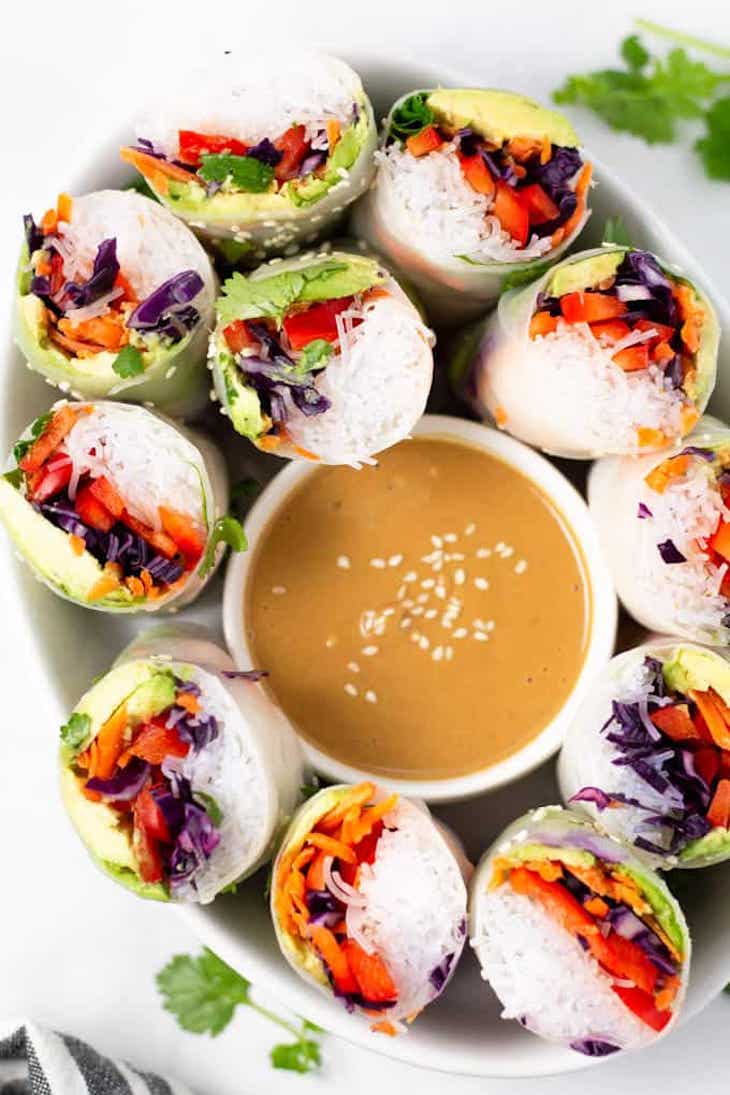 via Midwest Foodie
28. Pan Seared Salmon with Balsamic Glaze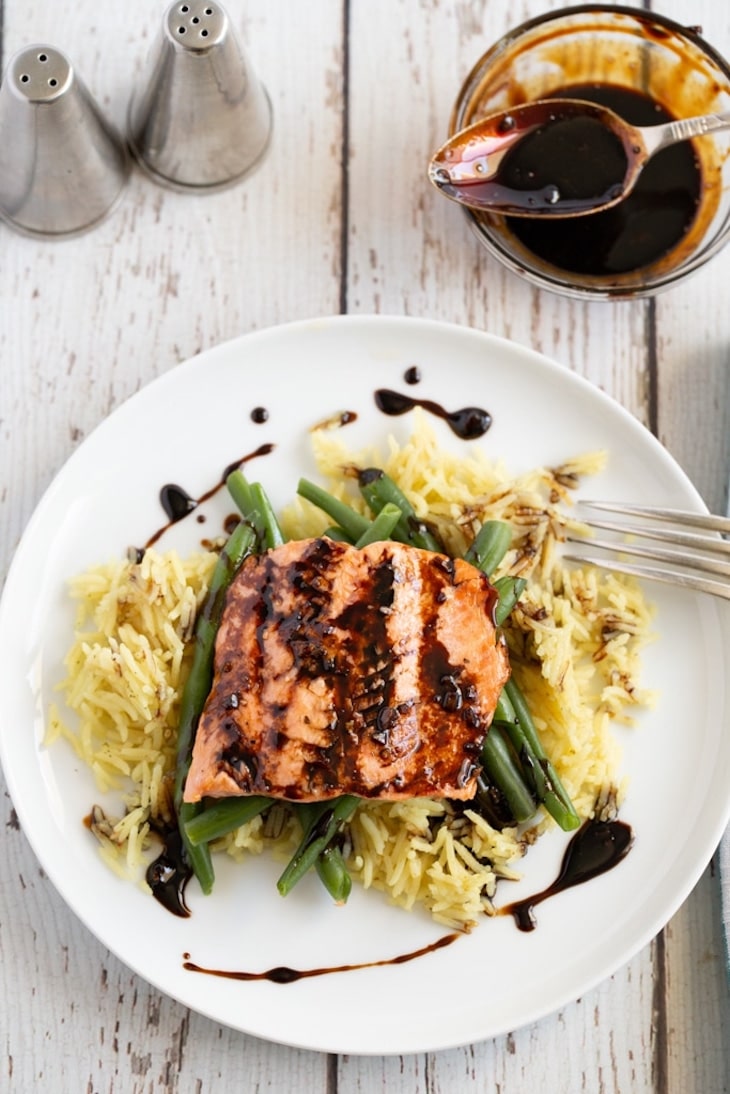 via Kylee Cooks
29. Chicken Biryani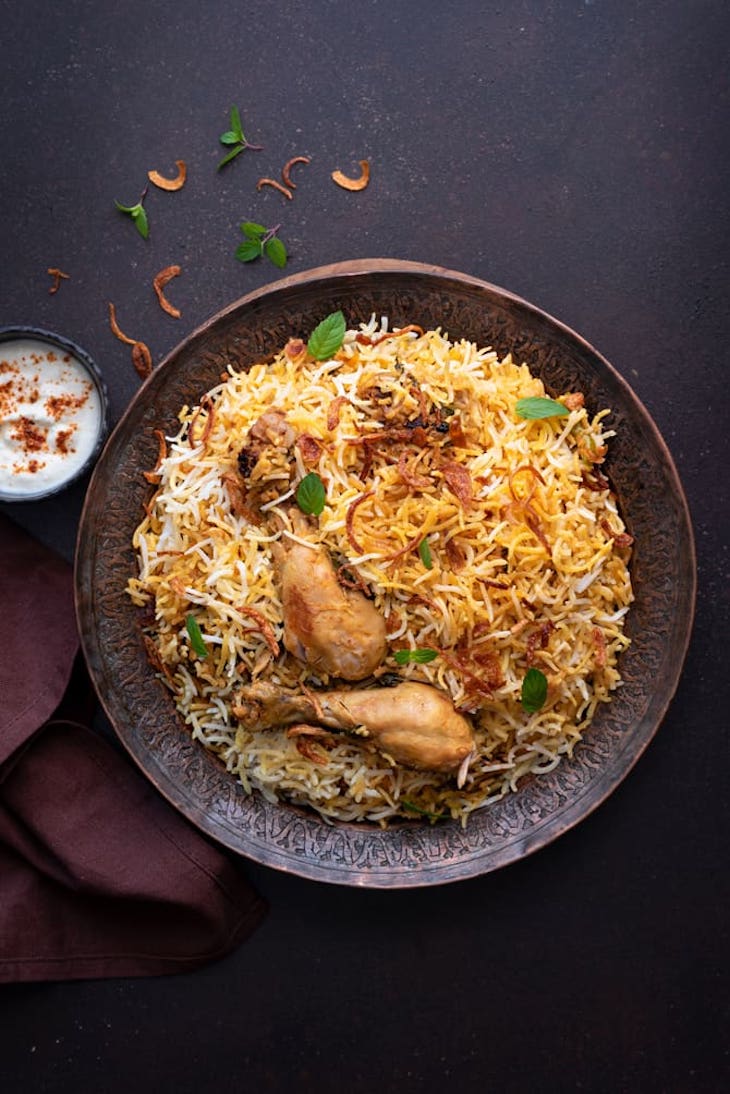 30. Sheet Pan Chicken Shawarma with Sesame Sweet Potatoes and Hummus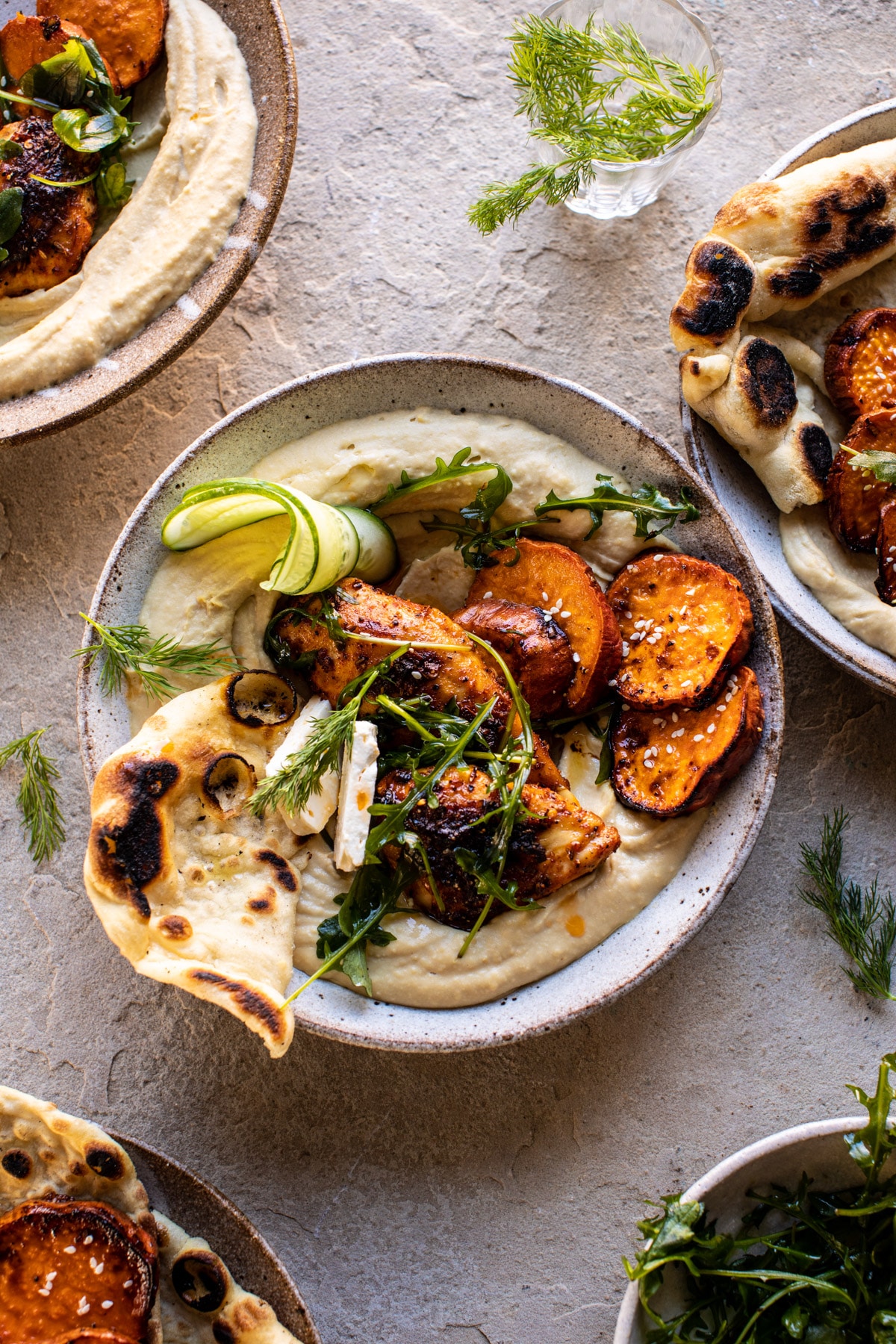 Easy Weeknight Dinners To Add To Your Weekly Meal Rotation
It's so easy to get stuck in a rut when it comes to evening meals, but these recipes are really straight forward to make and and it's a great way to try new things and add variety to your week. Be sure to bookmark this page so when you are looking to try something new, you have a whole heap of recipes to chose from!
Weeknight Dinners You Are Cooking!
What I love most about this list, is that they were all suggested by my Instagram followers! People, just like you are making these meals every night and they are so good they are happy to recommend them! Thank you so much to everyone for sharing your favorites with me!
What Are Your Favorite Weeknight Meal Ideas?
I always love hearing from you, so if you have a favorite I haven't covered here, be sure to leave me a note in the comments! I loved compiling this list and discovering more great recipes!