03/08/2016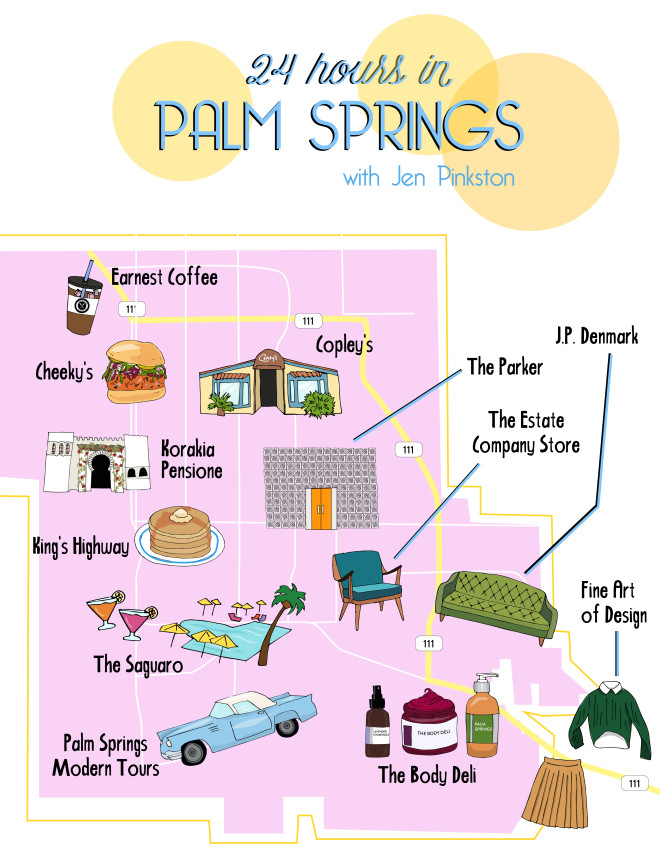 A few weeks ago I was able to attend Modernism Week in Palm Springs for the first time.  Life has been a little hectic lately with work and Aaron's travel schedule (and some other big news that I hope to share with you soon!), so needless to say I was looking forward to the getaway.  I have a special place in my heart for Palm Springs that I'm not sure I can even describe.  It's just two hours away, but it feels like you've gone back in time 50 years.  It's inspiring creatively and has no lack of things to do, places to eat or shops to browse. No matter what time of year, she always greets you with a big warm hug.  When I left to come back to LA that Saturday night– a mere 24 hours after arriving– I was shocked how refreshed and rejuvenated I felt.  Palm Springs, you get me and I can't wait to come back!  If you find yourself in this magical desert oasis– even for a short time– here's what I would recommend…
Stay at Korakia Pensione. It's so homey and has a much more chill vibe than some of the other hotels that are more well known for their party scene.
Get coffee at Ernest Coffee.  This is actually the ONLY place that I have had coffee in Palm Springs that I really like.  Their almond milk lattes rival even the most pretentious hipster joints here in LA.
Spa at The Parker.  Otherwise known as the Yacht Club.  It feels like you're entering another universe and you leave feeling like a better, more relaxed version of yourself.  Plus it's a great excuse to walk around the beautiful grounds and perhaps even enjoy a nap in the hammock on the lawn.
Grab lunch at Cheeky's.  Do not come here if you're on some Whole 30 or Gluten Free business though.  Go big and order the fried chicken sandwich.  Two words: worth it.
Enjoy cocktails poolside at The Saguaro. (Maybe not after dining at Cheeky's!)  Their big batch cocktails are as delicious as they are strong and they are very, very strong.  Plus their brightly colored exterior makes for the best poolside fun!
Take in the architecture with Palm Springs Modern Tours.  I have been to Palm Springs half a dozen times now, but this was the first time getting to tour any of the homes.  It really shed a whole new interesting light on this city and gave me a much deeper appreciation for it's storied past.
Enjoy dinner at Copley's.  After your tour your bound to be hungry.  There are plenty of places that will vie for your restaurant attention in this town, but Copley's is my favorite for a meal that feels classic Palm Springs.  It's a nice classic juxtaposition to all of the bright, poppy new spots in town.
Breakfast at King's Highway. Wake up in the morning and start the day (after coffee of course) with a big breakfast.  You'll want to eat up before your shopping adventures!  Don't worry, you'll work off those pancakes later!
Shop for vintage furniture at The Estate Sale Co. and J.P. Denmark.  You never know what you'll find and, for the right price, they'll even deliver it to LA and beyond.
Pick up new beauty products at The Body Deli.  I'm slowly converting my entire arsenal of beauty products into The Body Deli products.  They're all raw, superfoods with no added weird chemicals and most are grown right there in the Coachella Valley!
Shop for vintage clothing at The Fine Art of Design.  It's super close to The Body Deli and worth the stop!  Vintage from many different decades abound!
Illustration by Megan Roy