I always find these last two weeks of the year to be a great time of reflection before jumping forward into the new year.  In 2014, I went from pregnant in January, to giving birth to Parker in April and navigating everything that comes with that first year of motherhood.  You don't get that time back and it is so special, but I have to say that it was nice to start 2015 out with a 9 month old who was sleeping through the night on occasion and with a pretty trustworthy routine already in place.  I had established (through much trial and error) a pretty good working routine/balance and felt really excited to tackle the new year.  (You can read my intentions for 2015 here!)  Want to take a little stroll down memory lane with me?
The year began with a trip to San Francisco for a styling gig for Levi's and Sports Illustrated.  It meant sleeping in my own king size bed with no surprise middle of the night feedings, grown up client dinners every night, and getting to work with Vernon Davis and Colin Kaepernick of the 49ers.  It was a pretty good start to the year! (More photos from that shoot and my tips for becoming a wardrobe stylist here!)
Another highlight of January was speaking at Alt Summit.  I attended the very first year after starting my blog and I learned so much.  It was really cool to go back with a little experience under my belt.  Plus, I met a new friend and got to catch up with old friends, too.  Way to set the bar high, January.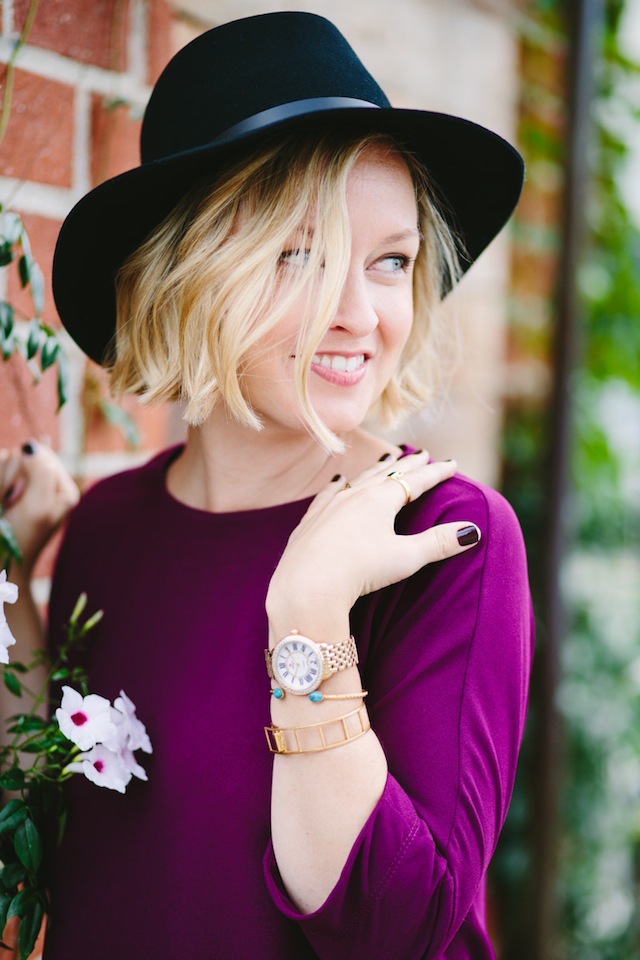 If you've been here for awhile, you might remember that I started this blog as purely style and fashion.  It's crazy to look back at this year and see how many other categories we play in now.  Sometimes I worry that's a bad thing, but it's been a natural overflow of what is going on in my life (we bought a house!  we had a baby! we are growing up!), so it is what it is and I really truly love it.  This style post appeared on Womens Wear Daily -- total pinch me moment! (Other favorite style posts:  here, here, here, and here.)
In February we celebrated Valentine's Day with champagne cocktails (naturally), the cutest card printables and heart-shaped ravioli.  I also attended the Grammys for the first time and found it that it's actually way more fun to watch it at home in your sweatpants.
In March we brought back a fan favorite series called Secret Recipe where we explored fun places to eat in NYC and LA and shared a few favorite recipes.  Our dinner at Oiji was a definite highlight.  (Check out some of the other spots we dined at here and here!)
The biggest difference in our content over the past two years has probably been my interest in interior design.  I enjoy it so much and get so much satisfaction out of doing a before and after of a room.  This year we visited my good friend Michaela's living room and took copious notes of the incredible, eclectic space she's put together in Los Feliz.  (Her show, Aquarius, was picked up for a second season which you can watch on NBC!)  We also stopped by Ellie's vintage nursery for a swoon-worthy tour!
In March, Aaron and I left Parker in LA with my mom and stayed two nights at Yosemite, hiking, exploring, and sleeping in until 7am!  It was our first weekend away without the babe and much needed.  Then, on April 4th, Parker turned one.  Talk about a time of reflection.  It goes by so fast-- all of it.  We celebrated with a big backyard fiesta complete with Heirloom LA and a Minnie Mouse cake from our favorite bakery, Big Sugar Bakeshop.  I actually didn't blog it.  I really wanted to be present that day and not worried about how things were styled or shot.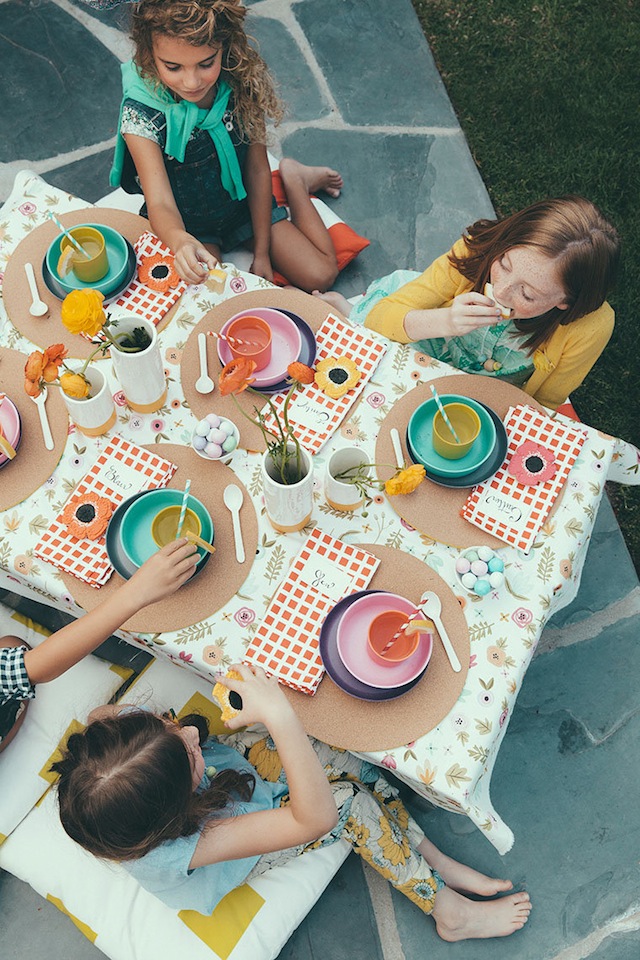 Some of my all-time favorite projects have been the kids parties that we have thrown in our backyard.  I love styling all of the kiddos wardrobes and creating fun table tops.  The one above was a picnic we threw for Easter.  (You can see our Halloween bash here!)  One of my goals for 2015 was to learn new things, so we enlisted the help of experts and learned how to decorate cookies like a pro for this shoot.  (You can also check out Norah's first birthday party here!)
In April, Parker and I flew back to Austin for a styling job there with Noonday Collection.  (You can see more of my Austin favorites here!)   It was such a fun two weeks, but we were both ready to get home to dad by the end of it!  (It's true: have clothes, will travel!)
If we are being totally honest, I tend to be more of an "Amazon Prime It" girl than a DIY girl, but sometimes the mood does strike!  I was really happy with the way these fabric coasters came out and thought they made a really sweet gift for Mother's Day!  (You can check out all of our DIYs here)  I am actually mid-DIY project right now on a bench for our front porch.  If it turns out like I imagine it in my head, I will definitely share it!
One of the two biggest projects we took on this year on the blog was this Capsule Wardrobe experiment.  I have really adopted the mantra of 'Fewer, Better'  as it applies to so many different things and I was really interested to see what it felt like dressing with the same 36 pieces for two months.  It completely changed the way I think about shopping and helped me get rid of so much hanging in my closet.  I decided at the end, that it wasn't something I could maintain long term, but it definitely changed my mindset for the better.  (You can see all of the capsule wardrobe posts here.)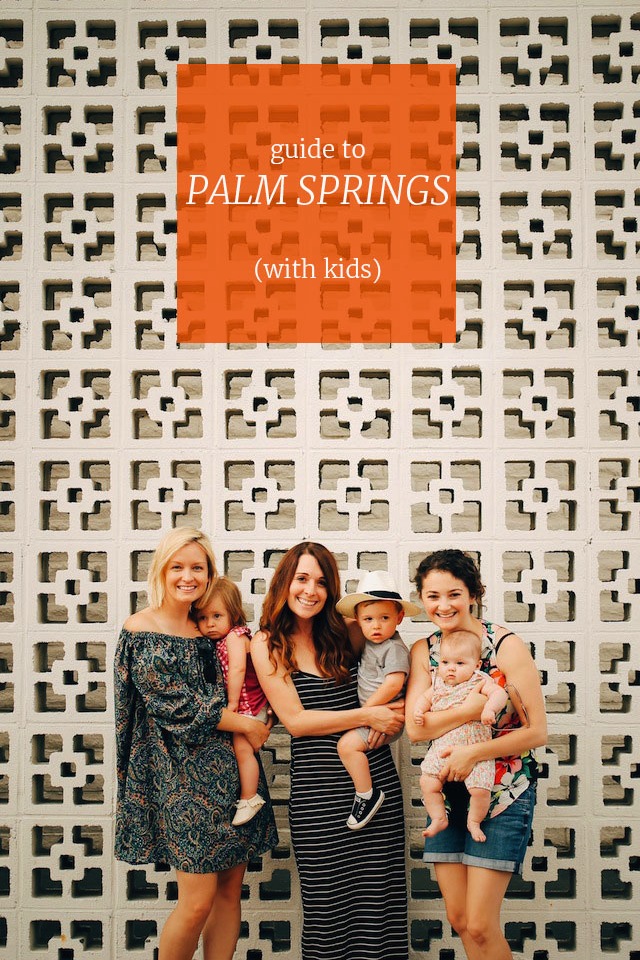 In June, I blogged about our annual trip to Palm Springs which happens to be my favorite weekend trip from LA.  It's an inexpensive version of a tropical getaway and chock full of good food and lifestyle inspiration.
One of my favorite styling clients that I have worked with for a couple of years now is ErgoBaby.  It's a brand I love personally and it's so fun to get to work with them on their advertising projects.  In July, I flew to Vancouver with their creative team to capture some real-life ErgoBaby families and had the best time in the process!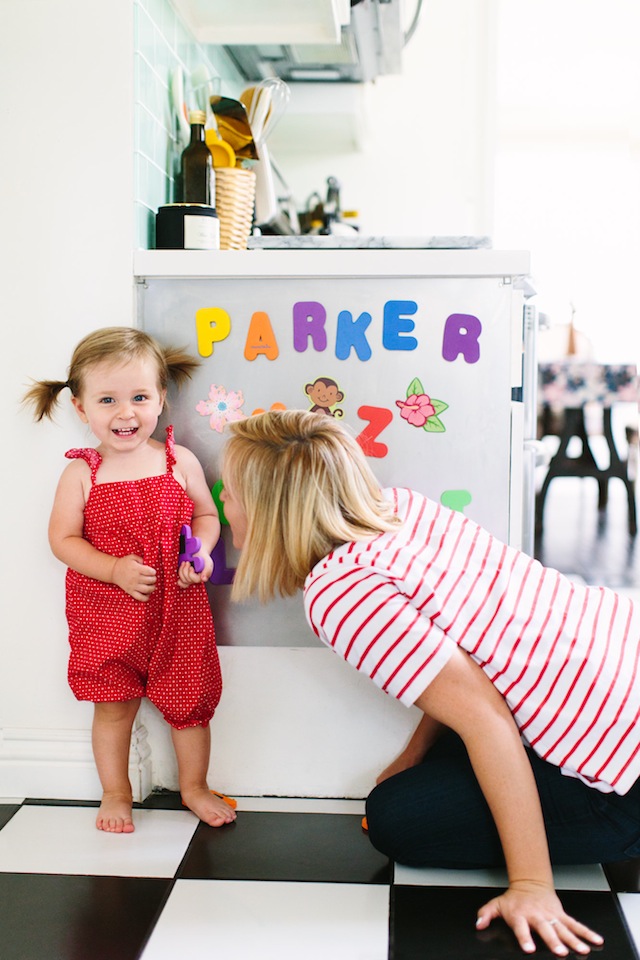 This little lady is the center of our universe and naturally made a few appearances on the site this year.  We made this fun magnet board for her, chatted about what foods she is into, and created a cozy little reading nook just for her.  She was also the motivator behind this series that we started with 9 other mamas.
One of the highlights of my year was getting to tackle our master bathroom renovation-- a project I have dreamed of since we first stepped foot in our home during the open house.  It's now one of my favorite rooms!  (And all three of the plants in that photo are now dead or dying.  Ooops.)  If you like before and afters, you might also want to check out this Master Bedroom we did for my friends, Kate and Taylor, that was featured on Martha Stewart:
In August and September I spent two months getting in my best shape ever.  I loved it and it was so much fun, but ultimately it just wasn't working out with my schedule.  I'm still trying to figure out what my exercise goals are and the best way to accomplish them.  I mean, ideally I would just like Giselle's metabolism.  Or Chrissy Teigen's.  But... the odds aren't looking good on that one.
In September, Aaron was in NYC for two weeks working, so I flew out there for a few days of meetings, blog shoots, and catch up time with the hubs.  I also got to sit in an Ellen Show audience for the first time and watch these women redefine the definition of #squadgoals.  A definite highlight.
Speaking of my squad, I made my happy birthday obsessed daughter a birthday cake costume for halloween and it was a total hit!  I ended up on a styling job in Malibu on Halloween and had to rush to Highland Park for the festivities, but I made it in time to ensure this little happy birthday cake got plenty of candy (that her dad then gave away). (Also you have to check out THIS halloween costume!  So good!)  If you're less into costumes, perhaps we could interest you in a little fall sangria?!  I actually think this would be such a great big batch cocktail for Christmas dinner, too.
October was SO busy.  I was back to Austin for another job with Noonday as well as two catalog jobs that month, amidst all of our blog posting.  In November, we partnered with Living Proof on a couple of hair tutorial posts and had so much fun shooting them in this studio that we've booked it out again in January.  (Who knows, maybe we will just move in.)  We enjoyed Thanksgiving here in LA and tried to catch up on family time.  Aaron wasn't traveling as much and it was so nice having him around 24/7.  (I mean not 24/7 exactly-- he did go into the office-- but it was nice to have him in the mornings and evenings.)
Which brings us to December.  My favorite month.  Especially now with Parker, it's not hard for me to slow down and enjoy this time of year.  They're only young once, right?  We have been baking non-stop.  I may need to ramp it up on the Pop Physique classes in January, but for now I am enjoying my time in the kitchen with my toddler and eating up some of my favorite Christmas-time recipes, like these Raspberry Almond Thumbprint Cookies and these Gingerbread Cinnamon Rolls.
This girl.  Everything pretty much begins and ends here.  After putting together this post, I feel overwhelming gratitude to be able to create here and that you keeping coming back to read it.  Thank you for the time you spend here.  Without you, none of this is possible so I send you my most heartfelt thanks for choosing to spend a little part of your day or week or month with us.  It's been an amazing year and I hope it has been for you too.  Here's to a wonderful 2016!
We have already begun planning our calendars for the first few months of next year and I would love to hear what you have enjoyed the most, the least, and what you would like to see in 2016!  Sending you so much love and gratitude!
Xo,
Jen