We have tried and tested so many clean beauty products to find the best that are available. We cover daily skincare, makeup and even products for kids. These products are the best of the best and you need to be using them!
Note from Jen: We've never had such a strong reaction to a newsletter that's gone out as we received late last Monday night as we pressed send on the Best Clean Beauty Products Award winners.  I'm still sifting through the replies and DMs and promise to get to every single one.  I can't tell you how much your feedback means to me!  I also realized in going through your messages that it made a lot of sense for this content to live here on the blog as well so that it's easier to search and shop in the future. (I for one know I will be referencing it for years to come!)  If you're not on the list, here's what you missed...
Like so many things, wellness seems to be a slow push in the right direction, rather than a resolution never broken.  A better choice here, a product replaced there.  A journey towards a clean, green beauty routine so often starts with the best of intentions, a spontaneous purge of toxic products, proceeded by a few steps back when just the right substitute can't be found.  I once dug my Armani foundation out of the trash can thirty minutes before a shoot-- there's no judgement here.
The Best Clean Beauty Products
What you will find here, though, are dozens of products that our entire team has been testing and trying since November, when we set our minds to finding the best in clean beauty, once and for all.  In truth, I wish that we didn't live in a world where phthalates and parabens, petroleum and sythetic fragrances had ever been introduced into our products, that we only had good choices and didn't have to read ingredient lists and use search engines to decipher them.  The good news, though, is that the world of clean beauty products has been evolving at rapid speed and there are some really good alternatives out there.
Testing the The Products
In between Halloween costumes and Thanksgiving turkey, Hanukkah and Christmas, Katie, Lauren, Britt, Sara, and I sampled dozens and dozens of products in a whole myriad of categories and chatted frequently about our thoughts.  (We also tapped my good friend Emily to send us some of her favorite products since this is so in her wheelhouse.)  I spent day after day with different mascaras coating the lashes of each eye, paying close attention to which smudged, clumped, or wore off after a few hours. Some products fell flat, while others have me so blissfully happy that it's hard to even recall the  product that it replaced.
Healthy Skincare
So why did we spend so much time on this labor of love project?  Why is it important to switch to clean products?  Because 99% of breast cancer tissue contained parabens when tested. (source) Because the aluminum in your deodorant is also linked to cancer as well as alzheimers disease. (source)  Because it takes less than 30 seconds for skin to absorb just about any product.  Because the EPA has said that parabens are polluting our planet and harmful to our cellular makeup, despite the FDA still allowing them in products. (The EU has banned them.) Also, it's not just about what these products don't have in them.
Why Use Clean Beauty Products?
Clean products derived from natural plants and ingredients contain all sorts of good things like anti-oxidants and vitamins.  Many of them smell better, feel better, and are 100% better for you.  Everyone wins.  Without further ado, friends, our first ever Effortless Chic Clean Beauty Award Winners!

Clean Beauty Awards - Best facial cleanser:
best splurge: Tata Harper Nourishing Oil Cleanser: hands down, the best // gentlest cleanser ever.. so moisturizing and softening to the skin, legitimately helps reduce redness and smooth the texture of my face. It's the only cleanser I've ever found that hasn't caused redness and also removes makeup. Also, used with one pump, once a day it lasts for about 6 months.
best for acne prone skin: Clear Skin Cranberry Cleanser -MyChelle- the cranberry smell is amazing and this totally helps with my acne prone skin and redness.
best gentle cleanser: OSEA Ocean Cleanser : I love the subtle scent and the consistency.  It's not drying at all.
best for dry skin: Flynn & King - Revive Oil Based Cleanser -This cleanser is gentle and doesn't feel like it's stripping your face of all the good oils. It almost feels like you have applied moisterizer after you finish rinsing it off. Plus, I love that it's made in small batches so you can ensure it's quality and fresh.
Clean Beauty Awards - Best AM moisturizer:
best for redness: Chantecaille Creme Anti-Stress Amazing for helping smooth texture and reduce redness and inflammation, this stuff is so amazing, it's the only moisturizer I use that has made a noticeable difference in the texture and redness of my cheeks. I get compliments on my skin all the time since using it.
best tinted: W3ll People - Bio Tint Multi-action Moisturizer-- For the AM, I love a tinted moisterizer because I don't wear make up. I feel so fresh when I use this, it evens out my skin tone and has no harsh chemicals. Love!
best light moisturizer: Osea Atmosphere Protection Cream: This is super light, but still moisturizing.  I love this whole line. The scent is super pleasant and not overpowering. It's a really good daily moisturizer, especially if you're already layering on SPF and a serum.
best for oily/acne prone skin: Skinceuticals Hydrating B5 Gel:  This is an oil free formula. It has a different consistency than a cream moisturizer, but is super moisturizing and won't break out your skin!
Update: New products we are loving in 2018:
Emminence Bright Skin Moisturizer with SPF 30: This is one of my favorite lines and this product in particular is full of antioxidants and protects your skin with SPF 30 while also lightening dark spots and brightening your skin's overall appearance.
Beautycounter Adaptive Moisture Lotion: If you're into Beautycounter or curious about it, you should definitely follow my friend Brooke on Instagram. She sent me a few new products to try towards the end of last year and this one was by far my favorite. It's super lightweight and just feels so good on your skin. It's great if you're already using an SPF and are looking for something that doesn't have UV protection.
Image Prevention+ Daily Hydrating Moisturizer: I love this one because I love the brand and ingredients that they use, but also because of how lightweight it is. It's so hard to find a lightweight moisturizer with SPF and this one is great!
Osea Atmosphere Protection Cream: Osea is based in Malibu, California and incorporates bioavailable seaweed with cold pressed essential oils and other ingredients to calm skin and protect it from toxins in the atmosphere. This one is very lightweight and has a very pleasant, but totally non-descript and not overpowering aroma.
Clean Beauty Awards - Best PM moisturizer:
best splurge: Chantecaille Rose de Mai- even though it costs a fortune, in my opinion, it's worth it. I only use it in the summer months when the heat dries out my skin more — I try so hard to make one bottle last a year haha! — but it's awesome. Again, incredible difference in redness beneath the skin and overall texture, it's so, so good and doesn't have a strong smell like other oils sometimes do.
best anti-aging: The Seaweed Bath Co Restoring Marine Night Therapy: This is by far the heaviest cream that I own.  I love it. It feels like it's really sinking into all of the lines on my face and making a difference in reducing them. Plus, it's a bargain for night cream.
best organic: Simply Bliss by Simply Wellness - Whipped Tallow Facial Butter
I have extremely dry skin, along with a very pink/red tone at times. This cream has changed that! I cannot say enough about how this moisterizer has helped my face. I came across it by accident on Amazon and now I absolutely swear by it.
best all-around: SkinCeuticals Emollience- Obsessed doesn't even begin...!  I love the way this makes my skin feel. I have normal to dry skin and can actually wear this during the day too right now in the winter. I think it would be too heavy for me in the summer, though, for AM use.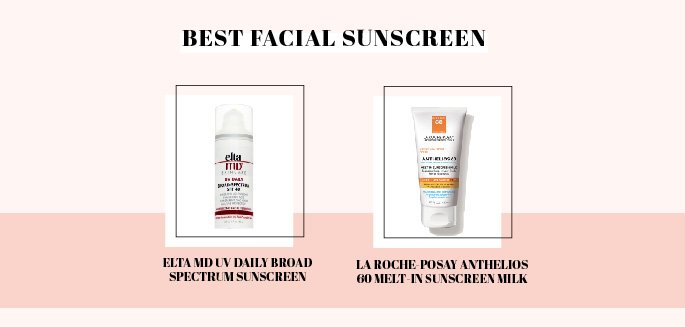 Elta MD UV Daily Broad Spectrum Sunscreen: I love that it's light and not overly greasy.
La Roche-Posay Anthelios 60 Melt-in sunscreen Milk

The best facial oil:
For AM: Living Libations - Seabuckthorn Cleanser Moisterizer Oil-- I have tried a lot of facial oils and this is by far my favorite. It absorbs quickly and leaves skin super soft without sheen.
For PM: Nude Progenius Rescue Oil: On the heavier side, but really leaves my skin feeling refreshed the next morning.
Best facial mist:
Osea Sea Vitamin Boost: This is so light and refreshing. It's perfect to keep in your desk drawer, car, or with you while traveling for a little mid-day boost!

Clean Beauty Awards - Best facial exfoliator:
best gentle: NUDE Detox Brightening Fizzy Powder: So obsessed with this product. I love that it isn't oil based.  It feels like it's really sloughing away all of those dead skin cells without being too abrasive.
best resurfacing: The Seaweed Bath Co, Purifying Micro Scrub: I love how fine the crystals are and that your skin feels noticeably different after one use.

Clean Beauty Awards - Best face mask:
Best for blackheads: MyChelle Fruit Fiesta Peel- leave on for just a few minutes.  It's really good for blackheads on the nose.
Best resurfacing: Acure Vegetable Brightening Peel: I was super skeptical, but could actually tell a difference in the surface of my skin after one use!
Best budget: Indian Healing Clay (100% bentonite clay) --The only mask I use, perfect for a quick skin refresh.  It's a total mess to mix up and do but it's worth it!
Best purifying: Beautycounter Charcoal Mask-- I discovered this one when they did their collaboration with Target and fell in love with how clean it leaves my skin feeling.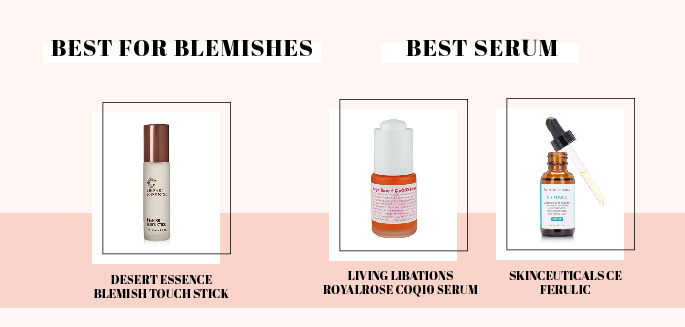 Clean Beauty Awards - Best for Blemishes:
Desert Essence Blemish Touch Stick: It's tea tree oil based and is super effective on breakouts.
Clean Beauty Awards - Best serum:
Living Libations RoyalRose CoQ10 Serum-- Love this for around the eyes, lips and anywhere you see wrinkles forming.
Skinceuticals CE Ferulic-- This is such a splurge, but it does seem to really make a difference in the moisture level of my skin and also some of my hyperpigmentation areas.  It's main purposes is to protect skin from free radicals and aging.  The good news is that a little goes a long way, too.
Clean Beauty Awards - Best chapstick:
Dr Hauschka Lip Care Stick- love the scent of this one!
Vapour Organic Lip Conditioner: I love that this lip conditioner doesn't leave any weird residue. I put it on morning and night and always under any color for added moisture.  Parker uses it too, ha!
Jack Black Intense Therapy Natural Mint Lip Balm: This stuff is AMAZING and I love that it has SPF. I am seriously never without it.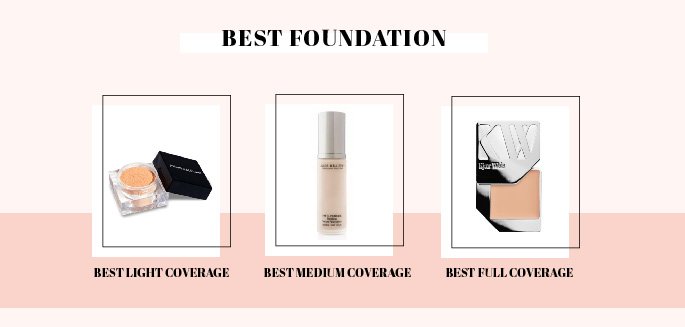 Clean Beauty Awards - Best foundation:
best light coverage: Loose Mineral Foundation-Mineralogie: Mix with morning moisturizer to make a tinted moisutrizer before dusting with powder on face to finish.
best medium coverage: Juice Beauty Phyto Pigments Flawless Serum Foundation: A lot of clean foundations feel so heavy to me.  This one goes on nice and light, but still offers great coverage. It's my personal fave! -Jen
best full coverage: Kjaer Weis Cream Foundation: This product is aces!  You can really get full coverage if that's what you're looking for without a super caked on look which I think is so hard to find in a clean makeup product.  It's pricey, but seems worth it.  I read a bunch of reviews, too, and apparently I'm not the only one who loves it!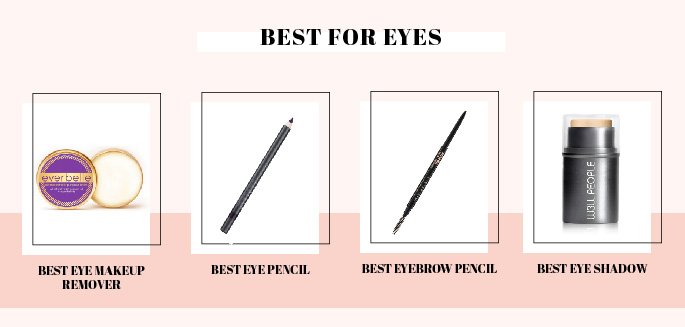 Clean Beauty Awards - Best Makeup
best eye makeup remover:
Everbelle: I've been using this for YEARS!  It's purely coconut oil and essential oils, so as green as you can possibly get.  I rub it all over eye lid and lashes and then gently rub it off with toilet paper.  It gets off all of my mascara and eye make up and never burns or irritates my skin or eyes.
best eye pencil:
Chantecaille Luster Glide Pencil (Clearly, I wish I had their entire line of literally everything, haha!! I love this though because it goes on really easily and doesn't smudge up to the top of your eyelid with extended wear. Also the midnight blue and the Forest color are really pretty in person. They carry the line at Barneys and Neiman's and maybe Saks?)
best eyebrow pencil:
Anastasia Brow Whiz Best, most natural pencil ever. The triangle shape on the pigment part gives the most natural look I've seen, much better than the traditional point that most pencils are. Plus it comes with a brow brush on one end so you can shape and prep easily with one tool. It's awesome. I've had mine for almost six months and use it probably once a week // still have a good amount left, so I feel like it's worth the $$!)
best eye shadow:
W3ll People Bio Brightener Stick: works like a cream shadow on inner eyes- upper and lower lids

best mascara:
Britt's Fave! Mineral Fusion Volumizing Mascara
Jen's Fave! Well People Expressionist Mascara: I think mascara is not only so hard to find one that you love, but I think that people like mascaras for different reasons so my favorite might not be your favorite, etc.   My eyelashes are very blonde and not super thick.  I layer this mascara on -- 2-3 coats quickly before the first coat can dry.  It gives them volume and thickness and doesn't get all over or under my eye.
Best Budget Find: Physicians Formula Organic Wear Mascara: This is such a very close second for me.  I tried this on at the same time as Well People and would wear one on each eye.  It's significantly cheaper and so close to the Well People.  It's just slightly smudgier at the end of the day and I don't like the brush as much.


best concealer:
Vapour Illusionist Concealer: Creamy texture + good coverage
best bronzer:
W3ll People Bio Bronzer Powder: Dust a little bit to go a long way- use as a blush- color blends with all skin tones and gives a subtle glow

best lipstick or gloss:
Vapour Velvet Gloss: I really like subtle color and consistency of this one.
Beautycounter Sheer Lipstick: I like that the color isn't too intense and it doesn't dry out your lips.
best blush: 
Ilia's Multi-Use Stick in A Fine Romance (It goes on really easily, doesn't clog my pores or make me break out. It's lasted me a super long time, because I basically just dab it on a tiny bit and then rub it in. A little goes a long way, for sure, but it's amazing.
Amareta All Over Color in Natural Flush Twinkle-- Love the color and the creamy consistency. I like that it goes on pretty light and you can layer darker from there. I think a lot of cream blushes are super intense. I've also used it as a matte lip color.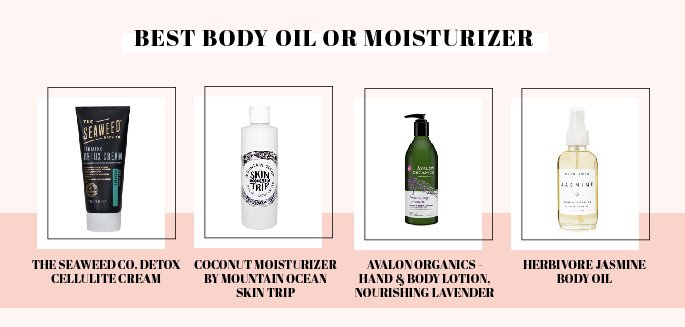 Clean Beauty Awards - Best body oil or moisturizer:
The Seaweed Co. Detox Cellulite Cream (I love this stuff so much and it's not super spendy. They sell it at most health food stores, Whole Foods etc., but it's nice and thick and leaves your skin feeling moisturized without being sticky or oily. Plus, it smells like spa in this scent, yay, haha! Also, I feel like texture wise it's smoothed my skin a little, I wouldn't say it's done major wonders as far as cellulite but I didn't really have an area of that that I was trying to treat so I kind of can't speak to its wonders or lacking there… lol. Really it's just a great option for ppl with sensitive skin who want something with a little scent that's not too overpowering or thick.)
Coconut Moisturizer by Mountain Ocean Skin Trip: The smell alone! So good!
Avalon Organics - Hand & Body Lotion, Nourishing Lavender-- I use this all over after a shower or bath. It's calming, smells great and a little goes a long way.
Herbivore Jasmine Body Oil: I love this! It absorbs really well and doesn't get on your clothes.

Clean Beauty Awards - best fragrance:
Maison Louis Marie- No.4- smells like Santal 33- sweet earthy tones- men tell me i smell like bourbon and everyone loves it
Clean Beauty Awards - best deodorant:
Schimdt's Lavender & Sage: A natural deodorant that actually works-- even on my husband!
Vapour Next Level Deodorant: This has really worked for me.  I love the scent of the essential oils.  A little goes a long way, but it's still a big price to pay for deodorant.

Clean Beauty Awards - best body sunscreen:
Coola Unscented Spray (I love this stuff so much — you know me I'm a total "no sun" girl because I want to look young forever, and this stuff works really well. It goes on easily, dries fast, doesn't have a gross smell and isn't greasy. I usually reapply after an hour or two just to be safe but even on super hot days when I couldn't escape being out in the sun in the summer I came through unscathed!)
La Roche-Posay Anthelios 60 Melt-in sunscreen Milk: So good!
Clean Beauty Awards - best body scrub:
The Body Deli Coachella Date sugar scrub is magical and smells like bubblegum (in a good way lol), but leaves skin so so soft, and all their products are only food-sourced, plant-sourced ingredients, but the presentation isn't too hippie-crunchy-granola haha! It's something you can give as a gift and be proud of what you're giving, you know what I mean? Their juniper sage scent is also sooo awesome. Total spa smell.
The Seaweed Bath Co Exfoliating Detox Scrub with French Clay + Coffee Extract: Love everything about this-- the ingredients, the consistency, and the results.

Clean Beauty Awards - best hair styling product:
best for course hair: Reverie Milk: smoothing milky serum; soaks into hair when wet leaving it non greasy and smoothe- can also add to hair when dry to de-frizz
best for fine hair: Davines Oi All in One Milk: The smell is nothing short of incredible.
Clean Beauty Awards - best hand lotion:
Naturopathica Lemon Verbena (makes your hands so, so soft and moisturized but again, isn't oily. Also it smells like spa but is light and not overpowering or too sweet. Everything in their line is incredible, like actually incredible. Their lavender eye pillow is my absolute favorite, their teas and medicinal honeys are good, the grapefruit body lotion is good too, and their magnesium muscle soak is amazing..)

Clean Beauty Awards - best nail polish:
Aila: love the colors and the brush!
Clean Beauty Awards - best nail polish remover:
best budget: Mineral Fusion: Widely available and works decently well without drying out or irritating my skin.
best splurge: Aila: I had super low expectations, but this product works extremely well!  Not only does it remove the polish but my skin feels moisturized afterwards, not dry like it would after using more conventional products.
Clean Beauty Awards - best shampoo + conditioner: 
best splurge: Reverie Nude shampoo + conditioner : takes a few days of use for hair to get used to- doesn't lather too well first few days but after leaves hair looking great
best budget: Giovanni 2chic - Avocado & Olive Oil Ultra Moist Shampoo & Conditioner- I have really dry brittle blonde hair, so i love this super moisturizing duo.
Clean Beauty Awards - best dry shampoo:
R+Co: Great for all hair colors, too.
The Best Oral Care Products
best toothpaste: 
Doterra On Guard this costs a small fortune, it's less if you're a Doterra member because then you get the wholesale price, but it is hands down the best natural toothpaste I've ever found as far as lasting freshness results and just general taste it leaves in your mouth… as opposed to other grocery store brands which I always felt like made my mouth taste gross like 10-15 min after brushing.
best floss:
TheraNeem Naturals Best, most whitening natural floss I've found. The taste is basically nonexistent in the peppermint flavor. It's sort of there, but not overpowering and not too harsh on the gums, but I will say Neem is a superpower plant and has major bacteria-killing abilities, so it's great for keeping your breath fresh. It's also technically an Ayurvedic herb, so it's been around // seen as "amazing" in healthy circles for a long time. This floss is a little hard to find in Whole Foods. I get mine at Mother's in Orange County, but it's pretty readily available online and a little cheaper!
best teeth whitener:
My Magic Mud charcoal toothpaste: I actually noticed a significant difference in the whiteness of my teeth when I used this. I would use it just once a day, and within about two weeks my teeth were significantly whiter and less coffee-stained. The charcoal is a natural picker-upper of particles so basically with the essential oils in the product it softens the plaque on your teeth and then the charcoal lifts it off as you brush. It's awesome.. It does stain your toothbrush head, though, and can stain your towels, so it's best to clean up with a black cloth or thick tissue or something else disposable. A charcoal toothbrush like this one won't matter if it gets stained too! There are other charcoal brushes out there, but this one was the cheapest I found. The range is $8-10 per brush and some packs of four are like $35.
The best kids' products
Babo Botanicals Moisturizing Shampoo & Wash (with comforting oakmilk & calendula)-  I was gifted this by a friend and absolutely love it. It has helped flora's cradle cap and anytime a skin rash has popped up, one bath with this and it's gone.
Babyganics Baby Shampoo and Bodywash: Addicted to the foam, addicted to the smell. Love that it's super hypoallergenic and clean.

Clean Beauty Awards - best kids moisturizer:
Babo Botanicals Moisturizing Lotion (with comforting oakmilk & calendula)
Smells wonderful and keeps her skin super soft.
Beautycounter soothing baby oil: this stuff feels ultra luxurious and absorbs easily without being too greasy. I actually use it myself quite a bit.
best kids sunscreen:
Badger Baby Chamomile Calendula Sunscreen: This is the cleanest sunscreen out there in my opinion. Works great for my little... I even use it on my face when going in the sun for the day because it's so gentle!
Babyganics Sunscreen Spray: We have had really great luck with this sunscreen and with this whole line.  Give me a spray, any day.
Make A Little Change
There are so many clean beauty products available now, and although it's a big task to swap all of your beauty products and skincare straight away, I employ you to start changing your products to clean bit by bit.
Everything has been tried and tested!
Our team has spent weeks, days and hours finding the best clean beauty products out there and thoroughly testing them. Hands on heart, these are all products we use and are happy to recommend to all of our readers.
It's not just how you look!
These clean beauty products will not only make your skin glow, but they are good for your body too. No toxic ingredients and they are great for those with sensitive skin.
Be sure to check out these other skincare posts:
Our plan is to continue to update this list, too, as we discover new products.  What did we miss? We would love to here from you! Are you making the swap to clean beauty products?