This 1970's Kitchen Remodel is one you truly have to see to believe! Keep reading for all of the oh-so-satisfying before and afters. Check out the rest of the house here or see the Daniels' first renovation home tour here! Now here's Lauren for the full kitchen tour...!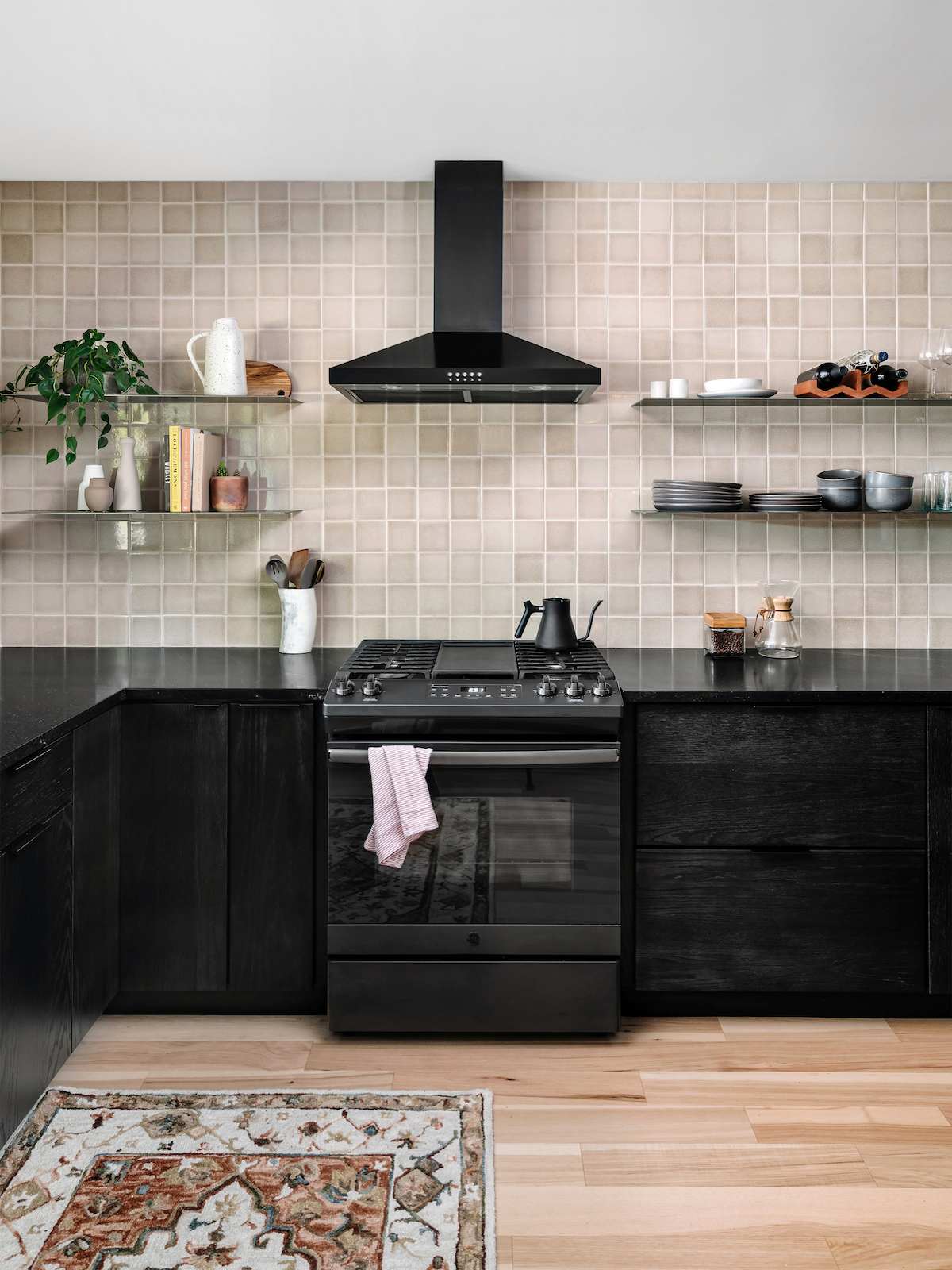 I've been anticipating this reveal since demo day, I (Lauren) saw so much potential in this walled off, outdated 70's kitchen. I immediately loved a few things about it-- tons of natural light from a large window and sliding glass door, and the view out into our backyard. I have always had a sweet little desire to be washing dishes or preparing dinner while looking out at my kiddo playing. Not only did that dream become a reality, I also get the joy of watching my little play in the living room too. I never realized how much I would appreciate this open format kitchen.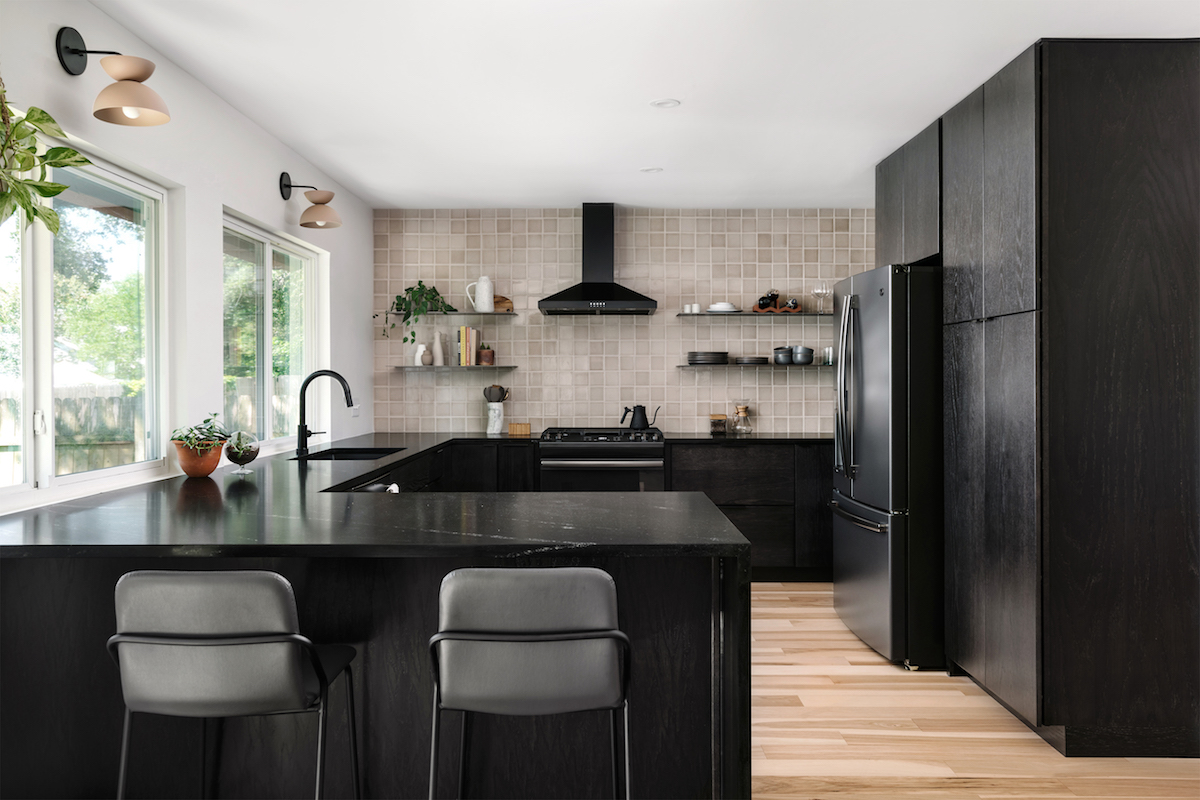 For starters the original kitchen had a furr down that made the space feel super small, the dishwasher and oven competed for space when opened and frankly, it was just sort of awkward overall. There was an odd opening on the wall between the dining room and there wasn't enough room for a breakfast nook or an island, yet there was sort of this empty unusable space. So we stripped it down to bare bones and then opened up the wall dividing the kitchen from the living room.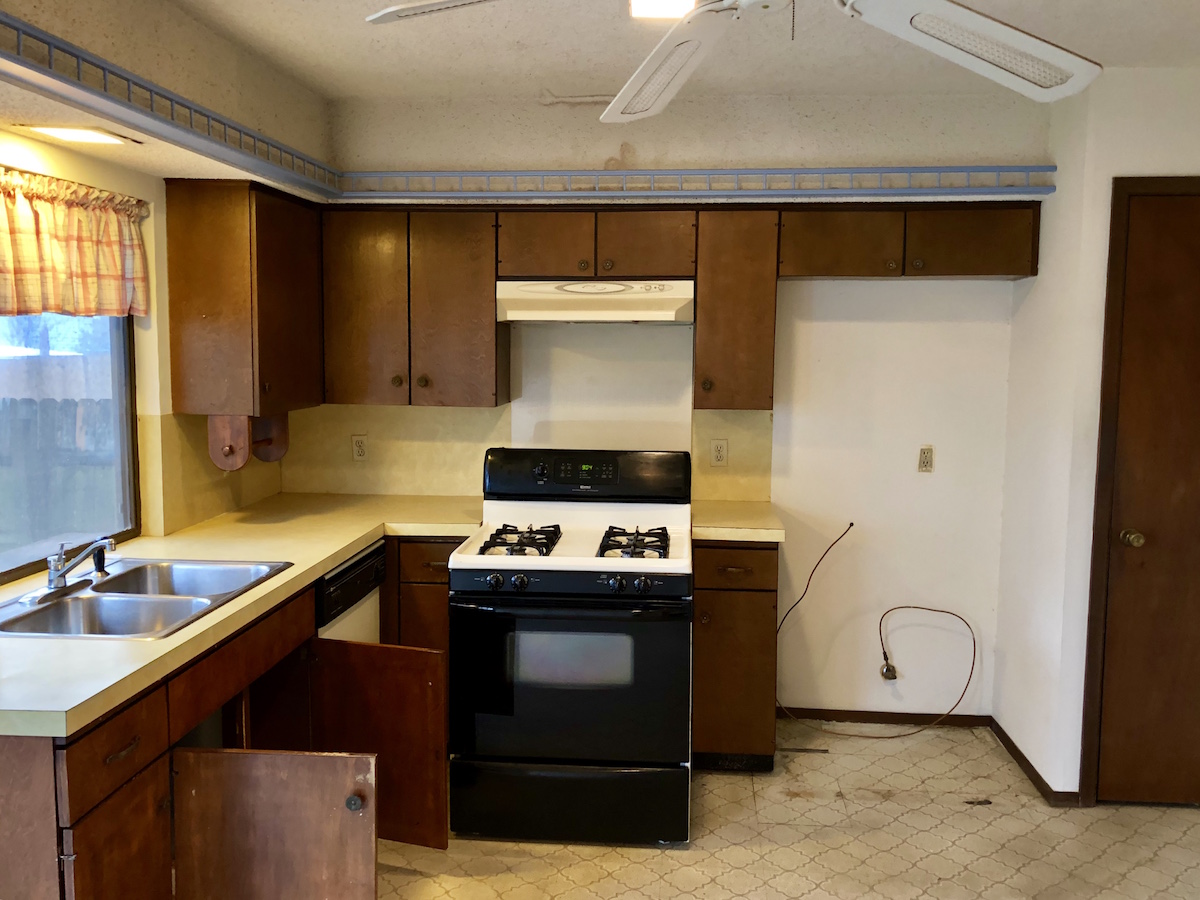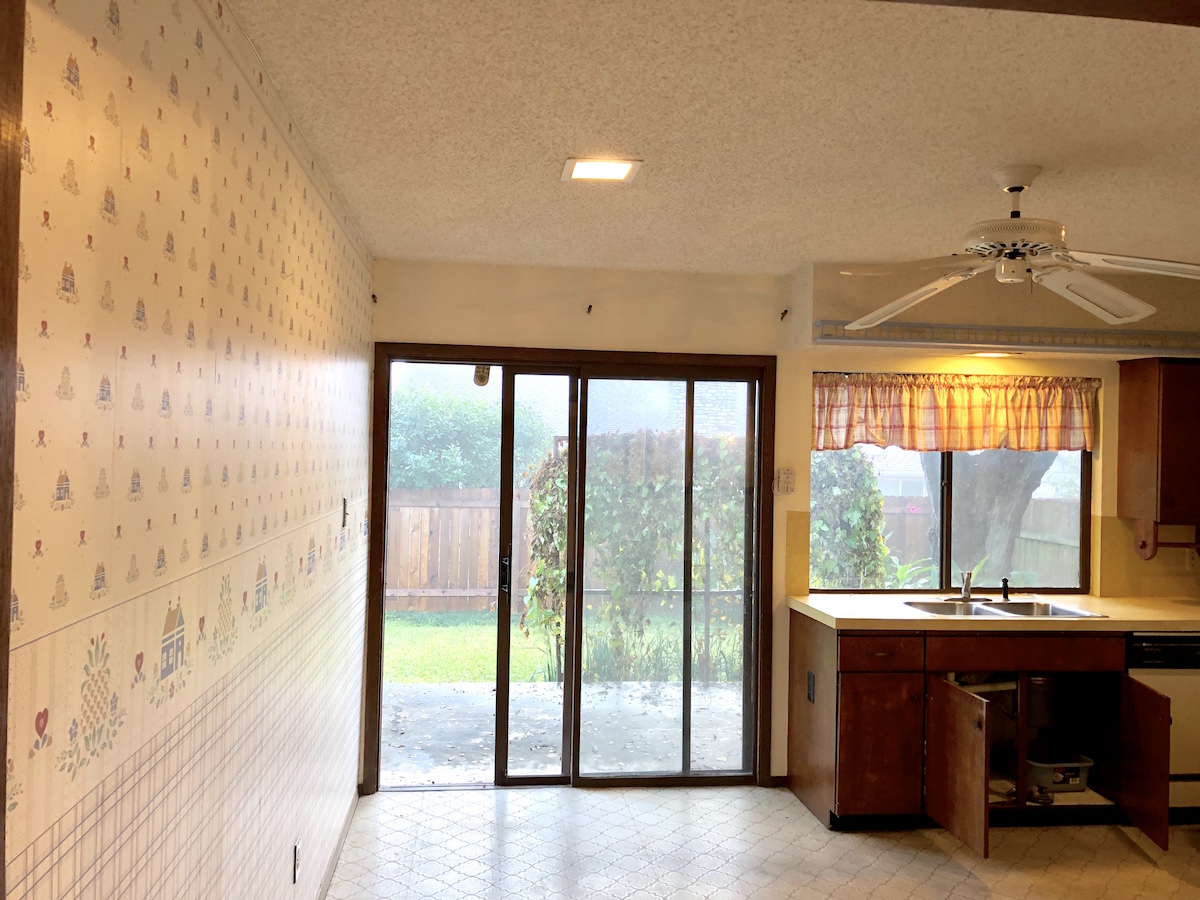 Initially we really went back and forth on keeping the slider but ultimately decided with the wall opening up and the lack of counter space, to make it another window. So the layout ended up being a G-shaped kitchen. Where the wall came down is now a bar that looks out into the living room. After being in this space for several months, I can safely say it's better than I imagined. I LOVE the layout of this kitchen.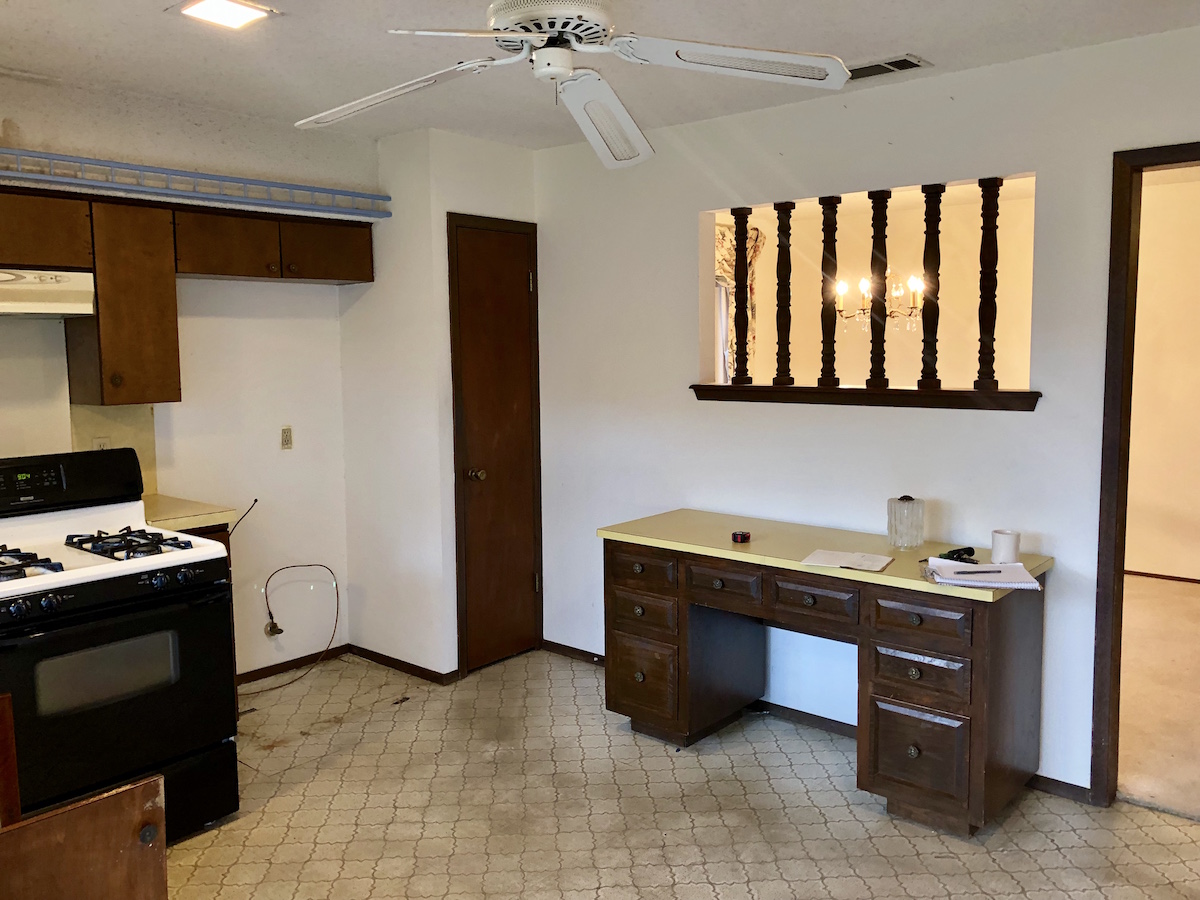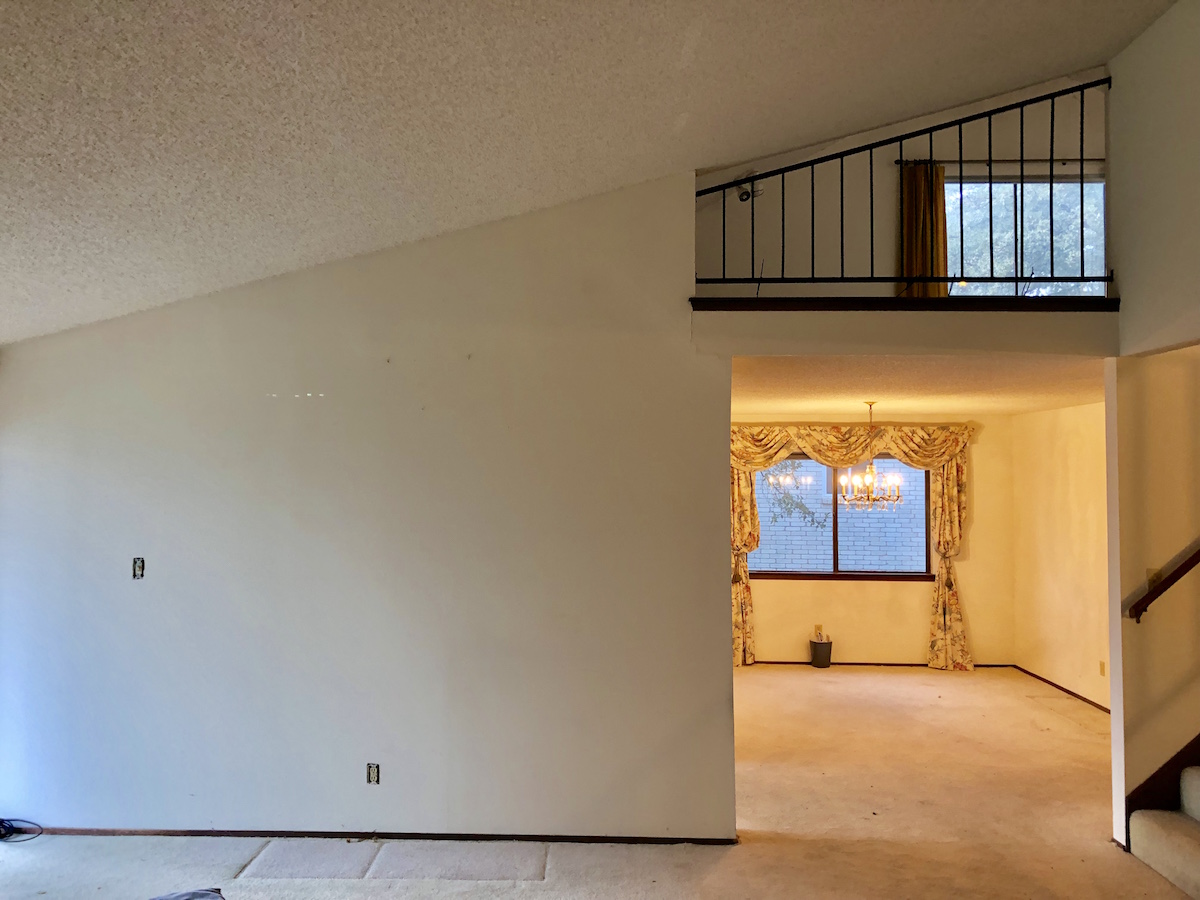 Once we figured out the layout and window placement for the kitchen remodel, we had to start making design decisions. I stayed away from Pinterest and like our bathroom, leaned into doing something classic but unique. Our last kitchen had a rustic feel and I really wanted to move into a more modern feel. As silly as this sounds, I feel like a light fixture inspired the design for this kitchen. I instantly fell in love with Triple Seven Home's Florish Sconce in a gorgeous matte Pinto color. It felt fresh, modern and clean. Exactly how I wanted our kitchen to feel. Needless to say two of these sconces are now central features above the windows.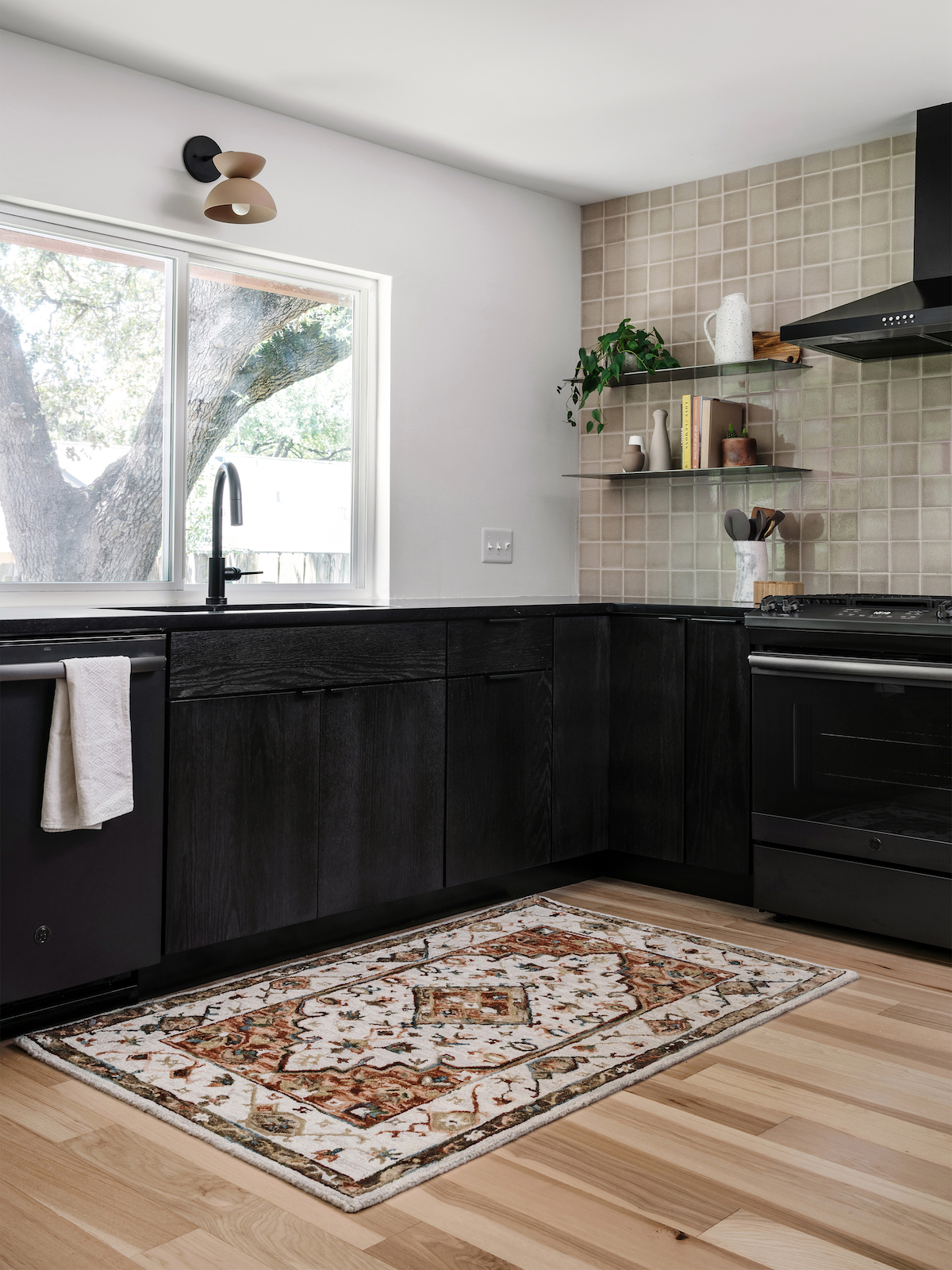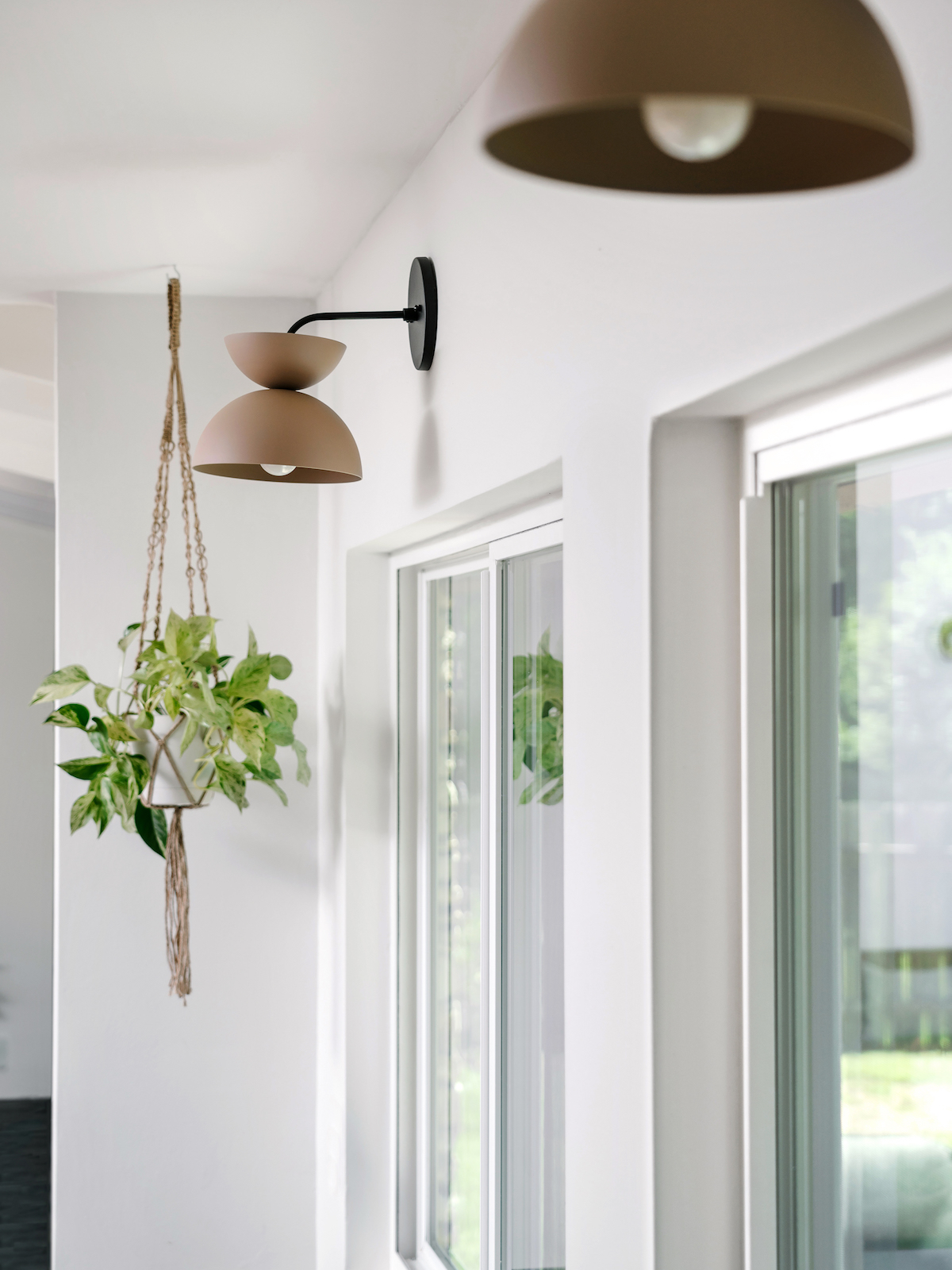 For cabinets we considered quite a few options on colors but both agreed we wanted some wood grain with a matte black feel so we went with a stained oak. Chase sort of let me have free reign on layout so I also decided on no uppers except on one side next to the fridge, which is the floor to ceiling pantry. I wanted open shelving again, but this time it would span the focal wall. Chase and his father fashioned some blackened steel beauties together in a DIY project. I love how minimal they are. And for all you thinking I'm crazy because I don't have uppers, I promise you, I have no regrets. We are minimalists and I still feel like I have more than enough cabinet space for all of my kitchen goodies.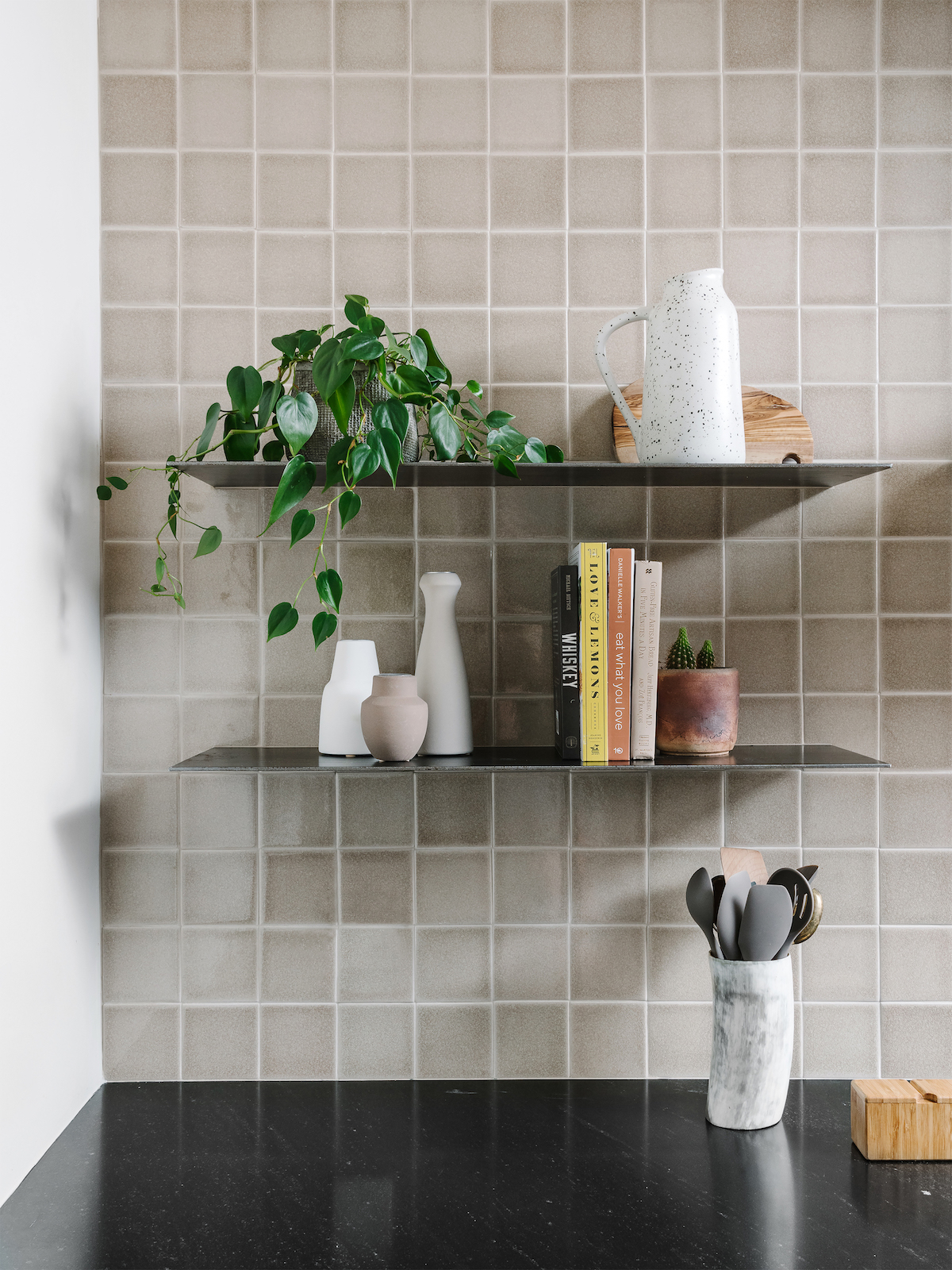 Moving on to countertops. I begged for black on black. I loved the idea of black modern cabinets topped with a dark, rich countertop. Chase was skeptical at first and thought it would darken up the space too much. It took much convincing but after looking at quite a few slabs we landed on a black leathered granite that had just a hint of veining. And boy is it gorgeous. The leathered finish made the decision easy for us. There is no shine, it reads very matte in person, which is spot on with what we wanted.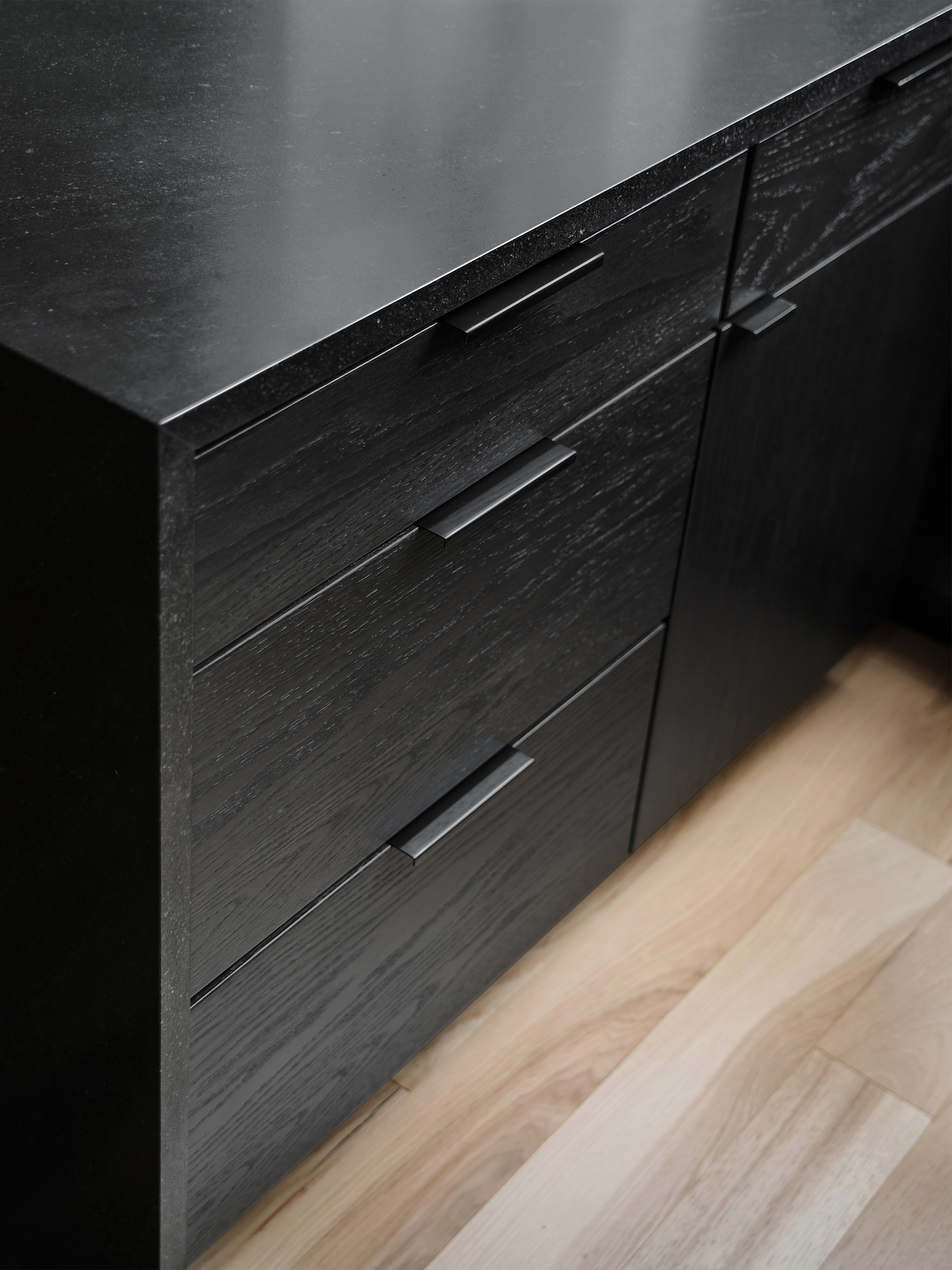 For this kitchen remodel, I was slightly dreading the backsplash portion, simply because I had so much trouble with the decision in our last house. We didn't end up with tile, but instead put 100 year old barnwood up as a backsplash. As we talked about in the Master Bathroom Reveal, we for sure knew we wanted to use Fireclay Tile. Their sustainable model and American handmade tiles are amazing quality and so unique. So we had them send some samples our way and with the fixture in mind landed on a very neutral tan called Birch. With the dark cabinets and countertop it helped to have a warm, bright backsplash to balance the space.
Fireclay hand glazes their tiles so within certain color ways there is slight variations in color and they have an intricate crackled detail which is really what landed us on this tile. We didn't want the backsplash to read flat, but also didn't want it to be some over the top color that we'd regret in 5 years. The 4-by-4-inch tile laid out in a stack bond pattern gives a modern feel and plays off wood floors.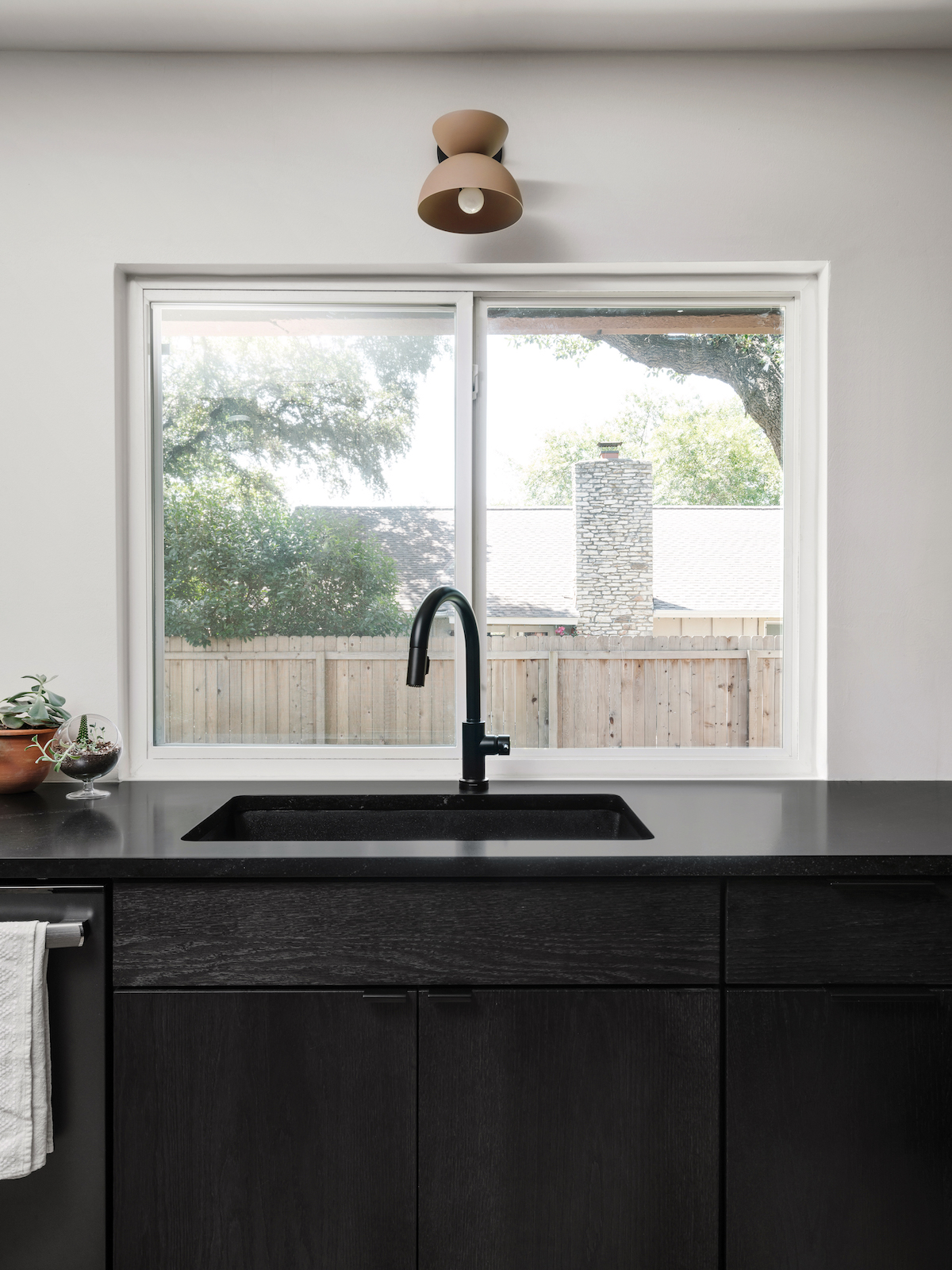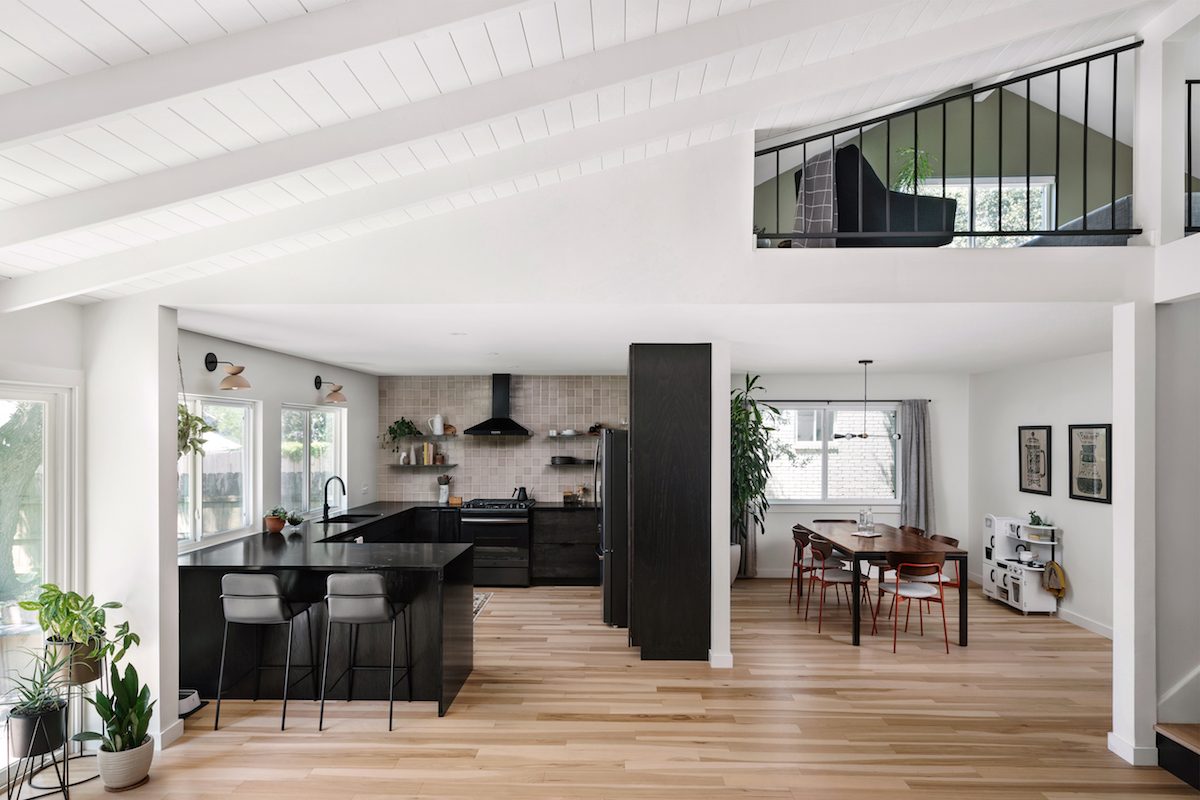 I'm going to talk about how much I love my faucet now so just bare with me. I wanted something super minimal and sleek, we went with a matte black finish on a Delta Trinsic Kitchen Faucet with Touch2O® Technology. Okay, I know it's a luxury but this touch technology is an absolute game changer for me. I am always in the kitchen, whether recipe testing, cooking dinner, baking something just because, or feeding my hungry toddler, messy hands are my life. With this faucet you can touch anywhere on the spout or handle to start and stop the flow of water. Plus, there is a TempSense® Indicator light that tells you if the water is hot/warm/cold. It's one of those 'you don't know what you're missing' type of things. I will admit I find myself forearm tapping normal faucets on the regular though, oops.
I'm going to touch on a few other little details that really finished this kitchen off. I wanted the appliances to feel like cabinetry so we went with Black Slate finishes by GE. They don't show fingerprints and my range has a built in griddle which I am obsessed with. I went with a larger 3'x5' central rug by Loloi. Not only is it the best quality and 100% wool, it is so stunningly gorgeous, I think I gasped when I unrolled it. The traditional pattern matched with the modern feel of this kitchen is exactly what is needed. This rug brings the perfect amount of warmth and softness.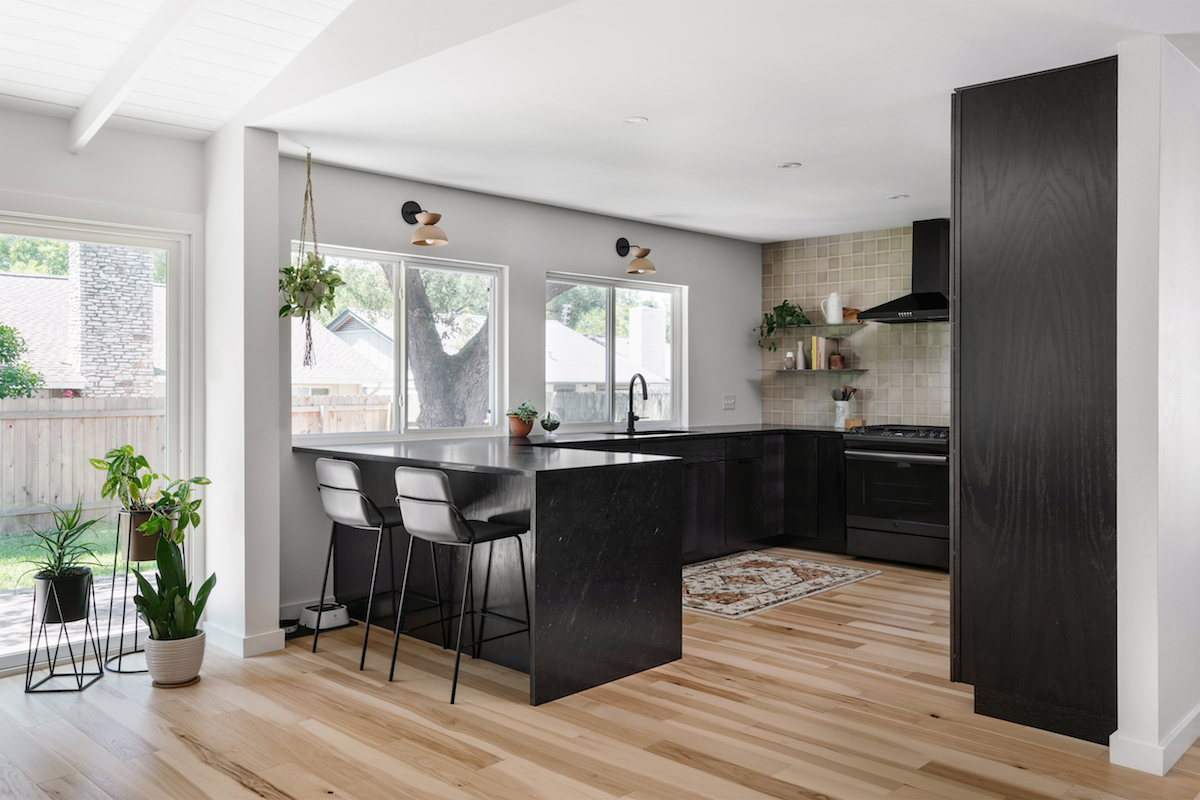 For the hardware, we wanted something that matched the modern feel so we went with a satin black finger pull from J&L Hardware. They are finished solid brass and really incredible quality.
Can you believe how this kitchen came together? What a change! Here are a few more before and after side by side photos from the kitchen remodel: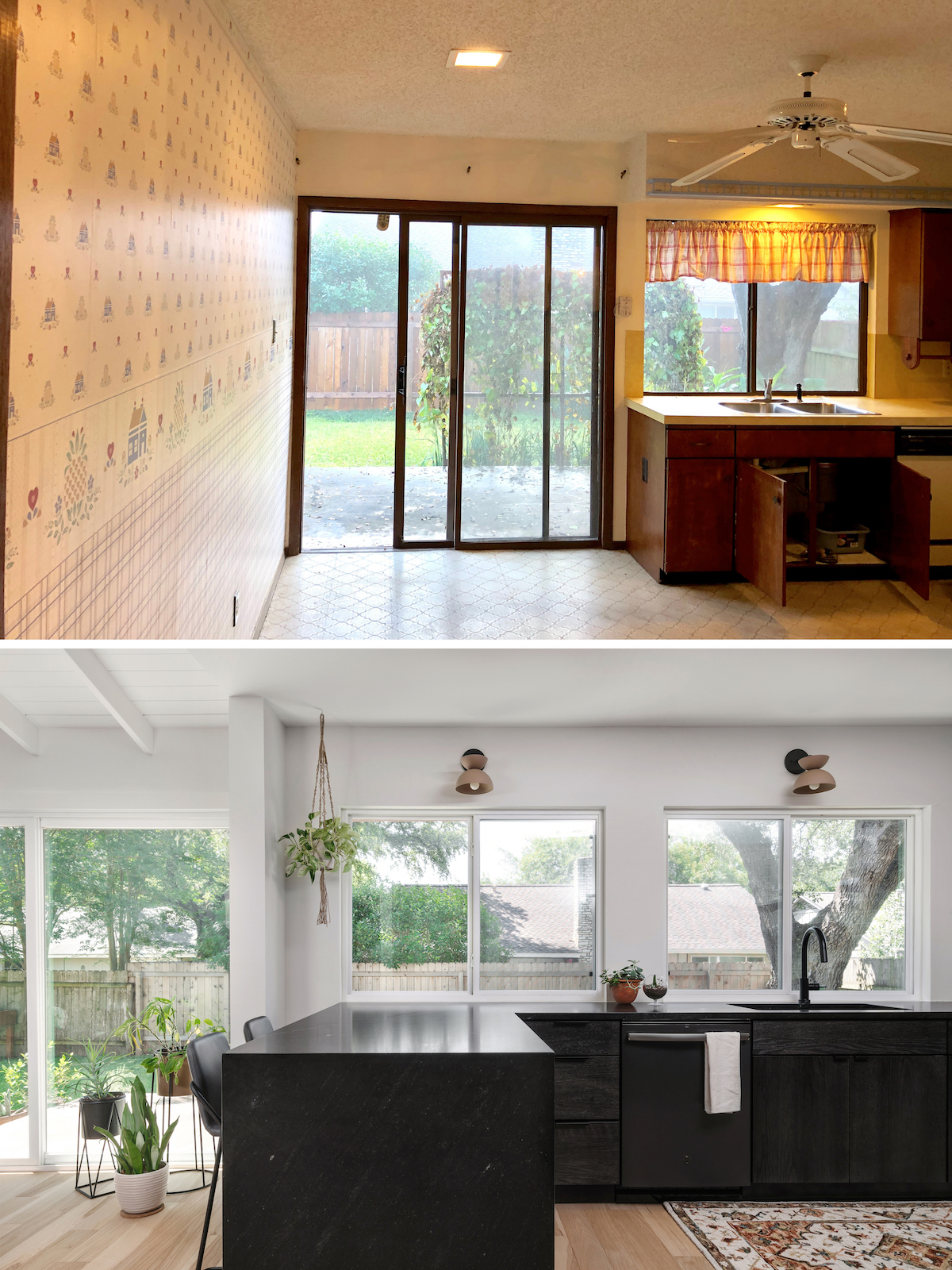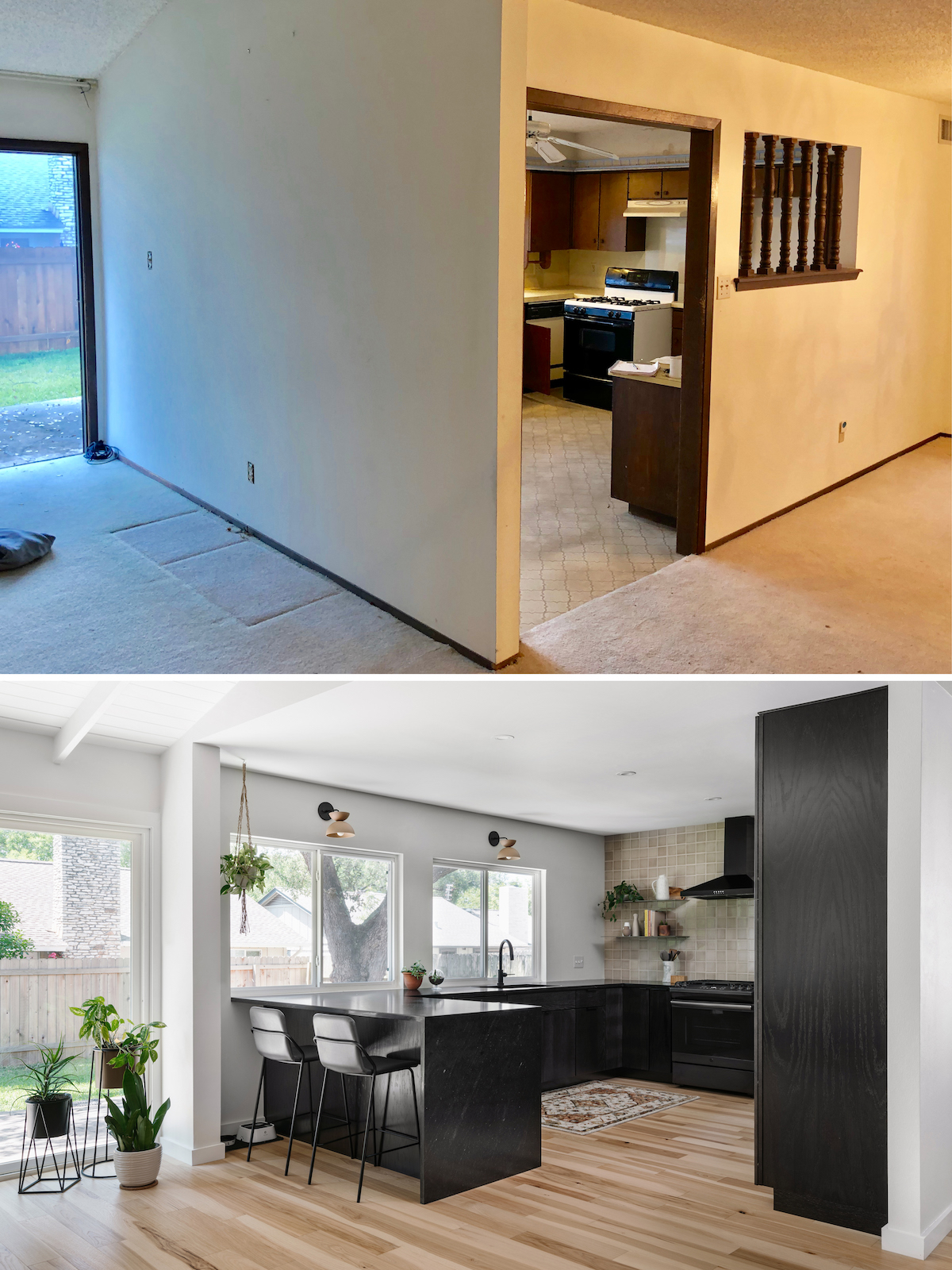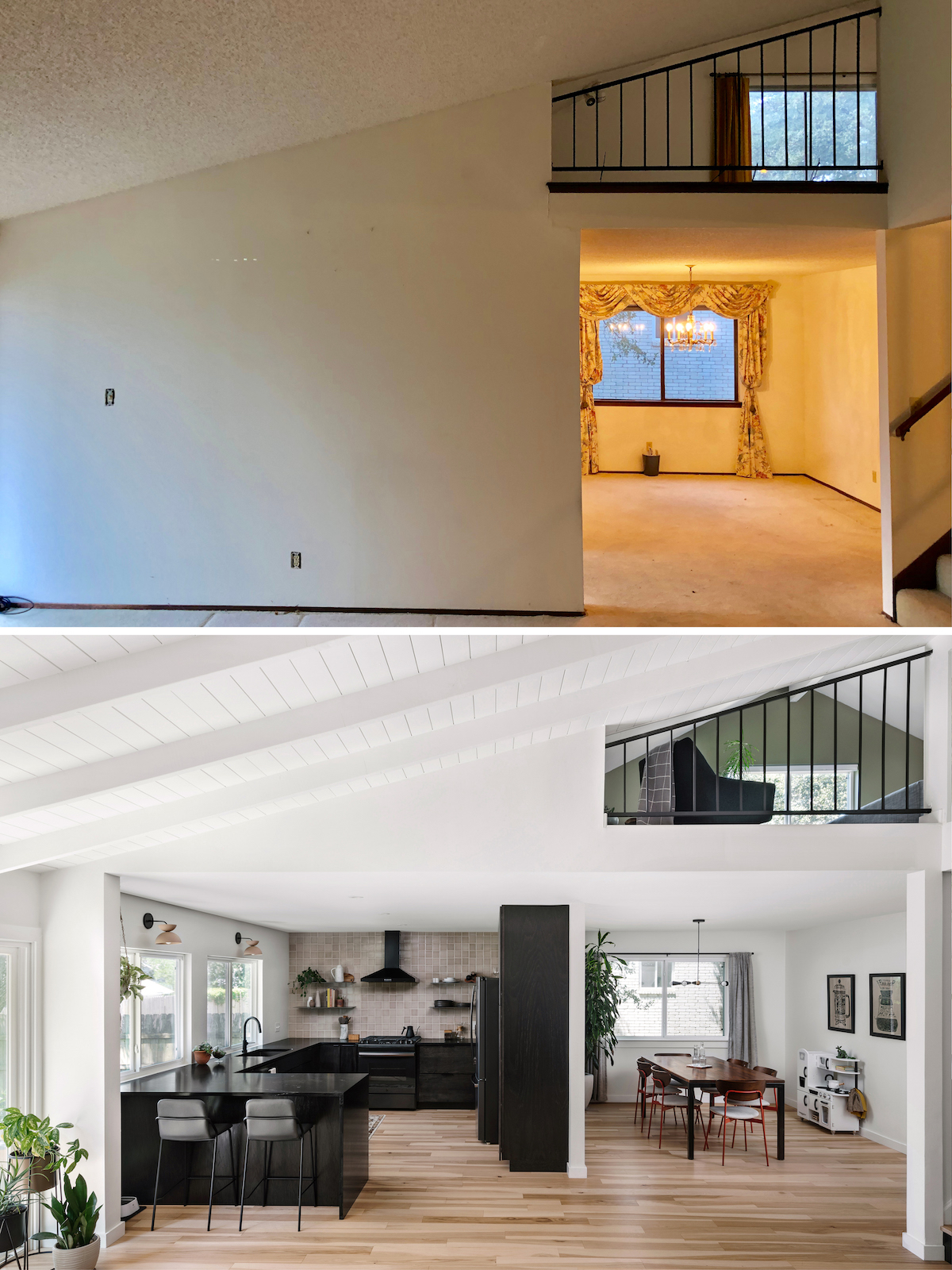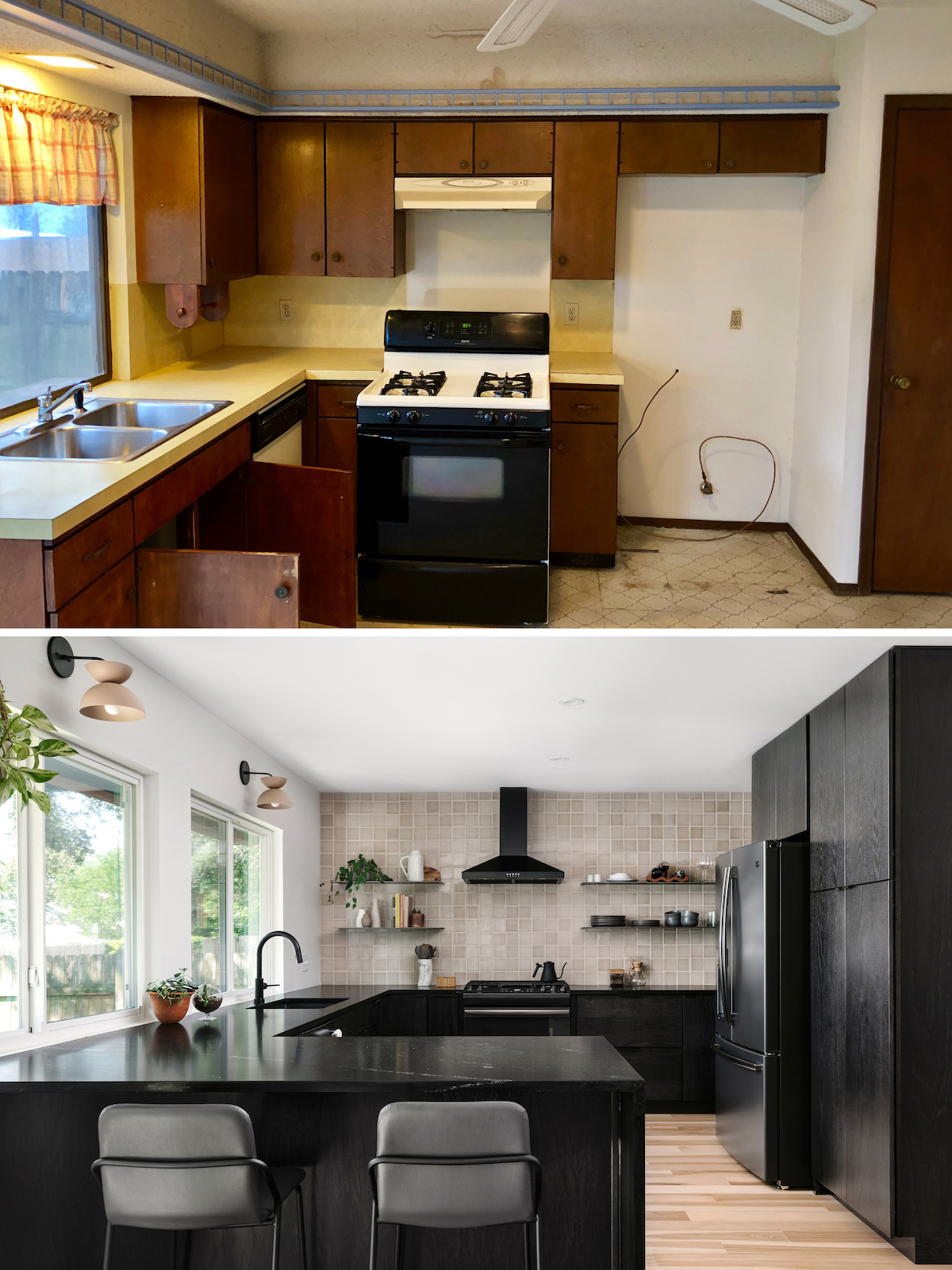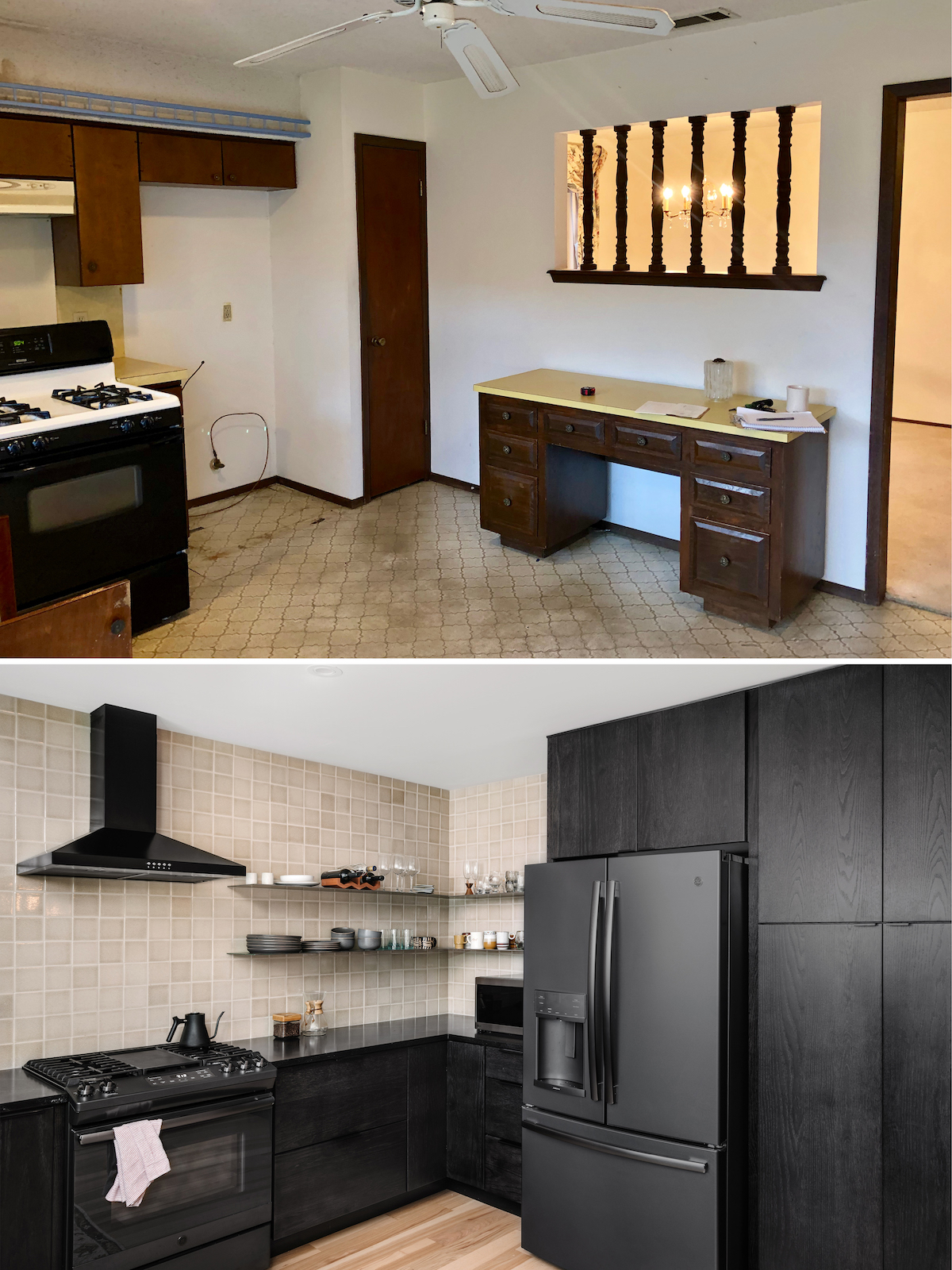 We had to make these kitchen remodel design decisions somewhat quickly because the timeline for completion was tight. Looking back, we may have been a little crazy but man did this little room come together well. And not everything went exactly as planned, that little wing wall was not in our original plan but it ended being necessary for the wide opening we created. Flexiblity is a must in any remodel because it may not be possible to get exacly what you want. If you are in renovation mode and looking for some inspiration, my best advice is to go with your gut. Who cares what pinterest says, you do you!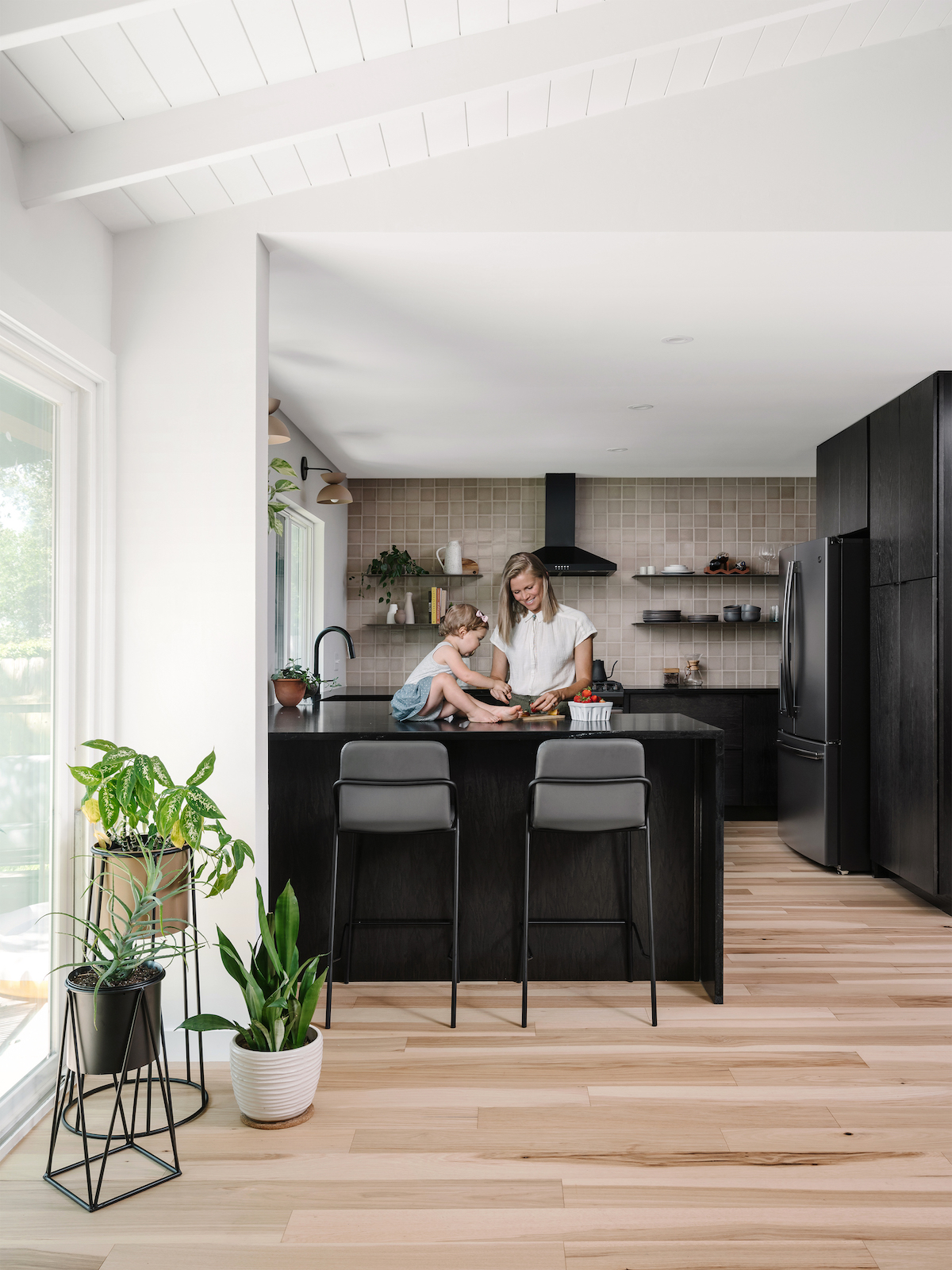 To see more details of our before and after, visit my instagram @mrslaurendaniel and look for the #danielsdodemo in my highlights.
Photography for this Kitchen Remodel by Chase Daniel