10/23/2014
If you are looking for fun and unique ways to decorate your home this Halloween, I've got some great ideas for you! These pumpkin decorating ideas are fun, stylish and chic and so much fun! You are sure to find inspiration here!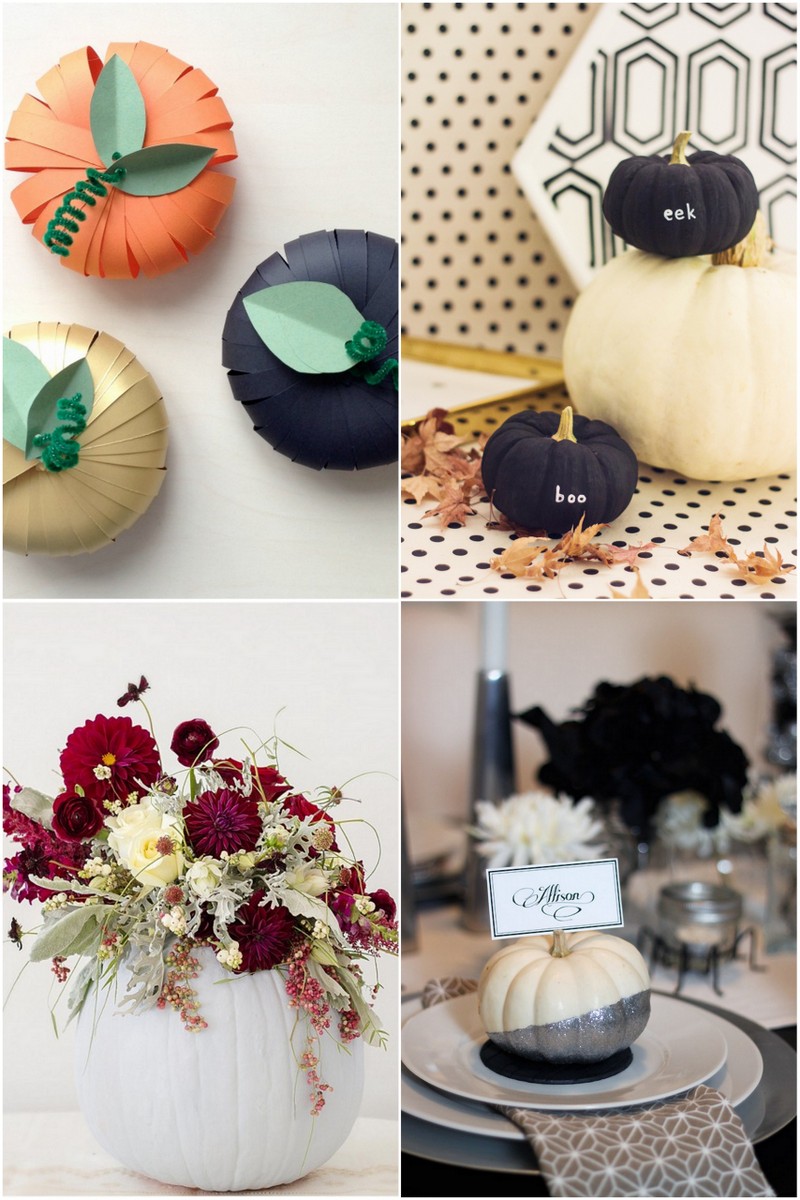 If you've been following along here for a little while, you might recall that Halloween used to not be anywhere near the top of my favorite holidays list.  As a stylist on show that produced a Halloween episode, the holiday meant many hours of many days spent standing on the tops of ladders in musty smelling rental houses, inhaling dust and who knows what else.  By the time October came to a close, I had costumed dozens of people and the last thing I wanted to think about was creating a costume for myself.  Now that I'm not costuming the masses, though, and especially now with Parker here, I have embraced the holiday whole-heartedly!
Pumpkin Decorating Ideas for Halloween
This weekend we're going to do some sort of pumpkin decorating with her, so I've been rounding up inspiration.  (Although, her crafting skills are somewhat limited as you might imagine.)  I will be sure to share what we come up with, but in the meantime, be sure to check out these stellar pumpkin creations!
 One Busy WAHM / Lovely Indeed / Formal Fringe / The Bride Link
Ciera Design / Sugar and Charm / PB Teen / Pop Cosmo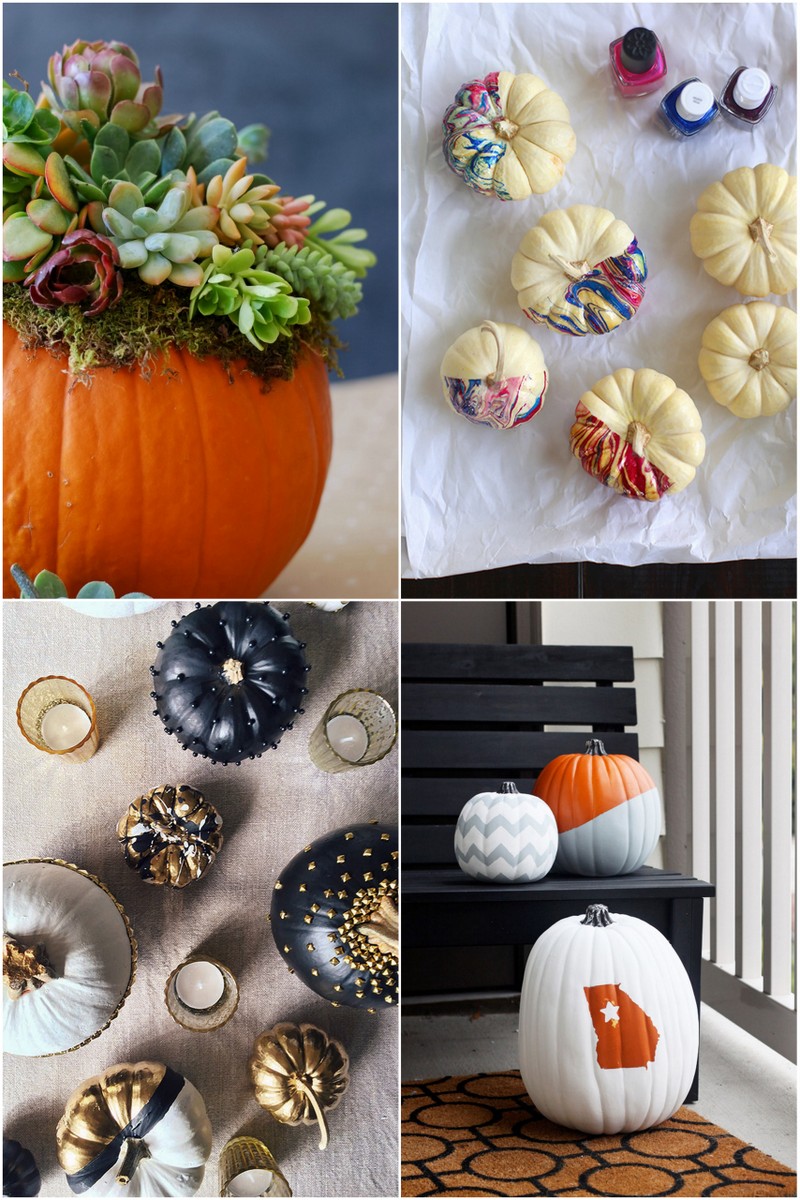 Simply Happenstance / Say Yes / Formal Fringe / The Life Styled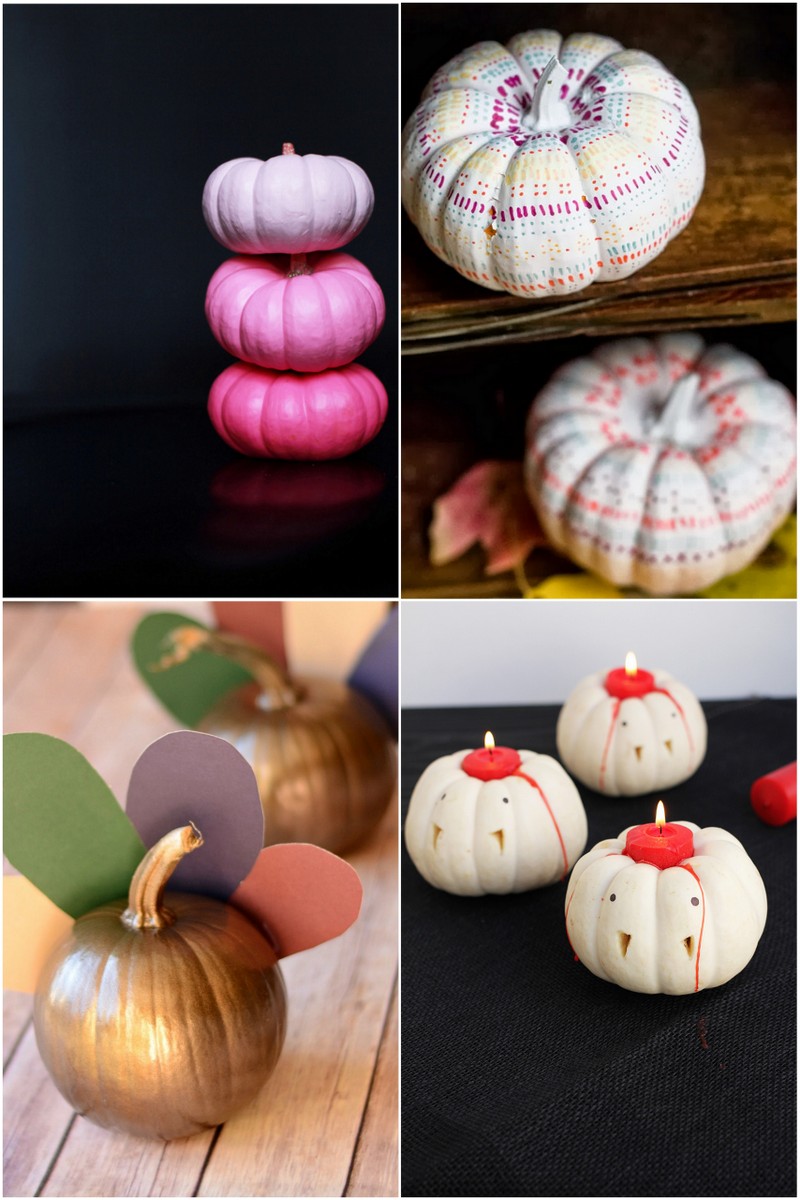 Posh Little Designs / Confetti Sunshine / Freutcake / It Happens in a Blink
Pumpkin Painting Ideas
I love the array of these painted pumpkins! It's a great way to add color into your Halloween decor without going overboard with the orange! There are so many fun designs and it's a great way to get the kids involved! They are so decorative and so many ideas from spray painting them to really delicate designs.
No Carve Pumpkin Decorating Ideas
Carving pumpkins can be fun, but they can also be super messy and not always kid friendly! I love all of the things you can do with them, from candle holders, to plant pots to name holders. These have really got my creative juices flowing!
Create a cohesive look
There are so many pumpkin decorating ideas here, it's easy to want to do a bit of everything! To create a stylish look, chose a color theme and stick to it. Use different sizes of pumpkins to create interest and use them in unique ways!
Be sure to check out these other fun Halloween ideas!
The Easiest DIY Halloween Costume for Friends: A Rainbow and The Sun
Halloween Front Porch Ideas and Decorations
DIY // Kids Peacock Halloween Costume
How are you decorating your home for Halloween? Leave a comment below, I'd love to know what you are planning!