01/06/2014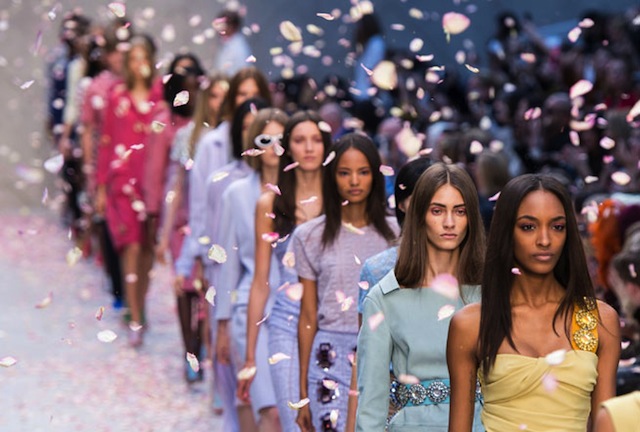 1. Pastels.  Don't knock 'em til you try 'em.  From Burberry to Jason Wu and Prabal Gurung, they were everywhere during the spring '14 runway presentations.  This leather pouch, silk tank, dress, and pair of sunglasses are all on my pastel wishlist!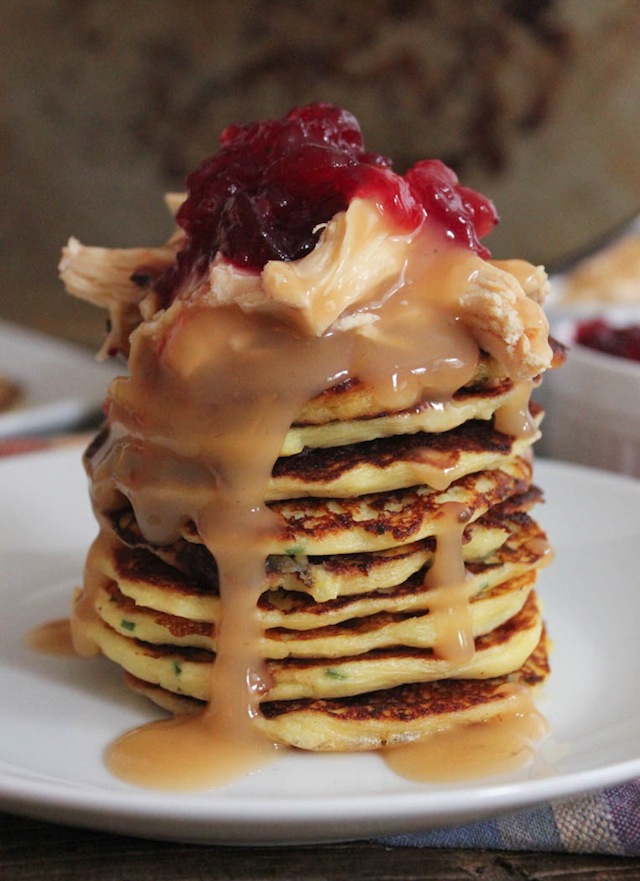 2. Savory Pancakes.  We aren't talking about your typical breakfast-for-dinner kind of fare.  Restaurants like State Bird Provisions in San Francisco and Chez Sardine are creating them with ingredients like sauerkraut, pecorino, duck and more.  Create your own at home– mashed potato and goat cheese or mushroom and bacon.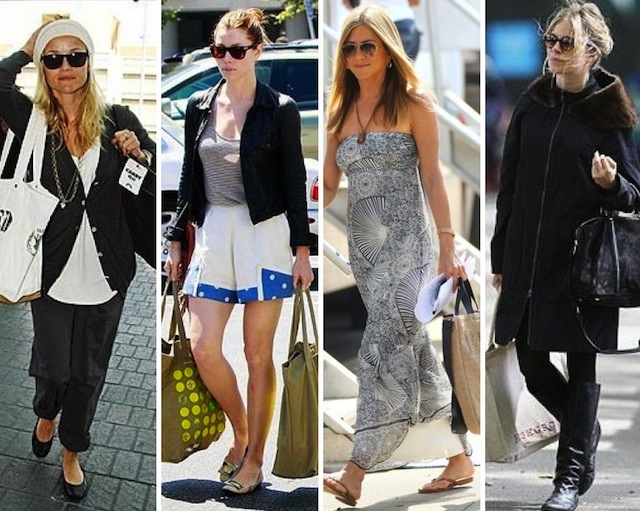 3. Reusable Bags.  This certainly isn't a new trend, but with cities beginning to ban plastic bags all together and the stores charging for their paper bags, it's time to make this fad an every day part of your routine.  These totes are equally parts chic and good for the environment: one / two / three
4. The New Neutral Wall.  Benjamin Moore says that white is out and the new neutral looks a little more like this, this and this.  I am totally on board with this one!  Time to get out those paint brushes…
5. Collarless Coats. Chic open necklines took center stage over their typical collared counterparts last September when designers revealed their spring collections.  Everyone from BCBG Max Azria to Rachel Zoe and J. Crew to Thakoon are already on this band wagon.
6. The Year of Brazil.  As the host site for this summer's World Cup and the 2016 Olympics, expect to see brazilian influences popping up in everything from your food and your closet to your best friend's passport.  Looking to take the plunge?  We're dying to try out the Hotel Santa Teresa in Rio and Pousada Picinguaba in Ubatuba.
7. Cauliflower.  I doubt kale and brussel sprouts are going anywhere any time soon, but this year's star veggie is most likely going to be the cauliflower.  Our favorite neighborhood spot, The Village, serves crispy cauliflower with a chipotle dipping sauce that is so amazing we have to order it every time!  Try using it as a healthy alfredo sauce, cheesy mashed potatoes, or even as the crust for your homemade pizza.
8. Crop Tops.  Odds are that my pregnant and newly post pregnant bod won't be trying this one out any time soon, but for all of you not rocking an outie belly button, do give it a try!  3.1 Phillip Lim, Tracy Reese, and Lela Rose were all sporting them on their spring 2014 runways.
9. The Smarter Home. This Philips Hue lighting system was one of Aaron's favorite Christmas gifts.  With these special LED bulbs, you can change the tones of the light in each room from warmer to cooler, white, red, to blue all with the click of your iPhone. They also only run on 8 watts which translates into huge energy savings.  My personal favorite part?  You can turn them on remotely from anywhere.  When we were in Texas, Aaron could turn on our front porch and hallway light back in LA and then turn them off in the morning.  Genius, right?  Also check out the Nest thermostat and smoke detector systems for more smarty pants electronics for your home.
10. SUP Yoga. This is a fitness trend I am dying to try, although the 45 minute commute to the ocean will probably keep it from every becoming part of my daily routine.  Still, stand up paddle board yoga is definitely on my bucket list for the year.  Land locked?  This indo-board gives you the same the workout, minus the salt water and waves.
11. An Orange Lip. This tangerine hue is much sweeter for spring and summer than her rosy red winter counterpart.  Stock up now.  With the likes of Rag & Bone, Dennis Basso, and DKNY all repping the shade, this one is bound to sell out fast!
12. Navy Interiors.  Watch for this rich, saturated shade to be popping up in all of your favorite interiors.  Better yet, don't just watch.  Whether you're bold enough to go with all navy walls or want to dabble in throws and pillows for the time being, hop on this trend now.
13. Graphic Prints.  Is it bad that I am already day dreaming of non-maternity summer clothes?  I can seriously hardly wait!  Graphic prints are going to be huge all year long and these from Mara Hoffman are some of my favorite!
14. Go Caribbean.  Speaking of summer, our trip to St. Thomas + St. John last summer was one of the highlights of 2013.  Travel experts are predicting that the caribbean will be a very popular destination in 2014 and that's no surprise.  If you like the idea of spending your days eating lobster tacos and paddle boarding the clearest water you have ever laid eyes on,  I highly recommend Caneel Bay in St. John.  Bon Voyage!
Images 1, 2, 3, 4, 5, 6, 7, 8, 9, 10, 11, 12, 13, 14