Get ready for the best taco recipes you will lay your eyes on! From soft tacos to hardshell, from fish to chicken to brisket, you will find a taco recipe just perfect for you! This really is a fine collection of taco recipes from some of the best food bloggers out there!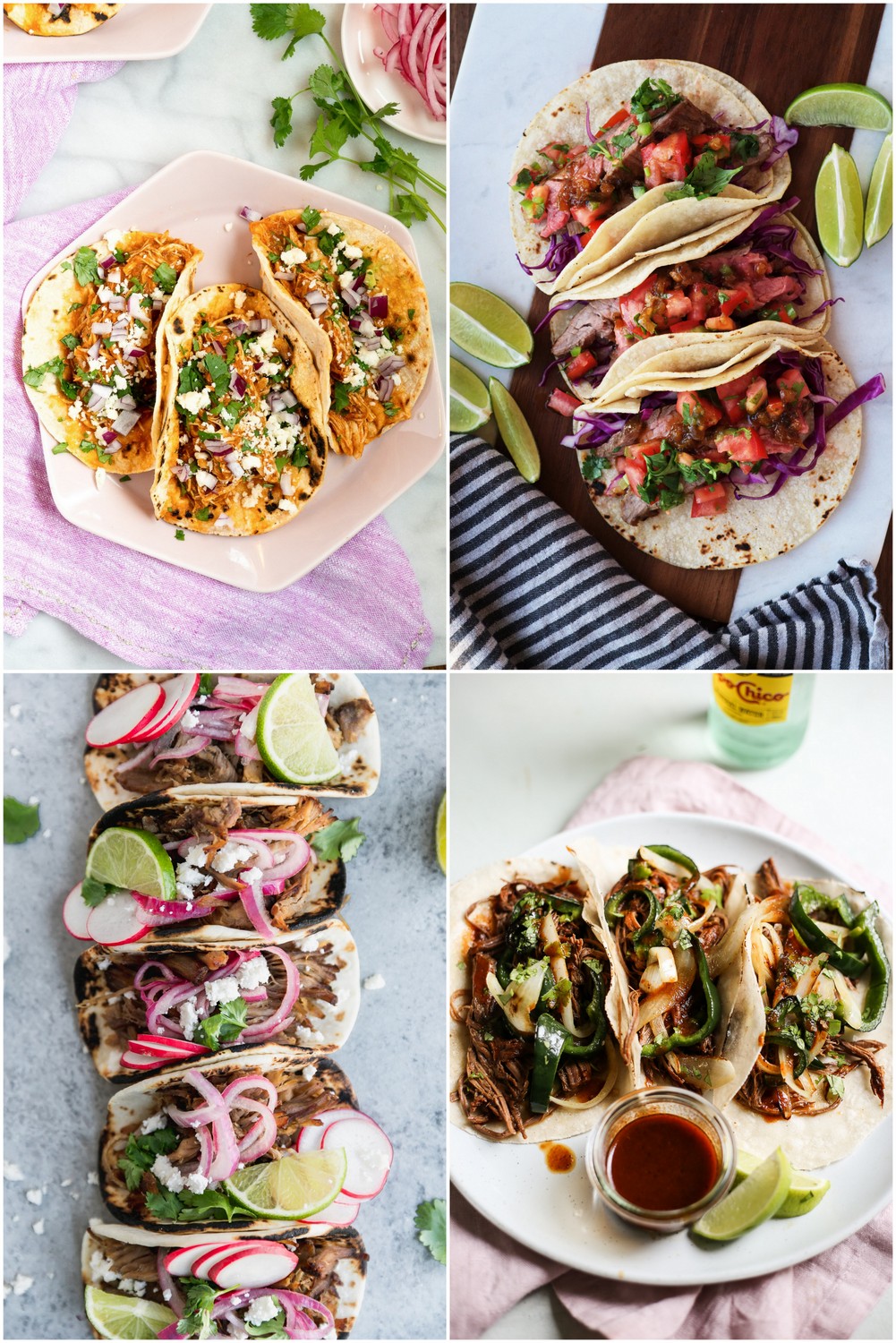 My husband can mark his best days by those that include tacos for all three meals. Be it eggs, poultry, or seafood, he loves nothing more than for his next bite to be sandwiched within the confines of a tortilla which means new taco recipes are regularly in rotation at our house. There's so much you can do with a taco!
It also happens to be a very conscious way of cooking. You can essentially use almost any and all ingredients that you have leftover in your refrigerator and find a way to cook them in taco form. One night's leftovers regularly become the next day's tacos in our house.
If you're gluten free or paleo, you still have so many options whether it's using corn tortillas or opting for a Siete tortilla! Keep reading for 11 of our favorite taco recipes! (It was actually supposed to be 10 but I just couldn't choose-- so many good ones!)
11 Taco Recipes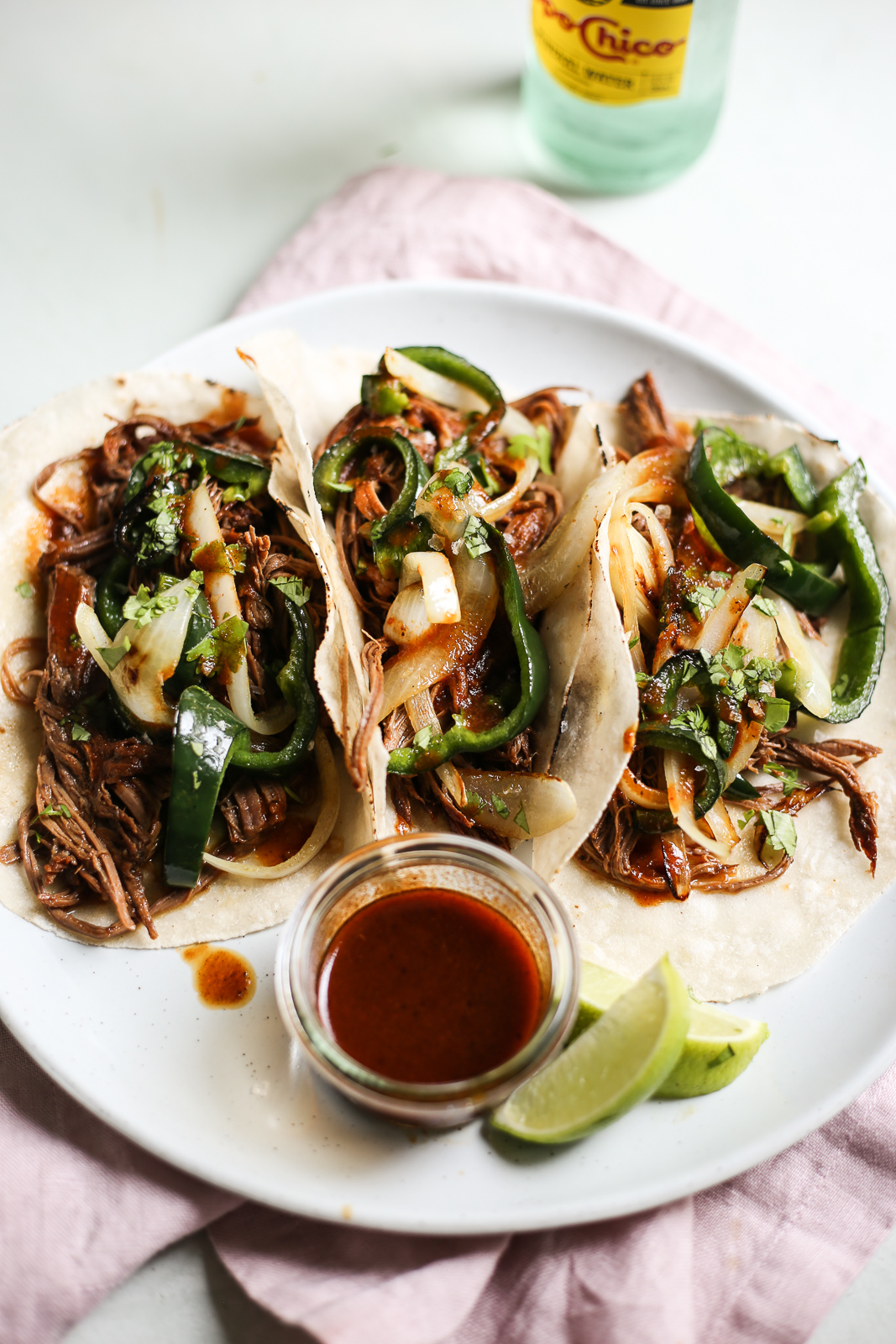 Instant Pot Texas Style Brisket Tacos
If you've never visited Dallas, Texas before, then you're missing out on some incredible tacos! Try this taco recipe and get a taste of what Dallas has to offer!
via The Defined Dish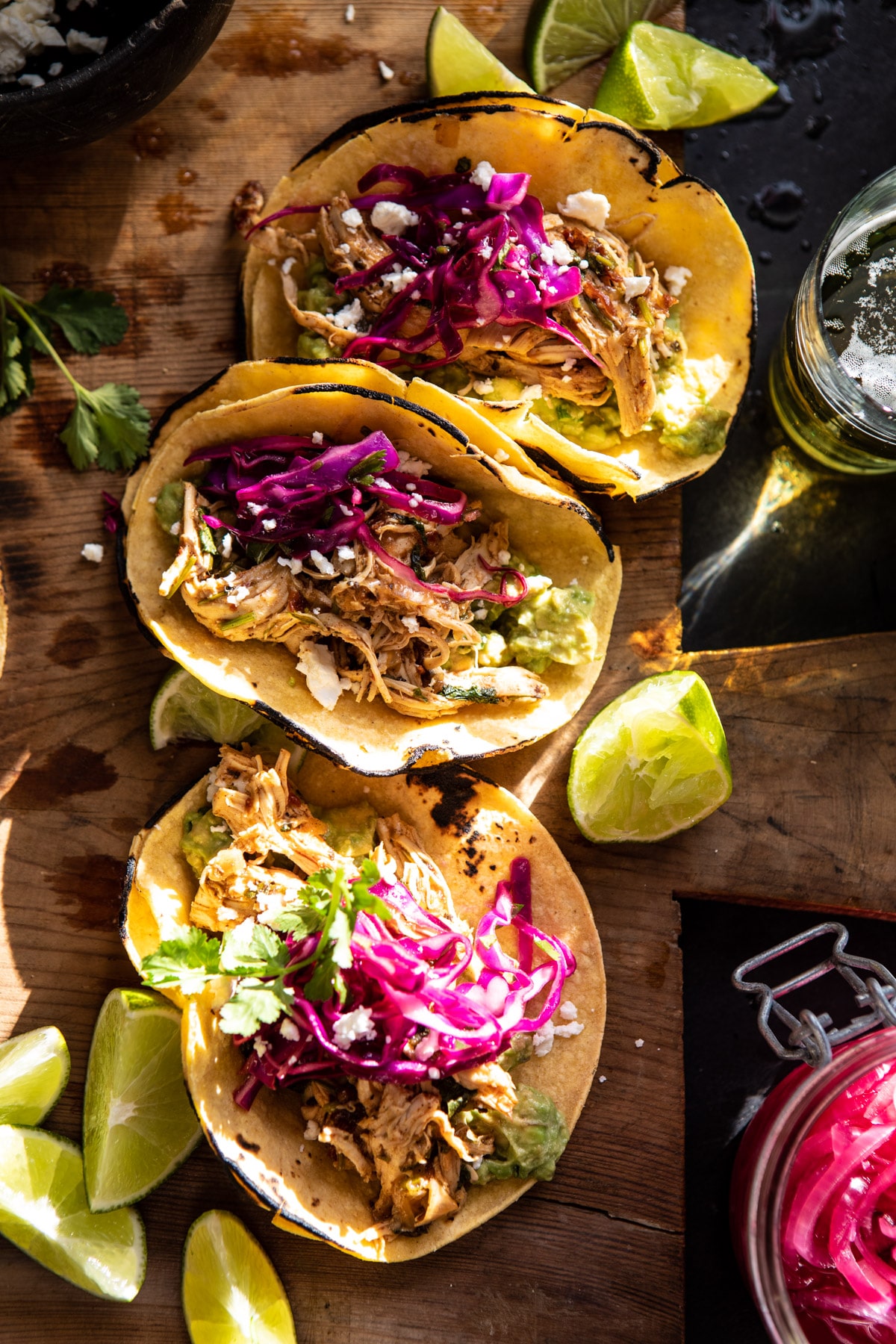 Slow Cooker Chipotle Orange Chicken Tacos
Reinventing taco night with these Slow Cooker Chipotle Orange Street Tacos. Shredded chicken (or pork) in a sweet and spicy chipotle orange sauce, all made in the slow cooker or instant pot. Done up right with lime smashed avocado, cheese, and a little spicy pineapple slaw, for the best "street" tacos at home, any night of the week.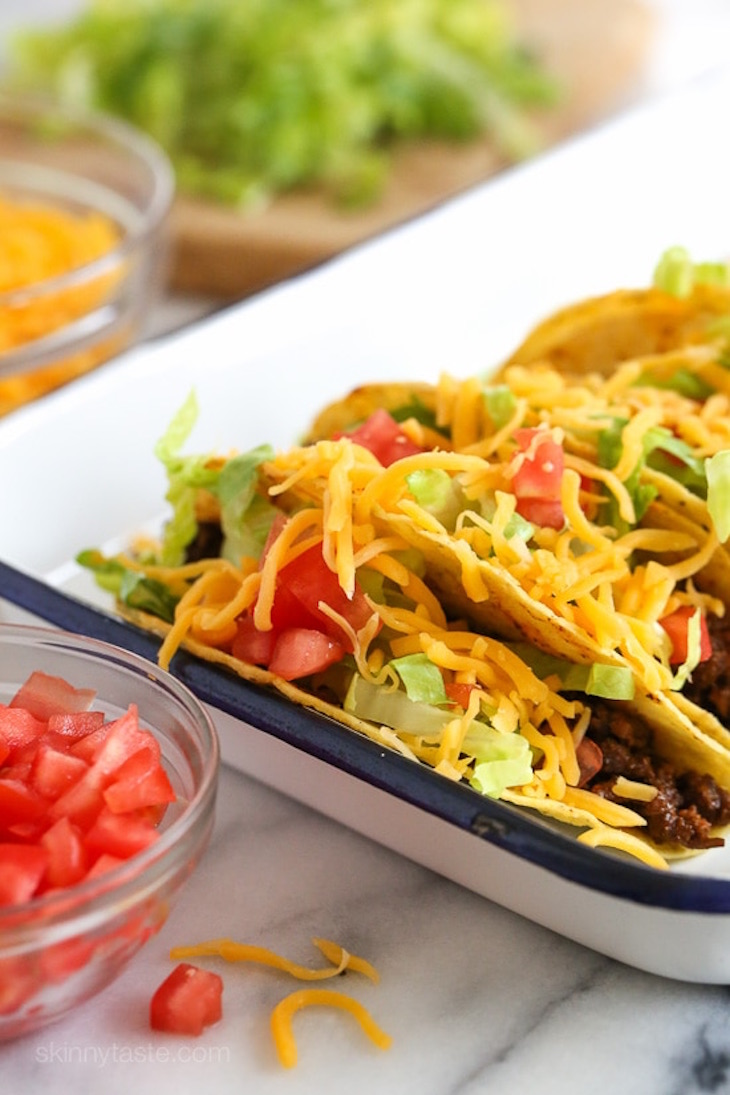 Slow Cooker Ground Beef Crispy Tacos
Taco night happens once a week in my house, these are the BEST ground beef tacos made from scratch! This taco recipe is also great with ground turkey!
via Skinnytaste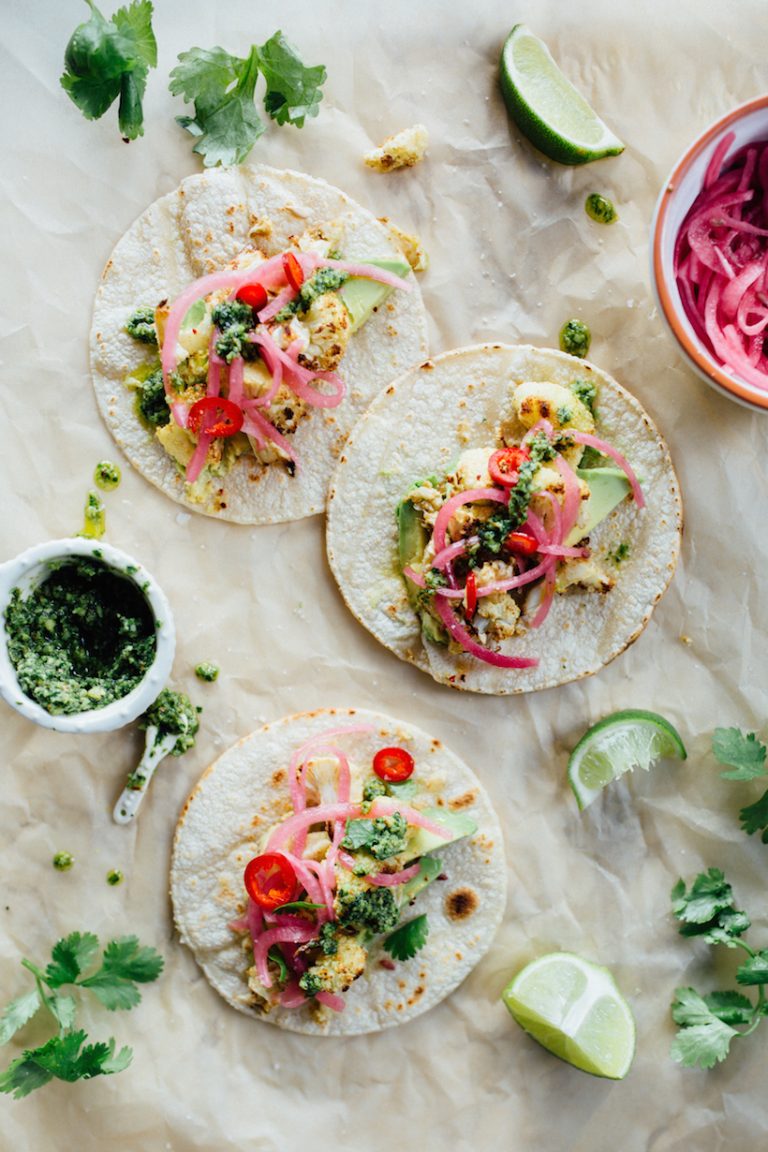 Roasted Cauliflower Tacos
These roasted cauliflower tacos will become a weeknight faves at your house, and they just so happen to be vegan, gluten-free, and packed with all kinds of good-for-you ingredients.
via Camille Styles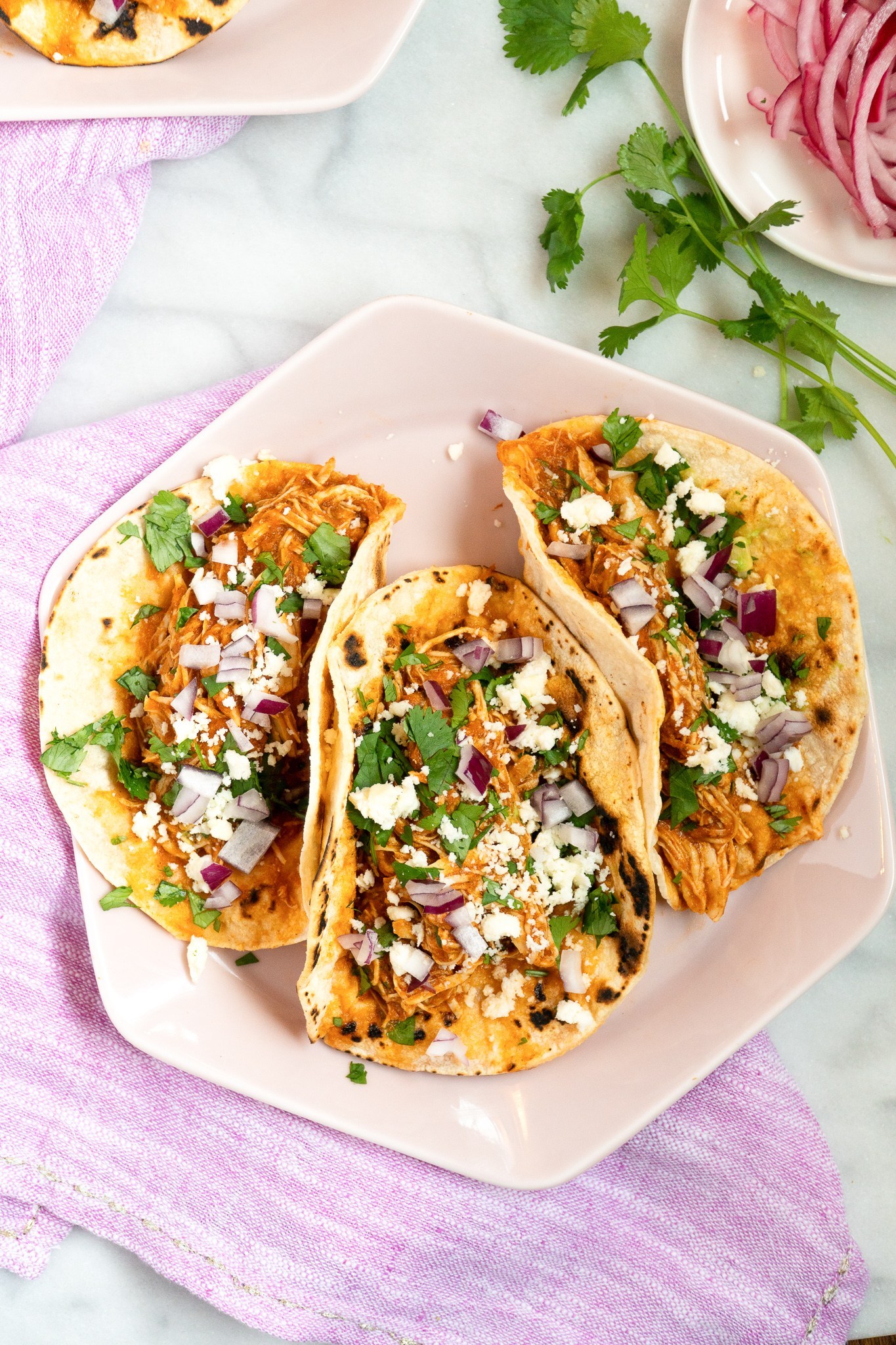 Chicken Tinga Tacos
These Chicken Tinga Tacos are packed with smokey and tomatoey flavors. They're topped with fresh cilantro, red onion, and goat cheese. They're so easy and one of my favorite ways to enjoy Chicken Tinga!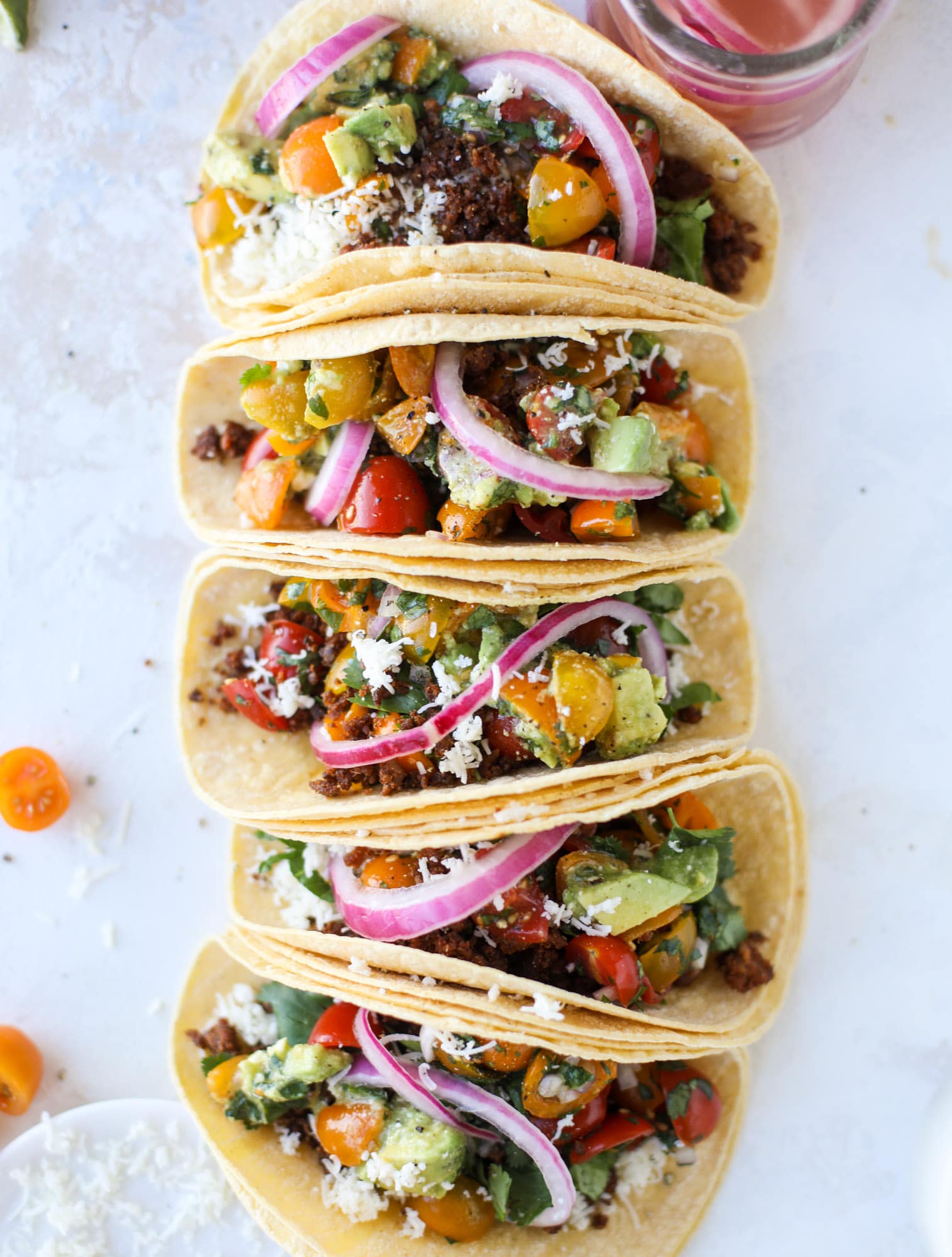 Ground Beef Tacos
Deliciously seasoned ground beef tacos for us that can come together in about 15 minutes.
via How Sweet Eats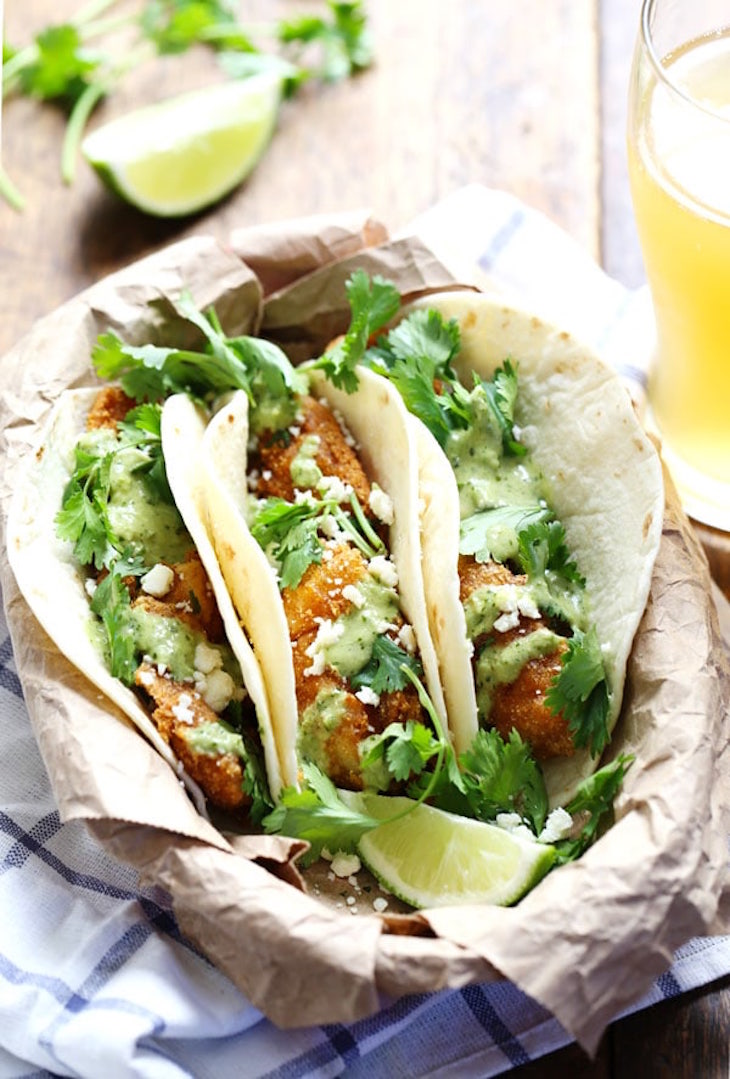 Crispy Fish Tacos with Jalapeno Sauce
These Crispy Fish Tacos with Jalapeño Sauce are fried to golden brown perfection with a crispy cornmeal crust and served with a fresh, spicy homemade sauce!
via Pinch of Yum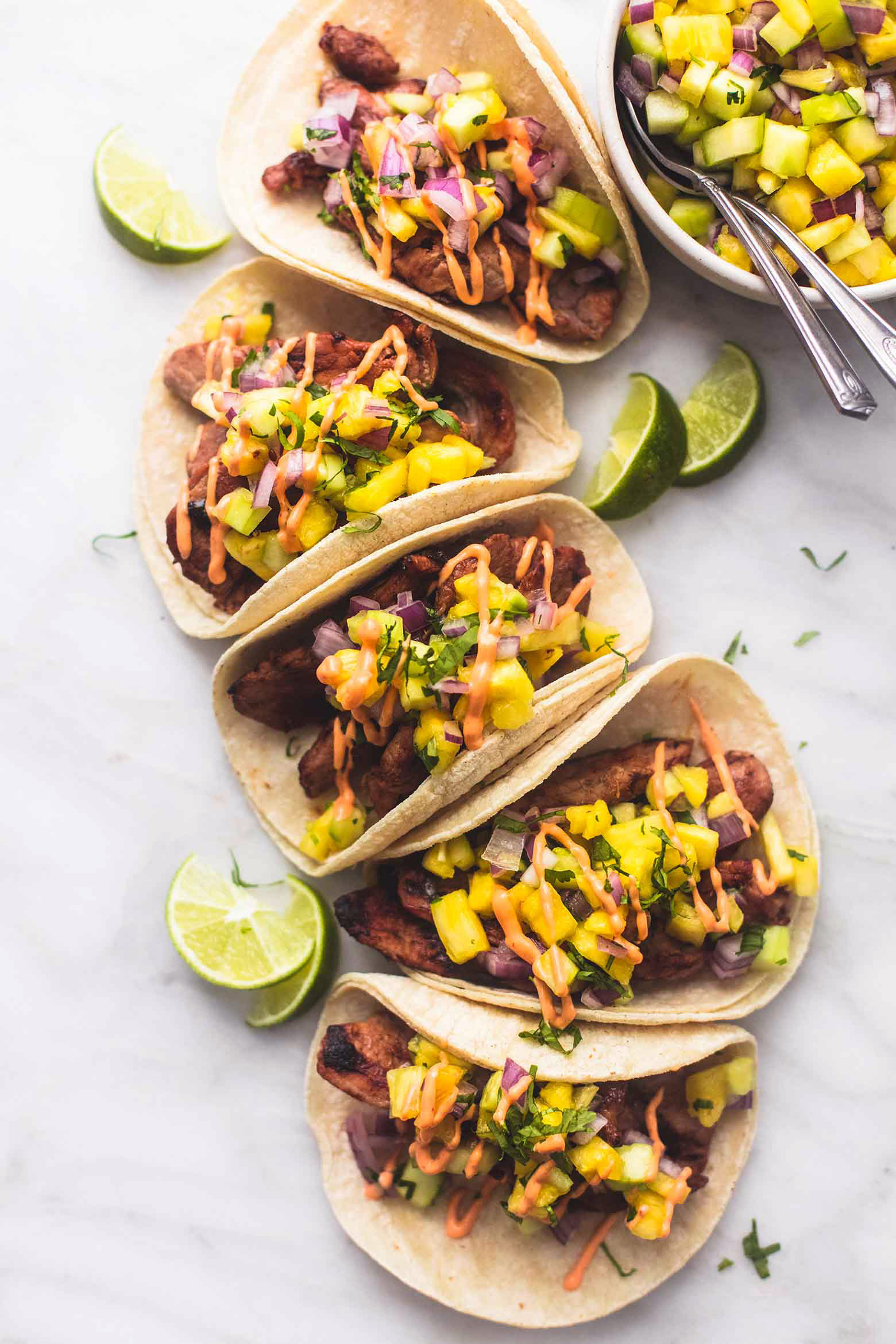 Pork Tacos with Pineapple Salsa
These delicious Pork Tacos with Pineapple Salsa go from stovetop to table in a mere 30 minutes! No one will be able to resist these tangy, flavorful tacos with a touch of sweetness that will have your family begging for seconds.
Roasted Portobella Mushroom Tacos
These Roasted Portobello Tacos are quick and easy to make, naturally vegetarian, and so hearty and delicious!
via Gimme Some Oven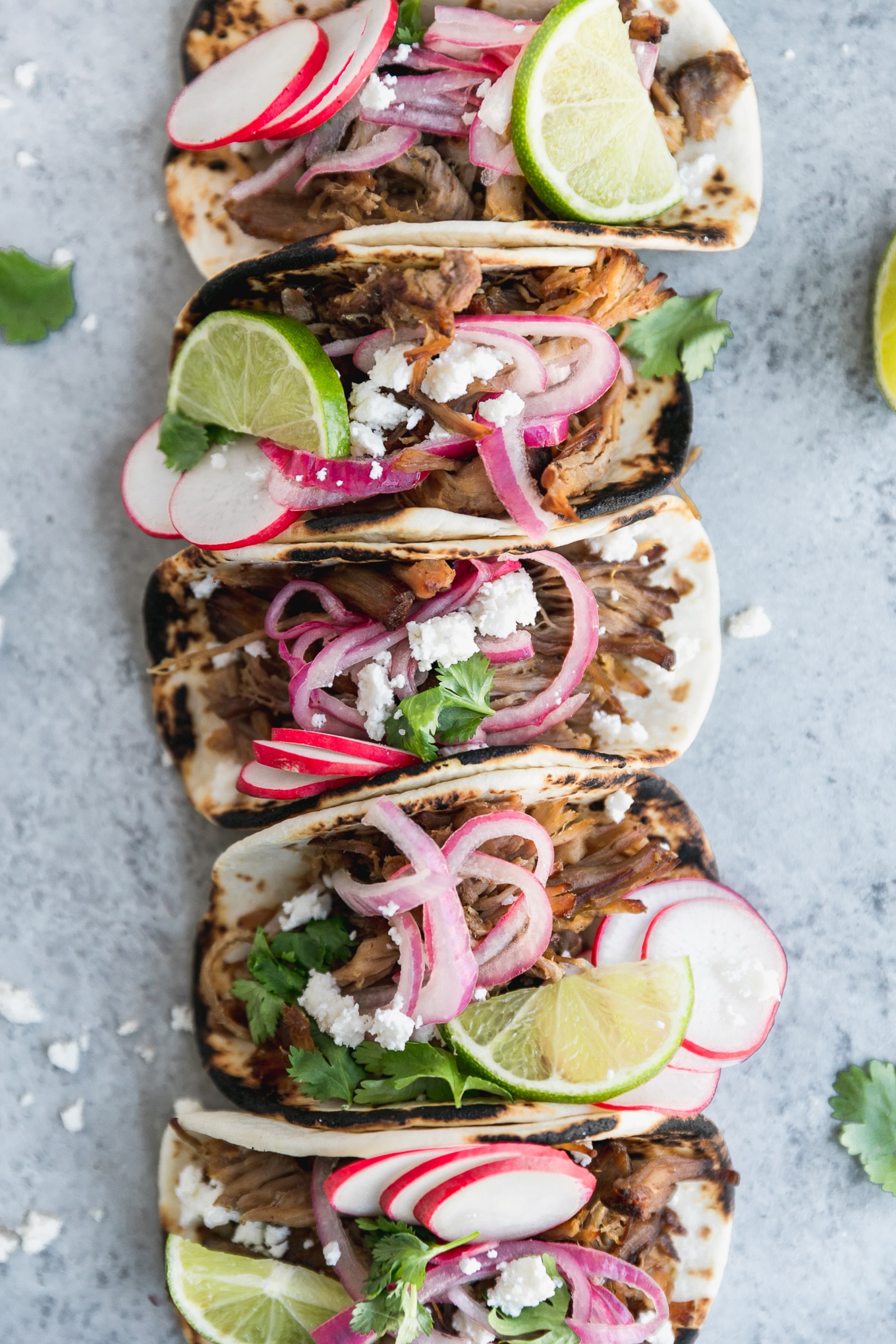 Slow Cooker Carnitas Street Tacos
These pork carnitas are made in the slow cooker and are incredibly flavorful! The pork is stuffed in charred tortillas, and then topped with quick pickled red onions, thinly sliced radish for crunch, queso fresco cheese, cilantro, and a squeeze of lime! They're perfect for meal prep and great to feed a crowd too!
via Spices in My DNA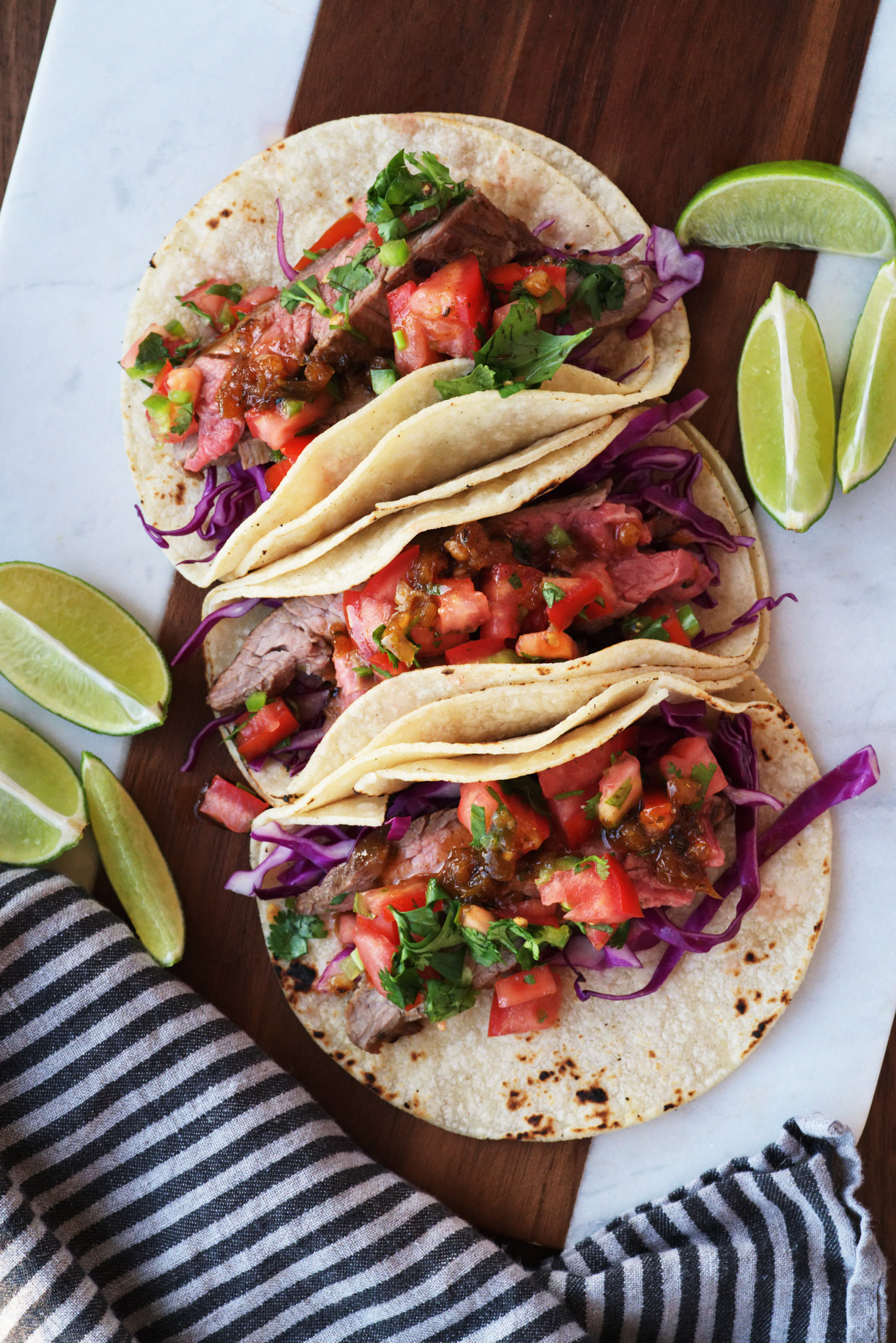 Sweet & Tangy Steak Tacos
It's taco Tuesday, and all I'm craving is these sweet & tangy steak tacos. Get ready for an addictive flavor combo with just the right kick in this incredible marinade. Do you have a recipe that you crave regularly?
What's the best ground beef for tacos?
Lean ground beef is the best beef to use for making tacos because you don't need to drain off any fat after cooking it. There is just enough fat in the beef to make it super flavorful, but not so much to make it greasy.  Skipping the step to drain the fat makes for a quick and easy taco recipe.
How much meat do you put in each taco?
If you use the traditional size hard taco shell, or small 6-inch flour tortillas, 2 tablespoons of taco meat per taco is the perfect amount.  Serving 3 tacos per person is a good amount.
Making A Taco Bar!
Start with Tortillas and Shells. Every taco starts with either a soft or crispy tortilla.
Meat and Cheese. Right next to the tortillas and shells, you'll want to place the meat and cheese. ...
Salsa.
Extra Toppings.
Add Some Heat!
If you like these taco recipes, be sure to check out these other tasty Mexican meals!
I think you will agree that this is an amazing collection of taco recipes! Be sure to let me know which is your favorite in the comments below!
Planning you next meal? You can find all of our weekly meal plans here!