02/14/2014
Happy Valentine's Day, friends!  What are your plans for the weekend?  Did you know this is the first Valentine's Day since Aaron and I have been dating that we are actually in the same city?  Crazy, right?!  We celebrated with a little day date last weekend and are spending this evening with pizza, wine (or in my case, water with lemon), and some of our favorite friends.  Super casual.  When I was little my mom would take my sisters and me to meet my dad for an early Valentine's Day dinner at our favorite mexican restaurant.  My dad would be coming from work, but would always walk in with an armful of balloons, and candy and stuffed animals for us.  So sweet!  Those are still some of my favorite Valentine's Day memories.  What are your Valentine's Day traditions?  Are you the fancy dinner and roses type or do you like to keep it casual?  Speaking of casual, I have been obsessing over sneakers lately.  Not the crazy wedge kind either.  I love the simplicity of a great sneaker with a styled look to keep it fun and a bit unexpected.  Here are 10 ways to wear them, plus a shopping guide to my favorites!
… as a pop of white with a monochromatic look. (via Well and Dapper)
…to add a pop of pattern. (via Wind in your Hair)
… to juxtapose sophisticated silhouettes. (via Tarafirma)
… for fun, sporty color coordination. (via Hello Fashion Blog)
… for a pop of leopard print– so chic! (via Fashion Gone Rogue)
… to dress down an otherwise dressy look. (via Creators of Desire)
… for a tomboy chic look. (via JBrand)
… for that no-nonsense, girl-on-the-go vibe. (via They All Hate Us)
… for a comfy, cozy weekend look. (via lolobu)
… to introduce a new color to your look– love the deep red! (via Blissful)
My favorite picks: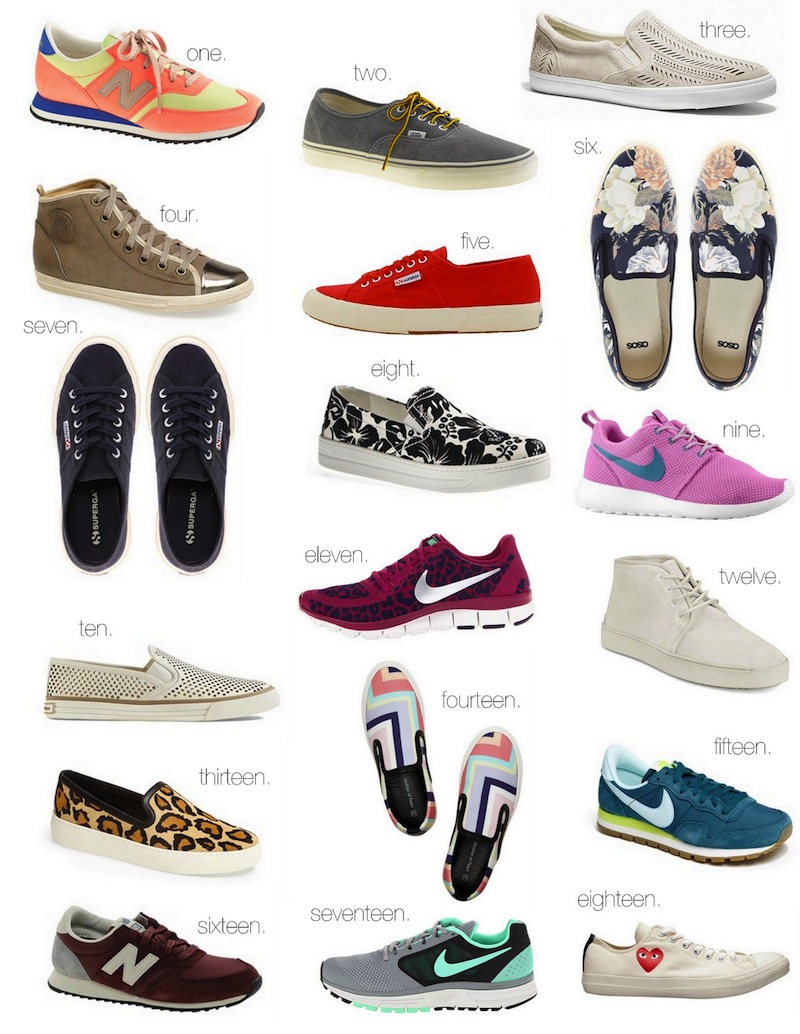 one. / two. / three. / four. / five. / six. / seven. / eight. / nine. / ten. / eleven. / twelve. / thirteen. / fourteen. / fifteen. / sixteen. / seventeen. / eighteen.