The alternate title of this post was 'A Novice Goes to Disneyworld, doesn't hire a Disney planner and lives to tell the tale...' but it was too long for search purposes so instead I present '10 Things We Loved About Our Disneyworld Trip'.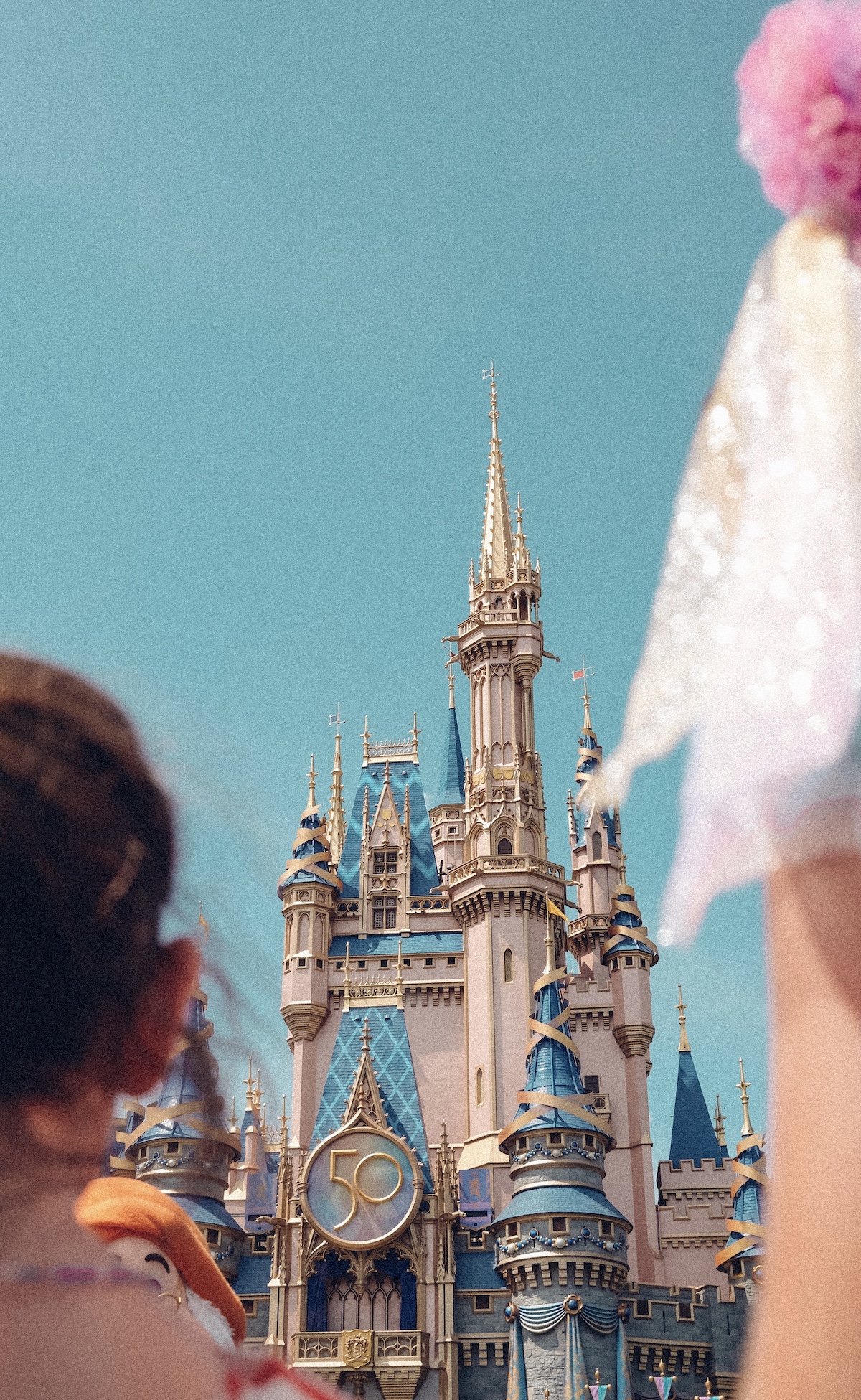 Any time I would ask Aaron the question, "What trips would you like to go on next?" (a question I ask far more than you might imagine) he would always include, "Disneyworld, obviously." I would smirk and roll my eyes, having long ago put the expansive theme park in the same category with indoor malls and the Santa Monica pier on a holiday weekend.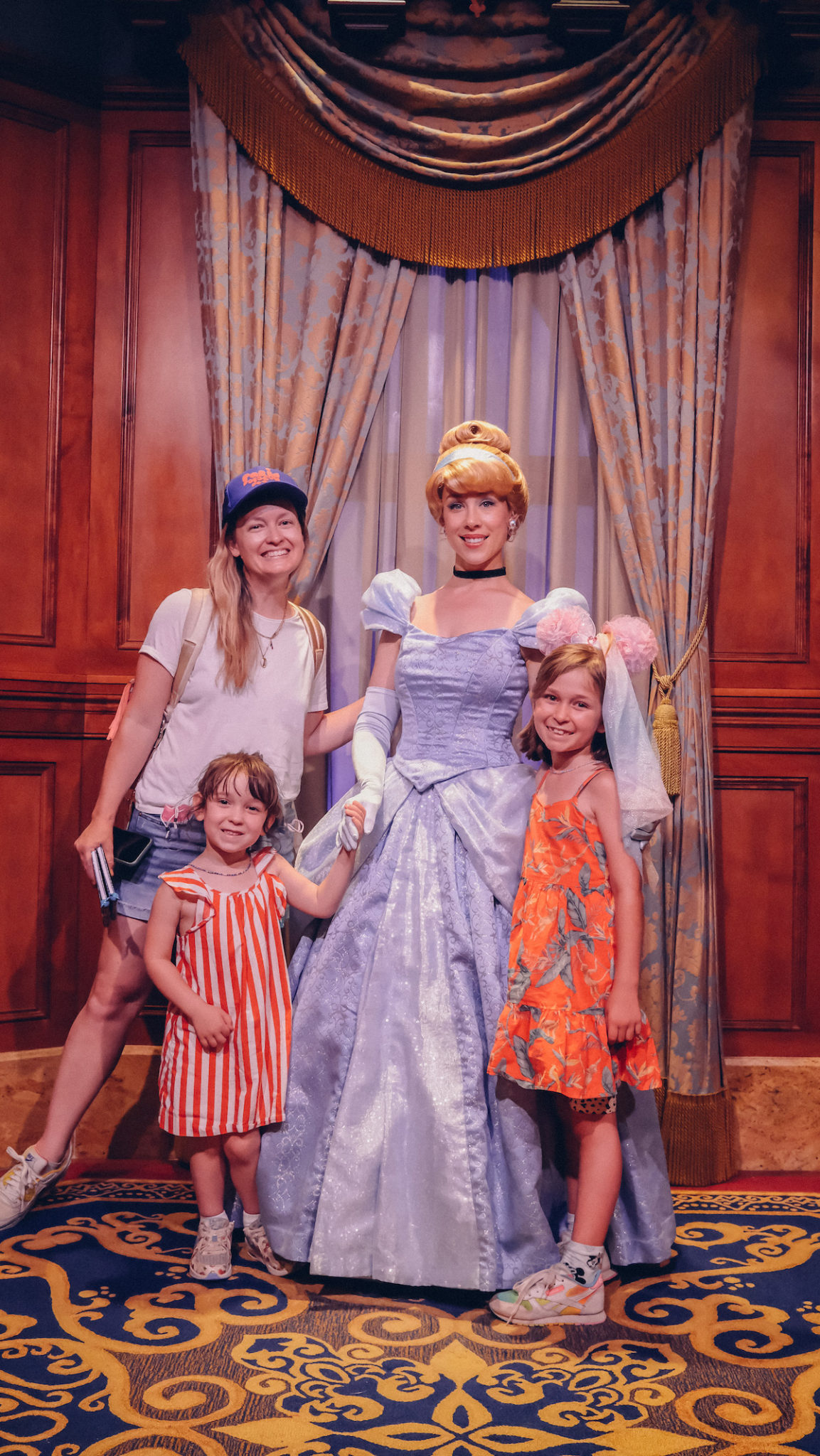 But then our kids started to grow. I started imagining how excited they might get to meet their favorite movie characters, the thrill of tyke-sized roller coaster and how satisfying it might be to enjoy a churro while watching fireworks light up the night sky. Suddenly I was all in.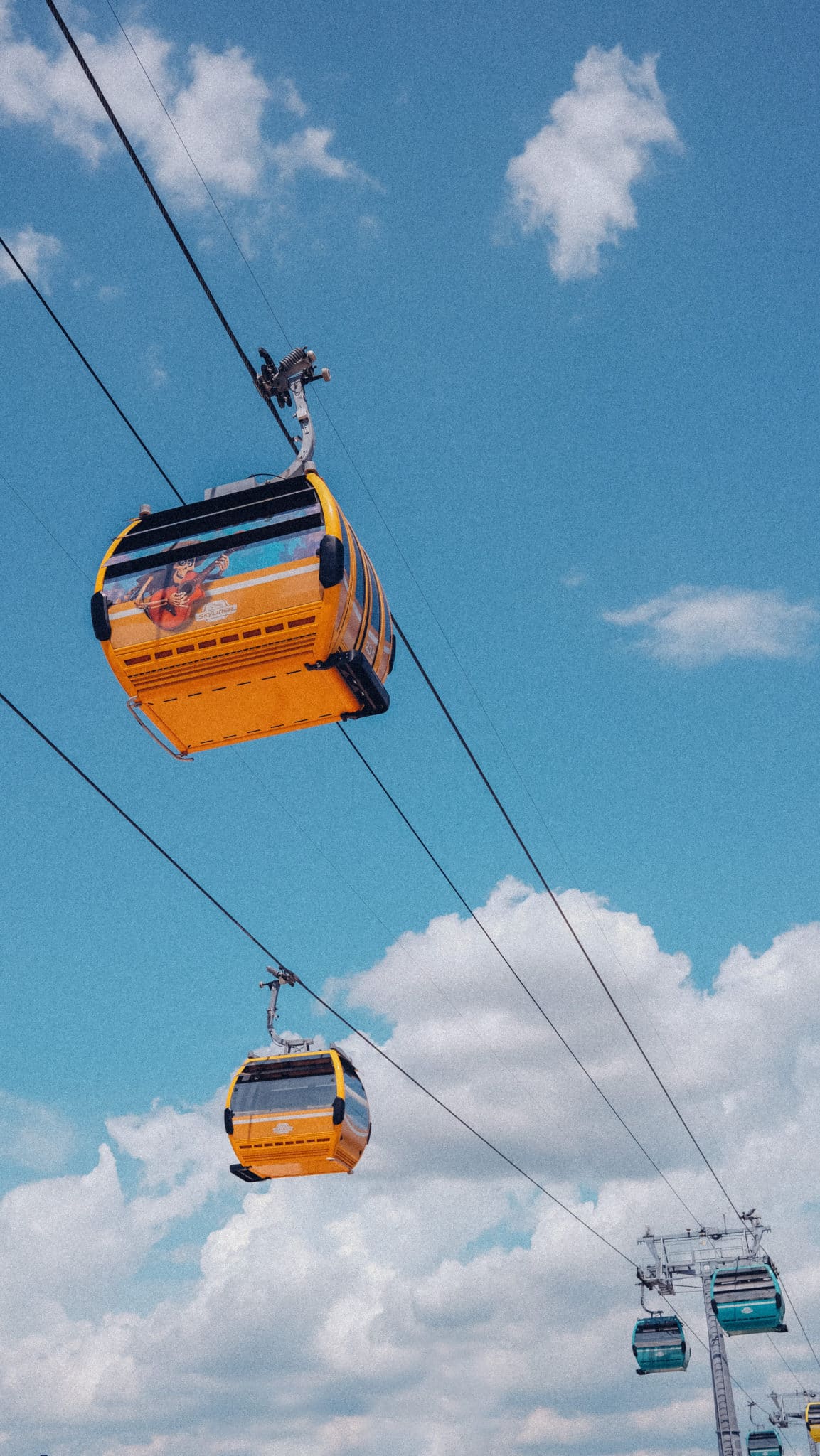 With everything in the world seeming unpredictable, we decided to book the tickets, but not tell the girls. At first we thought we would tell them a week out, and then it became the day before. When our flight was delayed and we found out that we wouldn't be departing until almost 1pm, we decided not to tell them until the morning of. I don't know if there will ever be a surprise quite like this one:
Okay, enough build up. Here are 10 things we loved about our Disneyworld trip: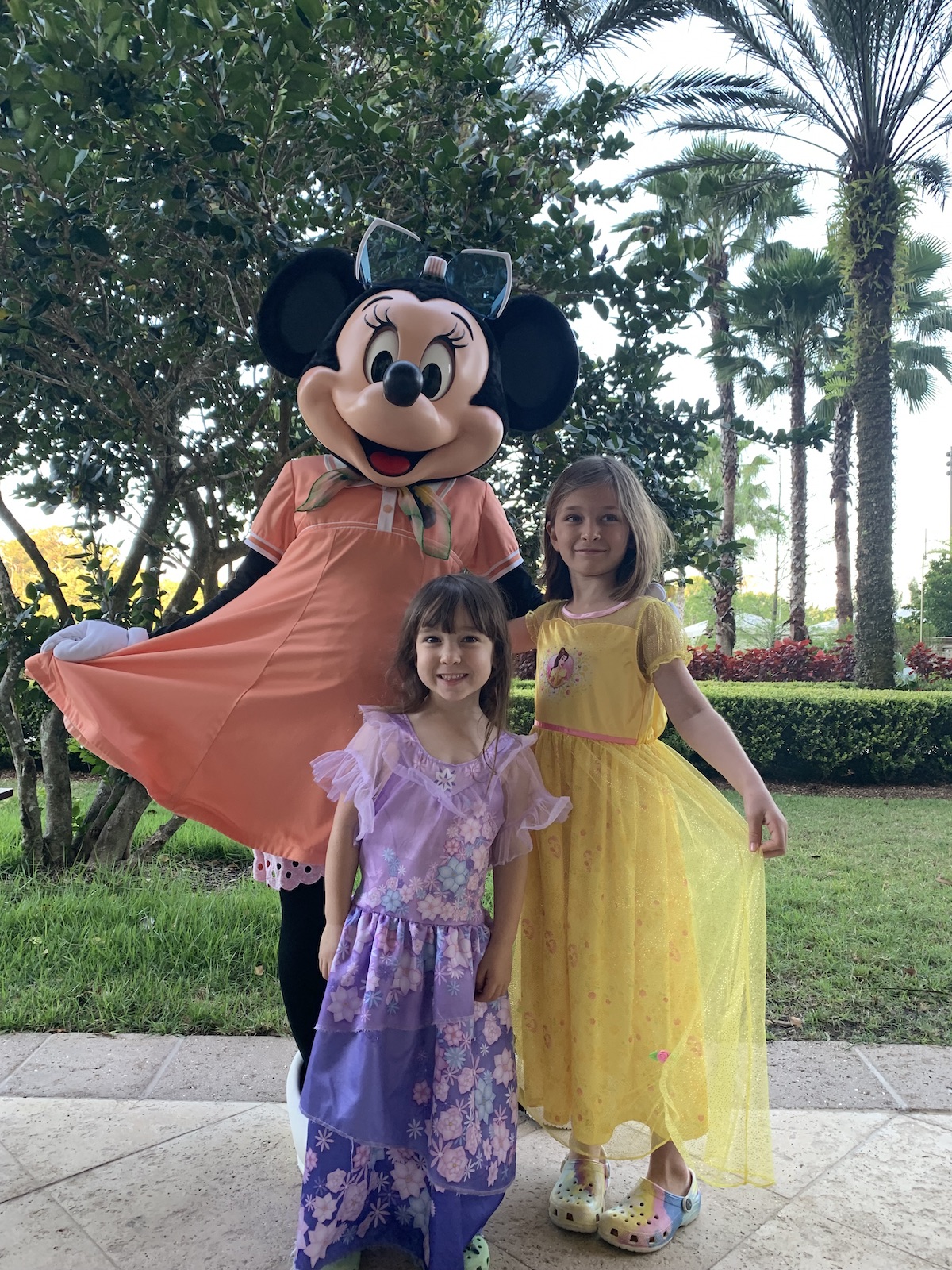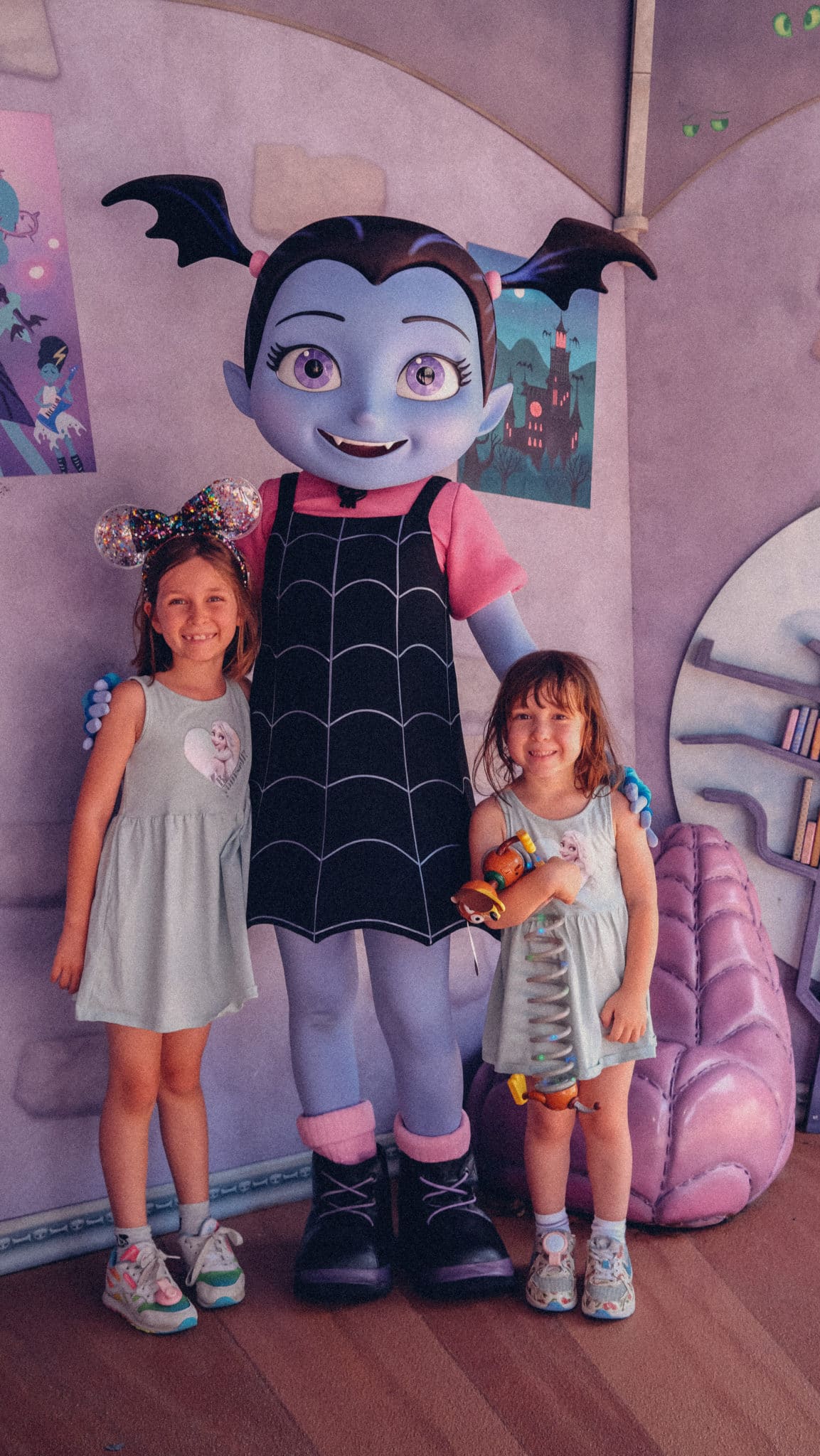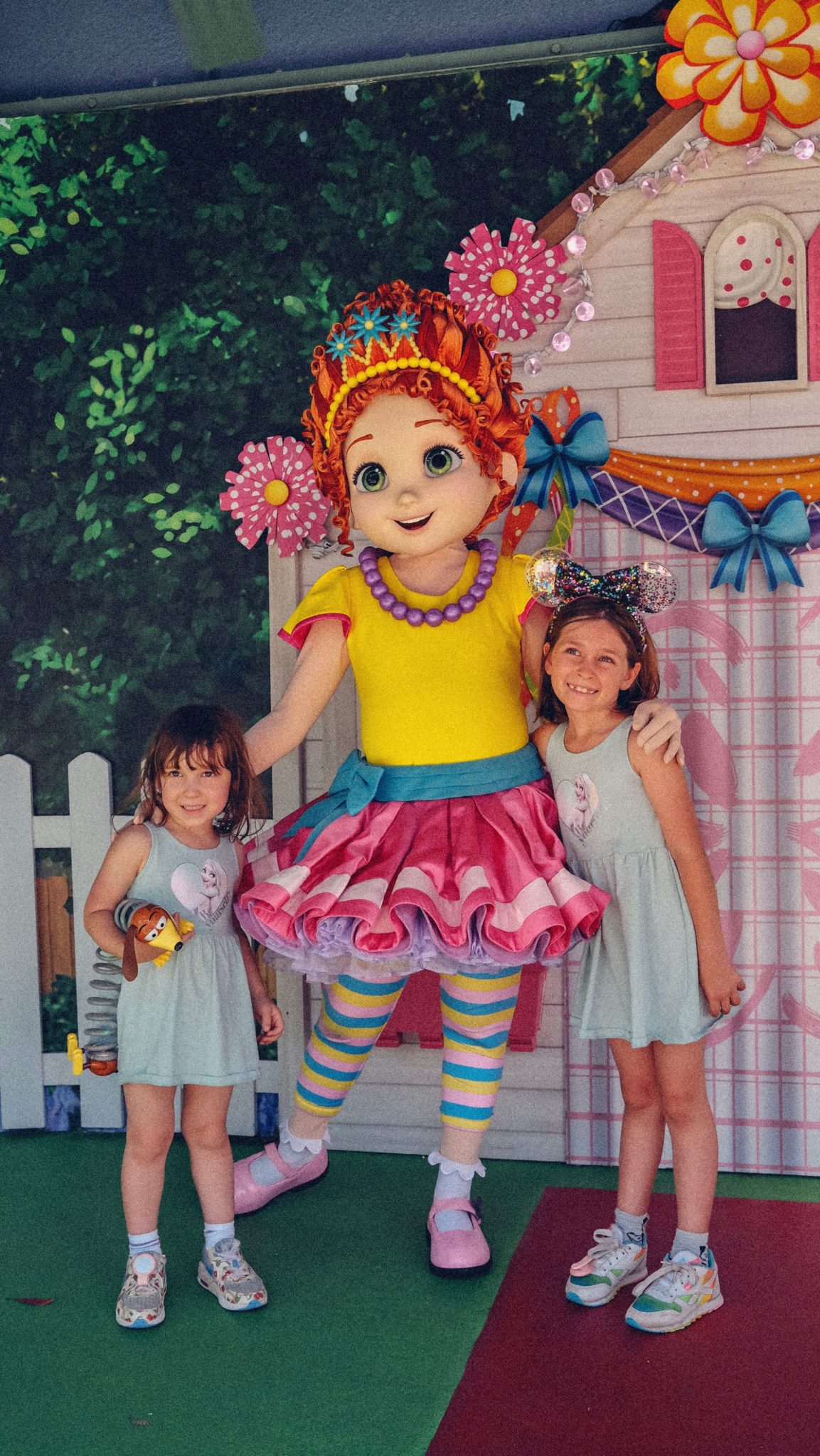 Character Dining:
This was such a highlight for them! It was nice to sit down and have a meal and then for them to be up close and personal with their favorite characters. We did the character breakfast at Hollywood and Vine at Hollywood Studios, character breakfast at The Four Seasons Hotel, and lunch with Beauty and the Beast at the Beast Castle. Only the Beast was there and it was huge and packed wall to wall with people. I do think the girls loved the idea of being in the Beast' castle and they loved dressing up in their Belle dresses for the occasion. Next time I might book the Cinderella dining experience and compare the two. The Beast doesn't actually stop at tables. It would be impossible because there are so many. He sort of promenades every twenty minutes or so.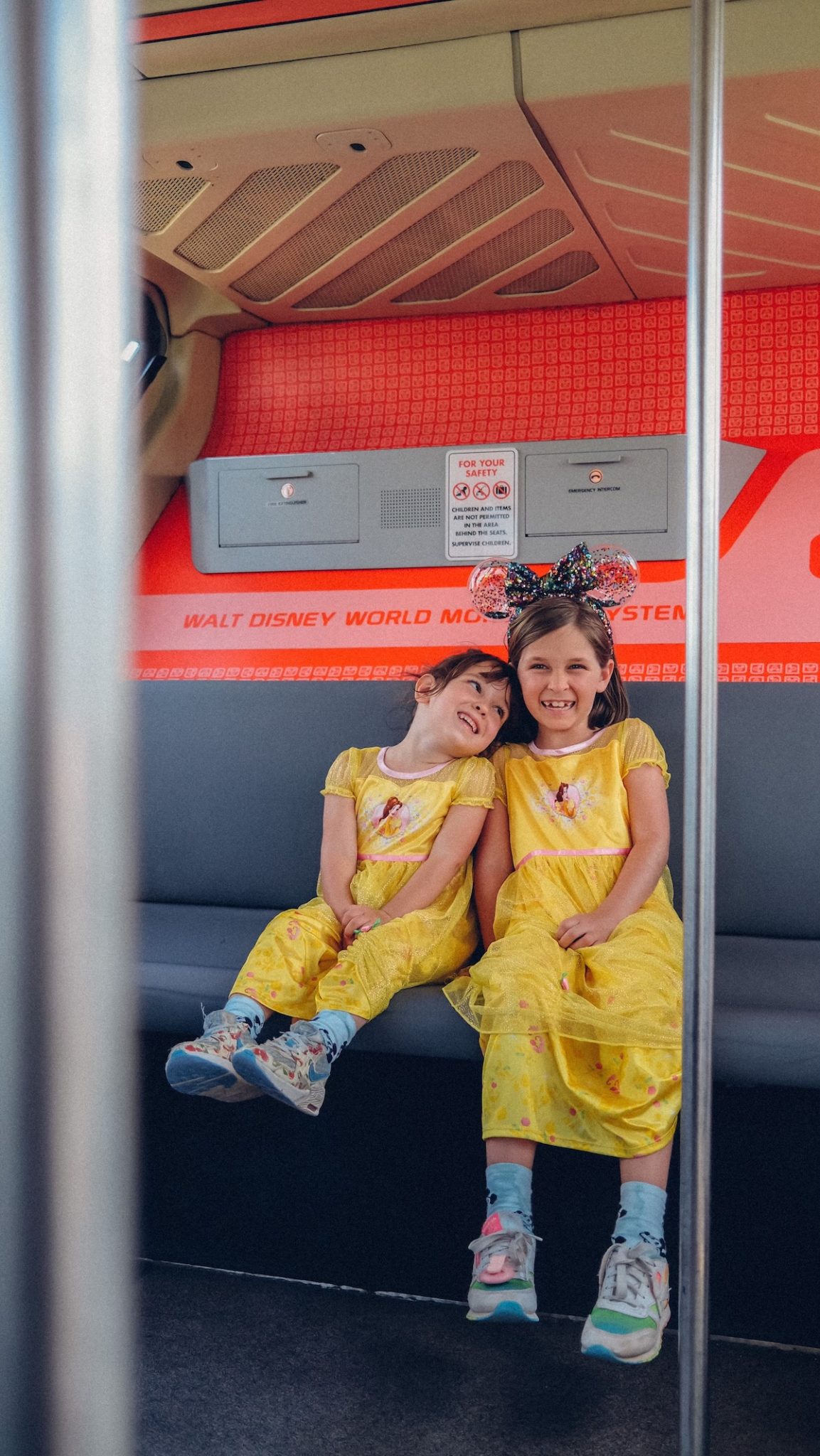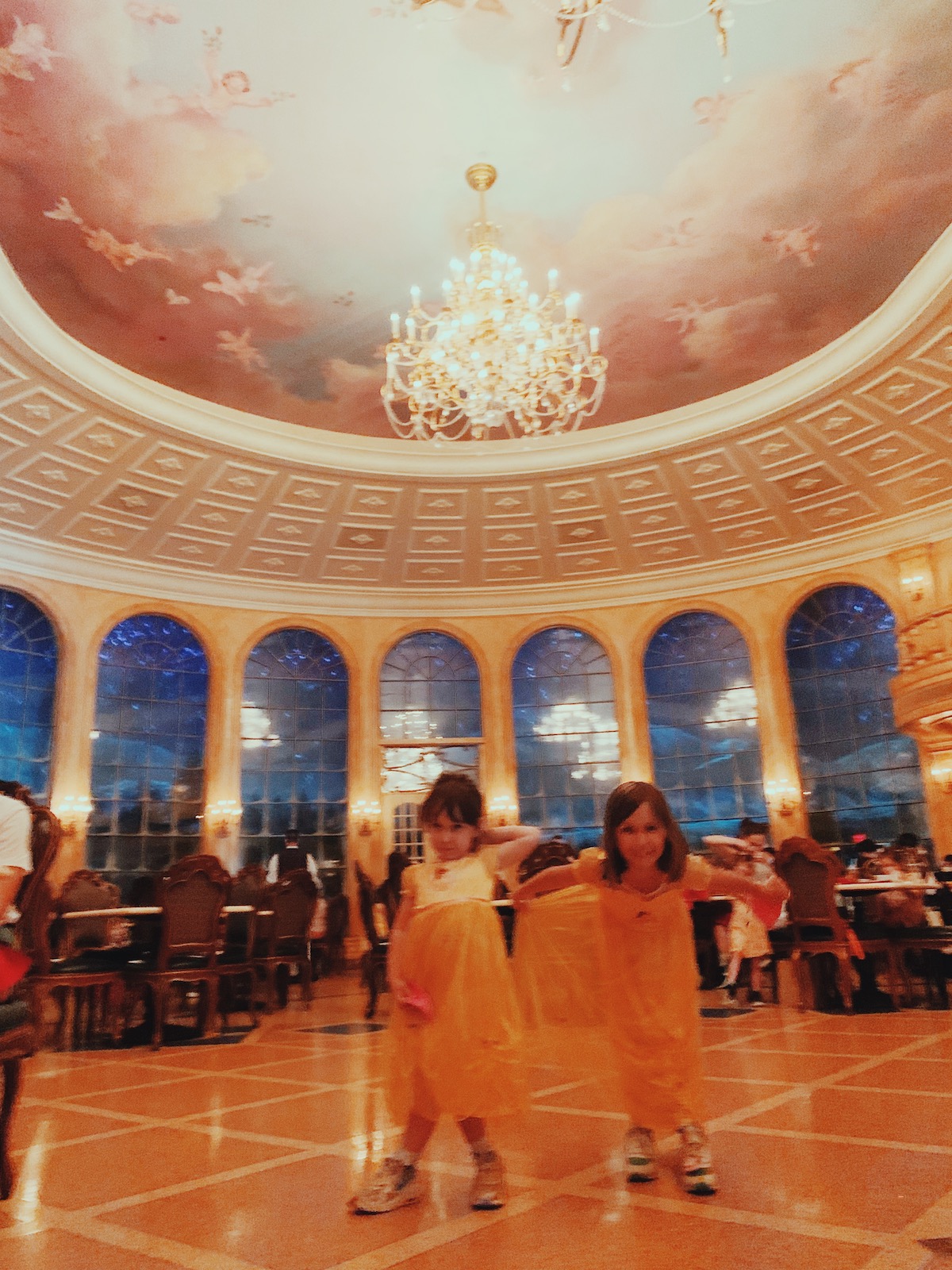 Dress-up Clothes:
Speaking of dress-up clothes, I shopped for Disney-themed clothes and packed three dress-up dresses for each of them which turned out to be not even close to enough! I dramatically underestimated how much they would want to dress up in costume while there!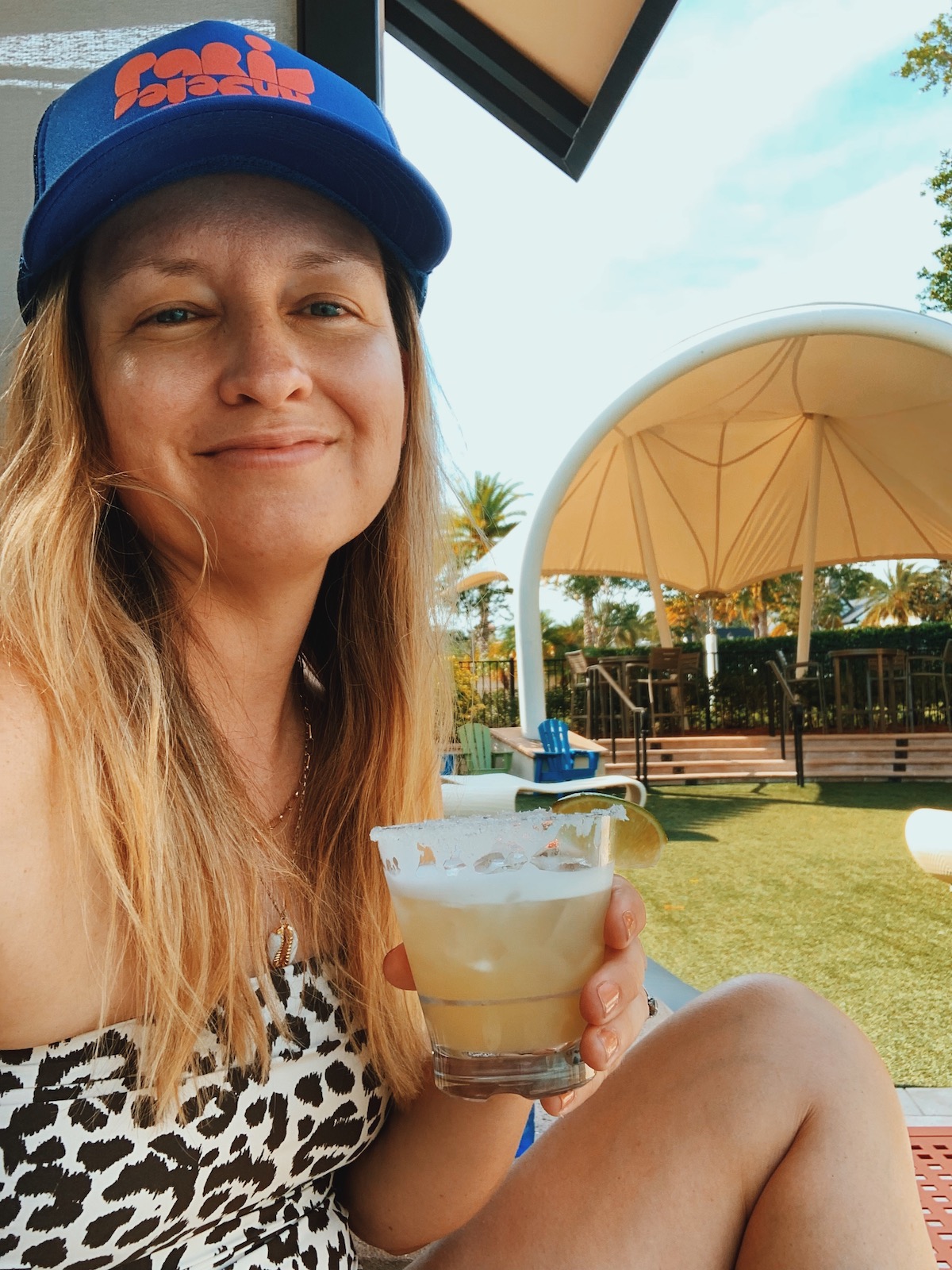 The Four Seasons Hotel Pool Situation:
We arrived at the hotel around dinner time, dropped our things in the room and straight to dinner. After dinner we went exploring the grounds of the hotel and the girls ended up drenched after beelining straight for the splash pad. Every time I would start to lose steam at the park I would daydream of being back at our hotel! It was truly magical. There was an adults-only pool which we definitely did not frequent, a lazy river that we all loved, a splash pad, two large water slides, a pool with a volleyball net and cabanas and yet another pool with a beach entrance and a big screen for watching movies while soaking up the sun. You can order food and drinks everywhere and it was truly such an oasis. It was never crowded and the poolside service was great. Our flight on Saturday didn't depart until 6p so we were able to get a late checkout and spend the entire day poolside.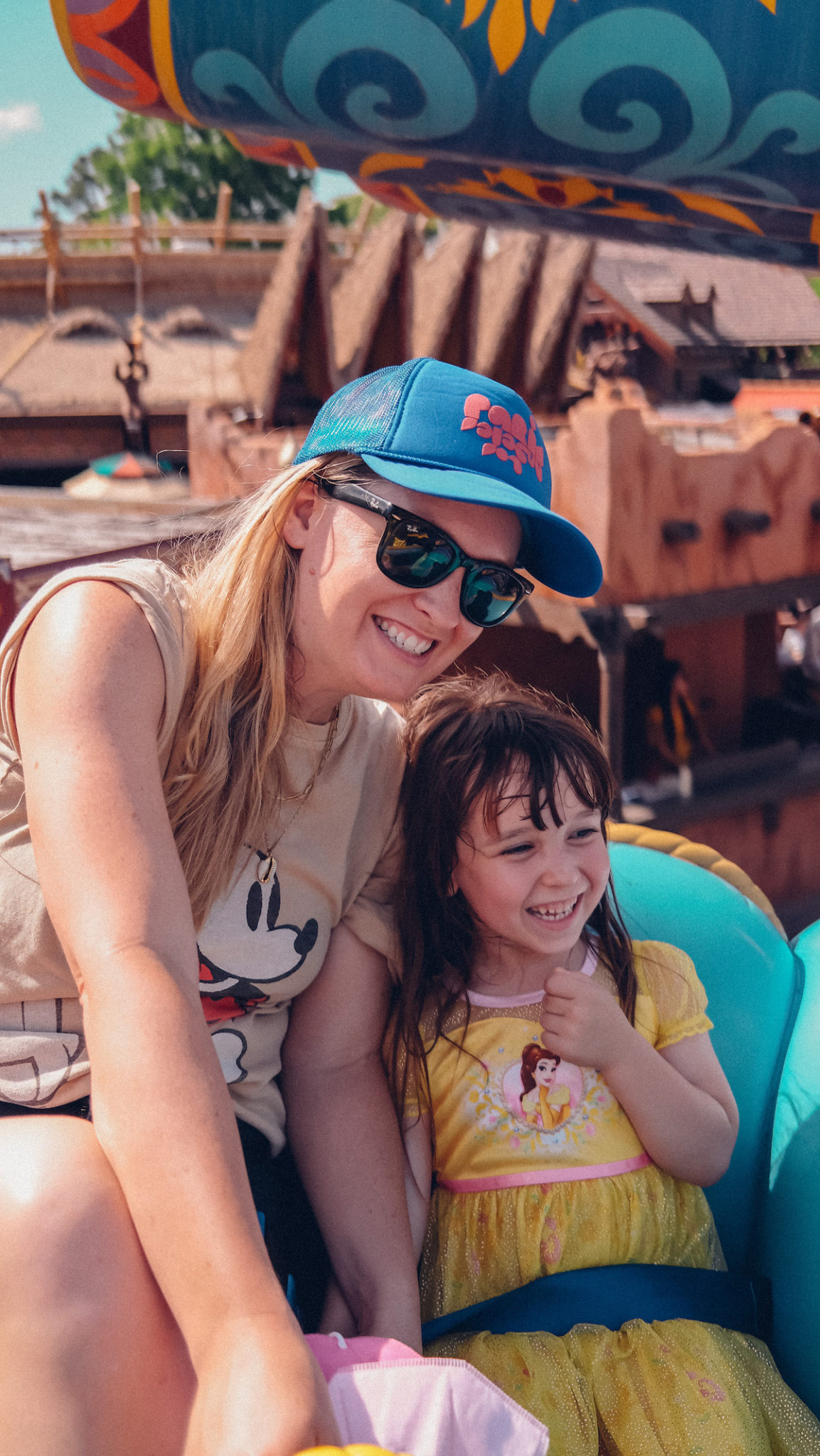 The Barnstormer, Soarin' Around the World and Magic Kingdom in General:
We were able to do a ton of rides thanks to Genie+ and Lightning Lanes. Our favorites were The Barnstormer and Soarin' Around the World. We did the Barnstormer three times in a row and Soarin' was just the coolest. All of us loved it and found ourselves talking about all the cool places we saw for days to come. We did all four of the main parks while we were there and thought Magic Kingdom was far and away the best. There is just more to do there than any other park, at least for our crew.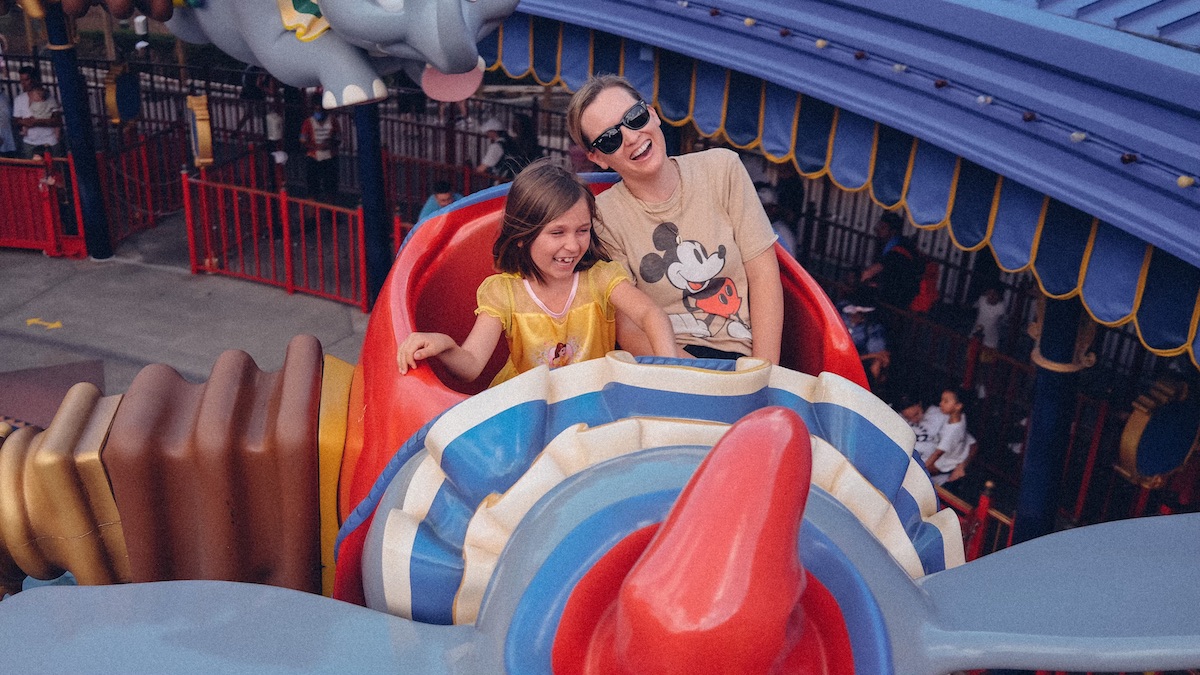 Lightning Lanes:
Speaking of Genie + and Lightning Lanes, the system seems incredibly clunky and counterintuitive at first, but once we got the hang of it I sort loved it. There's definitely a strategy to it and a lot of rules so read up about it before the trip. It's annoying to pay an extra $15 per ticket each day, but felt worth it! We waited in very few lines thanks to Genie+.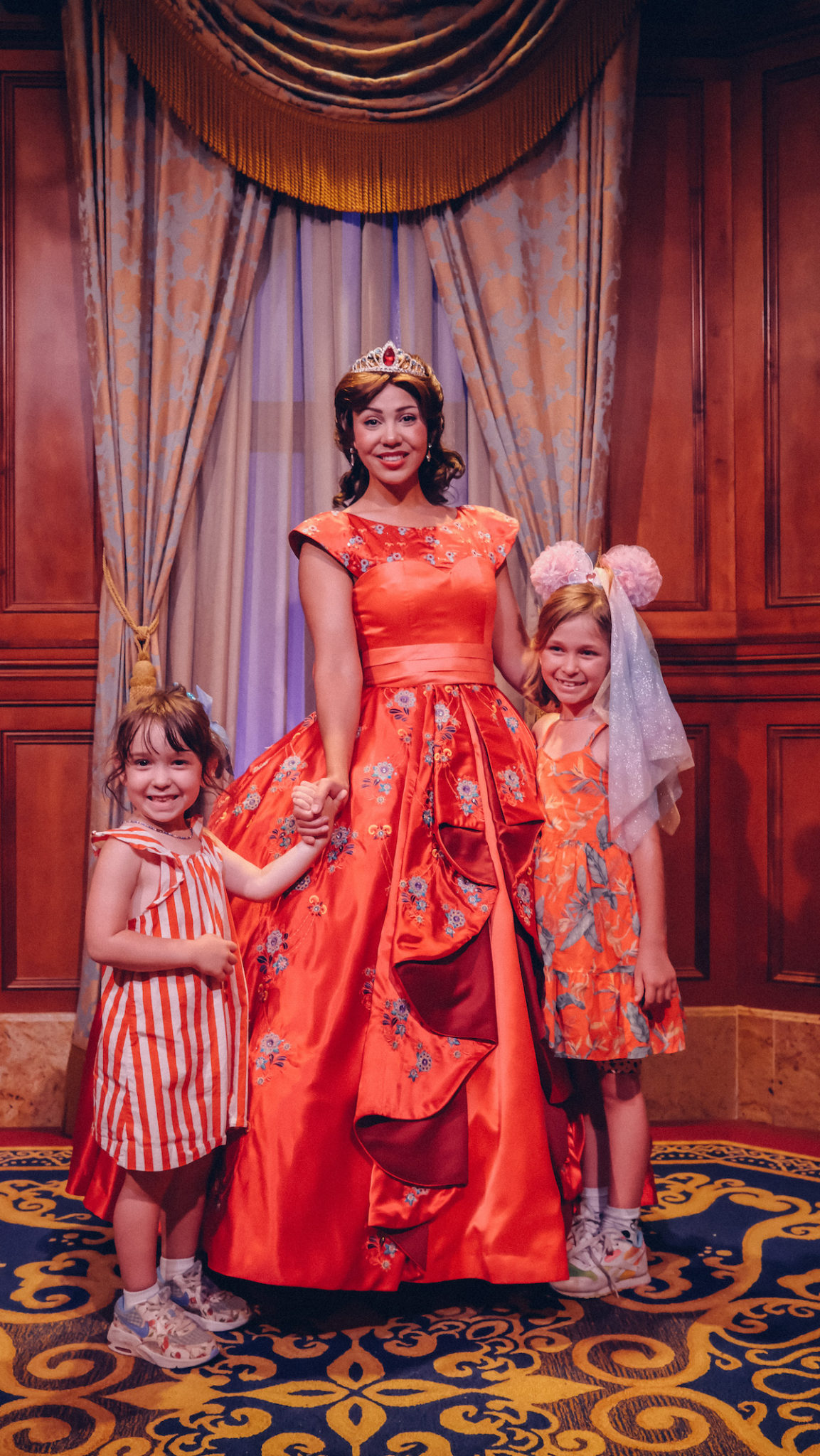 Princess Meet and Greets:
I was actually surprised how much the girls loved meeting the characters! I wasn't sure they would want to wait in line for this but they did! Would definitely recommend making time for this.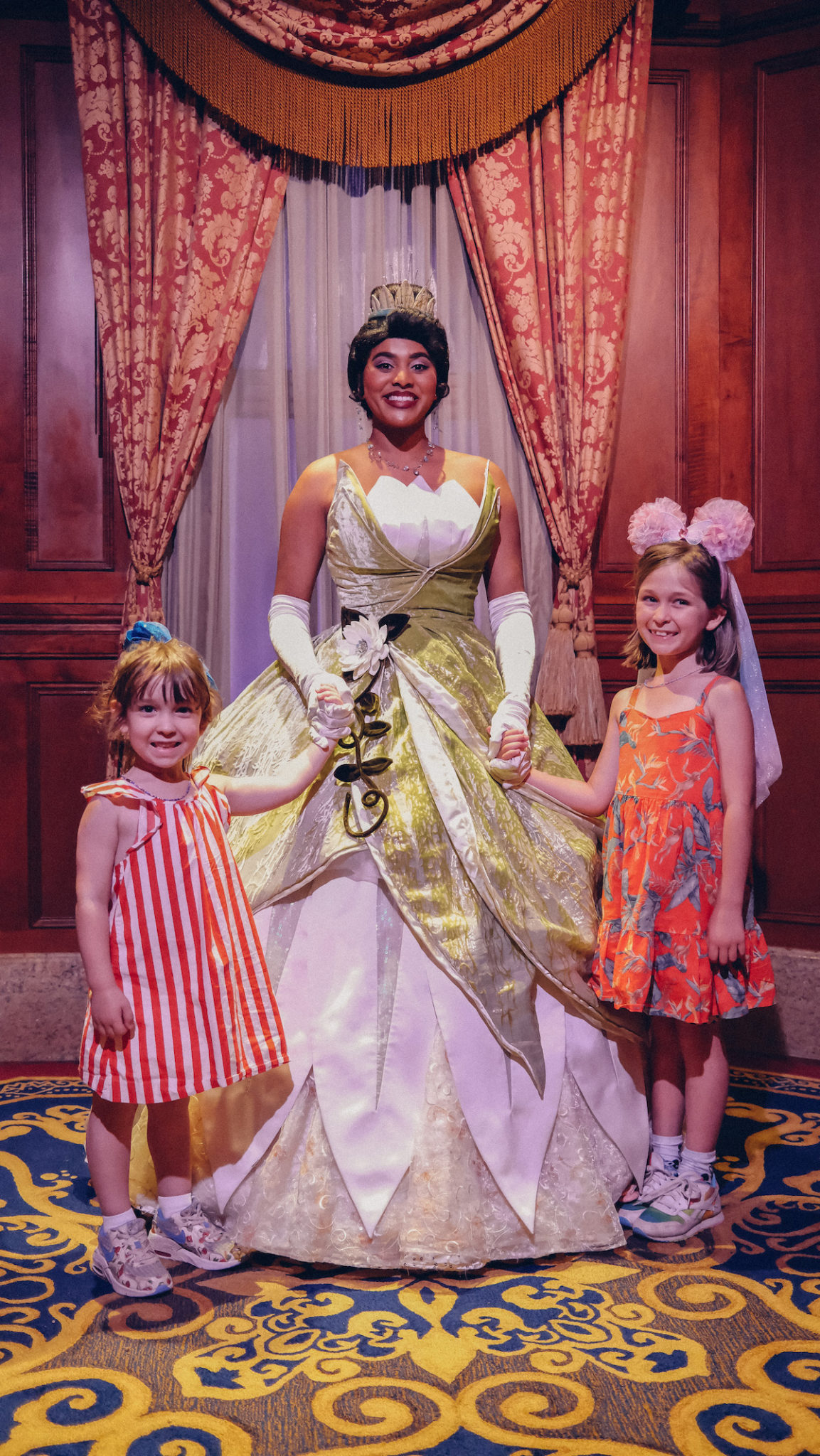 Autograph books:
Speaking of how much they loved meet and greets, we were late to the autograph book game. I had no idea they would be into them! We got them about halfway through our trip and I wished we would have started with them. Although now that we are back home I'm not sure how much they truly care about them, but they're sweet momentos. They were so excited every time they received a new autograph!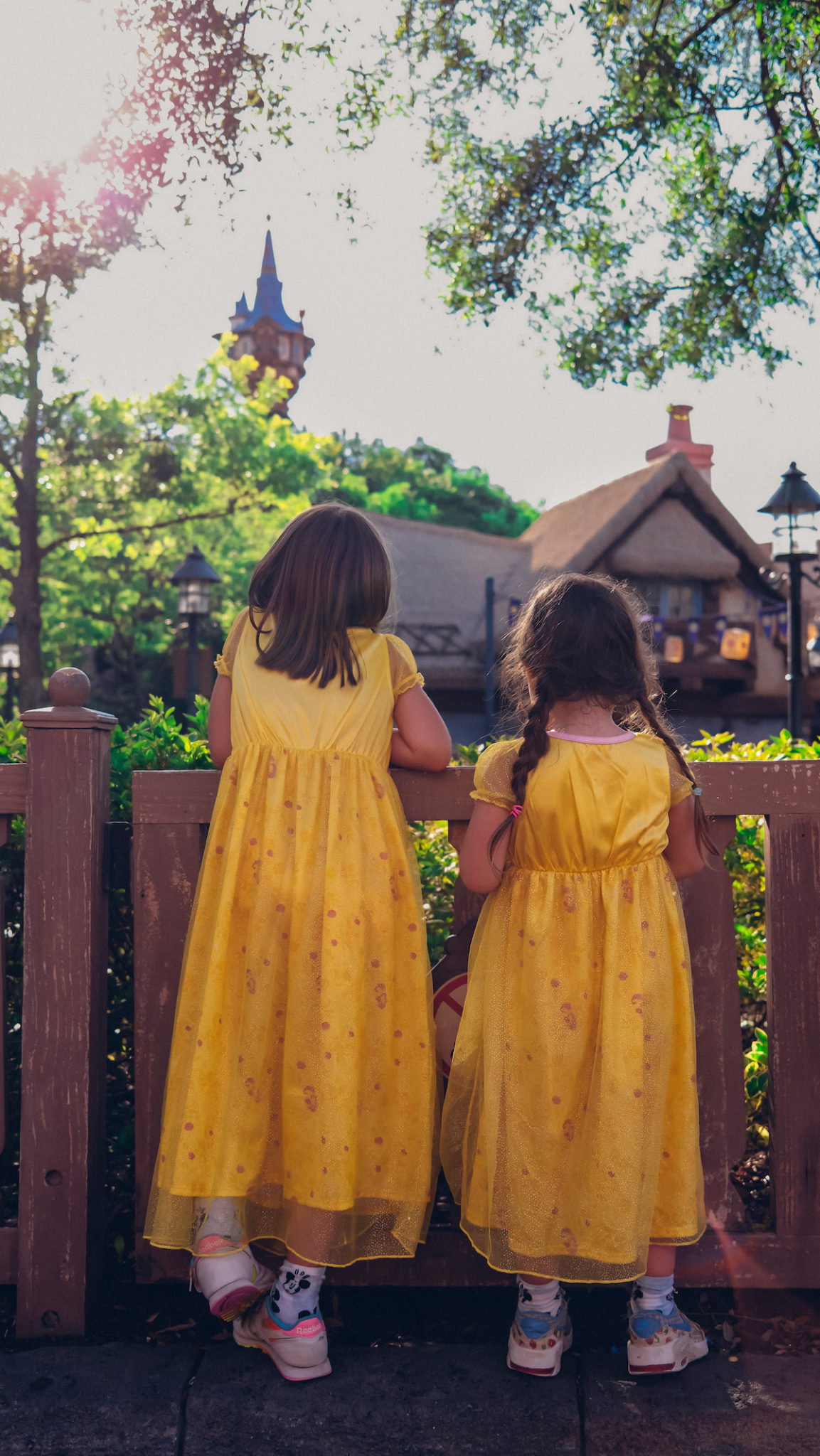 Shows:
Our first park day was at Hollywood Studios. The highlight there was definitely the shows! We loved the Beauty and the Beast show in the outdoor amphitheatre and also the Frozen Sing-Along was great! Typically they would have loved Disney Jr. but by that point they weren't into the idea of sitting for another show and they had been able to meet most these characters up close at the Hollywood & Vine character breakfast.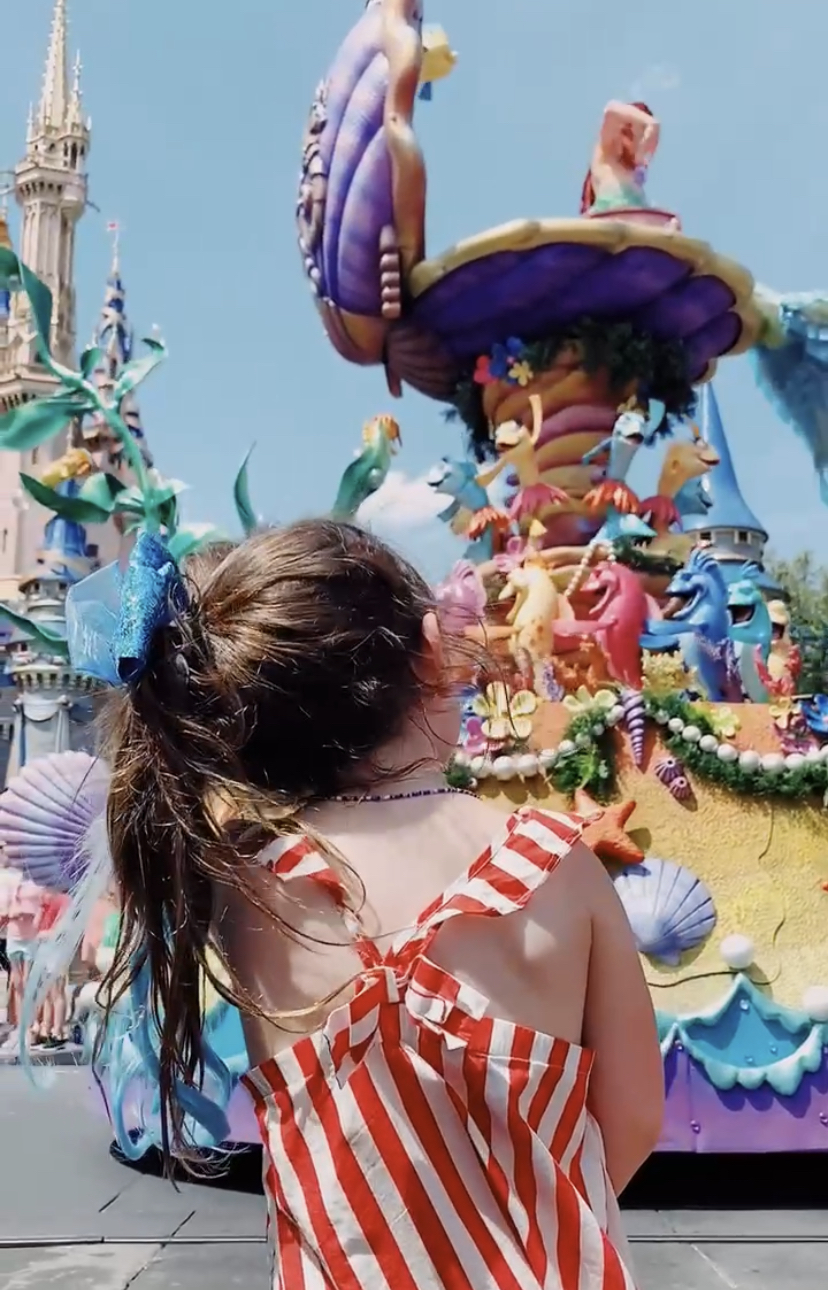 Parades:
I felt ambivalent about the parade at first but am so glad we made it a priority! The girls looooved it! We used a Lightning Lane reservation to get great spots in front of the castle (contrary to every Disney expert's advice) and am glad we did! This is when we could have used a stroller for shade though. It was full sun, day three and the girls were getting over it waiting for the parade to start.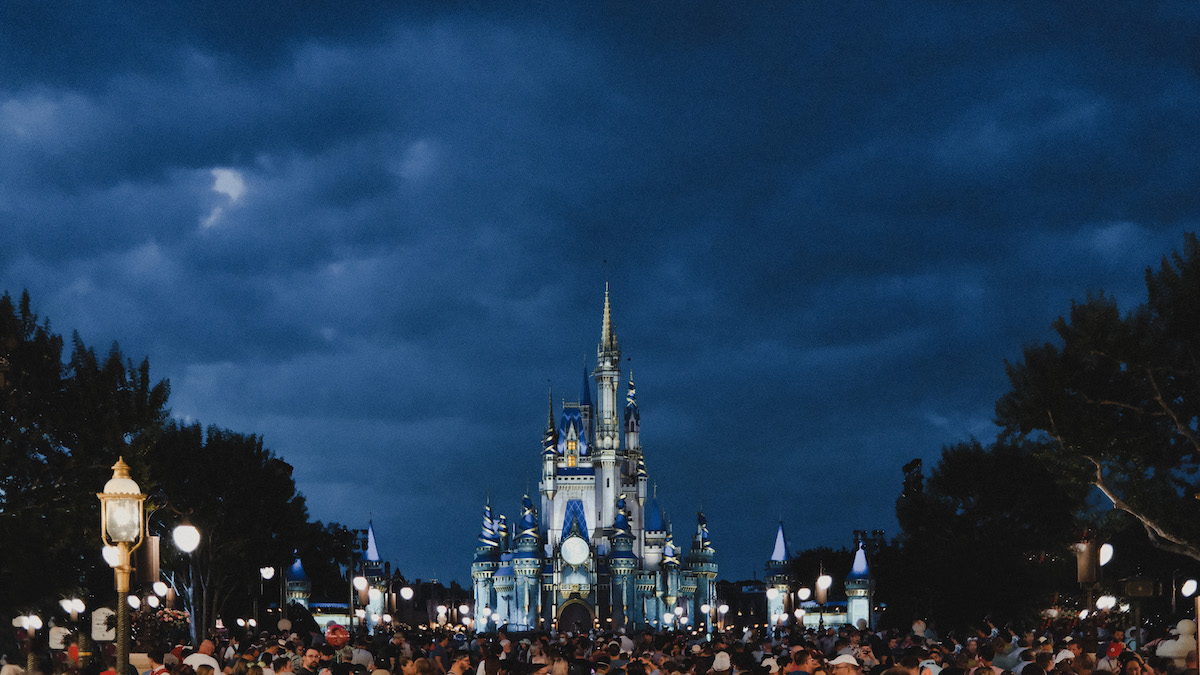 The Fireworks Show:
I wasn't sure how the girls would do staying up for the fireworks. Neither of them nap anymore so going back to the hotel in the middle of the day to rest up wasn't really an option. They did a 13 hour day and the fireworks show was so worth the wait and the added crankiness the next day. It truly was so magical.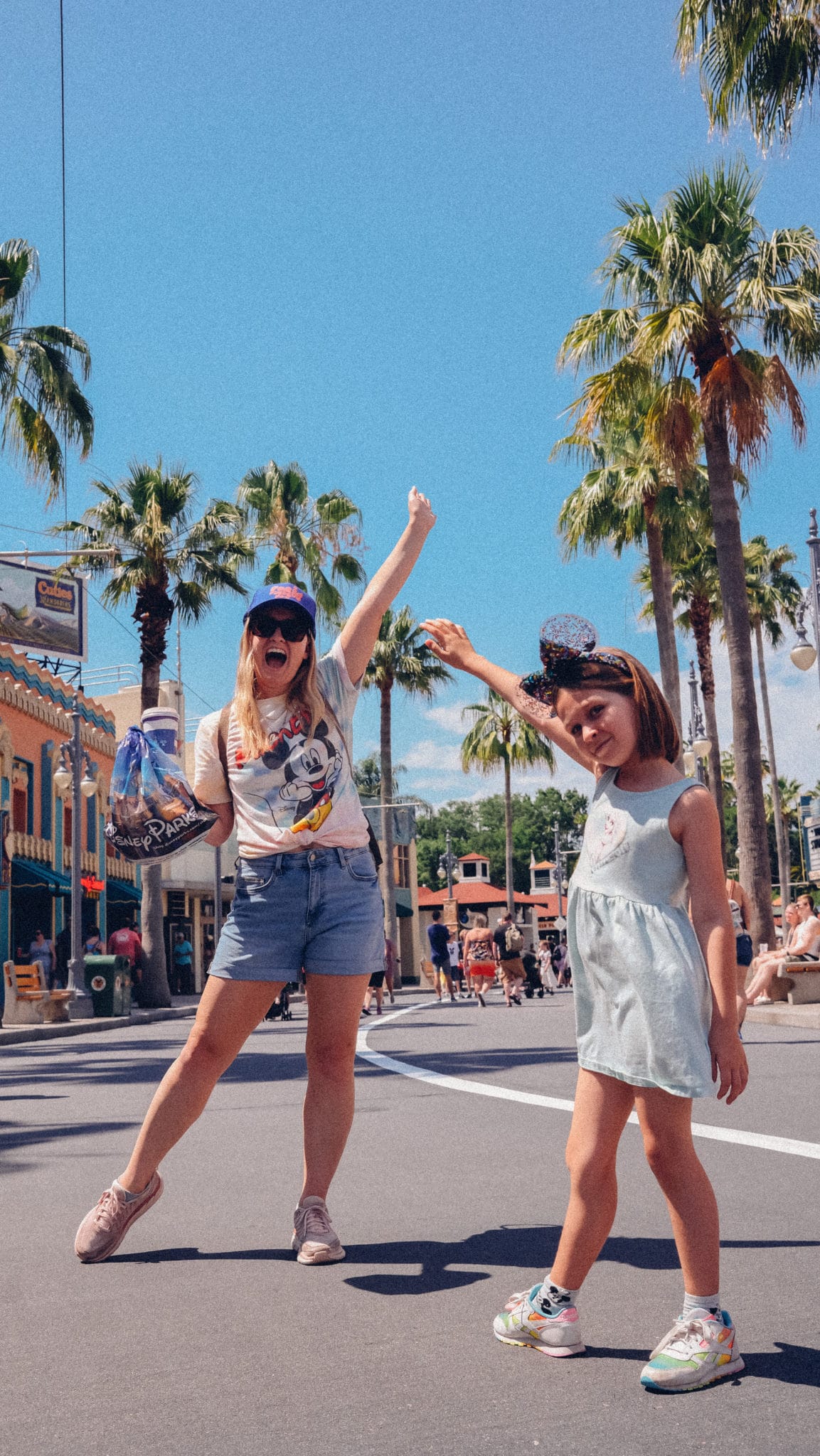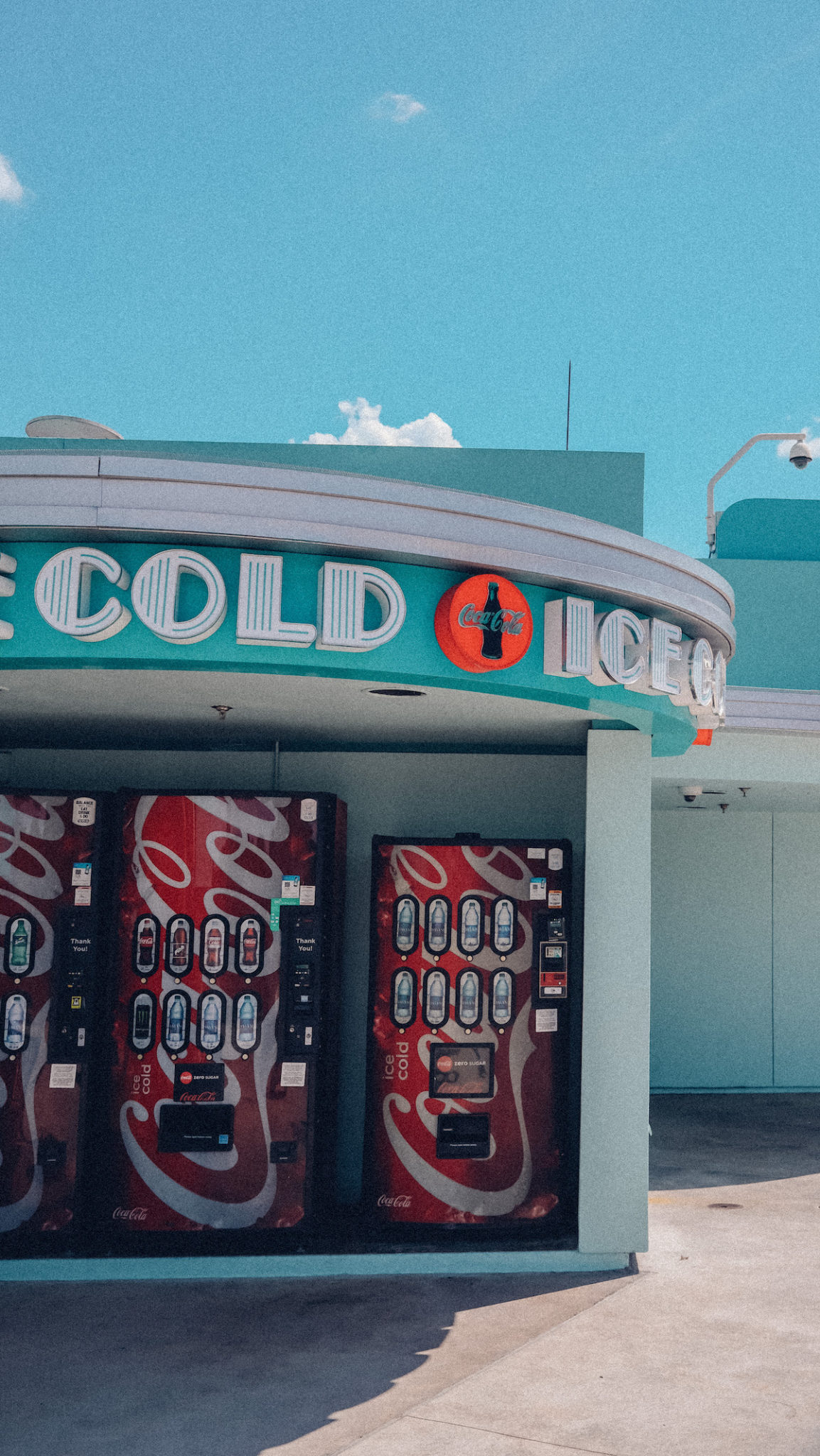 I feel like we broke almost every rule in the planning of our trip. We didn't hire a Disney planner which is a popular route to go. People said to pack ponchos and rain shoes and we decided not to. (Luckily it didn't rain the entire time we were there!) People said to get a stroller and we didn't which proved to be the right choice for us up until the last day when I think the girls could have really used it. They were beat. They did great the two other days, though, and we were glad not to have it. We Instacarted snacks and pantry items for PB&Js to the hotel room and honestly we barely used any of it!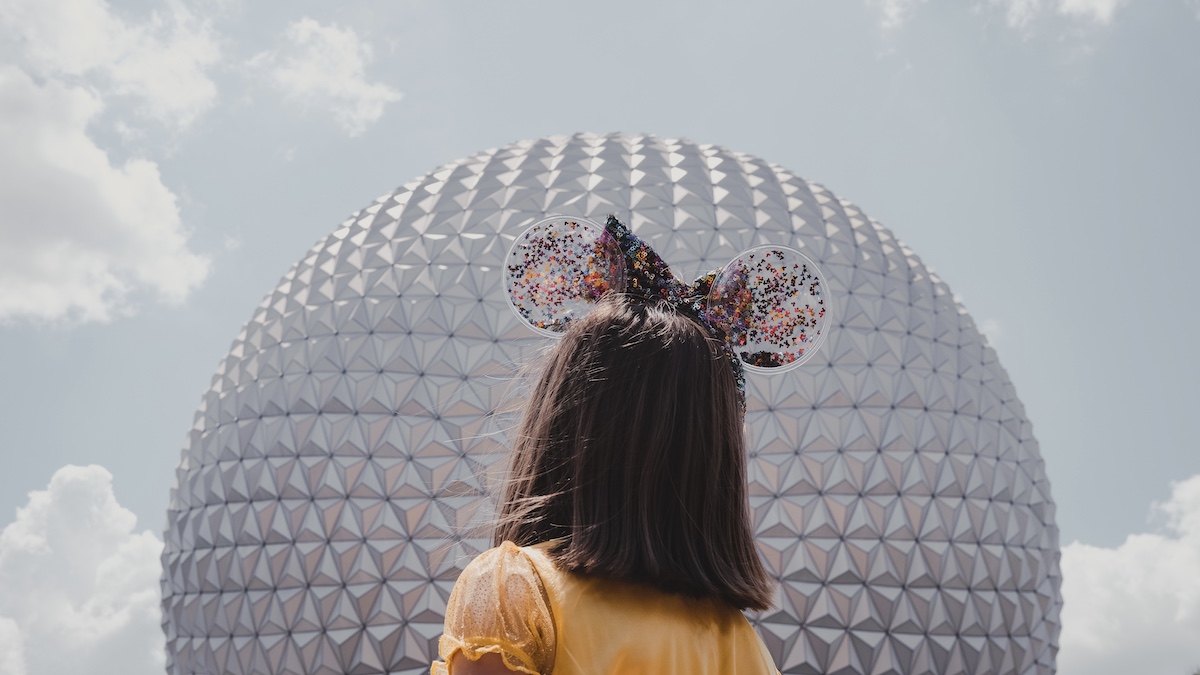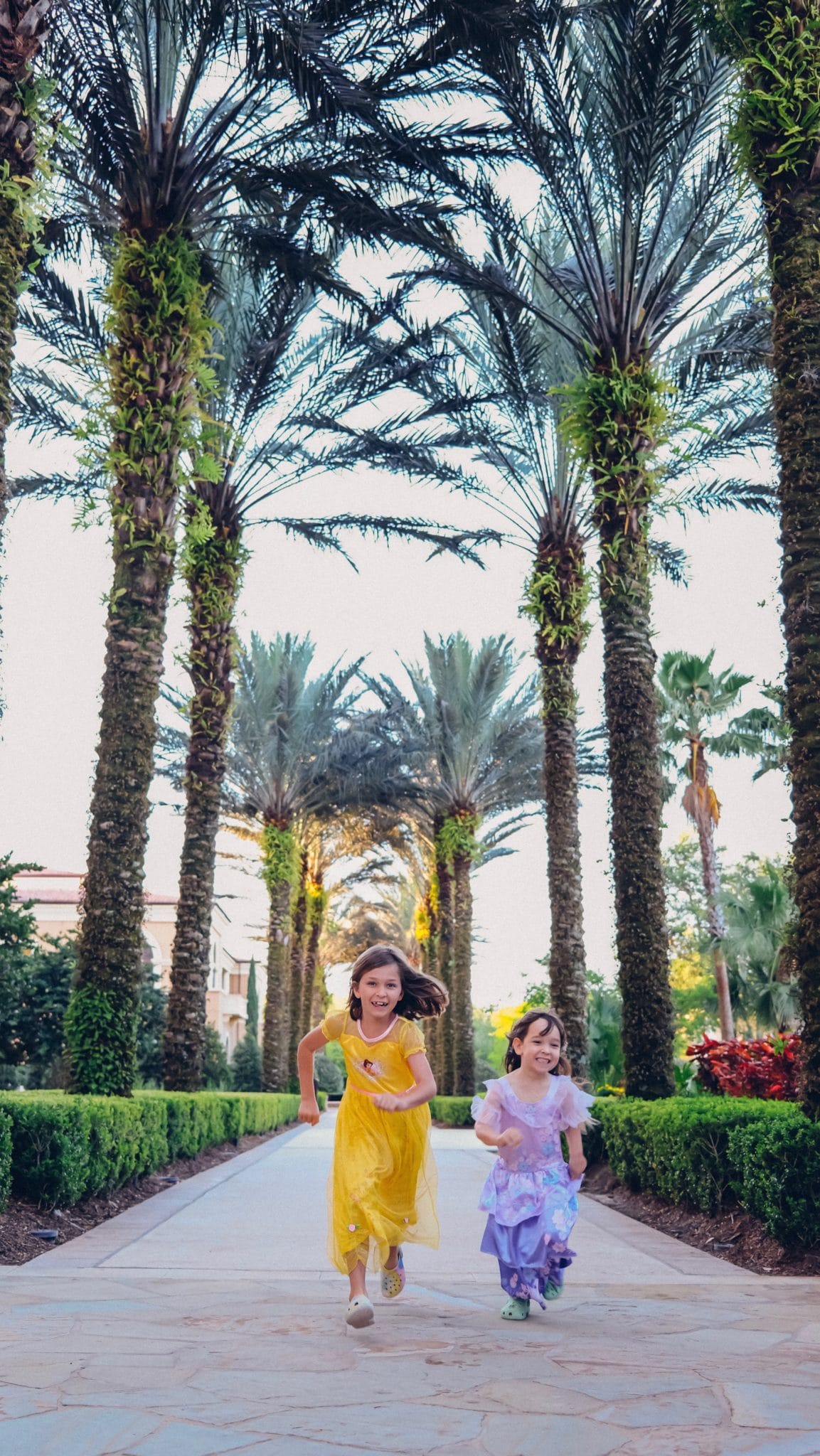 There is zero denying that being on the monorail is the most convenient way to go in terms of easy transportation. I think we would try that next time and see how much we miss the Four Seasons accommodations and property. If we went back we might just do Magic Kingdom or maybe Magic Kingdom and Epcot. Those two were my faves!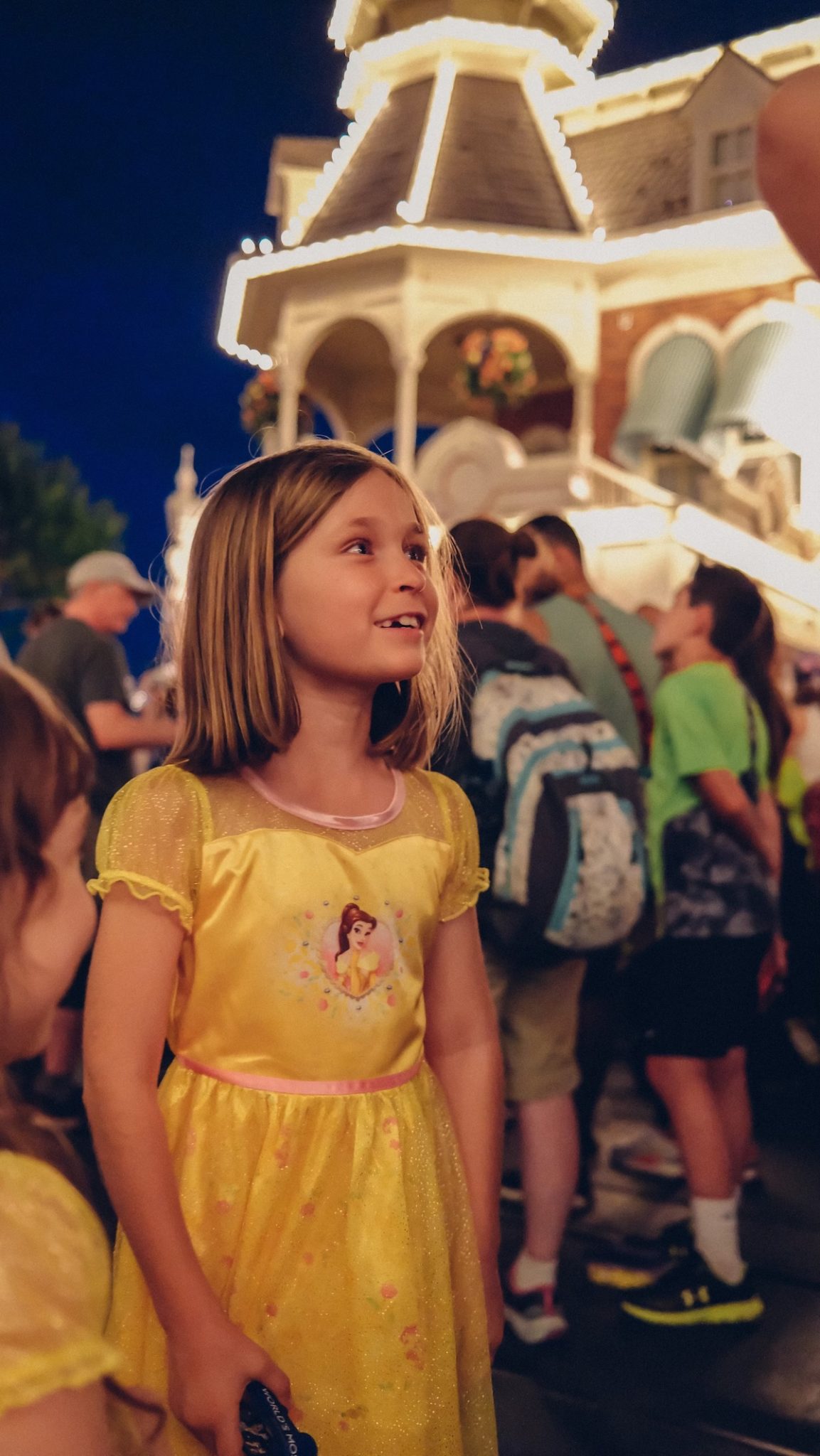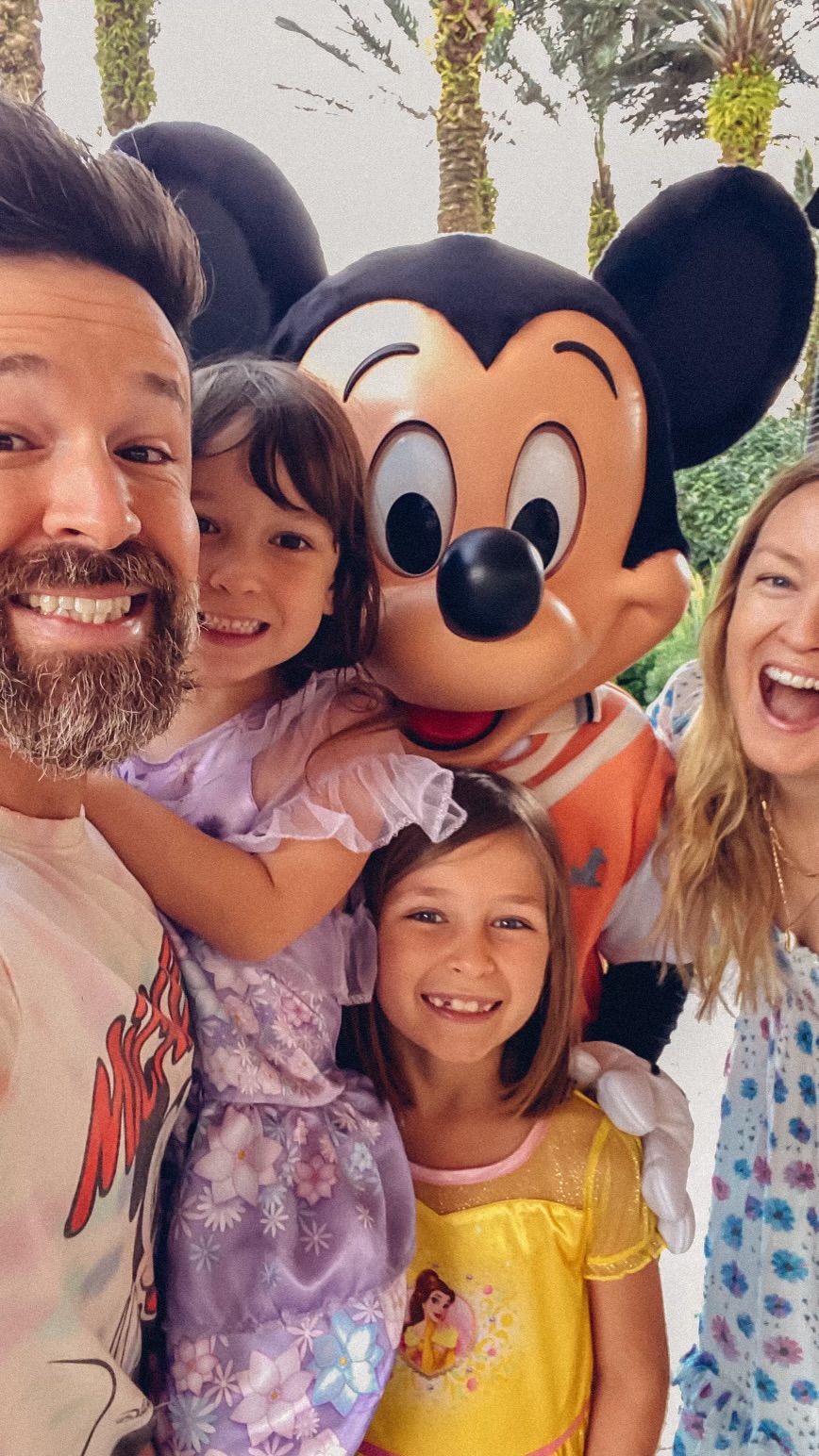 Was it magical? You betcha! Am I so glad we went? Yes! Did I question the fact that you can go almost anywhere for the same amount you spend going to Disney? Sure did. Will we go back anyways? Yep!