I never, ever, ever imagined in 2011 when I was perusing Go Daddy and registering the domain "TheEffortlessChic.com" that some day when someone asked what I did for a living (for a living!) that my response would be, "I'm a blogger."  For one, when I first moved out to LA to begin my career in fashion in 2006, like a lot of people, I wasn't at all familiar with blogs.  Secondly, coming from the world of celebrity styling where I started, blogging didn't seem legitimate. What I mean is that it wasn't respected by people in the industry that I was in.  Few people who worked in fashion could fathom how it might take off or imagine how one might be able to make a 6 or 7 figure income from it. However, neither of those things stopped me from purchasing that domain that day or making really bad content and posting it there for like 17 people to see for the next several months. I did it while in between styling jobs or would post what I was working on for styling jobs, but the underlying thread was that I loved it and it stirred a creative part of my brain that styling didn't and I really, really liked this no-rules-wild-west-frontier side of fashion. But I would never have told anyone that back in 2011.  I actually distinctly remember being at a party and Aaron telling someone I had started a blog and nearly spilling my wine in an effort to stop him from spilling the URL.  It was counter-intuitive, I know, but I still wasn't sure what I was doing exactly with my little corner of the internet and certainly wasn't ready to tell someone, "I was a blogger".  I had gone to school for fashion, had loved it for as long as I could remember, and had been able to make a living doing very "legitimate" fashion jobs.  I was even slightly offended when fashion bloggers, purveyors of their own outfits, started using the term "stylist".  I had spent the last few years of my life shlepping garment bags and learning the ins and outs of studio service departments all over the city to earn that title.
But, let's digress.  The first blogs I read were ones like Garance Dore, The Sartorialist, and Man Repeller.  I was looking for inspiration for upcoming shoots and jobs and that's where I would find it.  I was used to going over to the news stand at Cahuenga and Hollywood and dropping three figures of cash on fashion magazines, so the idea that I could access new ideas and new trends instantly over the internet was seriously appealing and for that I gave blogging two thumbs up.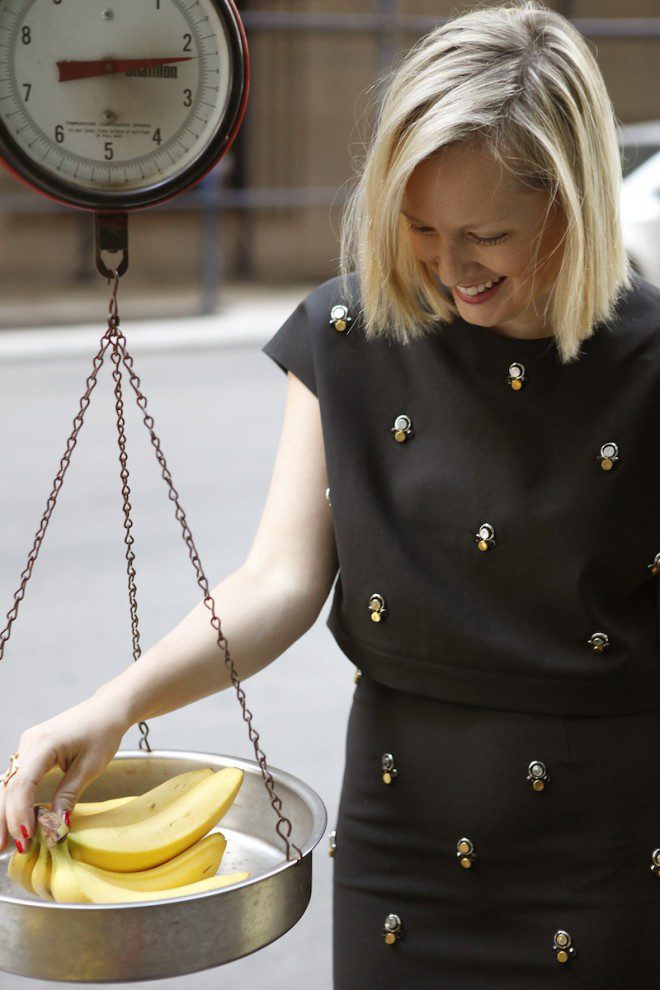 After about a year, I did some styling jobs for Bri on her AMAZING site. She was constantly dropping blog wisdom and I realized I really needed to step up my game if I was going to continue with this blogging thing. Through working with her I got a glimpse of what a blog could be and I was even more hooked.  I learned how to collage images and incorporate text into photos using photoshop and slowly my content started to improve and so did my traffic.
I loved working on my blog, creating content, and publishing posts.  The daydream of doing it as more of a hobby was something that began to dance in my head more and more frequently as our page views grew and sponsored opportunities began to pop up in my inbox.  I started producing original content shoots and hired my first assistant to help with marketing the site.  I remember when Anthropologie wrote and asked if I would host an event at one of their stores, I just about died.  A few months later I booked a pretty major campaign with Coach and suddenly it seemed like there was a real opportunity.
This blog, like many blogs, has gone through it's fair share of phases.  When things started picking up, I began to think that it needed to be more like an actual website to be thought of as more legitimate.  I tried to make things less personal and write with more anonymity, publishing more often and from a variety of viewpoints, but it never felt just right.  I think a lot of sites actually went through something similar.  In the beginning, blogs took the place of more conventional publishing sites, but then many blogs tried to be more like conventional publishing sites and I think that's why blogging as an industry saw a mass exodus of readers flock to social media, ditching their google readers (even before google ditched them) in lieu of something that felt more in-the-moment, off-the-cuff, and authentic.  It feels like things are shifting again, though, back towards the original way blogs used to feel-- more authentic and indicative of their authors-- and it feels really good.  I honestly went through a phase where even as a blogger I didn't read blogs and that's definitely changed over the last few months.  I appreciate authenticity-- it doesn't mean it can't be pretty and well-styled, but it's nice to get the full picture.  I hope you feel that way about this site.
Like any job, there are days (weeks?) where I start to feel jaded and wish I could close all of my social media channels and shut my phone off for a whole weekend, but I'm usually quick to remember that I'm pretty fortunate to get to call blogging my full-time job... at least for the moment.  I love getting to think of ideas surrounding holidays or entertaining or getting dressed in the morning and then bring those to life.  Some ideas are wildly successful and others fall inexplicably flat, but that's the beauty of blogging: None of it has to be taken too seriously.  Life goes on and it's onto the next post.  I love getting to chat with each of you who comment here or on facebook or instagram. I even can say with honesty that after months of hating Snapchat, I even love Snapchat!
Hi, my name is Jen, and I'm blogger... slash content creator... slash social media poster... and I wouldn't change a thing.  What do you do?
Photos by Alecia Lindsey, Amanda Gallant, Belathee, Emily Morgan, Aaron Pinkston, and Mary Costa (in that order!)