The fact that I have ever owned a hair straightener in my life is completely laughable. My hair is nothing if not stick straight, all on it's own, no hot tools necessary.  I definitely prefer it with a wave, but the struggle is real when it comes to being short on time some mornings.  We popped into Martha Lynn's Austin salon, Mirror Mirror last week and asked her to show us a thing or two about hair that looks pulled together, but doesn't take a lot of time. You know, that effortlessly chic, not too perfect, but still stylish kind of thing. Lucky for us, she had a lot of suggestions. First up? 5 Minute Curls that really, truly take just five minutes.  The simple secret is in this one move…
1. The secret trick to these 5 minute curls? Don't section off hair! I used to section off the undermost layer from the middle layer and the top layer and then curl each section separately which she said is totally unnecessary.
2. Start on one side of your face, and curl the first piece of hair away from your face. (See below for the size of pieces we were taking as went around.)  When you grab the next piece, curl the opposite direction and continue alternating in that way.
3. Once you have made your way all the way around– which shouldn't take long, my entire head of hair was just about 8-9 curls– select smaller pieces on the very top of your head and curl closer to the root.  Do this for 6-8 pieces. (PS. Martha Lynn uses the t3 curling irons and loves them. I believe this one is a 1″ barrel.)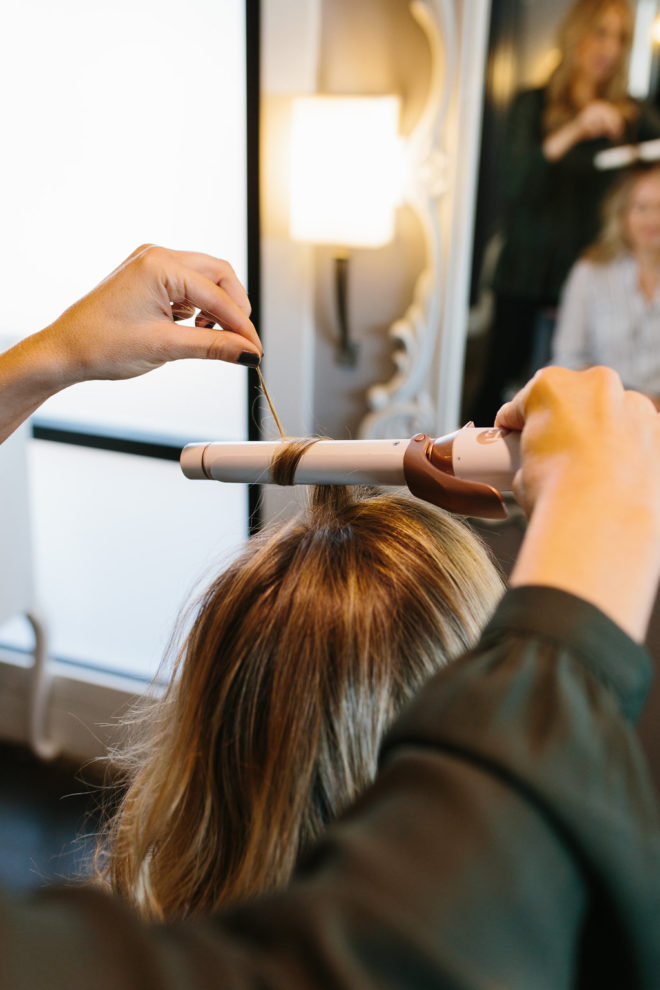 4. Next, run your fingers through your hair and shake it all out to break up the curls.
5. Then lastly finish with a light hold hairspray like this one from Living Proof.
That's it, you guys! Five minutes to perfectly imperfect, effortless curls.
Photography by Katie Jameson
Hair Tutorial by Martha Lynn Kale of Mirror Mirror Salon