This is the very unlikely, albeit true, story of how we saw our house the very first day we went out looking for houses with our realtor, put an offer on it a few hours later, won the bidding war and moved in three months later.  Pretty undramatic for house hunting in LA.  However, the day we saw it, we were so excited and caught up in the moment that we forgot to take any photos and so were left to look at the listing photos over and over and over again for the next three months.  However, there was no photo of the kitchen and my memory was failing me.  I remembered the black and white tile but not a single other detail.  We decided that it must be awful for them to opt out of putting a photo in the listing, but were pleasantly surprised when we finally saw the house again three months later.  It was new enough, simple and didn't need any immediate updates.  Over the last three years, though, all of the white began to get monotonous and I've been dying to make it my own and spice it up with color!  In lieu of totally gutting it and entering into a renovation that would have cost tens of thousands of dollars, we did three small projects that made a big impact!
First, it was time to add some color.  I have been dreaming of adding a backsplash to the kitchen for some time, but could never quite find what I was looking for.  The choices at the big box stores can often times be a little lackluster and my trips to the big tile and stone wholesalers were overwhelming.  One serendipitous night I was googling kitchen tile and found Modwalls.  You guys.  This online tile boutique is a total game changer.  It's a precisely curated selection of modern tiles, so there's no digging through the riff raff and each tile has so much personality!  I chose this 3x6 glass tile in Surf and am obsessed with the color!  It instantly brought so much life and energy into our kitchen!  See for yourself: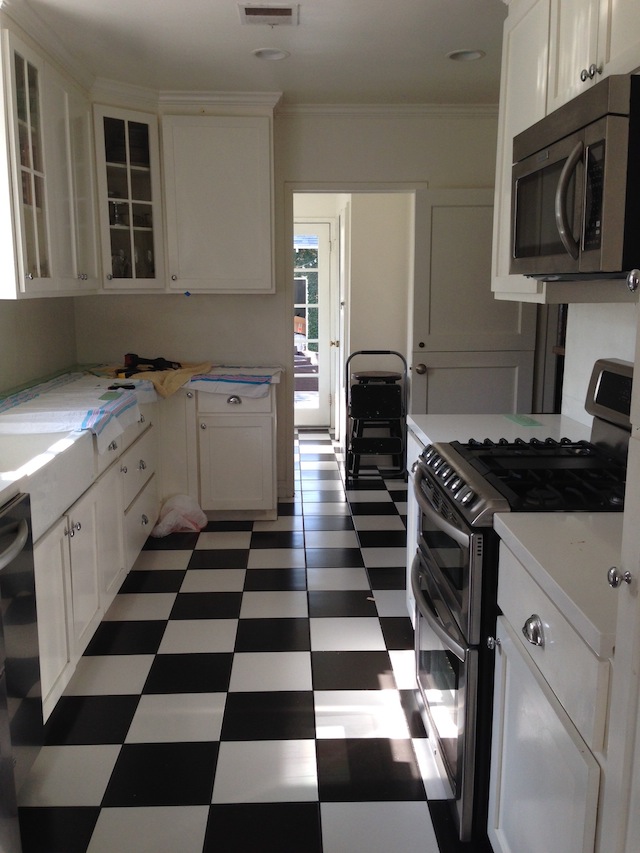 Project number 2:  As soon as the backsplash was complete, suddenly the shiny chrome hardware on our cabinets was giving me a retro diner vibe that I couldn't handle.  I knew they had to go, but didn't want to invest in thirty new knobs, so I invested in a can of copper spray paint instead and got to work.  Five dollars and one hours later, I was pretty thrilled with the result!
Lastly, the kitchen needed some accessory updates to bring the whole thing together.  I repurposed a lot of things I already had that were hiding in cabinets like the cookbooks, the blue colander, cutting boards and ceramic vases and then picked up a few new things from West Elm like the copper bowls, wooden scrub brushes, and new white silicone utensils.  Oh and I swapped out our neutral dish towels that we've had since our wedding with these brighter ones.
Here's the pre-accessorized kitchen and some of the items I used: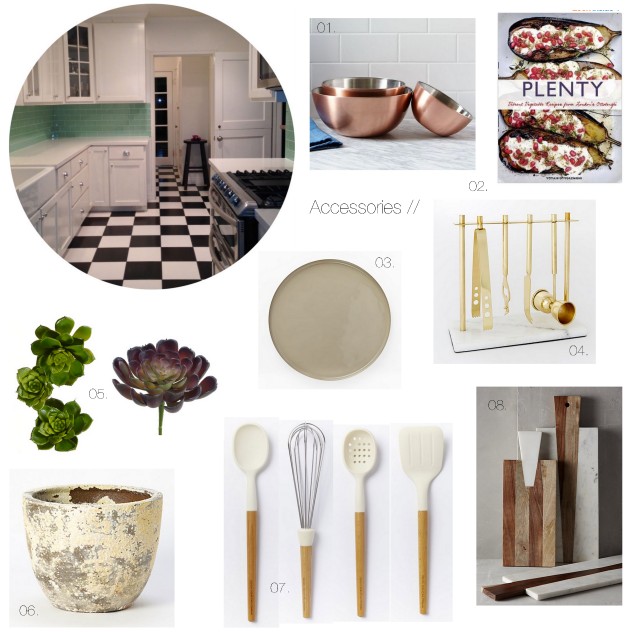 01. / 02. / 03. / 04. / 05. / 06. / 07. / 08.
Photography by Melissa Valladares
Tile for the backsplash by Modwalls-- the absolute best source for tile!