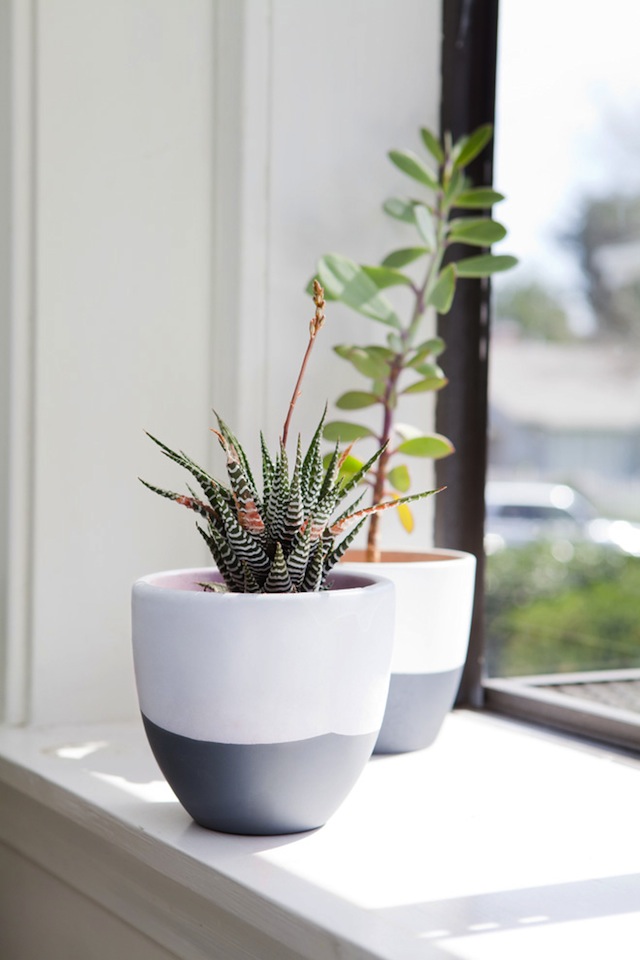 Do you ever find that you end up accumulating the most eclectic assortment of things?  If you look inside one of my cabinets you will be greeted with quite the collection of vases– skinny, square, glass, silver– you name it and it's in there!  The same is true for outdoor pots.  Some of them we inherited with the house as they were left in the garage and backyard, others have come with plants that didn't survive my not-so-green thumb, and then there are those that I saw and just had to have.  When Lindsay said she had a simple solution for making this eclectic collection cohesive, I was all ears!  This DIY is really simple and leaves your outdoor pots with a really cool, unglazed finish look.  Take it away, Lindsay…
SUPPLIES:
Flower pot
White matte spray paint
Grey matte spray paint (we actually used grey primer)
Glossy top coat spray paint
Painter's tape
Bone folder
Saran wrap
Protective tarp
1. With the pot standing right-side up (and the tarp protecting your work area), begin spraying even layers of white paint around the top half. Don't worry about completely covering the bottom portion since you're going to paint that a different color later. Pro tip: If you're painting on a high-gloss pot, you'll want to sand it down first so the paint has something to grab onto.
2. Once the white has dried, use the painter's tape to mark off a curved edge for the grey paint. Gently press a bone folder alone the tape's edge to ensure a clean line for the paint.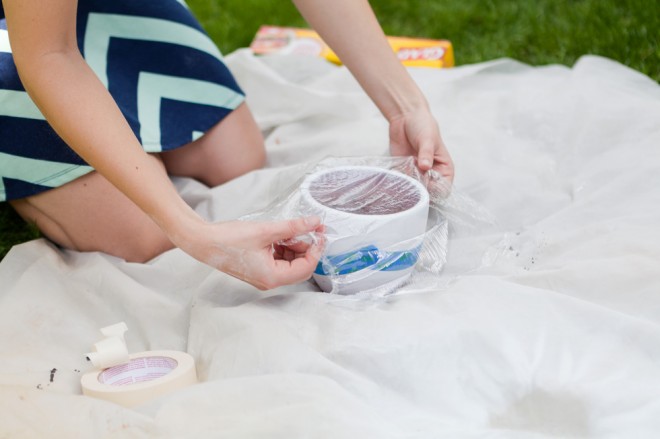 3. Tear off a sheet of saran wrap that's long enough to cover the pot. Cover the top portion and tape the saran wrap to the painter's tape that's already on the pot. This creates a protective "bubble" for the white paint.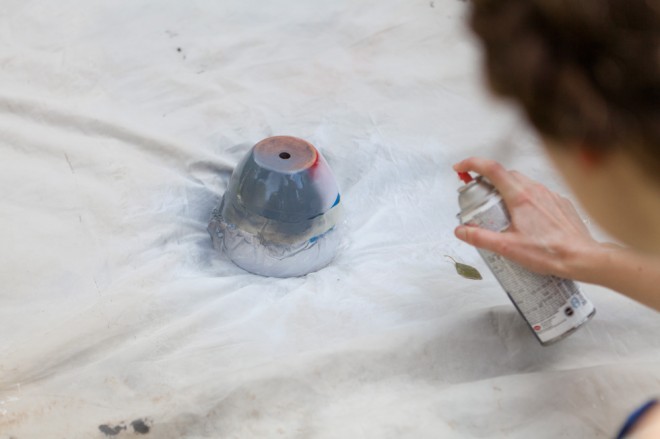 4. Flip the pot upside down and spray thin, even layers of the grey spray paint until you've built an even color block.
5. When the grey has dried completely, carefully peel off the tape and saran wrap. Give the entire pot a generous coat of the glossy top coat, plant a few earthy succulents, and enjoy!
DIY by Lindsay Indermill (Read more from Lindsay on her blog,
Super Girl's Supper Club
or check out the recent article she wrote for
Clementine Daily
) Photography by
Melissa Valladares