Spoiler alert: The floor plans for our new house have been designed with a mudroom and that fact alone makes me laugh, almost out loud. As someone who spent 10 years in Los Angeles, 5 of those as a home owner, a mudroom was something I never imagined myself having or even wanting.  The market in LA is super competitive and crazy expensive.  When we bought our first home, our requirements were that it was in our price range and in a somewhat safe neighborhood.  That's it.  Square footage or design details were a luxury that only people in a much higher price bracket could afford, so the idea that I will in the near future be the owner of a mudroom is downright laughable, friends!  These are the little details that we never would have added ourselves and why it's important to hire an architect that knows more than you.  To be fair, the entry space we created between the doorway and our living room in our house in LA served all of the functions of a mudroom– place for shoes, closet for coats, piece of furniture for your keys and to set things down on as you walked in– but it was super visible from all of the house, not tucked away like a proper mudroom.  As the proud future owner of a mudroom, I thought I would share the spaces that are inspiring me, what we plan on doing with ours, and a sneak of our floor plan and layout of the mudroom…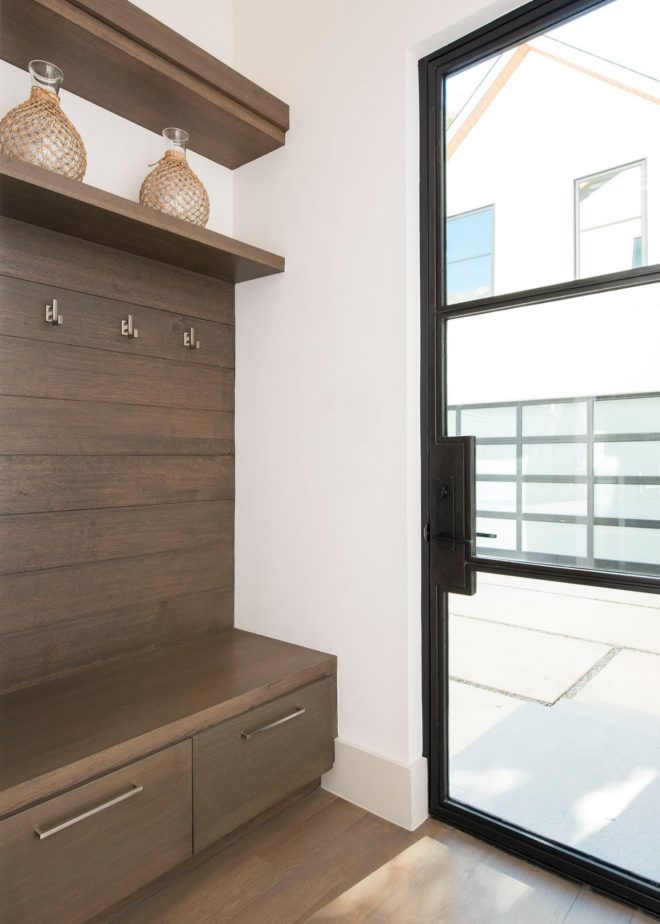 I mentioned in this post that I'm trying to carefully consider the purpose of each space in our new home and how to design and style the space accordingly with that in mind.  My current trips from the car to the house include armfuls of bags, backpacks, beverages, mail and more carried while corralling a toddler to the best of my ability, so I want that space to be a drop zone where all of those things can be organized nicely as we walk in.  (Also, do you think the door should swing open to the right instead of the left to give better access to the bench?) Here's my current wish list for the space:
01. || 02. || 03. || 04. || 05. || 06. || 07.
Ultimately, I think we will do a custom bench in this space so that it goes wall to wall and makes the most of those 4 feet with a small custom cabinet above.  However, I love the light colored wood of this bench with the dark cushion.  I think we will likely mimic the colors here.  I image those pretty brass hooks to go just below the custom cabinet.    Let's talk about this rug!  I love it.  As you can see from this picture, I gravitate towards blues and greens, so I love that this is totally different, but still muted so it doesn't feel like a huge dose of color.  QUESTION: thoughts on mirror vs. art on wall 3?  A mirror could be practical in terms of last looks before you walk out the door, but it's also a perfect opportunity to incorporate art and have a really pretty focal point.  I think the umbrella stand might ultimately end up in the garage since this mudroom is attached to the garage and I can't imagine a reason why I would want to tote in a wet umbrella, but if this was off of the front door I would totally incorporate it into the design.  QUESTION #2: Should the door open to the opposite direction?  Still opening into the house not the garage, but should it swing towards wall 3 instead of wall 1?
featured inspiration images: o1 || 02 || 03 || 04 || 05 || 06 || 07  || 08