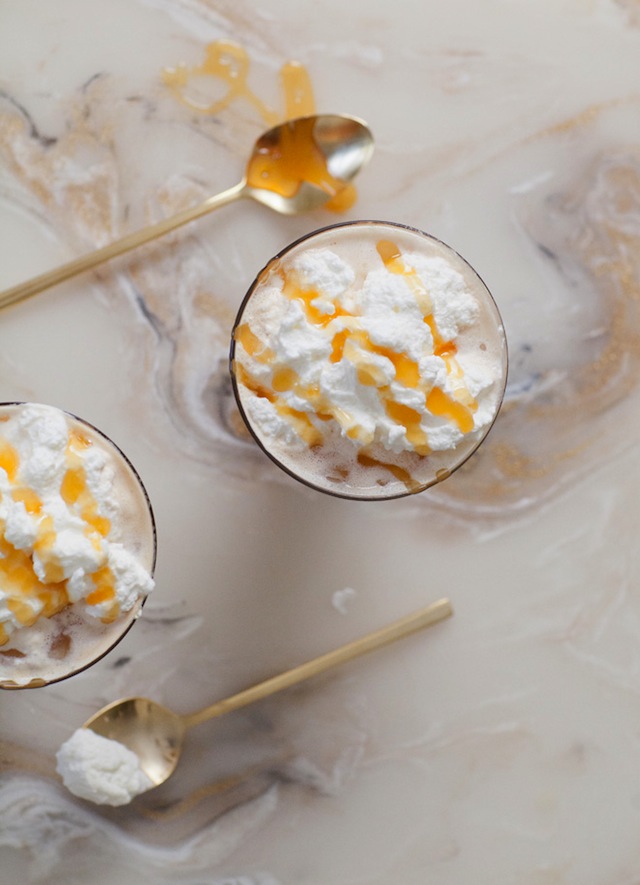 It wouldn't be the holiday season without a little bit of indulgence, am I right?  That's what we thought when we infused a little Grey Goose vodka with soft, buttery caramels and a pinch of salt last week.  We took a few sips here and marveled at our adult beverage masterpiece, but decided that we couldn't just stop there.  Sipping on vodka isn't the best way to keep up with the holiday schedule after all.  That's when we decided to create this naughty little number we're calling the Salted Caramel White Russian.  Don't ask questions people.  The new year with all of her healthy resolutions in tow will be here before we know it.  Until then, let's get to mixing…
What You'll Need for each cocktail:
1 1/2 ounces of salted caramel vodka (recipe here)
1 ounce kahlua
1 ounce coffee
ice
1/2 ounce cream or a healthy sized dollop of fresh whipped cream
caramel sauce (optional– but seriously go big or go home)
Directions:
Combine vodka, kahlua, coffee and ice in a cocktail shaker and get to shaking.  Pour over ice.  Add cream or whipped cream and top with caramel drizzle.
Photography by Melissa Valladares