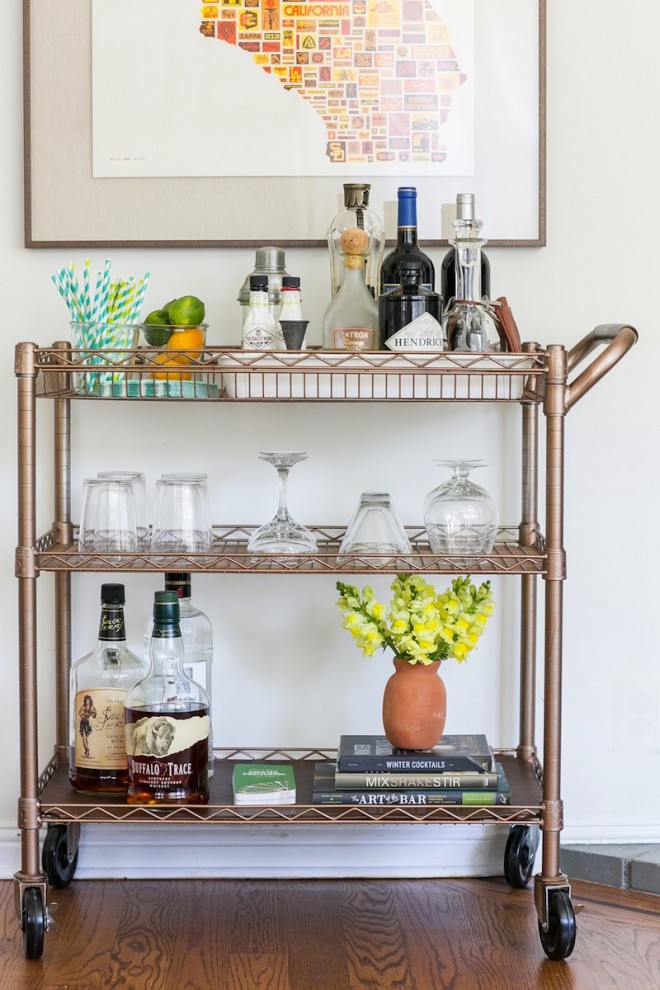 Are you dying for this already?  I am!  A couple months ago, Eden offered to share a DIY with us while I was pairing down our editorial calendar for a little maternity hiatus.  If you are familiar with her blog, Sugar and Charm, then you already know that I jumped at the opportunity!  Her site is chock full of inspiration, practical DIYs and more delicious recipes than one can possibly make.  And a bar cart DIY?  Could it be any more perfect?  I think not!  Keep reading for the full instructional and thank you so much for sharing, Eden!
Instructions:
Purchased a utility cart. I got mine from Sams Club for $60 (http://www.samsclub.com/sams/utility-cart/prod9070084.ip?navAction=push)
Assemble the cart and make sure to leave the bumpers off, it looks much nicer without them!
Sand the metal as much as you can. The more the better, use different grades of sand paper too.
Tape off the wheels, and spray paint the cart any color you want!
The cart comes with plastic you can place on each shelf. I chose to only include one for the bottom.
I covered the bottom plastic piece in upholstery leather from Leather Hide Store (https://www.leatherhidestore.com/upholstery-leather) and used hot glue to adhere it to the back of the plastic, effortless but looks chic!!
I also cut a small piece of leather for the handle on the bar cart. I also adhered the leather to the handle with a small amount of hot glue and it's very sturdy!
All photos and instructions by Eden Passante of Sugar and Charm