Memorial Day is one of my favorite holidays! It's green light to summer fun and a perfect excuse to spend time with family and friends enjoying really, really good food! Keep reading for some of our favorite Memorial Day recipes!
We won't be traveling this Memorial Day, but I am still very much looking forward to publishing my OOO email response and laying low with family and friends (preferably pool side!) this Memorial Day! Having a Memorial Day Barbecue? Picnic? Small dinner party with friends? Keep reading for all of our favorite dishes for this fun, summer holiday!

Don't skip on appetizers this Memorial Day! Nothing sets the tone of a party like those first dishes that greet you when you walk in. Here are 5 of our favorite appetizer dishes!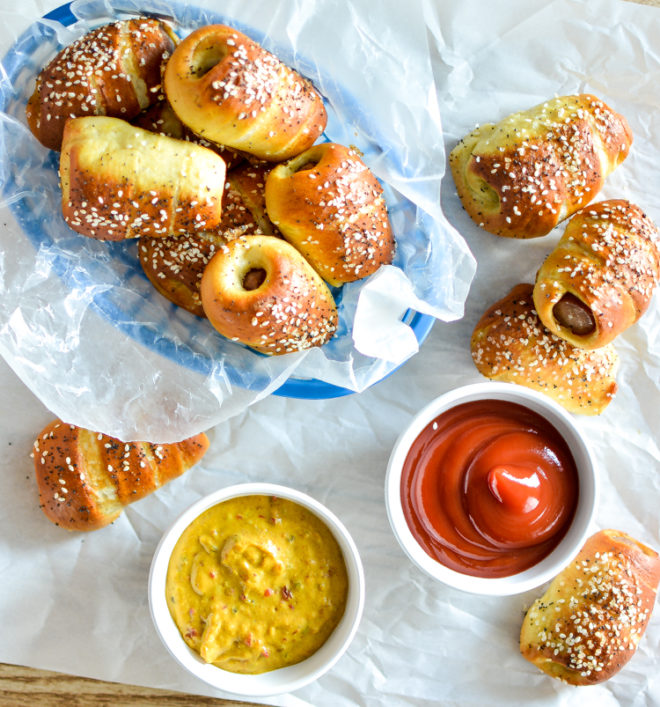 These Pretzel Hot Dogs with Maple Bacon Mustard via Cooking and Beer are not just calling, they're screaming my name! Bonus points for being kid-friendly, too!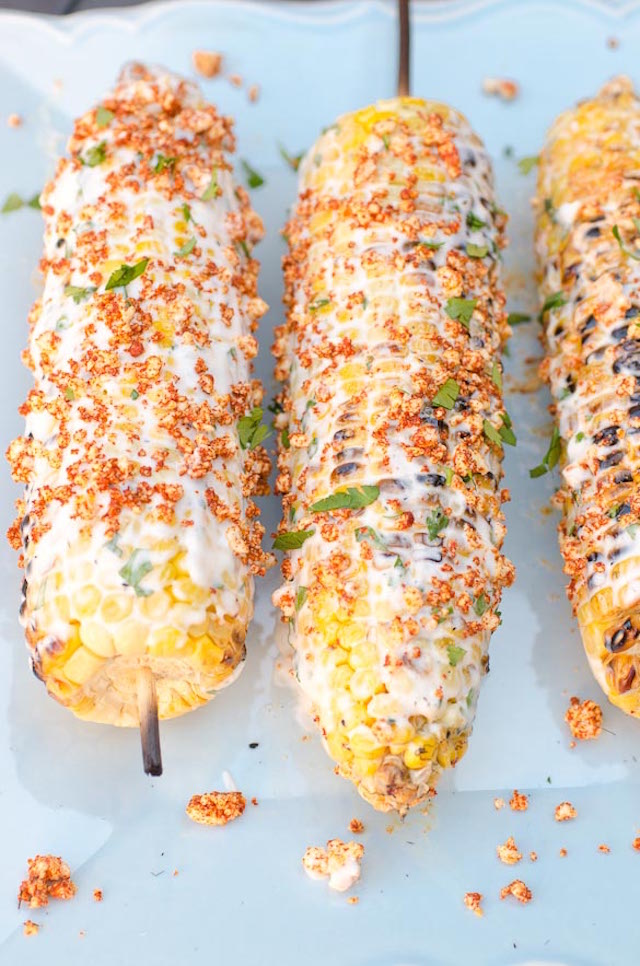 Yum! My first "street corn" experience was at Cafe Habana in New York and I've never been the same since. This Mexican Street Corn recipe via Seeded at the Table looks so good! (Best when served fresh off the grill!)
This Ultimate Crudite Platter via The Omnivore's Cookbook is a great thing to bring as a guest. It's a dish that travels well and looks like you took a lot of time to prepare it. When in truth it's really simple to pull together.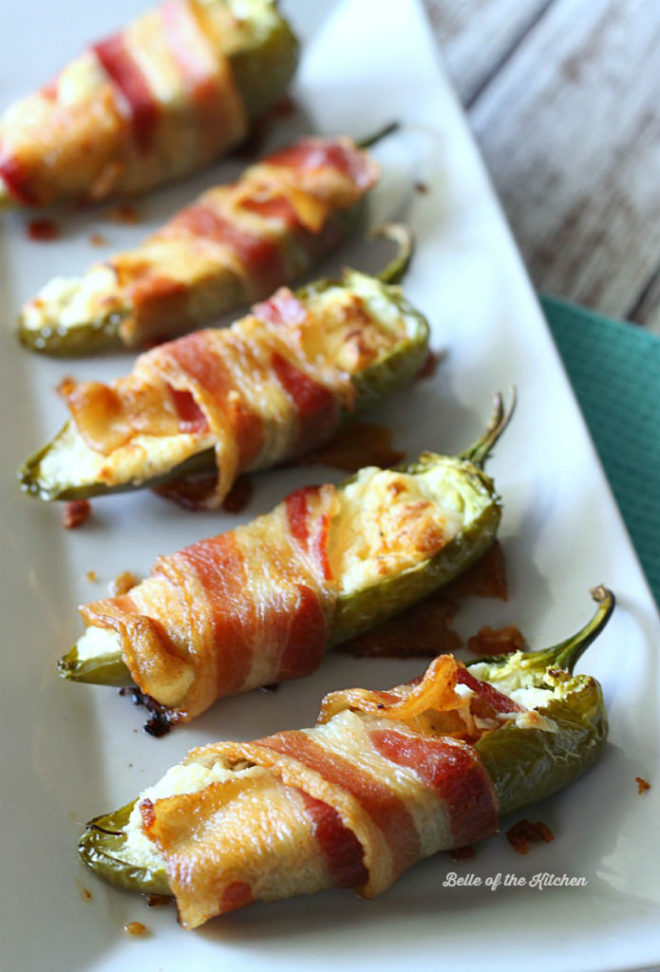 These Bacon Wrapped Ranch Stuffed Jalapeno Peppers via Belle of the Kitchen are a staple of our family celebrations! You won't be disappointed!

Our past Memorial Day festivities have been known to span many hours! The best parties often times starter early and go late! If you're getting things started around noontime, check out these lunch recipe ideas to add to your menu...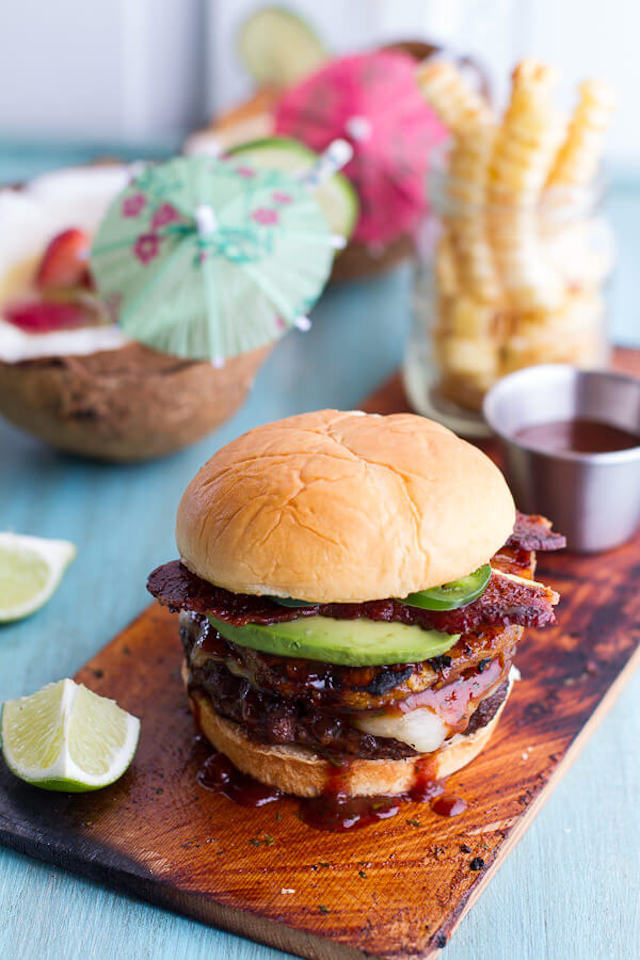 The Aloha Burger with Island Jerk Pineapple via Half Baked Harvest is the king of burgers, especially if you're celebrating the start of summer!
These are not your dad's hot dogs... Unless you're dad makes Mexican Mole Hot Dogs via Country Cleaver. (In which case, go dad!)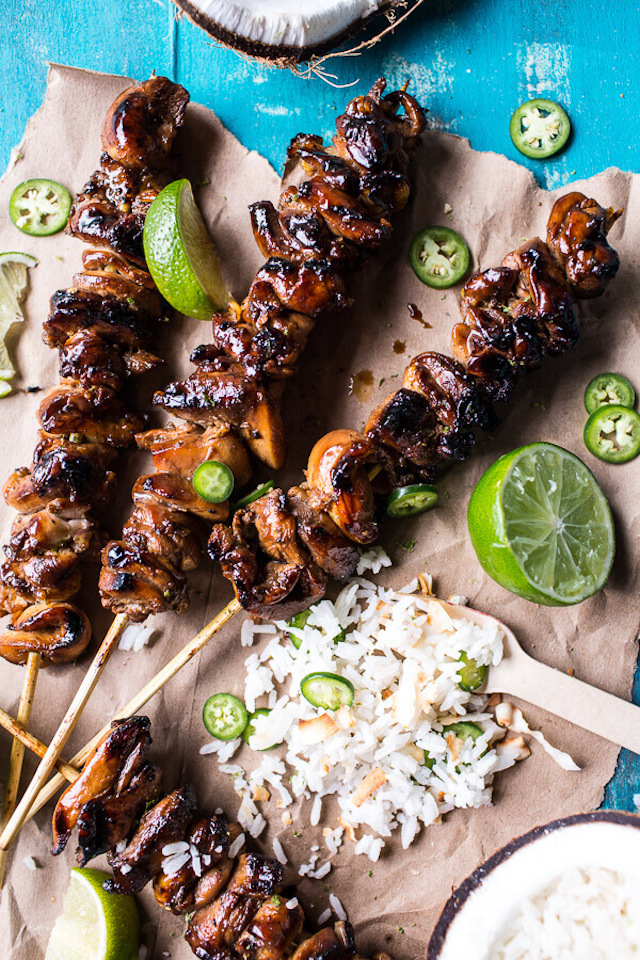 These Coconut Honey Lime Chicken Skewers via Half Baked Harvest are such a healthy alternative to other traditional Memorial Day foods. You can set them out with rice, roasted veggies and a plethora of garnishes for a build your own mediterranean bowl / plate situation that's a total crowd pleaser!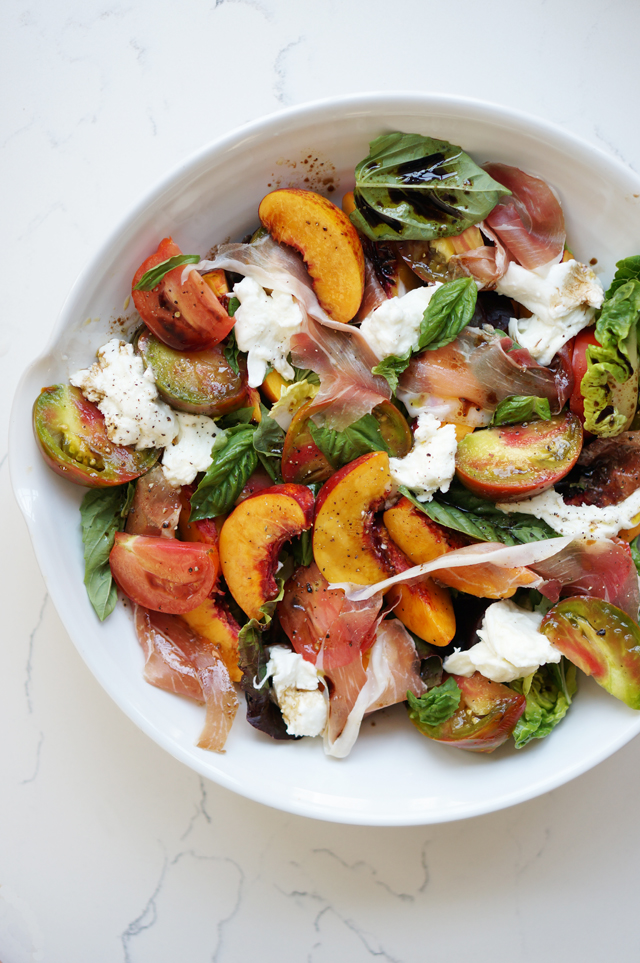 Zero things scream summer more to me than stonefruit mixed with herbs and soft cheese. This Summer Nectarine Salad via Honestly Yum looks delish.

The trick to Memorial Day dinners is creating a menu that can be made mostly ahead of time so you're free to enjoy the festivities and merry making along with your guests!
The pulled pork from these Pulled Pork Sliders via What's Gaby Cooking can be made much earlier in the day or even the day before and reheated. Just add buns, pickles, and pickled onions for a delicious and satisfying main course!
Again, make the meat ahead of time and then put out the tortillas, garnishes and sauces. Super easy for hosting! (Beer Braised Chipotle Chicken Tacos via How Sweet Eats)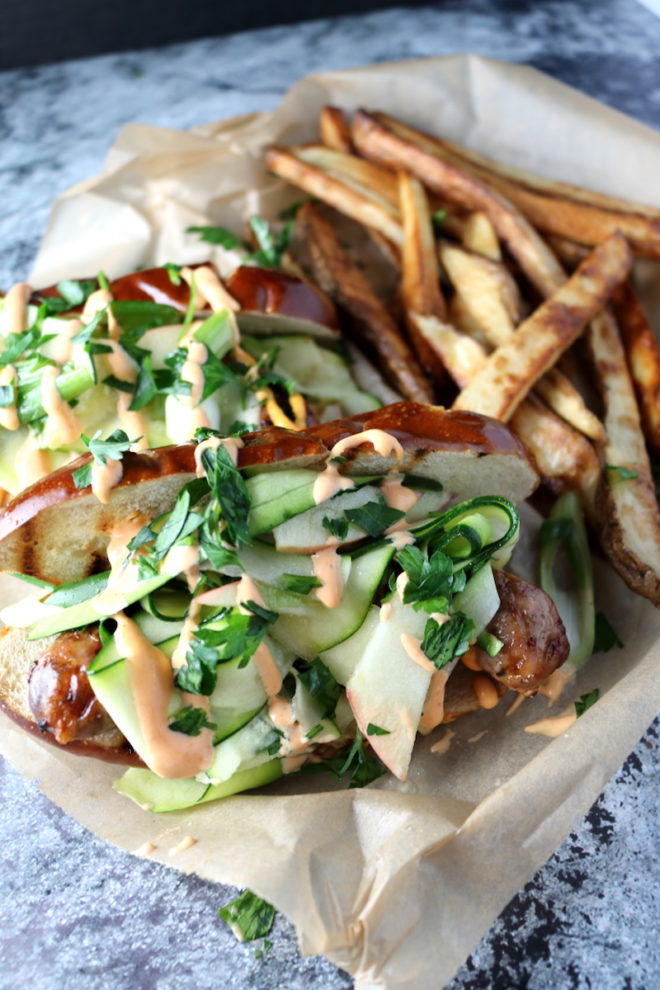 Yum! These Bratwurst with Zucchini and Apple Slaw and Sriracha Aioli via Wilde Flavors take your average Memorial Day hot dogs to the next level. Up the ante even more with homemade buns from your local bakery.
We made this Self-Serve Fajita Taco Board via The Effortless Chic for a dinner party a couple of years ago and it was the perfect no fuss dinner option! People could serve themselves and experiment with different flavor combinations.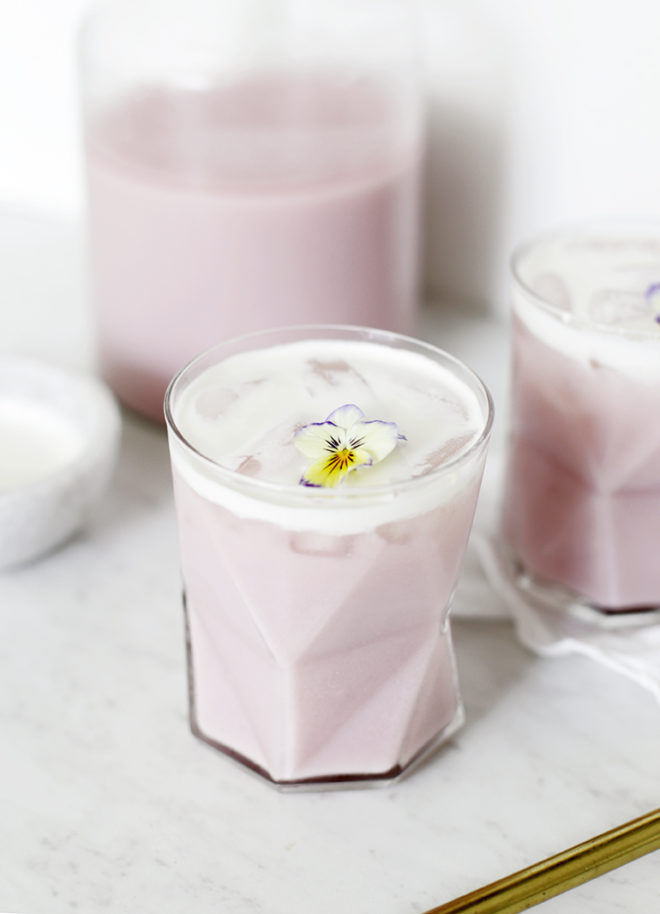 I'm on such a tea latte kick right now! This Iced Hibiscus Tea Latte via The Merry Thought recipe sounds like the perfect thing to sip poolside!
I love a thicker blended cocktail for slow sipping with friends. This Peach, Ginger, and Mint Slushie recipe via Camille Styles sounds perfect for a hot day!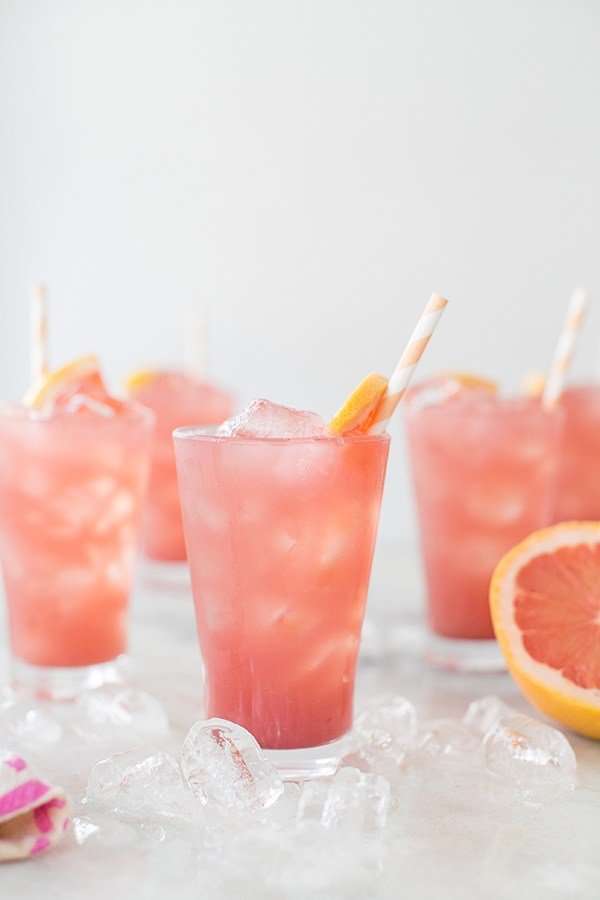 Eden is the cocktail queen so I'm not at all surprised that her Sparkling Grapefruit Cocktails via Sugar and Charm are so refreshing and tasty!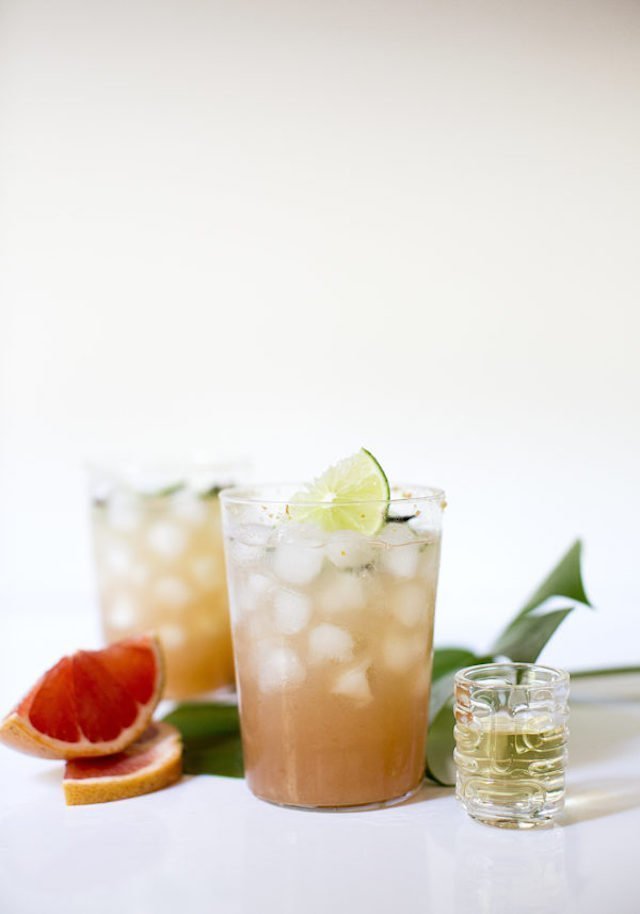 I love a classic margarita, so I can be weary of alterations, but this Citrus and Spice Margarita via Apartment 34 is so, so good!
Blackberry cobbler? Good! Ice Cream? Good! Put them together and this No-Churn Blackberry Cobbler Ice Cream via The Effortless Chic is very, very good!
Peach season might be my favorite thing about the spring, behind wildflowers. This Peach and Plum Crumble via Love and Lemons looks so refreshing and delicious!
What is it about ice cream sandwiches? They just always seem like the ultimate delicious summer indulgence to me and these ice cream sandwiches via Sugar and Charm are no exception! Yum!
This Blueberry Oat Pie via Truffles and Trends can be made ahead served chilled making it the perfect dessert for a hot day!